More and more Brides and Grooms are turning towards traditional themed weddings and are seeking out ways to bring the traditions of Ireland to their big day.
There is no better way to embrace your Irish roots than in the one piece of the wedding you hold onto for life; the wedding band!
Picking The Metal
The first thing to think of when picking your band is which type of metal to go for and while silver and platinum are becoming increasingly popular, nothing states tradition more than a Gold band. Most couple's think you need to pair gold with gold and platinum with platinum, but that's not the case. In fact, mixing and matching can look quirky yet stylish, so mess around with different metals to see what you like.
Choosing Your Design
When deciding on design for your traditional Irish Wedding Ring, research in symbolism and mythology is an absolute must!
The Trinity Knot
One of the more popular designs is the Trinity knot or Triquetra which can either symbolise the Holy Trinity for a more religious couple or it can symbolise eternal love through the three stages of life. Whatever the meaning the wearer believes, the Trinity Knot is a true symbol of Ireland's ancient culture from the Druids right through to the 1900's.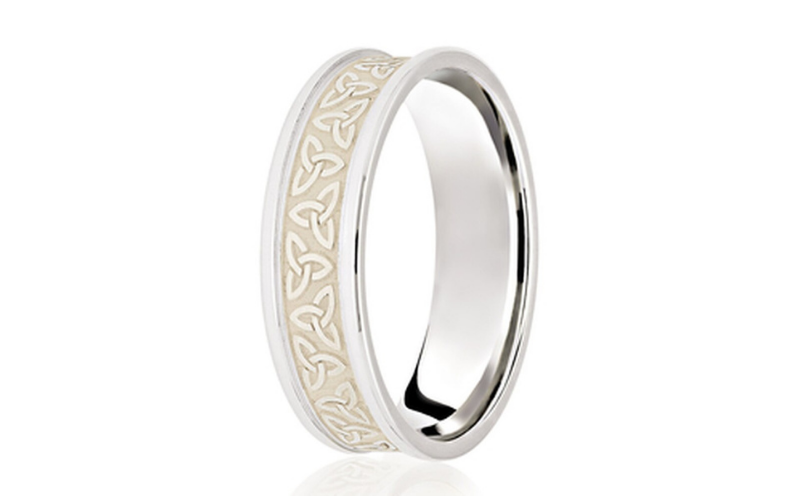 This White Gold ring from Murray and Co Jewellers demonstrates how mixing metals really can make a difference.
The Tree of Life
Another popular design is the Tree of Life, a further example of ancient Irish culture which connects the wearer to nature and symbolises purity, peace and love. Although traditional, it is a great symbol for the more Boho Bride or Groom.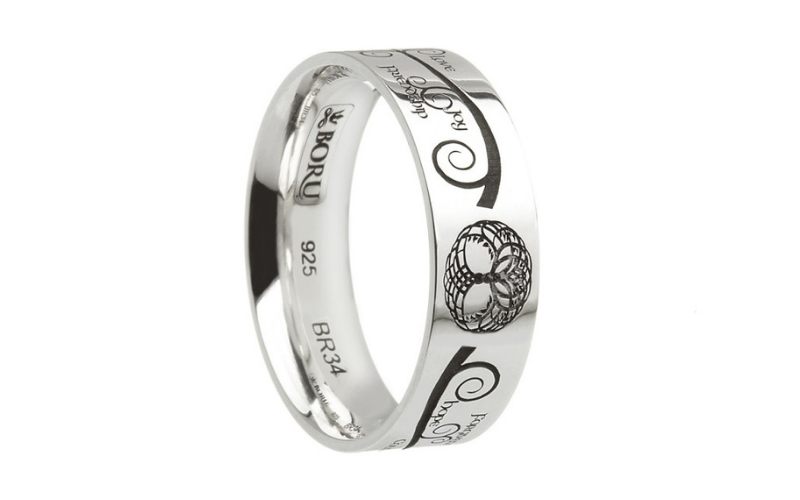 This ring from Crossan Jewellers is unisex so can be worn by either partner or both:
The Celtic Cross ring
If you are hoping for a more spiritual ring, a simple Celtic Cross is the perfect style for you. The cross, said to be designed by Saint Patrick himself, features the Christian Cross in front of the sun which is believed to connect us with the Heavens and the Earth while giving us eternal and life-giving properties.
The Claddagh ring
The most popular design is of course the classic Claddagh ring, which combines the three symbols of hands for friendship, heart for love and crown for loyalty. Originating in County Galway, the Claddagh ring was first used as a wedding band over 300 years ago and has become the true symbol for love on the Emerald Isle.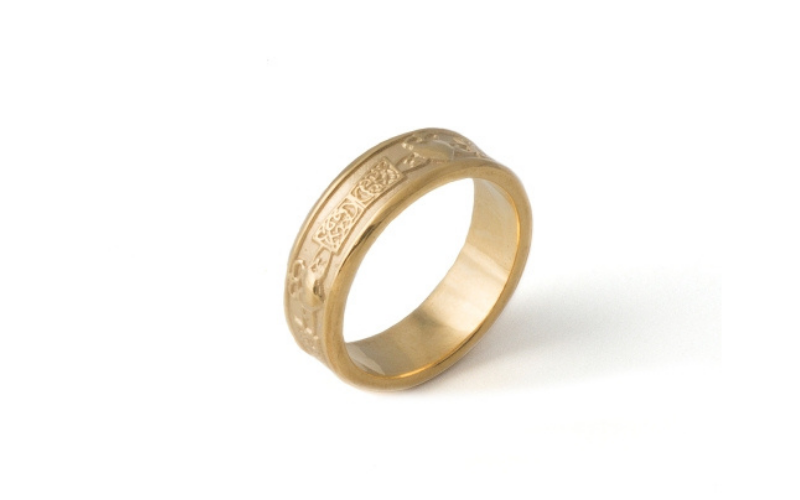 Check out this beautiful Gold Claddagh ring from Robinsons Jewellers which can also be ordered in White Gold and is a perfect fit for a traditional engagement ring.
Gemstone
Although traditionally plain metal, many traditional Irish wedding bands contain diamonds or even mixed gemstones to give it that real Celtic feel. If you hope to stay as true to Irish tradition as possible then the best way is to use the gemstones found on the island itself.
Aquamarine, found in Northern Ireland, represents calm, peace, and balance, and was believed to be a treasure for mermaids and sailors. Relating to the sea, its colouring is perfect to add to a Gold or even Platinum band.
Is it even possible to think about Ireland without calling it the Emerald Isle? What better way to incorporate Irish traditions than to place an Emerald in your ring?! Emerald Beryl's are one of the more common gemstones found on the island and are believed to promote guidance and clarity to a marriage as well as natural healing properties.
If you want to keep the green but add a twist, the closest green gemstone to Emerald you will find naturally on the island is Peridot, a compassionate stone that is believed to bring health, harmony and peace to a marriage by balancing emotions and mind.
There are many more gemstones to choose from that can be found on the island or are woven into the traditions of the country but whatever you decide to go for, adding a splash of colour to your ring can really make a difference.
Finding Your Perfect Design
Everyone wants their wedding ring to be perfect and while some jewellers specialise in traditional or Celtic rings, finding your dream ring can be a little more tricky. Feeling too spoilt for choice? Why not mix it up and design a ring that includes multiple layers of Irish symbolism or traditions?  A simple Claddagh ring can be elevated by adding the Trinity knot on the band or emeralds can be added to the Celtic Cross. Whatever you decide, customising your ring can not only promote tradition but can be a great way of expressing your individuality.
Here are some top tips to take with you on the day:
Decide your budget! Speak to your partner and discuss how much you would each like to spend and go in prepared.
Get sized up! Make sure your hands are not too hot or cold when sizing your fingers as this can mean your ring may need to be exchanged or resized before the big day. Also, its best to pick your ring 3-4 months before your big day to allow for size changes.
Talk to the Jeweller and tell them exactly what you are looking for. They have been in the business long enough to give you some expert advice and can help with everything from metals, colours or even shapes!
Take your time! No where does it say that you must pick the first ring you see in the first shop you visit. This is a piece of jewellery you will wear for the rest of your life, so you want to make sure you find the perfect ring for you.
Once you have chosen your ring, why not browse for some matching pieces for your day. If you are getting a custom ring, why not design some custom earrings or a necklace? Or better yet, why not opt for a Celtic Hair clip, an item which is both practical and chic!