Taking out loans and maxing credit cards is not the best start to married life, so to ensure you don't overspend on your dream wedding day it's best to set yourselves a budget as early as possible – and stick to it!
How Much Have You Got & How Do You Allocate It?
The first step would be to calculate the total you have to spend, including any contributions from parents. Don't just expect and estimate parental contributions, show them you are being responsible with your spending and ask that they tell you the exact amount they are willing to spend. This will be easier for everyone. Even if your mum simply wants to buy your wedding dress, it is better if you know how much she is prepared to spend so that you don't set your heart on a dress from a brand that is too expensive. 
Once you have got the exact amount of money you have to cover everything, then it's a matter of allocating a percentage of this total to each area of the wedding. For example, the cost of your wedding ceremony venue and reception venue, including room hire, room styling, food and drink, etc. which will take up the majority of your spend, maybe as much as 50%, especially if you have a large guest list including all of your family and friends.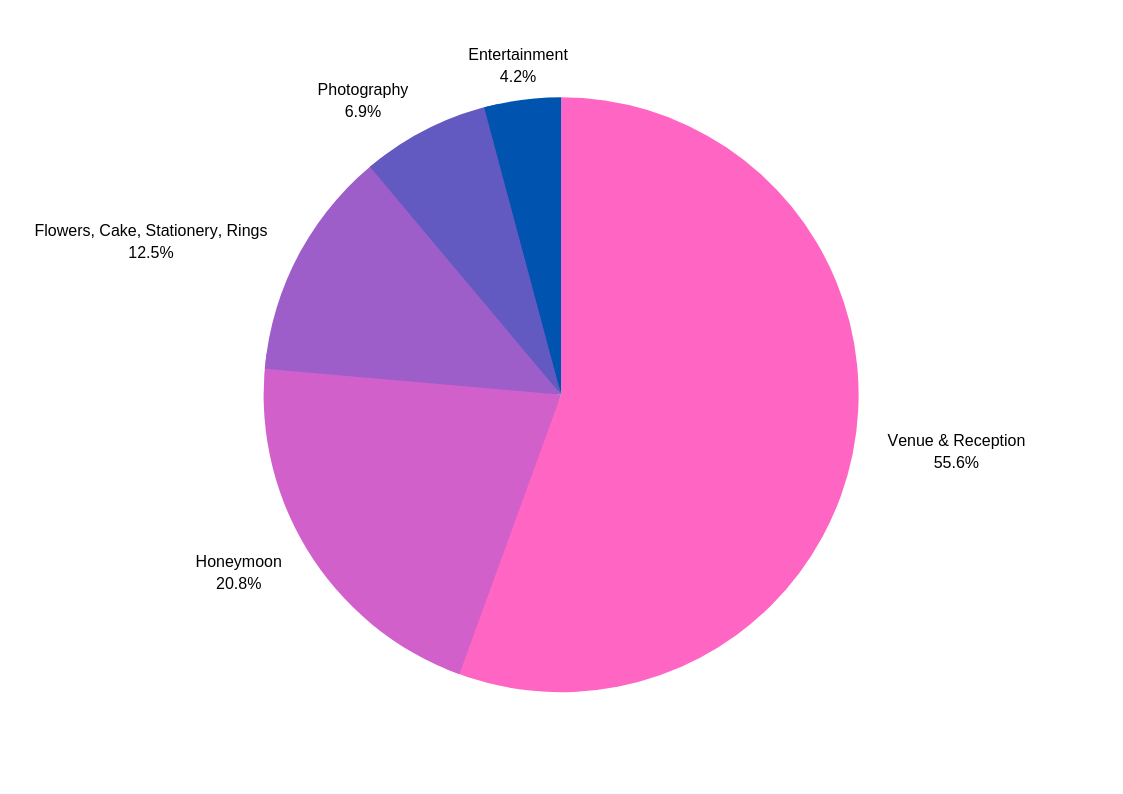 Every couple is different when it comes to allocating their wedding budget and you will need to work out what is important to you as a couple as well. For example, you might have friends who have married who saved on their entertainment because music isn't as important to them as it is to you. So, you may wish to allocate more funds to the entertainment and less elsewhere.
Or maybe a wedding video isn't on your agenda and you have a friend who is a photographer and you would be more comfortable with them taking some relaxed snaps allowing you to save here. However, there are some couples who spend a lot of time researching the right photographer and their photographic style and will use more of their wedding budget to get great pictures and then spend less elsewhere – after all these will be the lasting memories of your day.

Don't Forget The Small Stuff!
While you are allocating your budget, it's a good idea to consider exactly what needs to be covered in each category. Yes, it's all in the detail when it comes to the wedding and you need to leave no stone unturned to make your budget planning work effectively. So, let's take the 'Wedding Dress' category as an example. Once you have decided how much of the budget is going toward the dress category you need to decide if this overall spend is for your who bridal look, so then it has to cover all alterations and accessories such as a veil, headpiece, jewellery, shoes, bag, any cover up you may require – also cleaning and storing your dress at the end is another cost you'll want to bear in mind. Similarly, with the bridesmaids, groom and groomsmen, you need to factor in all of those all important finishing touches too – and they do mount up! 
Always check that suppliers' fees include travel expenses and whether you're expected to feed them. When it comes to your wedding photography album costs and additional prints can increase your post-wedding bill significantly, so try to get as much of this agreed as possible in the initial pricing.
This is also important with your venue. They may quote a wedding package price, but check this price includes EVERYTHING down to the tiniest detail, including any hidden staffing or cleaning costs. This really is one time when you really do need to be pernickety and factor in every single potential cost to you in each category of your wedding.
Decide What You Want & Stick To It
Apart from what you need to get legally wed, there are no compulsory wedding elements, and today we see more and more couples enjoying their day, their way. So, when you are working out your budget and how it is to be spent you will want to decide what you both want and then it is important to stick to this as well. 
There are so many elements that you could have at your wedding – balloons, fireworks, photobooths, favours, doughnut walls, Prosecco vans, etc – that it would be easy to get carried away with your spending. None of these are must-haves and certainly not worth getting into debt over, so building what you might want into your budget early on and sticking to this is best.

Exactly How Much Does Everything Cost?
How long is a piece of string? There are so many variables when it comes to pricing such as time of year, location, number of people in the bridal party, number of guests, etc. Your best bet is to start asking for quotes as early as possible. Ask about three different suppliers you might like or need to use and it's not that you might always go for the cheapest option, but it will give you some idea of what you can expect to pay and whether you are paying substantially over the odds. Also, don't forget to ask whether the price includes VAT – if not, the total will increase by 20%.
Obviously your budget will have an impact on your wedding day style and how far you can go when it comes to floral displays and other finishing touches on the day. So, next week,
Week 2

, we will take a look at

Setting Your Wedding Style

and offer some clever hints and tips to ensure your achieve your desired result.