These days, everyone wants to do their wedding differently, and given that every phase of your big day – including the lead up – tends to get documented on social media, it makes sense.
While it's certainly much harder to stray from the traditional hotel venue/sit down dinner setup, it can be easier to show your quirky side in the smaller details.
That's where quirky wedding invitations come in. Invitations give your guests their first idea of what's to come at your wedding, so they are an important step to get right.
If you consider yourself unconventional, you might like to do things a little differently, so here, we've rounded up our favourite quirky wedding invitations.
Ticket stub invitations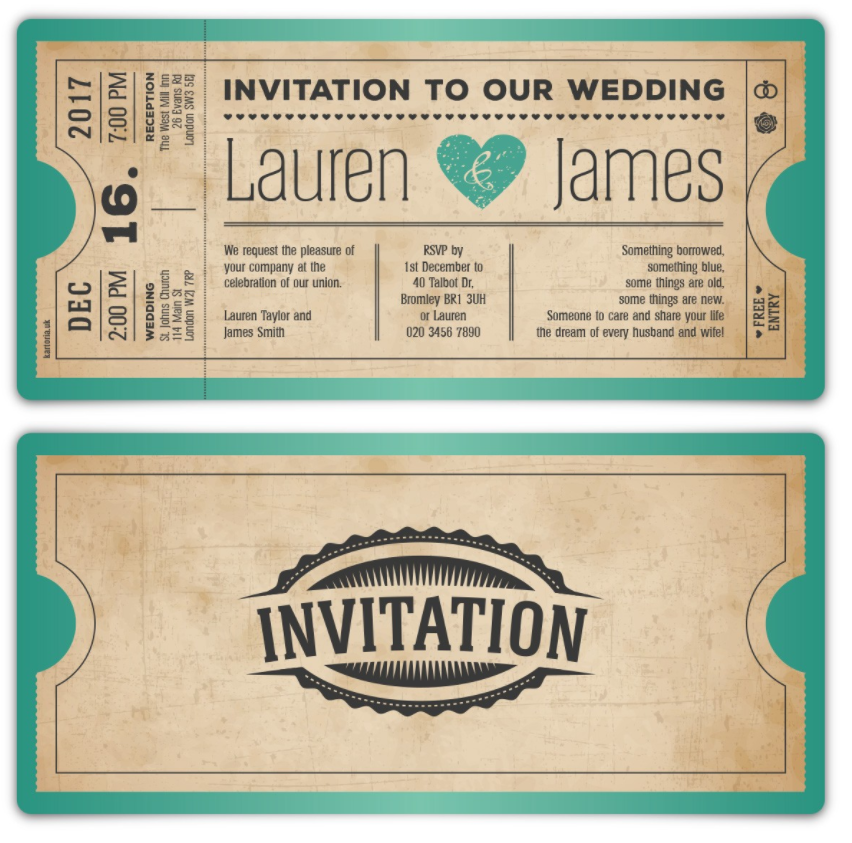 Maybe you and your partner love going to the cinema, you're a fan of festivals or you just think these ticket stub invitations are seriously cute. Either way, we think these retro invitations are a memorable way to ask your guests to the most important day of your lives. They're versatile enough to work with any theme, but we reckon they're particularly great for a vintage wedding.
Balloon Save The Dates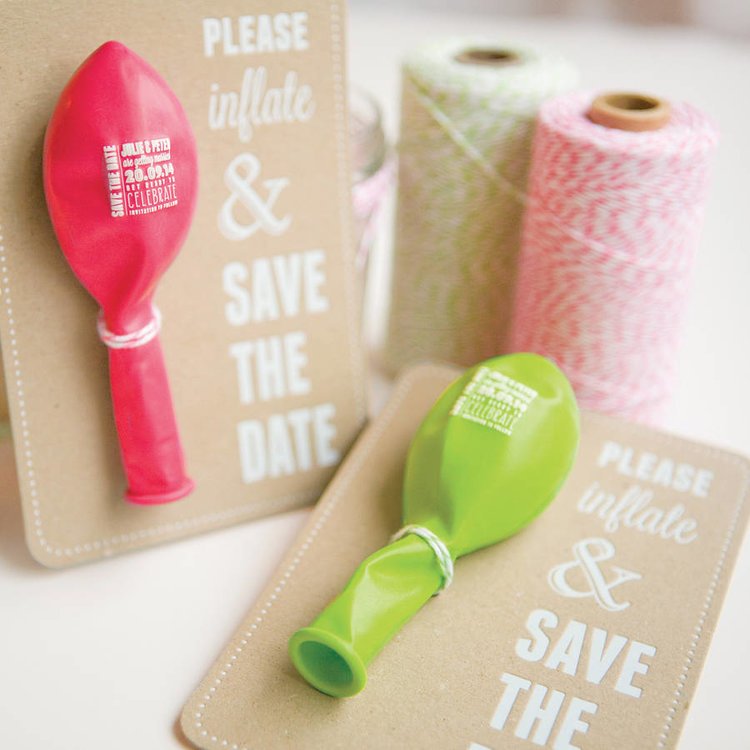 Your guests will be blown away by these quirky wedding invitations (sorry, we couldn't help ourselves.) Designed by White Knot, the balloons can be personalised with your names and date, and come with a cardbord backing that says "Please inflate and save the date". They come in a wide range of colours too so you may even be able to tie them in with your wedding colours too!
These invites that come with a keepsake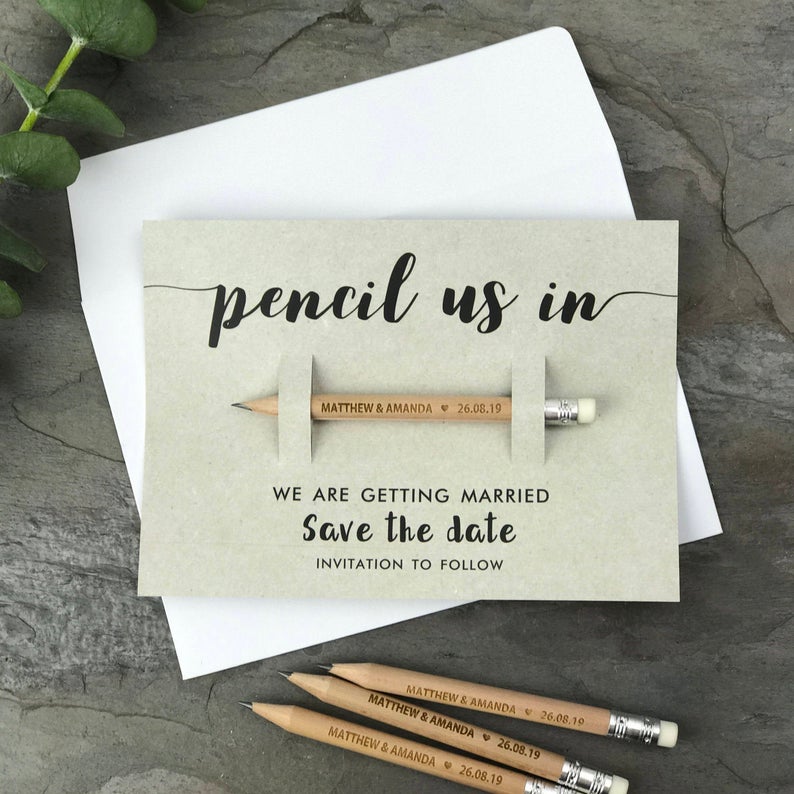 Pencil your guests in with these seriously sweet save the dates from Etsy. The backing comes in marble effect, chalk effect or kraft style, and pencils can be easily personalised with your names and date. Just think: your guests will probably have your invite next to the landline or lurking in their handbags for years to come.
Wedding map invitations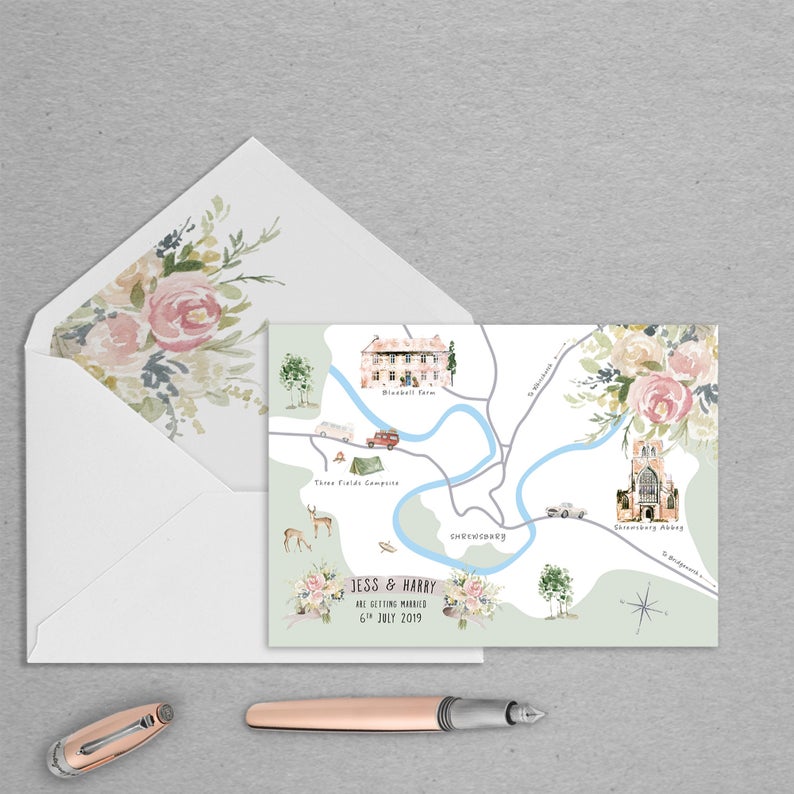 We love anything personalised and these invites will be unique to you and your other half. Fully customisable,  the team can illustrate buildings that are important to you, hobbies you love to do together, important pets, specific colours and loads more to share your personal love story. Very, very sweet.
Paper plane invitations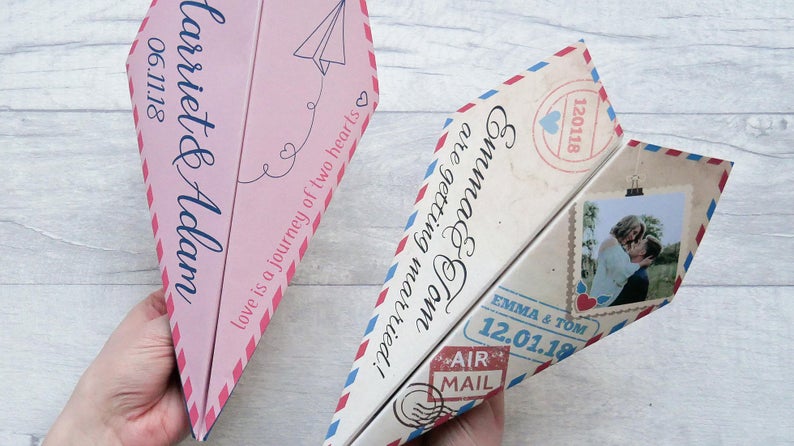 A simply perfect choice for anyone having a destination wedding, we love the retro look and feel of these paper plane invites. They're posted flat, so your guests can have a bit of fun making them into a plane once they arrive. These invites bring us back to our school days, so we reckon they're also ace for childhood sweethearts tying the knot.
These Alice In Wonderland exploding invitation boxes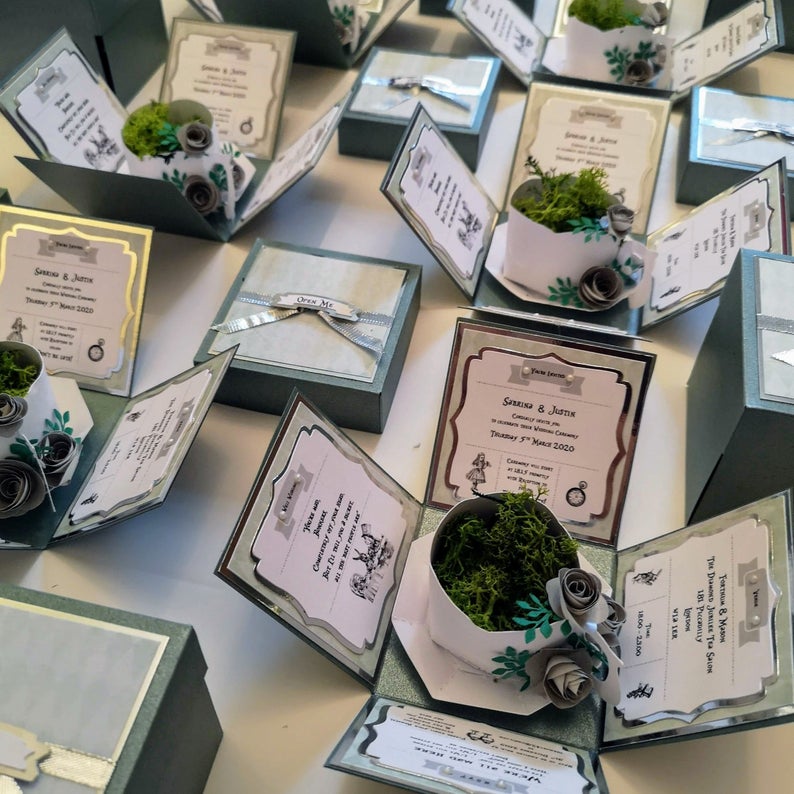 Just like the book and film adaptions, these Alice In Wonderland invitations spark a whole lot of intrigue and come with more than a hint of magic. A totally unique 3" Square Exploding Wedding Invitation Box, it features four fixed panels for invitations details, venue details. RSVP information and gift poem. The centre of these boxes is in keeping with the Alice theme and features a paper cup and saucer filled with Moss and decorated with roses. The design of this Invitation Box will remain the same however you may choose your own colour scheme and wording to suit your own requirements. Just WOW.
Flow chart invitations

These flow chart invitations are a super fun and unique way to ask guests to your wedding. Printed on A5 Kraft paper, they're personalised to you and your partner, with the flowchart printed on the front, and extra details on the back.
Cartoon couple invitations

These custom illustrated invitations come with a range of customisation options, and even allow you to access a template where you can make your own changes. There's a wide selection of different cartoon couples to choose from too, so you should be able to find the couple who looks most like you.
Marriage telegram invitation

If you're having a vintage or retro big day, then these marriage telegram invitations could be the ones for you! Customisable with all your wedding details, these invites will take your guests back to days gone by.
These funny invites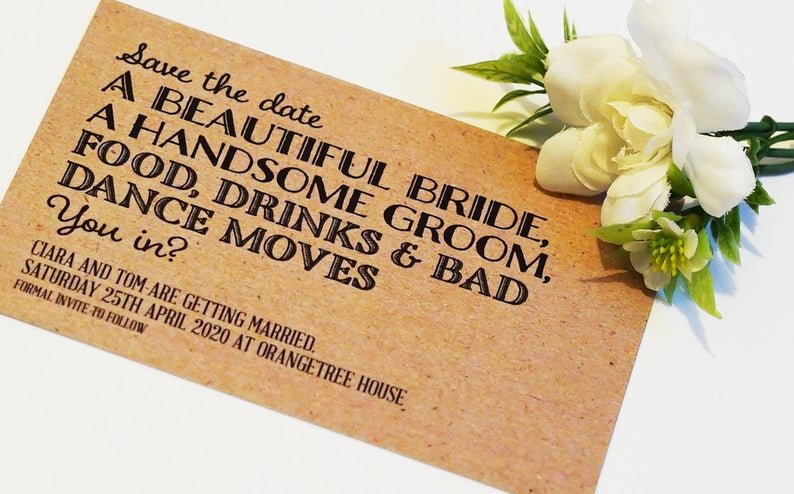 Nothing beats a sense of humour and these save the dates are just the right amount of funny and can be customised with your name, date and venue.
A guide to wedding invitations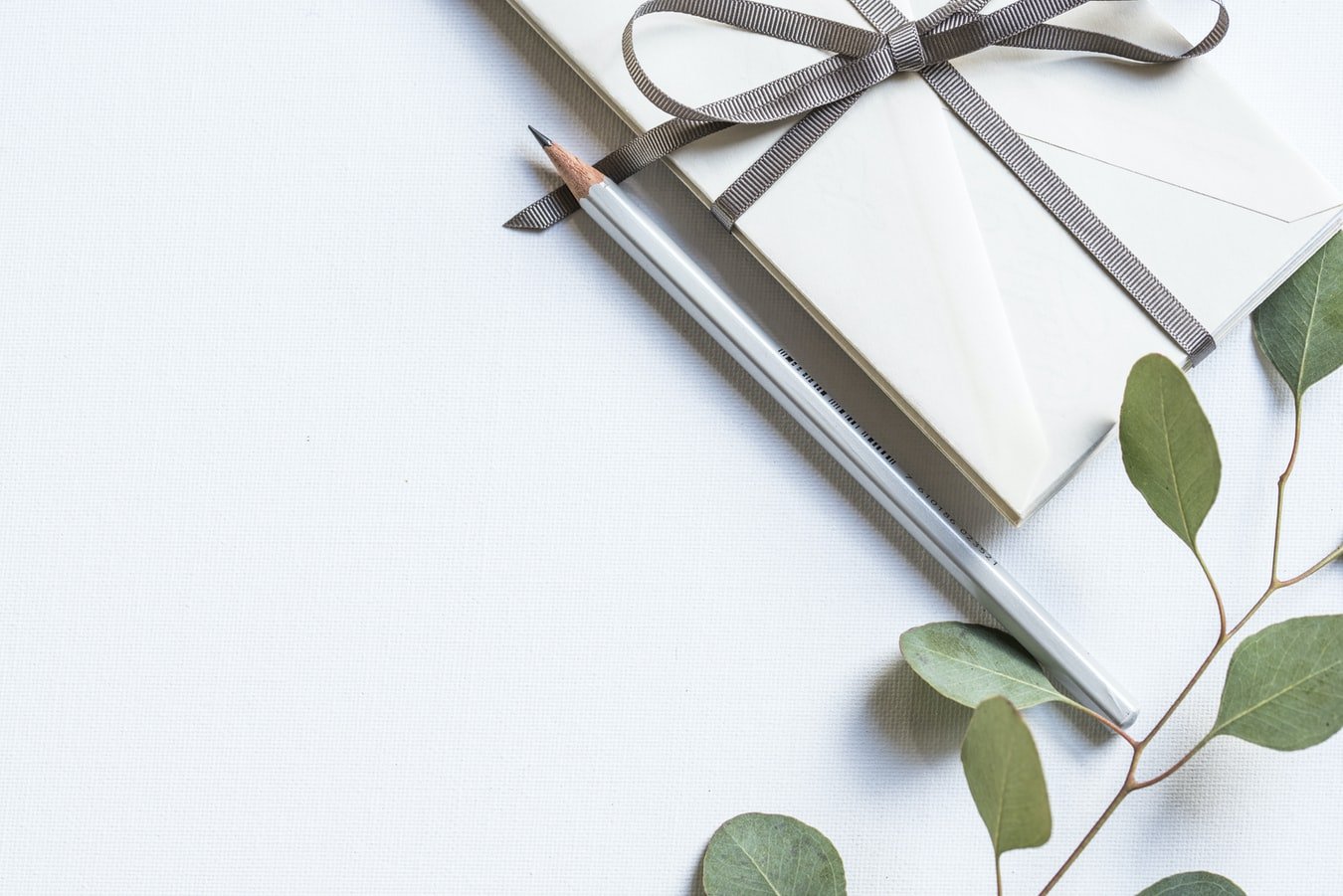 When should I order my wedding invitations?
As with all things wedding the answer is: as early as possible. Generally you should be putting an order in about four to six months out. Remember to factor in how long it will take for printing, packaging and postage and allow yourself wiggle room, in case there are any problems. You'll want to allow yourself plenty of time for addressing and sending them out too.
How soon should I send them out?
Traditionally, invitations go out six to eight weeks before your wedding date. This will allow ample time for guests to book time off work and clear their schedules. If you're having a destination wedding you'll need to invite guests much sooner so they can make travel arrangements. In this case, send your invites three months before the wedding.
How long should I wait for RSVPs?
About four or five weeks. This is plenty of time for your guests to decide if they are coming or not and to make arrangements if they are. Make your RSVP date crystal clear to up your chances of getting a response.
Can I send out a second round of wedding invitations?
You can, but if you're doing this you'll ideally need to send your first batch much earlier, think 10 weeks before the wedding date. If after receiving RSVPs from the first batch, you discover you have space on the guestlist to invite more people, make sure to send them an invite no less than six weeks before the big day.
For more stationery ideas, head to our directory to find the best wedding stationery suppliers across the country.