98FM radio presenter Rebecca Shekelton married her partner Nathan Barry in Clonwilliam House, Co. Wicklow, where they enjoyed a weekend celebrating with friends and family. 
Date of Wedding: 19th August 2023
How did you both meet?  
'We met at Forbidden Fruit Festival back in 2016,' comments Rebecca. 'We got chatting for a bit but then went our separate ways. A little later, after some encouragement from a friend, I asked Nathan to join us to get a drink at the bar, and we later ended up heading out to town that night with friends.  The following week, we went on our first date and have been joined at the hip ever since.'
Tell us about the proposal.
'We got engaged in August 2021, after being together for five years. We had just come back from a last-minute holiday to Italy as restrictions had been lifted when Nathan surprised me with a trip to Adare Manor, a place I had been dreaming of going to for a while. I was a little suspicious as I'm always the planner in our relationship, and it was far from our usual haunts, but I also figured that maybe he was doing something outrageously generous as we had spent our 30ths in lockdown.
'It was one of the hottest days of the year, and after a gorgeous afternoon tea, we went for a walk in the gardens where I turned around to find Nathan down on one knee. It was just perfect,' Rebecca reminisces.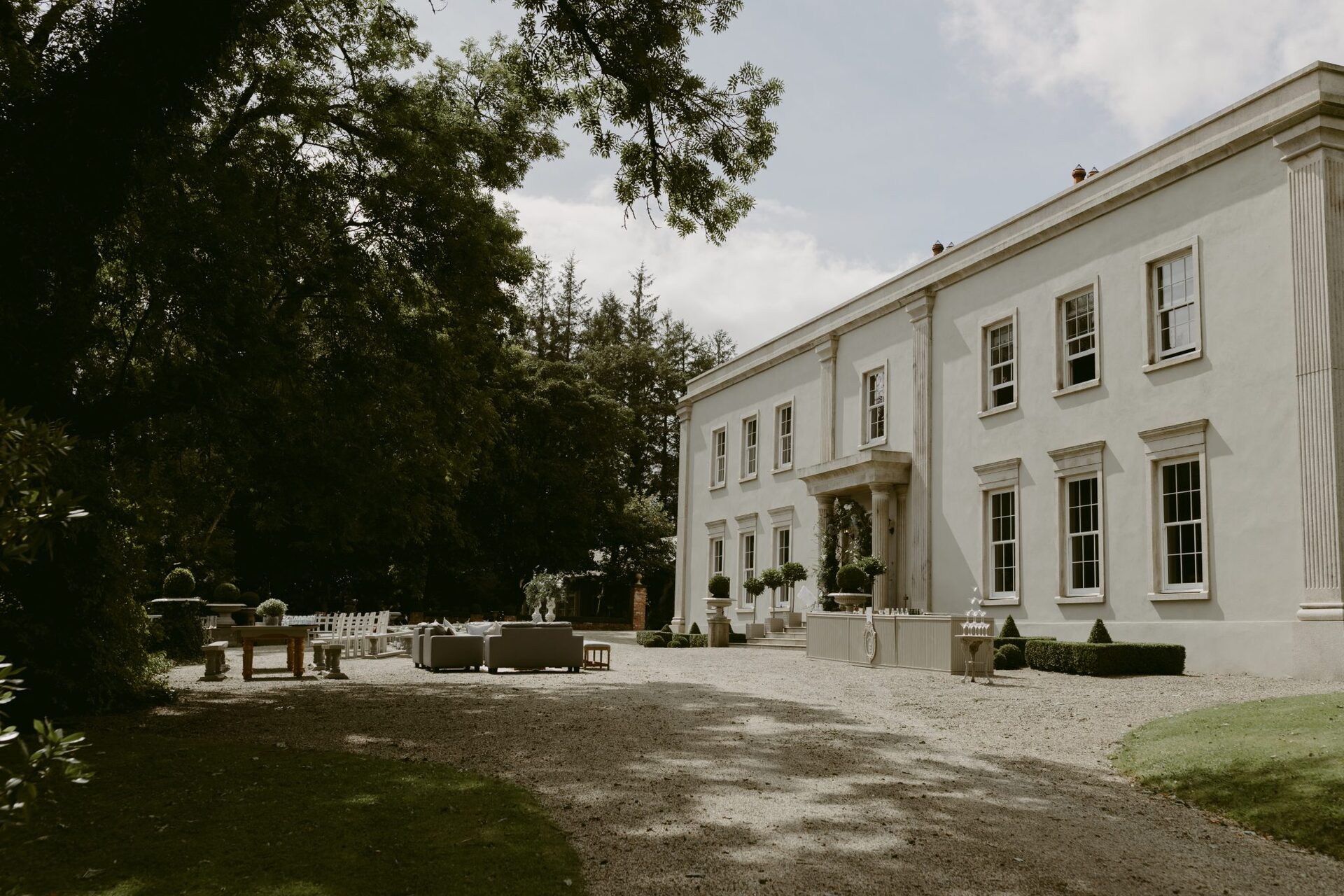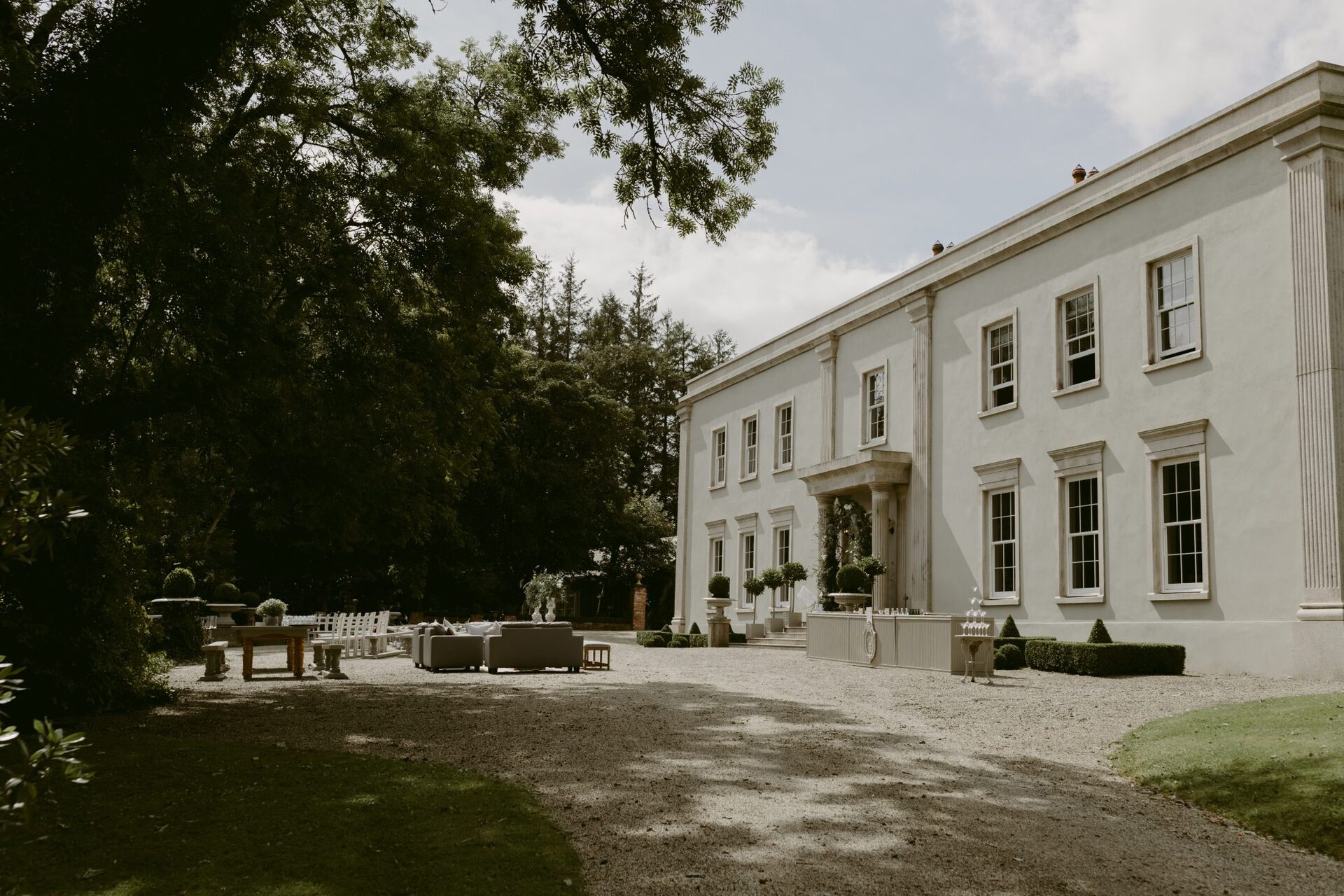 How did the planning process go?
'Surprisingly we got the ball rolling about four weeks later. This was mainly down to a video I saw shared on Instagram of Clonwilliam House. It was the first venue we viewed, and we were just blown away. I remember Nathan driving up to the entrance, and he turned to me and said: 'It's here' before we even went into the house. We then booked in our photographer, videographer, band and hair and make-up once we had the date set as these can book out fast, and we luckily got all the suppliers we had hoped for. We got married two years after getting engaged to give us enough time to save.'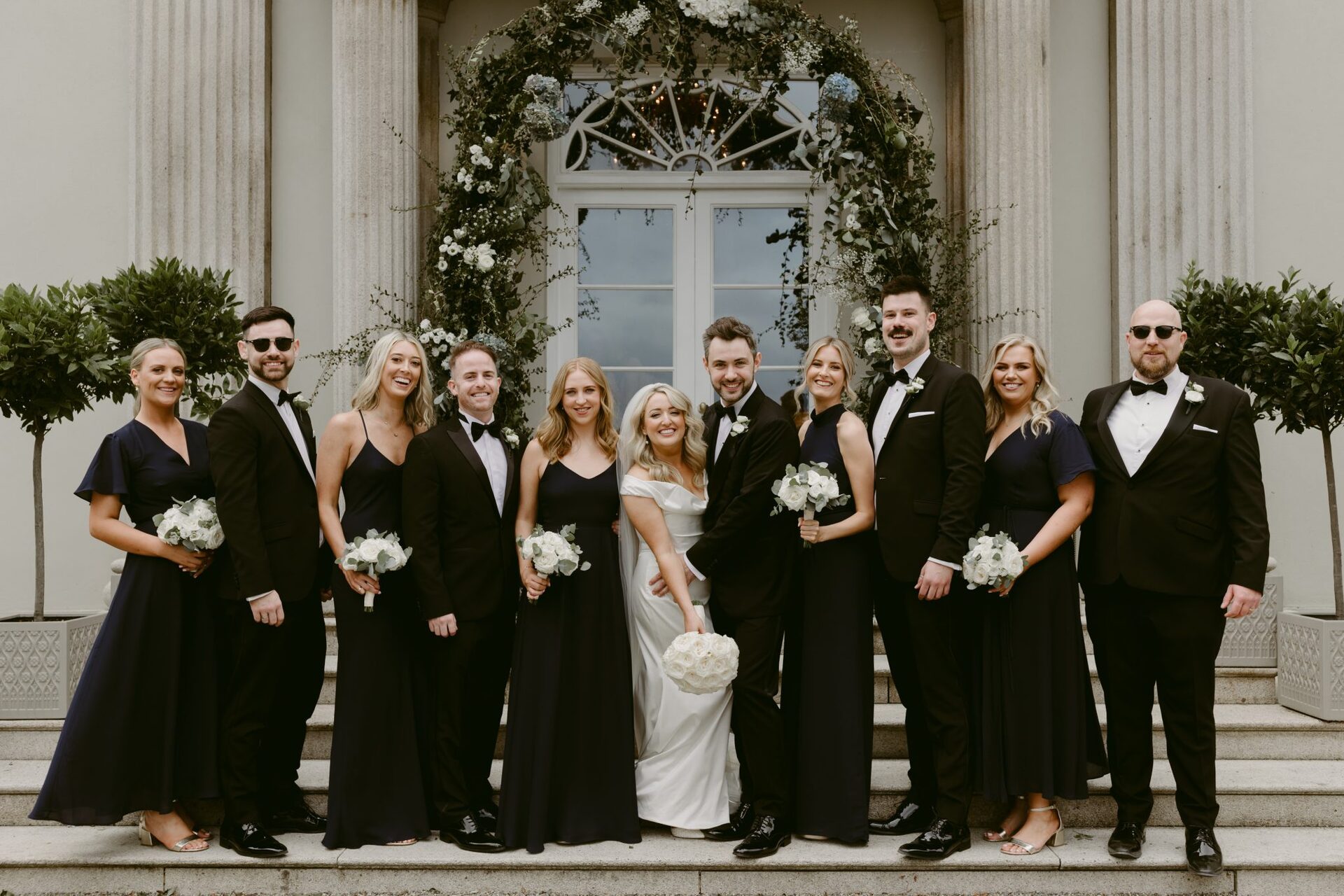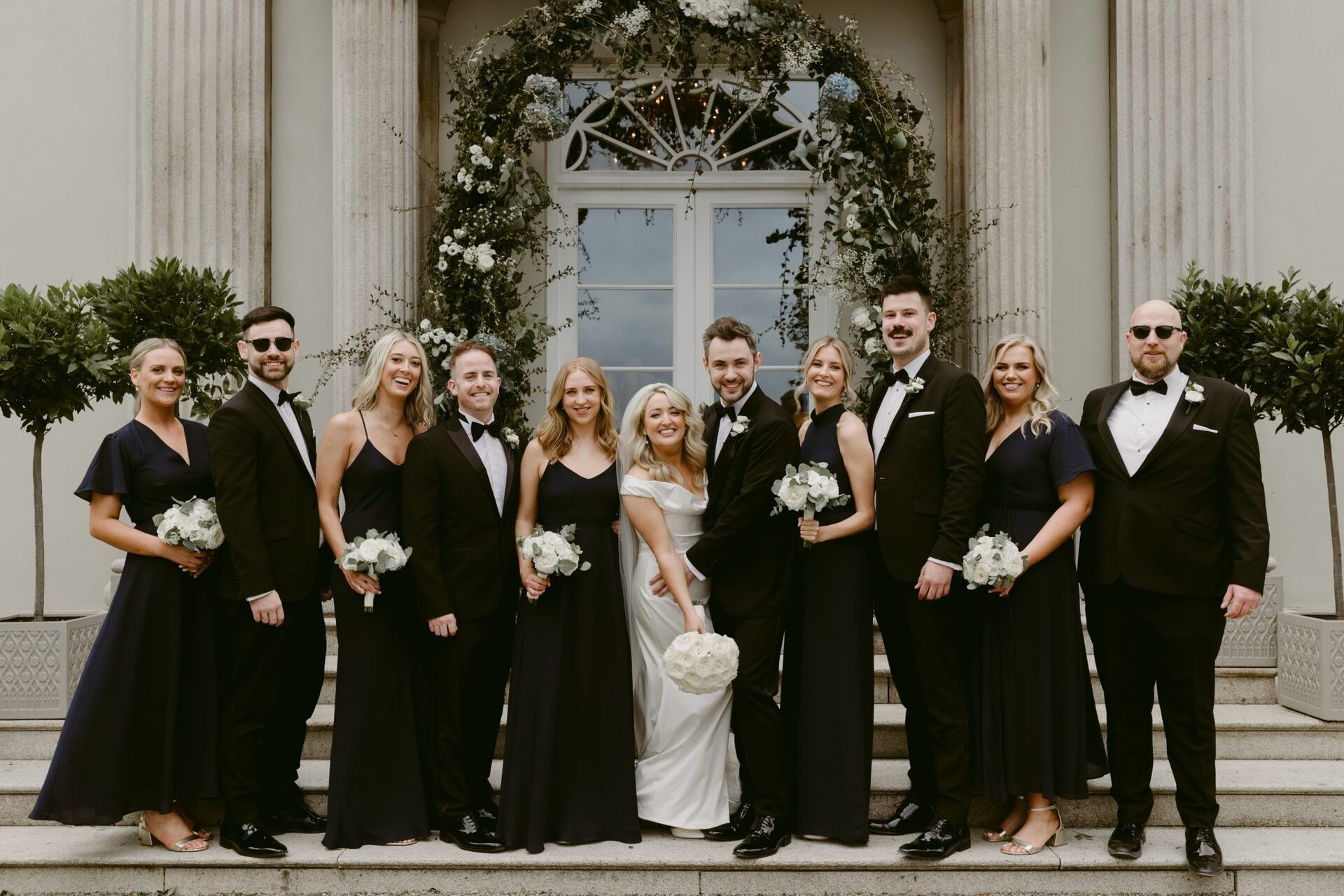 Who captured your day?
'Grace from Adam and Grace was our photographer, and she captured the day so beautifully. The photos are so natural and elegant and filled with fun and emotion. We will cherish them forever. 
'Our videographer was Matthew from Dear Oliver, who is insanely talented, a true professional and also a joy to be around. I chose both of these suppliers as they had captured my pal Lauren's wedding before and did an incredible job. They both worked so well together and took the time to get to know us before our wedding day, which meant we were so at ease.'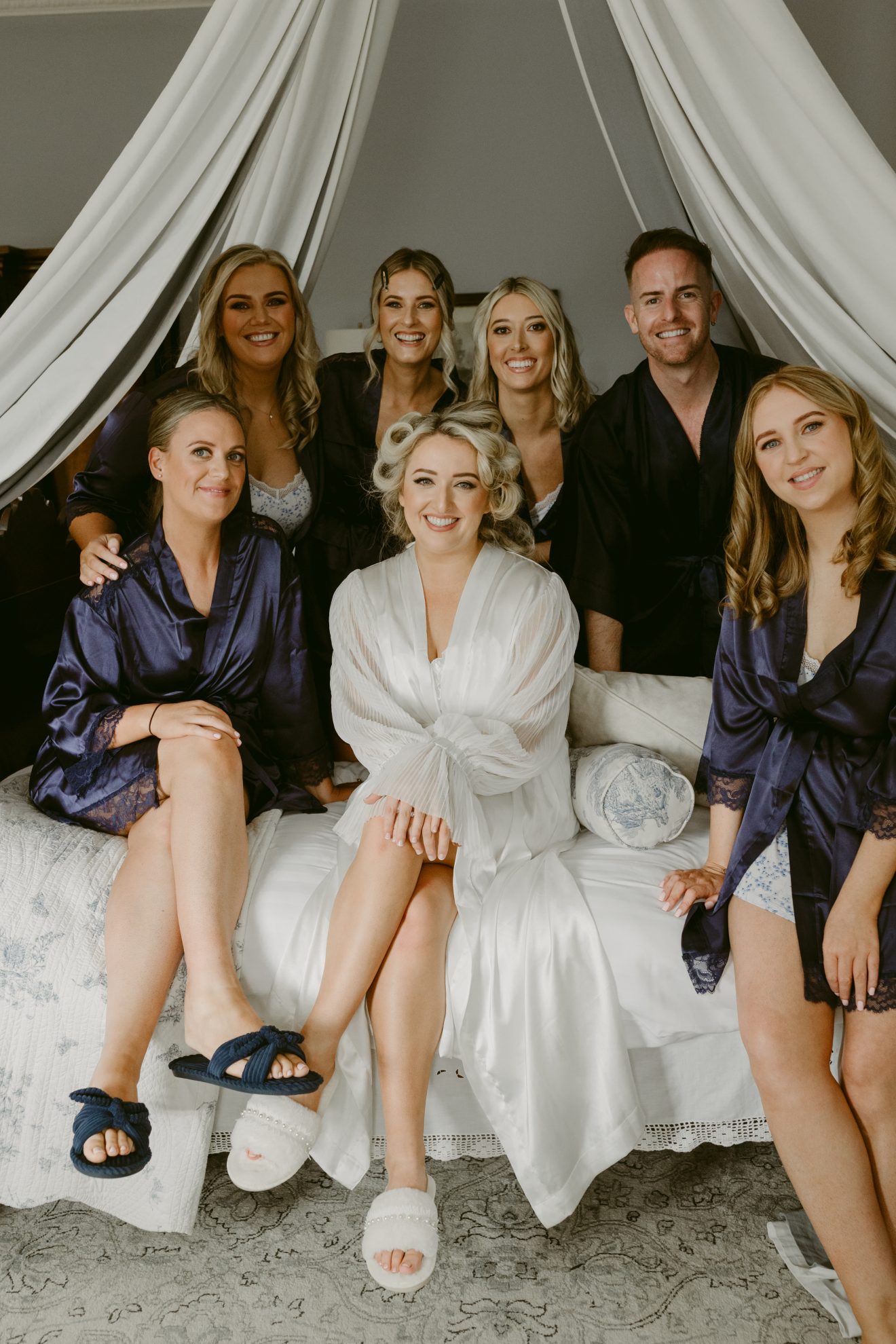 What did you wear?
'My wedding dress was the Cora Cocotte by Vivienne Westwood. It was my dream dress and my favourite thing I've ever worn. I'm a huge Sex and the City fan and always loved Carrie Brawshaw's wedding dress, so I felt like a movie star on the day. I got it in The White Gallery in Newry and Rachel, the owner is just phenomenal at what she does. She made my dress journey so special. I changed into a party dress to dance the night away in, which was the 'Lottie' dress from Nadine Merabi and it was so much fun to wear and was giving Great Gatsby vibes! 
'Nathan's suit was from Louis Copeland: the team were so helpful with selecting the perfect fabric, cut and style to match the venue and vibe of our wedding. The finished product was amazing quality. The groomsmen's suits were from Tango's in Temple Bar. 
'The bridesmaids dresses were from Rewritten. They do lots of styles of the same material dress, so each of the girls could choose their favourite and look and feel their best on the day.'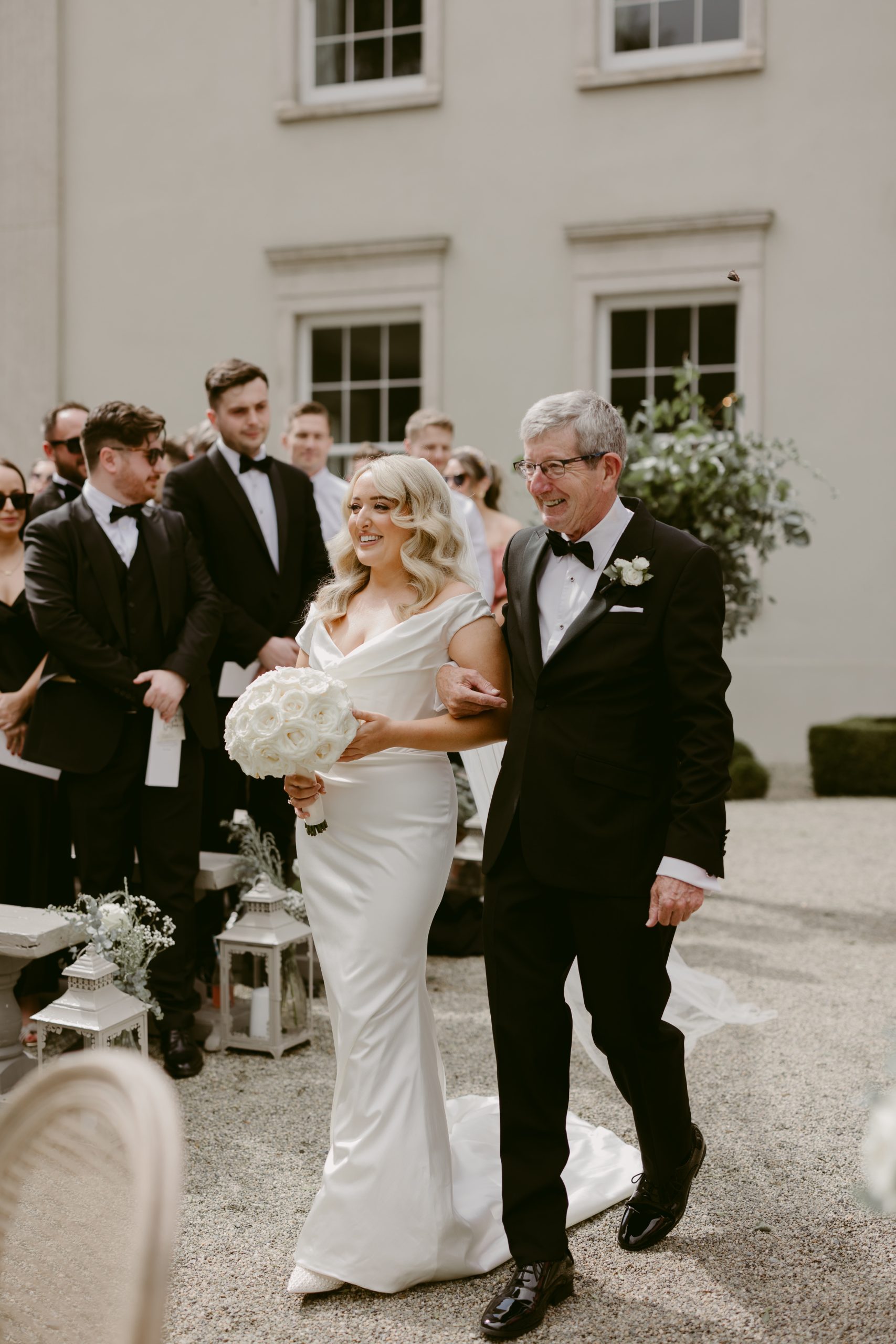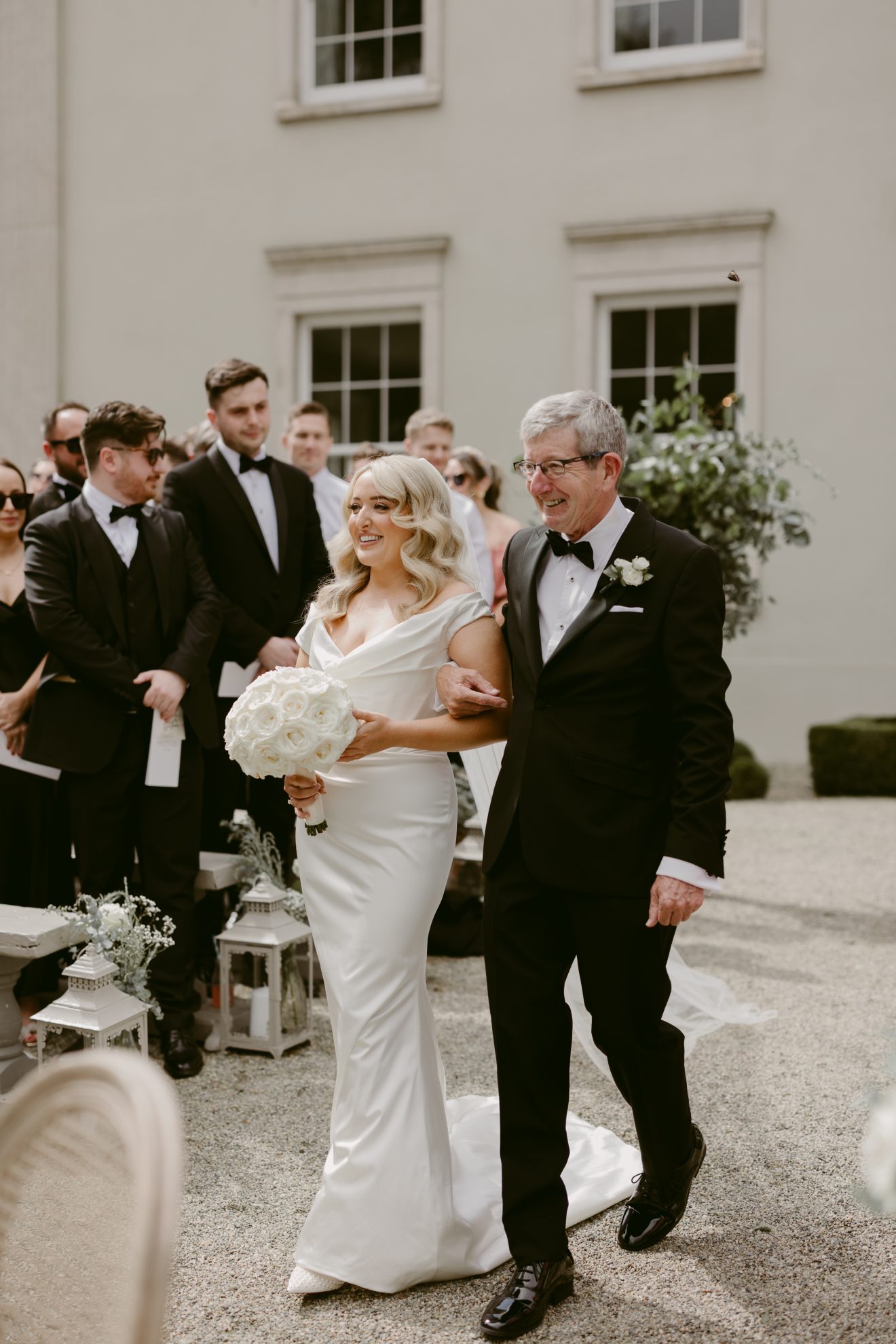 Have you any memorable moments from the day?
'The morning of the wedding was so special: there was so much love and excitement in the room as we were getting ready. I will also never forget walking down the aisle with my dad and seeing Nathan staring back at me. The Dublin Gospel Choir performed Tina Turner's 'Simply The Best', and all of the people we love were in one place. There had been a massive storm the night before the wedding: fallen trees, and power outages, but miraculously, the sun shone as we said 'I do'. It was pure magic,' recalls Rebecca.
Who were your wedding suppliers?
'We had our wedding ceremony and reception in Clonwilliam House, Co. Wicklow. Miriam and the team were beyond amazing to deal with every step of the planning process and across the wedding weekend.
'Our celebrant Rachel Murphy, who is so gifted at what she does, curated and crafted such a personal ceremony and delivered it so professionally.
'Our caterer was Naomi's Kitchen, and so many of our guests complimented the food – it was delicious. We couldn't recommend Naomi and her team more.
'Spring Break were our band and really know how to get the crowd going. It was lit! Lisa Shannon did my make-up – she is the best in the business and brought such good energy to the wedding morning. Amy Donoghue saved the day by stepping at the last minute to do my hair after my original stylist was forced to cancel the night before due to illness. Amy did such a fantastic job.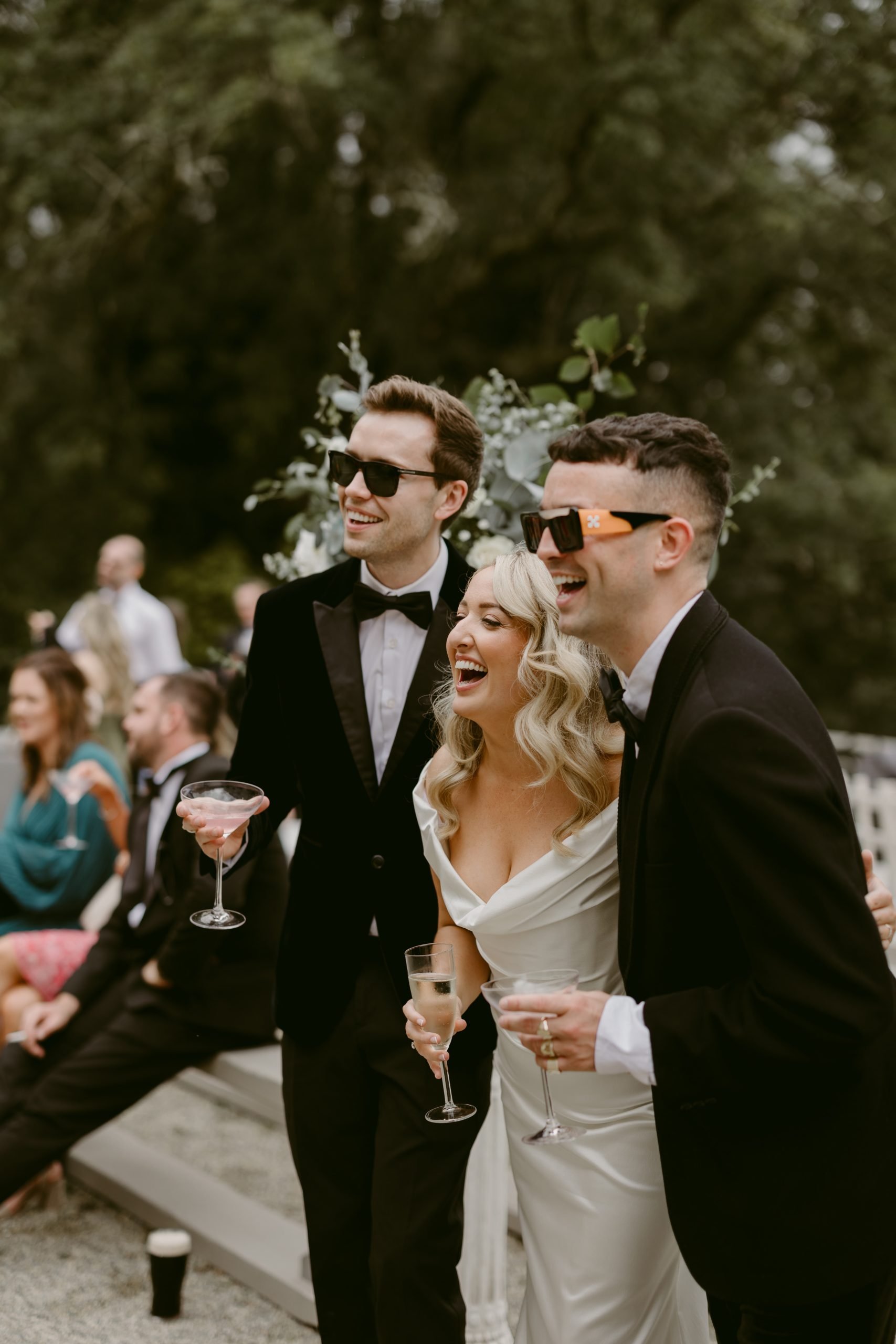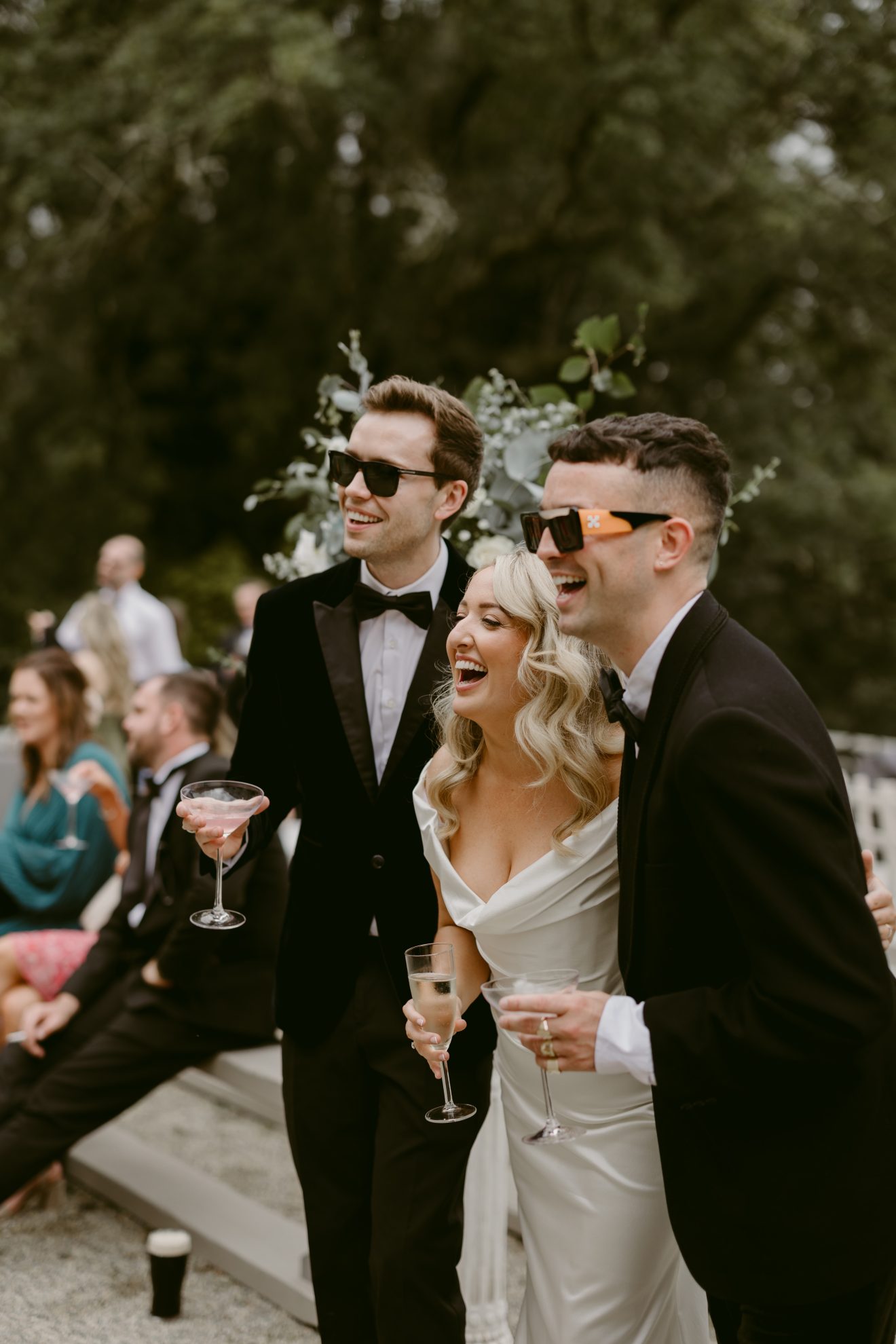 'Our stationery and invites were from Evite You, and Joeanna Caffrey did the bridal bouquets and buttonholes. The teams at Clonwilliam looked after the venue flowers. Nathan's Mum, Violet made our wedding cake. She is so talented, and it was so special to have that personal touch. 
'We had an audio guestbook from To Have And To Hear: the voice messages that were left were so hilarious and heartwarming to listen back to. We had a glam 360 photo booth from Hype 360, which we all had so much fun with and really added something extra, as did our personalised cocktail toppers from BumbleBee Cocktail Toppers.
'Because we met at a festival, we threw a mini one for our day two celebrations in Clonwilliam. Our 'Wed-Fest' featured the perfect hangover grub from Eddie Rockets (Circuit Catering) and entertainment from Sing Along Social.'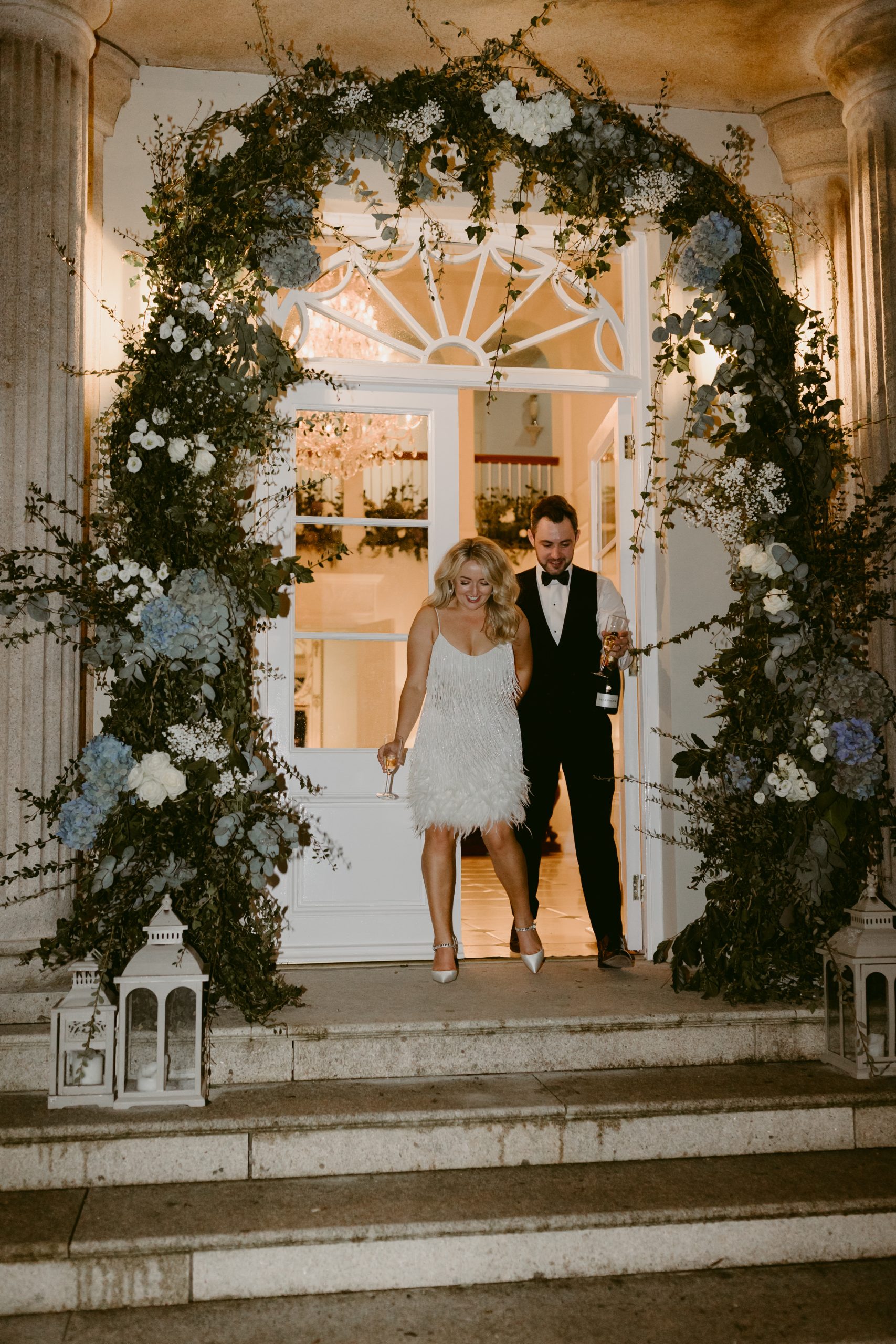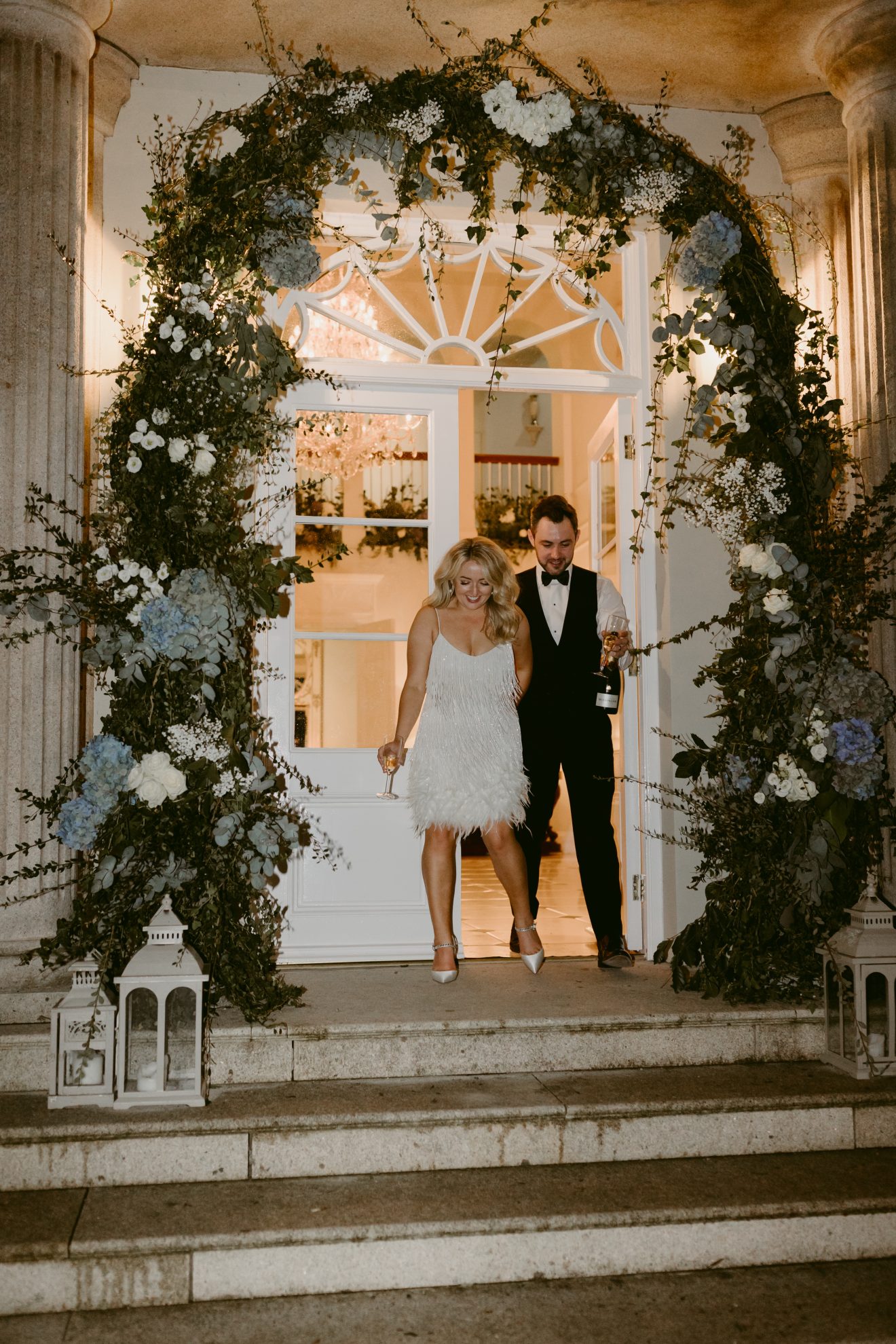 Do you have any advice for other couples planning their wedding?
'Enjoy every minute – all the little celebrations along the way with your nearest and dearest in the lead-up to the big day. People always say it, but the actual wedding day does really go by in a flash, so try to sneak away and have a moment alone with your partner and take it all in.
'If things do get a bit stressful or overwhelming, try to not sweat the small stuff and remember it will all come together. Trust your suppliers, they are the experts and will guide you.'
Rebekah & Nathan's Dream Team
Venue: Clonwilliam House, Co. Wicklow
Celebrant: Rachel Murphy
Photography: Adam and Grace
Videography: Dear Oliver
Wedding Dress: The White Gallery, Newry
Bridesmaids Dresses: Rewritten
Groom's Suting: Louis Copeland
Groomsmen: Tango's Suit Hire
Caterer: Naomi's Kitchen
Band: Spring Break
Make-up: Lisa Shannon
Hair: Amy Donoghue
Stationery: Evite You
Bouquets & Buttonholes: Joeanna Caffrey Flowers