Lifestyle and beauty influencer Roisin Doherty and her husband Nick Irvine wed at the stunning Beech Hill Country House.
WEDDING DATE: 6th May 2023
How did you two meet?
Roisin jokes while reminiscing, 'We met in the traditional way…through Instagram back in 2017!' Nick is adamant that Roisin used to comment emojis under his posts and that grabbed his attention! Roisin says different and jokes that Nick tortured her. 'We connected soon after, arranged a date and we have been inseparable ever since' says Roisin.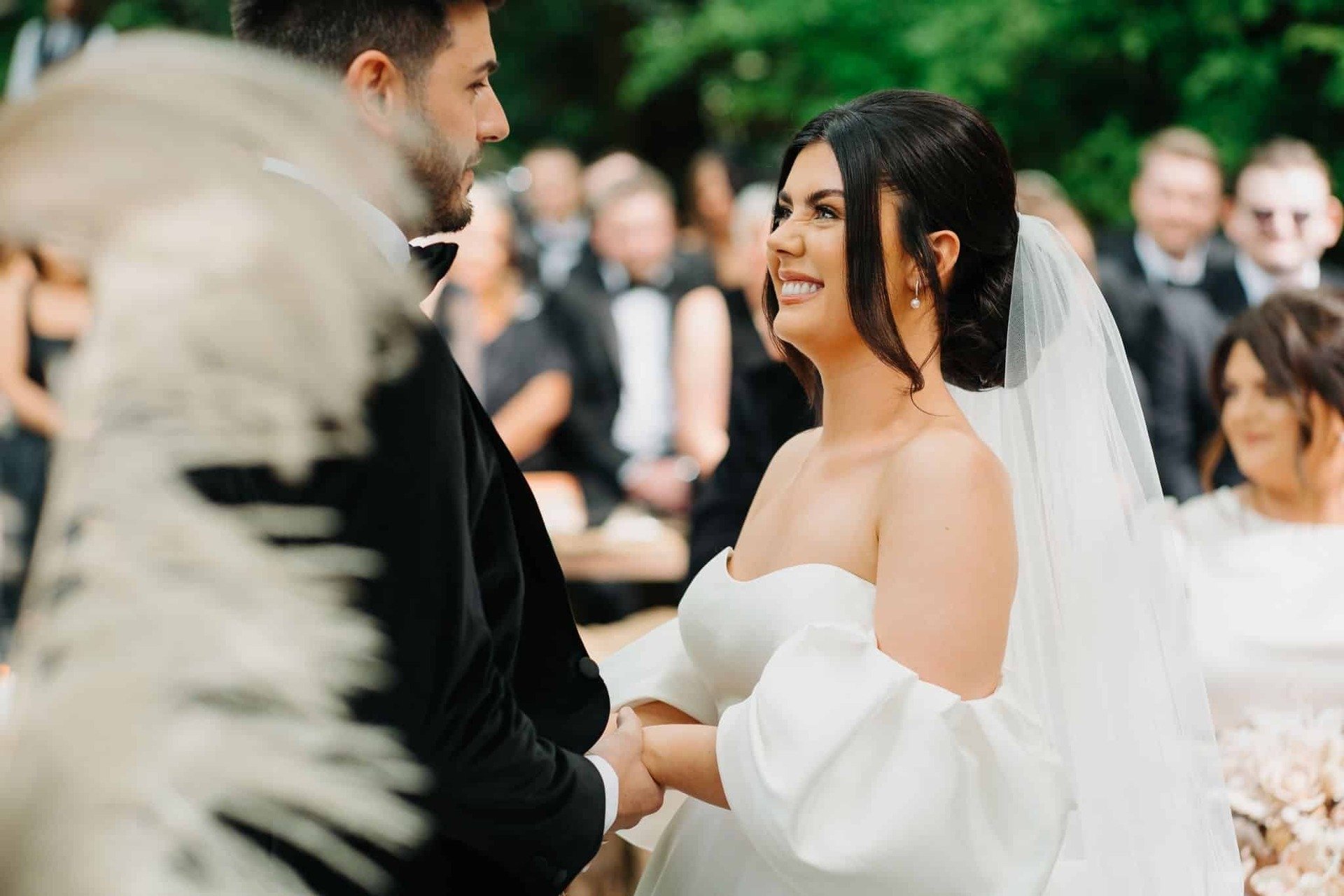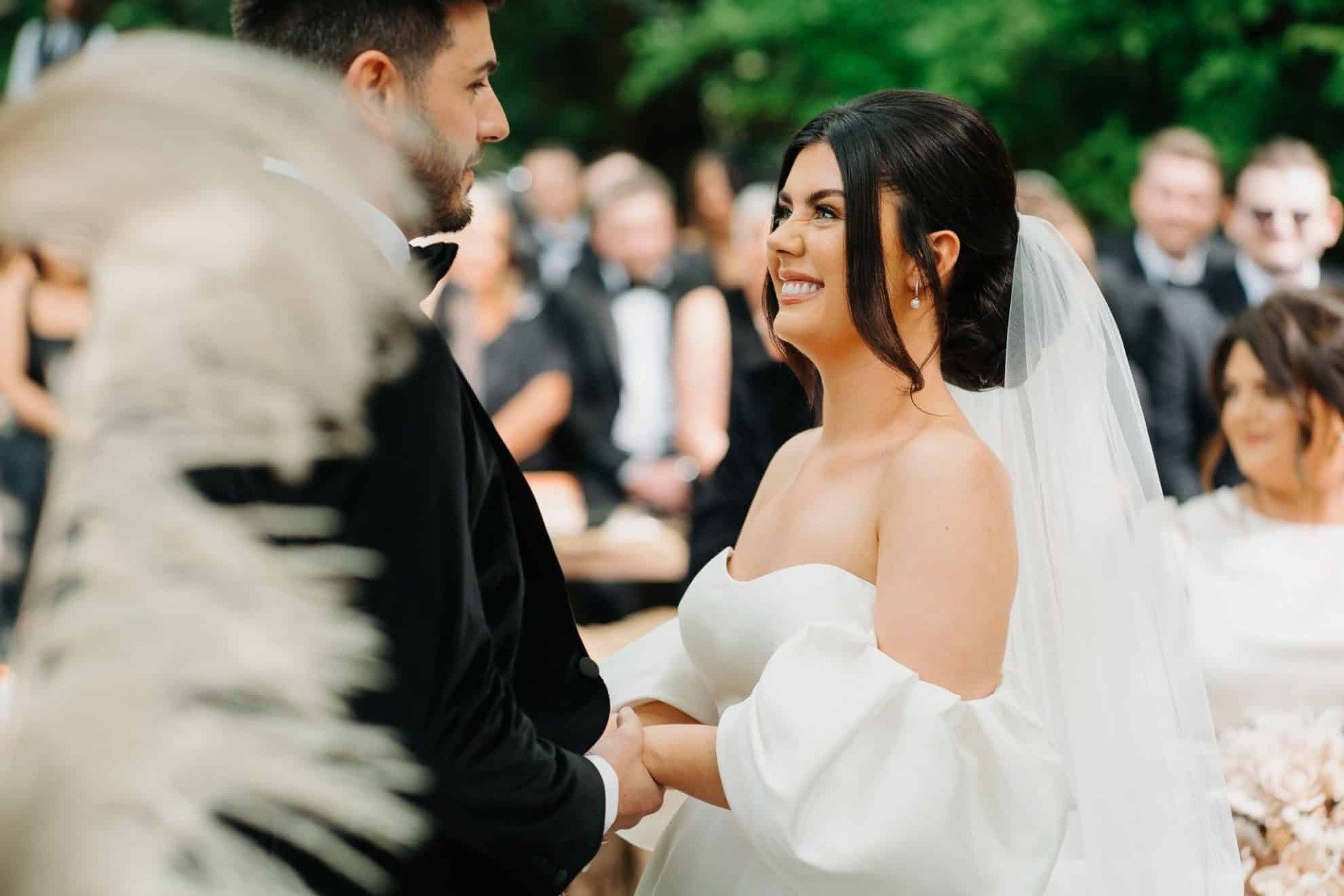 When did you get engaged?
'It was 5th May 2021; we had arranged a photo/video shoot for our family YouTube channel (The Docirvines).' Roisin was blissfully unaware that Nick had arranged everything with the photographers and that he was going to be popping the question with it all to be captured! 'The sun was setting; we were strolling along Downhill Beach, just beneath the Mussendem Temple. Nick composed himself and dropped on one knee, asking me to marry him surrounded by our kids. It was just perfect!'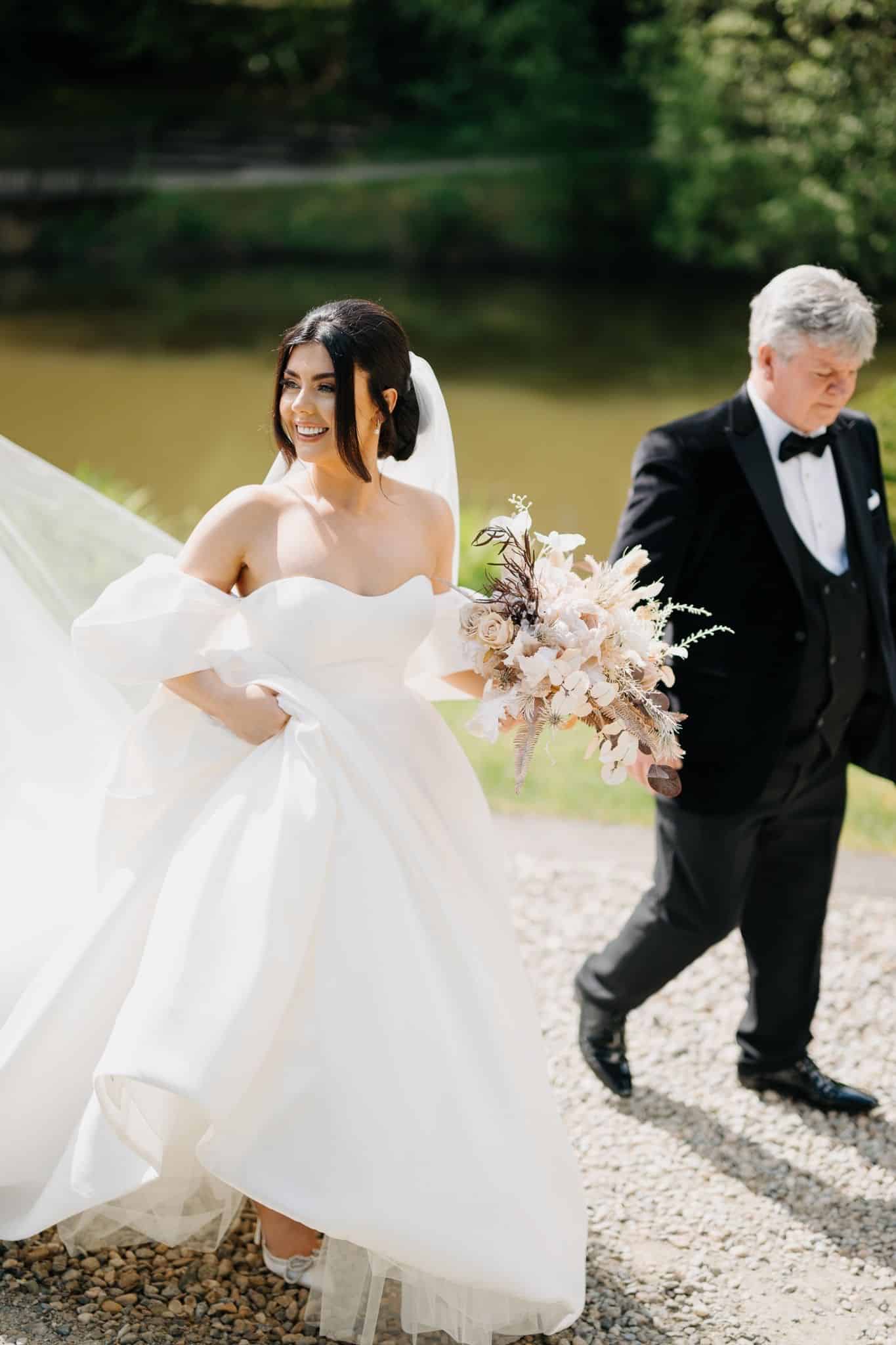 Tell us a bit about your wedding planning.
'The week after we got engaged, we viewed a few venues as we were on such a high! Then life kicked in and with running multiple businesses, the wedding planning quickly came to a standstill.' One day in the office, they both decided it was time to jump back into the wedding planning and booked a viewing at Beech Hill Country House. 'We instantly fell in love! What sealed the deal for us was the staff and their outdoor forest ceremony area. I could envisage us standing under the trees with our nearest and dearest.' Roisin came up with the idea of having a black-tie wedding, but going a step further and asking all guests to dress in black!
'Having received our wedding photos, it was the best decision we made. Everyone looked so classy, elegant and timeless.'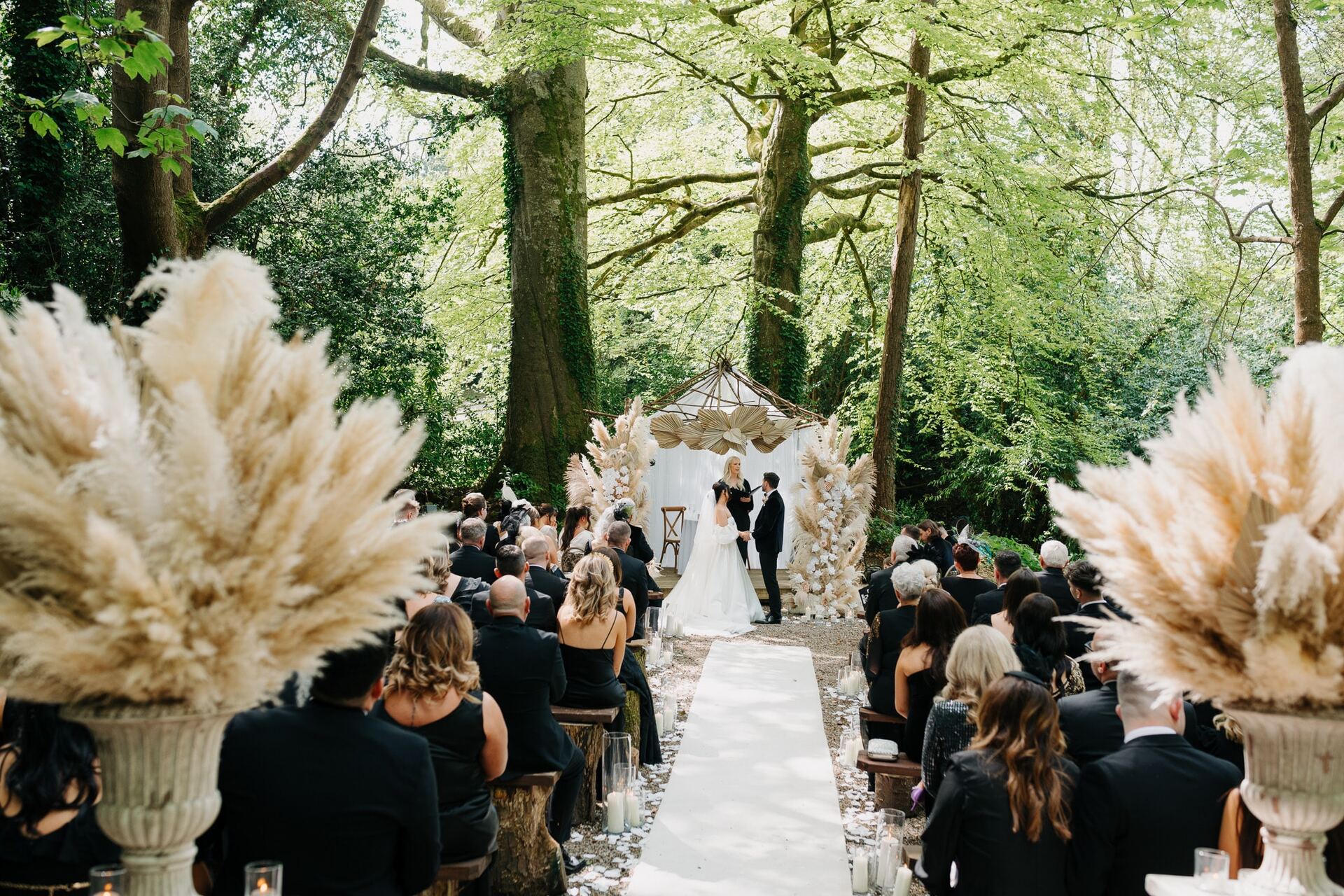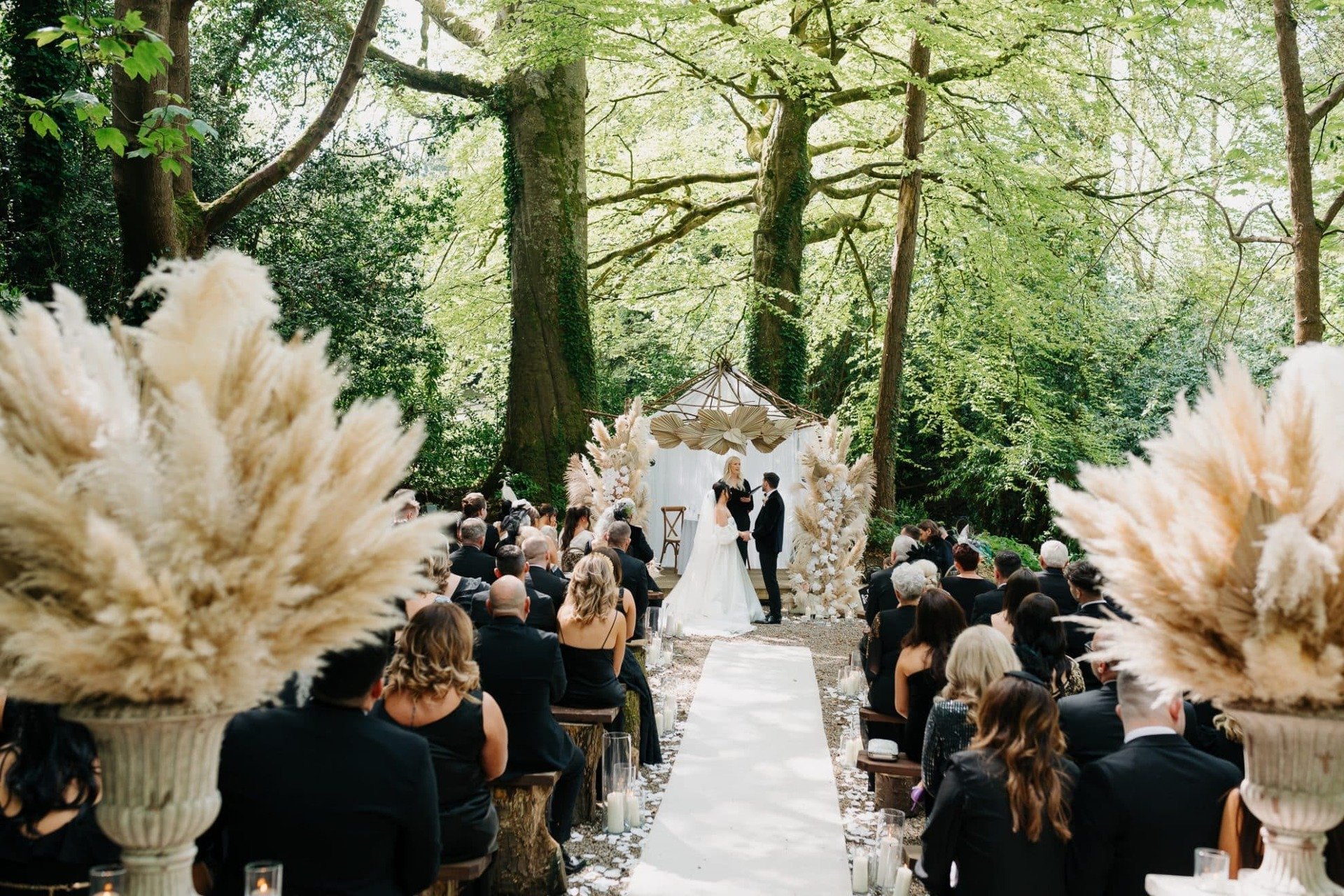 Who captured your day?
'Our videographers were Irvine Wedding Film. We have worked with these guys for a long time now and have become good friends with them over the years! They captured our engagement beautifully and they are such nice people and a joy to work with. They just get us and our vision which makes it so easy! 'Our photographer was Agape Wedding Photo & Film. We came across them on social media and instantly fell in love with their dreamy content. Simon is such a humble guy and is unbelievably talented, it felt like we had known him for years and made us feel comfortable in front of the camera.'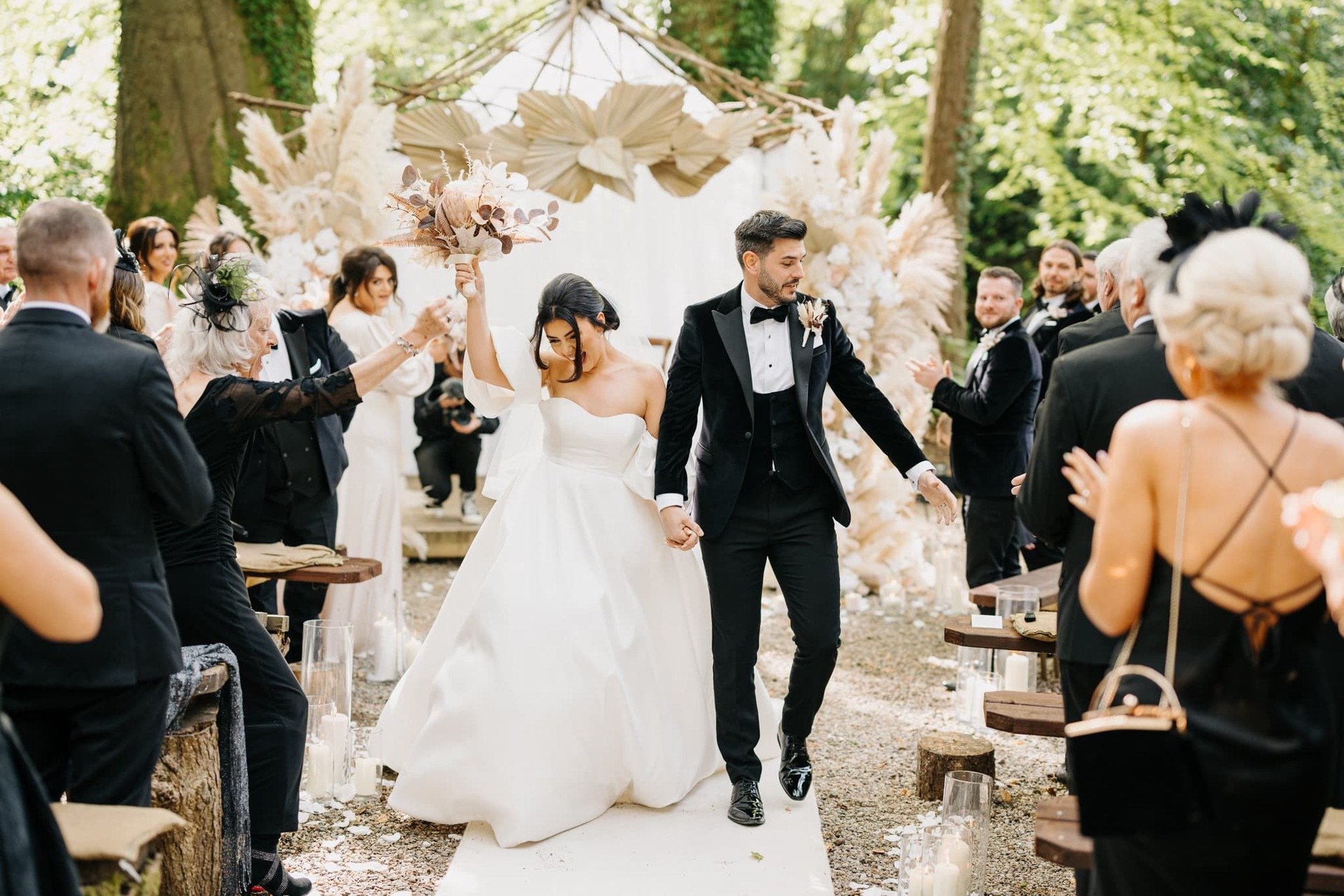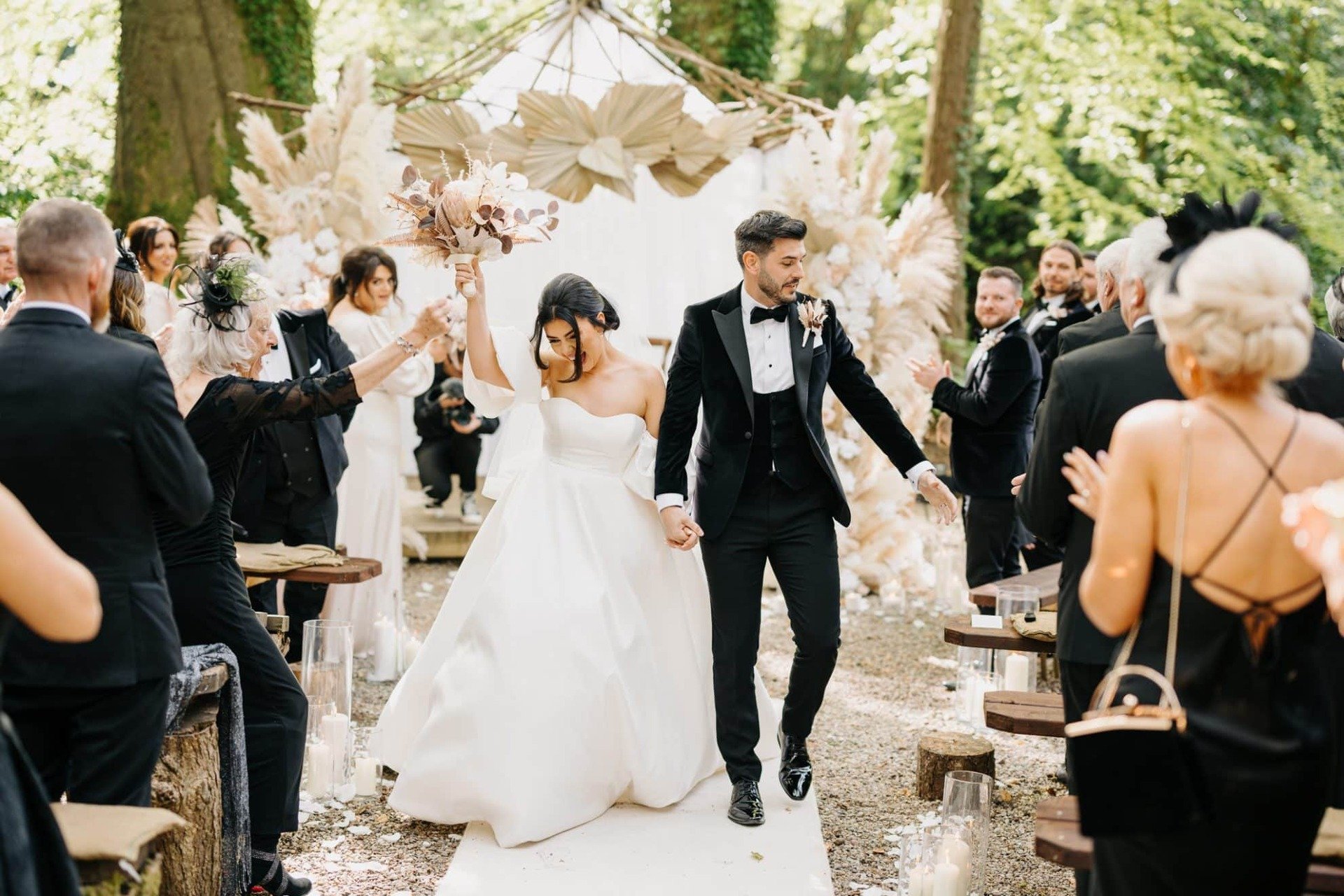 What did you wear?
Roisin explains, 'I found my dream dress, bridesmaids and flower girls dresses all under the one roof. It was the first place I tried! I really didn't know what style of dress I wanted but, in the end, I fell in love with a simplistic ballroom style gown designed by Badgley Mischka. 'The girls in Petticoat Lane Bridal were incredible from start to finish. They even came the morning of the wedding to help us all get ready! I worked closely with the lovely designer Andrea, owner of Dinky Draya to design our bespoke bridesmaids and flower girls' dresses. 'Everyone who knows me knows that I am OBSESSED with bows – Andrea worked her magic and brought my vision to life.' Nick goes on to explain how they both love supporting local. 'It was great to get all the men kitted out in another one-stop-shop on our doorstep: Nineteen83 Gentleman's Fashion. 'All the groomsmen were dressed in black velvet tux jackets and bow ties. I opted for a black velvet waistcoat to differentiate.'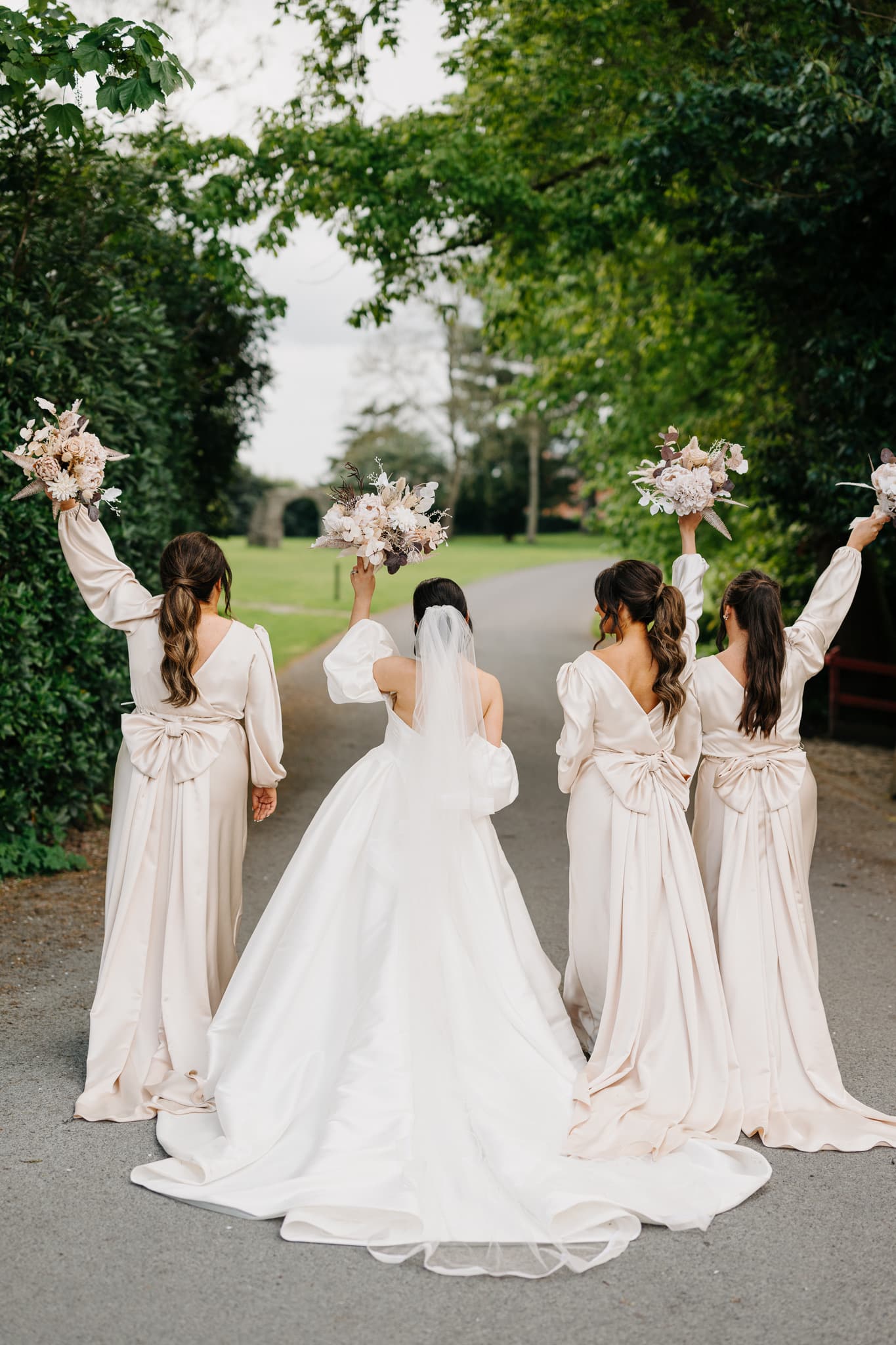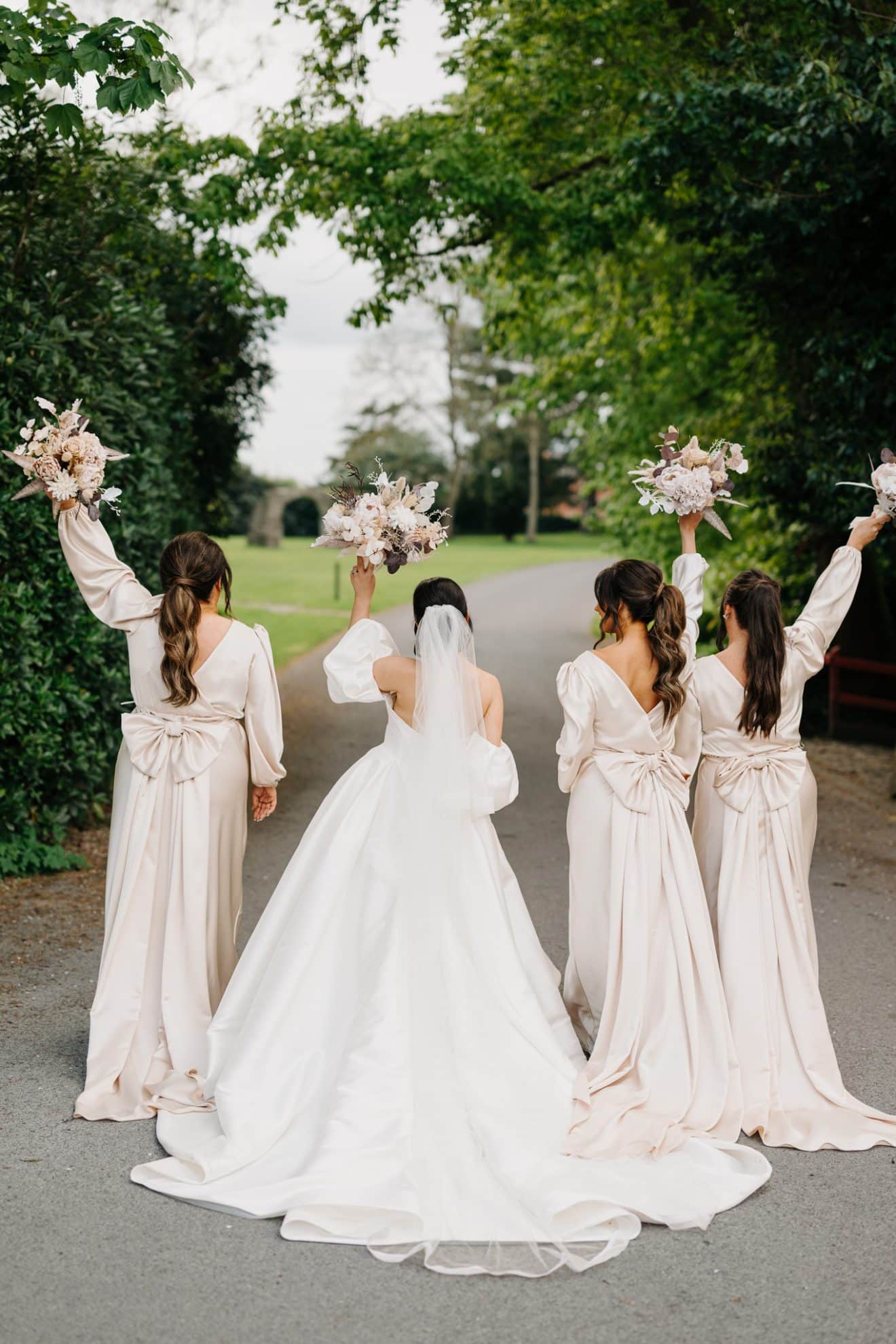 What was your favourite moment from the day?
'When I was standing at the top of the steps, just before I walked down the aisle,' says Roisin, who adds, 'Taking in the moment, with all my nearest and dearest and seeing my vision become a reality!' Nick goes on to say, 'For me I'll never forget the moment that I heard the music that Roisin walked down the aisle to and the moment I turned around and laid eyes on her. That will stay with me to the day I die!'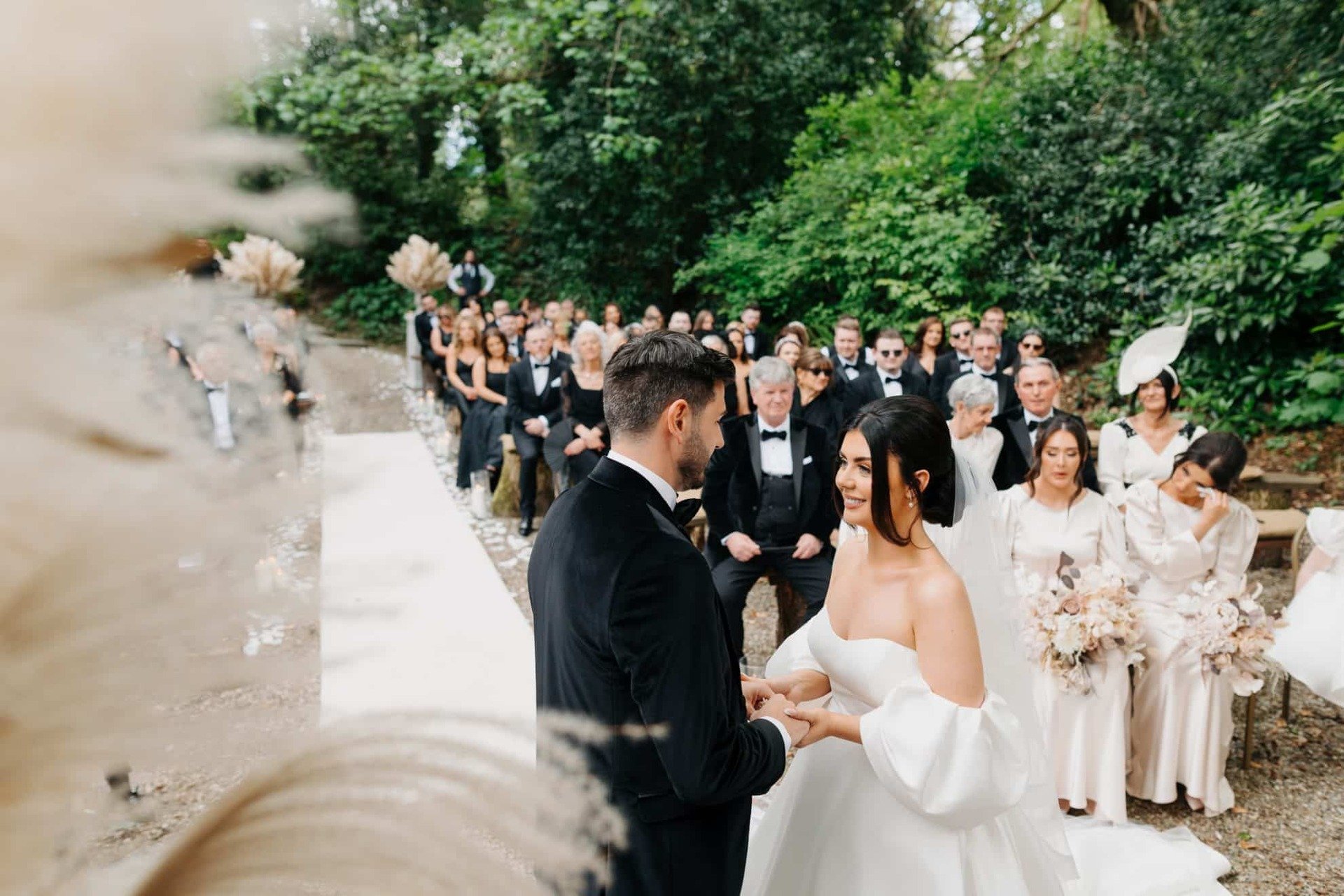 Do you have any advice for other brides or grooms currently planning their wedding?
Roisin says, 'Just enjoy the process, don't listen to other people's opinions – do what you want to do, remember it's your wedding.' Nick adds, 'Trust your vendors! This isn't their first rodeo! It can be stressful organising a wedding, so take their advice and let them do their job!'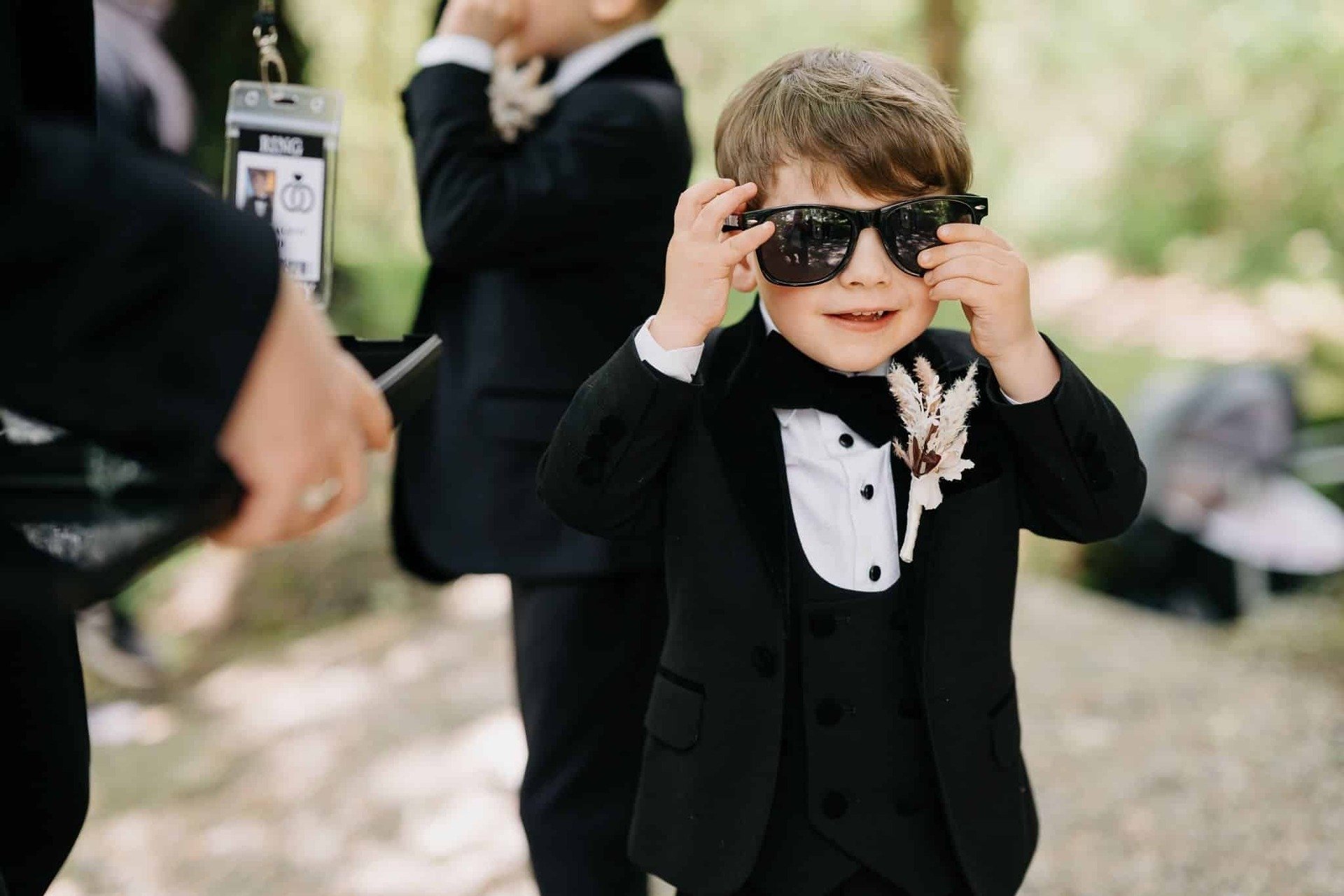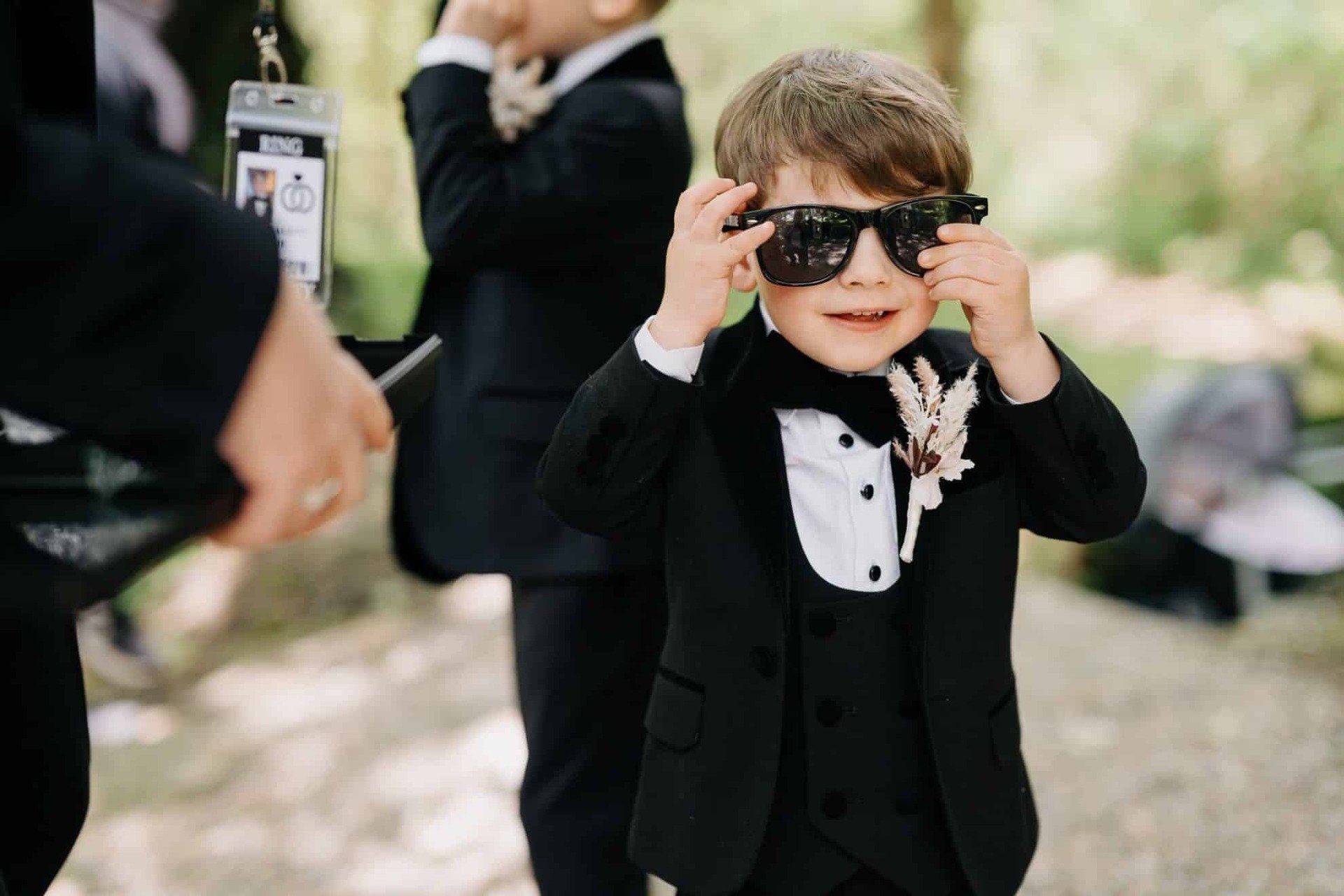 Roisin & Nick's DREAM TEAM
Venue Beech Hill Country House
Photography Agape Stories
Videography Irvine Wedding Film
Venue Décor Styling The Wedding Room NI
Wedding Dress Petticoat Lane Bridal
Bridesmaids & Flower Girls Dinky Draya at Petticoat Lane Bridal
Suits Nineteen83 Gentleman's Fashion
Flowers Innocent Chaos
Hair Hidden Hair
Make-up Louise Lavery