Amy & Scott's Real Life Wedding
Married on 9th September 2020
HOW THEY MET
Scott and Amy spent the summer of 2014 leading a youth camp with friends in sunny Portugal. They instantly clicked, but Amy shares how it took a little bit longer than expected for sparks to truly fly. 'When we got home, our friendship continued to meet up and hang out, I really wanted him to make a move first. It took him a few weeks to pluck up the courage to ask me for a first date -I was delighted, and now the rest as they say is history.'
THE PROPOSAL
Scott planned his proposal very well; Amy wasn't expecting a thing! 'It was a chilled Sunday afternoon in December, we had visited Montalto Estate for a walk and catch up,' recalls Amy. 'We had just grabbed our coffees and started to walk through the grounds when Scott decides to get down on one knee. The sun was just setting across their rockery, he has found the perfect spot and I hadn't even realised. It was such an exciting time; we spent the rest of the evening driving around telling our families – it was so memorable.'

THE PLANNING PROCESS
When they started wedding planning, Amy and Scott were picturing a rustic, bohemian style day. But just a few months into it, they decided to switch things up. 'We liked the idea of a more elegant and timeless wedding theme – one that we know wouldn't look tacky in a few years' time. I think the change of vibe stemmed from trying on a multitude of boho wedding dresses and realising they weren't very 'me'.
Once the theme was decided, Amy and Scott felt like everything started to fall into place. 'We kept our décor and styling simple and classy,' adds Amy. 'I loved the idea of having gold touches throughout the décor, so it was easy enough to source gold photo frames, table stands and lanterns.'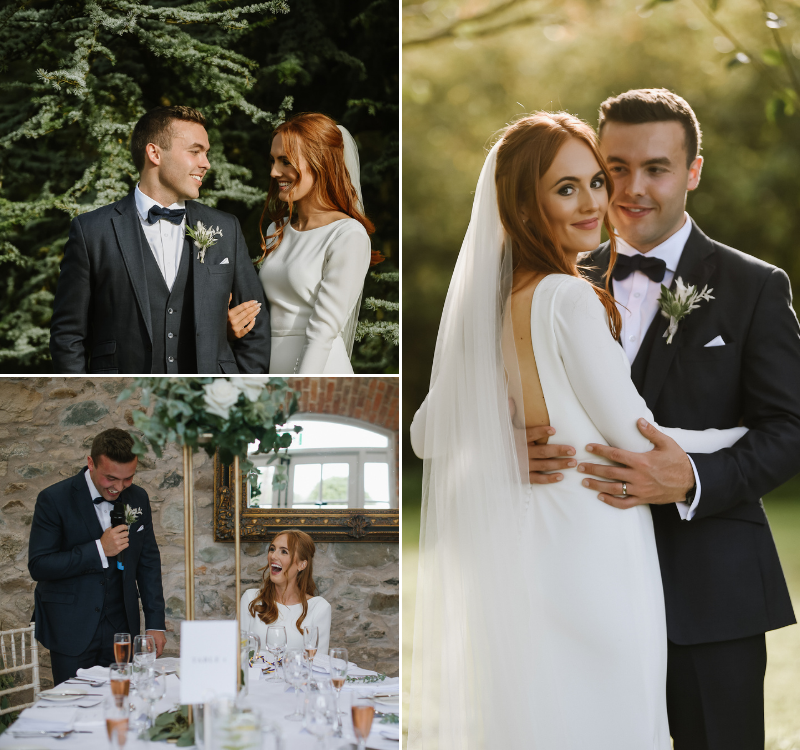 This young couple were planning their special day during a pandemic, so there a few little hiccups along the way. 'We had originally loved the idea of having one long banquet table,' explains Scott. 'But as our guest list was continually changing (due to COVID) we ended up having oval tables placed throughout the room to accommodate families and social bubbles. The table layout actually looked really good as it filled the room nicely.'
DREAM WEDDING SUPPLIERS 
Wedding planning can be tough, but with the right suppliers it seems effortless. Amy and Scott highly recommend the team at The Old Rectory, Killyman. 'I have to add that Emma, Paul and Ciara at The Old Rectory were really helpful with styling the venue and helping us visualise where to set everything out. We instantly fell in love with the grounds from the moment we first visited – their team is fantastic to work with.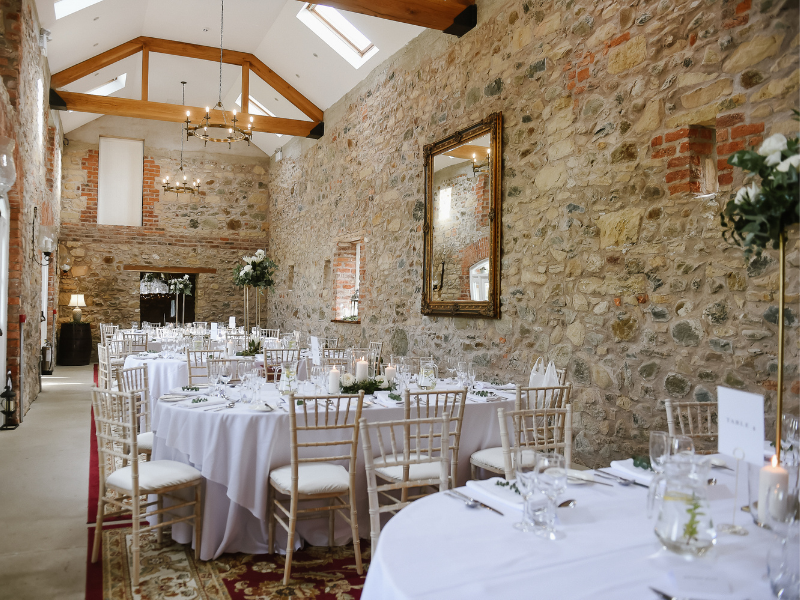 Zoë at Posy & Tie Floral Design worked closely with Amy on their wedding flowers, they were one of Amy's favourite details. 'Zoë has such a fantastic and creative eye to detail with her displays and ideas. I told her that I had white flowers and greenery in mind, and she worked her magic to create the most stunning florals and wooden arch display. as well as greenery sprinkled throughout the ceremony and reception venues. My favourite flower had to be the white king protea in my bouquet and throughout some displays. They are from South Africa, my family and I travelled there quite a bit when I was younger and we have friends there, so it was lovely to have a flower which had meaning behind it too.'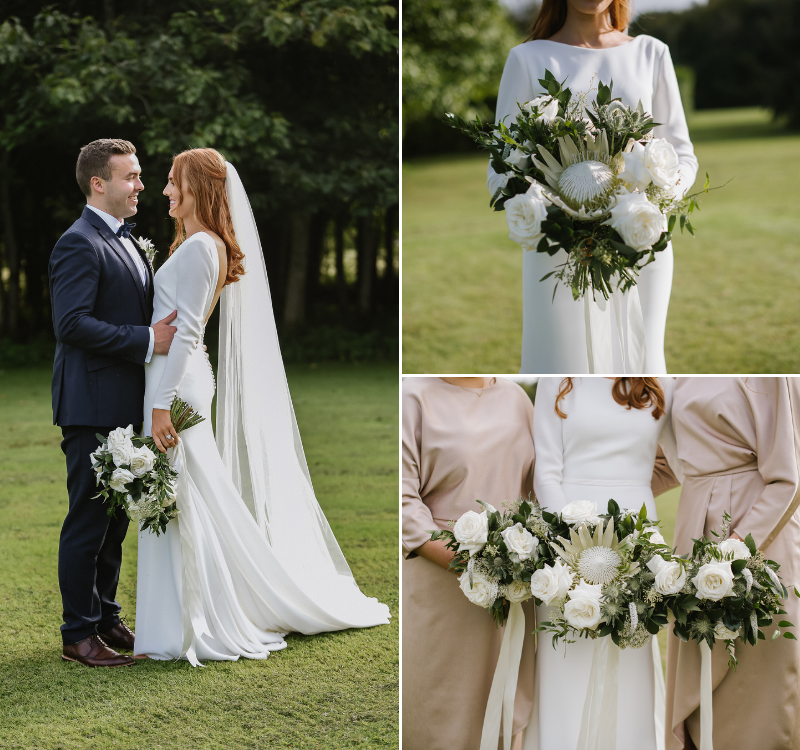 When guests arrived, they were welcomed with a stunning grazing table courtesy of Pomegranate and. 'For our meal, we had originally selected a very informal, sharing style menu but Covid restrictions meant we were unable to do this, so we had to change our menu a few weeks before the big day. Posh Nosh were great at helping us choose a new menu really quickly. We went with a sweet potato soup to start, chicken or beef options for the main course, followed by a trio of desserts. The food was delicious, and we had so many compliments on the day – from the menu to the helpful staff, the service with Posh Nosh was great!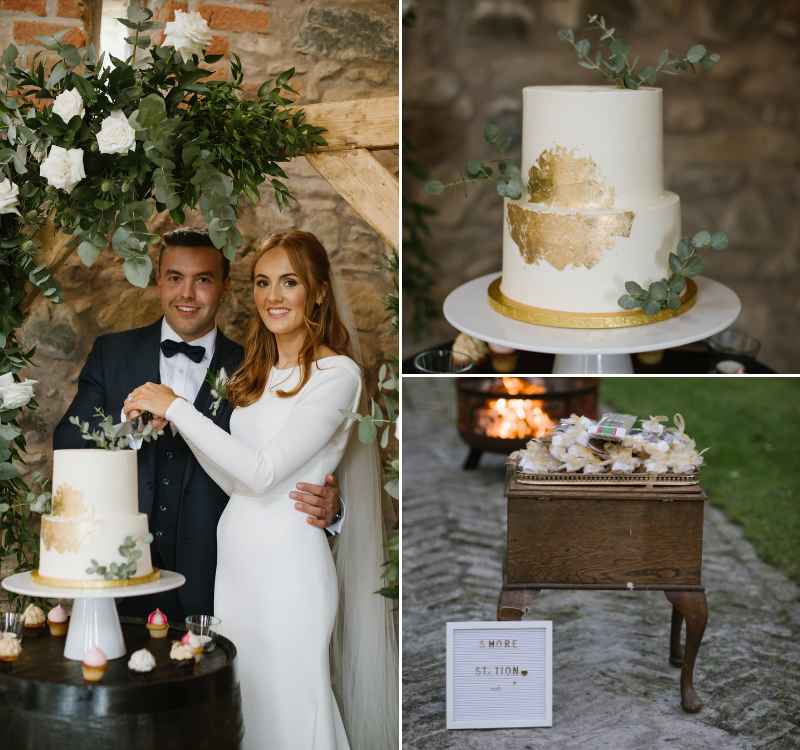 J-Birds Bakery in Belfast made our wedding cake and mini cupcakes which were served with the evening food. I had always wanted a very simply wedding cake with gold foil and Jeannie made this happen!
WEDDING WARDROBE
Finding Amy's dream wedding dress was quite the mission – we blame too many episodes of Say Yes To The Dress. 'I must have tried on about 40 dresses in total, maybe more, and visited a lot of boutiques. Initially I found it really hard to pick a dress because I had built up in my head it was going to be this big emotional moment.' La Boda Bridal was actually the second boutique I visited back in August 2019, I took a break from shopping but returned in January 2020 to try on one dress that had stayed in my mind. I think I knew in my heart that it was 'my dress' when I first tried it on but I needed to rule all other options, just in case.'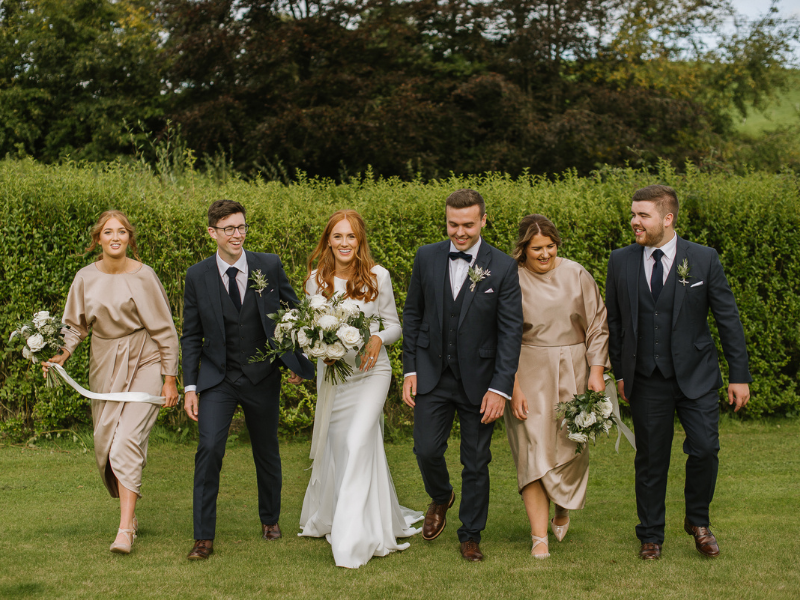 After months of struggling to find bridesmaid dresses they liked, Amy ended up sourcing her own material and asking the woman who helped fit her dress to piece everything together. 'Ann worked off a few different dress designs and they were gorgeous. It was lovely being able to design dresses which the girls felt comfortable in and which were different as well as being able to choose a specific colour.'
Scott took a trip to Focus Menswear in Bangor to kit himself and his groomsmen out. 'I wanted to keep things very simple and crisp, so we went for navy three-piece suits. I had a bow tie, and my groomsmen wore classic ties – it was my day after all,' laughs Scott. 'The staff at Focus couldn't have been more helpful, from suiting everyone for fittings to making sure everyone's suit was perfectly tailored to them.'
CAPTURING THE DAY
'We chose You Them Us as our wedding photographer as we loved the style of their photography and how they are able to capture the special moments so effortlessly. They were so much fun to be around on the day and their attention to finer details really stood out to us.'
When it came to filming their wedding, Amy and Scott had one person in mind. 'We both knew we wanted Clive to be our wedding videographer from the beginning, we had seen snippets from other weddings, and we fell in love with how he captures all the moments and emotions of the day. We knew our only lasting memories of the day are the video and photographs and Clive's attention to detail is fantastic, so we were thrilled when he was available on our date.'
FAVOURITE MEMORY
A first for WJ, but this groom's favourite moment was their post-ceremony photoshoot. 'It was really nice to just get time together as husband and wife. Our photographers made it so memorable and really fun for us. And of course, the much-anticipated moment when I first seen Amy in her wedding dress as she walked down the aisle was special too.'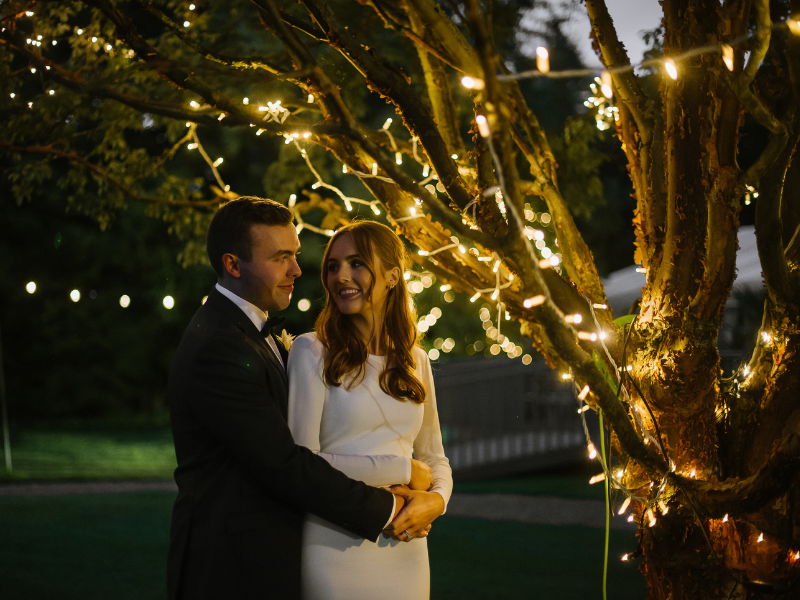 Amy's highlight was a surprising one – it was their first dance. 'We were both dreading being the centre of attention but Clive, our videographer, had this idea of us having our first dance outside, under the fairy lights, while guests were lighting sparklers. Again, Paul and Emma were so accommodative and helped it happen by bringing the speakers outside and handing out the sparklers just in time for us starting our dance. It was so magical.
Amy & Scott's Dream Wedding Team
Wedding Venue – The Old Rectory, Killyman
Wedding Dress – La Boda Bridal, Banbridge
Groomswear – Focus Menswear, Bangor
Wedding Flowers – Posy & Tie Floral Design
Grazing Table – Pomegranate & Fig
Wedding Cake – J Bird's Bakery, Belfast