Your Wedding Day will be filled with some of the most incredibly special and beautiful moments that you will look back on for years to come but by far the most beautiful and memorable will be the moment you walk down the aisle with your parent or loved one to meet your partner and begin your exciting new life together.
For some brides, walking down the aisle is really the moment the wedding starts and it symbolises everything you have been planning for over months or even years; so it is totally natural you want it to be perfect!
Whether you want to have a romantic and perhaps tearful walk or a fun, chilled moment filled with laughter, we can help you choose the perfect song for that special moment!
TRENDING: How To Create The Ultimate Wedding Reception Playlist
Choosing The Right Musician
When planning your music or hiring your musician, there are some key aspects that can play a role in what style of music you choose. Is the venue a church or is it a rustic barn? Is it a formal hotel or an outdoor ceremony in a garden?
For a traditional church wedding or more formal affair, a soloist or a string quartet are the perfect accompaniment for this idyllic setting. The Cellists are a great alternative from the classic string quartet; quirky but relaxed, their style can be the perfect complement to your day.
Rustic weddings or outdoor venues can suit for a more acoustic band or even a single harpist. The Real Shindig offer a modern contemporary acoustic vibe playing modern songs or even the classics.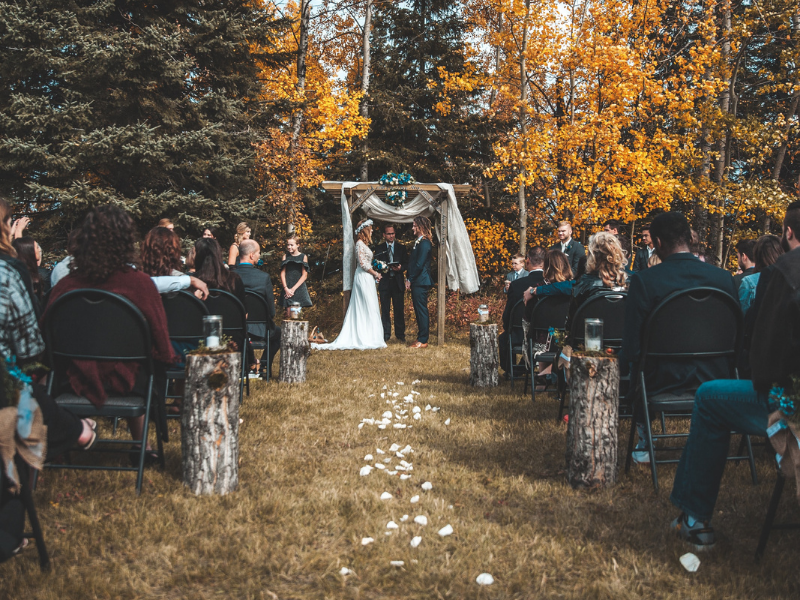 Whatever your style, hiring a professional will take some of the stress out of planning the early part of your day and they can cater to your taste and are a great visual for your guests. Check out our online wedding directory where you will find a list of the best Wedding Entertainers in Ireland.
Of course, some couples choose not to have a live musician or soloist for their Wedding day and opt for a playlist they created themselves. Just remember that although your aisle music is top priority, you also need to organise your prelude songs for guest arrival, music for your bridesmaids and your exit music too. Also, make sure the songs you choose are appropriate in lyrics and length!
Top Tips For Choosing Your Song
When choosing your song, remember it needs to reflect not only you and your partner's tastes but also the emotional connection that signifies your love story and brings you both together. Everyone loves AC/DC but can it really show why you are both in love?
If you are not a traditionalist at heart, why not consider walking down the aisle together or give the groom his moment and plan two separate entrance's! The Bride shouldn't have all the fun, right?
Most couples decide to pick the song together, but nothing is stopping the bride or groom from choosing their own song as a surprise or gift for their partner. A popular new trend is choosing the theme from the groom's favourite film which will not only surprise your groom but will create a beautiful moment for your guests to see his reaction.
Whatever song you choose, make sure its ambient and calming for your Groom and your guests. Stress levels will be high so something loud or fast might create more anxiety than necessary
It's a given that this will be an emotional day as well as romantic so be sure to choose a song that reflects this. You don't even need lyrics! Choosing a beautiful instrumental piece can work even better but just make sure it enhances your feelings as you walk down the aisle to your future husband or wife!
Try to think of events that have happened in your life together and what songs you associate with this. The relationship between music and memory is powerful so if you can remember what was playing the day you met or when the important question was asked, why not use it?
Don't make a last-minute decision or fall for the newest song in the charts. If you hear the perfect song on the radio stop, listen and think before choosing as although it's a favourite today, after months of overplaying on the radio you may never want to hear it again!
Always be sure to check with your celebrant if you are getting married in a church as some may not permit certain types of music!
Top 20 Songs That Fit Perfectly
Here are the some of the top classics that brides have gone back to time and time again for that perfect moment:
Ed Sheeran – Thinking Out Loud
Christina Perri – A Thousand Years
Etta James – At Last
Elton John – Your Song
Bruno Mars – Marry You
Adele – Make You Feel My Love
Eric Clapton – Wonderful Tonight
Pachelbel Orchestra – Canon in D
The Beatles – Here Comes The Sun
Israel Kamakawiwo'ole – Somewhere Over The Rainbow
John Legend – All of Me
Jason Mraz – I'm Yours
Fleetwood Mac – Songbird
Edwina Hayes – Feels Like Home
Bruno Mars – Just The Way You Are
Ed Sheeran – Perfect
Van Morrison – Have I Told You Lately
Jack Johnson – Better Together
The Temptations – My Girl
The Beatles – All You Need Is Love
Once you have picked your aisle song and ceremony music, the next step is choosing the music for the rest of your day! Check out some of our links below that can help you plan and create the perfect playlist for your day:
READ MORE: