Before you sign on the dotted line, there are a few questions you need answers to! Here's everything you need to know before saying yes.
Choosing a wedding venue is one of the most exciting parts of wedding planning – you can actually start to imagine your big day!
It's important to consider everything you need to know before visiting your selected venues, it's easy to get carried away when you fall in love with a fairytale castle or a rustic barn but there are important points to consider.
You'll probably visit a few different wedding venues, each offer fantastic packages, before you find 'the one.' A wedding venue will mean different things for different couples.
For you, it might just be a reception space, for others it will be where they share their vows for their ceremony, and for some, it might be a base for several days of festivities, with accommodation thrown in too.
Spaces themselves will differ; hotels, restaurants, town halls, barn venues, exclusive country houses, or local sports/country clubs – the options are endless!
The Basic's
How Many Guests Can You Accommodate in the Day and the Evening?
It's best to gage a rough idea on the amount of guests you'd like to invite, so make sure the venues you're looking at are big enough.

How Long Can I Provisionally Hold a Date For?
Some venues let you hold a date for free until they get other interest, while others will ask you to pay a refundable or non-refundable deposit. It's best to ask ASAP so you won't be landed with a bill.
Do You Have Accommodation On-Site?
This is essential if you're getting married in a location that isn't local to your family and friends. Some venues offer a discounted room rate or include bedrooms in the wedding package, so be sure to ask what they can do for you in terms of rooms and prices. If they don't, are there any B&B's or hotels in the area?
Do I Have to Use Your Recommended Suppliers?
Most venues will supply you with a list of "recommended suppliers" who they regularly work with and trust. Some venues will request that you stick only to their recommended suppliers, which can limit your choices and potentially not work with your budget.
TOP TIP: Try to visit venues before you've chosen an exact date. If you have a few options or a range of dates that might work, you'll be more likely to secure a spot at the venue of your dreams.
Will you be hosting any other weddings at the same time as ours?
If you are planning on having your wedding in a hotel, it is possible that there might be other weddings happening at the same time. While there isn't much you can do about this, it is always better knowing ahead of time!
Who Will Be Our Point Of Contact For Planning?
Most venues now pair each couple with an expert wedding co-ordinator from their events team. They are there to assist with the design, planning and management on your big day. If your venue offers this service, we highly recommend to take them up on this.
The Ceremony
Is the Venue Licensed for Civil Ceremonies?
If you want to have your ceremony and reception all under one roof, make sure your chosen venue has a wedding licence. Licensed wedding venues can offer their own services in-house. Be sure to check whether this means extra cost if you are thinking of making use of it.

How Flexible are you With Timings of the Day?
Ask what they recommend and then how flexible they can be. If you're not looking for a traditional structure to your wedding day and want an informal or slightly different timeline to your day, you need to let their wedding team know.
Are There Spaces For The Bride & Groom To Get Ready In The Morning?
Brides tend to think the whole day through, from getting ready to the reception party. If you've been dreaming on your girly morning filled with hair, make-up and Prosecco, then it's important to make sure that space is actually available.
Will I Need To Decorate My Venue Myself?
There are venues out there that are so gorgeous they don't need too much added decor, or have a team there to help with the likes of this. However choosing a cheaper venue may mean you have to decorate it yourself. This all costs extra money, time and effort, you might be best hiring venue stylists to come in and help decorate for you.
Are Fireworks/Confetti Allowed?
Not all venues allow fireworks or confetti so it's best to check this. There is always the option to use biodegradable confetti or flower petals instead. Everybody wants that confetti shot!
Where Can We Have Our Photographs Taken?
You want to get the perfect photos in the right setting, especially if you are paying money for a professional photographer. Scope out the venue and explore the grounds to find your perfect backdrop.
The Reception
What Evening Food Options Do You Offer?
What time do you typically serve the wedding breakfast? If your wedding breakfast is an early afternoon one, your guests will definitely be peckish again by the evening. Are evening canapés or a buffet dinner part of your package, or do you have to pay extra?  Do you offer vegetarian dishes, gluten free, or vegan meals? Plus if catering is available, can we do a tasting?
TOP TIP: Budget for evening food too so as not to leave your guests hungry or alternatively have a later wedding buffet, barbecue or hog roast.
Is There A Licensed Bar Available?
Most venues will include a licensed bar in the fee but its always good to check, make sure you ask whether or not there is a minimum spend. Find out what time the bar closes, what time music should finish and what time the venue closes, so you and your guests know what to expect.

Can this venue accommodate a band or DJ, including all of their equipment?
Many wedding venues will have a designated area for dancing. Double check if the venue has any rules about the number of band members or preferred suppliers. Have a think about what your entertainment choices require, if you're opting for a DJ or live band is there going to be adequate electrical outputs?
Facilities
Do you have a special are for children?
If there is an extra room available for the kids, we definitely advise you to use it! Some venues will offer a special area for this, but in case yours doesn't, you might want to make arrangements for a tent or children's entertainment! Better be prepared!
Do You Have Disabled Access?
If anyone from your guest list is disabled, it will be important to ask your venue whether there is access and toilets for them to use. Elderly guests too might be more comfortable using a lift or an entrance that doesn't involve steps.
How Many Toilets Are There?
We suggest at least four toilets per 100 guests, that way your guests won't spend the evening in a queue. If you're hosting an outdoor wedding, then it's best to check if/where portable toilets can be placed.
Finer Details
How Much Will The Initial Deposit Be & When Is The Final Payment Due?
Venues will always ask for an initial deposit to secure your booking. But it's useful to always ask when your final payment is due; this will allow you time to map out a payment schedule within your allocated wedding budget.
TOP TIP: If you are vibing with an outdoors wedding, it's always best to discuss a back-up plan just incase!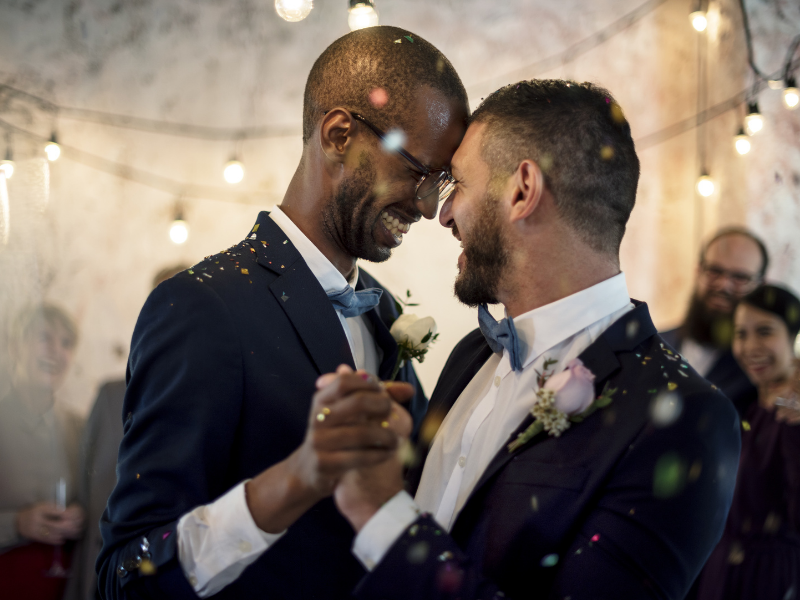 Is VAT Included?
When budgeting for the venue, this cost can often get forgotten. It's important that you find this out before calculating the expense as leaving this out could lead to blowing your budget.
What Is The Cancellation Policy?
Ask if you can see a sample contract, or have their deposit/cancellation/refund policy outlined on paper for you. Things happen, so it's better to know what you can recover before you book anything.
Do You Have Public Liability Insurance?
Every wedding venue should have some form of public liability insurance and should have no qualms providing a document that proves this.
Are There Any Extra Charges For Staff/Cleaning?
There's always hidden costs no one tells you about when it comes to the wedding. While a large majority of venues have staff that can take care of the clean-up, there are still cases where you'll be responsible for doing it.
_________________________________________________________________________________________________________
If you're just about to start the search for your dream wedding journal, visit our online wedding directory. Filled with the best wedding venues to suit every style and budget of wedding across Ireland – we've got fairytale castles, outdoor, LGBTQ+ friendly, hotel and so much more.