Unleash your inner bronzed goddess with this Prep, Set & Glow gift set which can be the perfect tanning starter kit for you or your maids!
Whether you want to get bronzed for your big day or even surprise your bridesmaids with an awesome gift, this best-selling set from He-Shi will have you feeling like your best self!
RELATED TO: Find out what's in our Wedding Journal Show VIP Goodie Bags Belfast
This limited-edition gift set comes packed with a range of bestselling and website-exclusive products and has everything you need to achieve a flawless, glowing tan – to enter, simply fill out the form below…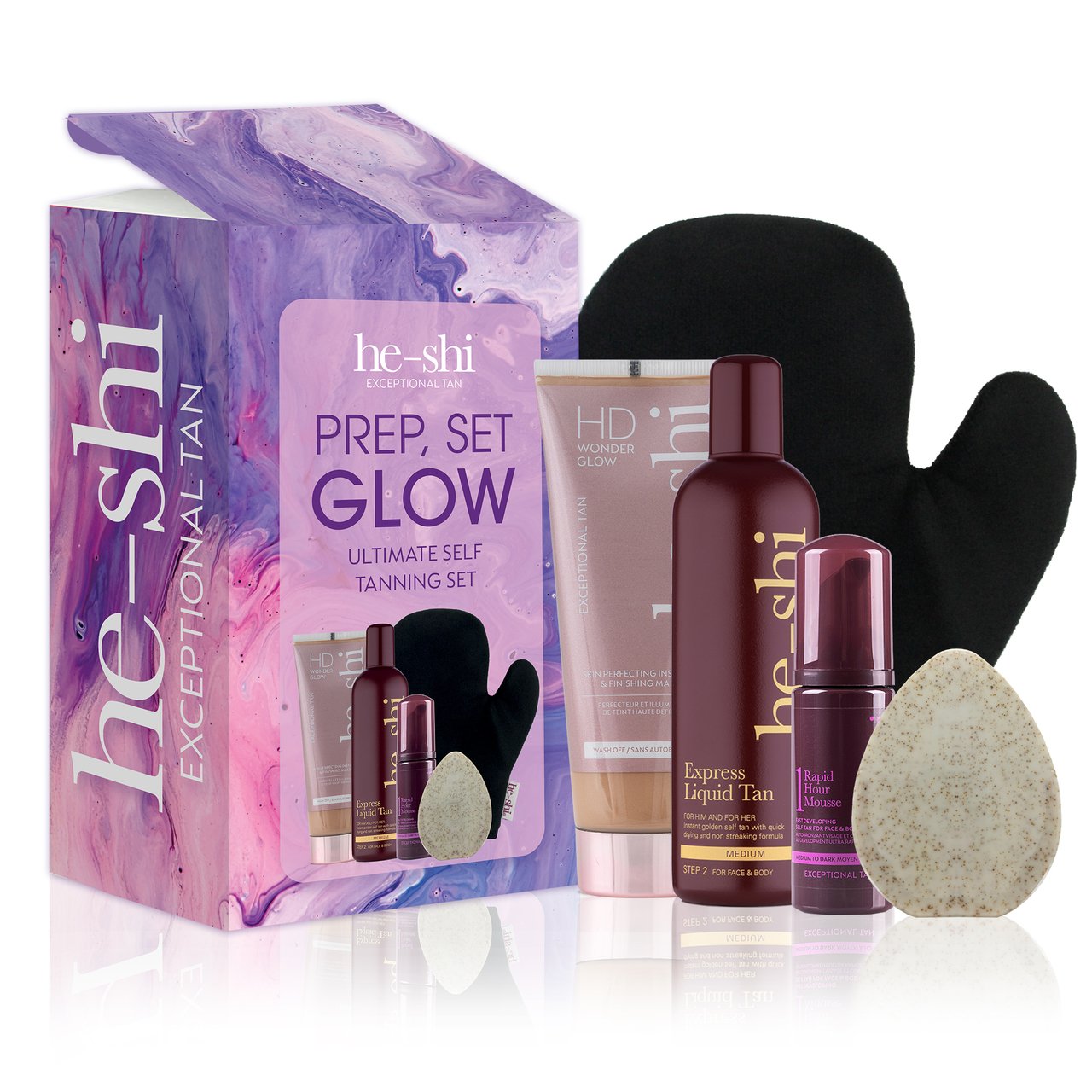 Products inside this limited-edition set:
He-Shi EXPRESS LIQUID TAN
RELATED TO: A sneak peak into our VIP Goodie Bag Dublin
The original, award-winning Express Liquid Tan offers superior hydration and an even fade thanks to moisture lock technology and skin-loving ingredients. Suitable for the face and body, the quick-drying liquid formula makes application effortless, and the tan will develop into a medium colour which can easily be layered for a more intense shade if desired.
He-Shi RAPID 1 HOUR MOUSSE
A must-have for those who need a tan in a hurry! The Rapid 1 Hour Mousse is formulated with colour depth technology, allowing you to control the intensity of your tan while avocado and argon oil hydrates and soothes the skin. Wash off after 1 hour for a light tan, after 2 hours for a medium to dark or after 7 hours for an ultra-dark bronzed look.
He-Shi HD WONDER GLOW
RELATED TO: WIN The Ultimate Bridal Skincare Bundle From SKINICIAN
The award-winning HD Wonder Glow is an instant makeup that can be applied to the face or the body to provide a beautiful, luminous glow while covering any blemishes, veins and evening out your skin tone for up to 24 hours.
He-Shi WALNUT BUFF BAR
The exclusive Walnut Buff Bar is a joy to use in the bath or shower and will leave your skin feeling super soft and smooth. Using natural walnut shells, the buff bar works to exfoliate your skin removing any dry, dead skin cells and old tan and will leave your skin prepped for tan application.
He-Shi LUXURY VELVET TANNING MITT
This double-sided velvet tanning mitt brings a new level of luxury to your tan application. The super soft velvet finish with a non-slip grip and water-resistant barrier, glides across the skin for an even and streak-free application while protecting hands from any staining.
So… what are you waiting for? Enter now for a chance to win this fabulous prize!
Check out all our other competitions HERE and see what else you could be walking away with 😱 GO GO GO!

Sign up to our newsletter to get all the latest from The Wedding Journal! Join Here>>>>http://eepurl.com/ck9vLb