Harry Potter fans are truly in a league of their own, living and breathing the magical world that J.K Rowling has created, so if you're a mega fan like us who believes that Hogwarts is an actual escape for under-the-radar wizards and witches  then you're going to love these Harry Potter-themed wedding ideas! From Golden Snitch desserts to Sorting Hat table plans and Daily Prophet wedding stationery, be inspired this Halloween by our enchanting ideas…
Stationery
Set the tone for what's to come by treating your guests to a Marauder's Map invitation! You could also design your wedding ceremony order of service to resemble the map or alternatively make use of the iconic Harry Potter font and seal your envelope with a traditional wax stamp.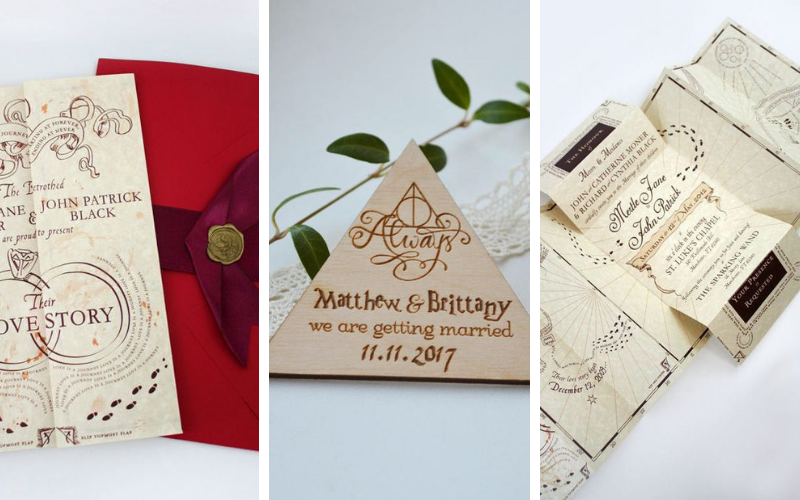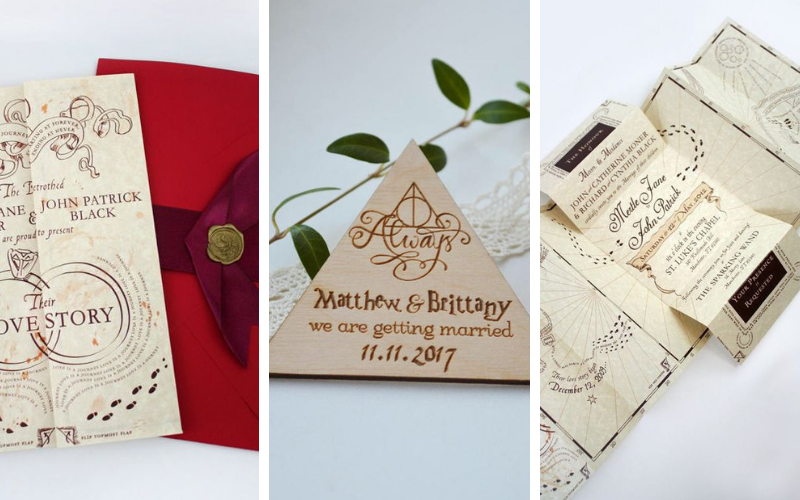 Cake
Your wedding cake is a chance to get creative – why not share some slices of a golden snitch cake, a patronus cake or go all out and get a sorting hat shaped cake and dessert table!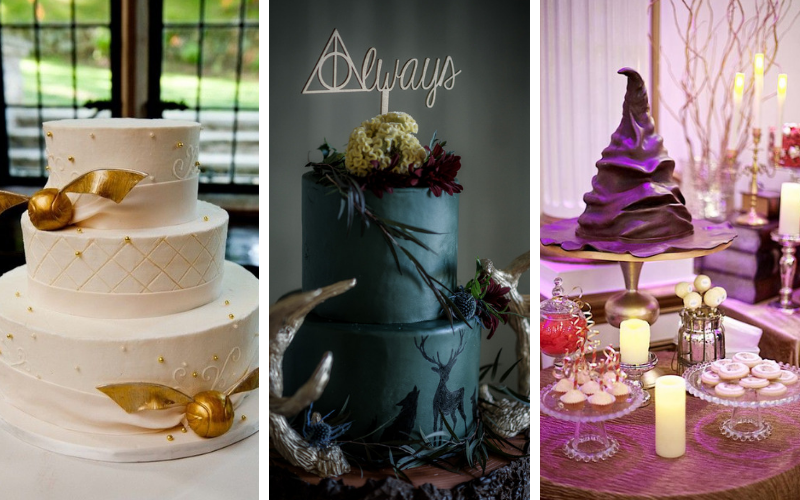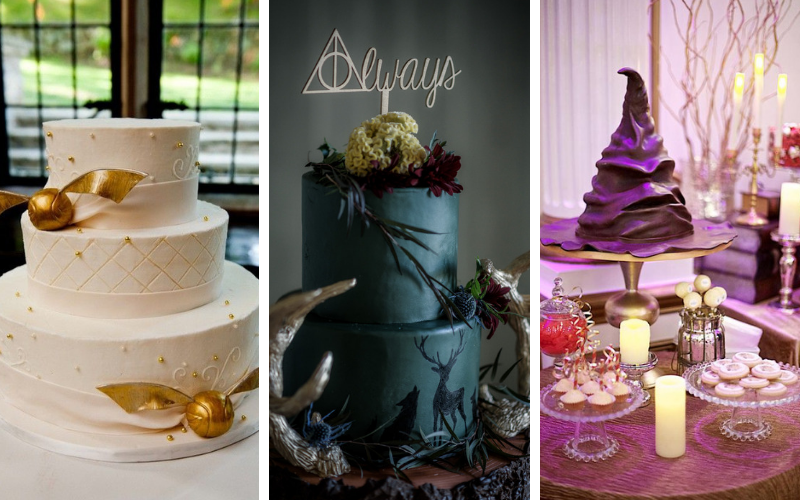 Sweet Treats
You can't have a Harry Potter–themed wedding without some delicious Bertie Bott's Every Flavor Beans as dessert! Create a dessert table to wow your guests with a range of fun and quirky snacks such as Olivander's chocolate wands or golden snitch cake pops.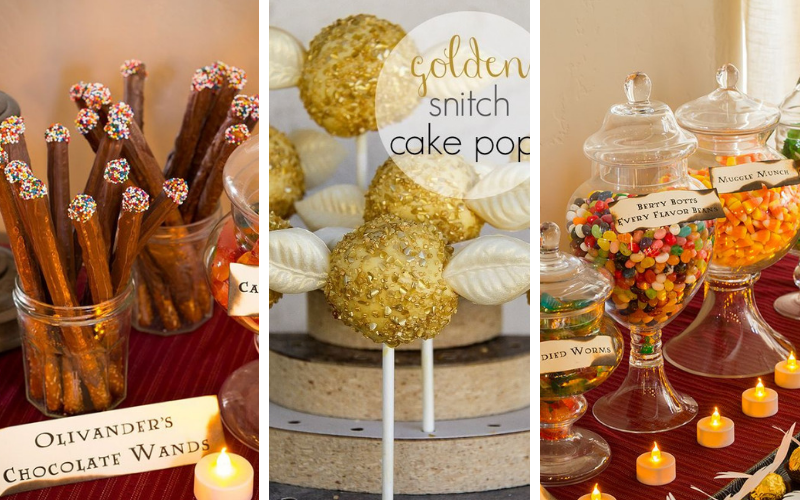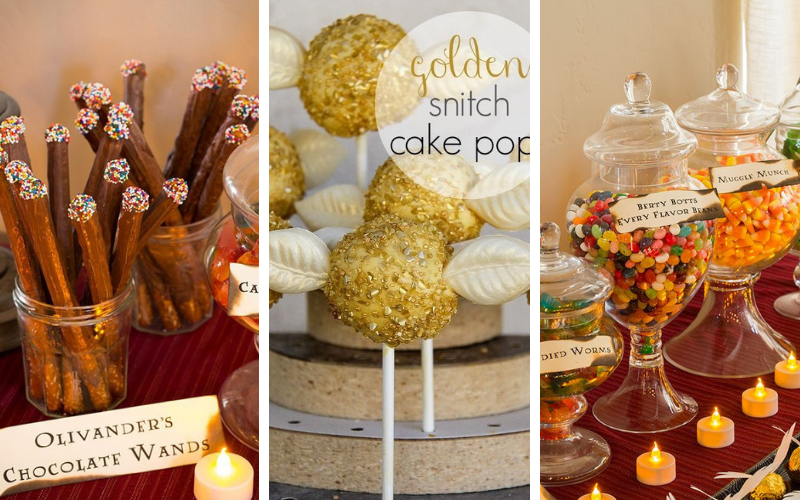 Make a grand Entrance/Exit
Nothing says 'Harry Potter Wedding' like a grand entrance or exit through an arc of wands! Alternatively, the use of sparklers in the evening also creates the illusion of  wands and provides a gorgeous photo opportunity that all your guests can get involved in!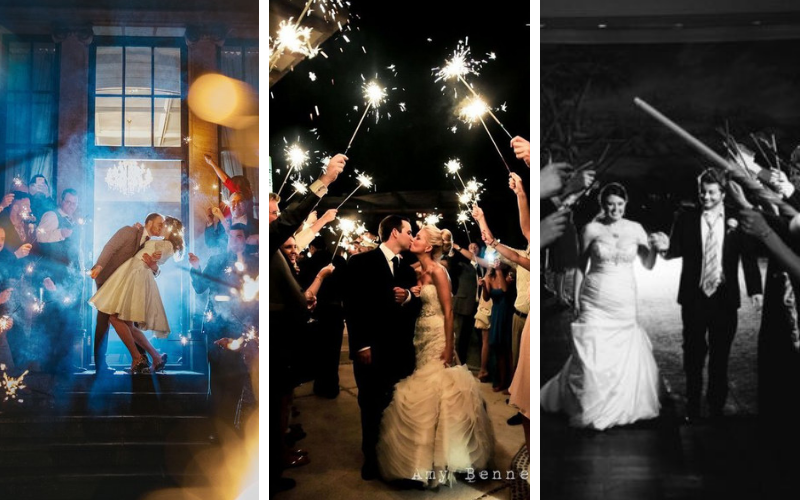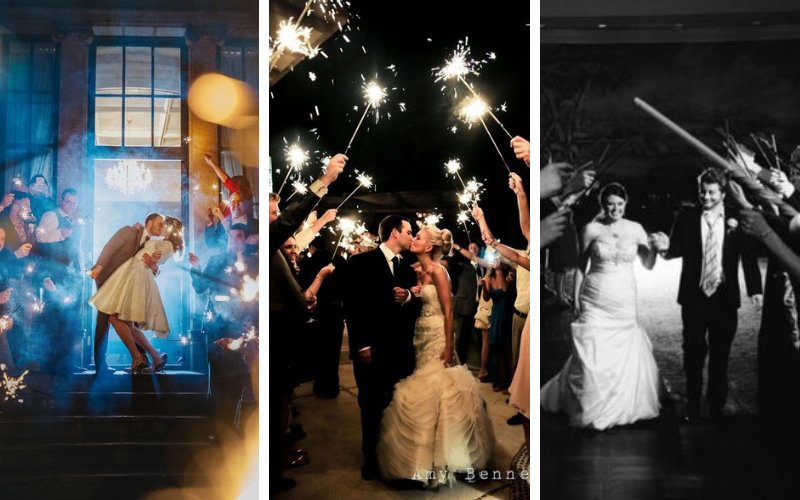 Table Plans
Re-create the look and feel of the iconic Hogwart's Great Hall by having four long banquet style tables! To really embrace the theme, you could allocate each table into one of the four Hogwarts Houses: Ravenclaw, Gryffindor, Hufflepuff or Slytherin and adorn each table in decor with each house's colour, whether that be through a napkin or coloured candles. Alternatively, if you're worried about clashing colours stick for a clean colour palette and opt for themed table place names allocating your guests into their house.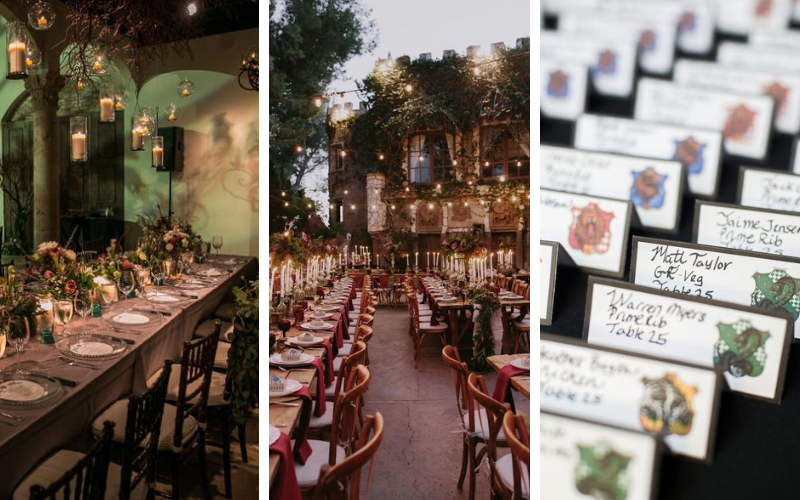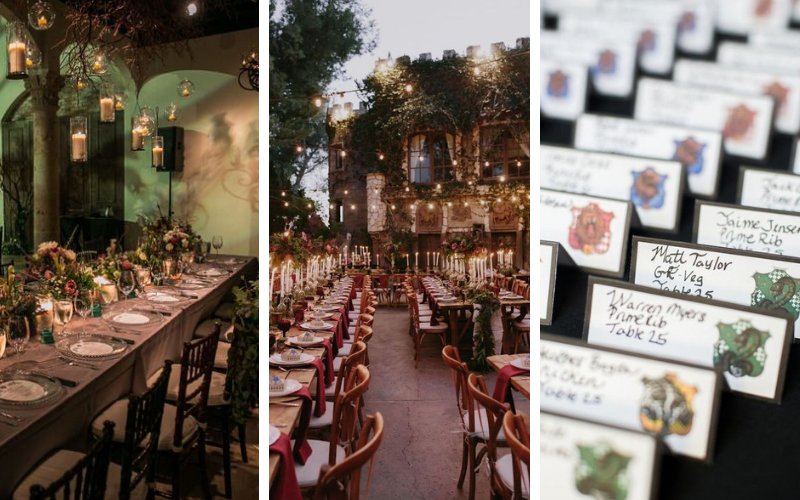 Drinks
To truly impress your guests, serve your drinks in true Harry Potter style – in the form of magical potitions. Popular beverages include Felix Felicis (liquid luck) cocktails, pumpkin juice (especially relevant if your throwing a Halloween wedding!) and also the iconic butter beer – sure to be a hit with your guests!.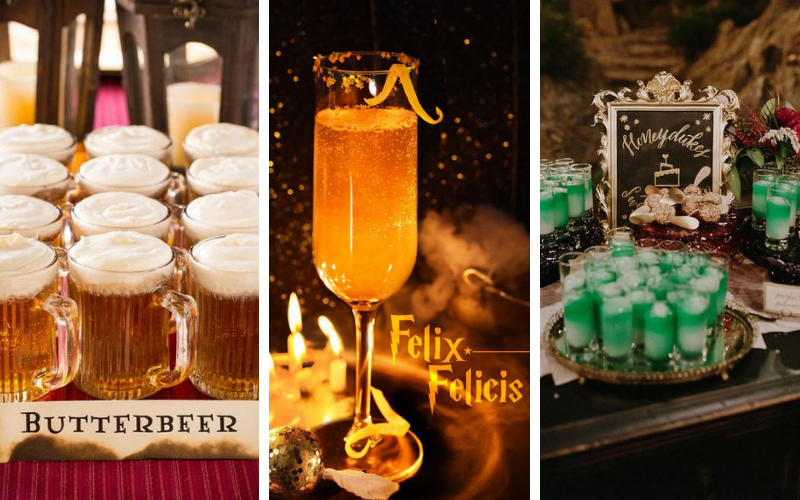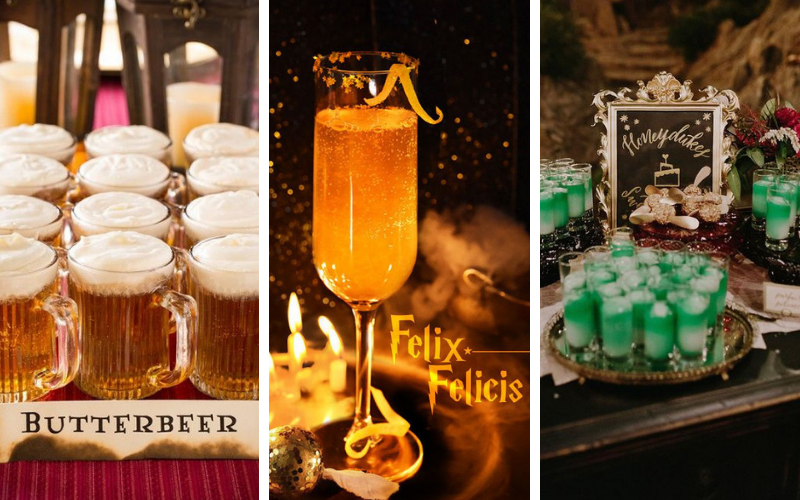 Themed Attire
Keep it classy and opt for more subtle themed accessories and clothing such as cufflinks, socks and brooches instead of buttonholes for the groom and groomsmen. For the bride, a lovely idea is to have your favourite quote from Harry Potter etched onto the sole of your shoe or some themed jewellery. You can always chose to add a temporary Gryffindor scarf for a photo op if you want something a little more obvious!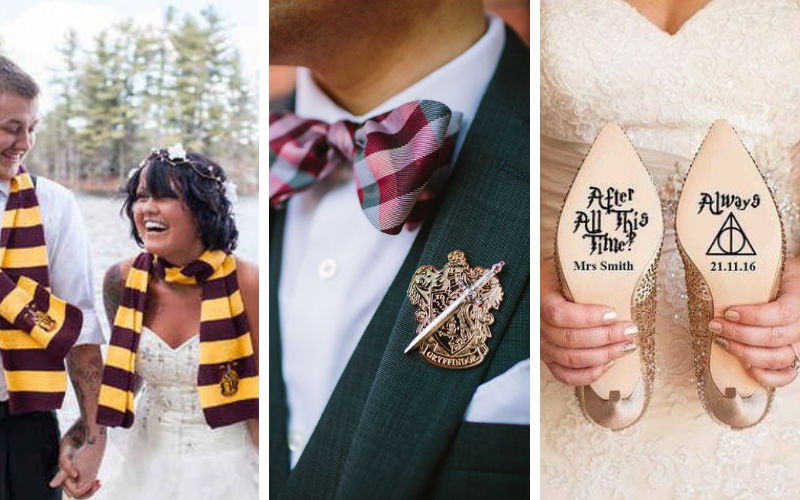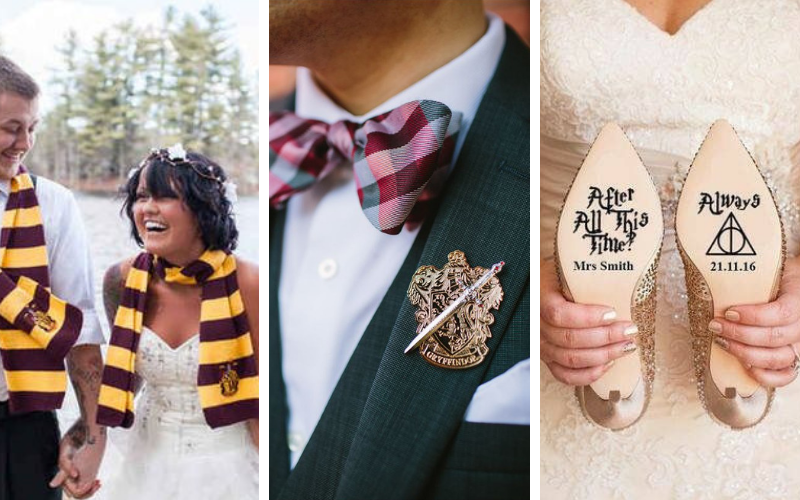 Decor
Decorating your reception and ceremony venues is one of the most exciting parts of hosting a themed wedding! Here, you have the chance to get creative by adding decorative items on your tables with some of your favorite paraphernalia from the series such as broomsticks owls, potions and more. We particularly love the little winged keys below, a tribute to the first Harry Potter movie, The Philosophers Stone.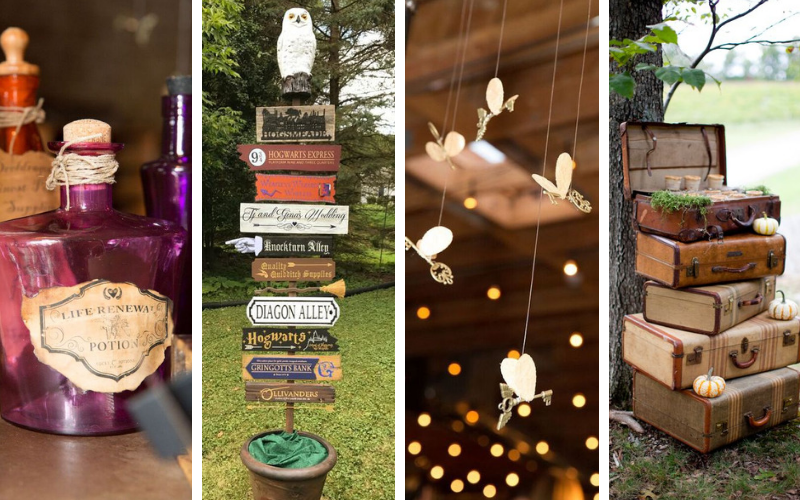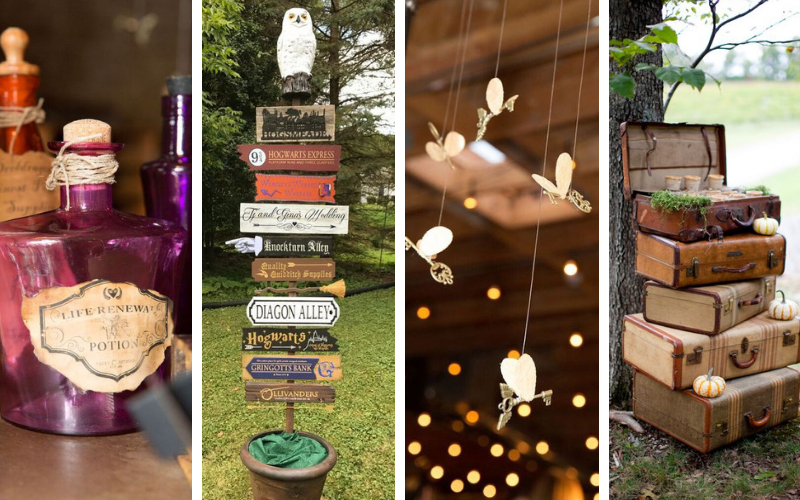 Floral Styling
Autumn and winter are synonymous with the Harry Potter series, so some seasonal blooms would seem appropriate for the occasion! Think rich tones such as burgundy, burnt orange and leafy greens with dark berries. Alternatively, if you are having a more quirky affair, you can get crafty and opt for a bespoke book bouquet – made entirely of the pages of your favourite Harry Potter book.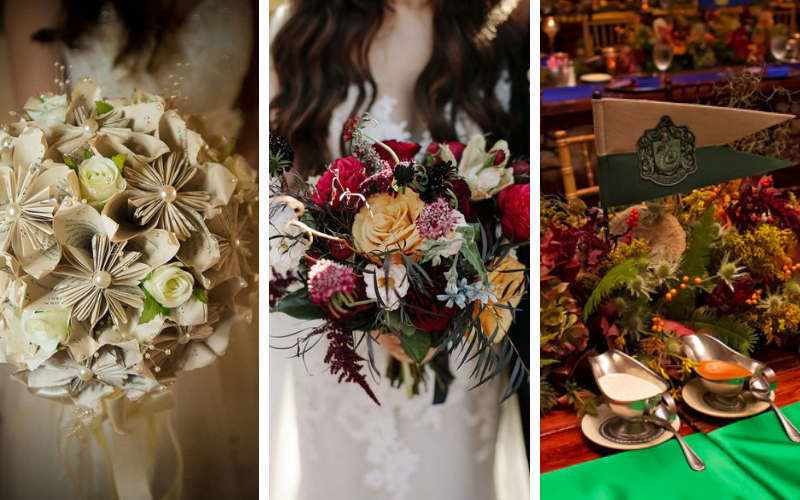 Photobooth Fun
Bring the night to an end with a fun and interactive photo-booth filled with Harry Potter themed props and signs! This is the perfect way for your guests to embrace the theme and have their own special memento of a fantastic day.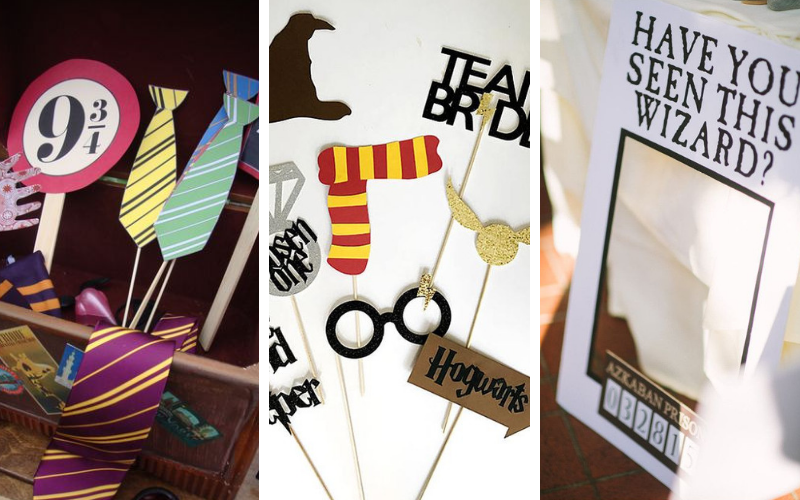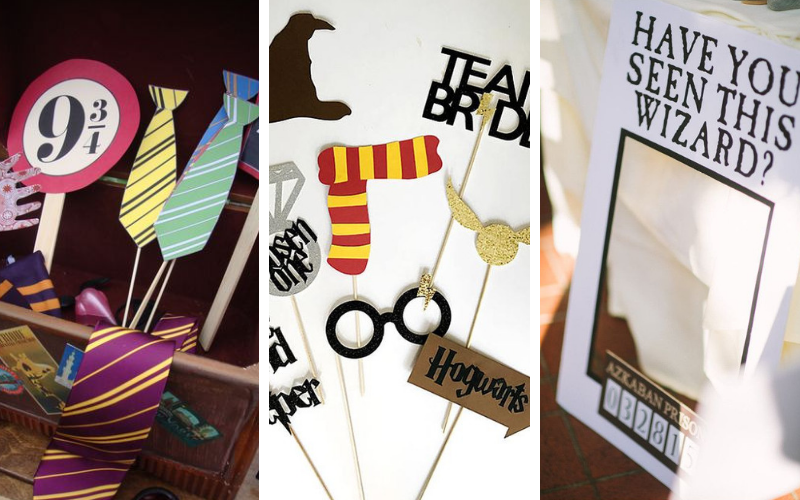 For more inspiration on hosting a Halloween themed affair, check out our guide on how to throw a tasteful – not tacky- Halloween wedding bash. 
Set Featured Image Credit: F27 Photography