Floral crowns are everywhere at the moment, and they can look just as good with a put-together classic style as a hippyish boho look. Here's why flowers in your hair will knock 'em dead on your big day.
You don't have to be a festival fan to adore the notion of flowers in your hair on your big day.
Flower crowns are everywhere at the moment and are a lovely refreshing change from the sparkly tiara or the misty veil.
You might want to go for an informal hippyish boho style with lots of loose blooms or something high-end and chic such as a tightly wrapped crown of roses.
RELATED TO: Timeless Bridal Hairstyles We All Know And Love
Your florist plays a vital role in making your wedding into the gorgeous welcoming event that you want it to be, so why not see what they can do with your own bridal style as well?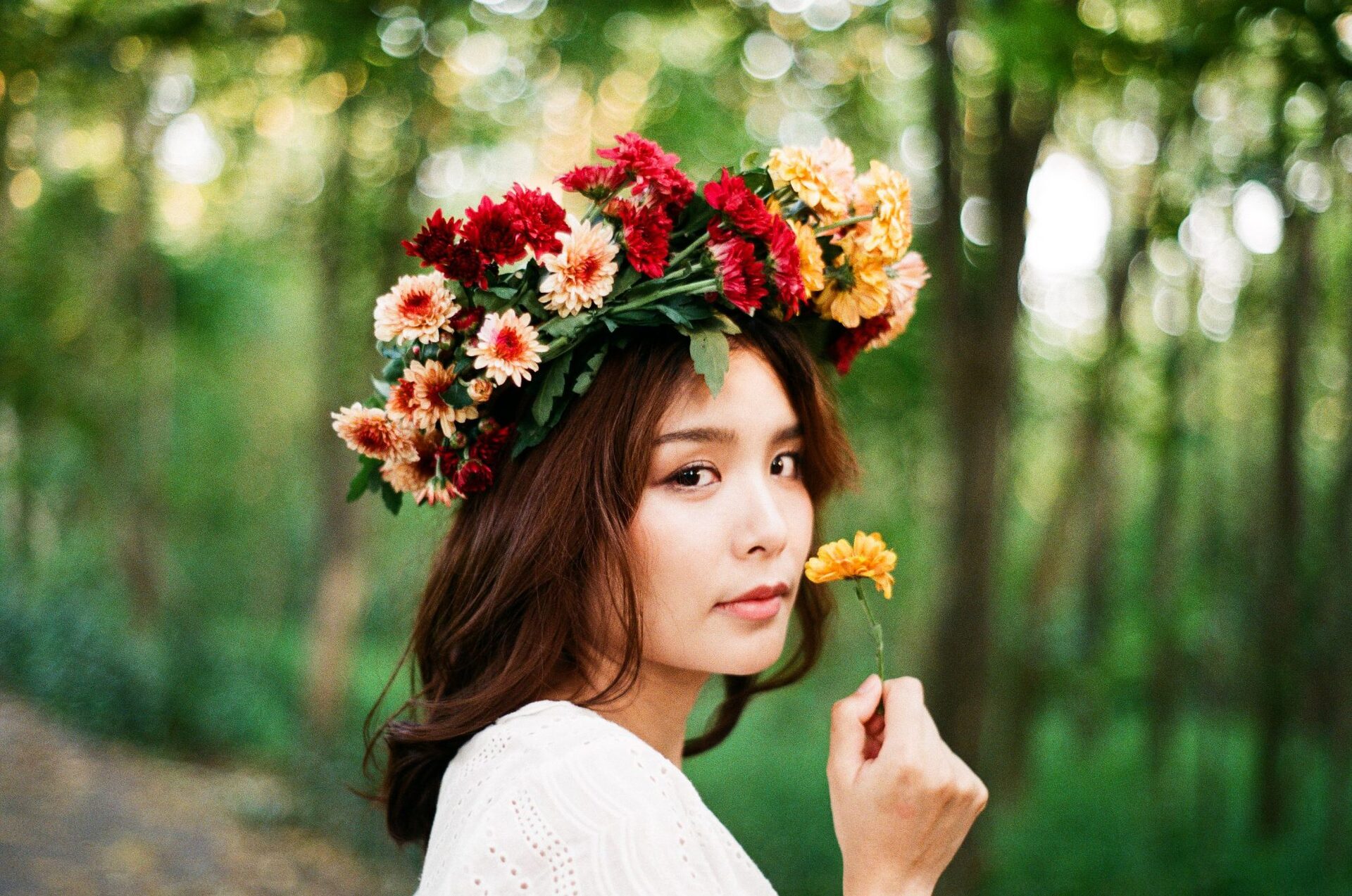 And you may not even necessarily go for a floral crown at all – why not tuck a delicate spray of baby's breath into your updo or a small posy of vividly coloured peony and Gerbera into your coiffure? Or a single red rose into your chignon?
We love this simple but romantic style by Bella Botanica, for example!
Or why not go for high drama with a style like this showstopping thistle coiffure from Wedding Flowers by Josephine?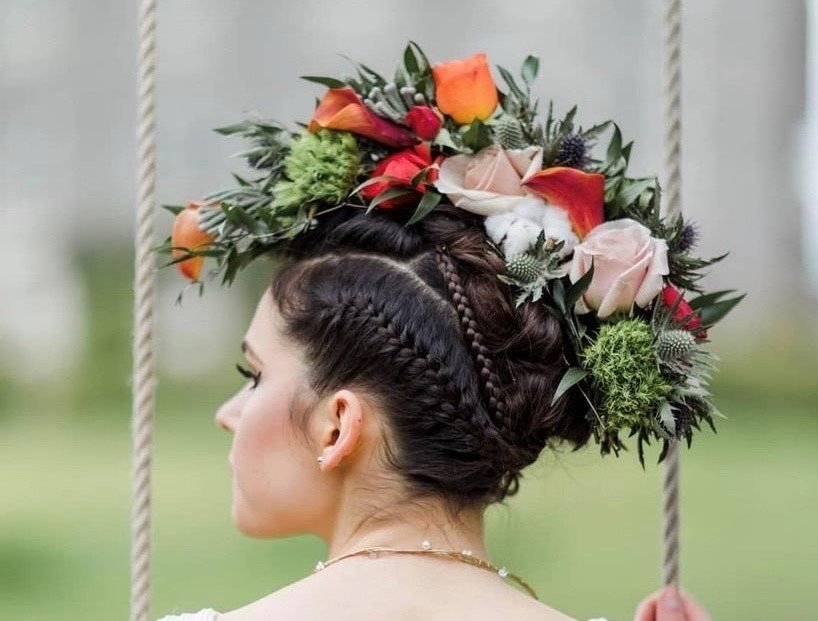 For a summer wedding, the best and most seasonal (therefore cheaper!) blooms include beautiful great peonies, delicious stocks, deep blue delphiniums, heartbreak coloured scabious and indigo larkspur.
In autumn, it's best to go vivid blue agapanthus, also known as African lily, brightly coloured daisy-like asters, jewel like hydrangea and clematis and tightly clustered sedums, whereas euphorbia, iris, amaryllis, snowdrops and tulip are perfect for a winter wedding.
Read Our Latest Magazine Issue – Summer 2021 Out Now!
For this time of year, we absolutely love this gorgeous floral crown from Blossoms and Bluebells, with its summery blooms of pink roses and daisies.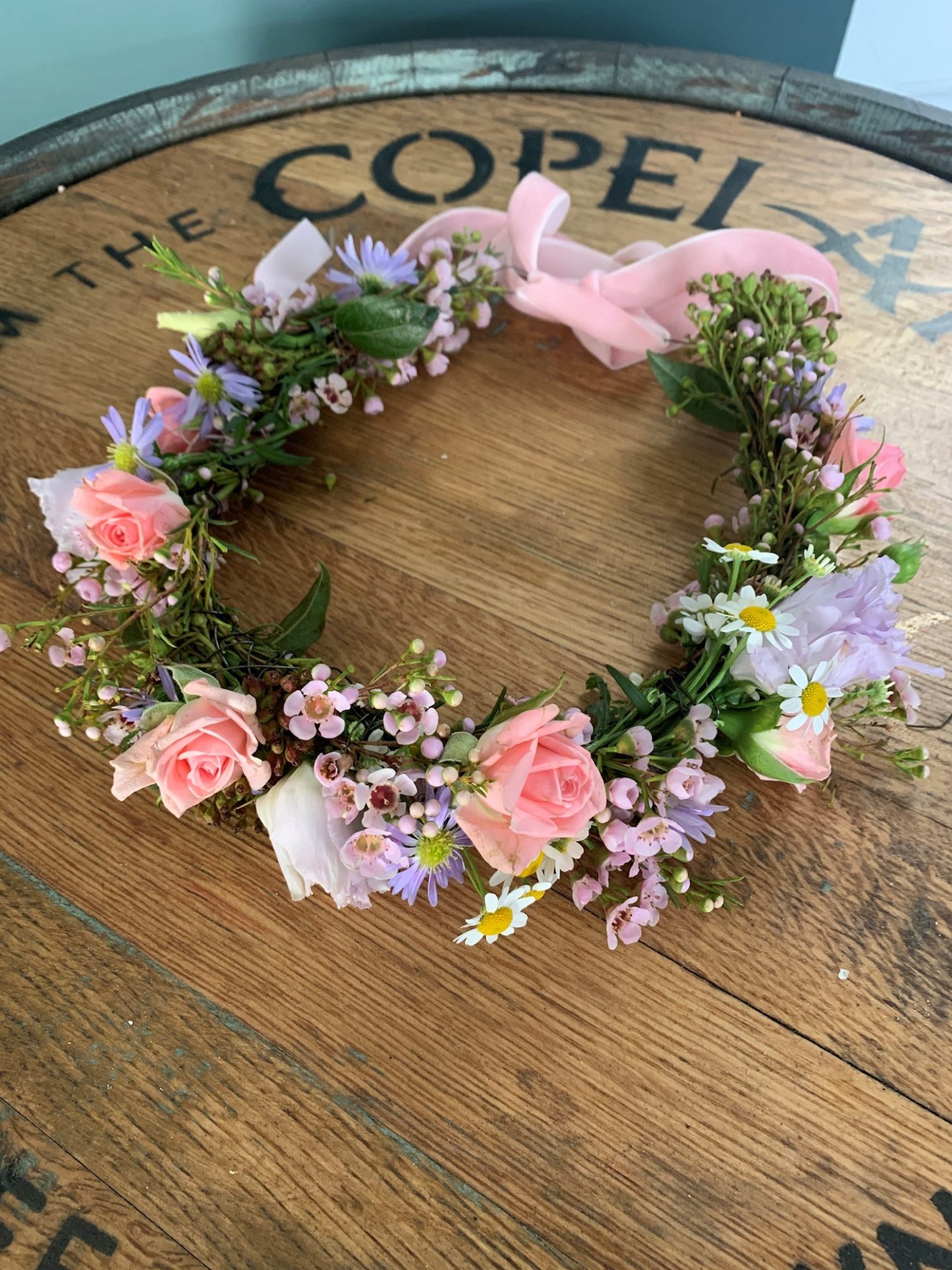 Heather Cruise, who put together these romantic crowns, advises couples planning to wear floral crowns and buttonholes to treat them gently in the run-up to the wedding.
RELATED TO: How To Choose Your Wedding Flowers
"The later they are prepared by your florist the better, and they should be stored in a cool place until you need them," she says.
She also advises leaving it until the last minute before you put your flowergirls' crowns on their heads as they will tend to fiddle with them.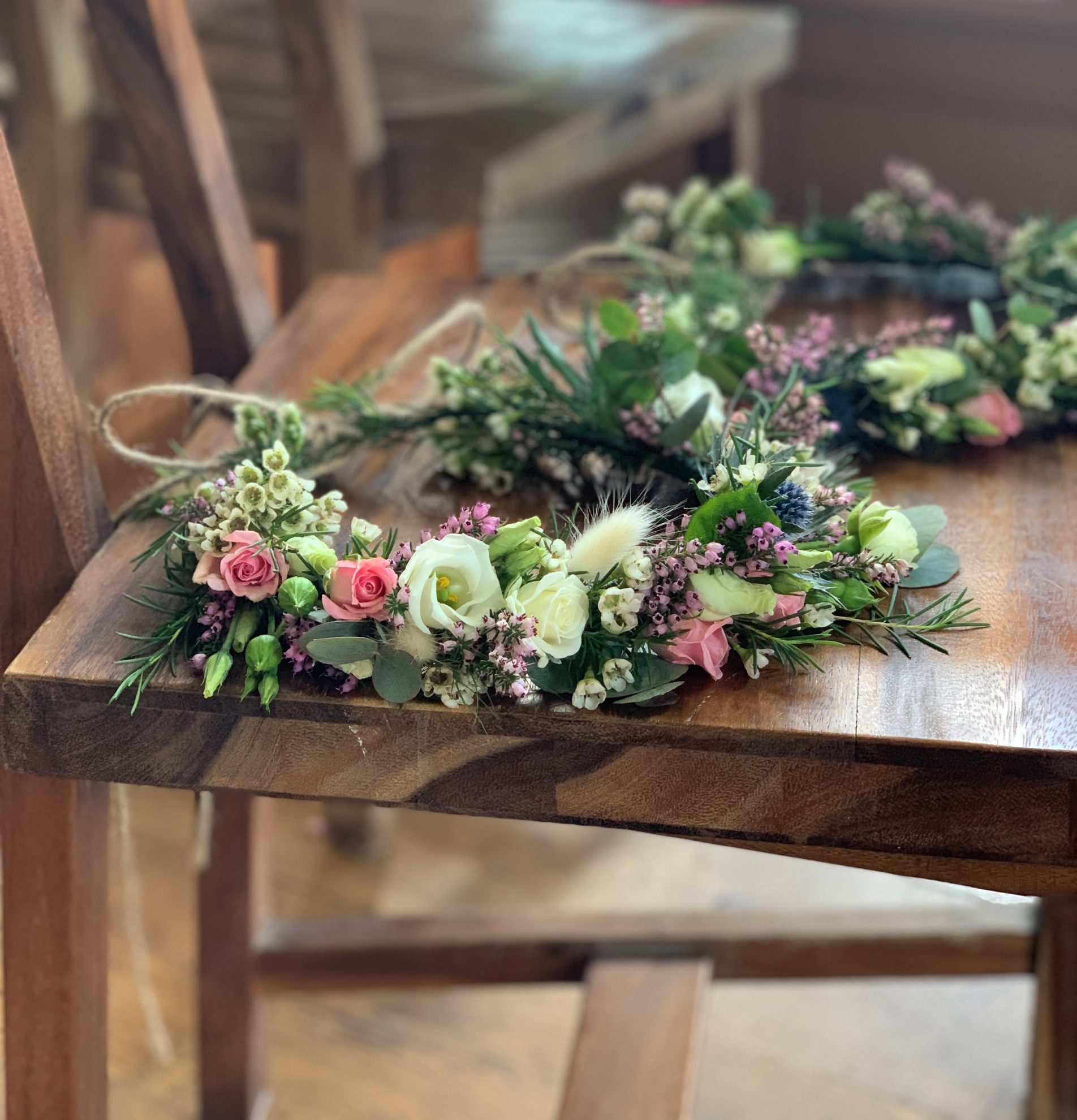 "For crowns and buttonholes, the less they are handled the better they look and if your buttonholes have exposed stems, you can pop them in a tiny drop of water – but be careful not to get the cord or ribbon wet," she says. 
"If you have more than a few hours before the ceremony on receipt of your floral crowns , you can give them a gentle spray of cool water."
This beautifully simple idea is from House of Flowers in Cork – simply tucking a spray of tiny white flowers into your coiff is as bridal as it gets and you'll have no worries about leaves falling off in the wedding car!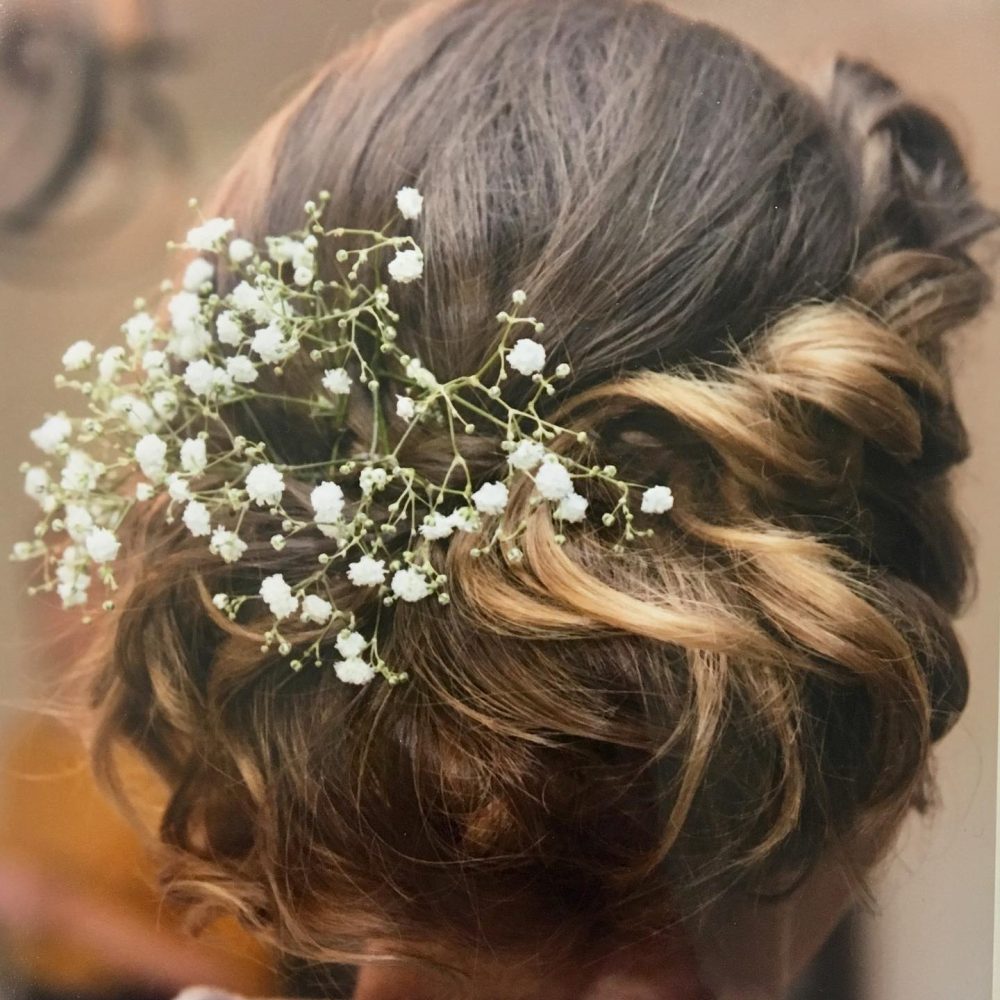 This style, chosen by bride Rachel, and put together by Belfast-based Fleuriste, is really different – a head garland combining vivid ochres, purples and magentas to match a colourful bouquet, pom pom earrings and red shoes.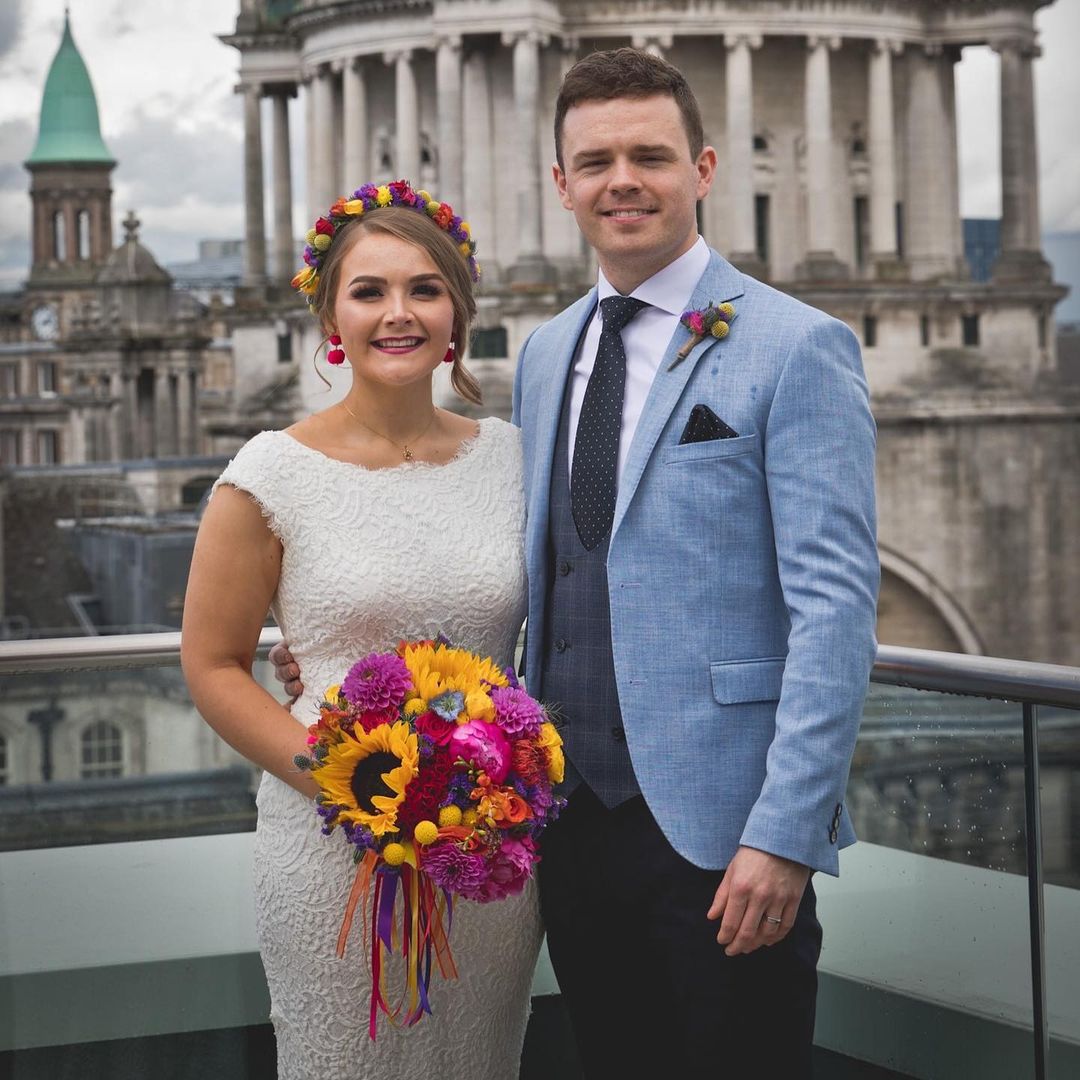 For this wedding at Martinstown House in The Curragh in Co Kildare, the bride asked for flowers in her hair to complement her bouquet, as well as flowers on a comb for the bridesmaids' hair and a floral crown for her flower girl, according to florist, Josephine Higginbotham of Wedding Flowers by Josephine.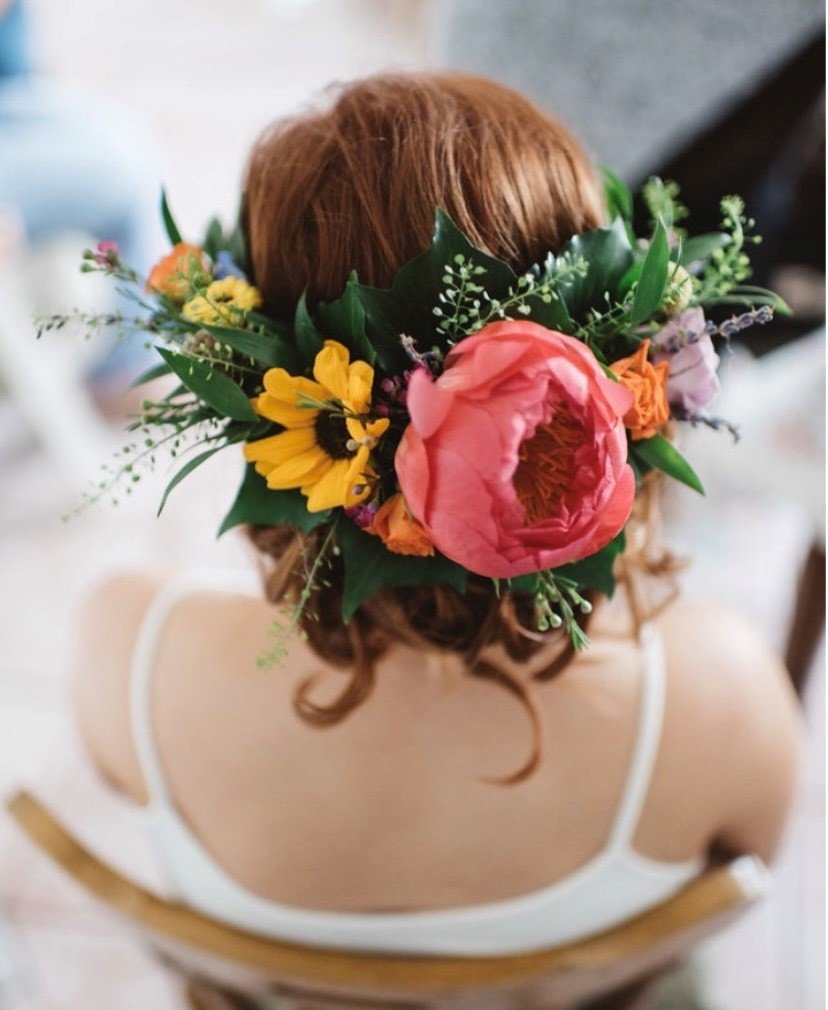 She wanted bright, bold colours, so Josephine used coral peony rose with Viking chrysanthemum to tie in with the sunflowers in her bouquet, as well as Craspedia Billy Balls in the flower girls' crowns to tie in with the yellow.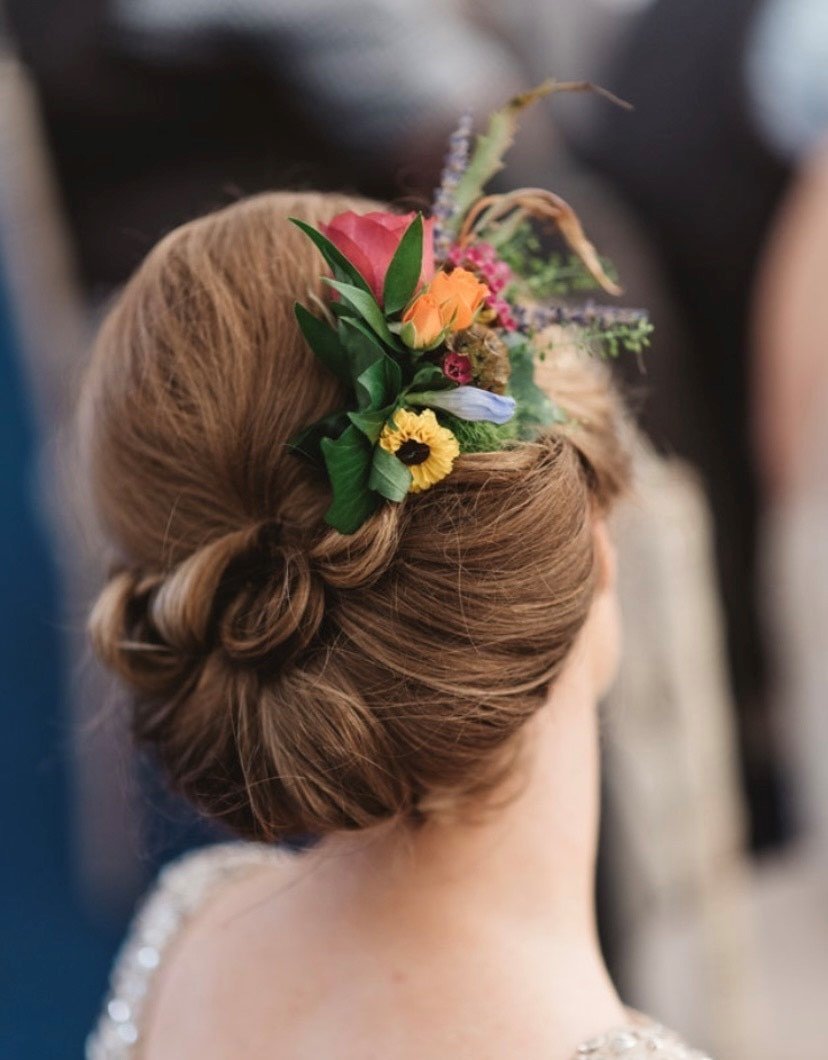 Josephine suggests that for a classic look, brides could try pinning a few single flowers into a chignon or high bun.
"Brides looking to wear their hair down on their big day can pin a few strands of hair back and secure them with a bright, lush bloom on a comb for an utterly romantic vibe. And, of course, bohemian brides-to-be should try a flower crown on for size," Josephine says.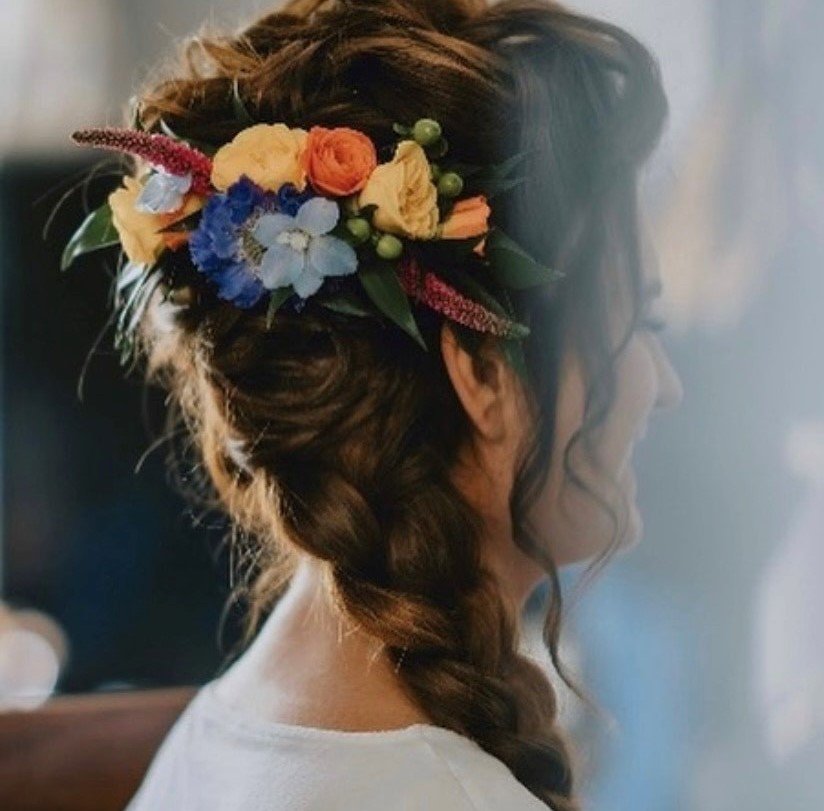 "Even your bridal party can get in on the floral fun, or you can crown a flower girl with a halo of baby's breath for an adorably angelic look.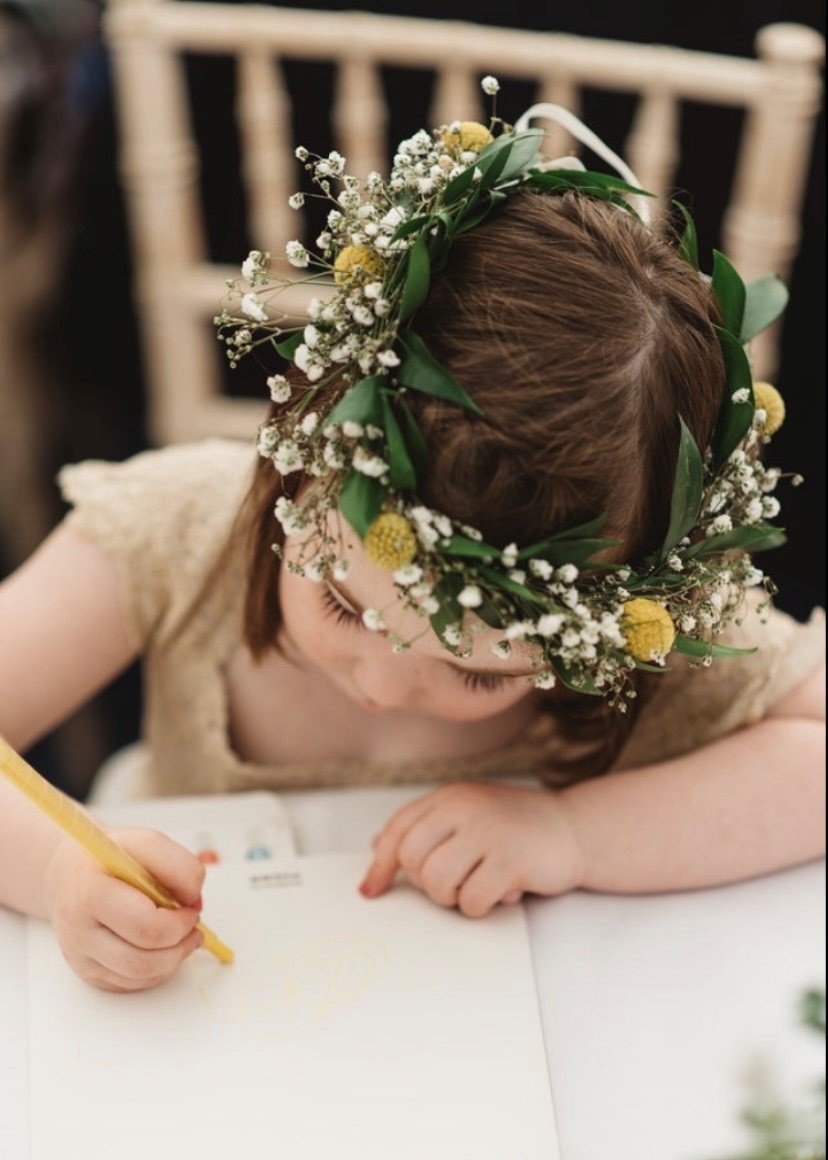 "Floral wreaths might just be the ultimate wedding hairstyle accessory and we can create one for every wedding theme," Josephine says.
Still deciding on your look? Check out all our bridal suppliers HERE
And for more ideas about your wedding flowers, check out our favourite florists!
Sign up to our newsletter to get all the latest from The Wedding Journal
Join Here>>>>http://eepurl.com/ck9vLb