Every bride knows your wedding hairstyle is the 'mane event' (pardon the pun).
So we've combed through hundreds of bridal hair styles to bring your our absolute favourite bridal hair looks that suit all hair types!
From pretty ponytails to the classic half-up, half-down style, these are some of the cutest hairstyles that real brides rocked on their wedding day.
Hair Up
Considering an up-do when you say 'I do'? It's all about choosing a hairstyle that 's right for you.
View this post on Instagram
We're getting major Elsa from Disney's Frozen here, but we're loving it! Most brides want to keep their hair out of their face, come on ladies we all know that irritating feeling. So by sweeping your hair back, plaiting it loosing and intertwining fresh flowers (similar to your bouquet) is always a gorgeous look.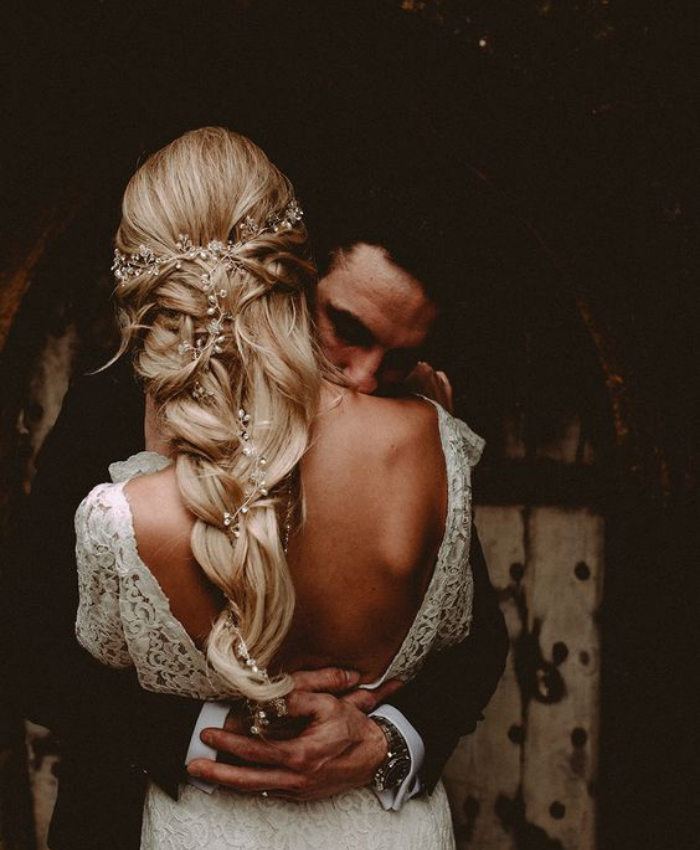 There's something so fresh and elegant about this second look – keeping things tidy on top, lets your dress do all the talking, and when you've gone for something so effortlessly dramatic you can't go wrong.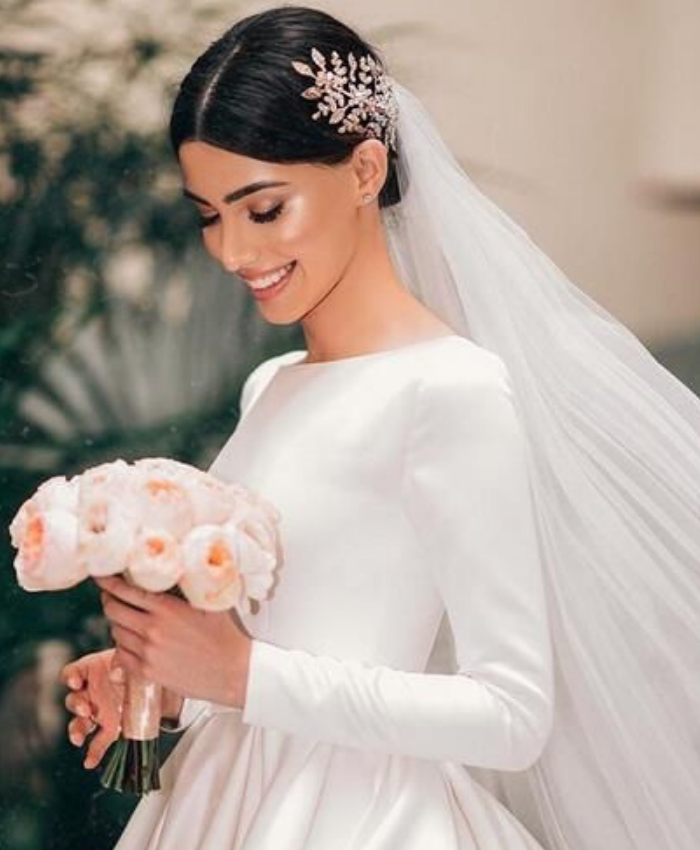 One of our all time favourite looks, has to be the plaited crown. It's effortlessly whimsical and feminine – loose curls that frame the face are also a fabulous touch.
View this post on Instagram
We're often asked, how do you make your wedding hair really catch your eye. Well, take this is simple ponytail for example, but weaving a delicate hair piece around the curls you add that little touch of sparkle, perfect for your special day.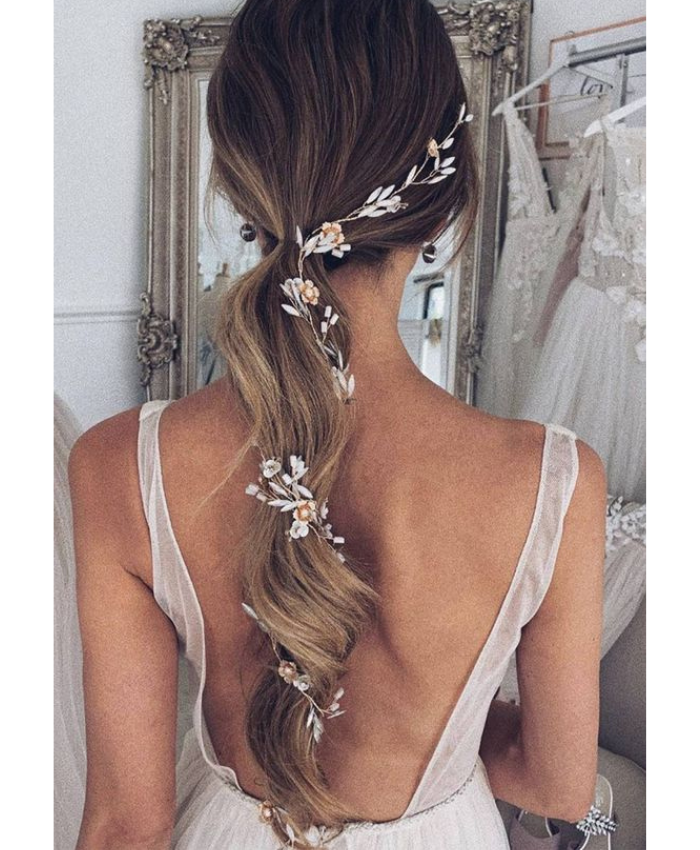 Up do's are ideal for dresses with delicate beading and lace details. After all, who wouldn't want to show off their dream dress?
ADVICE: Should You Invest In Hair Extensions For Your Wedding Day?
Hair Down
Let your hair down girl! From loose beach waves to princess pin curls, down styles are  increasing in popularity and we are LIVING for it.
There are endless options when it comes to down styles. Tame your hair by incorporating a loose braid or add a stunning accessory to complete your bridal look.
View this post on Instagram
Pulled back and loosely plaited creates this sexy boho look – if you want to mix it up throughout the day, you could un-do the plaits for your reception and 'really let your hair down' on the dance floor.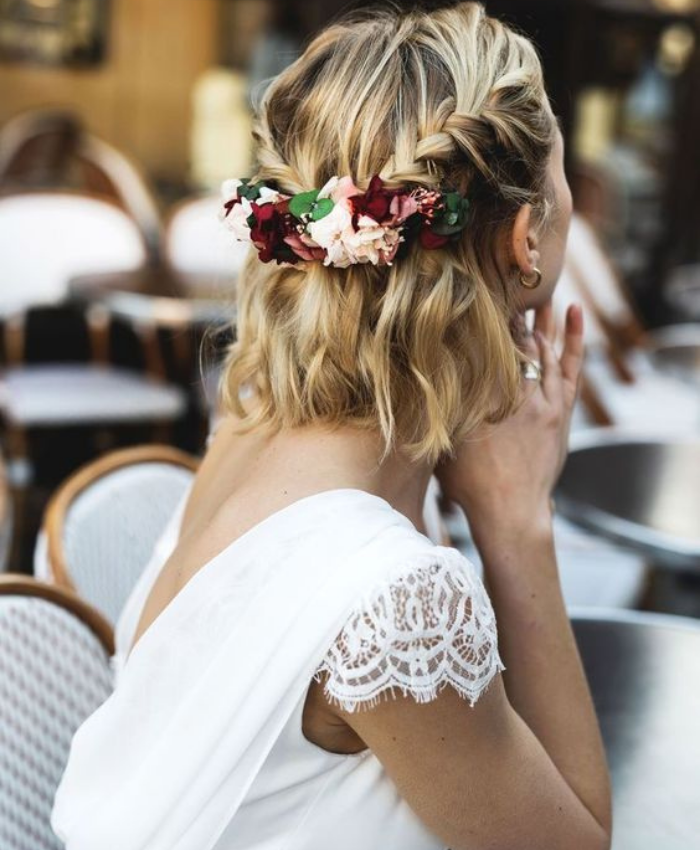 Who doesn't love a little bit of old hollywood glamour? You can't go wrong with a sexy sweep behind the ear, and fabulous bouncy waves.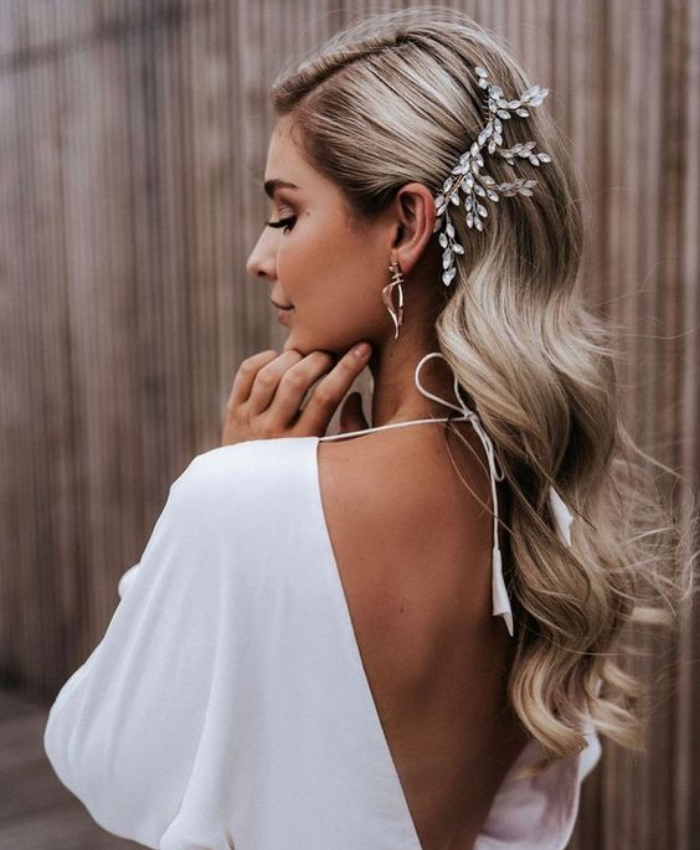 We love it when a bride dares to be different – just look at this pink bombshell look. The delicate plait detailing adds a feminine touch, don't you think?
We love spotting fun upcoming trends, and we think chunky jewels and chainmail might be a good shout for 2021 brides. It's a fab way to punk up your look, doesn't this look epic threaded within loose curls and a romantic side plait?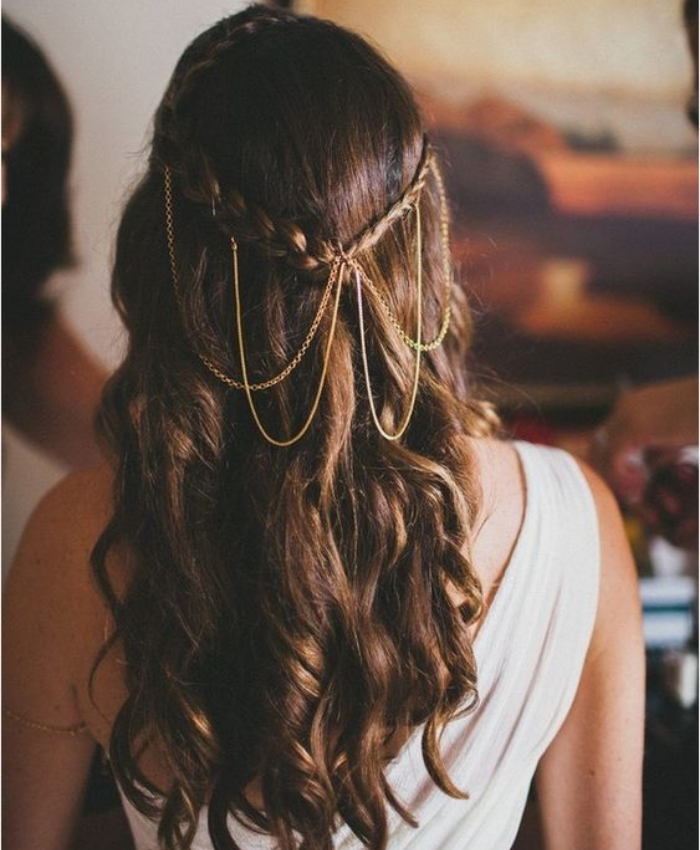 You can never go wrong with long loose curls – it's timeless!
View this post on Instagram
Hair Accessories
An embellished headband will NEVER go out of style, and how gorgeous is this lovely piece from local designer Deborah of Deborah K Design. Encrusted with Swarovski pearls and diamanté's, and matching perfectly with elegant Arlette earrings.
View this post on Instagram
We love supporting local businesses, and we're so lucky to have so many talented artists and designers here in Ireland. Another favourite is Rosie & Dott – just look at this stunning hair piece that perfectly frames this beautiful bun. You can complete your look with so many matching pieces within their collections.
View this post on Instagram
If you're looking for something that little bit different to glitz and sparkle, then Innocent Chaos is perfect for you. You'll find everything from beautiful floral displays and bouquets, to stunning keepsake wedding accessories. With collections to suit every style of bride, from boho to classic, or rustic to wildflower there's something to suit every one here.
View this post on Instagram
Why not tie everything back in a bow – we've got just the bow you need too. Aura Bridalwear offer brides a stunning range of hair accessories, and we're majorly crushing this mini crepe bow. Doesn't it look gorgeous on this real life bride!
View this post on Instagram
Set Featured Image Credit – For The West & Wild Photo