This is your chance win your bridal heels as well as some stunning styles for four of your bridesmaids!
For day 3 of our 12 days of Christmas giveaway series, we've teamed up with Rainbow Club to gift one lucky bride-to-be the chance win 5 pairs of luxurious heels for you and your maids!
To be in for a chance to win this fabulous prize, simply enter the form below… (scroll for more details).
[Competition Closed]
Don't forget to enter our other Christmas Competitions HERE to see what other fabulous prizes are up for grabs!
Rainbow Club
Inspired by the couture, the catwalk and their very own design archive, Rainbow Club's bridal shoes, veils and accessories have been uniquely designed in England for over 35 years. The brands latest collection features a range of stand-out yet elegant styles that will have all modern brides falling head over heels.
As with all Rainbow Club bridal shoes, you'll discover a hidden blue crystal in the soles as your 'something blue'. This thoughtful finishing touch is our tiny token of good luck on your special day and a true mark of Rainbow Club authenticity.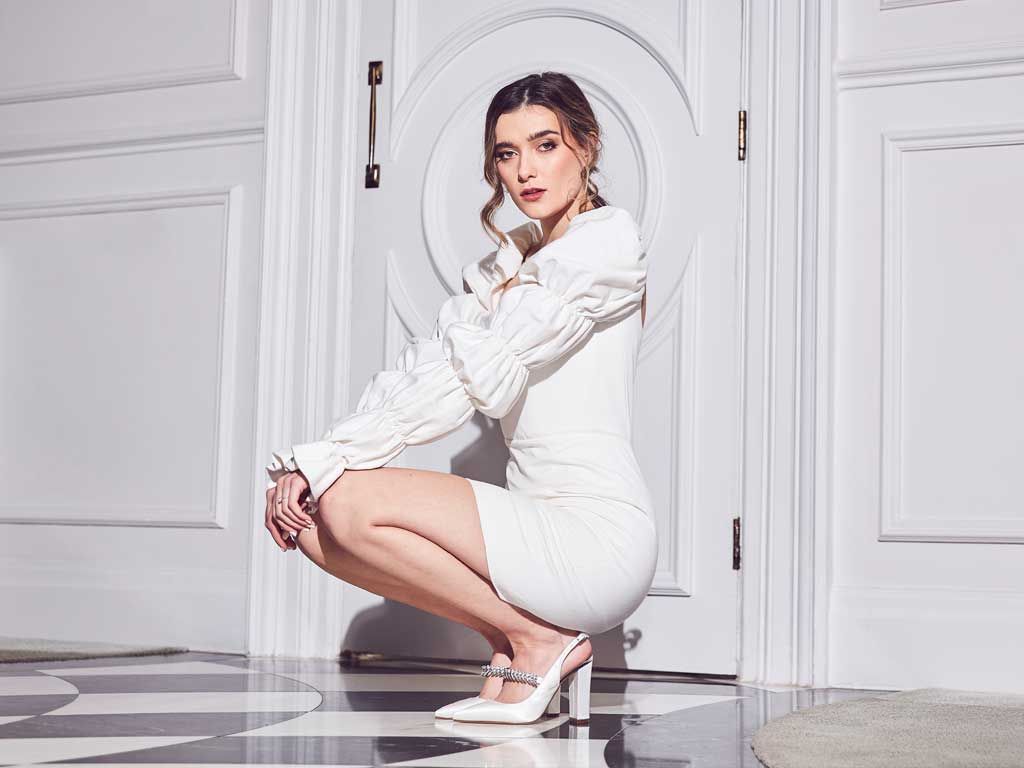 Let's find out what you and your girls could be walking away in (literally!)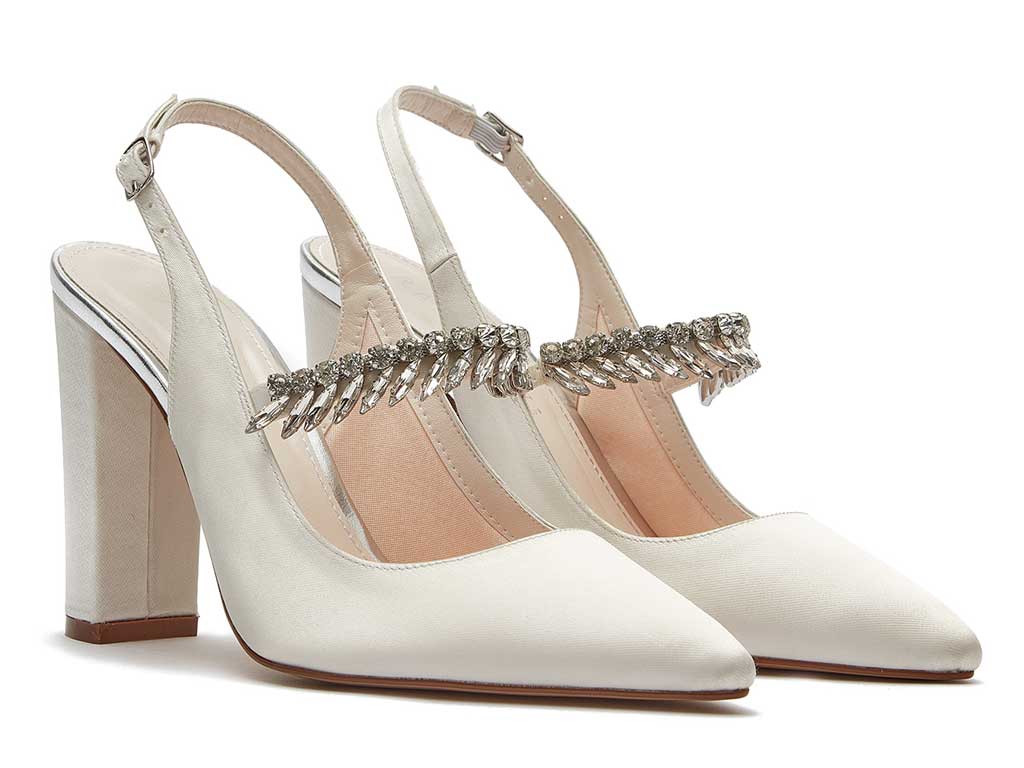 Freya £99
Taking a simple shape and adding some statement sparkle, the Freya slingbacks are the perfect finishing touch for the glamourous bride. Beautifully-crafted from ivory satin, they have pointed toes, are embellished with silver crystal diamante detail across the foot, have buckled slingbacks and high block heels.
You can also customize your shoes with Rainbow Club's colour customisation service in their artisan colour studio -choose from ready-to-wear shades or allow expert colour specialists to carefully match a colour of your choice.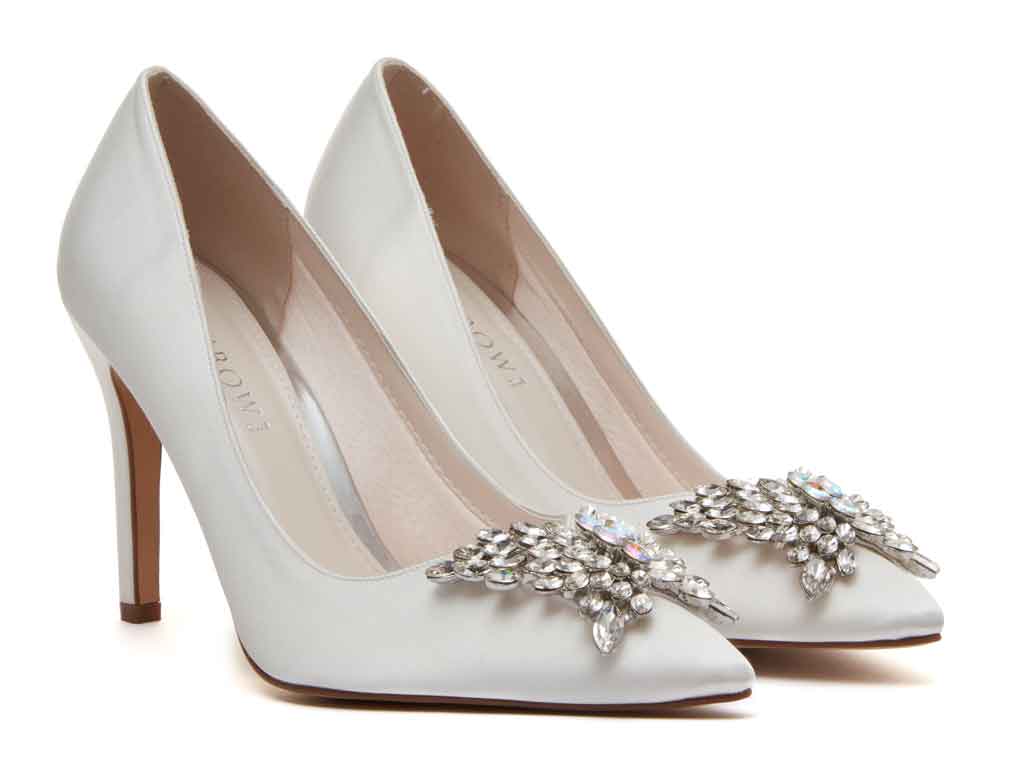 Nelly £125
A real princess design, Nelly is crafted from lustrous ivory satin with beautiful embellishment. These luxurious courts have a pointed toe, sleek silhouette, an elegant stiletto heel and are finished with a decorative crystal butterfly brooch.
They're the perfect style for brides looking for exquisite details from top-to-toe.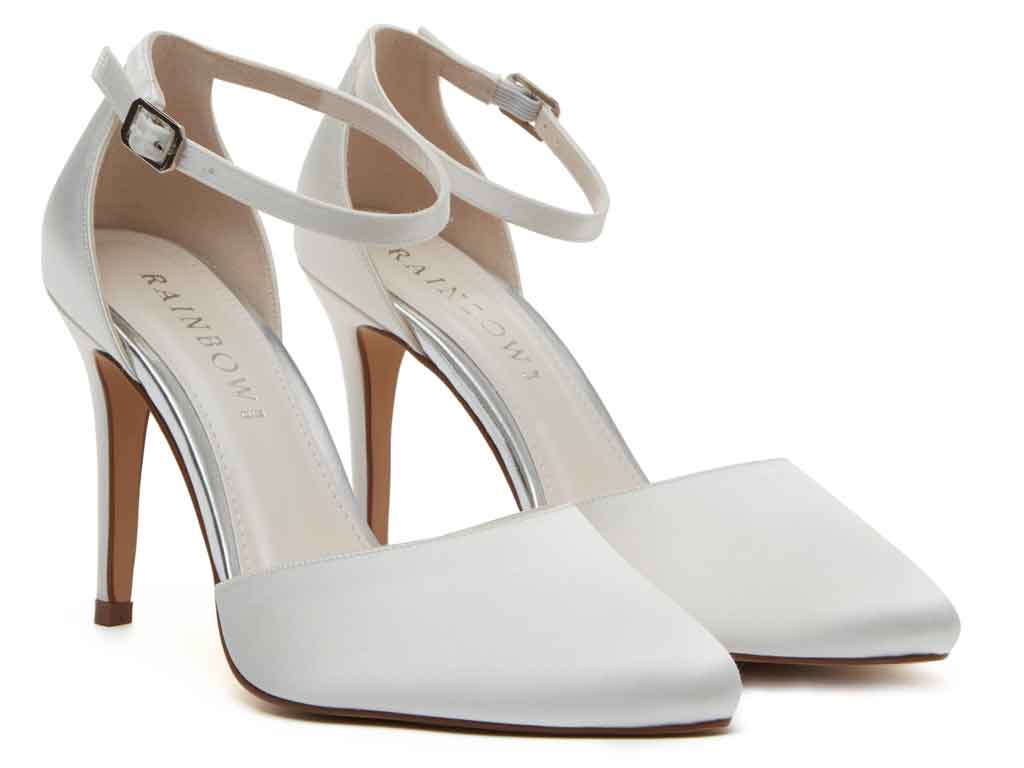 Carly £89
Carly is a stylish wedding shoe with a sexy side. It's a stunning design in our Classic Collection and is perfect for brides looking for a little height thanks to the manageable stiletto heels.
Crafted from lustrous ivory satin, these two-part wedding shoes boast an almond toe and fasten with a delicate ankle strap. A true modern classic.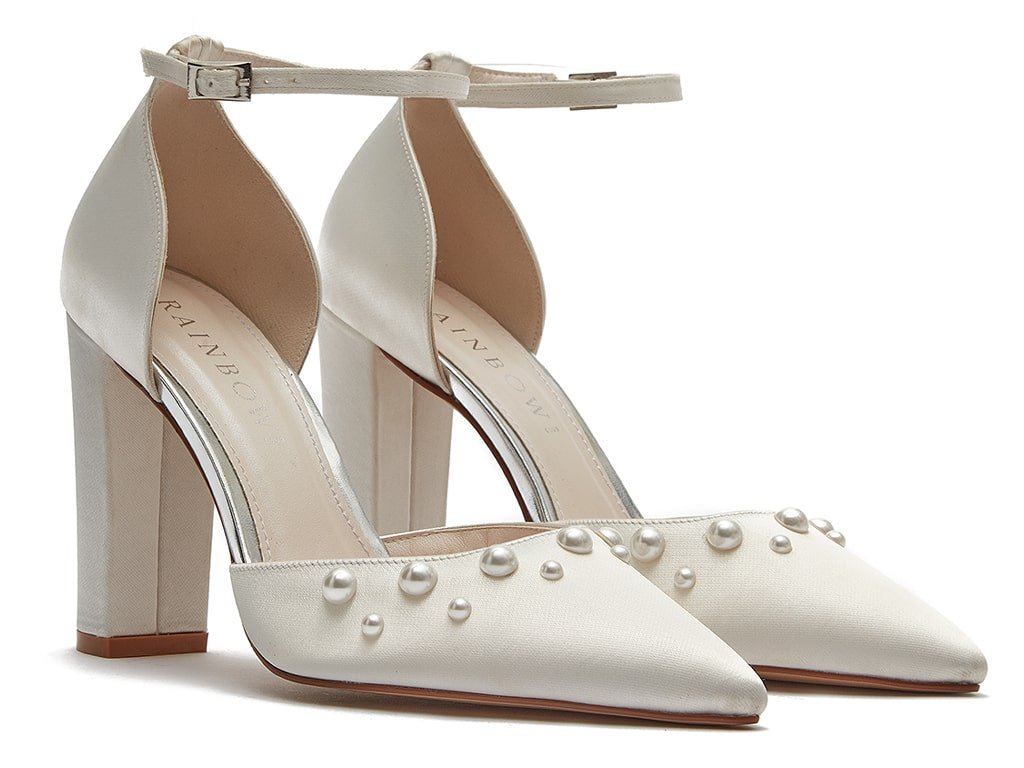 Maya £95
A contemporary take on a classic bridal shoe, the Maya courts take a timeless open court and give it a modern twist. They are crafted from beautiful ivory satin and have pointed toes, a statement trim of ivory pearls, delicate ankle straps, closed backs and high block heels.
Perfect with pearl-embellished wedding dresses, these stylish courts offer the finishing touch that ties everything together.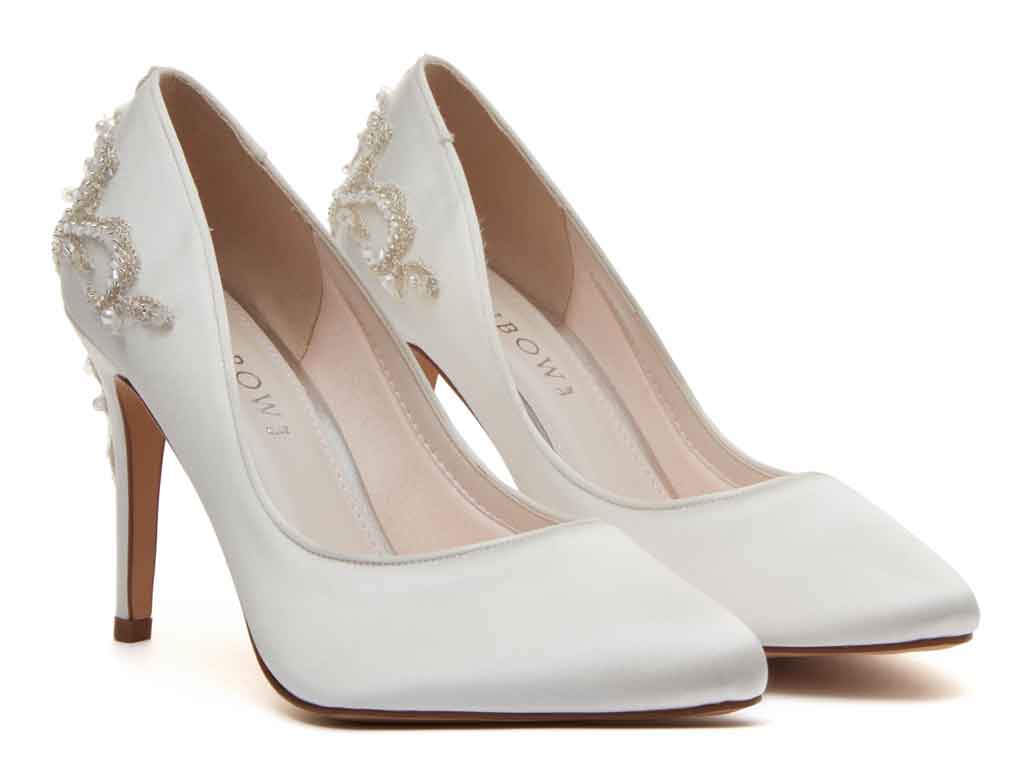 Willow £149
Willow, a highly decorated court, is adorned with beautiful embroidery and beaded detailing.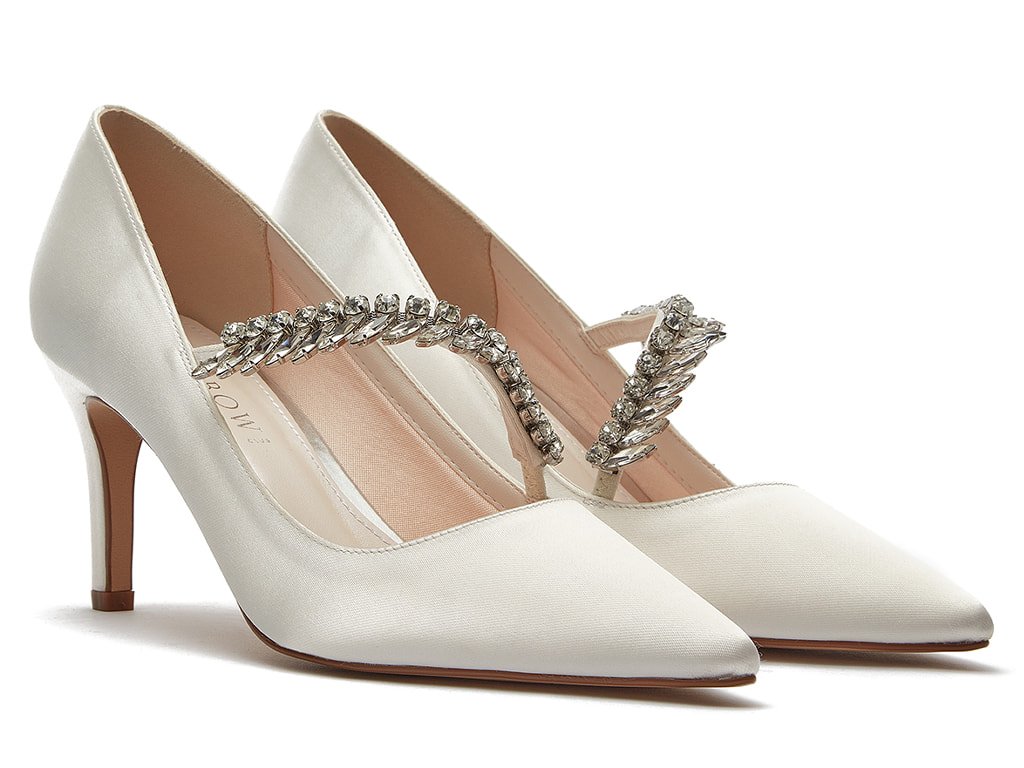 Crystal £99
Sleek, chic and sophisticated, the Crystal courts by Rainbow Club are understated but not lacking detail. These stylish shoes are crafted from lustrous ivory satin. They have pointed toes, a sleek silhouette and are embellished with a silver crystal diamante with an elegant stiletto heels.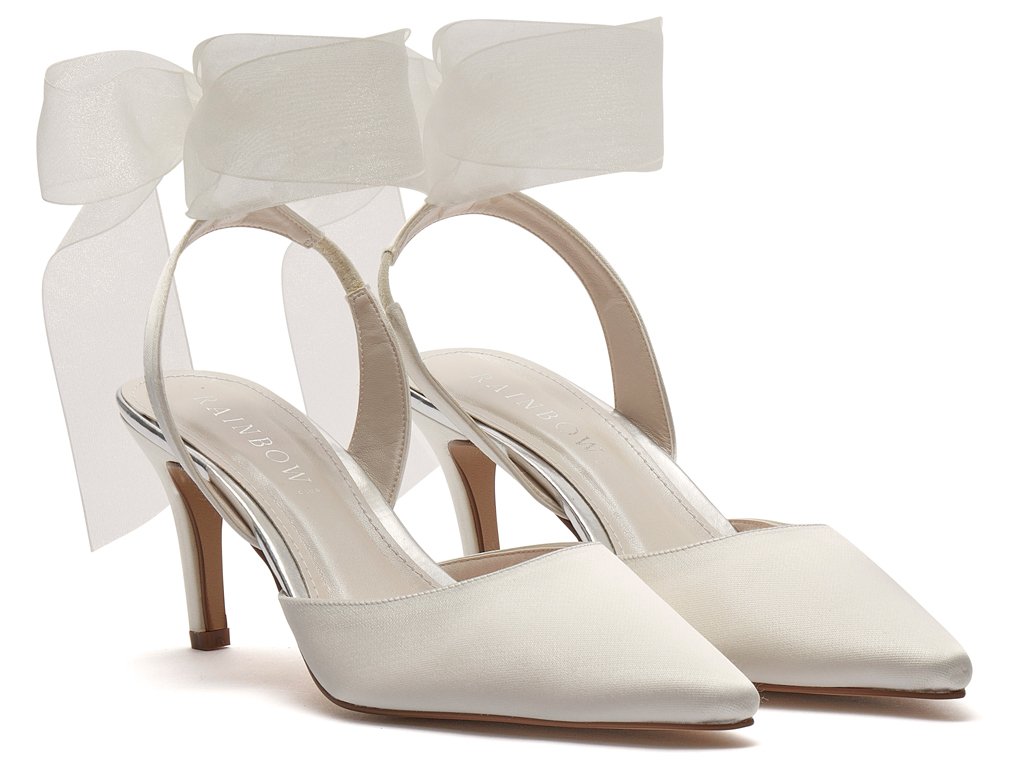 Mimi £89
These statement bridal shoes are crafted from luxurious ivory satin with a silver leather trim, and have a pointed toe, a slingback strap finished with a romantic chiffon ribbon bow and a manageable but sleek stiletto heel. Brides with shorter wedding dresses will love this stylish wedding shoe – it's an impactful, unforgettable style.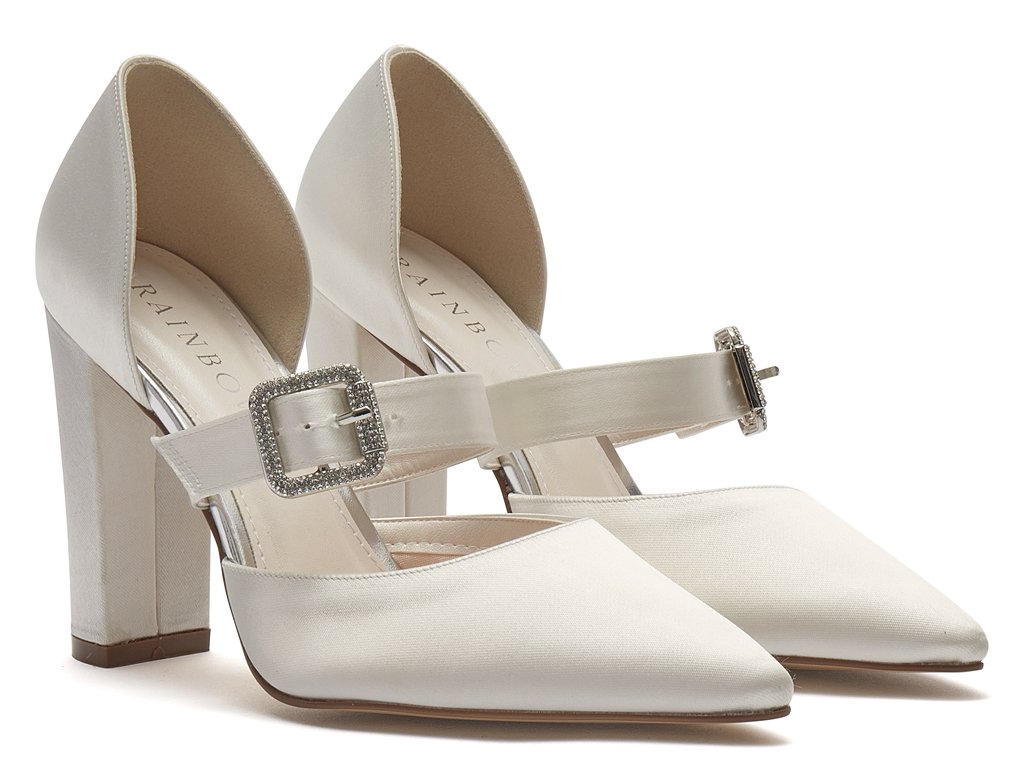 Savannah £95
A simple shape with a retro feel, the Savannah wedding shoes show off a subtle hint of sparkle.
Crafted from luxurious ivory satin with a silver leather trim, they have a sharply-pointed toe, a strap across the foot finished with a chic diamanté square buckle, a closed back and a wear-all-day block heel. A contemporary take on a classic style, these modern bridal shoes are perfect for understated brides, and can also be dyed to match bridesmaid dresses or mother of the bride and wedding guest outfits.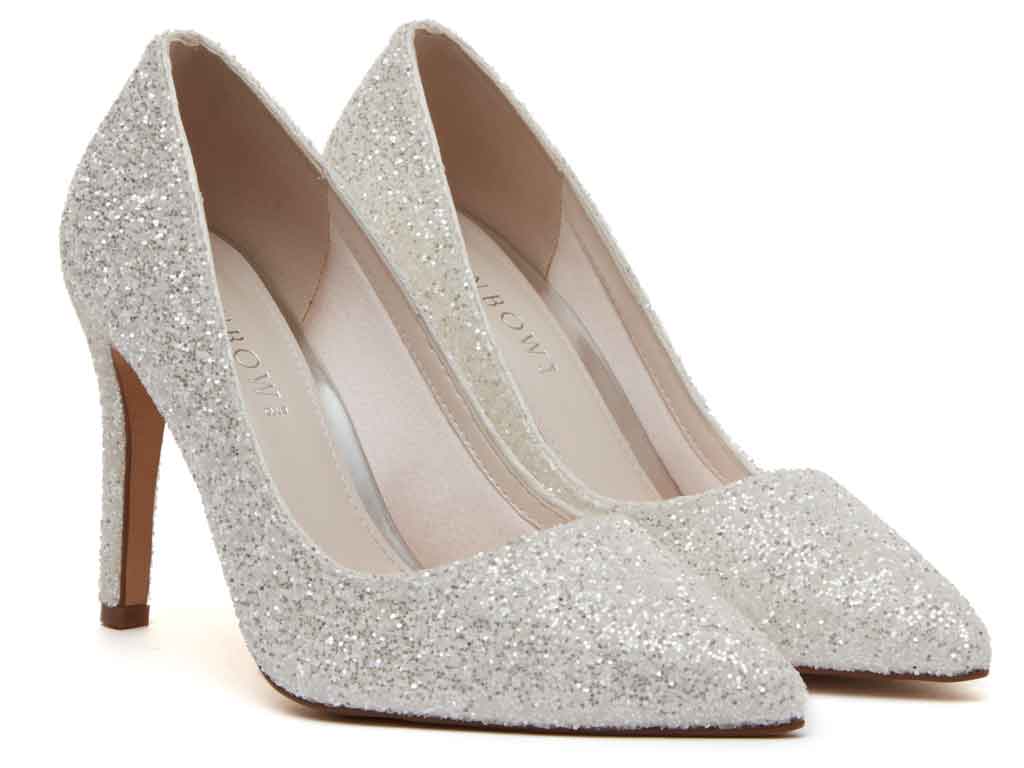 Coco – Snow Glitter £99
Sleek, stylish and incredibly sparkly, Coco is a beautiful glittery bridal shoe. Crafted from ivory snow glitter, this sky-high court has pointed toes, a contemporary, streamlined shape and elegant stiletto heels.
Keep an eye out on our Facebook Inspo Group for our special Day 4 prize coming out tomorrow!
Competition T&Cs:
By entering this competition, you are agreeing to share your details with third parties
The winner can choose 5 of the above heels
All shoes you can win are listed below with dates available
Freya, £99- November 2021
Nelly, £125- Available now
Carly, £89- Available now
Maya, £95- November 2021
Willow, £149- Available now
Crystal, £99- November 2021
Mimi, £89- February 2022
Flori, £149- March 2022
Savannah, £95- February 2022
Ophelia, £175- March 2022
Coco Snow Glitter, £99- February 2022
Competition closes Friday 7th January 2022