You won't believe these creative, unique (and pricey!) celebrity wedding cakes!


Go big or go home… That's the phrase that comes to mind when we see some of these celebrity wedding cakes! But what does a a celebrity wedding cake look like? When your rich and famous, you're going to be able to hire some of the world's best cake makers so we can only expect celebrity wedding cakes to be next level!
This edit features extravagant, gravity-defying cakes to soft, simple and understated cakes with delicate details. From pop singers to old Hollywood stars and the royals, feast your eyes on these stylish sweet treats made for some of our favourite celebrities – starting from the most expensive!
Information provided by a study carried out by the cake experts at Jackandbeyond.com.
1. Priyanka Chopra & Nick Jonas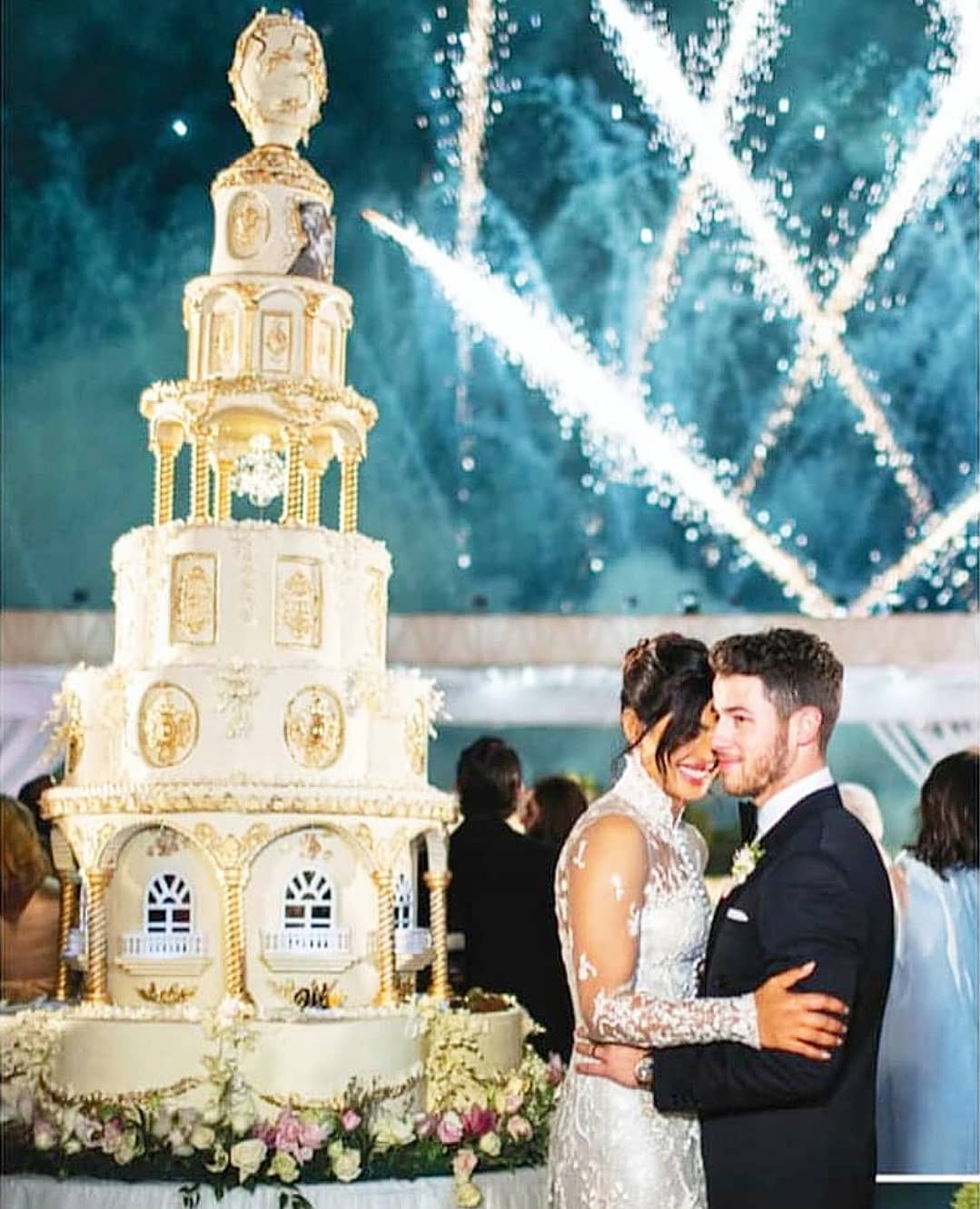 This magnificent six-tier wedding cake cost Priyanka Chopra and Nick Jonas a whopping £15,000! Made for their 2018 wedding weekend in India which broke the internet for its extravaganza of fireworks and a 75-foot veil, their wedding cake certainly fit the theme of 'go big or go home!'. Not only was it six-tiers in height, but it also featured a lit chandelier inside and represented a castle tower with decorative columns, pillars, arches and balconies.
RELATED TO: Get The Look: Britney Spears's Wedding Dress
2. Grace Kelly & Rainier III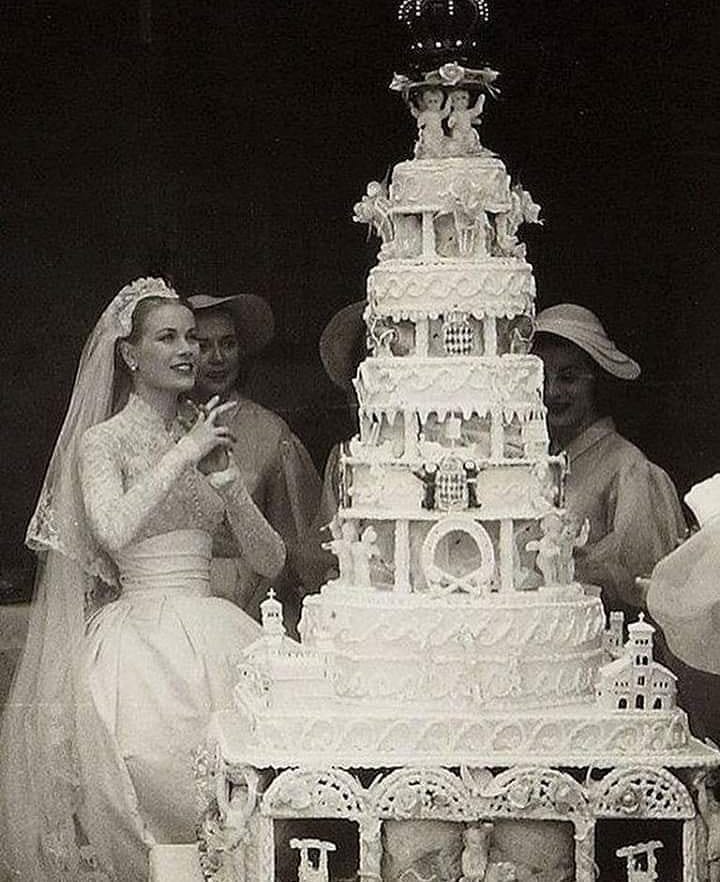 Coming in second at £10,000 is this celebrity wedding cake from 1956 when Prince Rainer III married his princess bride Grace Kelly in Monaco. Ethereal and an angelic, this creative cake featured a cage with two turtle doves and a music box of the bride and groom. It also towered high with an impressive six-tiers!
3. Kaley Cuoco & Ryan Sweeting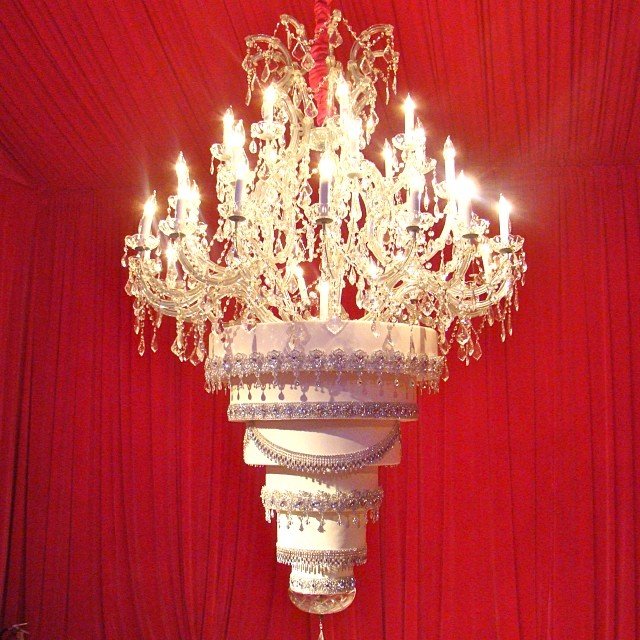 We admit we had to look twice when it came to Kaley Cuoco and Ryan Sweeting £9,000 wedding cake! Unfortunately, the pair are no longer married and Kaley has since remarried, but that doesn't mean we can't appreciate their magnificent cake from their California wedding in 2013. The cake hung upside-down from the ceiling under a chandelier and Kaley even had to bend her knees to cut a slice!
RELATED TO: Inside Pixie Lott & Oliver Cheshire's Grand Wedding
4. Princess Eugenie & Jack Brooksbank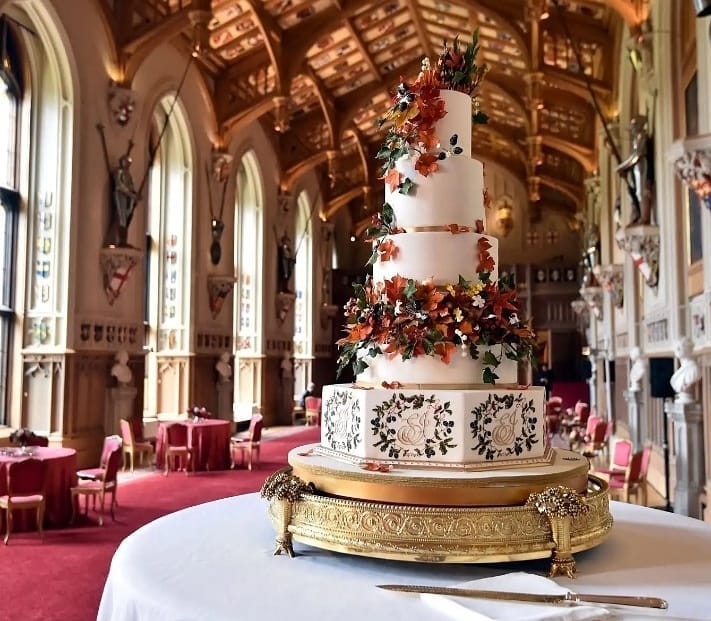 Going for an autumnal theme for their Windsor wedding in 2018, Princess Eugenie and Jack Brooksbank went for a five-tier red velvet and chocolate cake which cost £6,500! The cake consisted of three tiers of red velvet and two of chocolate sponge and was covered with butter cream, white icing and finished with decorative sugar leaves.
5. Sofia Vergara & Joe Manganiello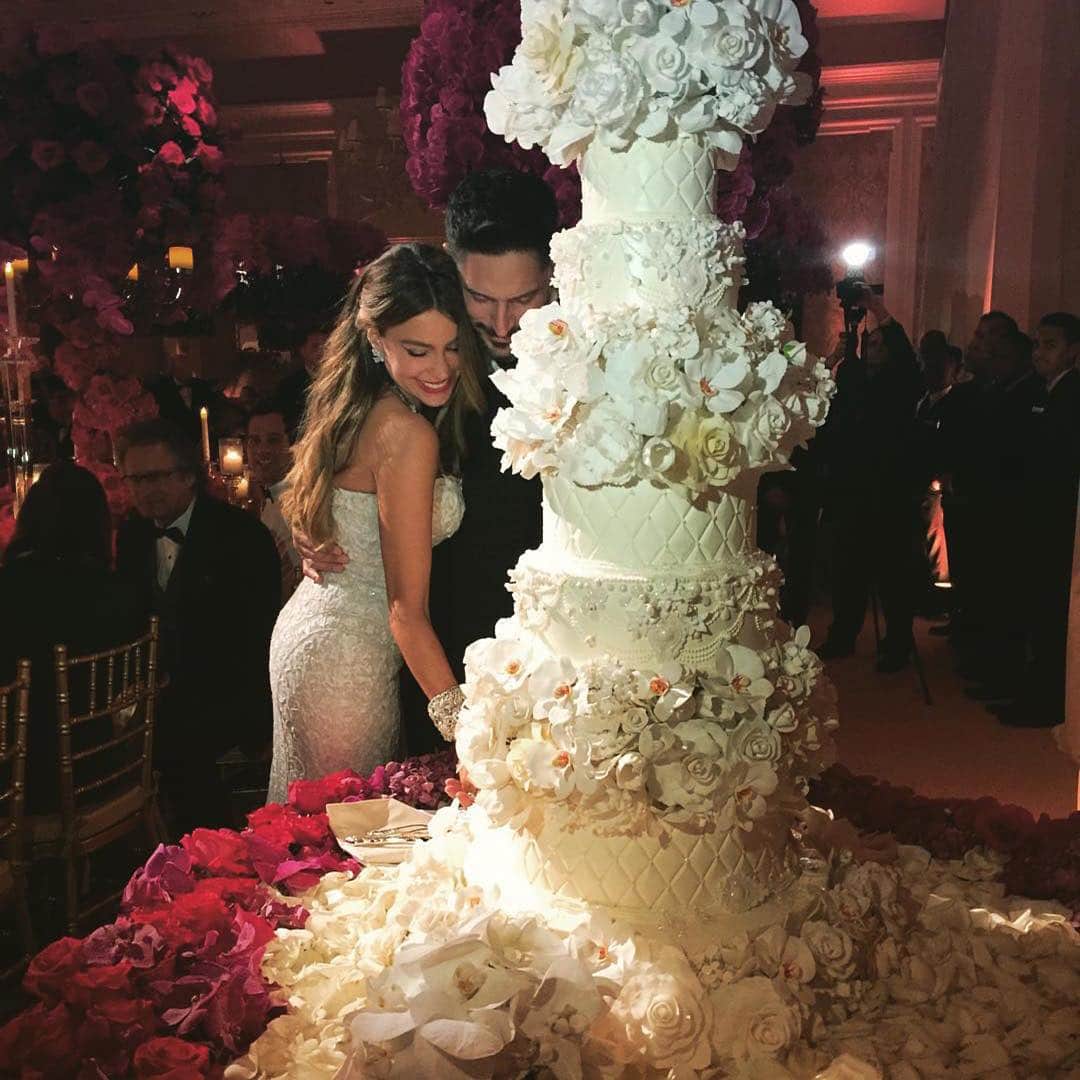 Although famous actress Sofia Vergara and actor Joe Manganiello married in 2015 in, their Florida wedding is still memorable for all its extravagant details – especially their wedding cake! Priced at £6,000, the lavish five-tier cake featured a quilted design and an array of stunning white flowers that really made a statement.
RELATED TO: Get The Look: Celebrity Engagement Rings
6. Chiara Ferragni & Fedez
These two did not hold back when it came to their funfair-inspired wedding in Noto, Italy in 2018. Chiara is one of the most famous fashion bloggers also known as 'The Blonde Salad' and together with Italian rapper Fedez, they set the bar high for celebrity weddings! Priced at £5,600, their cake was hand painted with the same lyrics and symbols on the bride's dress. They couple cut the cake hanging in foliage as fireworks went off in the background. The two then went on to enjoy their amusement park reception!
7. George Clooney & Amal Alamuddin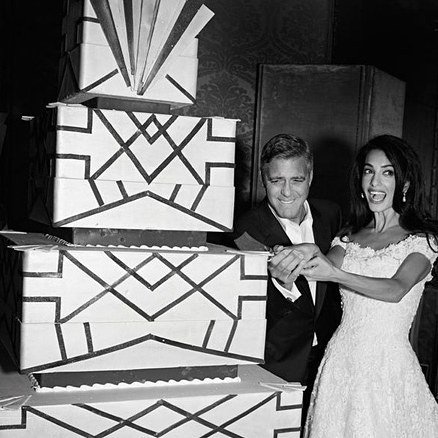 Our next celebrity couple wowed with a striking artistic cake for at their 2014 wedding in Venice, Italy. The famous actor and lawyer spent a total of £5,600 on their four-tier chocolate wedding cake featuring an abstract design, angular lines and arrows in gold and white with fan detailing on top.
RELATED TO: Our Fav Celebrity Couples Spill Their Secrets To A Successful Marriage
8. Olivia Buckland & Alex Bowen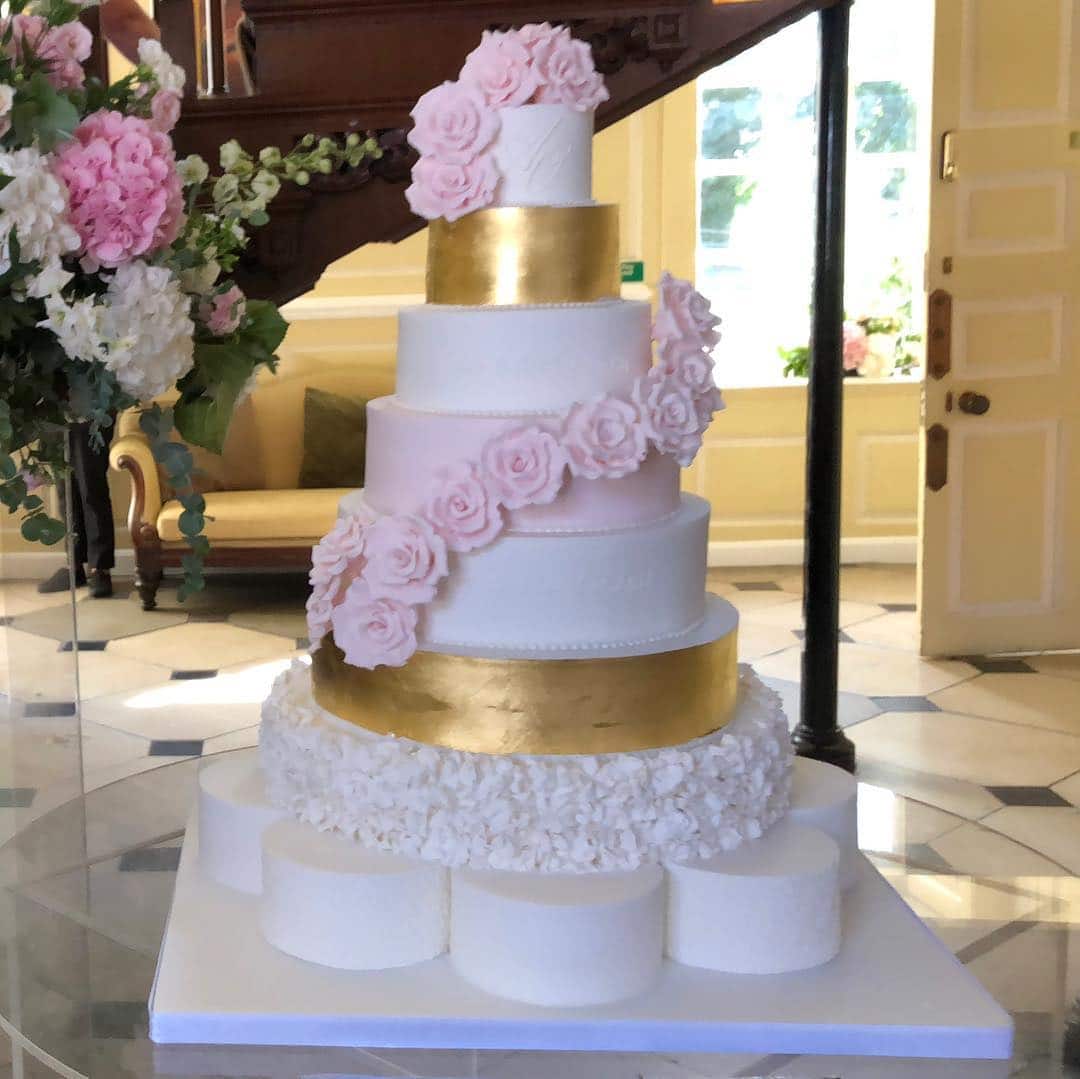 Love Island stars, Olivia Buckland and Alex Bowen married in 2018 with a lavish wedding that included a helicopter, a prosecco van and a eight-tier cake in Essex! The cake which cost £3,500 was created with lace and ruffle details to match Olivia's wedding gown by Enzoani. It also included floral details to match their flower arrangements by Jades Flower Design.
9. Meghan Markle & Prince Harry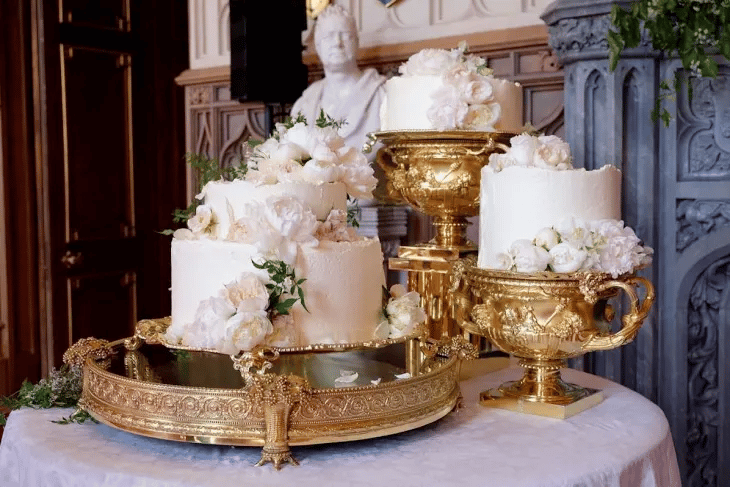 Millions of viewers tuned in to watch Meghan Markle and Prince Harry's royal wedding at Winsdor Castle in 2018. This wedding cake cost £2,900 and was not the traditional fruitcake expected of the royals. Instead, Harry and Meghan went for a lemon elderflower cake with simple white buttercream frosting. The four-layer cake was deconstructed on gold serving dishes and finished with flowers to tie in the spring season.
RELATED TO: 11 Most Iconic Celebrity Wedding Dresses Of All Time
10. Idris Elba & Sabrina Dhowre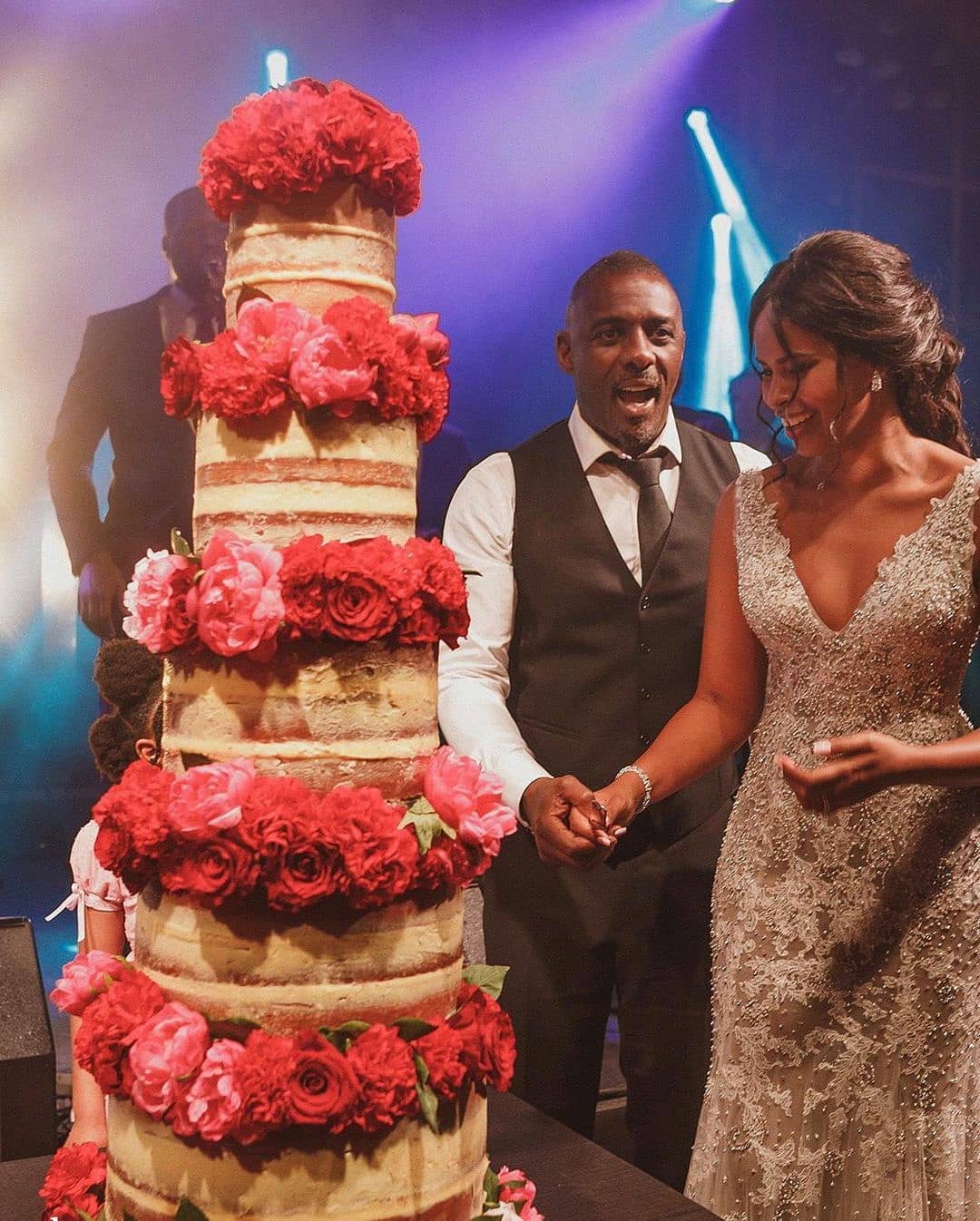 Idris Elba's cousin-in-law who is an award-winning pastry chef, brought this beautiful creation to life! The couple's wedding cake was priced at £1,900 for their Morocco wedding in 2019. The five-tier naked cake had a half-iced look topped with red roses to match the theme of the reception. Idris chose a classic vanilla flavour with a cherry filling and buttercream icing, while Sabrina went for an olive oil base with lemon and basil buttercream.
11. Gwyneth Paltrow & Brad Falchuk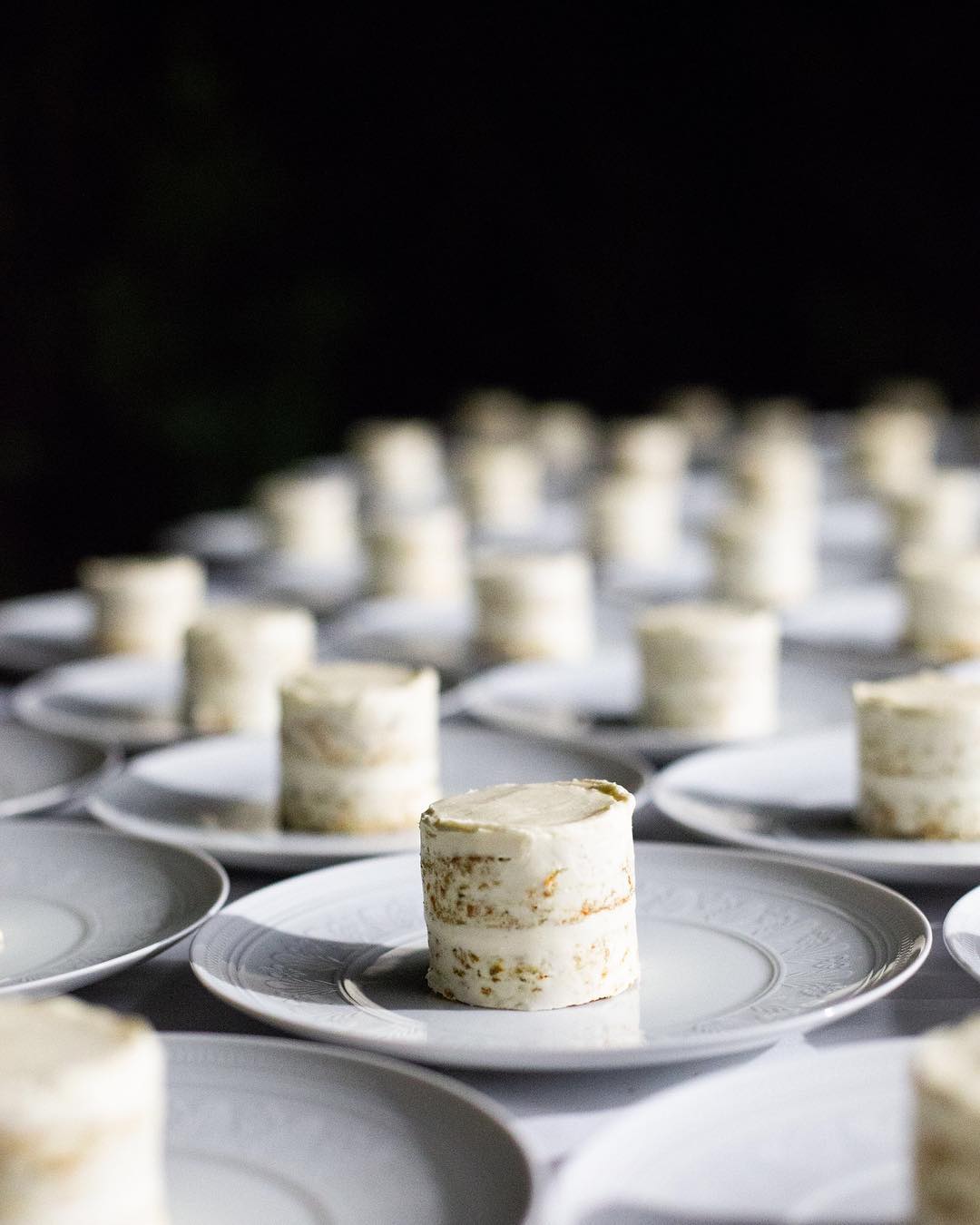 Gwyneth Paltrow and Brad Falchuk took a more subtle and understated approach than our other celebrities. They went with these adorable mini wedding cakes, also described as micro wedding cakes, with a choice of carrot cake, vanilla or chocolate for their guests. The cakes were said to have cost £1,500 at their New York wedding.
RELATED TO: 11 Bridal Trends To Inspire You From The Met Gala 2022
12. Penn Badgely & Domino Kirke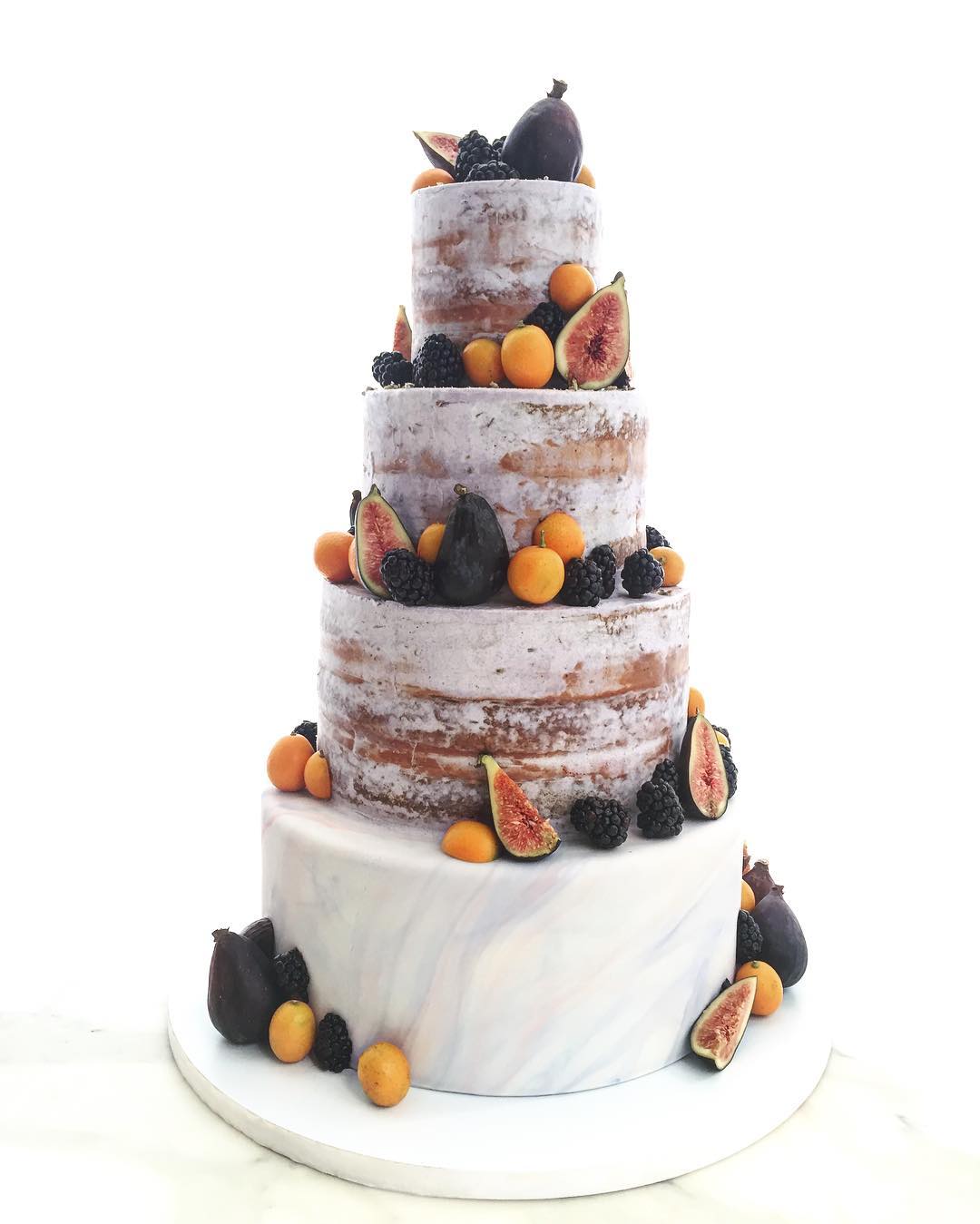 Penn Badgely and Domino Kirke celebrated their wedding in New York with a laid-back ceremony, however they pulled out all the stops for their £1,350 naked wedding cake. The gluten-free and vegan combination was lavender, rosewater and chocolate flavoured and topped with fresh fruit. We're loving this fruitastic and natural wedding cake!
13. Zoe Kravitz & Karl Glusman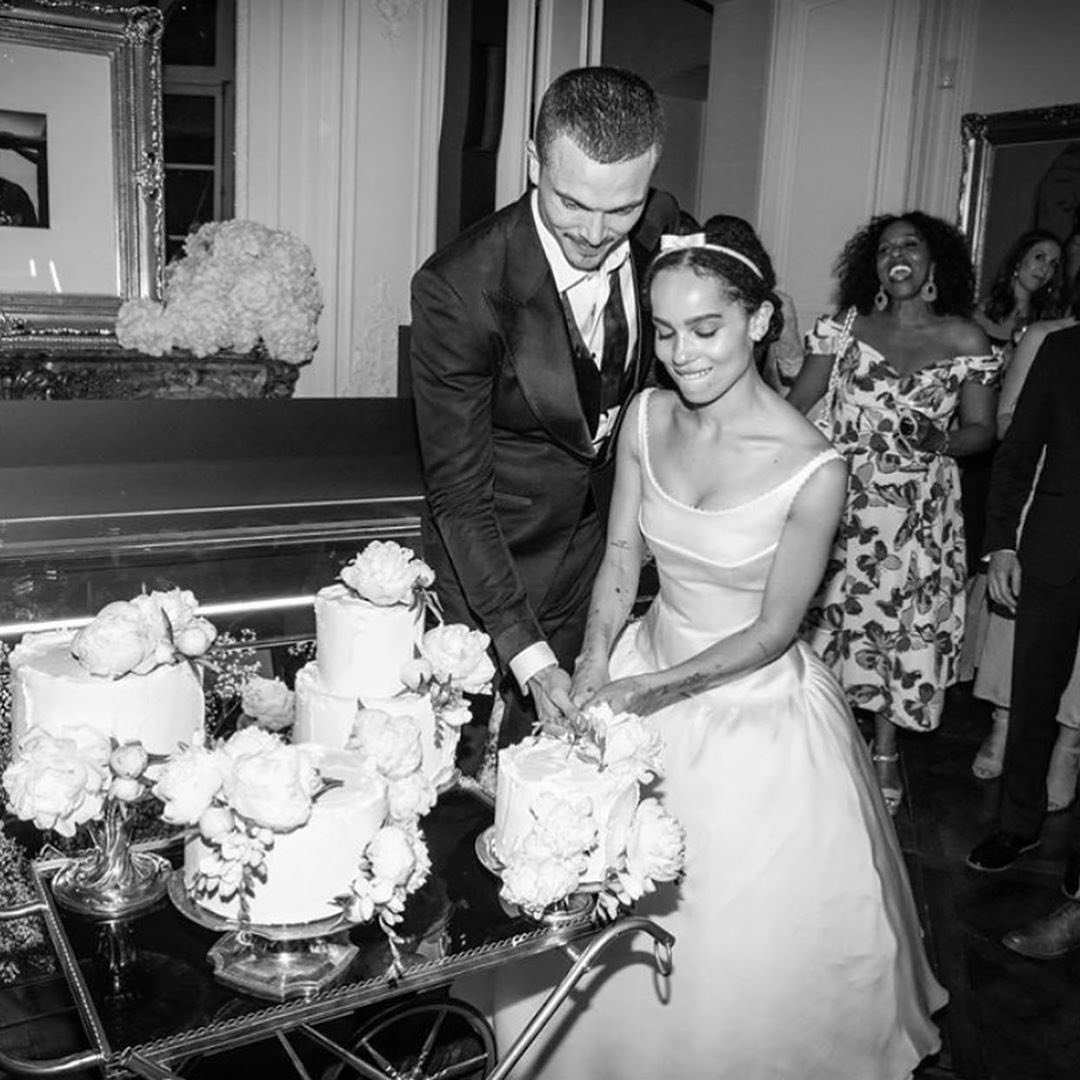 We're sensing a trend with these deconstructed wedding cakes – and we're not mad at it! This celebrity wedding cake (or cakes!) is priced at £1,200 and embrace a chic and natural look with floral details and cream scraped sides for Zoe Kravitz and Karl Glusman's wedding in Paris, France.
14. John Legend & Chrissy Teigen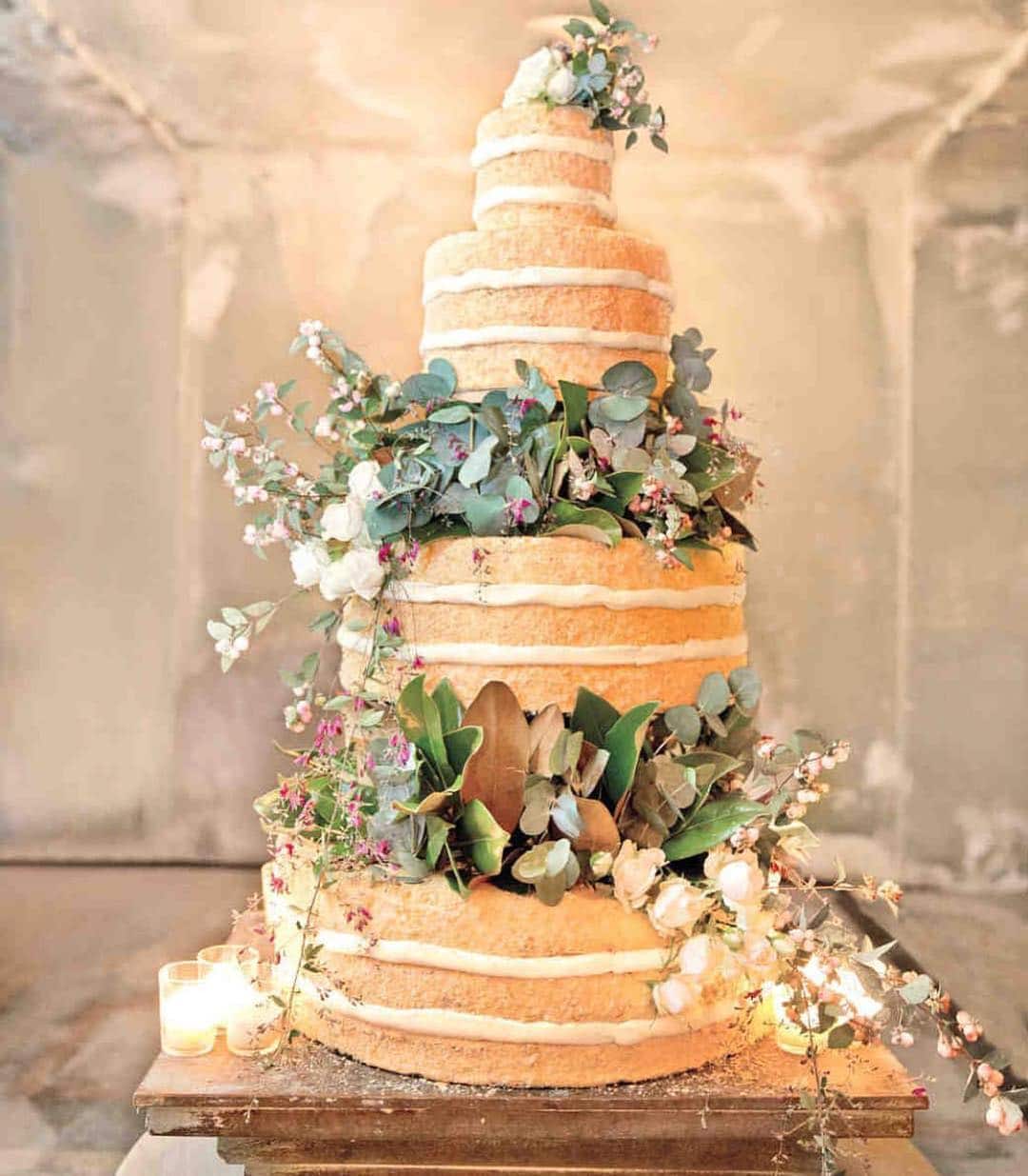 For their glamourous 2013 wedding in Lake Como in Italy, John Legend and Chrissy Teigen opted for a £1,100 naked wedding cake with three-tiers, cream cheese frosting and botanical buds. Naked cakes have really become a trend due to their and other celebrity influences!
15. Hilary Duff & Matthew Koma
Photo via Instagram: @hilarypictures
For her second wedding to Matthew Komain 2019, Disney child star Hillary Duff went for an simple yet stylish two-tier wedding cake with subtle lined edges and delicate leaf-like detailing. The cake was priced at £500 for their wedding in California.
Feeling inspired by these celebrity wedding cakes? To start planning your dream wedding cake, check out our local wedding cake suppliers HERE!