Check out these gorgeous venues that offer chic, stylish accommodation for your big day!
Getting hitched means being surrounded by your nearest and dearest on the happiest day of your life and no doubt you will want the party to continue late into the night!  And it's a good idea to book a venue that offers accommodation so that you and your guests won't have to worry about leaving at a specific time and will be one last thing to worry about. We've collected just some of our favourite venues that offer fabulous accommodation, from quaint country houses to magnificent castles, you will be spoilt for choice!
Galgorm Spa & Golf Resort, Co. Antrim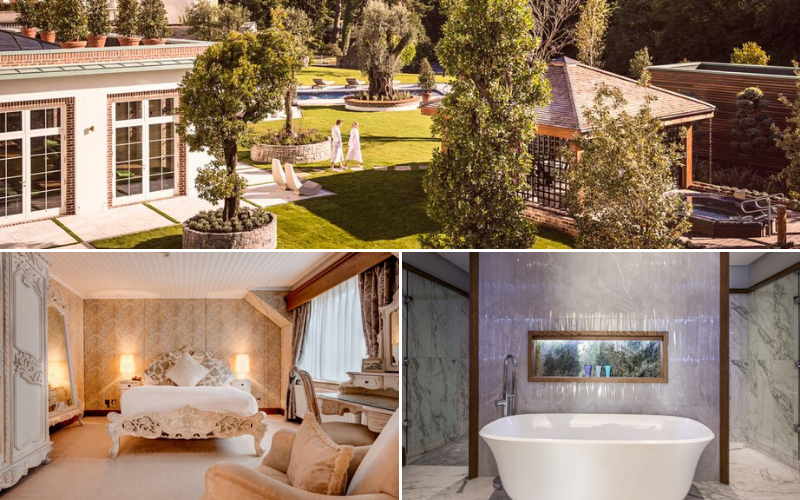 Galgorm Spa& Golf Resort is not only renowned for being a stylish wedding venue but also for their stunning accommodation they have on offer. With 122 bedrooms including suites, deluxe, superior and standard rooms, their rooms are beautifully designed with plush furnishings, making it the perfect place to spend your first night as a married couple!
Bellinter House, Co. Meath
Situated only 30 minutes from Dublin, Bellinter House is renowned as one of the most unique wedding venues in Ireland. They also have 35 bedrooms individually styled, steeped with character, reflecting the unique personality and charm of this property. With extra-large luxurious beds, goose feather pillows and soft white linen, you will definitely have a luxurious nights sleep!
Lough Eske Castle, Co. Donegal

Always dreamed of marrying in a castle? For a truly spectacular wedding, book yours at Lough Eske Castle! Their accommodation doesn't disappoint either, with 14 courtyard guest-rooms set in the original castle stables dating back to the 1600's, the decor has a modern country style, with white wood panelling lining the walls and bespoke oak furniture that blends perfectly with restful colours and fabrics.
Beech Hill Country House, Co. Derry

Beech Hill Country House situated just outside Derry, is a sophisticated 17th century manor house surrounded by 32 acres of beautiful woodlands and lakes. Not only does it accommodate well for weddings, it's also an excellent venue for overnight stays. Warm and welcoming, their gorgeously decorated guest rooms have their own individual character and charm.
Lough Erne Resort, Co. Fermanagh

Romantic and picturesque, Lough Erne Resort is a wedding venue like no other The multi-award winning,  luxurious 5-star hotel is a fabulous venue right in the middle of stunning surroundings. It's also a great venue for those who require an overnight stay, guests can stay in their picturesque lakeview rooms which directly overlook Castle Hume Lough and The Faldo Course capturing the natural beauty of the region and its infamous waterways.
Belle Isle Castle, Co. Fermanagh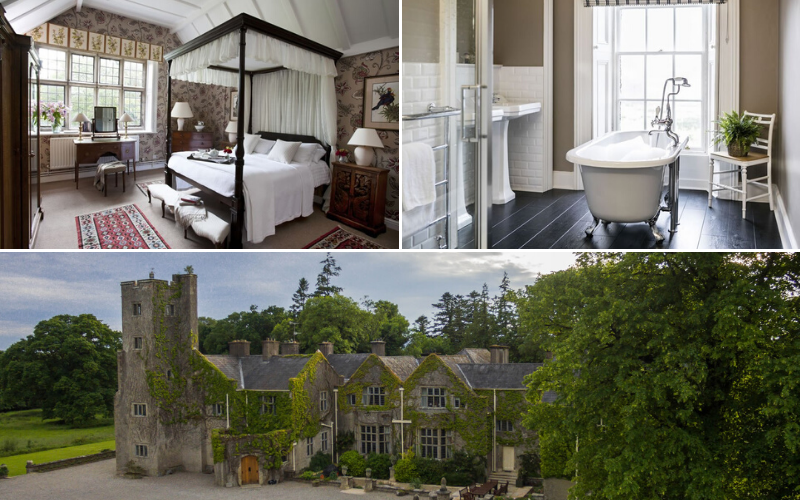 A 17th-century castle on an idyllic island in Fermanagh lakelands, Belle Isle is an enchanted setting for civil wedding ceremonies and receptions. The embodiment of romantic, old-world charm, the estate is home to  470 acres of rolling hills, flowering meadows, tranquil gardens, and views of Lough Erne form a magical backdrop. They can accommodate up to 27 guests in 13 individually decorated guest rooms and suites, 11 of which are en-suite. These are perfect to ensure your families and bridal party experience the ultimate in Irish castle luxury!
Ballyscullion Park, Co. Derry
Situated in quiet, unspoilt countryside, surrounded by ancient woodland and with breathtaking views over Lough Beg and Church Island, Ballyscullion Park is a special place to host your wedding. As well, it's also a great place to book overnight accommodation, they have recently finished renovating their accommodation and have five comfortable self-catering cottages available for wedding parties and guests, with each house comprising of three bedrooms which can comfortably sleep up to six guests.
Boyne Hill House Estate, Co. Meath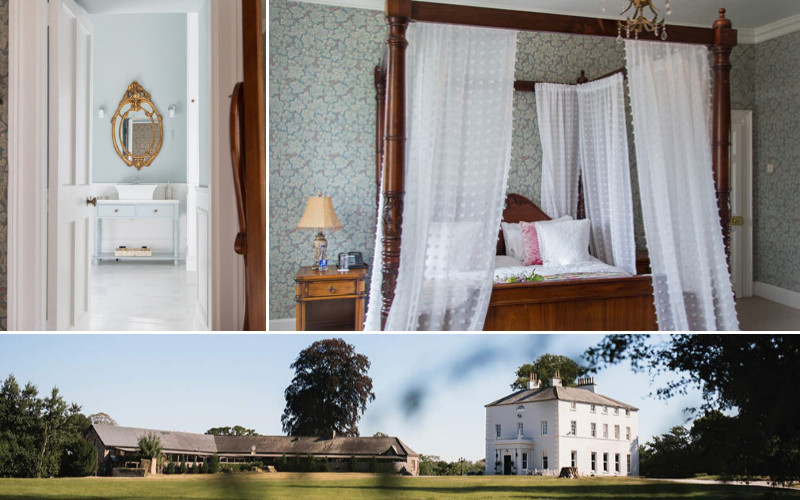 Considered one of Ireland's most exclusive private venues, Boyne Hill House is the perfect setting for a romantic wedding. For those wanting to stay overnight, they offer a range of chic accommodation available that can be tailored to your requirements including double, triple and twin bedrooms as well as family suites. Designed in mind for maximum comfort, you will not be disappointed!
Darver Castle, Co. Darver 
Another stunning castle location, Darver Castle dates back to the 15th Century and is situated on 50 acres of fine parkland in the rolling countryside of County Louth. With a one wedding per day, they will provide total privacy on your big day, along with high quality accommodation. With 40 rooms in total, these rooms are situated in the Main Castle, Courtyard, Stables and Oakwood Cottages. All rooms have been individually decorated to the highest standard. Including four-poster beds and period furniture.There are 11 luxurious bedrooms located here, all of which are ensuite and the castle rooms are reserved for the bridal party only.
Harvey's Point, Co. Donegal 

A luxury Donegal wedding venue, Harvey's Point boasts panoramic views of Lough Eske and The Blue Stack Mountains making it the perfect location for your big day. They have a range of suits to suit a range of needs, from executive, deluxe, premium, lakeshore, penthouse and lodge options,great thought and devotion has gone into every detail of their suites to ensure that they offer you the most luxurious surroundings and amenities on your special day.
BrookLodge & Macreddin Village, Co Wicklow

Ideally located in a picturesque Wicklow Valley just one hour from Dublin, BrookLodge & Macreddin Village,is committed to hosting the wedding of your dreams! Macreddin Village consists of 86 bedrooms in total, spanning across three buildings in the village, BrookLodge, BrookHall andBrookMews. For guests staying over, there are various types of rooms available ranging from traditional style standard rooms to New York style Mezzanine Suites.
Castlemartyr Resort, Co. Cork

Comprising of an elegant 18th century manor house and 13th century castle ruins, Castlemartyr Resort is like no other. Nestled in 220 acres of mature landscape, the manor house is indeed the heart of this unique resort, having been restored and extended to offer perfectly styled accommodation.
DISCOVER MORE: You Can Find The Best Venues In Ireland In Our Online Directory – HERE
The Slieve Russell ,Co Cavan

The Slieve Russell Hotel is synonymous with the highest quality of excellent cuisine, professional service and attention to detail. As one of the country's most popular family hotels, the Slieve Russell Resort is located just 90 minutes from Dublin or Belfast and is easily accessible from all parts of Ireland. It's the perfect combination for the your big day.
Belmont House Hotel, Co. Down 

Belmont have just recently undergone an extensive refurbishment to their period property, with eight of their bedrooms updated. The original period features in each room have been restored and new modern bath suites have been added. The Georgian look of the hotel has been carefully preserved with the addition of all the luxurious amenities expected. Your guests will fall in love with the Belmont and wonder at the fabulous scenery and architecture throughout the estate.
Lough Rynn Castle, Co. Leitrim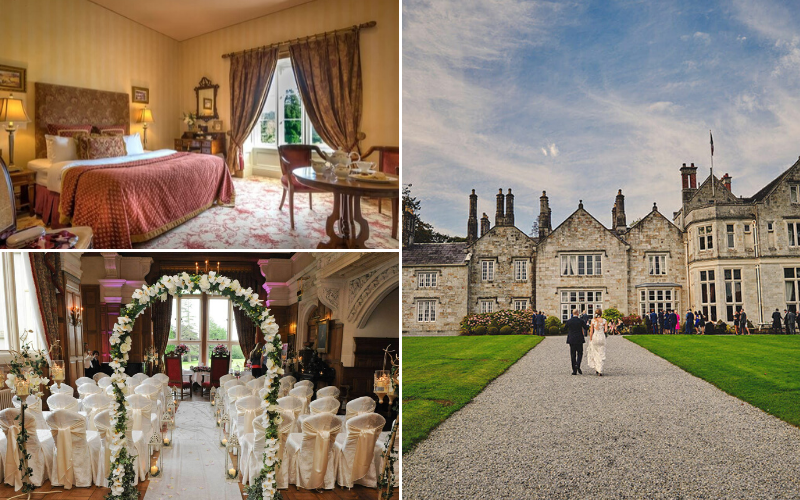 This is your chance to experience life as a royal, by choosing this authentic Irish castle, voted one of the top castle hotels in Ireland to stay. This magical Irish castle hotel has been transformed from an incredible ancestral home into a place where old world elegance mixes seamlessly with unimaginable modern hotel luxury.
Main picture credit: Belmont House Hotel 
____________________________________________________________________________________________
If you are searching for your dream wedding venue, then there's no better place to start shopping than the Wedding Journal Show! We're back in the TEC Belfast on the 1st and 2nd February, with hundreds of Northern Ireland's BIGGEST bridal designers and BEST wedding suppliers! You can book discounted tickets online HERE!