Calling all 2021 brides! If you haven't already started thinking about your wedding dress, now is the time!
Fortunately, we are here to help, with a round up of the trends that are set to take centre stage in the coming year. From bold botanical prints to romantic sleeves and sexy party dresses, we've got the scoop on the latest fashion-forward trends to walk the bridal runway this season.
So, whether you're about to start shopping or are just in the dreaming stage, these are the 2021 wedding dress trends to know. And, just to give you that extra helping hand, we've packed this post with advice on how to choose the dress that's right for you. You're welcome – now, let the dress shopping begin!
Flower Power
We're talking subtle and pastel, edgy and oversized or even in the form of textural, 3-D embroideries, this nod to summer will add whimsical charm to any wedding dress silhouette and is a solid choice for brides who like a natural, ethereal vibe. This kind of gown is particularly suited for an outdoor wedding, but really it's versatile enough to work for any kind of big day. Consider teaming it with one of these whimsical hair dos here.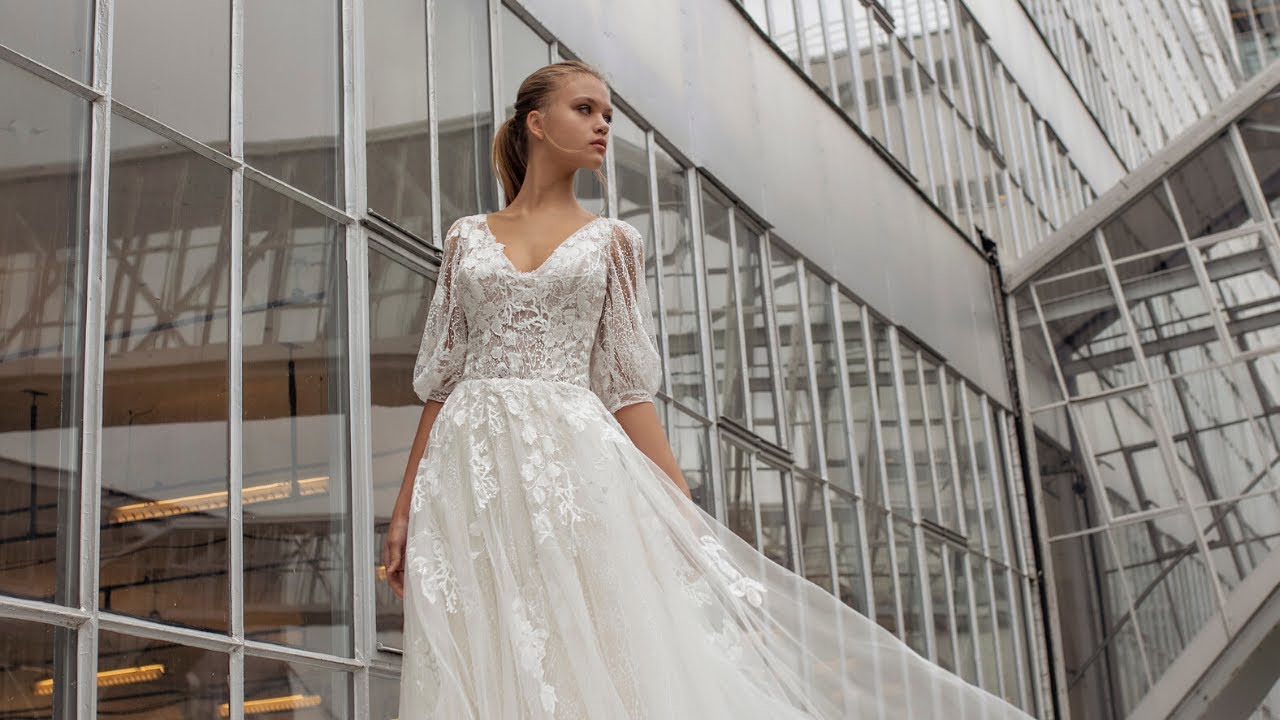 Larissa from Le Papillon by Modeca

Stevie from Maggie Sottero

Style 1132 by Justin Alexander
Puffy Sleeves
Inspired by the 80s, we're obsessed with over-sized sleeves! Don't panic, these ruffled and off-the-shoulder versions are all about tasteful romance. If you love this look but aren't ready to fully commit, go for detachable ones you can take off for your reception or after-party.

Summer from Lili Hod

Joanne from Rebecca Ingram

Turner by Pronovias
Courthouse Chic
So many bridal brands are now launching ready-to-wear civil wedding dresses, designed specifically with a more intimate wedding in mind. Perfect for brides who are saying 'I do' in 2020 and partying a few months later – thanks Coronavirus!

The Maldives from Lela Rose

Lui from Rime Arodaky

Style 11100 by Justin Alexander
Clever Corsetry
This look is perfect for the fashion-forward bride, it's sensual without being too sexy. Paired with sheer tulle, delicate lace, and loads of layering for a regal vibe with major edge.

Style 2313 from Mikaella

Style 20-107 from Berta Napoli

Style 4903 by Paloma Blanca
Trousers
We love this trend as it comes in all shapes and styles. From the chic seventies flare to the sharp cigarette pants. High-waisted trousers will hide a multitude of sins, or you can choose cropped trousers if you have a pair of killer heels to flaunt. You can add a flirty attachable skirt for added drama – it's the best of both worlds – or even opt for a jumpsuit if that's your style.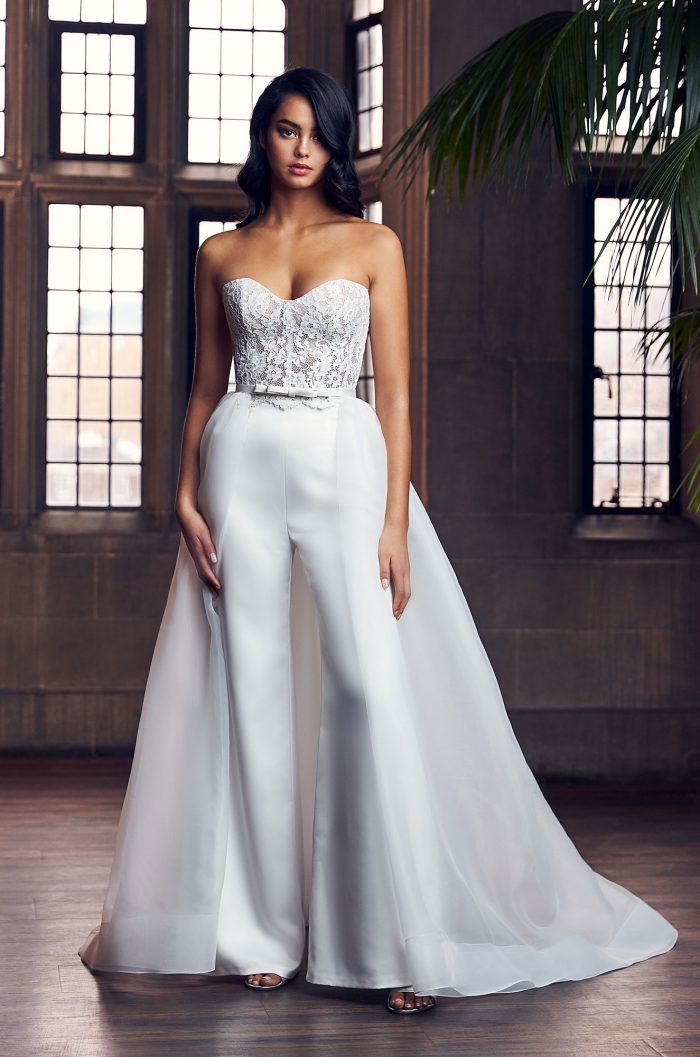 Style 20-107 from Berta Napoli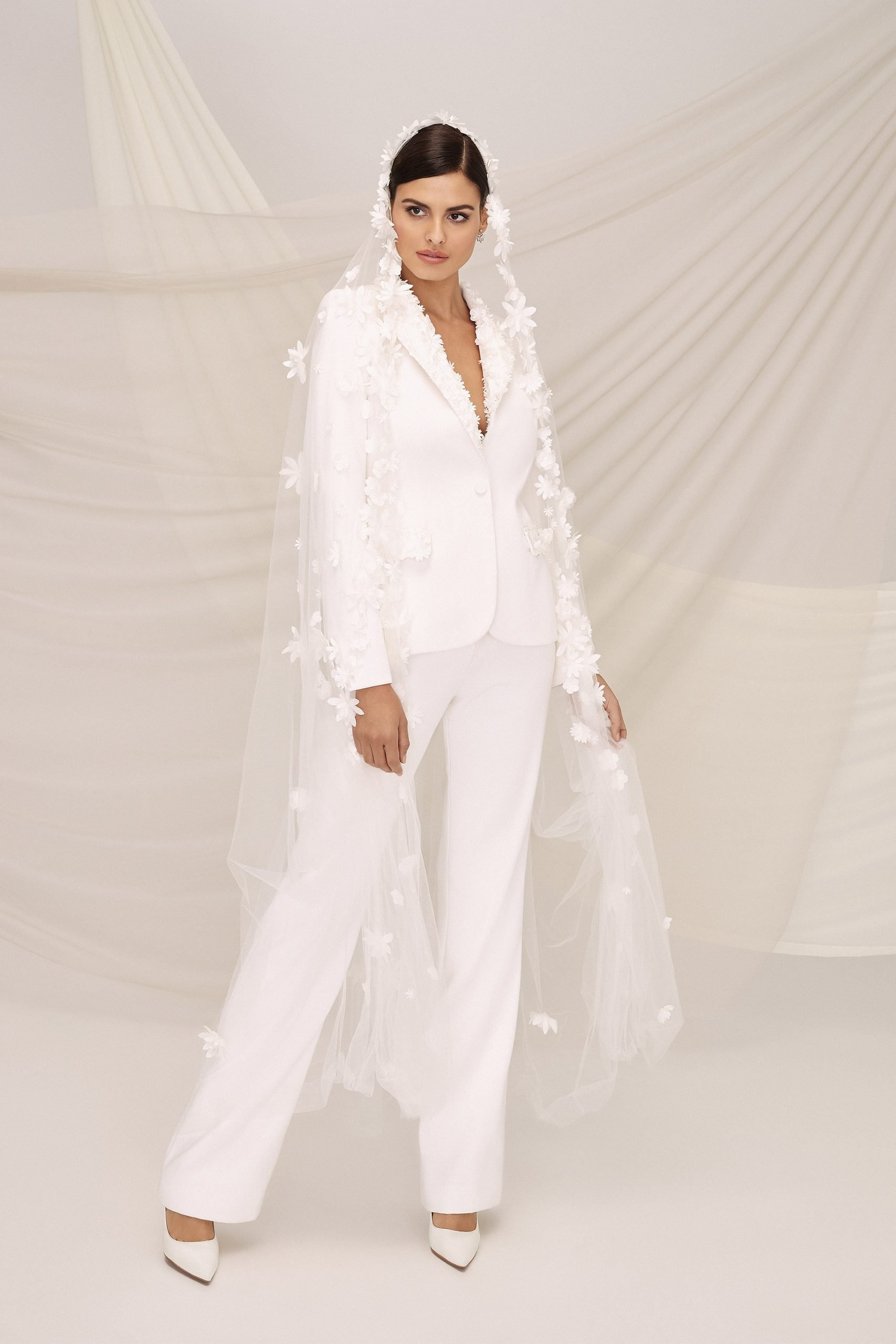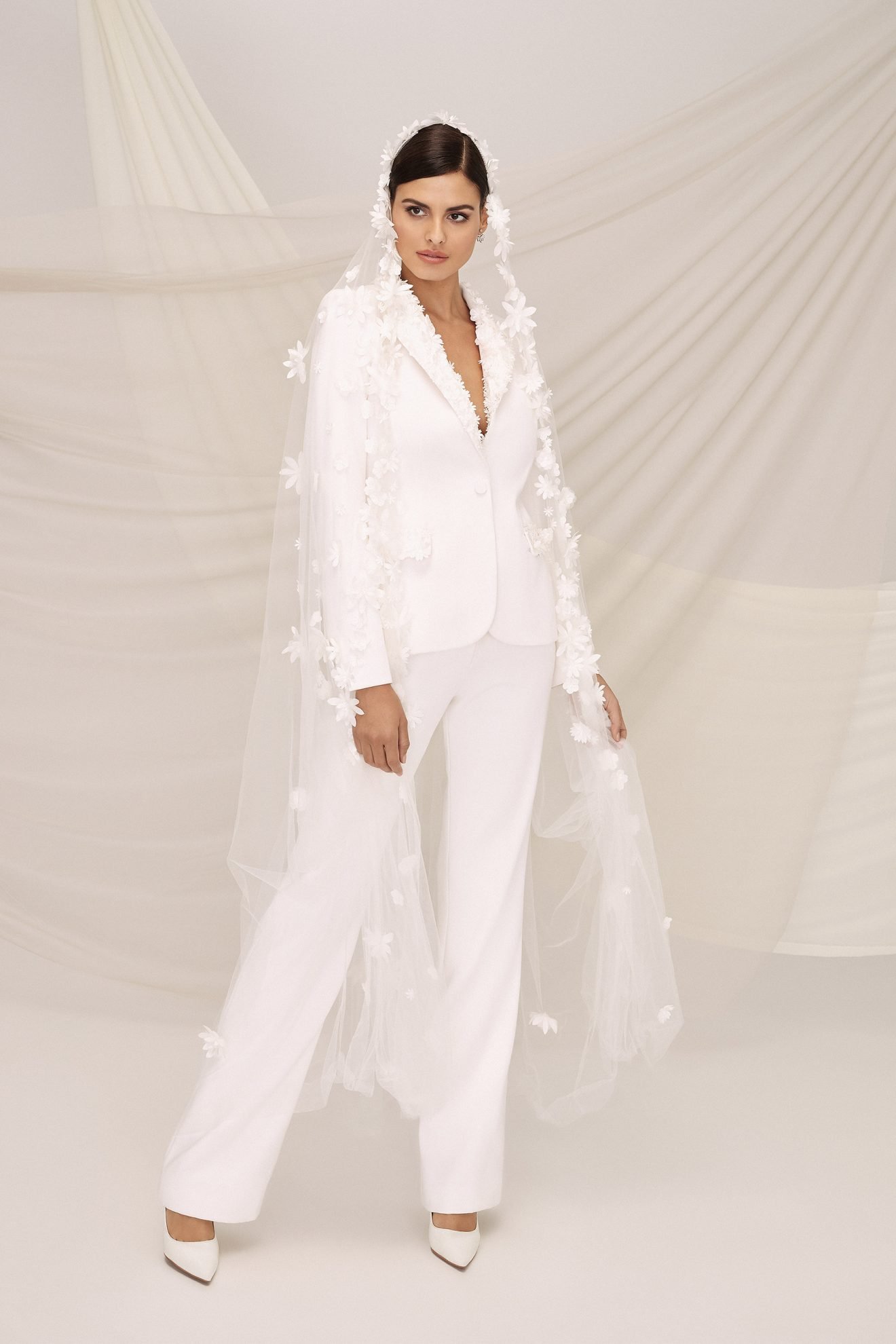 Style Uptown from Justin Alexander Signature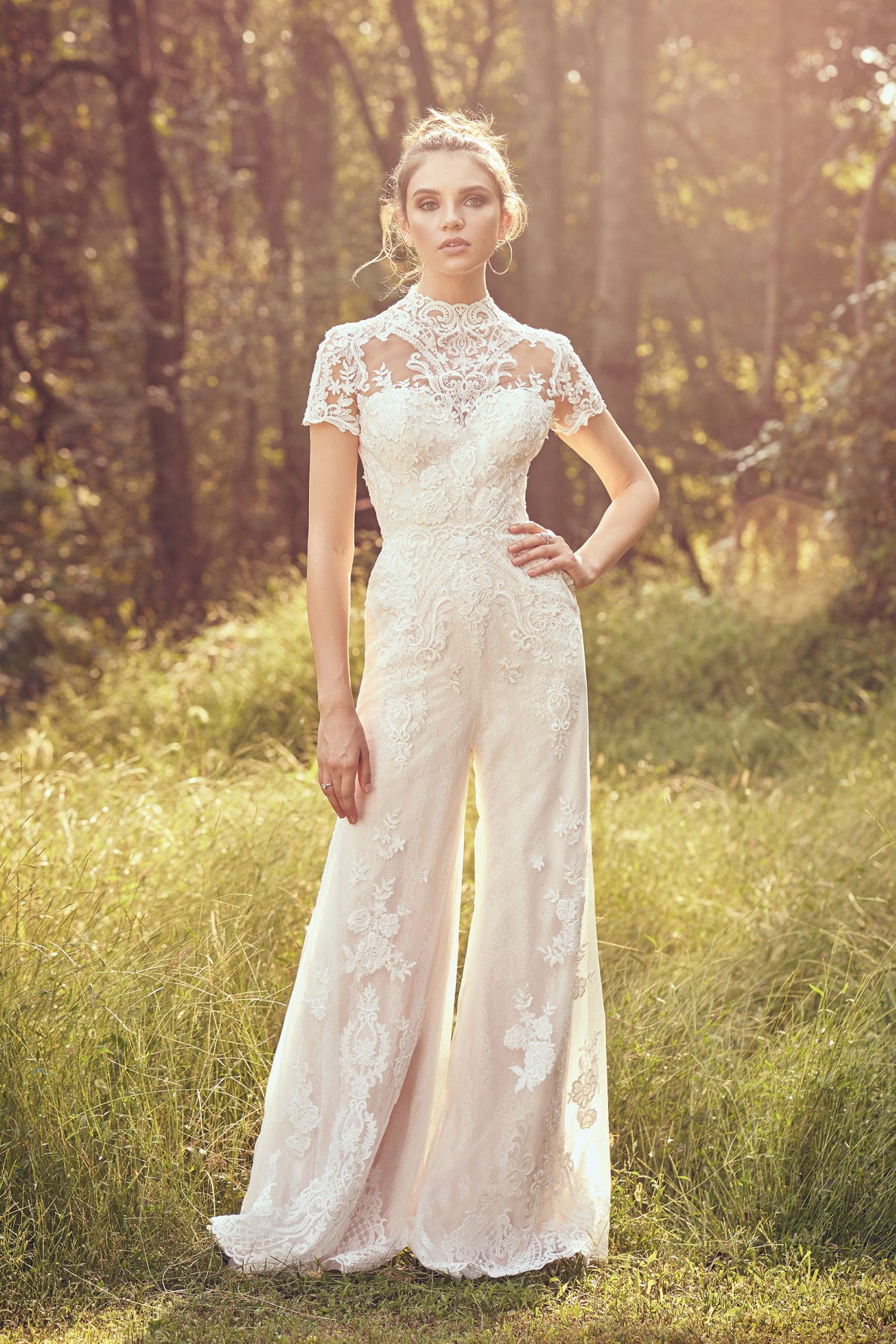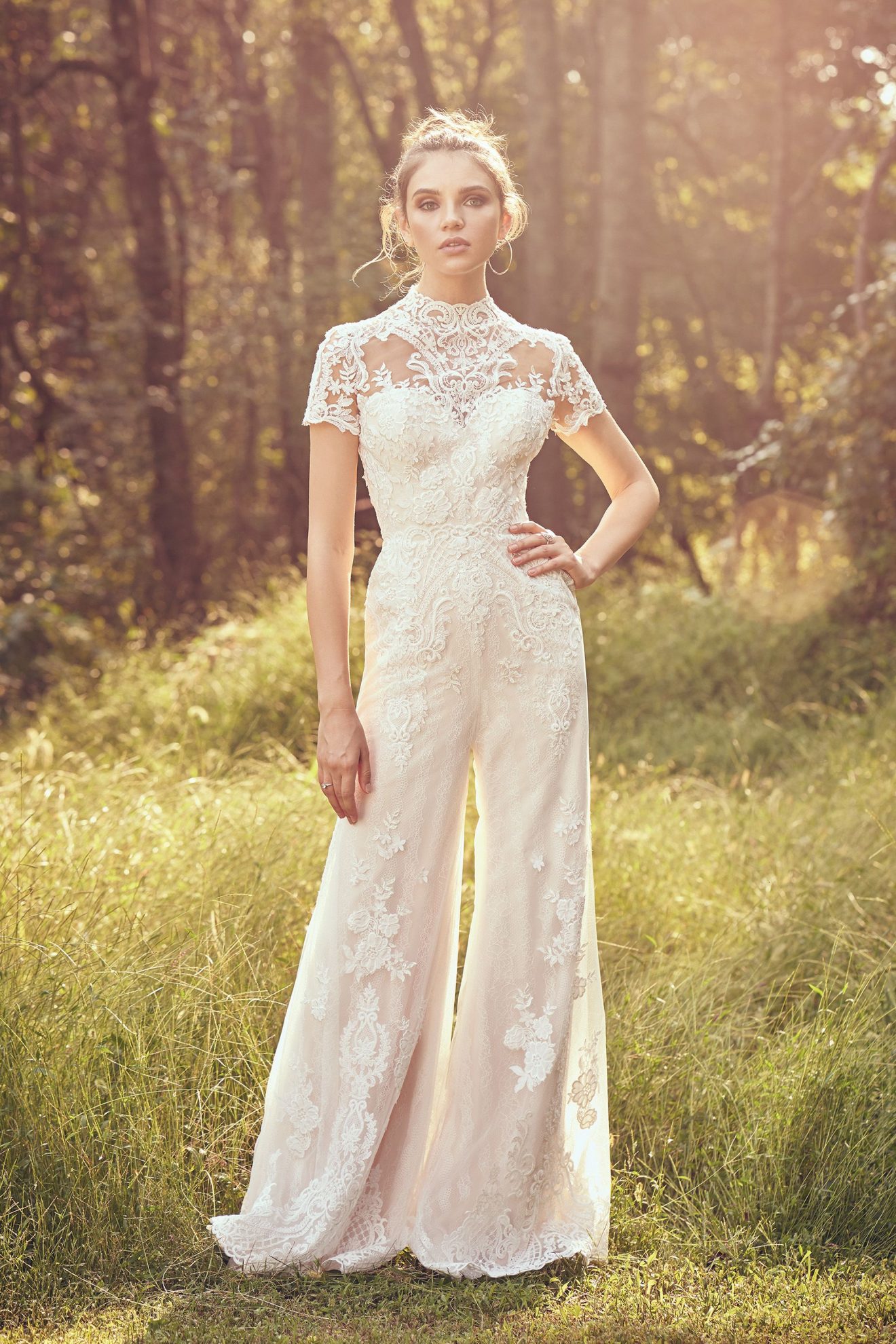 Style 66058 by Lillian West
How to choose a wedding dress that's right for you
So now that you're all clued up on the incoming wedding dress trends for 2021, how do you go about finding 'the one' that's right for you?
Start early
Some brides underestimate just how early they need to begin shopping for a wedding dress. Ideally, you'll want to be getting into boutiques around 9 to 12 months before your big day. This is to allow adequate time for your dress to be ordered in and for any alterations you may need to have made. It helps if you have already booked your wedding venue too, as this will likely influence the kind of dress you decide on.
Gather inspo
Instagram, Pinterest, real weddings… there are loads of places you can gather inspiration for your dream dress. It's best to keep any images in one place, i.e on a Pinterest board, Instagram Archive or in designated folder in your phone's camera roll. Once you've added a wide selection of dresses you can begin the eliminating process to get a clearer idea of what you like.
Know what you like and what you don't
Here's where a good old fashioned list comes in handy! While gathering inspo, jot down what you like as you go, and make a note of what's a big no no. The clearer you are on the type of dress you want, the easier it'll be to communicate that to your shop assistant when you go to a boutique.

Be open
While it's great to know what you want, we reckon it's always good to try on a wildcard or two as well. You might be super clear on the kind of dress you'd like, but it's smart to try on a few alternatives. You never know, you could be surprised at how good they look on, and if not, then at least you can rule it out for definite.
Don't bring everyone you know
The saying 'too many cooks spoil the broth' could also apply to wedding dress shopping. Too many opinions can be overwhelming for a bride and turn dress shopping into a negative experience. Bring along a small selection of people who know and love you and will gently give you their honest opinions.
Try on between four and seven dresses
Try on too many dresses and you risk feeling overwhelmed. Try on too few and you may worry you chose prematurely. Between four and seven dresses is generally considered the sweet spot when it comes to trying on wedding dresses. It's a good enough selection to figure out what looks good on you and hopefully find 'the one' without getting bogged down.
Don't be too swayed by the trends
We know, we know, we've just written an article on trends, but here's the thing: ultimately, you want to choose a dress that's true to your own personal style. It's good to keep up to date with what's considered stylish, but choosing a dress that reflects you is what's important. If you've never liked tulle or think puff sleeves should stay in the 80s, that's okay. Go for the gown that you know you'll feel most comfortable in and feels the most 'you'.
On the hunt for your perfect gown? Head to our online dress finder here.