Join us at The Wedding Journal Show to find everything you need to plan the perfect wedding under one roof!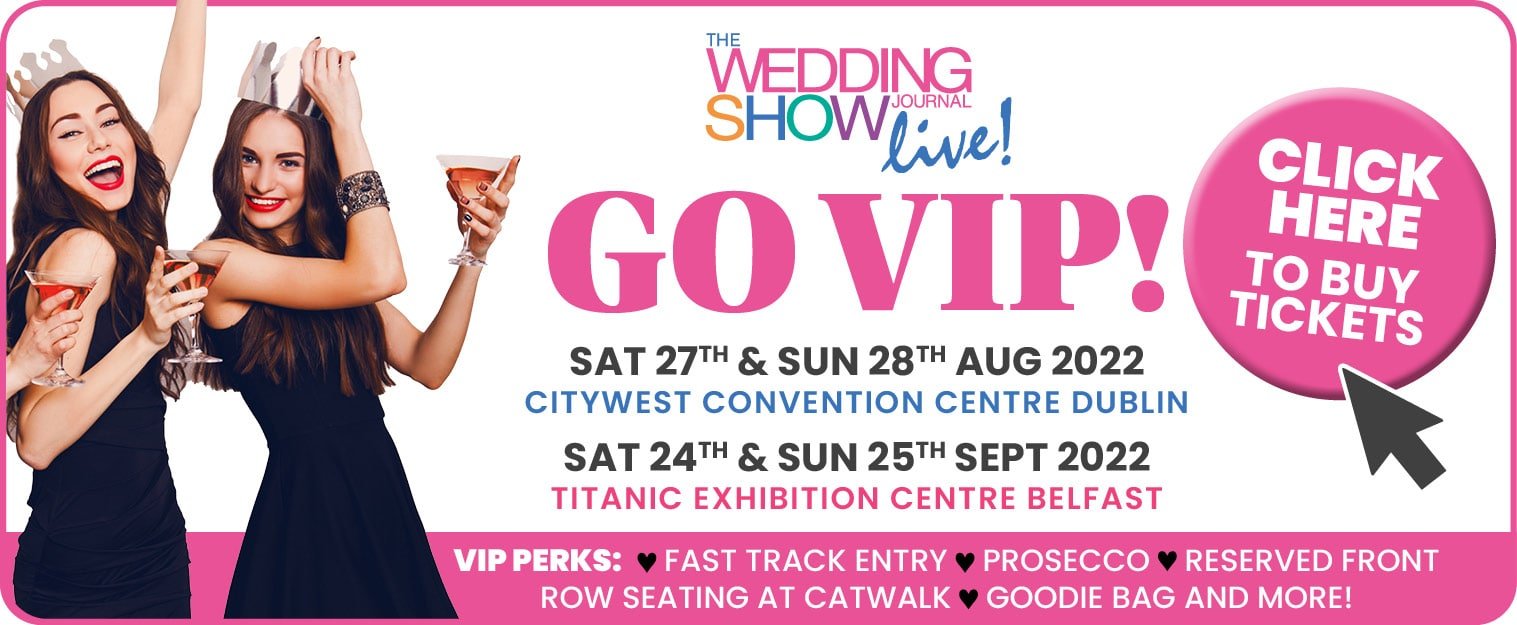 We're back with The Wedding Journal Show in Belfast and Dublin with so much in store for the number one bridal event we've all been waiting for! From endless wedding inspiration to showstopping gowns and major freebies – it's going to be the show of a lifetime… so get your tickets while you still can!
AMAZING SHOW OFFERS
With over 300 exhibitors, most of whom run Exclusive Show Offers and competitions all weekend, you can save hundreds on everything you will ever need for your big day. We're talking photographers, stationary, cakes, décor and even your wedding wardrobe!
RELATED TO: Find Your Dream Dress At Our Bridal Catwalk
FAMOUS BRIDAL CATWALKS
Not to be missed, our amazing Bridal Catwalk runs three times daily, at 12pm, 2pm, and 4pm. This bridal fashion extravaganza showcases the latest collections from all the major dress designers, alongside bridesmaids dresses, occasion wear for the mothers-of-the-bride and groom, as well as sharply tailored groom swear.
Our team of gorgeous models are trained dancers, always putting on an energetic, and entertaining show that you won't see anywhere else!

INDULGE IN A VIP TREATMENT
RELATED TO: WIN The Ultimate VIP Girl's Day Out At The Wedding Journal Show
Get access to the VIP Lounge, enjoy a glass of Prosecco and some sweet treats and benefit from reserved front row seating at the catwalk show. This makes for a perfect girly day out with your bridesmaids/mothers, but don't worry your other half can join too with plenty of fashion inspo for the grooms!

NEW: THE QUIRKY WEDDING ZONE
For the bride and grooms-to-be looking for something a little different for their day, this is an area you have to put on your Wedding Journal Show hit list! You might be wondering what exactly is a Quirky Wedding Zone? This is where you can chat to industry experts and vendors who offer something quirky and fun with creative décor, cakes, flowers and everything in between!

NEW: THE BEAUTY & WELLBEING ZONE
Also introduced at our Spring Show, the Beauty & Wellbeing Zone offers expert advice on all the latest bridal beauty products, therapies, treatments and cosmetics for brides and grooms. With live beauty demos and the latest treatments, you can test out products in person and find out what works best for you!

The Wedding Journal Show is the perfect place for everything you need to plan the best wedding EVER! From the bridal attire, to the transport, venue, entertainment, stationery, flowers, cakes, and all of those finishing touches that help make your day extra special.
Sign up to our newsletter to get all the latest from The Wedding Journal! Join Here>>>>http://eepurl.com/ck9vLb