Stylish, sentimental and a dramatic wedding entrance that every bride dreams of!
We love a modern city wedding and today's real life wedding couple, Hannah and John from Dublin, certainly did not disappoint! These two college love birds said 'I do' on September 18th at Trinity Chapel – which is also where they met, shared their first kiss and got engaged (how sweet!), followed by a stylish and elegant reception at The Merrion Hotel.
We've gathered all their dreamy details to provide you with some chic wedding inspo, so let's take a peek at all of the style from this urban celebration captured wonderfully by Claire at Studio Brown!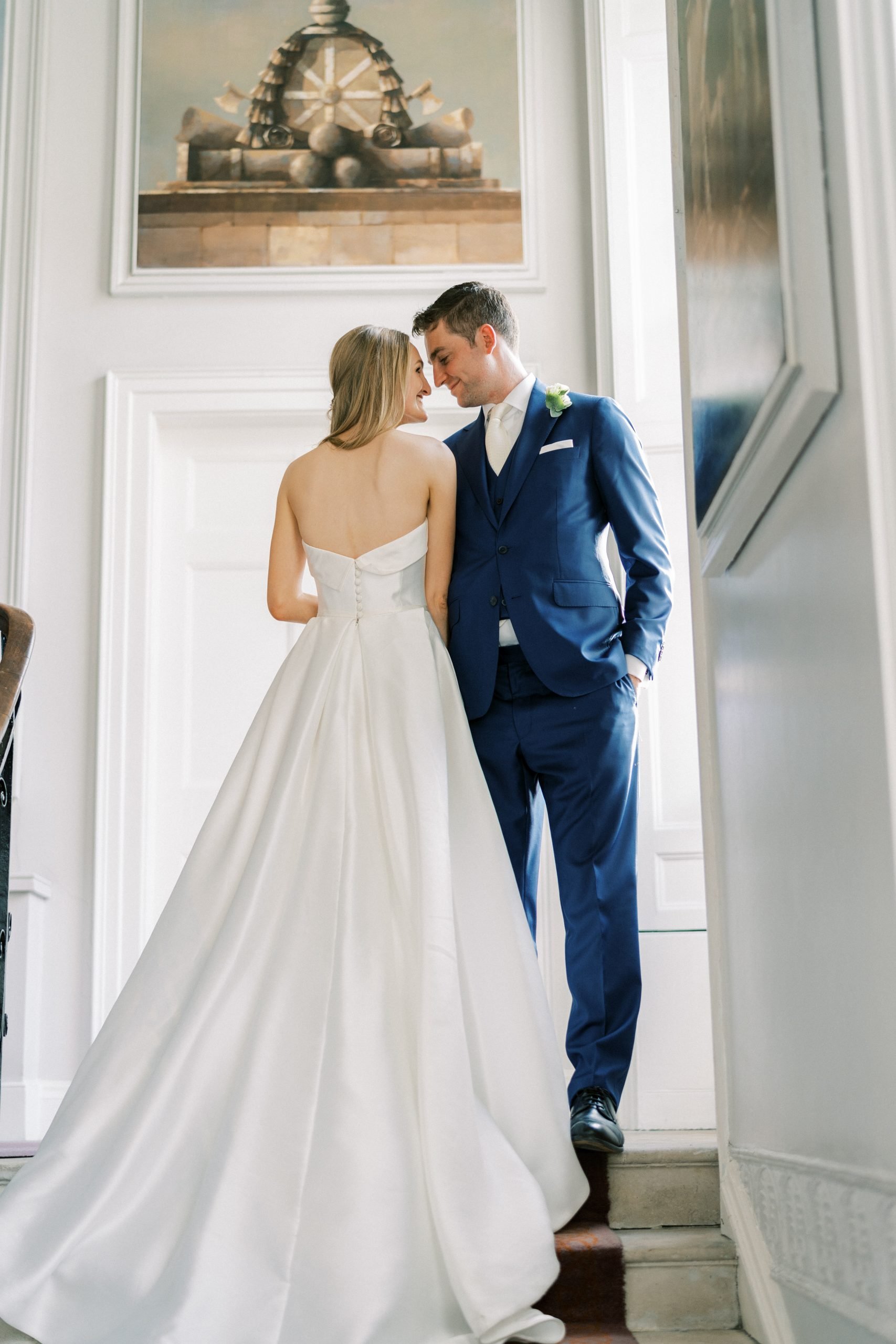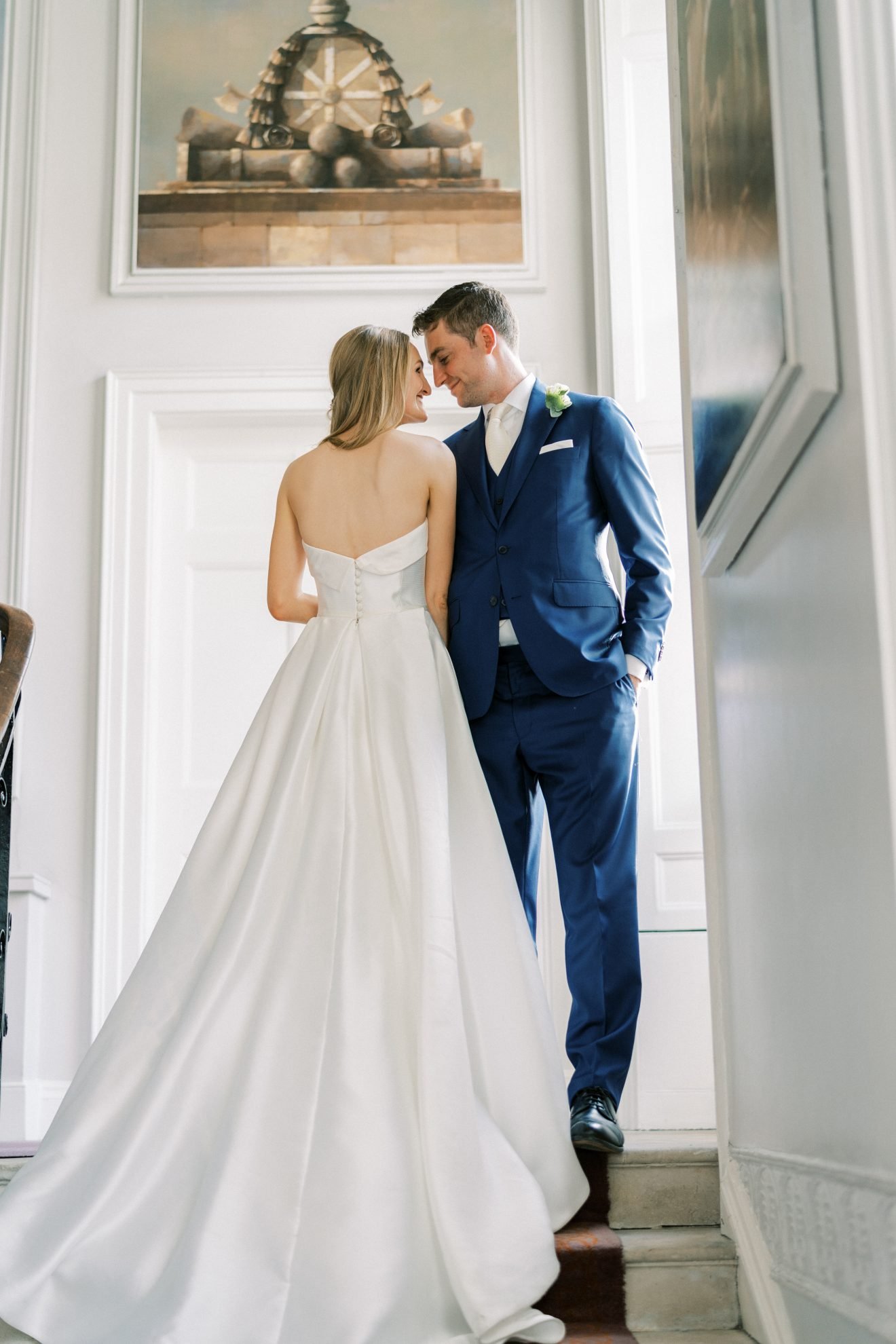 HOW THEY MET
John and Hannah first met in college, but it wasn't until their final year when they really started to hit it off – after Hannah sneakily bagged their first date!
"I'd heard Hannah saying on a couple of nights out she didn't know how to drive, so I took her out for a lesson," John says. "I quickly discovered she was well able to drive, and this 'lesson' was in fact a date. We had our first coffee date very shortly after that in Le Petit Parisian on Wicklow street, and our first kiss at Trinity Ball in 2014."
RELATED TO: Draped in Elegance: Carrie & Marc's Chic Castle Wedding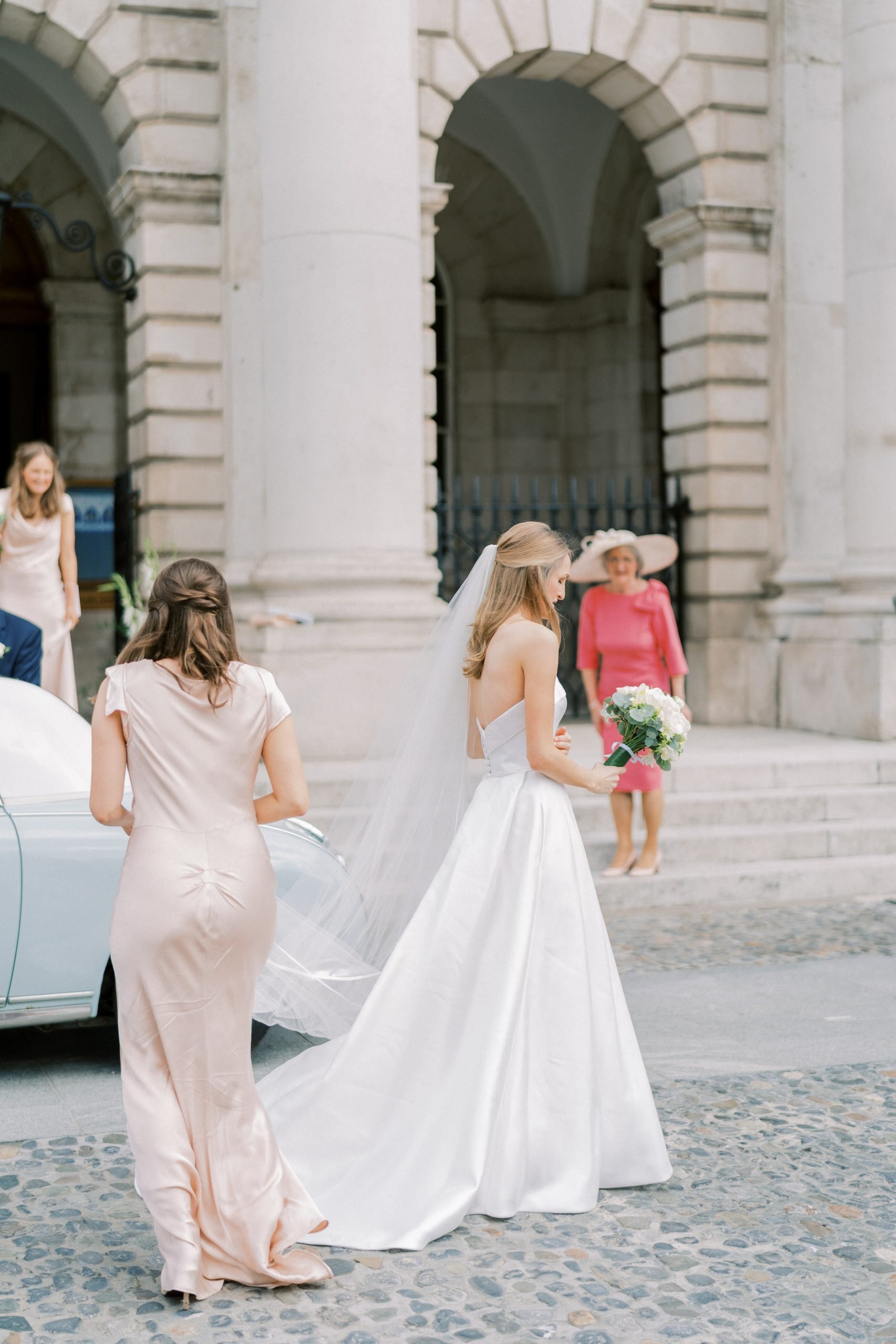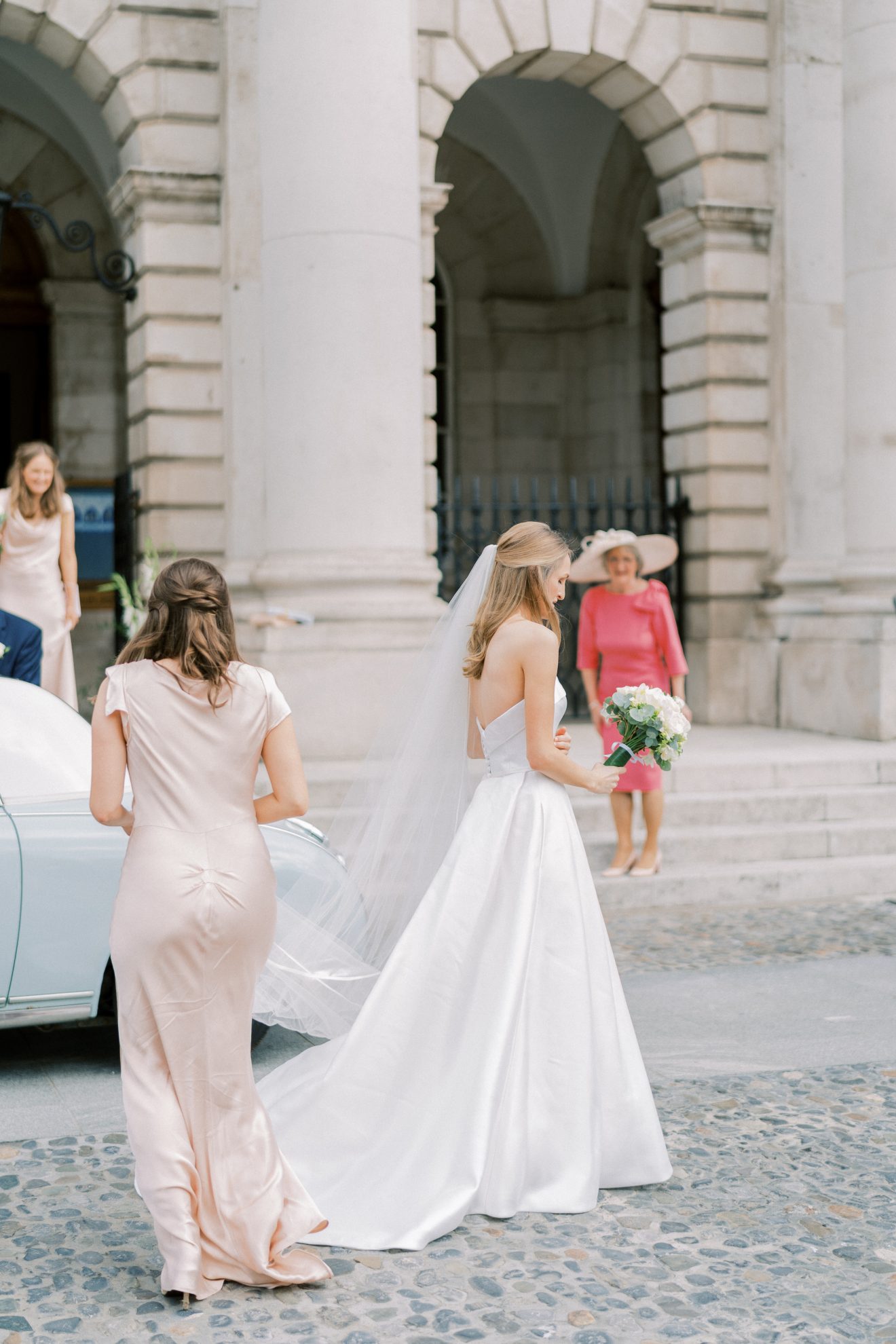 THE PROPOSAL
To honour the place were they first met, John planned the perfect proposal at Trinity College where he right in Front Square!
"It was the 10th of October 2020 and John mentioned that he had something to at Trinity that required a second pair of hands," Hannah says. "I didn't realise the campus was closed to the public at the time and John managed to get us access. When we got to Front Square, the place was completely empty. I didn't think anything was up until we were standing right in the middle of the square – I couldn't believe it when John got down on one knee!"
John adds: "Once I saw that Front Square was deserted, I realised this was my big chance! The ring was a surprise so I took a bit of a risk with it. Thankfully, my sister helped me decide and hannah absolutely loved it!"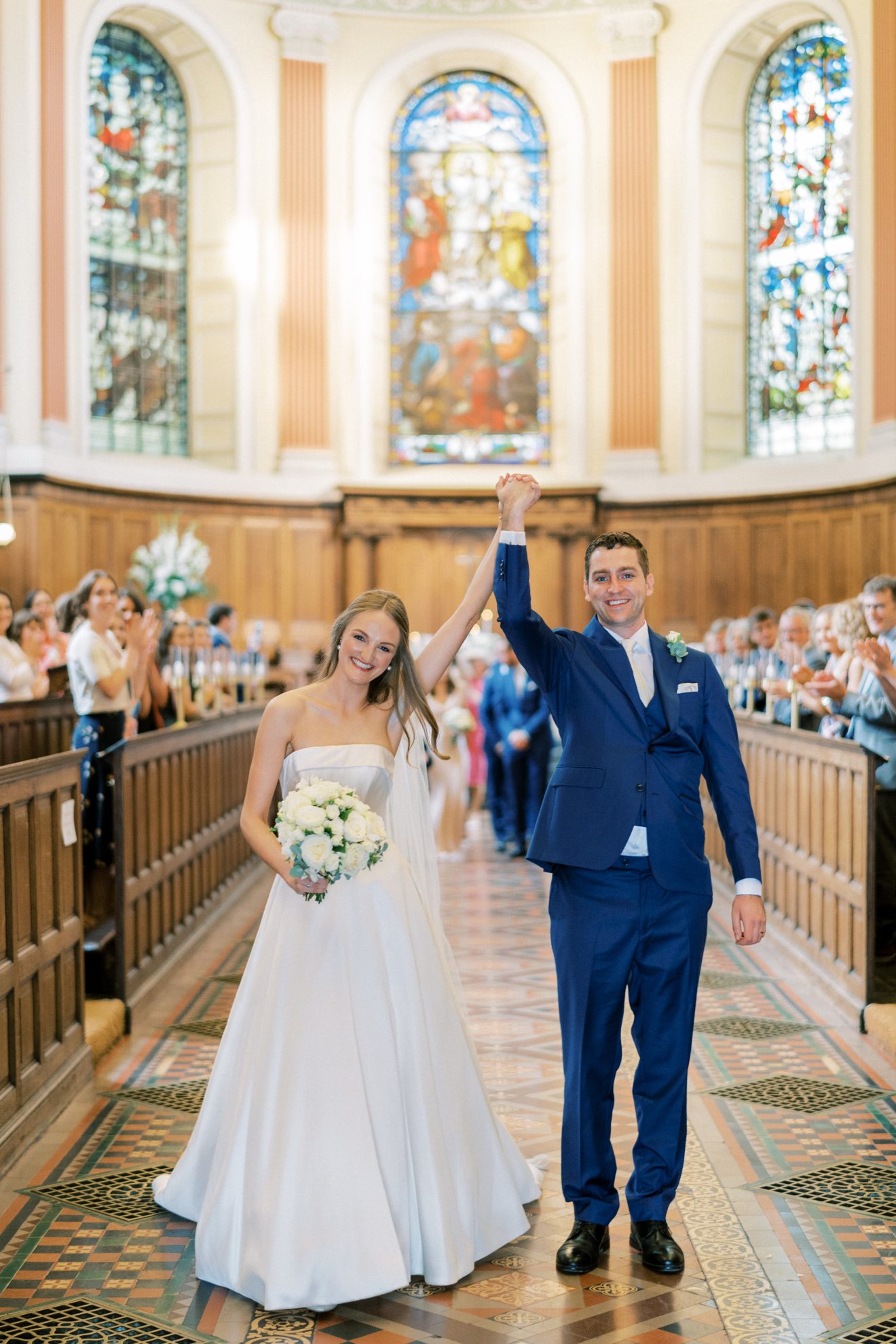 THE PLANNING PROCESS
Hannah and John wasted no time in planning their big day and were not letting Covid get in the way! They planned a beautiful ceremony in Trinity Chapel followed by a stylish reception at The Merrion Hotel.
"We decided early on we would get married in 2021 and didn't want to wait around for restrictions to lift," John shares. "That meant telling family and friends that we might have a smaller wedding, but they were all so supportive and understanding.
RELATED TO: Jean and Aisling's Colourful Day at Tankardstown House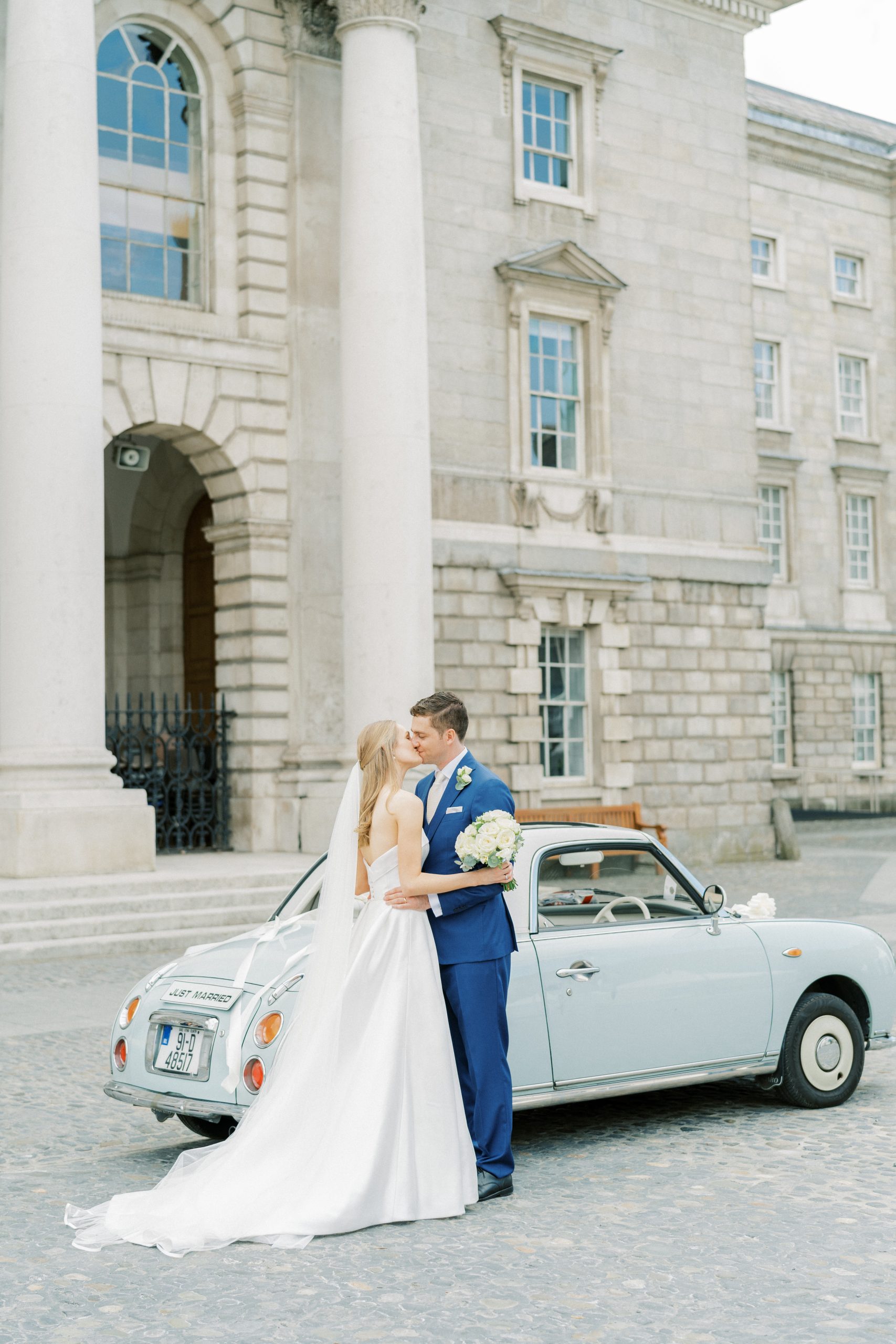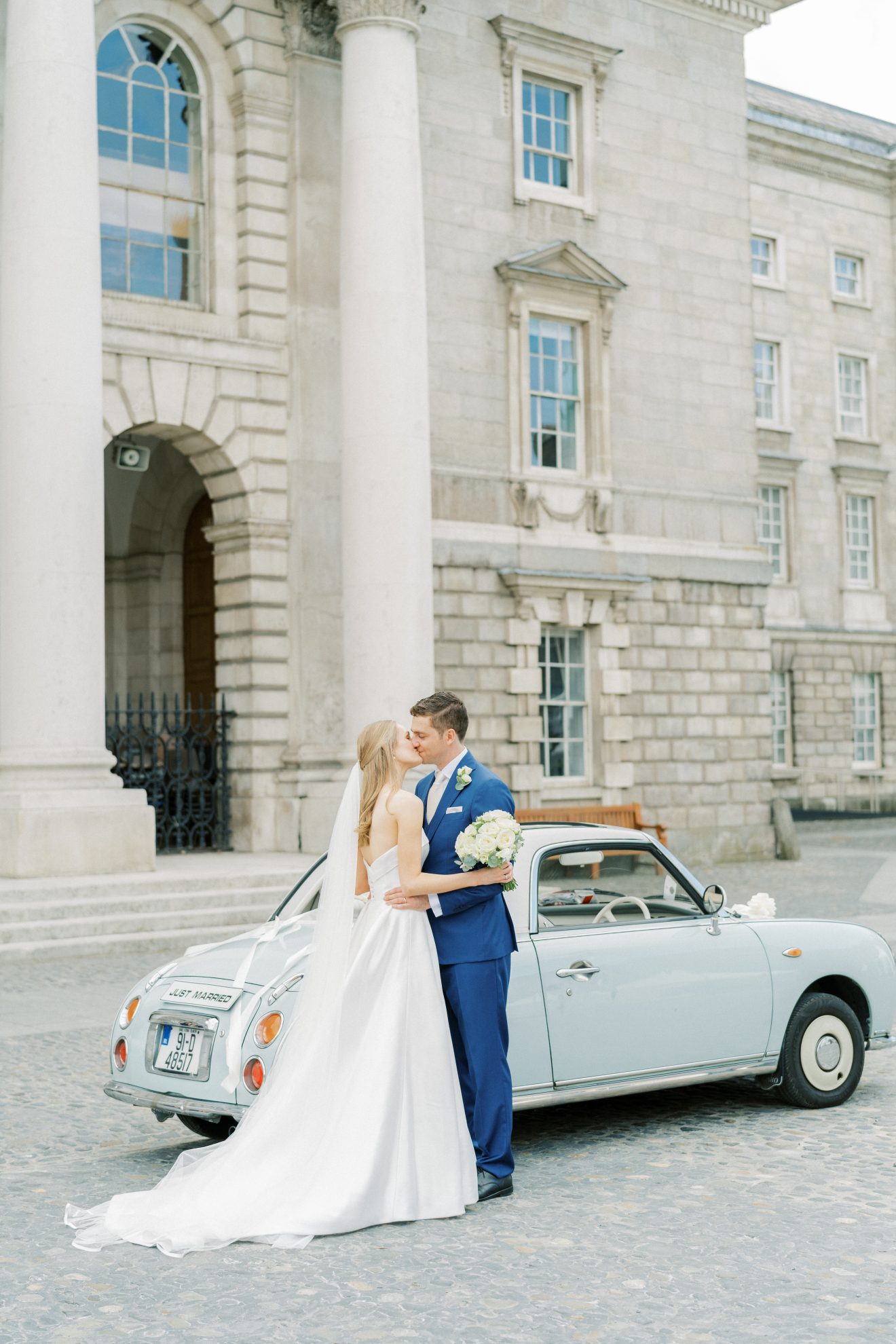 "We picked our venue for the ceremony first, which was Trinity Chapel as Trinity has such meaning for us – it's the place we met, had our first kiss and got engaged. After that, we spent a good bit of time viewing venues in and around Dublin, but The Merrion really stood out for us.
"It was a tricky planning process as the rules kept chopping and changing with live music, guest numbers and dancing. But we'd made our decision for 2021 and stuck with it!"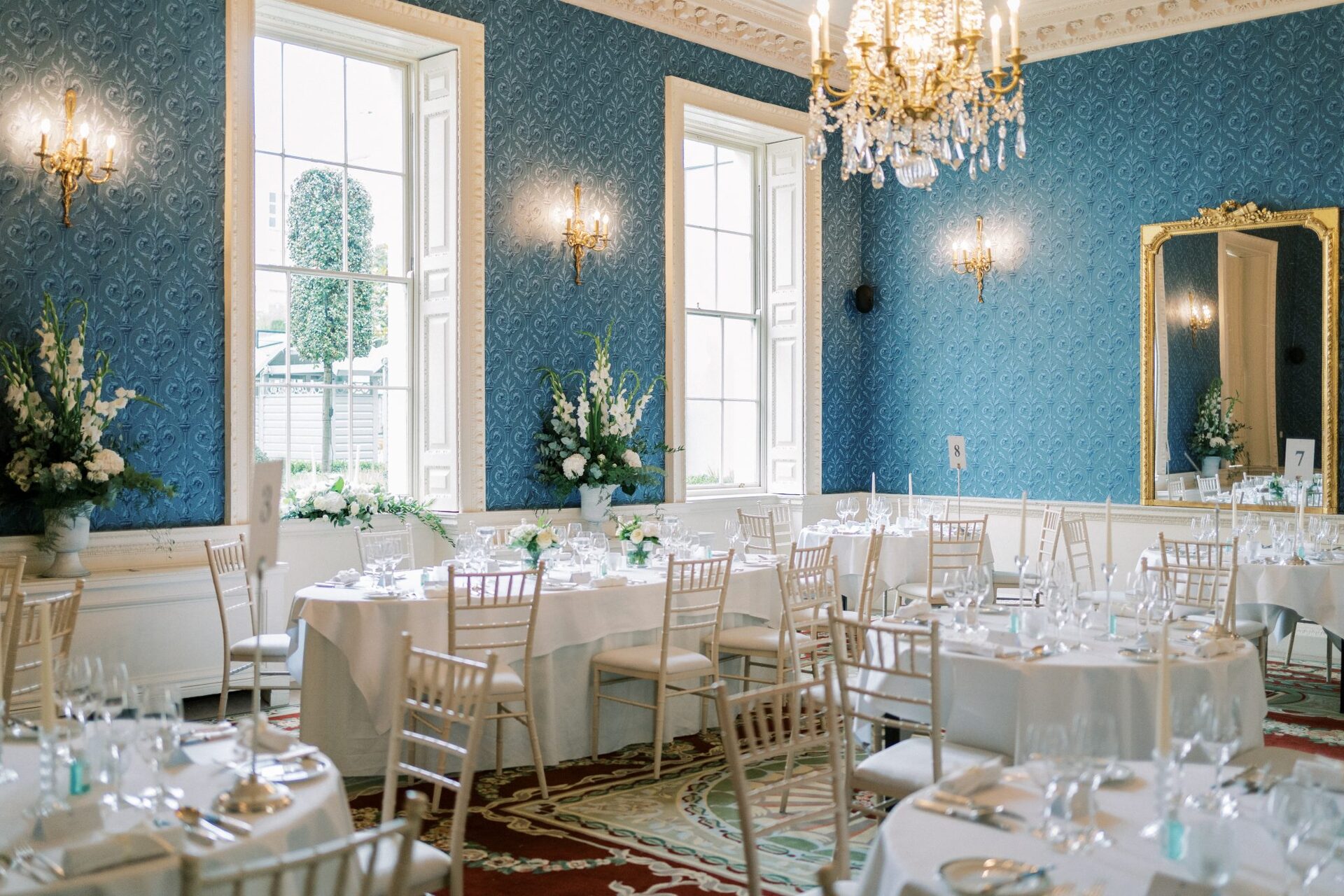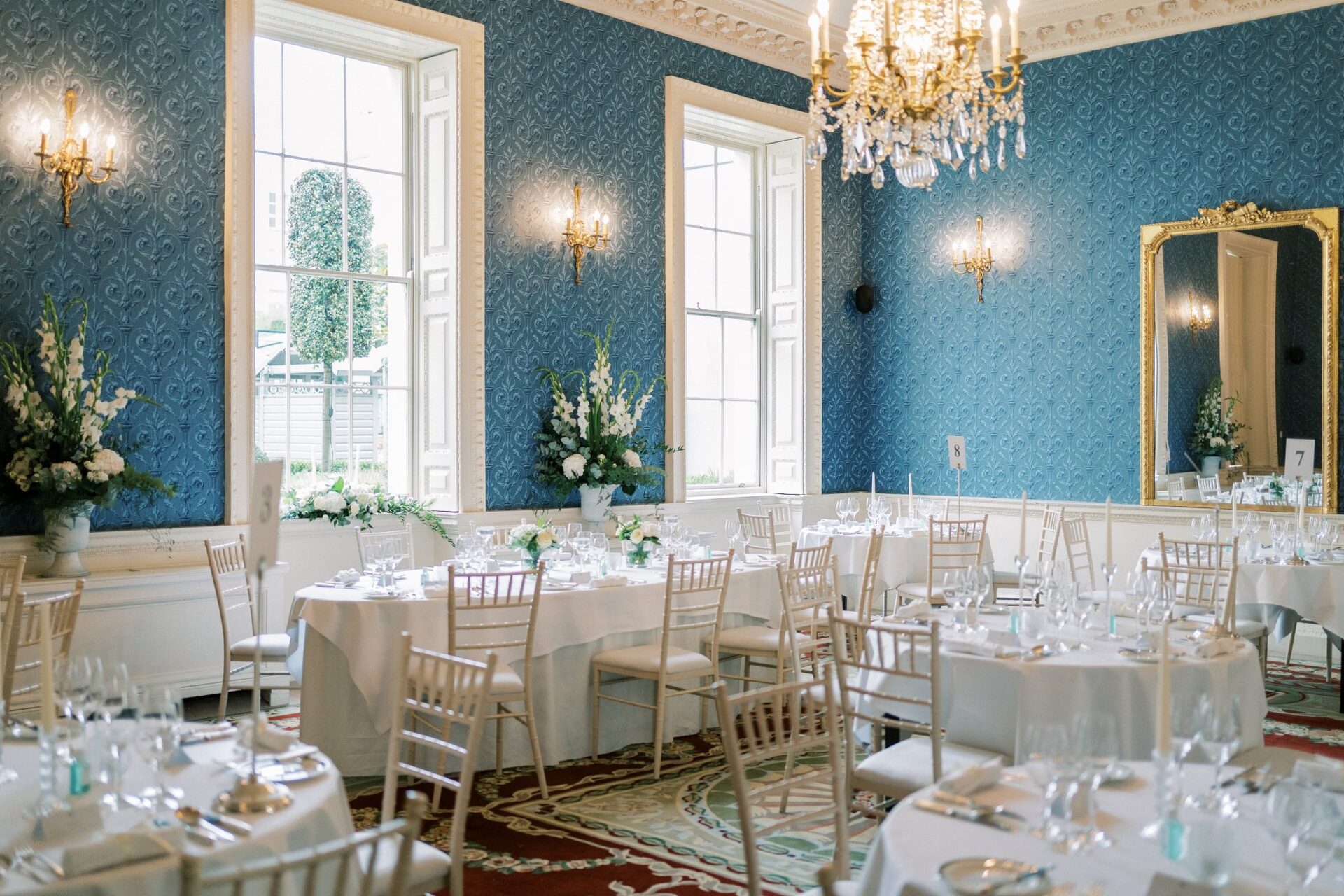 DREAM WEDDING TEAM
The Merrion Hotel was the perfect reception venue with it bright Georgian rooms, stylish interiors and warm atmosphere.
RELATED TO: 11 Most Romantic Places For A Chic City Wedding
"They were exceptional on the day itself – they thought of everything and the guests had a great time. There was a great atmosphere in all of the rooms for speeches, dinner and dancing," John says.
Hannah adds: "Ciara was our Merrion wedding planner and she was great at helping us create the day we imagined – everything was impeccably planned and well thought out."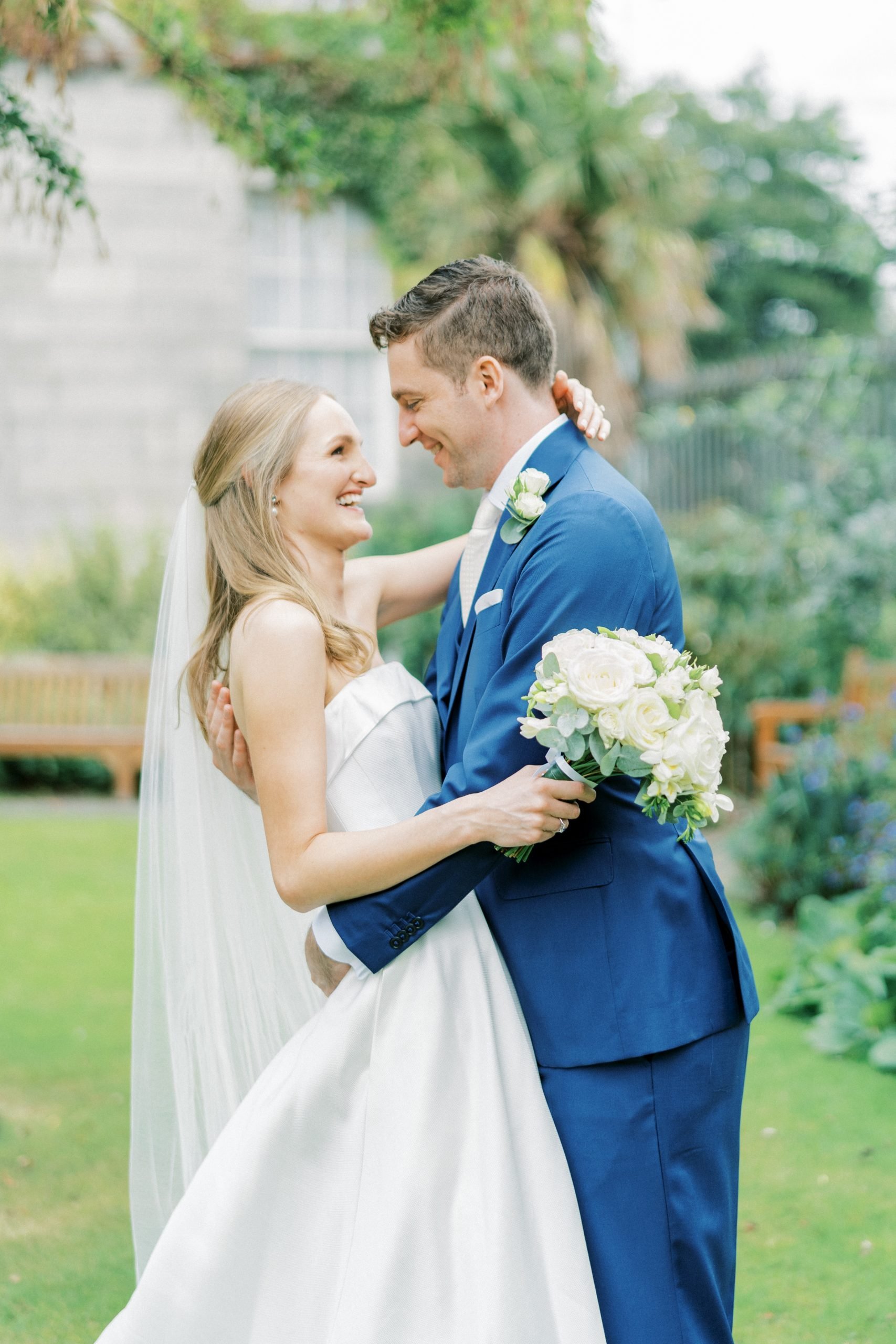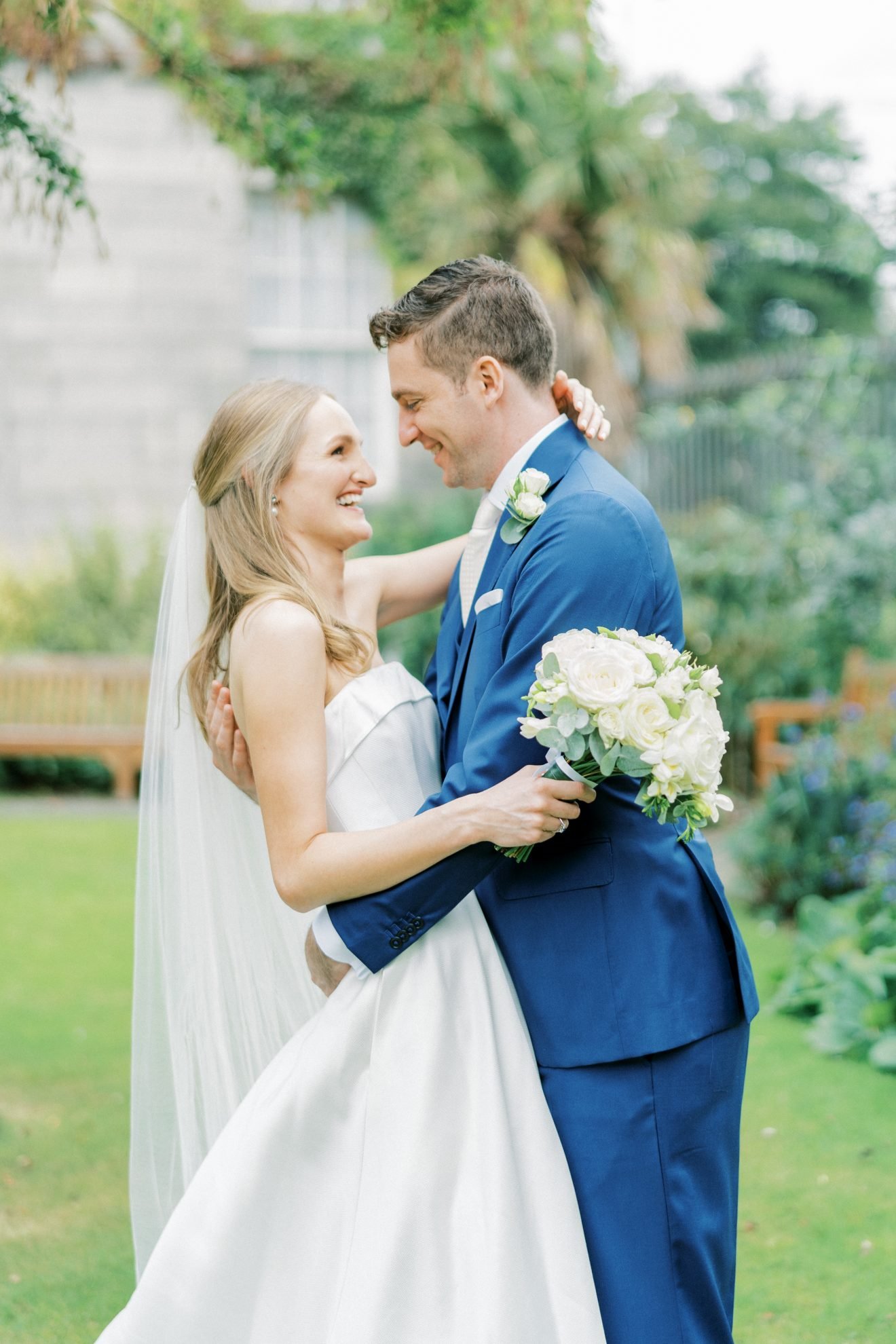 For music, John's sister played the violin with his cousin Katie Nangle performing the vocals, his friend Éanna Drury on the uilleann pipes and Niall Barrett as the TCD organ scholar. In the evening, they got the party started with the Swing Beats who 'brought the house down!'.
They went for clean and stylish stationery from Lantz Cards Direct and Three Bullet Gate did the elegant calligraphy. The beautiful florals were from Thomas at Floral Events and their three-tier floral cake was by Baked Cake Design – who added some cute macaroons to honor their first coffee date!
Hannah adds: "Nicole Lynch did my wedding make up. She did a really natural bridal look which was exactly what I was looking for.
"David Reynolds did my hair and is amazing at creating a lovely soft feminine look. Nicole and David are also great company for the morning of the wedding so that was a real bonus!"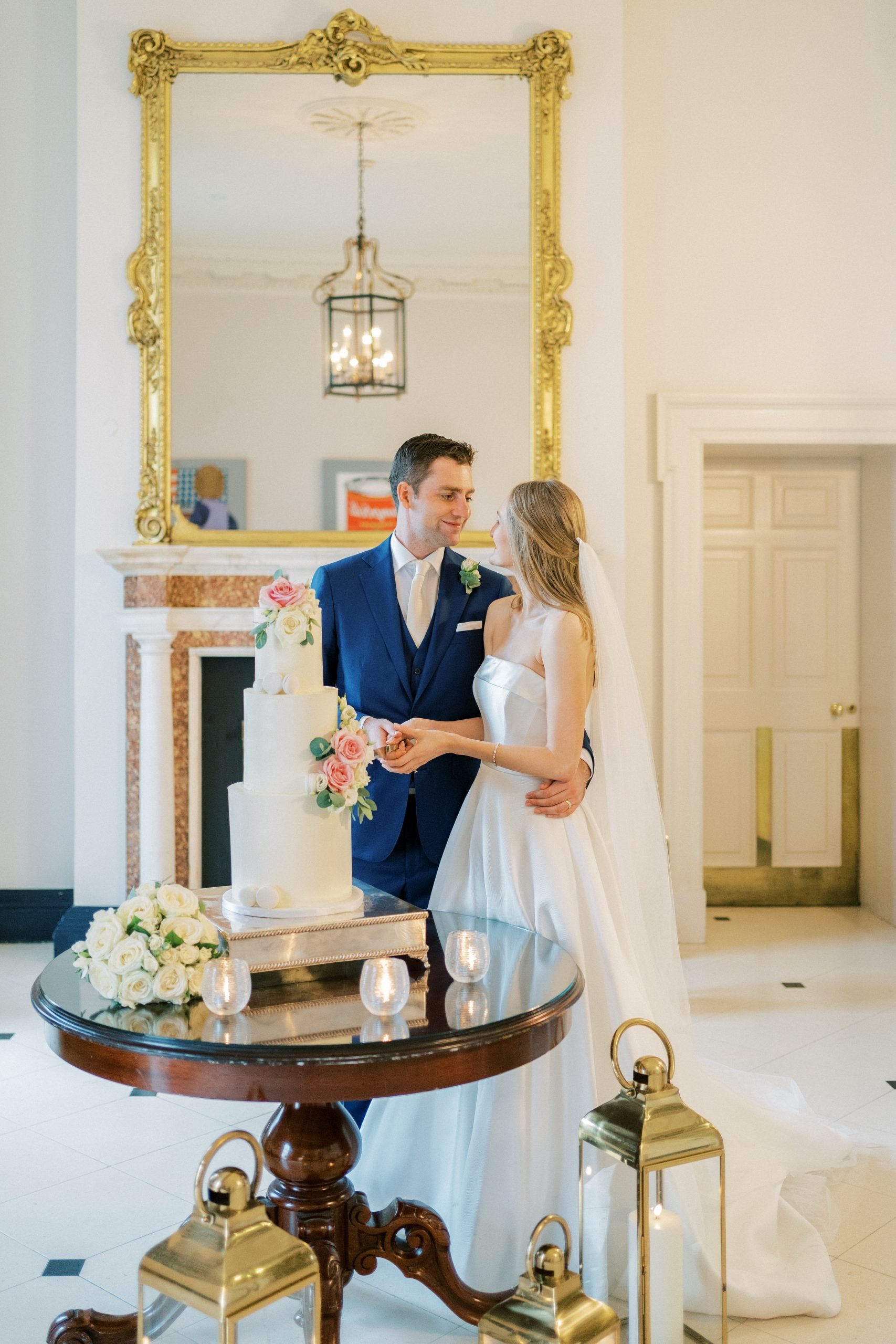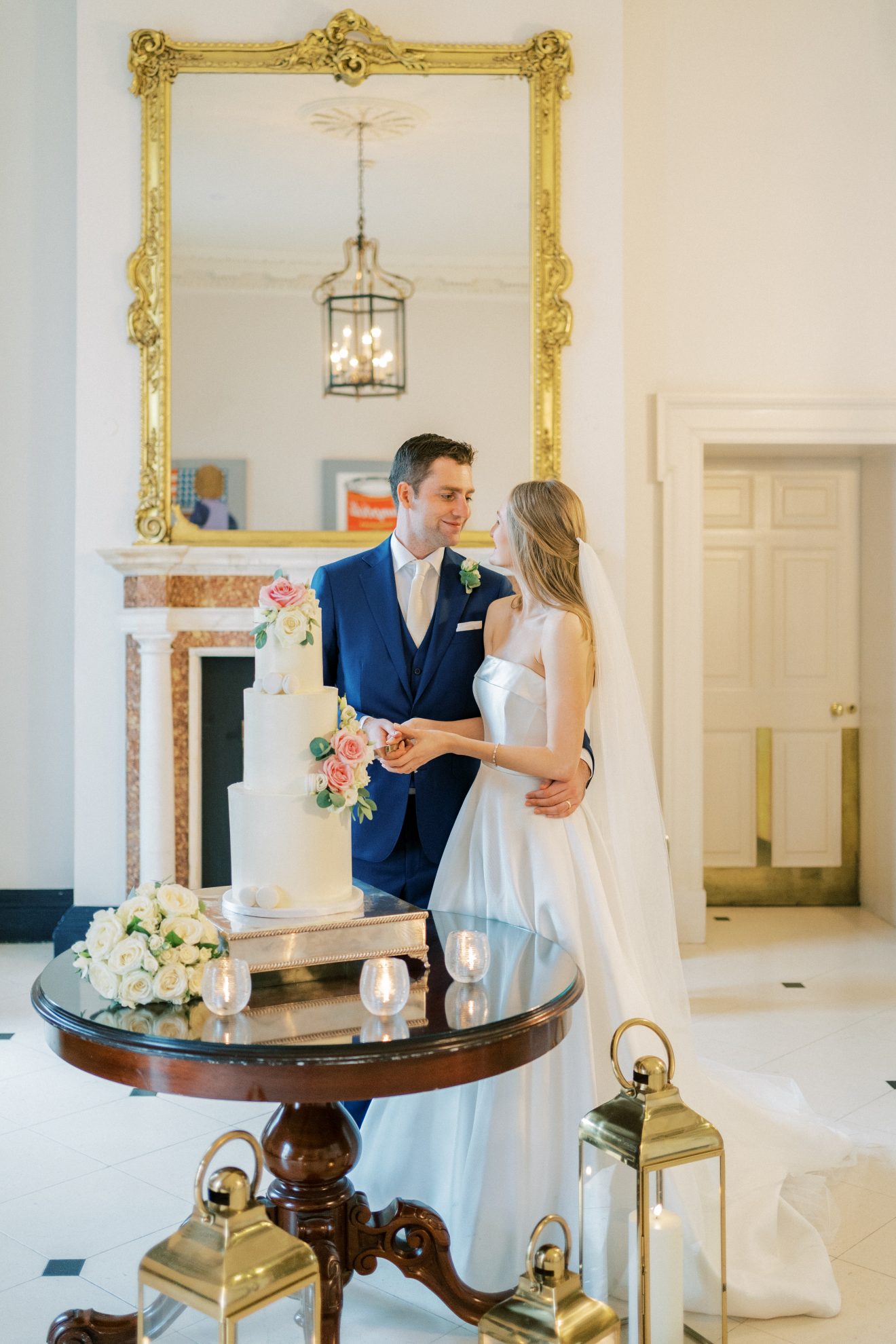 CAPTURING THE DAY
Claire at Studio Brown captured Hannah and John's day perfect with an array of picture-perfect moments and cute candids.
"We choose Claire because we loved her work," Hannah says. "She has a great eye for detail and her photos are always fun, bright and full of action. We just love our photos, they really capture the magic of the day and the atmosphere in the chapel and The Merrion. Claire managed to get all of the details and the best shots whilst also creating a relaxed atmosphere – what more could you want!"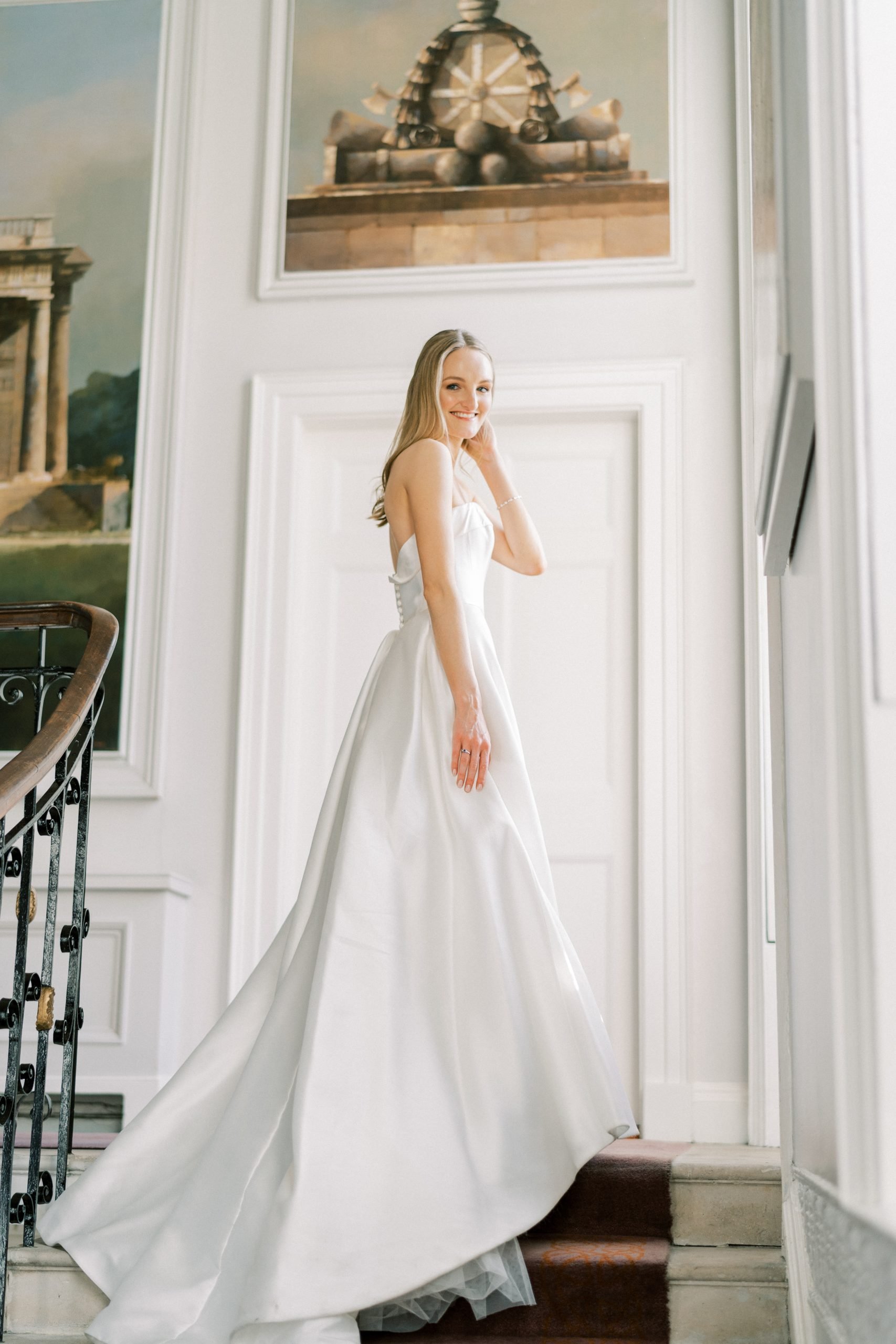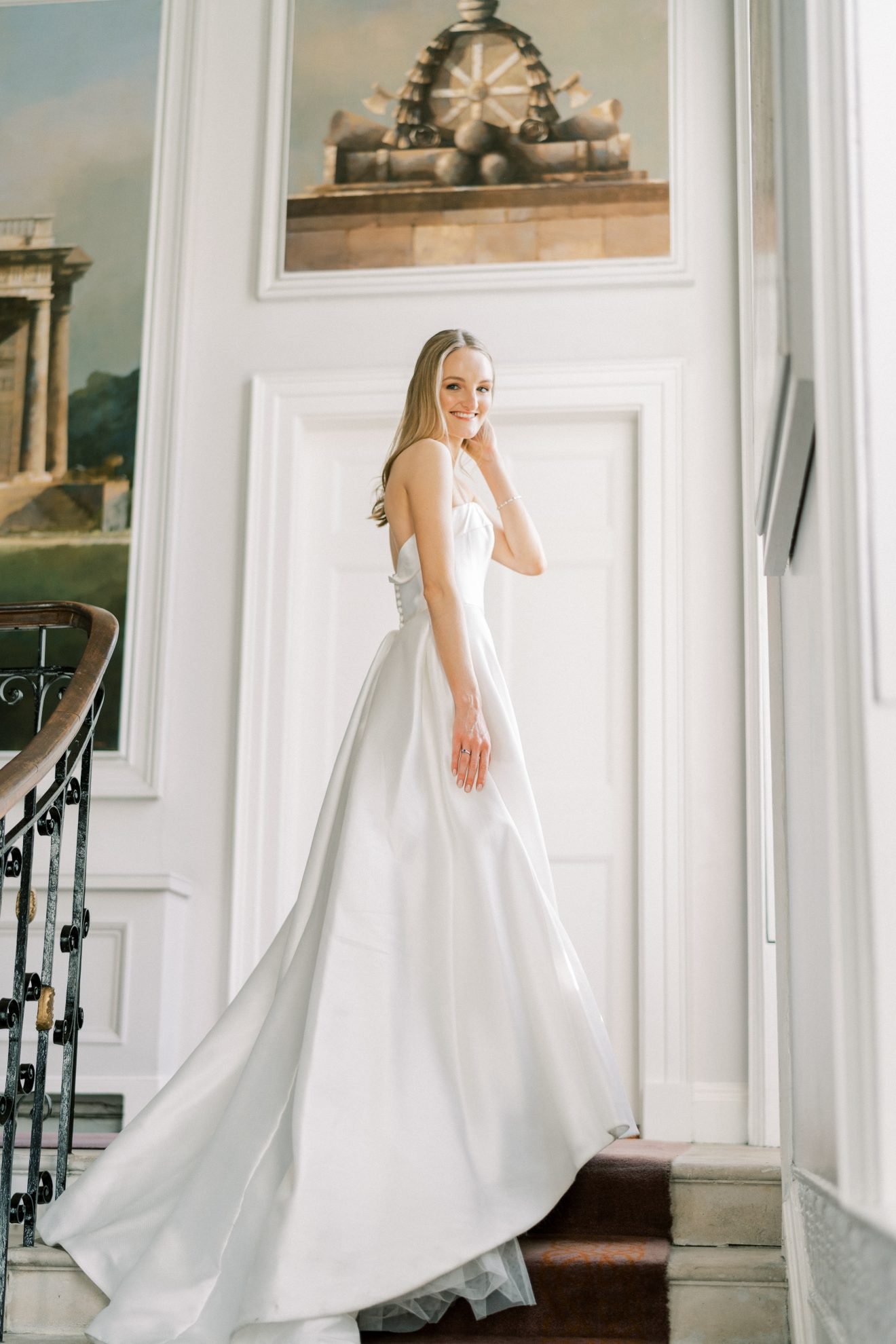 WEDDING WARDROBE
Hannah looked like a dream come true in a princess ball gown by Suzanne Neville paired with some killer heels from Manolo Blahnik. John also looked sharp in a blue suit from Louis Copeland with the groomsmen in matching numbers.
"My dress was called 'Loretta' and I loved the full skirt and strapless bodice," Hannah shares. "The material is piqué silk which I think gives the timeless, classic style of the dress a contemporary twist. I have to say, picking the dress was probably the easiest decision I've ever made – apart from marrying John!
I went for a full cathedral veil which I felt suited the style of my dress and venue. My three sisters who were my bridesmaids got me a beautiful vintage sapphire ring as my something old and blue which I just love. The bridesmaids dresses were from Ghost London."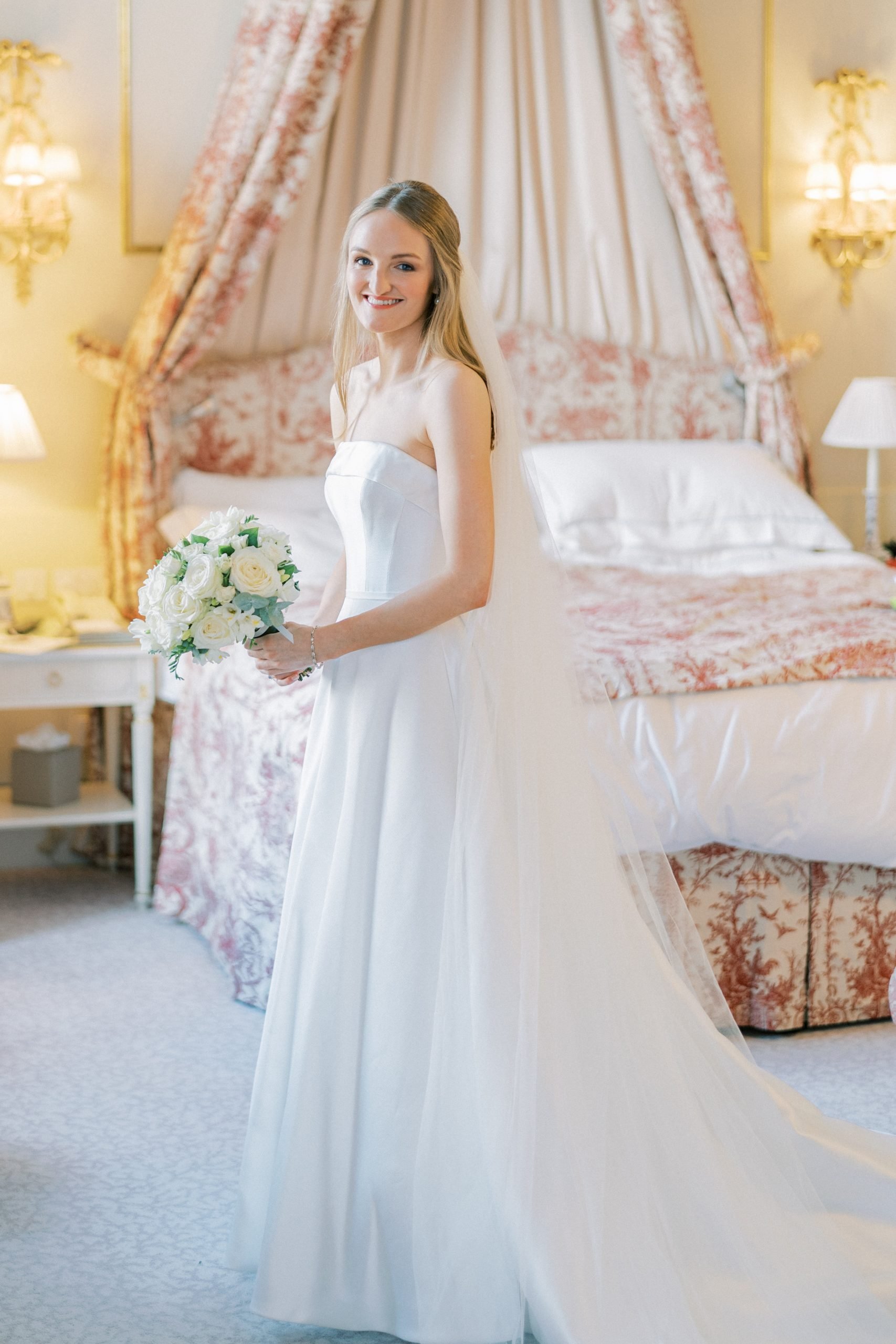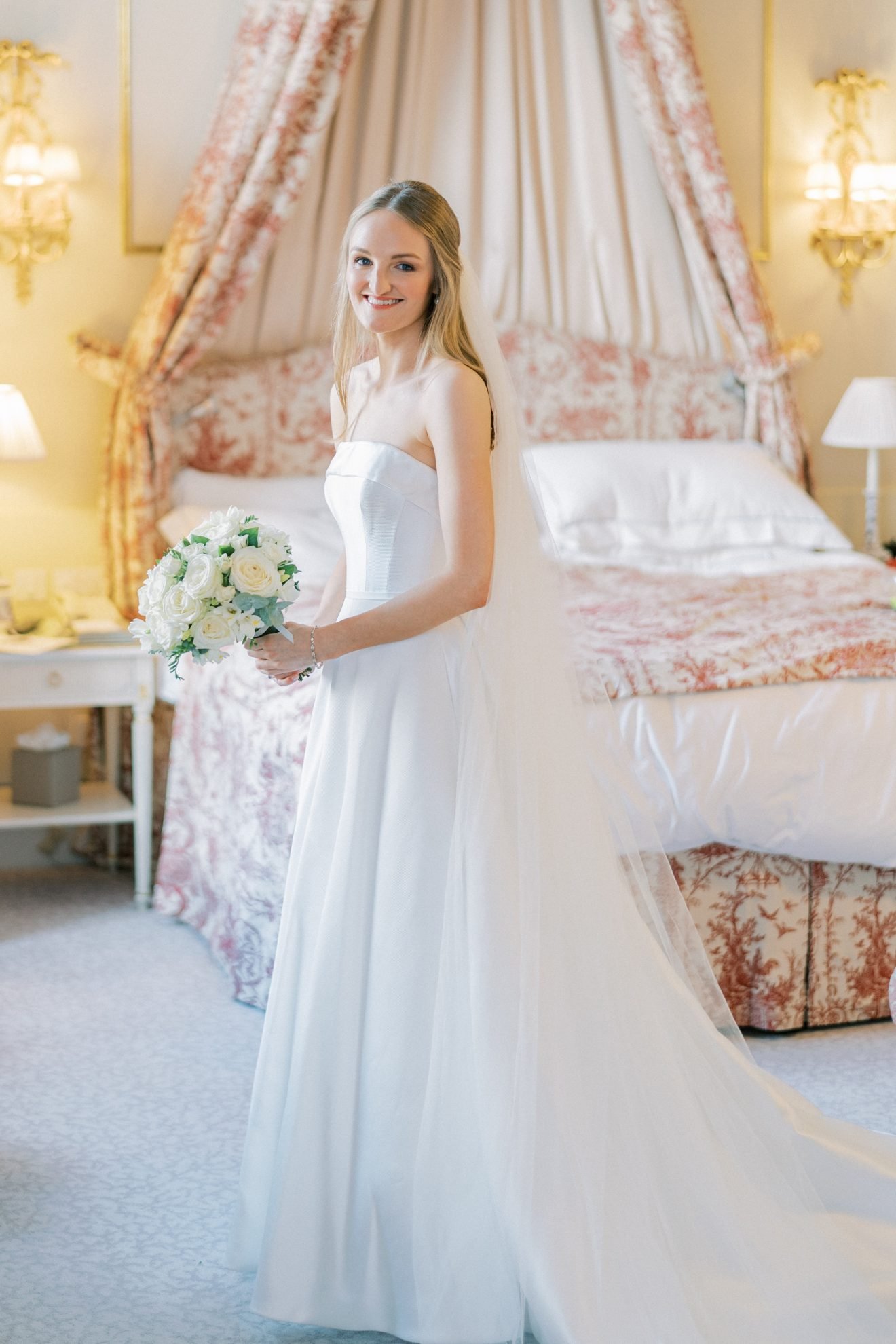 FAVOURITE MOMENTS
For John, he will never forget seeing his new wife walking down the aisle – which sounds like something from a movie!
"Hannah's entrance was quite dramatic!" He says. "The chapel doors were shut loudly just before she arrived, and a hushed silence suddenly fell. After a few moments, I heard a collective gasp behind me, followed by dramatic loud music. I took a little time to collect myself and turned to see Hannah walking towards me – nothing can compare to the feeling in that moment!
RELATED TO: Meghan & Dónall's Dreamy Day at The Merrion Hotel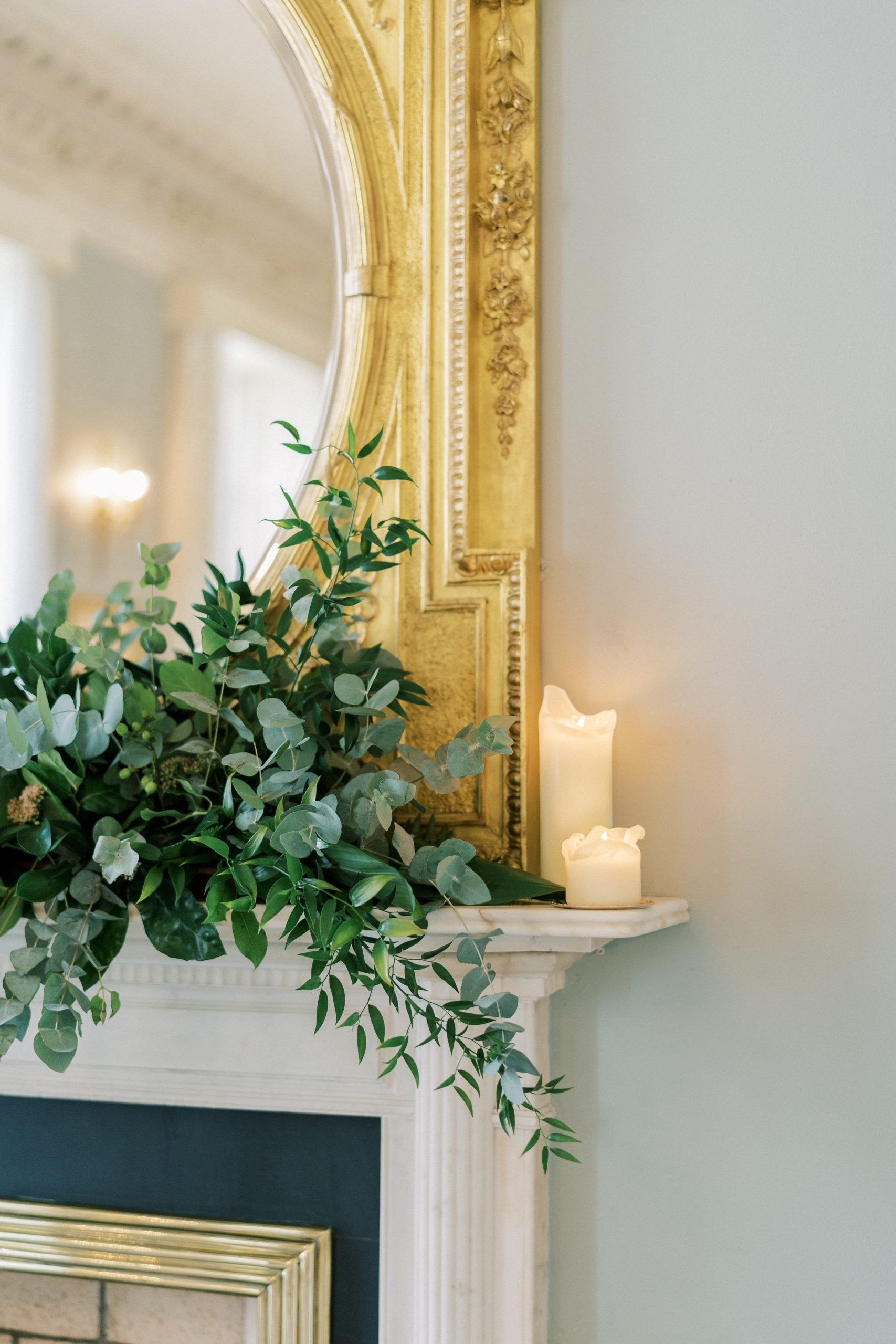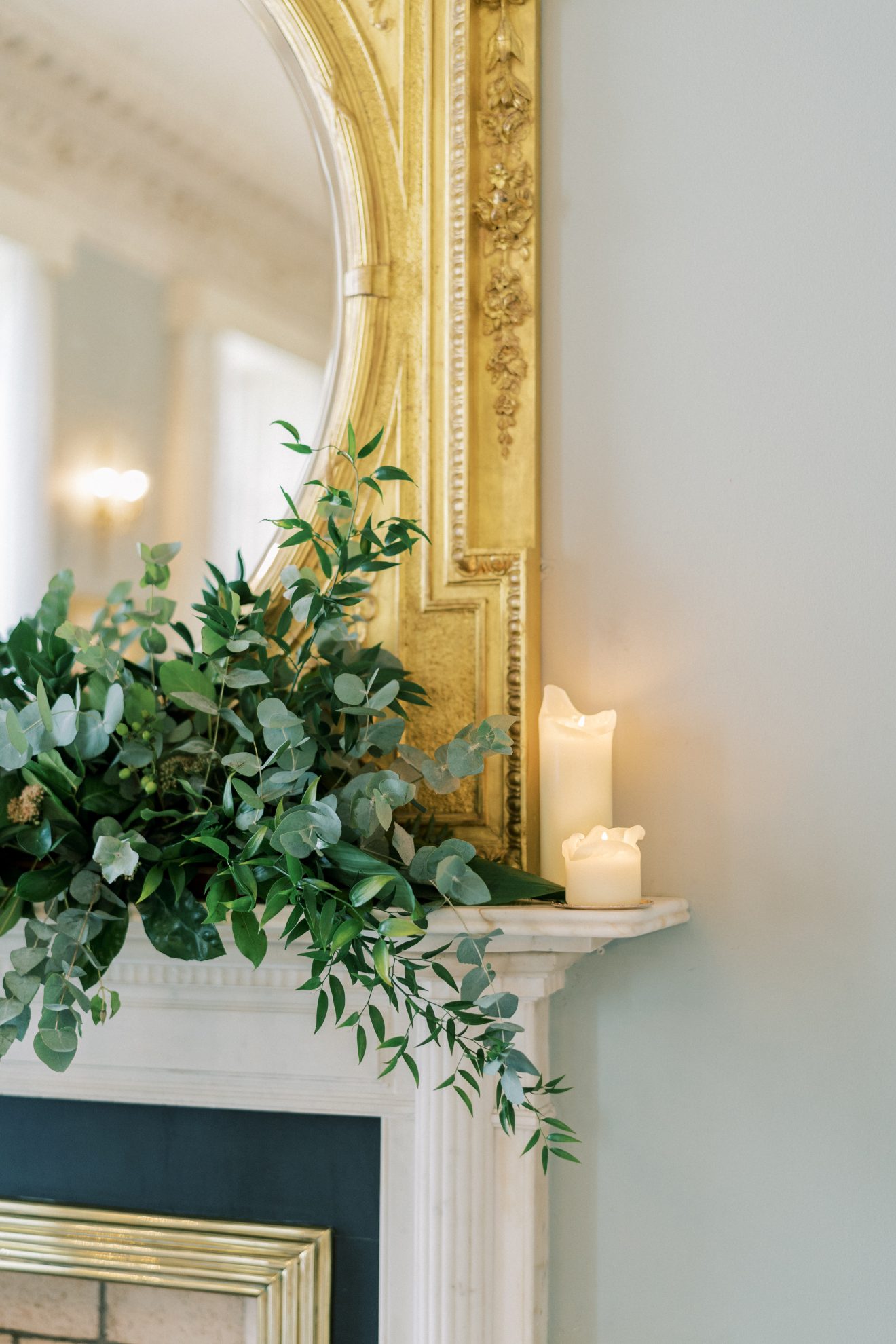 Hannah adds: Ah there were so many highs! Walking up the aisle has to be the moment of the day. We had such a lovely morning getting ready in the bridal suite, my dad and I drove to Trinity together, the sun was beating down and we had the roof off the car – practically everyone we passed was beeping and wishing me luck.
"When the chapel doors opened in Trinity, all I could see was John at the top of the aisle and lovely smiling faces either side – this is probably very corny, but it's one of those moments you see in a film but you never think it will be your life! It was perfect."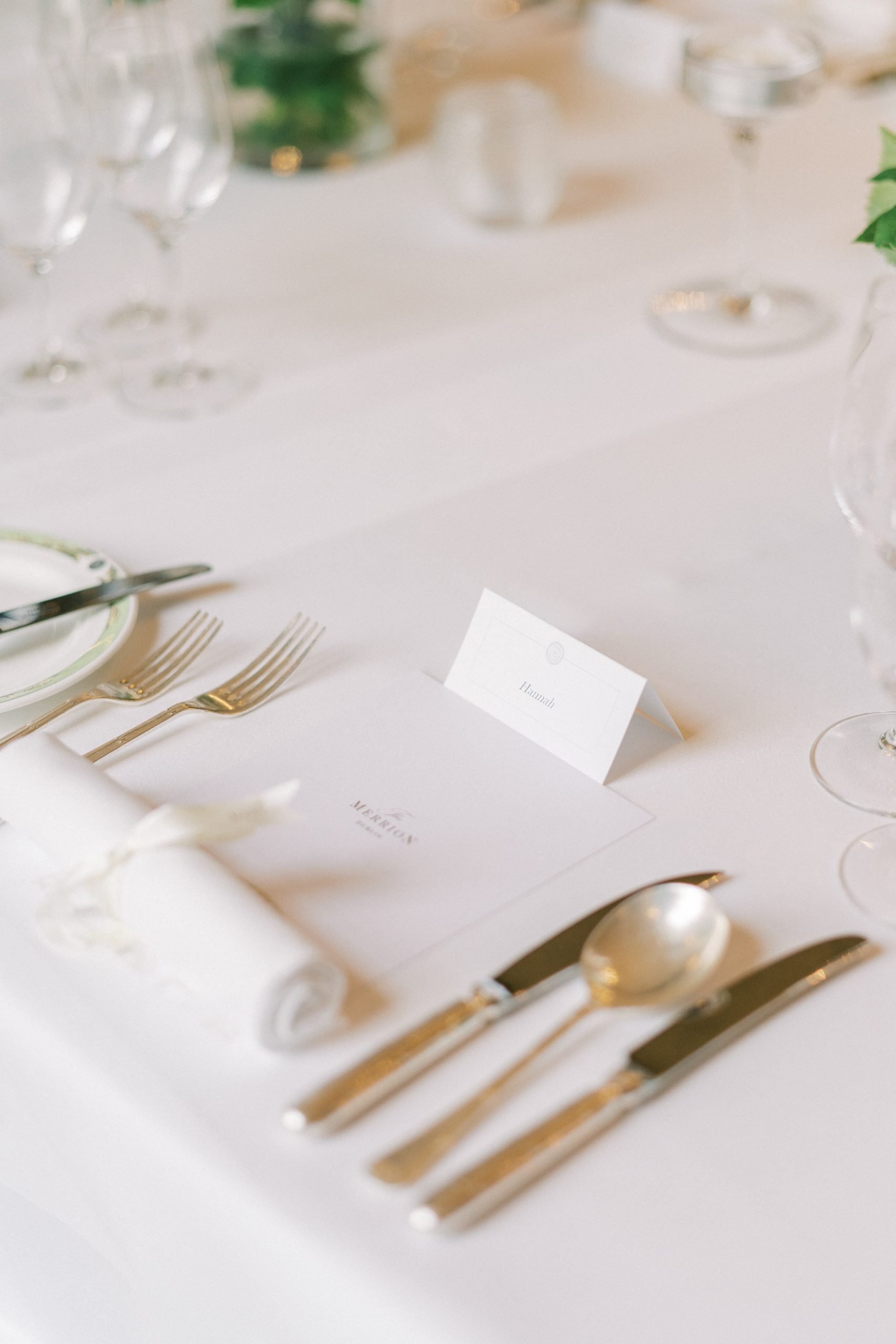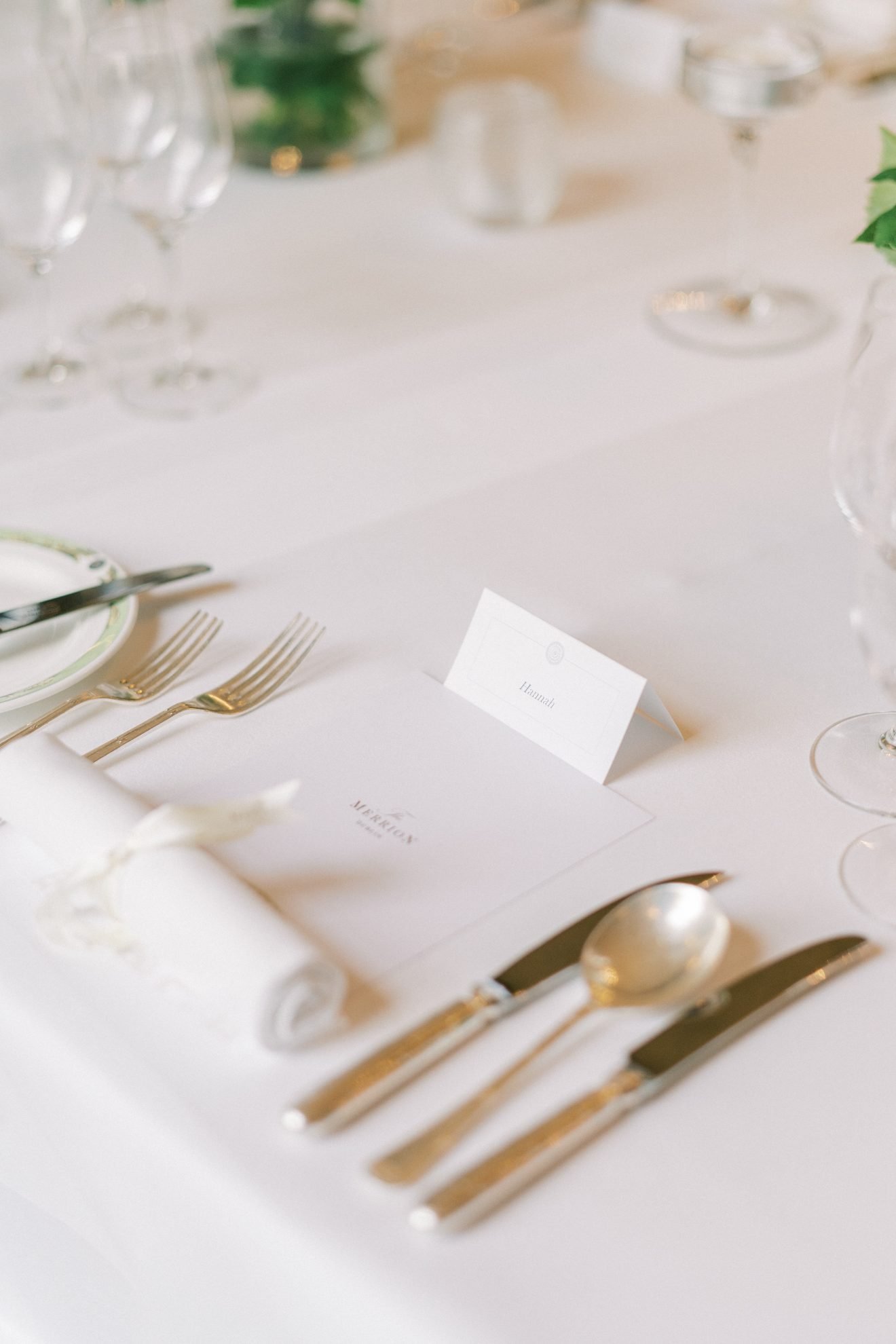 WEDDING ADVICE
If you're a busy bride or groom to be planning your dream day, we know it can be a tad overwhelming. That's we've gathered some wise words of advice from John and Hannah to keep in mind.
"Put your own stamp on it, be yourselves and enjoy it<" John says. "Take inspiration from others if you wish, but do what works best for you both."
Hannah adds: "Exactly! Keep your perspective on the bigger picture and what's important. Relax and enjoy the journey of planning and don't get too stressed about the unexpected, it'll all work out great!"

Sign up to our newsletter to get all the latest from The Wedding Journal! Join Here>>>>http://eepurl.com/ck9vLb