Judith & Thomas' Real Life Wedding
4th July 2019 | Slieve Donard Hotel and Spa
HOW THEY MET
After a blurry night out with friends, this lucky couple bumped into each other on the Main Street in Bangor. Judith shares her tale of events, 'I gave him my number, but it turns out one of his Groomsmen had actually messaged me that night chatting me up pretending to be Tom.'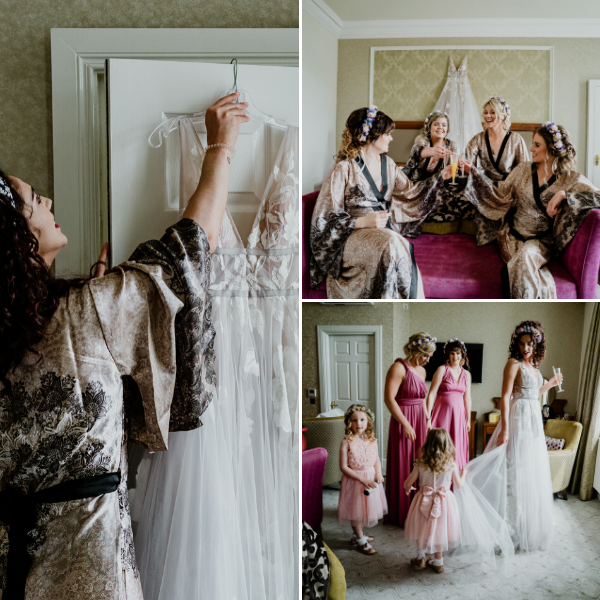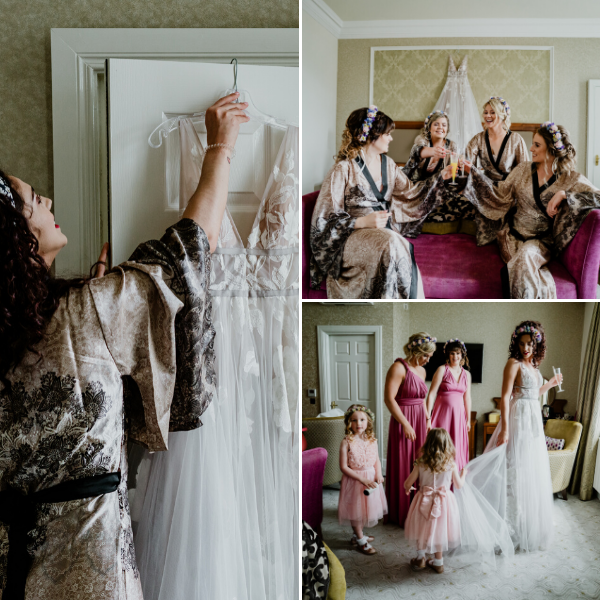 'I had no idea, but we went on our first date to a restaurant the week after and I asked him out after a few drinks after!' Girl power, we love it!'
WHEN DID YOU KNOW YOU WERE MEANT TO BE TOGETHER?
'As cheesy as it sounds, we honestly knew it was for life from the first date, but of course Tom would say from the moment we met. He told me he loved me after a couple of weeks, but I didn't say it back until a few months' in.'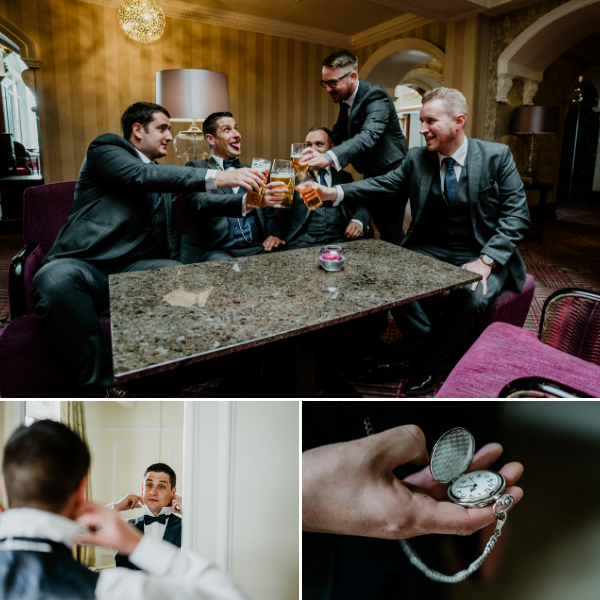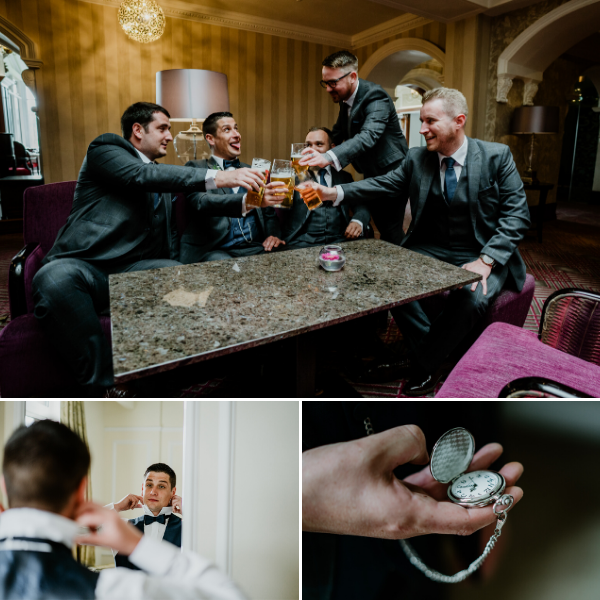 Thomas proposed in September 2017 in the Park Güell in Barcelona overlooking the city. He chose a stunning square cut yellow diamond ring, surrounded by white diamonds. After a romantic proposal and ring like that, of course Judith leaped to say yes!
HOW DID YOU GO ABOUT PLANNING YOUR DREAM DAY?
Originally, Judith and Tom were going to get married in Malta and had actually started planning it. 'We decided, totally out of the blue, to attend the Slieve Donard wedding fair and just fell in love with the location. We had never been to the hotel before and as soon as we saw it, we knew we wanted to get married there.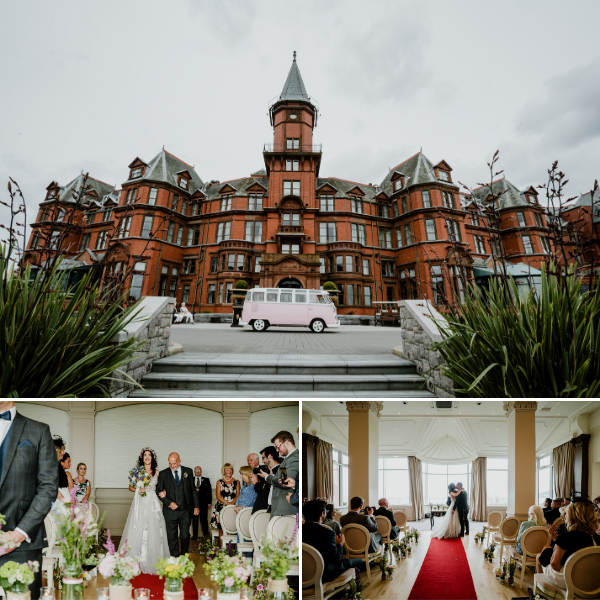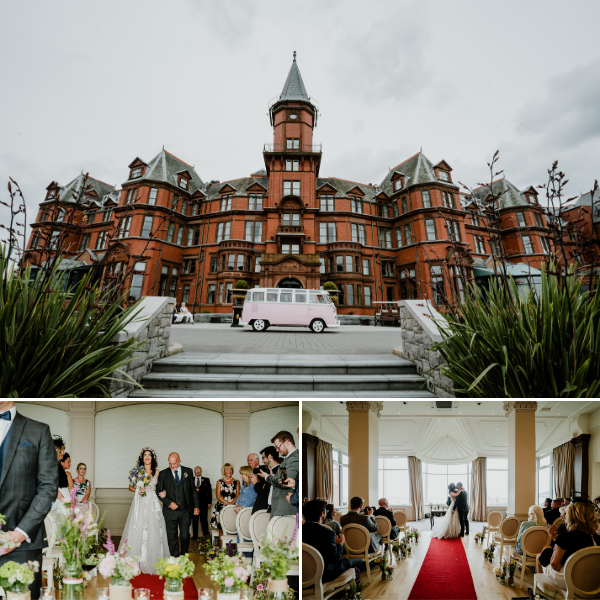 It is just the most beautiful location with the best views. We took our Mums to see what they thought, and they loved it just as much as we did, so we booked it November 2017 with John.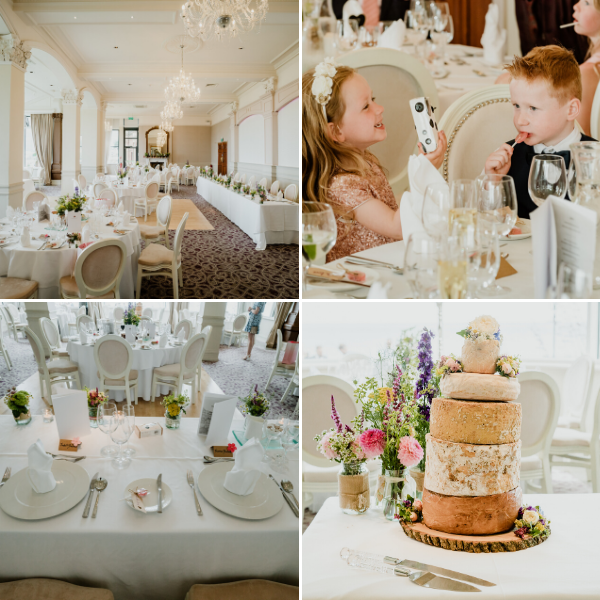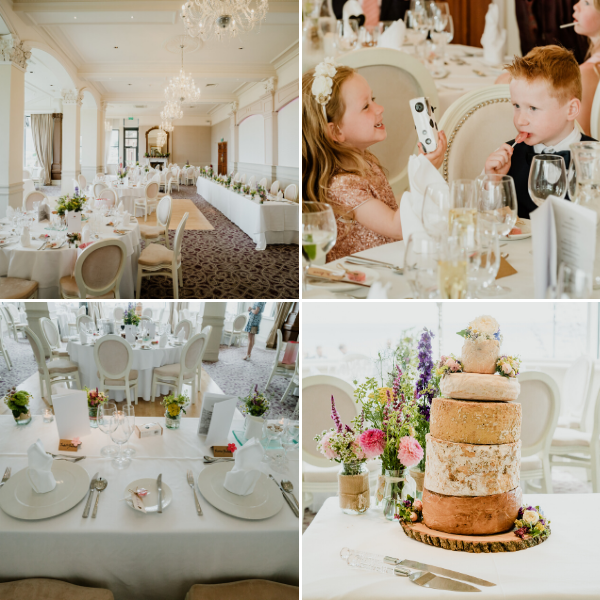 I knew I always wanted a bohemian style wedding and the moment I tried on a flower crown I pretty much planned the whole wedding around it! I wanted a summer bohemian wedding day filled with wildflowers.
WHAT THE BRIDE WORE & THE REST…
Judith didn't have to travel very far for her wedding day style, 'I bought my wedding dress for Jenny Lindop's in Bangor, she was amazing.'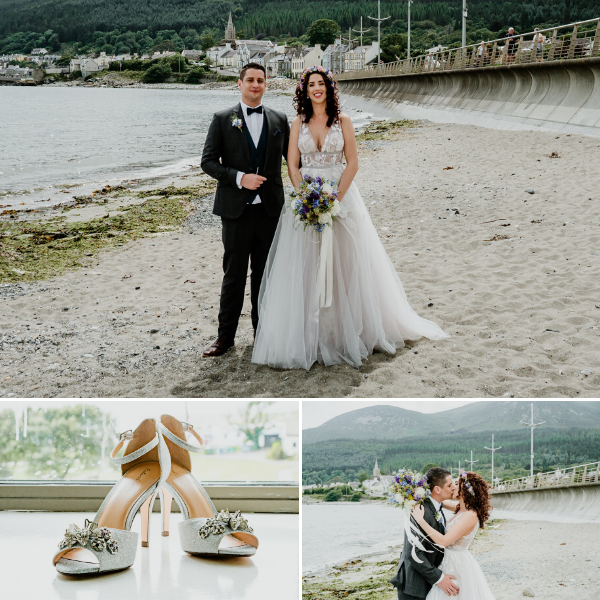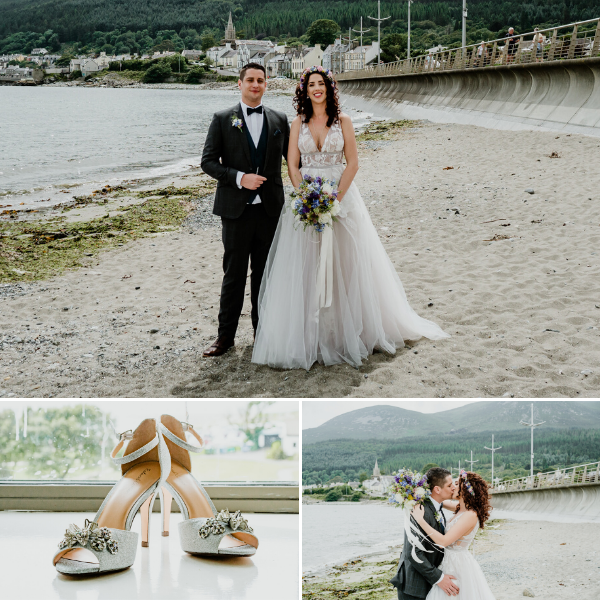 Alongside her bride tribe (mum, aunt & sister) Judith started her search. 'My sister picked out a dress for me to try on, as I wasn't sure about it first but the moment I tried it on I loved it & my party were all in tears when they saw me dressed. Each time I tried it on I fell in love more. I think that's a definite sign you've found the right dress.'
Judith found her unique and stylish wedding dresses for her bridesmaids from Victoria Lou Bridal; 'I love how they could be worn multiple ways, so each bridesmaid could wear it whichever way they felt most comfortable. Plus how cute where my high street flower girls dresses, I picked them up in H&M.'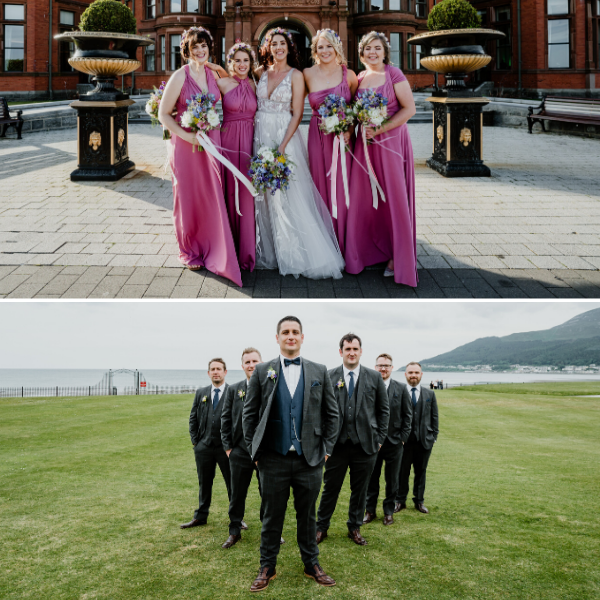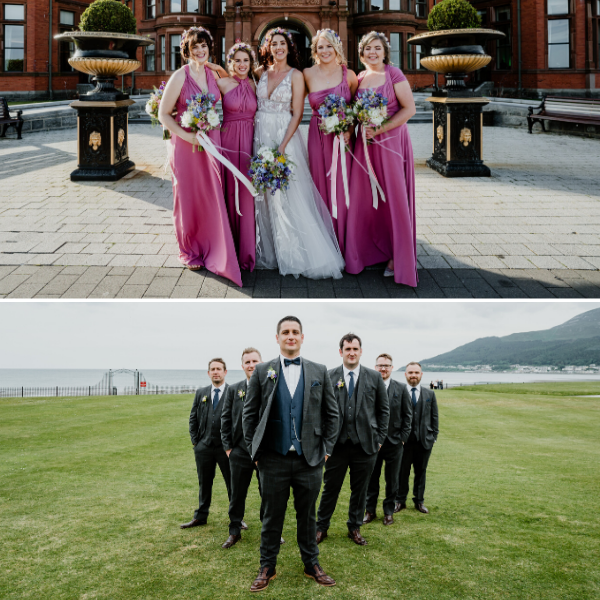 Thomas didn't have to stray too far to find his suits for himself and his groomsmen, and didn't they look handsome. They ventured to Bangor of course, to meet the expert tailors at Focus Menswear, who suited and booted them for the day, opting for classic navy and grey waistcoat two-pieces. 'We had a laugh and the team art Focus were helpful and fun, we loved it.'
FLOWERS & DÉCOR
Self-confessed hippy Judith of course was in her element here, choosing to say 'I Do' in July meant was she had an abundance of flowers at her disposal. 'I'd designed a cute Pinterest board filled with wildflowers and showed this to the team at Petals and Pots in Downpatrick.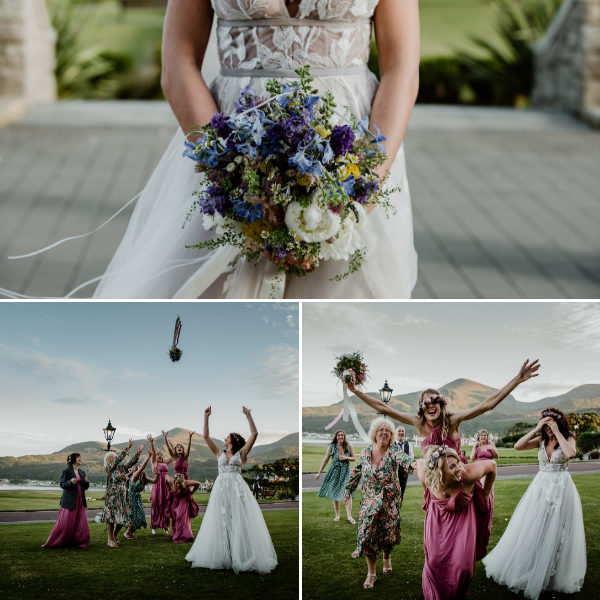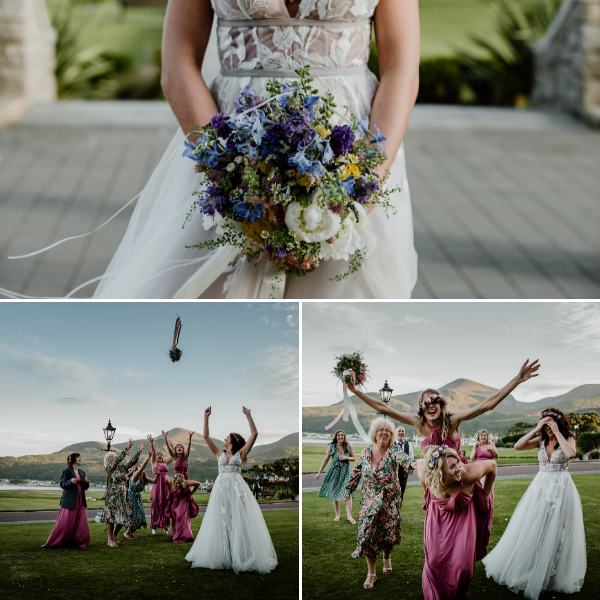 They worked their magic with the bouquets and table centre pieces, all I asked for was a focus of pastel purple, pink and blue. I loved it all, they did an incredible job.'
DO YOU HAVE A HIGHLIGHT FROM THE DAY?
'For both of us the highlights were really the same, we loved getting ready with our parties before. Having all our loved ones in the same place celebrating our love & getting the opportunity to party with everyone we love. The food was amazing and we loved the speeches, the band and the DJ.'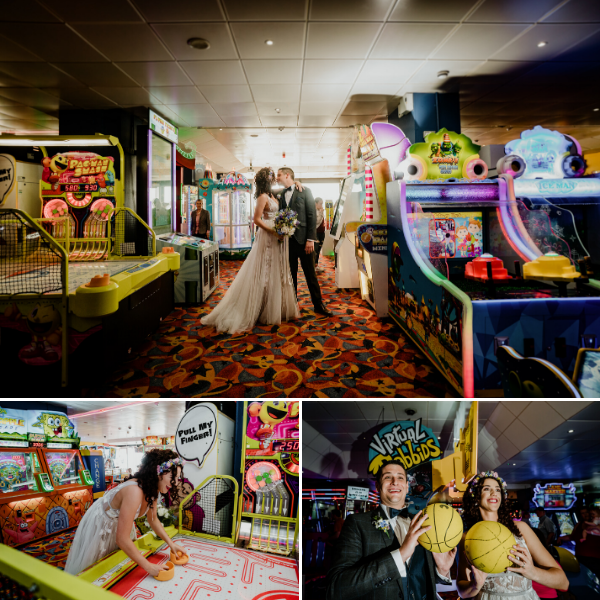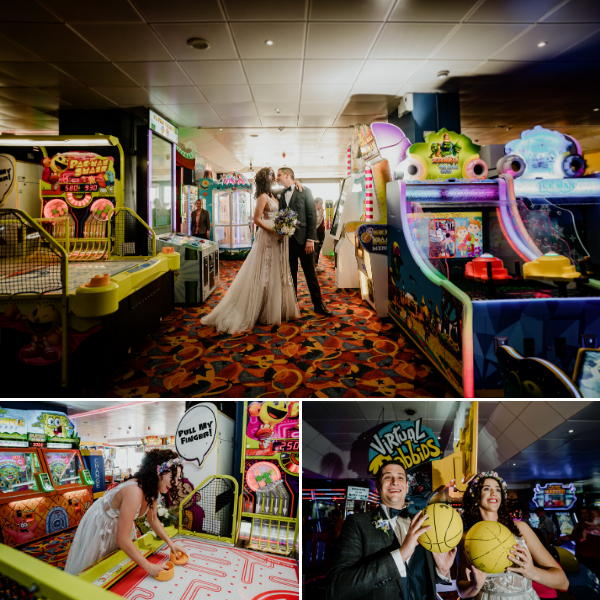 'It was perfect from start to finish, we want to do it all over again! You can tell from our epic wedding album from Jake Samuels Photography that we had the best day. From getting ready with our friends, to the mini photo shoot in the amusements, we laughed all day long, and it's for sure a day we'll never forget!'
ANY ADVICE FOR COUPLES READING THIS?
'Relax, your team have everything covered, we felt like the staff and wedding co-ordinators at the Slieve Donard were incredible. If you have questions, just ask, they are so accommodating and have probably already thought of your question before you even ask.'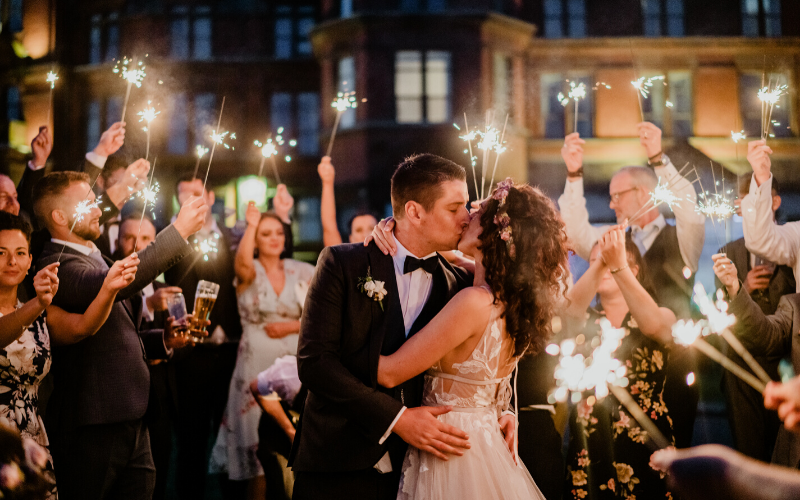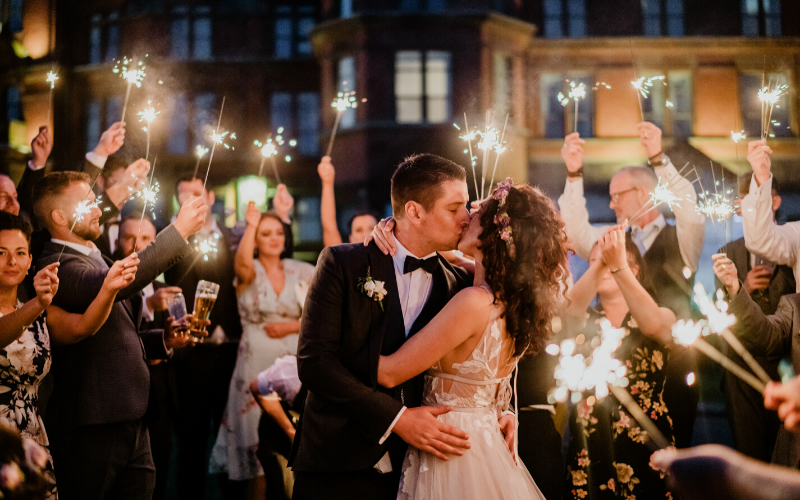 'Enjoy your day, it's difficult but try not to stress too much. You spend so much time planning it and the day is here & over before you know it. Take in every second of the day, do what you want to do, talk to who you want to talk to and dance with who you want & when you want.'
________________________________________________________________
Judith & Thomas' Dream Wedding Team
Venue – Chandelier Suite at the Slieve Donard Hotel & Spa
Dress – Jenny Lindop, Bangor
Bridesmaid Dresses – Victoria Lou Bridal, England
Groomswear – Focus Menswear
Flowers – Petals and Pots, Downpatrick
Room Décor – Add A Little Sparkle & Petals and Pots
Cake – Indie Füde, Newtownards
Transport – Logybear VW Campervan and Beetle Wedding Hire
Photography – Jake Samuels Photography