Pop sensation Justin Beiber has shared that he and his new bride Hailey Baldwin waited to have sex until their wedding night, but could you?
It's may be 2019, and sex is now a more openly discussed topic, but there is still the argument that the longer a couple delays sex before marriage, the better chance the marriage has of lasting.
In a recent interview with Vogue magazine, Hollywood's 'it' couple opened up about their relationship, their struggles and their Christian faith.
View this post on Instagram
Justin and Hailey reconnected last June while the pop star was on a much-needed career break. After spending some time at a retreat facility, the singer quit all drugs cold turkey and recommitted himself to his Christian faith. That commitment also came with a vow to abstain from sex.
'(God) doesn't ask us not to have sex for Him because He wants rules and stuff,' Beiber told Vogue. 'He's like, I'm trying to protect you from hurt and pain. I think sex can cause a lot of pain. Sometimes people have sex because they don't feel good enough. Because they lack self-worth. Women do that, and guys do that too.'
View this post on Instagram
Justin has also indicated that he sees Hailey as his prize for being celibate/good behaviour. He explained, 'I wanted to rededicate myself to God in that way because I really felt it was better for the condition of my soul. And I believe that God blessed me with Hailey as a result. There are perks, you get rewarded for good behaviour.'
Real Talk
After taking a poll in the WJ office ourselves, almost everyone sahred that they were too exhausted after their big day to even think about consummating their marriage that night.
A recent survey from Her.ie reported that just over a third of newlyweds (37%) said they had sex the night they got married.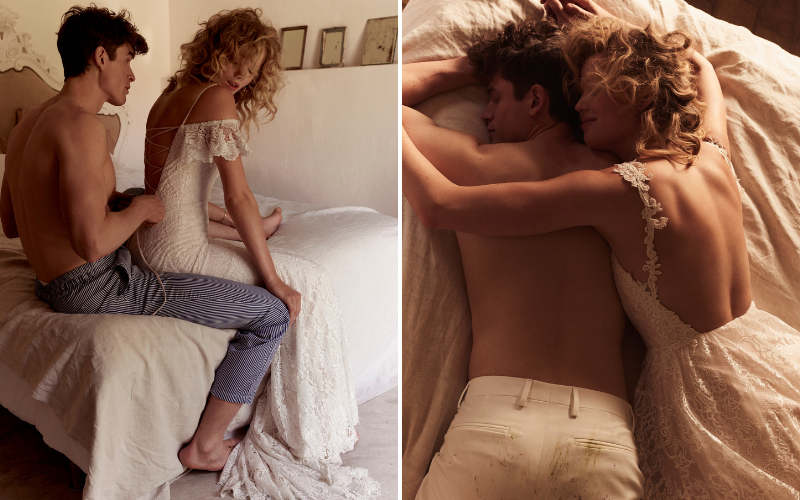 WJ took to Reddit to find out from some other couples how much fun their 'first time' together was after waiting for their wedding night.
Inexperiencedasscrap: 'I'd rate it a solid 10/10. Not because of the sex. Because it was NOT the best sex ever. Not even close. But because I enjoyed figuring out this new and really really SURPRISINGLY complicated thing with my husband. And it was fun despite not having mind blowing orgasms. Also we ate a whole pizza in the huge Jacuzzi tub during the pre and post sexy times. I'd recommend that to everyone.'
Poptartburner: 'My wife and I both waited until marriage. Our first night was a disaster. We actually got walked in on by strangers while we were stripping in our hotel room because the hotel switched our room last minute and forgot to give the other couple a different key. Although it was kind of a disaster we were able to laugh about it and we still had fun and look back fondly on the night.'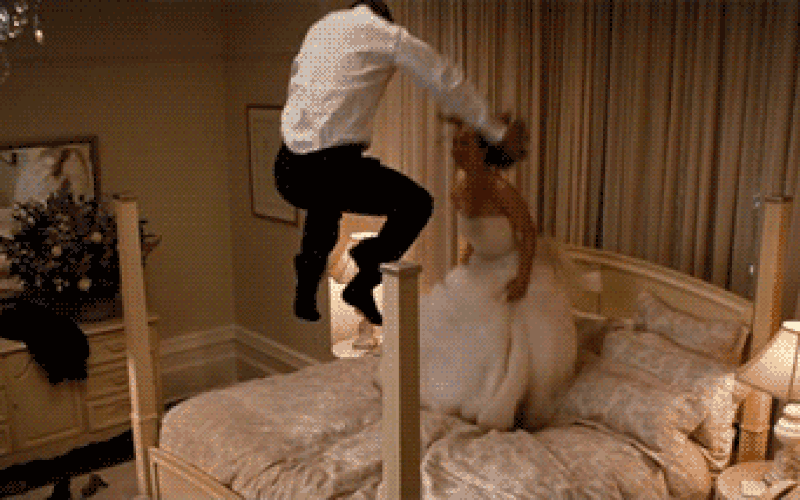 I_am_not_a_burrtio: 'My wife and I both waited until our wedding night. And I'm in the minority here, but it was honestly fantastic. We started out by always being honest about our expectations of sex, and what we wanted from it, both personally and for our relationship. We went to our hotel after the wedding, ordered Pizza Hut, she changed into lingerie, and I waited on the bed. We ended up doing it a couple more times throughout the course of the evening. She even woke me up in the middle of the night and asked if I was ready (that hasn't happened much since). So basically, if you're waiting, just be prepared, talk with each other about expectations, have lots of ideas of things you wanna try (and you're both on board with trying), and have fun.'
UzJbQx84: 'We waited till marriage. She and I had a long distance relationship for a long time. I wouldn't say it was that awkward, it's not a huge deal at all, we felt extremely comfortable. In general the two years we were together not physically (before marriage) we got to learn a lot about each other. Since we were physically separated we had to be creative to do the relationship thing. I wouldn't say it's for everyone. But I certainly don't regret it. I'd say that the success for us was mainly understanding that we're not getting married just to have sex. We're getting married because we loved each other. Go into marriage knowing you want to be with this person forever and you're holding off solely because its a sign of commitment for yourself (or your partner) and nothing more. If you put sex on a pedestal you probably will be horrifically disappointed.'
Featured Image Credits – Lillian West