As the popular holiday has continued to grow there is so much more out there to help style and decorate a less tacky affair. Why not take a look at our Halloween wedding inspo that will help you embrace the holiday and take on the trend!
The Fashion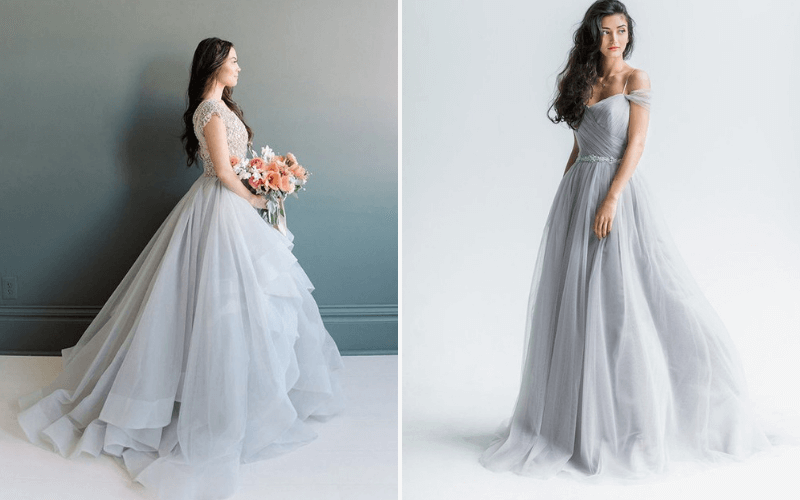 An ethereal tulle design is an awesome alternative for a wedding gown, this shape gives a ghostly silhouette that's still modern and romantic.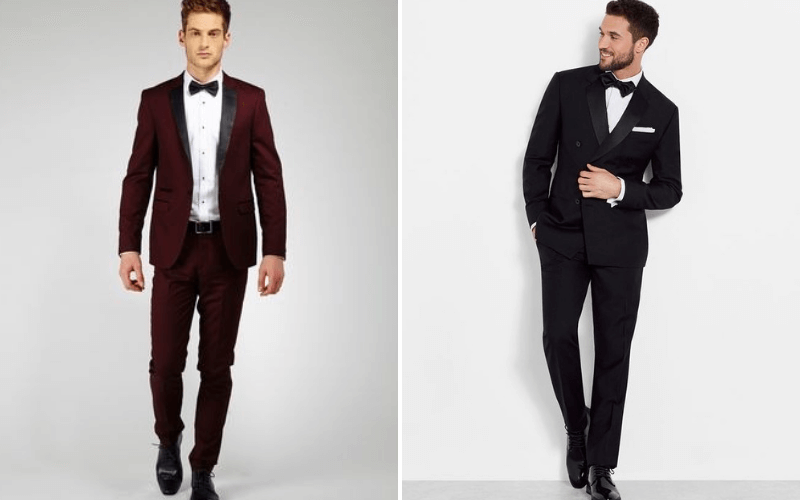 We're suggesting keeping things simple for the Groom. A classic, well tailored black tux ties into the theme, if you have a more fashion forward partner, a burgundy suit with bow tie can look equally as handsome.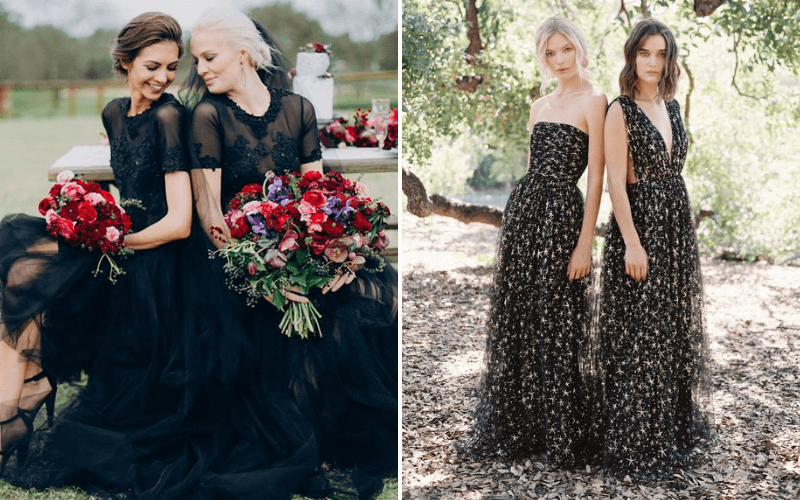 Going Gothic doesn't mean you can't go graceful. These stunning dresses work so well for this seasonal theme, but also look feminine and beautiful. Going for a slighter longer length and sleeves will keep your bridesmaids warm in the cooler weather, the intricate embellishments and added tulle will add some extra glamour to the bridal party.
The Flowers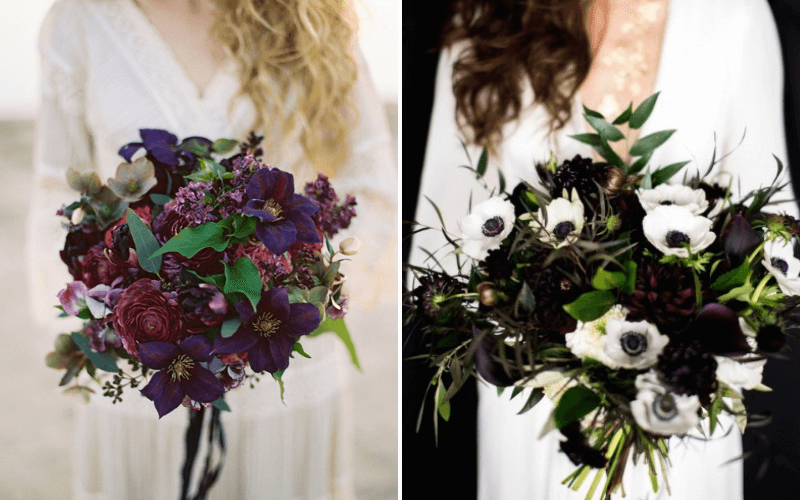 October is probably best known as the month that hosts Harvest every year. It's also a month when you can see some amazing autumn flowers, particularly those in gold, brown and orange. Statement, unstructured flowers are huge at the moment, to be unique, why not opt for rich colours such as maroon or purple, even black. Black dahlias and chocolate cosmos teamed with dark purple tulips will create a seriously stunning bouquet.
The Stationery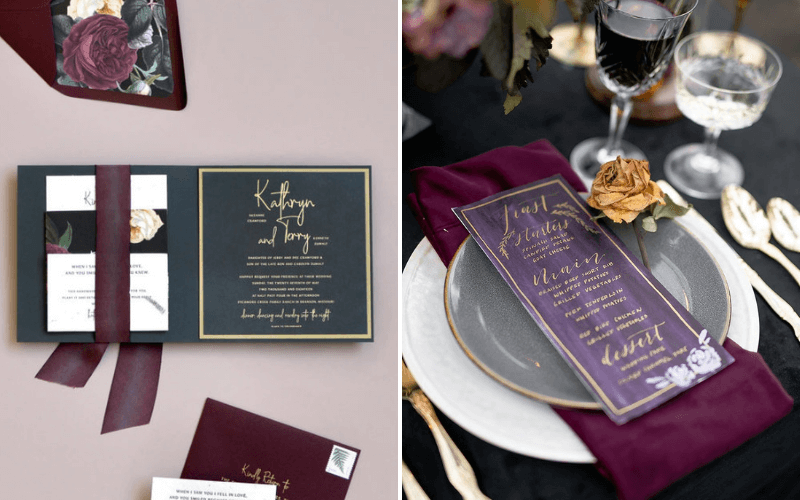 Getting your wedding stationery right is the perfect way to ensure your big day is a stylish event from the start.  The days of basic wedding invitations are over; couples are getting more creative and adventurous with their designs.
They don't need to be on glossy white paper, why not be bold and have dark navy or black card with gold calligraphy and foil.
Table Decor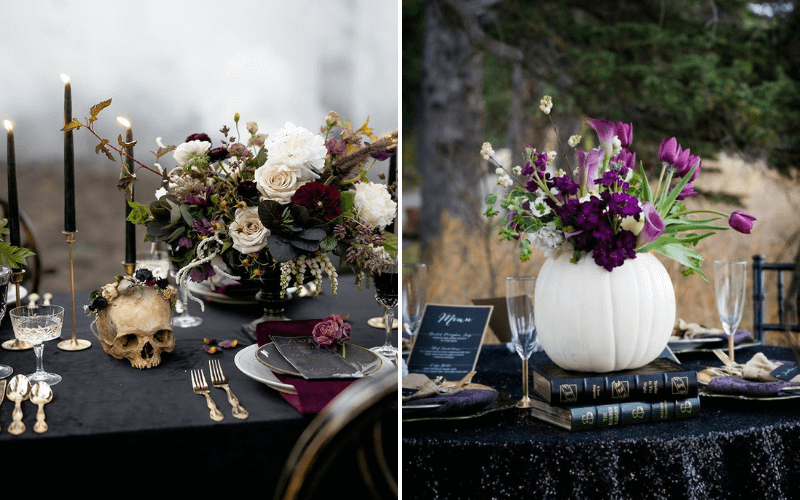 Keeping things simple in terms of decor will create a sophisticated look rather than something tacky. Black table linens, long black candles, and romantic floral displays using skulls as centrepieces ooze style, whilst still nodding the seasonal trend.
Even painting a pumpkin white and then filling with flowers looks great.
The Lighting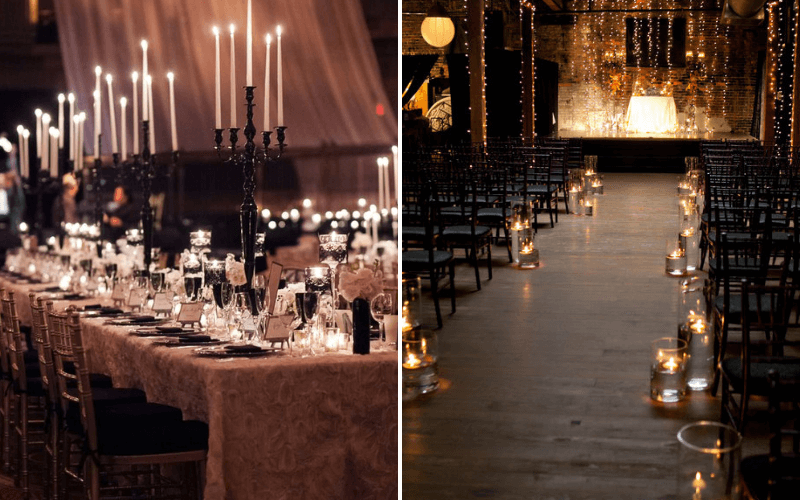 Candelabras with dried wax seeping down them are exactly what you need to create a Halloween ambiance. They've played a huge role setting the scene in many horror films and will do the exact same at your wedding.
The Food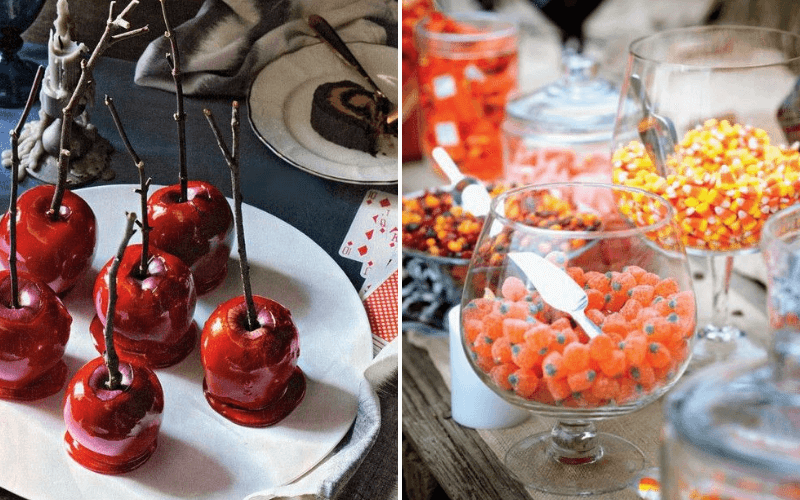 Seasonal and festive—fall's rich, spicy flavors automatically lend themselves to a sumptuous Halloween-time wedding.
Fill a dessert table with dressed-up versions of seasonal treats, like toffee apples, sweeties and popcorn; guests can take home any leftovers.
The Cake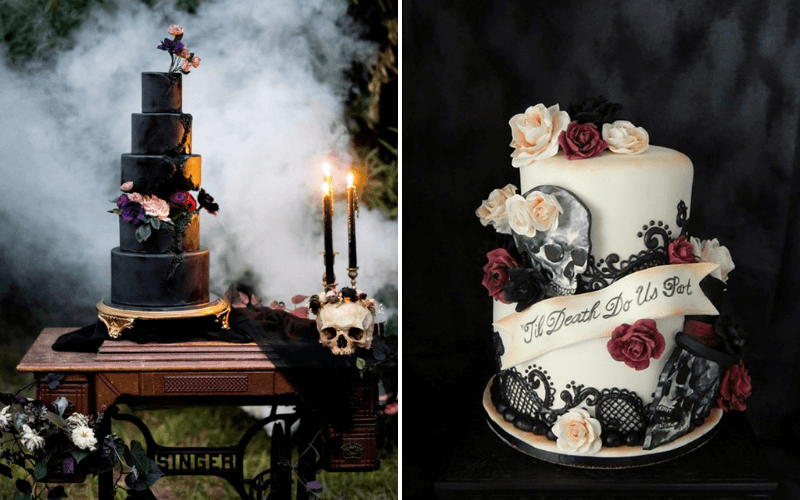 You can get super creative with your wedding cake, just look at these. You can stick with the traditional white two-tiered cake, but go extra with the finishing touches; intricate black icing designs or fondant roses.
Or you can go Gothic, with a decadent multiple tier cake with black icing. Add a pop of colour with real flowers or even sprinkle glitter that will catch in the candlelight.
The Cocktails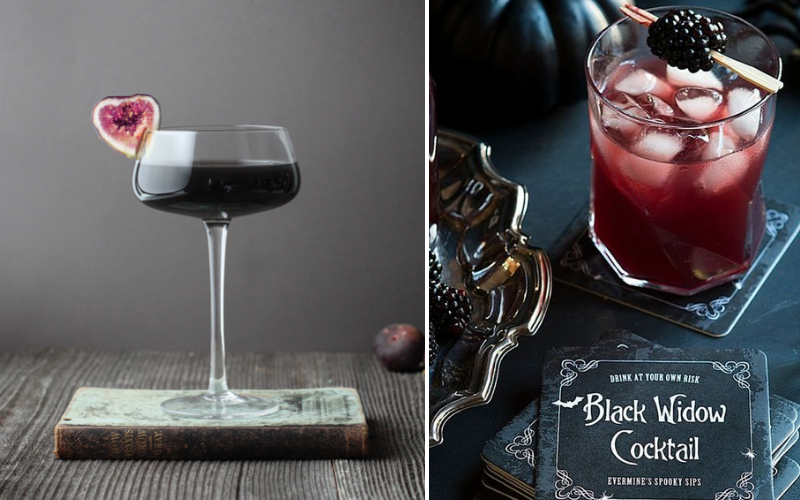 Creating your very own cocktails adds a personal touch to the day, you can experiment at home with your favourite spirits and flavours.
The Black Heart is sure to put everybody under its spell… especially if they have a thing for vodka. The Black Widow cocktail is a devilishly refreshing combo of blackberry juice and vodka, sweetened with a little simple syrup, enjoy this cocktail with a blackberry garnish, and celebrate the spooky season.
Final Touches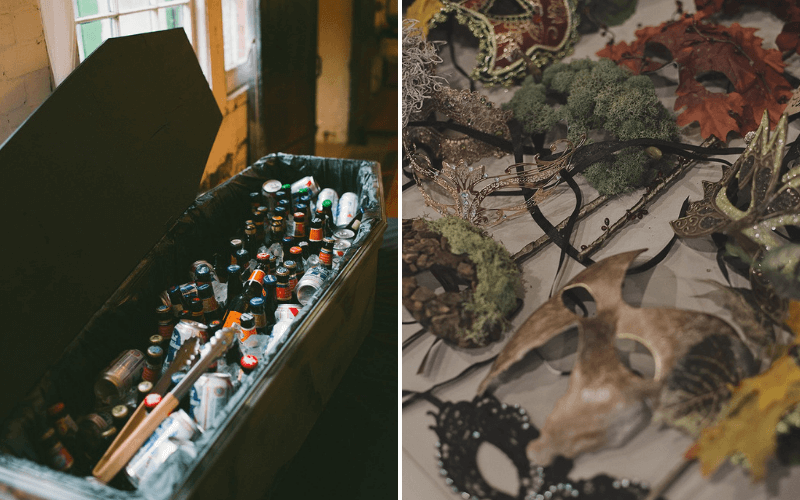 It might sound a little strange, but why not rent a coffin and fill it with beers and drinks for your guests to enjoy throughout the day. It will keep them hydrated and entertained.
As a last little nod towards the Halloween theme, instead of having guests dress in costume, offer them a complimentary masquerade mask. Guests will enjoy picking their desired look, it adds mystery to the dancefloor, and will also look really cool in photographs.
Set Featured Image Credit – Ashley Rae Photography