Featuring a rustic and classic accent throughout the décor and day!

Emma and Jack were high school sweethearts who's love was written in the stars! They tied the knot at Orange Tree House this July surrounded by family and friends. After postponing the wedding due to Emma's pharmacy studies and the pandemic, even a devastating skiing injury she suffered didn't stop them from finally saying "I DO!"
With amazing family and friends on hand to make the day extra special, Emma and Jack's wedding went off without a hitch – or may one on the dance floor!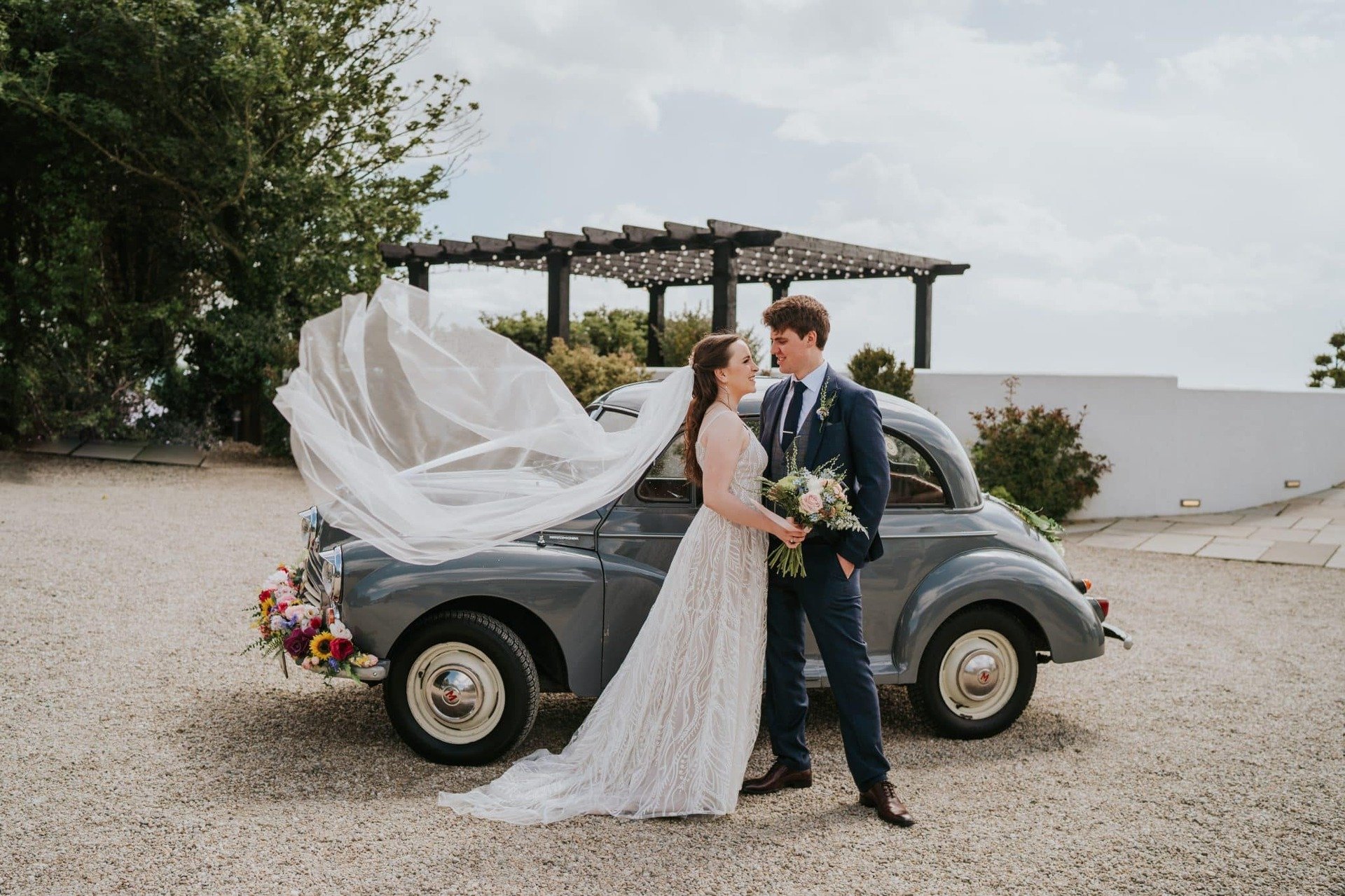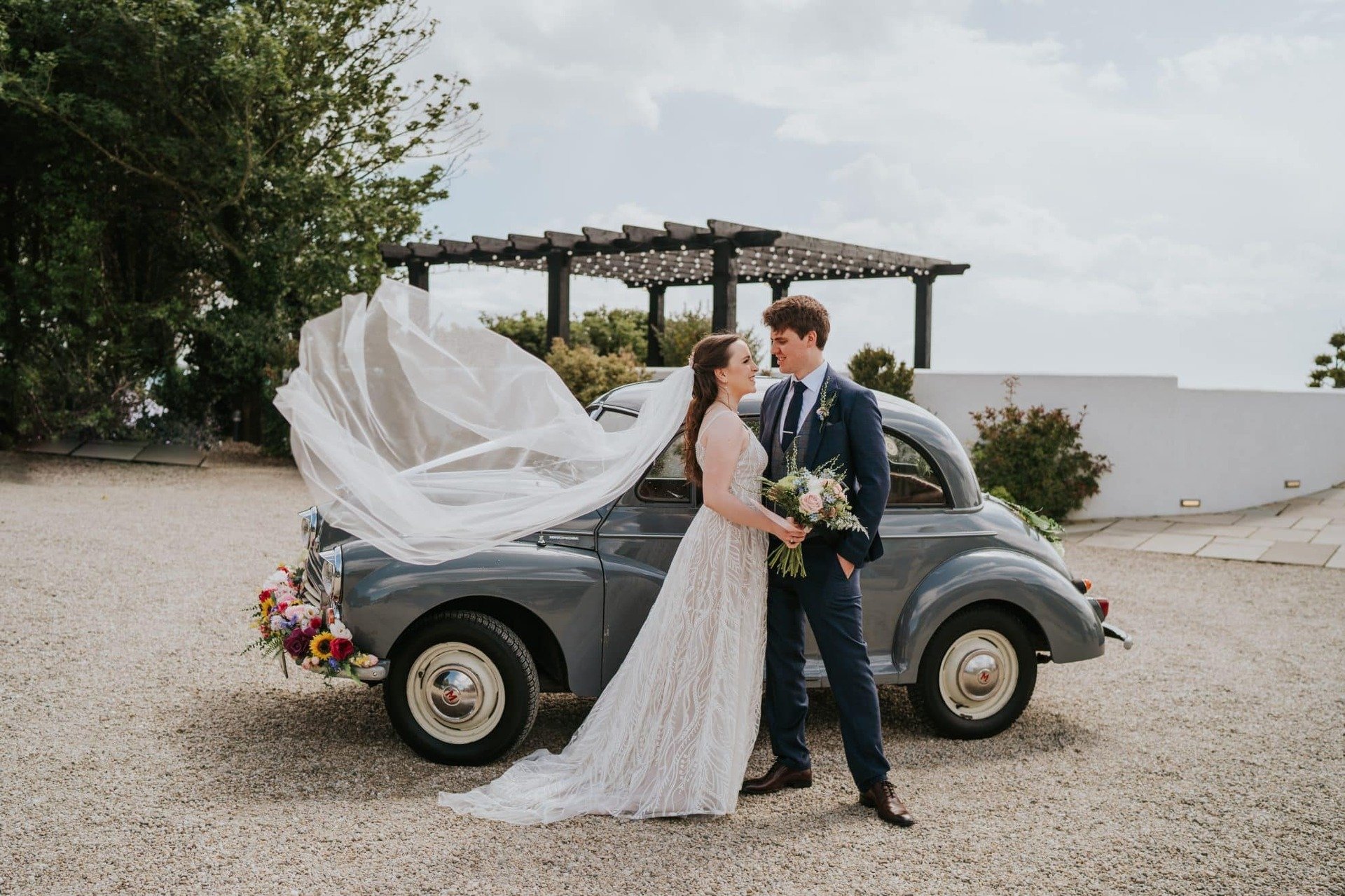 HOW THEY MET
Emma and Jack met whilst in high school and began a text-crazed teenage romance in 2010 during their third year of school. But it wasn't until a Halloween party during their fourth year, that Jack asked her to be his girlfriend. Emma being from Portadown and Jack from Donaghmore, Newry made it a challenge for the teens to meet frequently. They would jump on the bus on weekends to hang out at the local park and go to the cinema.
"We really grew up together. We leaned on each other through all our GCSEs, A-levels and Uni and had so much fun spending time on his family's farm", says Emma.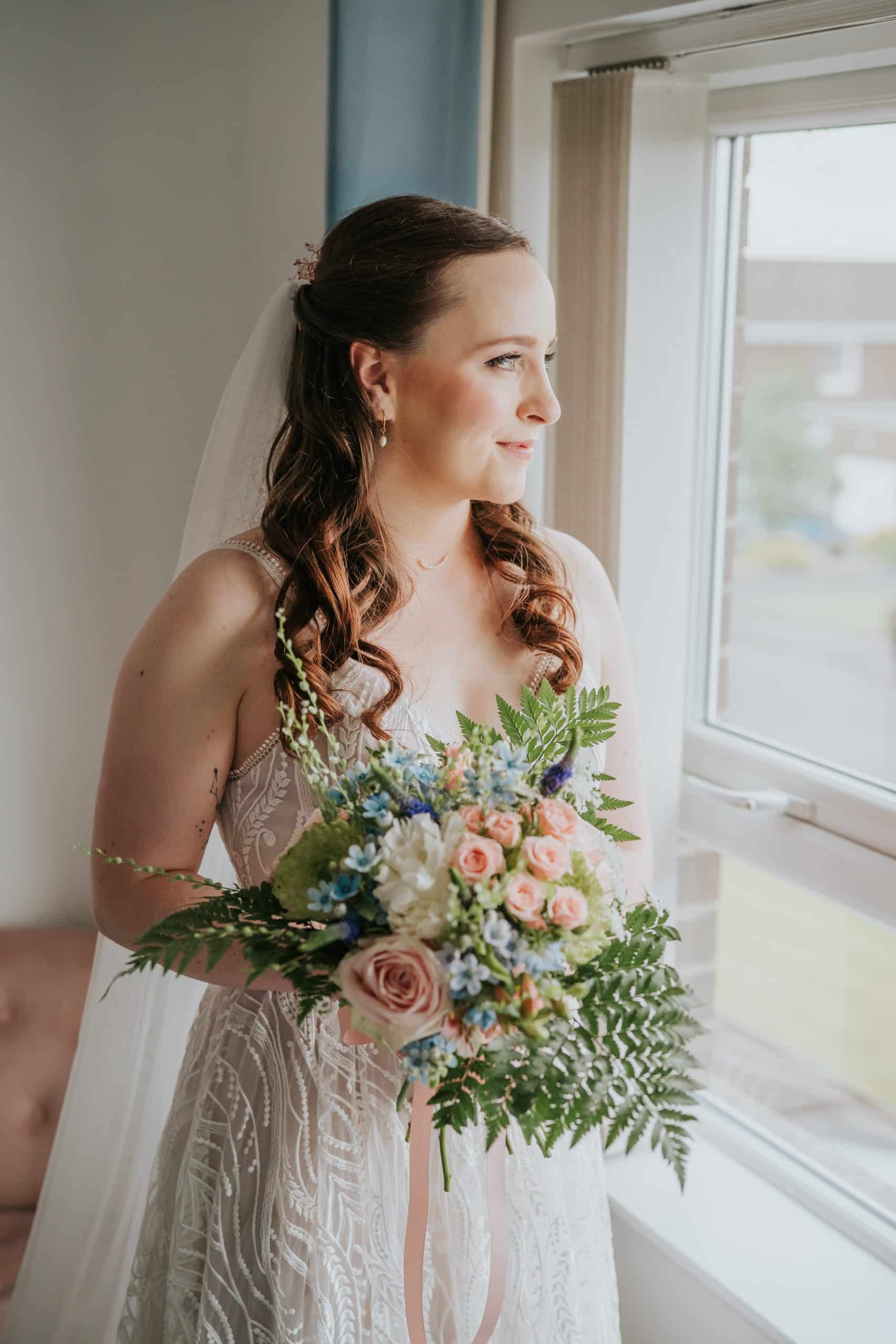 THE PROPOSAL
After asking Emma's parents and grandfather for permission to marry her in 2019, Jack set the wheels in motion to propose. He was given Emma's grandmother's ring, "the one that I adored and based all aspirations for my future engagement ring on", says Emma. They went down to the local pub with friends one evening and Emma spotted an engagement box in Jack's pocket.
"When we got home I was literally too excited to sleep and in lots of childish laughter I essentially told him if he didn't propose right now I'd explode." So in the wee hours of the morning and in their pyjamas, Jack got down on one knee and popped the question!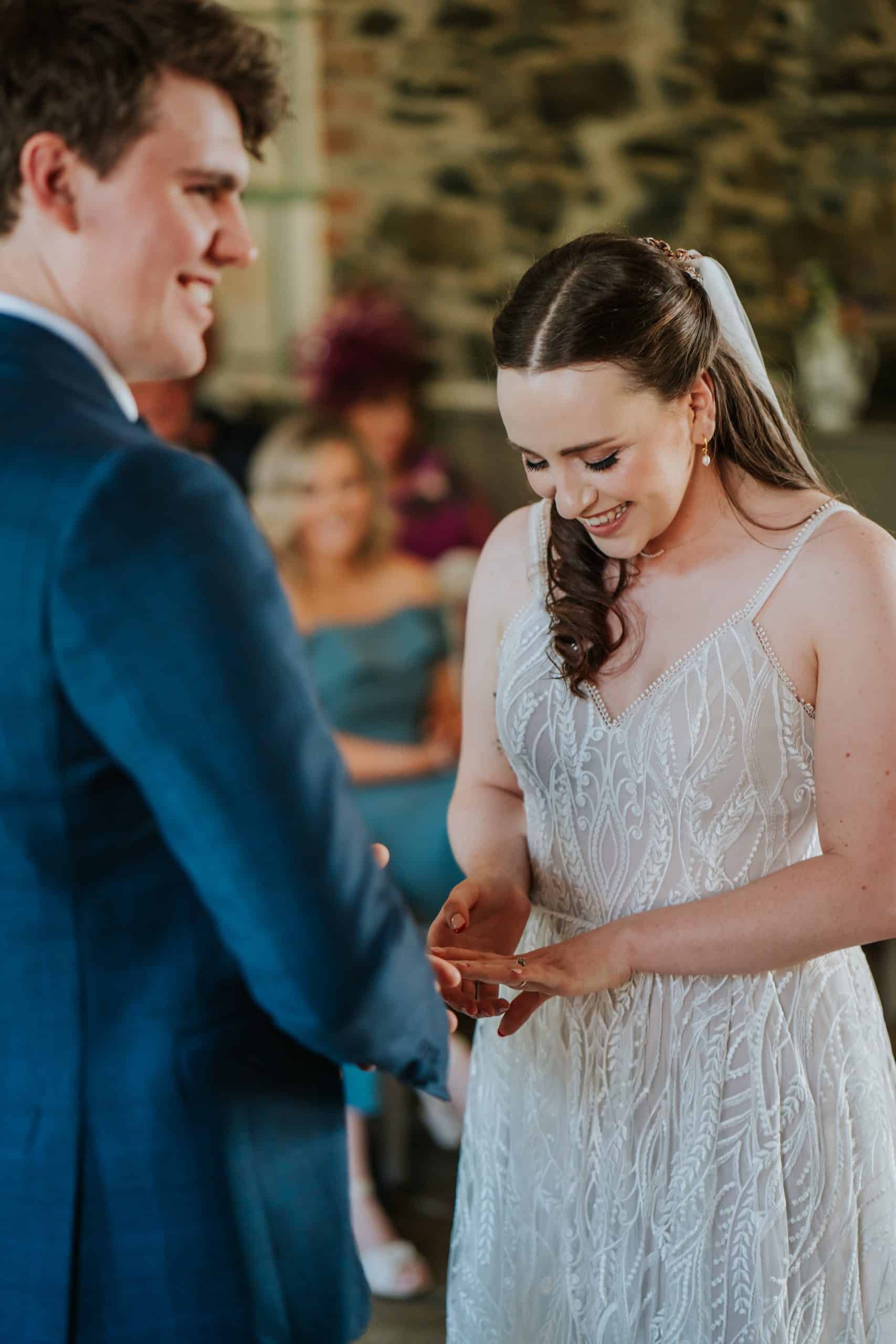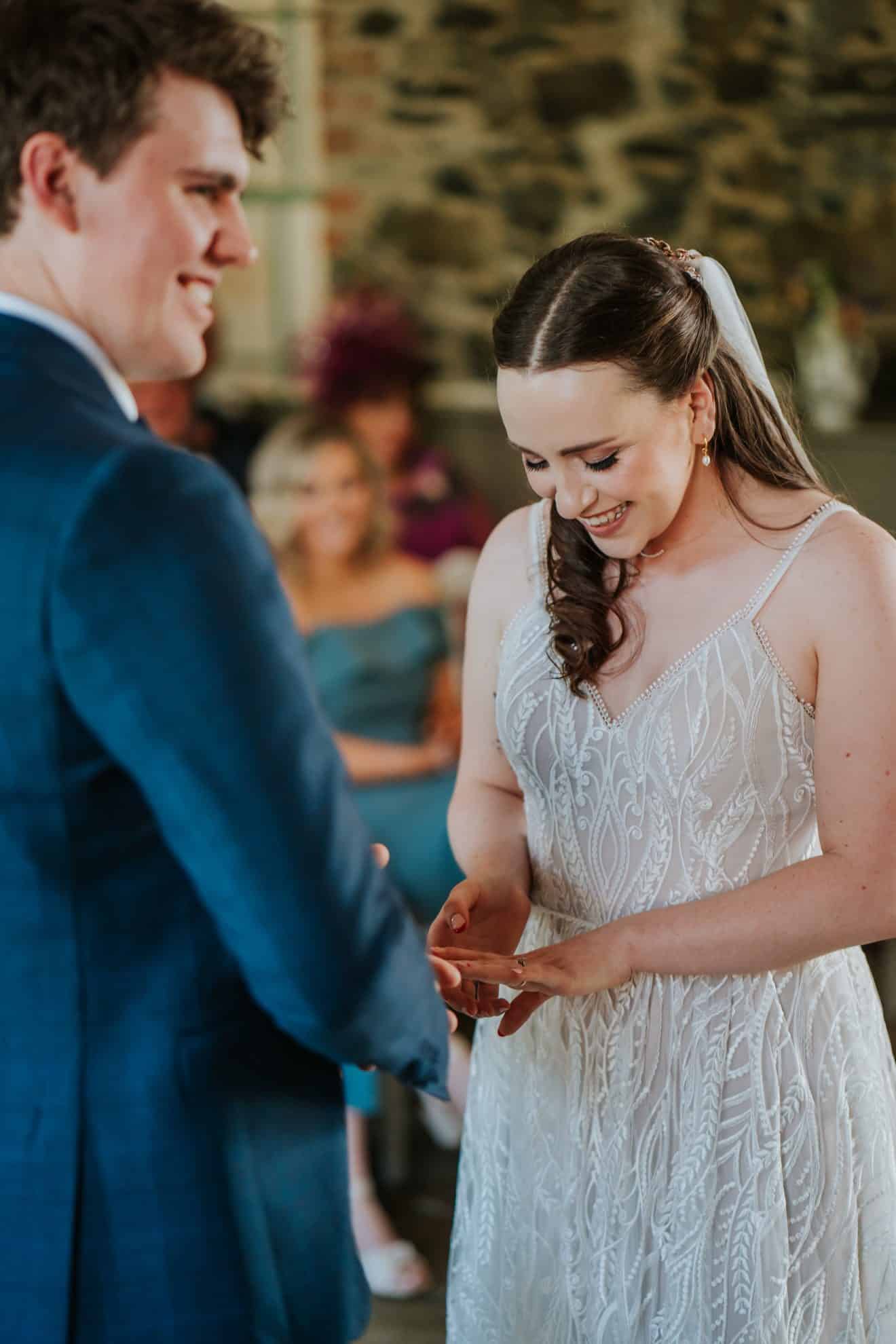 PLANNING THE BIG DAY
Like many couples who got engaged in the last couple years, the pandemic created many challenges – and Emma and Jack were no exception! The couple began wedding planning in early 2020, falling in love with and securing Orange Tree House almost immediately. However, with Emma still studying pharmacy and the world at a standstill, the couple opted to postpone the wedding until 2022.
"With all the extra time planning was pretty chill and just plodded along in the background", says Emma.
In January 2022 the couple took a family ski trip to Bulgaria for Jack's dad's 60th birthday. Emma had a devastating accident on the slopes, landing her in a wheelchair. "I then spent the craziest part of [wedding planning] out of work, getting a massive amount of surgery done on my knee and relearning how to walk", she says. Some how the couple of 10 years pulled it together and completed the wedding planning!
THE VENUE
"When we visited Orange Tree House we just knew it was the one straight away. The architecture and beauty of the main hall which used to be a church and the view of Strangford Lough out of the lounge windows" says Emma. The couple had both their ceremony and reception on site which was a charming affair.
"We had a humanist wedding ceremony because we wanted our wedding to be so personal and to fully capture what finally getting married after a whole decade feels like", say Jack.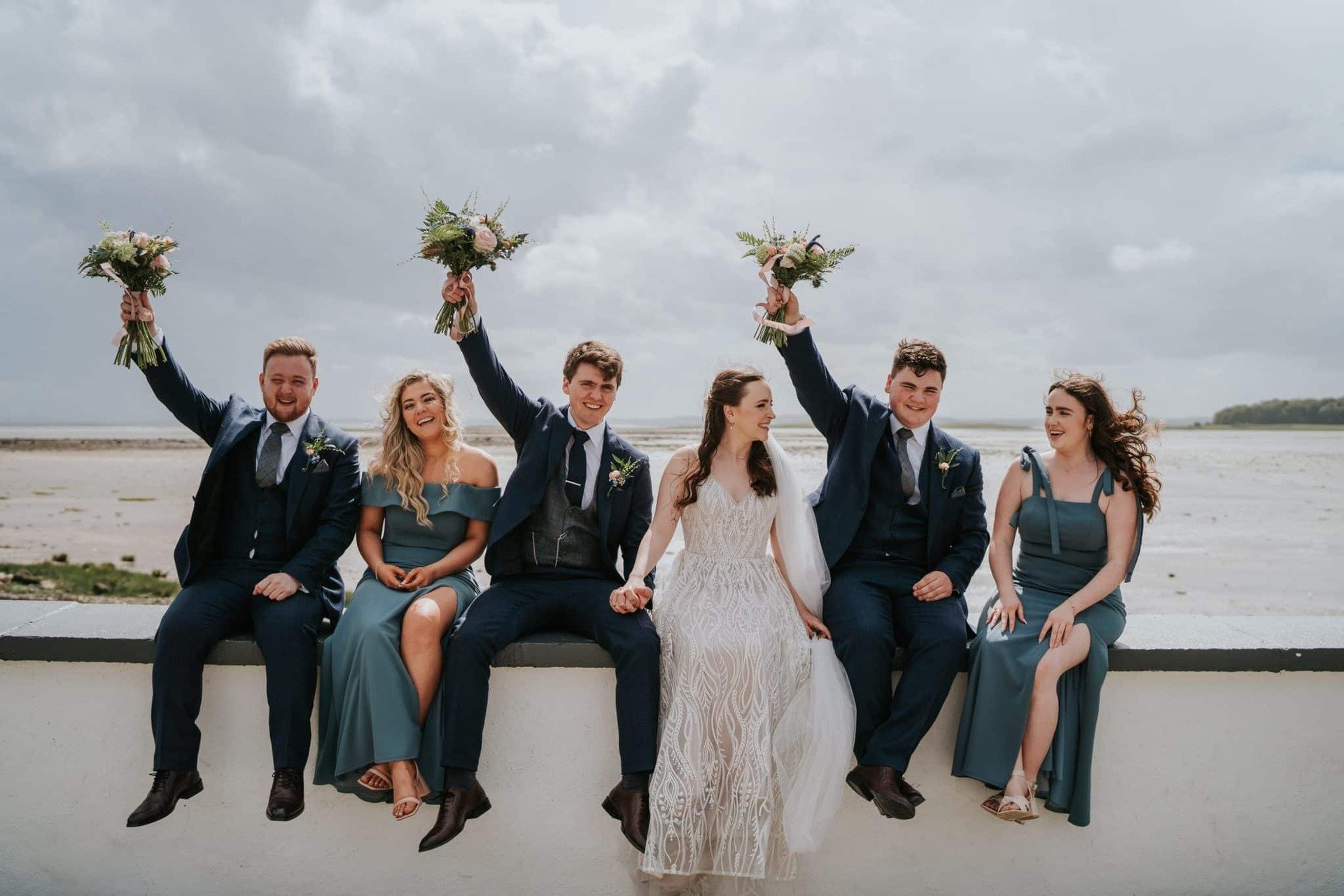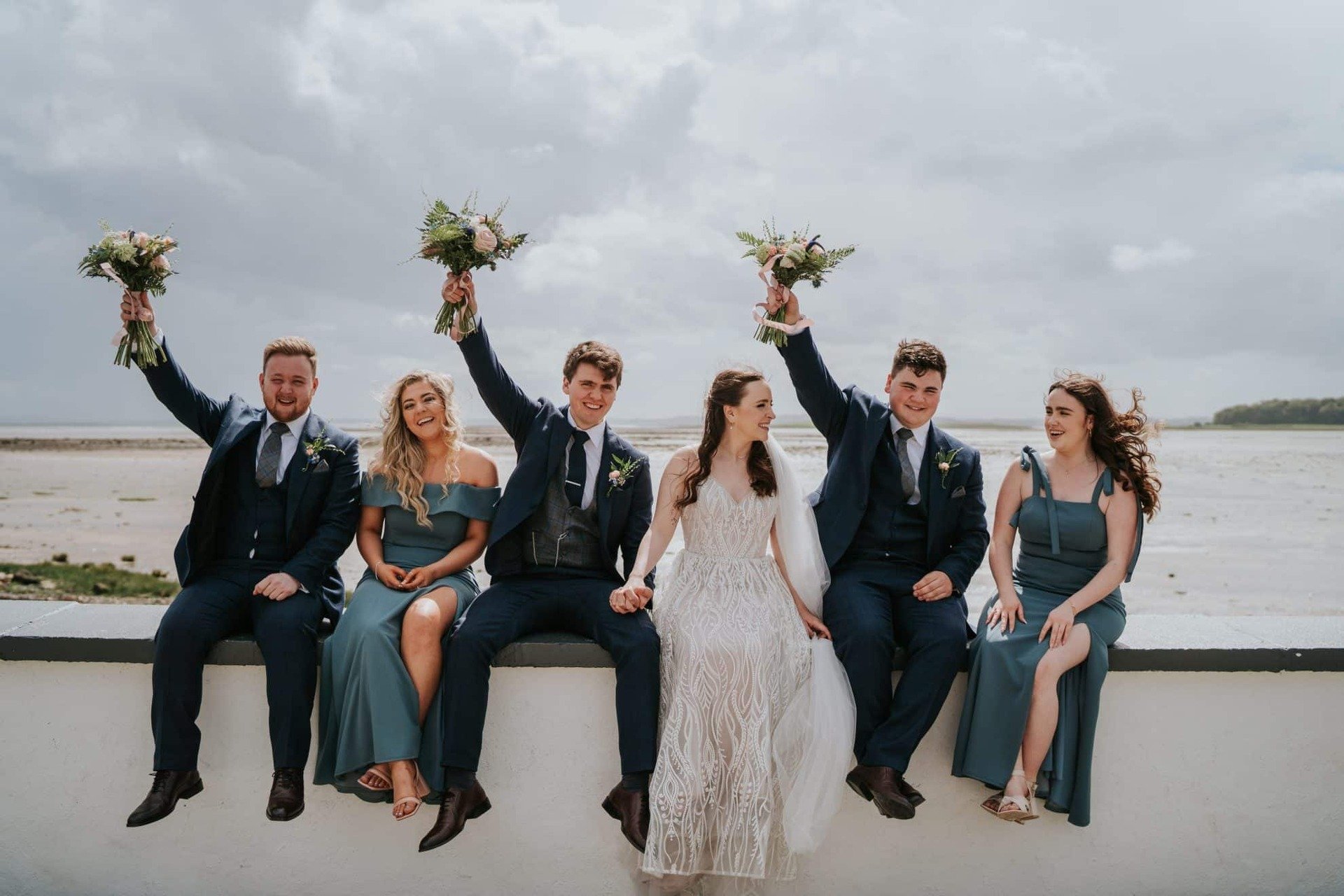 CAPTURING THE BIG DAY
The couple chose Sheena Thompson Photography to capture their special day. Though camera shy, they were able to relax and get into the spirit of celebration to create memories for them to look back on.
"She was so relaxed and easy to work with and managed to get so many beautiful photos and captured the joy of the day so well. Neither of us like getting our photo taken – there is a pitiful amount of evidence of all the time we've been together! But Sheena made us so comfortable in front of the camera and by the end of it I was wondering if Jack was going to go for a career change into modelling", says Emma.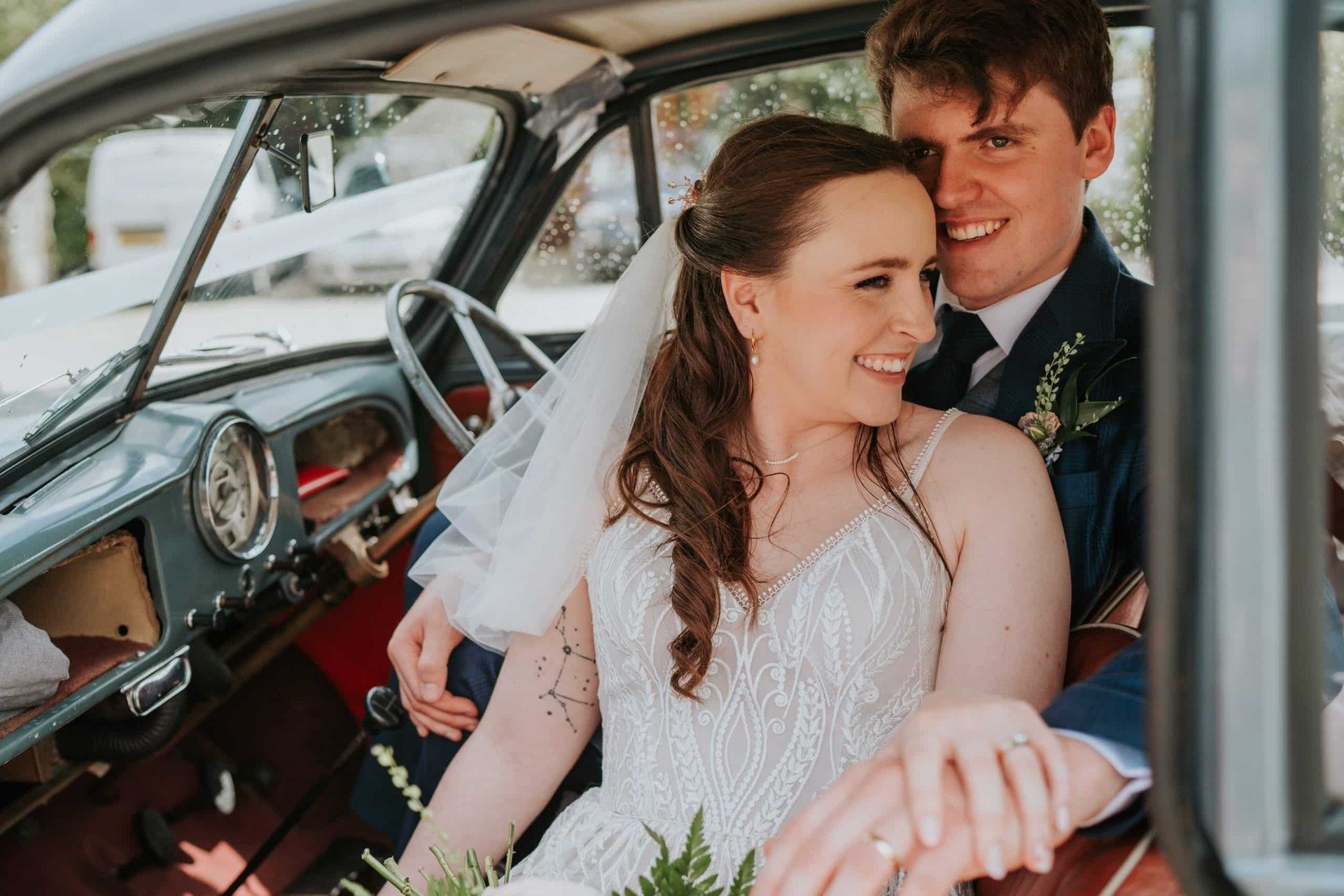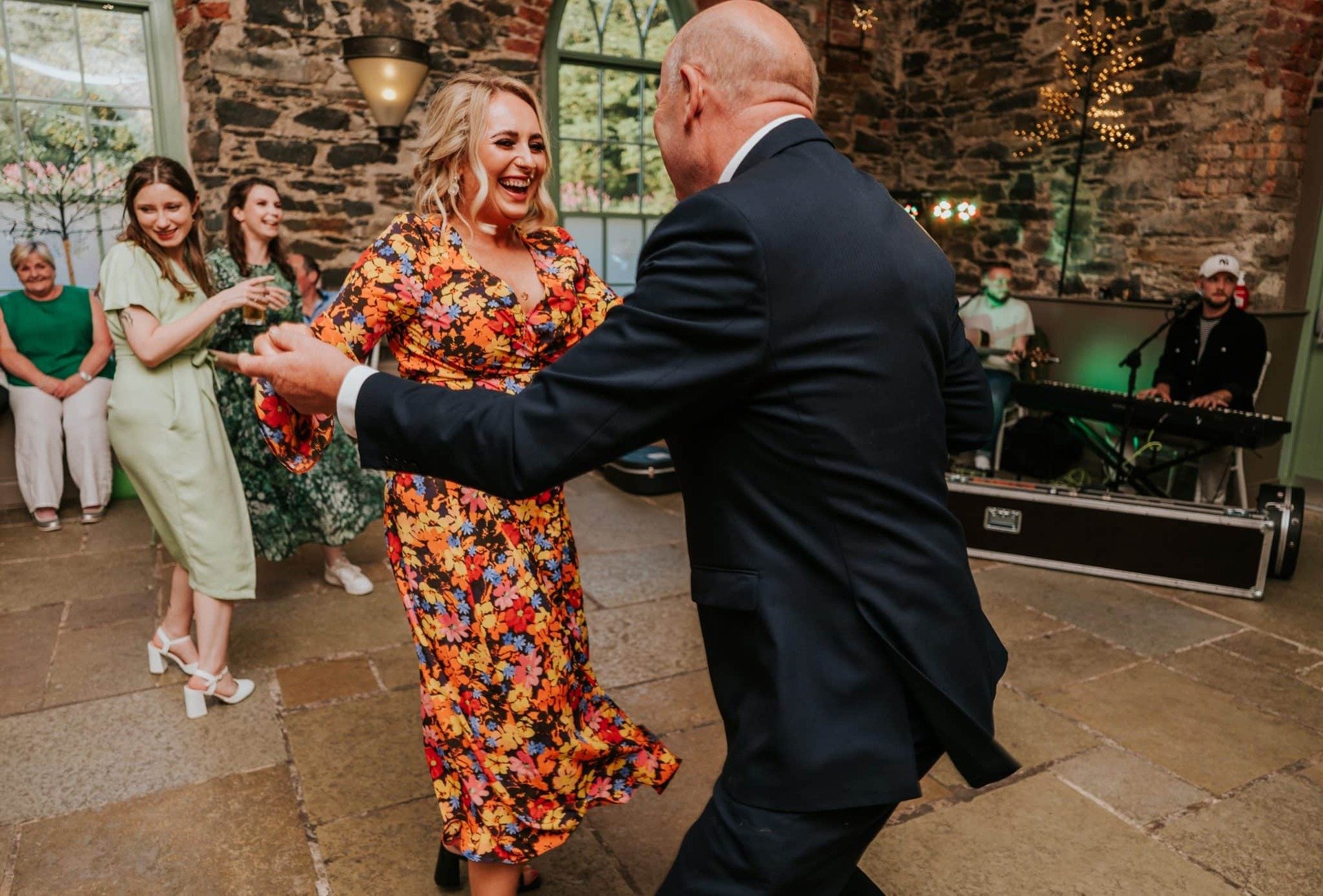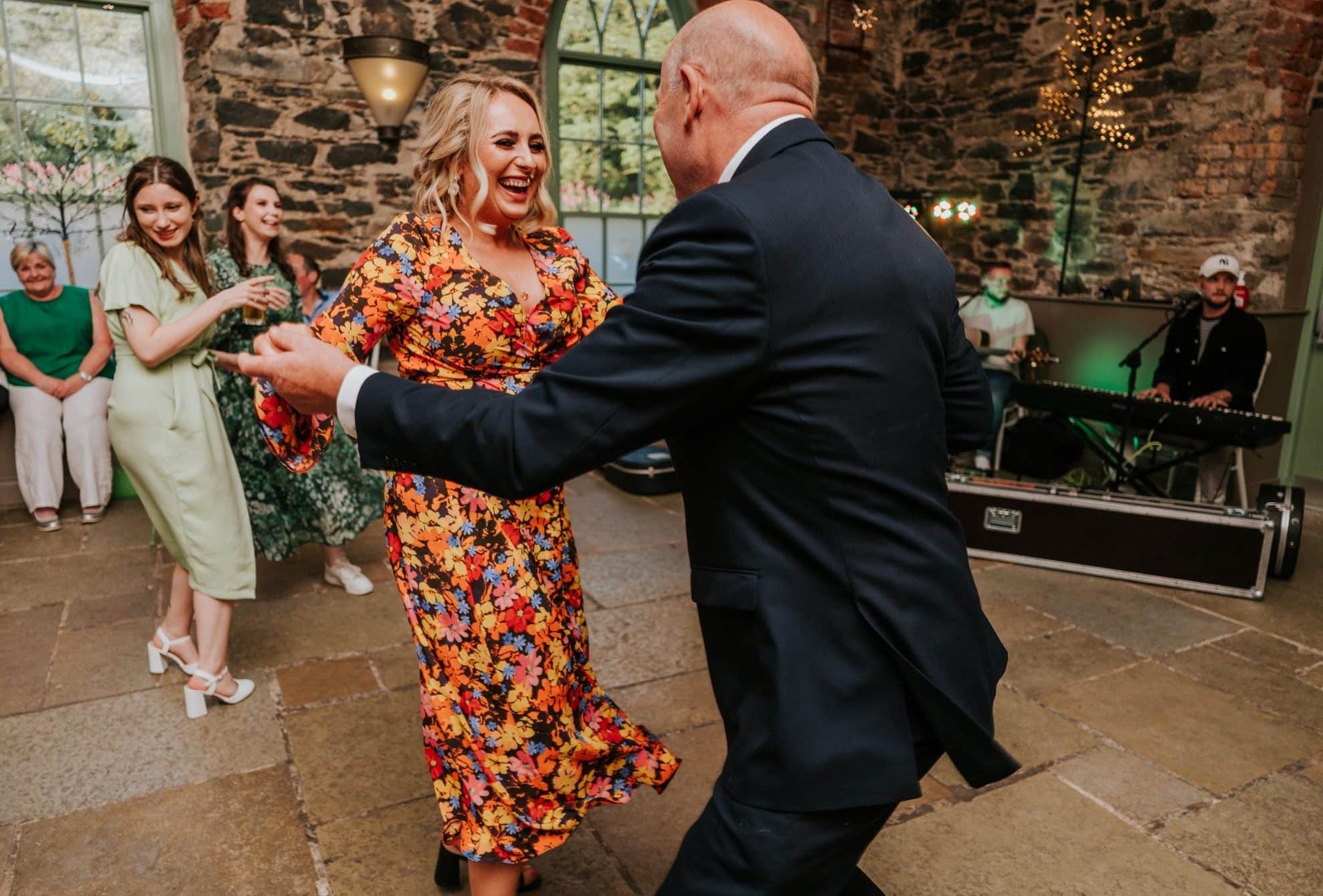 WEDDING WARDROBE
Emma chose a beautiful gown, Zaine by Evie Young from Jill Jones Bridal, Templepatrick. "My dress is one of my favorite things I own and I got it so early on", she says.
Jack's suit was from Freddie Hatchet and his bride-to-be gave him free reign on choosing it. "It's a great atmosphere up there and they has some of the best Guinness I've tasted anywhere! The guys there are very helpful and knowledgeable", says Jacks.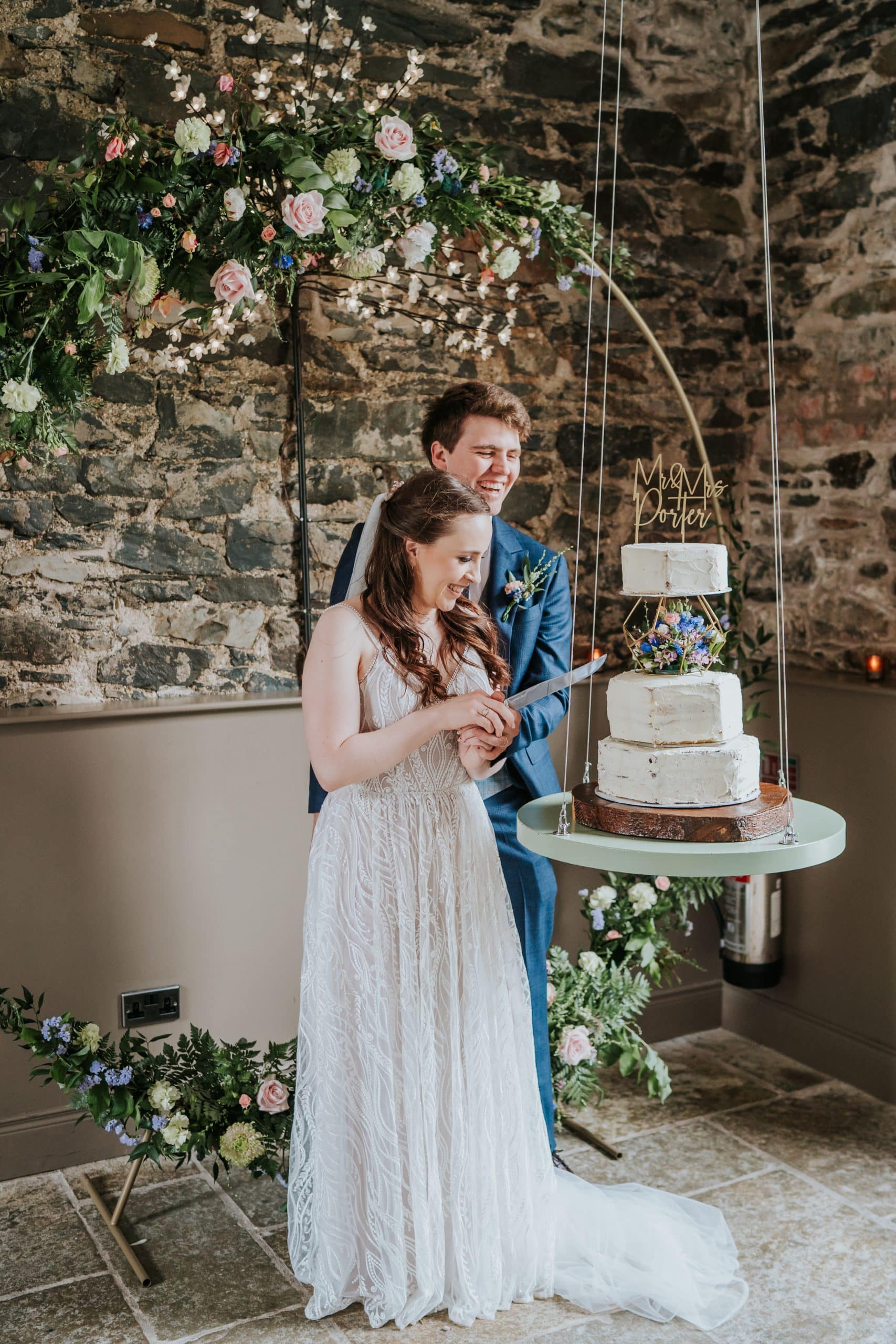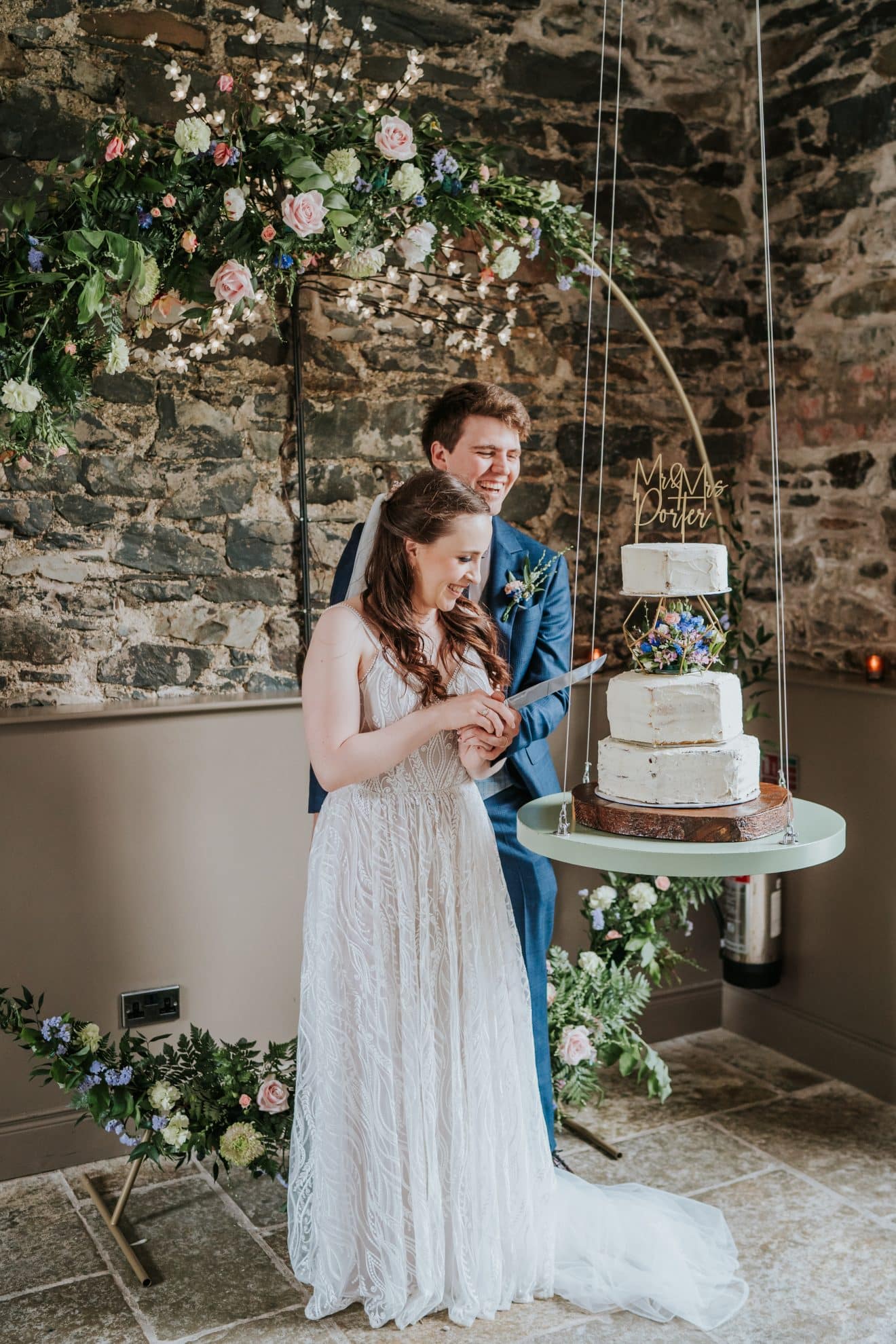 WEDDING ADVICE
When it comes to advice for other soon-to-wed couples, Emma and Jack say you should execute the day your way! "It's so easy to keep spending and keep adding more to it because someone else has done something but we kept things simple and focused on our family and closest friends", says Emma.
Despite pharmaceutical studies, a pandemic and a postponement, the couple were able to have a special day because they chose what worked for them. Though Emma had to take a quick ice pack break from the dance floor due to her skiing injury, she was able to enjoy the day – and she adds "if you're contemplating going skiing within 5 months of your wedding!"