Alison & Michael's Real Life Wedding
Alison's Back Garden, 8th June 2020
Photography by Matthew Allen Photography
__________________________
HOW THEY MET
Alison and Michael's lives have been intertwined since secondary school, but it wasn't until they volunteered together in the summer of 2018 that they properly got to know each other. 'Michael messaged me to see if I'd like a lift to one of our camp training sessions since we both lived locally, and the location was around 50 miles away. We both enjoyed the car ride and getting to know one another that day, so continued chatting and went on our first date just before the camp started,' Alison reminisces.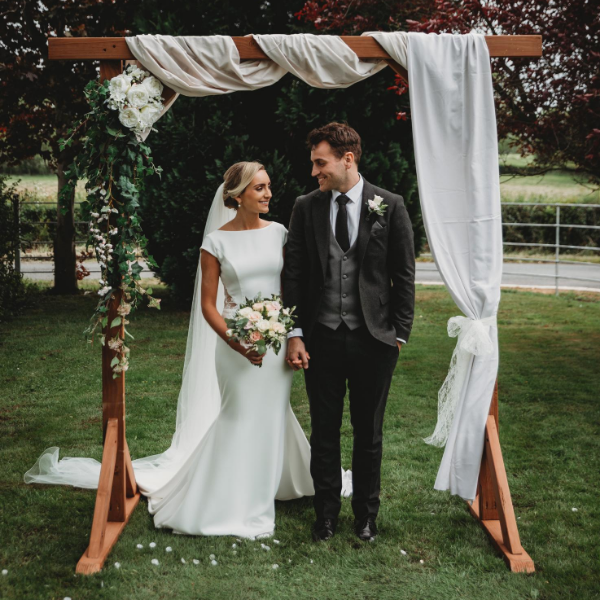 When sharing their first date, Michael jokes about leaving Alison hanging a little longer than expected. 'My phone died on my way home, so I didn't know Alison had messaged to check I'd arrived home safely, I didn't reply until the next evening.' Alison chuckles, 'I assumed he didn't want to see me again, it was a stressful 24 hours, but thankfully I was wrong.'
THE PROPOSAL
Michael got down on one knee whilst walking on Whiterocks Beach, along the North Coast. The surprise was almost spoiled by a pair of unknowing friends. 'We bumped into friends on the way, they were joking that we were going to get engaged soon, we just laughed and said, no way, they'll be next. Meanwhile Michael is standing beside me clutching my engagement ring in his pocket. About three minutes later he was down on one knee.'
PANDEMIC PROBLEMS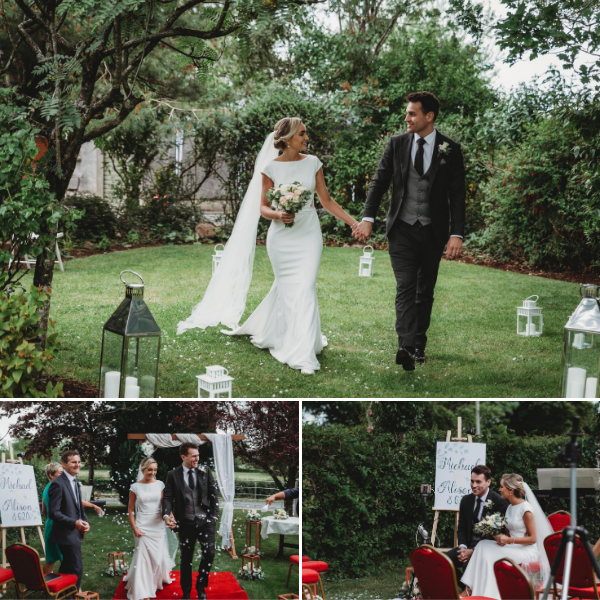 'We had originally planned to get married on July 24th 2020, but then the coronavirus had other plans. We knew the wedding we were dreaming off, filled with all our guests, wouldn't be allowed to go ahead. With so much uncertainty in the air, we made the tough decision to change the original date to April 2021. But we both decided we couldn't wait until then to get married, so we had to start thinking of other ideas. Our suppliers and venue were great, they completely understood the situation, and allowed us to transfer things to the following year.'
BACK GARDEN BLISS
Like so many of us, Alison and Michael kept their eyes on the news and followed all government guidelines, just wishing for the ok to go ahead. 'We wanted to get married as soon as the government allowed small weddings to take place,' explains Alison. 'We feared another wave of coronavirus/lockdown would come soon after and we would miss our chance. We chose a back-garden wedding because our government only allowed outdoor weddings at the time. This was not what we originally had planned but it turned out to be so much better than what we could have ever imagined! Now we wouldn't want to have had it any other way!'
Four days after the government gave the go-ahead for small outdoor weddings, Alison and Michael got married. There were just 10 people in total there, so the day felt really relaxed. The ceremony took place in Alison's family back garden, everyone stayed two metres apart. 'We had a socially distanced BBQ after the photographs in an outdoor marquee with some speeches which made it feel like a proper wedding day! The weather was fantastic – warm and dry and the most beautiful sunset in the evening.'
HELPING HANDS
'Friends of ours kindly made us a beautiful wedding arbour and welcome sign for the entrance to the ceremony. My friend was the florist we had chosen for the original wedding and she kindly arranged the most beautiful fresh flowers with just three days' notice. Another friend of mine kindly made a beautiful wedding cake, again in just three days, it was delicious! Our photographer Matthew was amazing too, he wasn't given much notice either, but did a great job, our photographs are incredibly special to us.'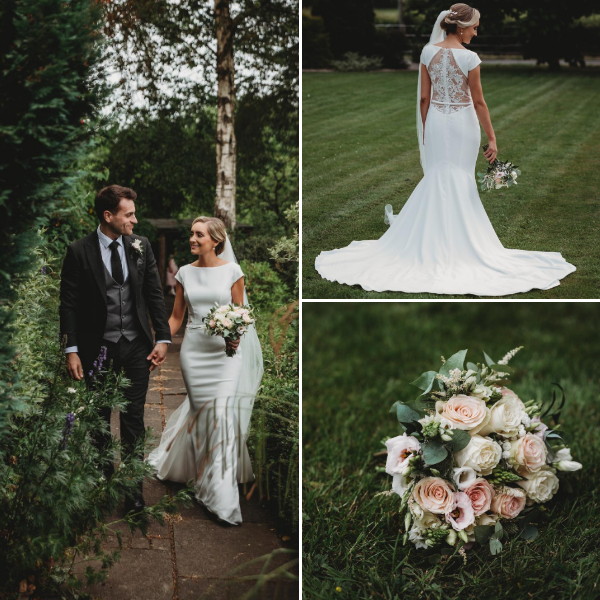 Thankfully the wedding wardrobe was already planned pre-lockdown. Alison's dress along with her veil and jewellery was picked and ready to wear. 'I had been organised and I am so thankful for that now because once lockdown started, it would have been a lot more difficult to find everything. Michael had even picked his suit up from Freddie Hatchet in February, so that had already been organised too.'
FAMILY MOMENTS
Michael's sister also got married on the same day, to her partner Stephen. 'This was absolutely not the wedding day we (or Helen and Stephen) had imagined, but there was something so special and intimate about it. We were able to watch Helen and Stephen's wedding via zoom whilst also getting ready for our own that afternoon! It was an exciting day and even if our weddings hadn't been held on the same day, we likely wouldn't have been able to be there since I have five other siblings and numbers were so limited due to government restrictions,' laughs Michael. 'Thankfully, we were able to meet up with Helen and Stephen in the evening and that was special. Our celebration next April will be a great chance to celebrate with everyone we love!'
SPECIAL THANKS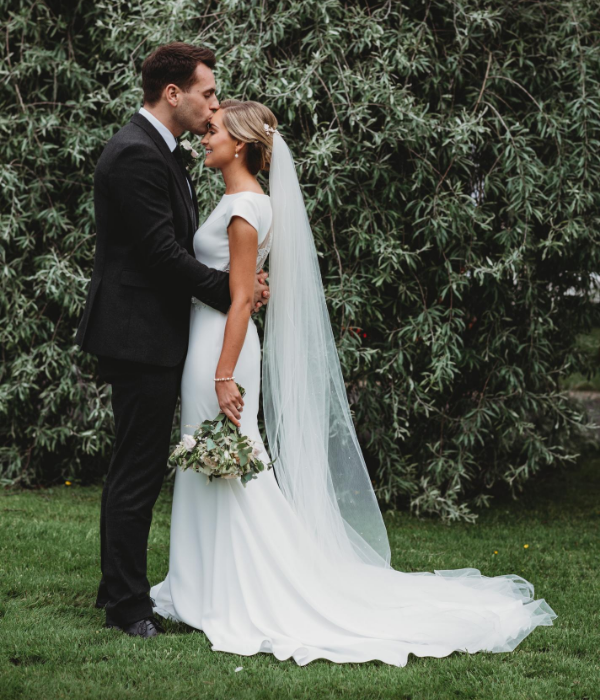 Alison and Michael had the love and support from so many on their big day. They would like to give a special shout-out and huge thank you to everyone involved. Tim & Christina for hand-making their beautiful wedding arbour, Gemma for painting the welcome sign, Claire for arranging the beautiful flowers, Cathy for making a phenomenal wedding cake, Matthew for taking incredible photographs and Rachel, Ian, Andrew and both of our families for helping set up everything! We couldn't have done it without everyone!
__________________________________________________________________________________________________
Alison & Michael featured in our first FREE digital issue – CHECK IT OUT!