Aoife & Damien's Real Life Wedding
Married on 15th September 2020
HOW THET MET
Aoife and Damien first met through their shared love of the stage and all things musical. 'We met whilst performing the musical Sweet Charity in 2012 with Harolds Cross Tallaght Musical Society (HXT). We very quickly realised we shared a similar sense of humour, after two years of friendship, we began seeing each other. Damien never fails to make me smile,' gushes Aoife. 'He started out as the leading man in my 'home society', I joined HXT in 2007, and quickly became the leading man in my life.'

THE PROPOSAL
With two actors, you wouldn't expect anything else than a show-stopping proposal, right? 'We got engaged in New York in December 2017, our friends did tease us about Christmas in New York, but I knew Damien wouldn't do anything too public. We had booked to do a walking tour around the streets and Broadway theatres, called Broadway Up Close. At the end of the tour, the tour guide, Tim, asked if we'd be 'guinea pigs' for a new element to the tour. We could go backstage at the Sondheim Theatre. On our way there, Damien leaned in and said, 'Do you know that this is the theatre that the musical Urinetown premiered on?' That was the first musical which Damien and I shared the stage as a couple, so there was a subtle hint there.'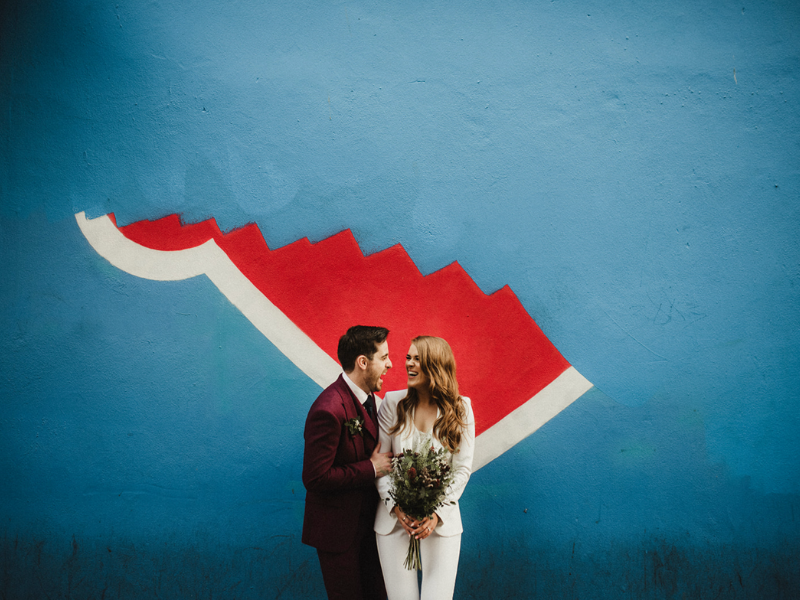 'I was busy looking out to the auditorium from the stage when I turned around to find Damien on one knee – after many 'are you messing' moments, I finally said yes. A trip to remember for sure!'
THE PLANNING PROCESS
Like almost all 2020 couples, Covid put a bit of a spanner in the mix for these guys. 'It definitely wasn't one of the potential problems we had prepared for,' Damien recalls. 'We had originally booked Tankardstown House for October 2020, which is such a gorgeous venue. When the pandemic hit and plans looked likely to change, we postponed with Tankardstown to October 2021. This got us thinking…we had been engaged two years already, so waiting another year felt like a lifetime. We had always loved the idea of a city wedding; we were both born and raised in Dublin and love the city! We started to look into venue's that could hold our ceremony, and that's when we found the gorgeous Cliff Town House.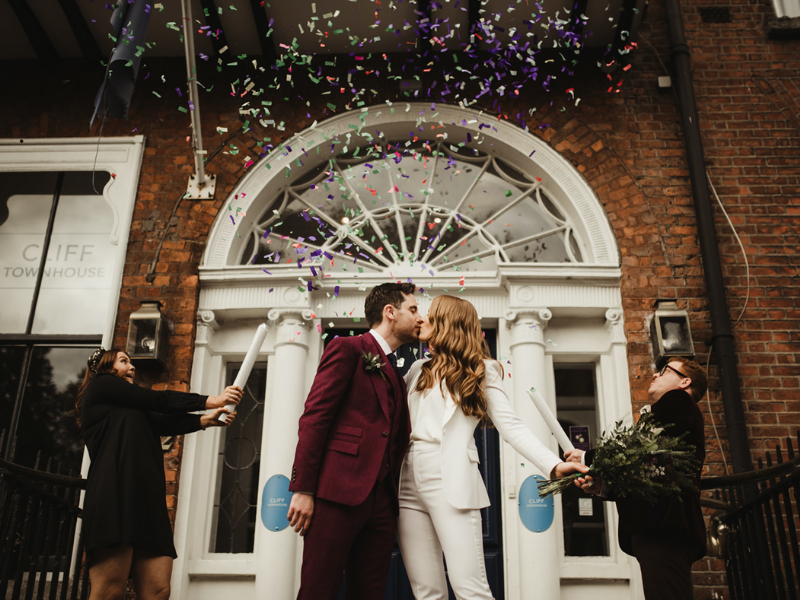 'We decided to keep our part one wedding a secret from all our friends and family, apart from immediate family and our bridal party. In one way it was like an engagement or elopement – there was such excitement for a bit of good news during these tough times.'
Aoife and Damien wanted a laid-back city vibe with very little frills. 'If the pandemic taught us anything, it really was that under all the favours and fuss, the most important thing that day is the commitment you are making to the love of your life. Love, happiness and laughter is the only theme you need!'
DREAM WEDDING SUPPLIERS
'We decided to go low- key on the floral arrangements this year, as it was a much more intimate celebration,' Aoife explains. 'We went to the wedding florist we have for next year's celebration, VP Flowers, Lucy was beyond helpful in there and brought our smaller vision to life. We wanted something with autumnal vibes, lots of greenery and chic for the city affair! We were thrilled with how the bouquet and buttonhole turned out.
'I'm very lucky to have a family of great bakers' Aoife laughs. 'My cousin and maid of honour Shauna kindly baked us a scrumptious lemon cake with gorgeous greenery and lemon macaroons as a surprise on the day. We hadn't even thought about getting a cake, but we were so thankful that she made it – every wedding, big or small needs cake!'
Laura at The Cliff Town House worked tirelessly to help Aoife and Damien. 'When we decided to postpone our bigger celebration, and go ahead with a more intimate affair on our original date, we were in a slight panic to organise a new venue. Laura was so kind and adjustable to our plans, she made everything so easy for us, nothing was an issue. Thankfully The Cliff Town House is so stunning, it didn't need much additional décor from us and suited our low-key vibes. Laura had candles lit in the fireplaces and mantelpiece, she was a pleasure to deal with. We adored the Georgian vibes in the ceremony room there.'
In light of Covid and their more intimate wedding, they kept the stationary digital! 'Prior to the wedding, we set up a WhatsApp group for our immediate family and bridal party who were due to be at the wedding, sending them a e-invite for the day, as well as seating plans for the ceremony and dinner to help offer some comfort around guidelines and social distancing. It ended up being a great group in the days after the wedding as it was a central place to share photos.'
WEDDING WARDROBE
Aoife decided to keep her wedding dress for their postponed celebration in 2021 with some more of our friends and family. 'I got very lucky this year and found a white suit on Zara. As a self-proclaimed Zara addict, it felt fitting to be kitted out in a Zara number. I picked up the cami and shoes on ASOS, the ultimate low-key and high-street ensemble.'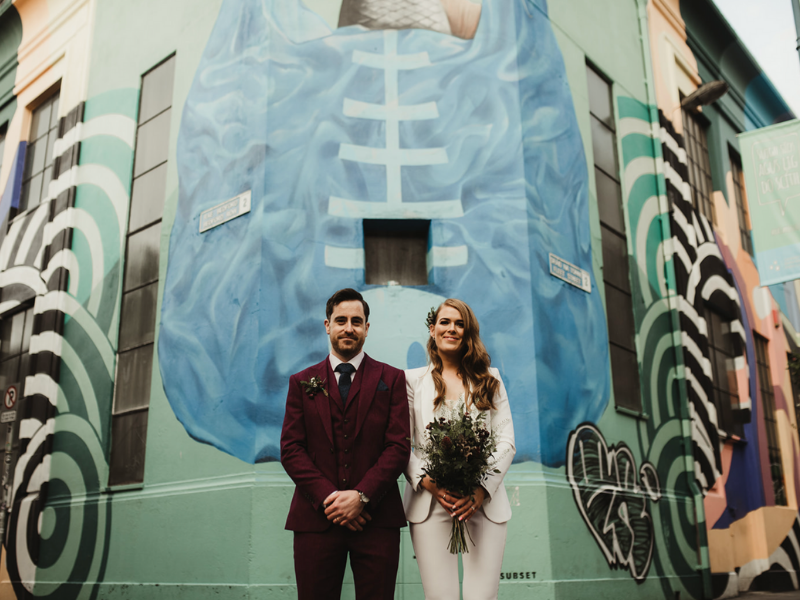 Aoife's gorgeous earrings came from One Dame Lane. 'I got my hair done in The Hive in Dame Lane, Karen was amazing in there, it was a very last-minute decision to add flowers into my hairdo. Karen convinced me – and although I'm not the most 'go with the flow' type of person I was delighted she did. Sarah Keary did my make up on the day, she was a dream make-up artist, and I look forward to having her again for our part two.'
Damien picked up his Moss Bros suit from Savoy Tailors Guild in Kildare Village.
EATING & DRINKING
Aoife and Damien visited The Vintage Kitchen restaurant for dinner, the team there spoiled the newlyweds with fabulous food and great craic. 'Sean, the owner, was so kind to accommodate us, we had the restaurant to ourselves. He put up decorations which we dropped in the day before and printed personalised menus for us without us even asking.'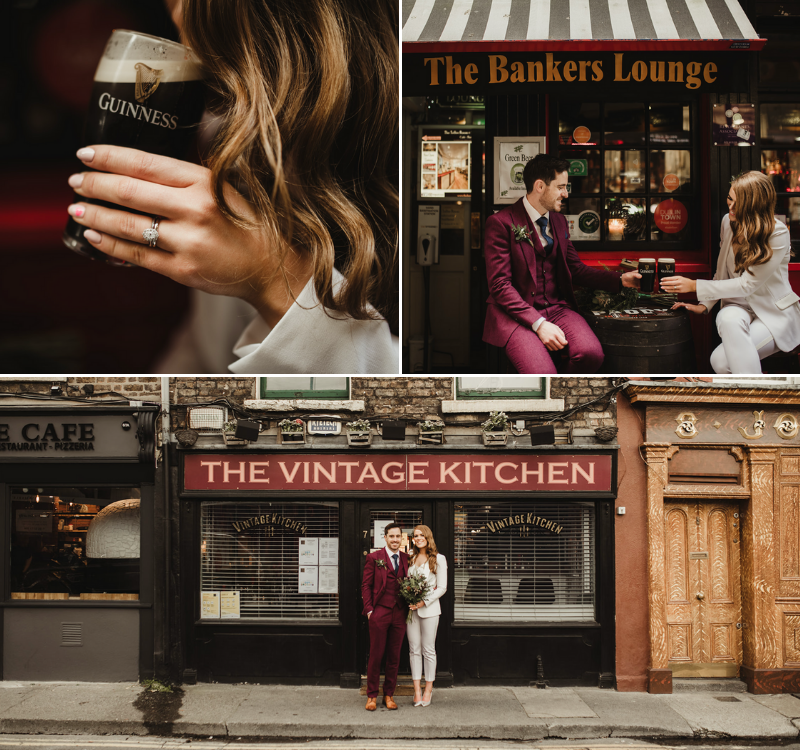 'As for the food – anyone that knows Vintage Kitchen, knows how good the food is, there's a reason you have to book a few months in advance for a table on a Saturday. We left with stomachs and hearts full and happy heads!'
CAPTURING THE DAY
Tomasz Kornas was one of the first suppliers Aoife & Damien booked. 'I had followed him on social media for a few years and absolutely loved the moodiness of his photos,' Aoife shares. 'As we were having an autumn wedding, we felt his style would perfectly suit the season. Having him at our smaller wedding this year was one of the best decisions we made. It felt a bit like a warm-up shoot for next year, we had such a laugh with him, he is such a kind and warm person, and he went above and beyond for us, really giving us so much time on the day.'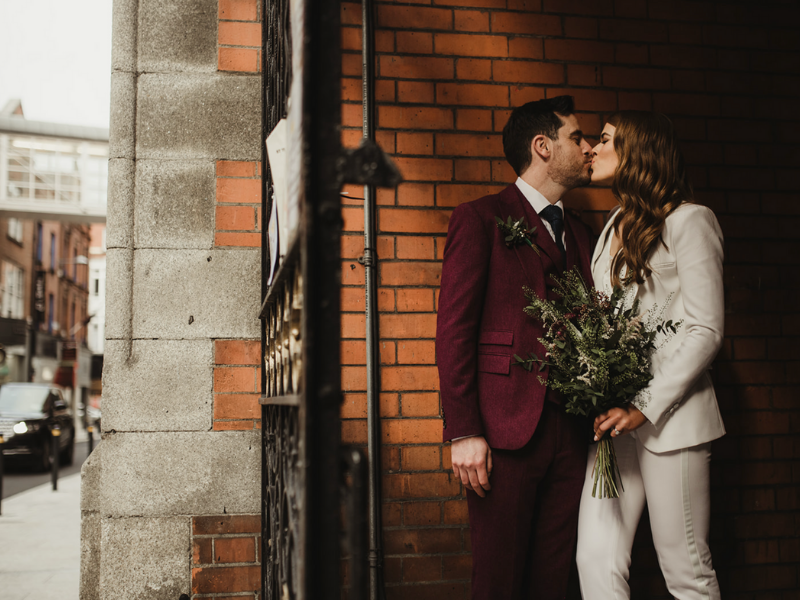 'We feel he captured the emotions of everyone on the day perfectly – every smile, laugh and tear were captured. Best decision ever, we can't to have him at our day next year.'
FAVOURITE MOMENT
Damien's fondest memory from the day was exploring the streets of Dublin finally as man and wife. 'We felt such a sense of accomplishment – we couldn't believe we had got to this point and were finally married. Those moments together, just to the two of us (and Tomasz in the background) felt so special, like stolen moments.' Can you cope!!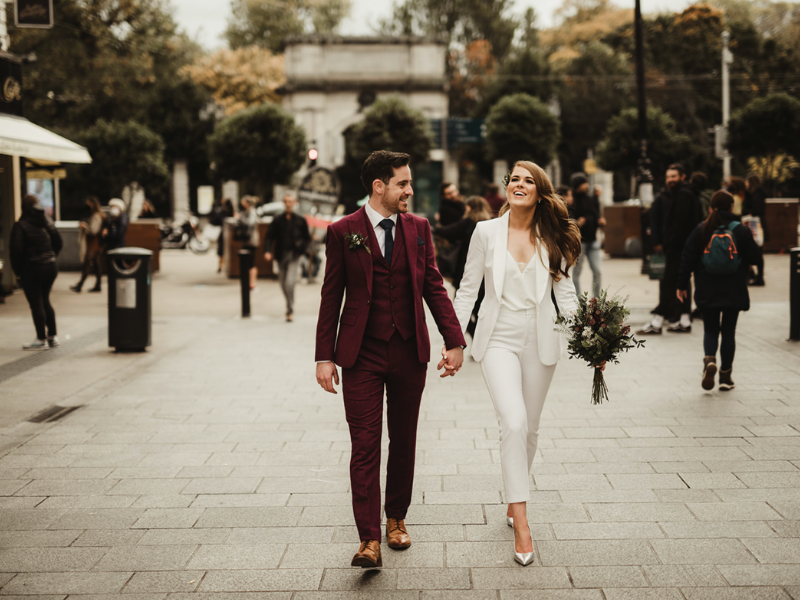 Aoife shared that her favourite moment was the love she felt during the ceremony. 'We were lucky enough to have our original spiritualist celebrant Berenice Farrell do the ceremony. She made it so special and personal. Just after we said our vows and we were pronounced husband and wife; the excitement got the better of my Dad and he jumped up to give us both a hug. I think he was alarmingly excited to give me away, we had to tell him to sit down as there was still the signing and a poem to go. It was a really lovely, pure moment.'
____________________________________________________________________________________________________________________
Aoife & Damien's Dream Wedding Team
Damien's Wedding Suit – Moss Bros
Hair Stylist – The Hive, Dublin
Wedding Meal – The Vintage Kitchen