Celebrating the positive things in life, Lauren from LIT Photography brings you Life from LIT.
An honest, emotive, relatable brand for women who choose to embrace every moment in life. We first spoke with Lauren when we were working on our 2021 Reception Planner – you might have spotted her gorgeous autumnal shoot at Drenagh Estate.
We caught up with Lauren and Emma, socially distanced of course, to dive deeper into the Life from LIT brand. Check it out…
So Lauren, what first got you into photography and how has your brand grown over the years?
'I got my first camera four years ago, it was something to help me recover from Postnatal Depression after having my daughter. I was really struggling to leave the house so photography helped with that. I started taking photos of my kids, and then a friend from school saw them and asked would I shoot her wedding. I said no way! I thought I could never handle the pressure, but she talked me into it. I'm so glad she did because I fell in love with it. LIT (Lauren Isla Tyler after myself and my kids) photography quickly evolved and I left my job in 2018 to go full time.'
View this post on Instagram
'Everything was going really well when Covid hit, and all of a sudden the business I'd spent the last few years building disappeared. At the same time I had to postpone my own wedding and I found myself researching projects I'd had in mind for the longest time. I really wanted to create something subtle, sustainable and high quality for brides. Something that they could have to celebrate being a bride and get them excited, whilst not being tacky or in your face. And so Life from LIT was born.'
Love it – so what did it feel like, actually holding your first products and seeing brides use them?
'It has been the most incredible experience. We started with the journal first, and it was only to ever be sent out to my photography clients. But when I seen how much people loved the design and friends suggested a t-shirt, I was so keen to keep growing. I am really passionate about sourcing eco-friendly and sustainable products, whilst keeping everything as local as possible. I'm also a mum who is obsessed with clothes washing well, so trying out all the samples and making sure they washed well was important. I was literally buzzing when I saw my friends wearing them, that I'd gifted them. So when people actually logged on to my website and bought them it just blew my mind. I saw someone wearing one recently in the street and it still doesn't feel real.'

How have you managed to juggle this new venture, wedding planning and parenthood during a pandemic – you must be tired!
'The brand, and LIT in general has evolved so fast, especially given the times we are in. I still can't fully believe it. Juggling both, and a young family, I realised that I had to grow the team. I couldn't do it alone any more. So Emma came on board in August, and our line has evolved from a journal and a t-shirt to the super popular Life Sweatshirt.'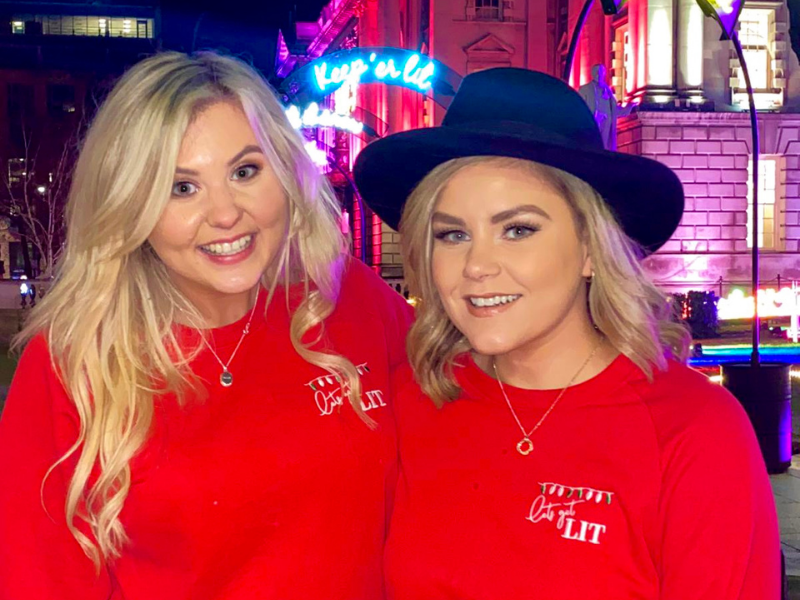 'My personal highlight was having our Christmas collection, which included a kids range. The adult lines sold out in a night, but the best part was getting to match my kids and having them wear theirs into school. It's crazy how far we came in just six months.'
So you're really starting to hit a new market now?
'Whilst Life From LIT naturally started out as being for brides, and wives. It has become something so much more than that, and I'm really keen to continue that. It's a brand for women. We have our four main lines that I hope speaks to every woman out there: Bride Life, Wife Life, Mum Life and Boss Lady.'
'Not everyone will be a wife, a bride or a mum, but every woman on the planet is a Boss Lady. For me this brand is about celebrating all that it is to be a woman; from the milestones to the mindset.'
That's epic – so what's next for Life from LIT ?
'2021 is going to be BIG! We plan to build on what we've started in 2021, not only with our lines, but also with our message. We want Life From LIT to be like a giant club for women to come together, motivate and inspire. We're going to be launching our podcast and we have lots of other things planned to really grow the community. 
Well we can't wait to see where you take this fantastic brand next – if you would like to check out their store online, Lauren has kindly gifted our readers with an exclusive online discount code!
Use code WEDDINGJOURNAL for 10% at lifefromlit.com