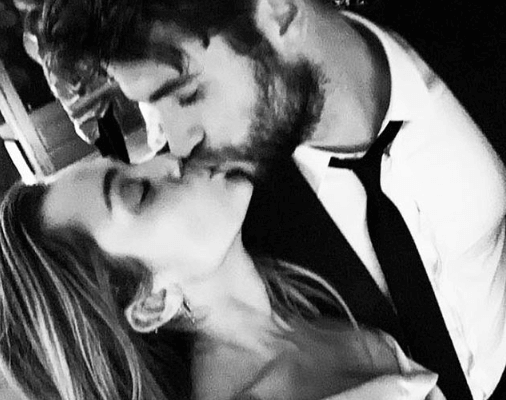 Miley and Liam Honeymoon In The Snow
Just one week after Miley Cyrus and Liam Hemsworth shocked fans with their long awaited and secret wedding, the pair have taken to the slopes for their honeymoon.
An early Christmas present appeared in the shape of Miley and Liam's wedding on 23rd December. After being engaged for two years and together for ten, the pair finally tied the knot in an intimate ceremony in their Tennessee home surrounded by loved ones.
They wanted to keep their wedding as secret as possible, probably so the element of surprise was more effective, but a few family Instagram pics reveal some of the gorgeous details, such as Miley's dad, Billy Ray Cyrus, posing with her mother, Tish, at a stunning floral arch and a fuzzy but happy photo of the happy couple cutting their cake on his old blackberry phone (visit @billyraycyrus on Instagram for more).
Miley stunned in a custom Vivienne Westwood, ivory silk-satin dress, that draped elegantly from off-the-shoulder while Liam went for the traditional suit jacket, shirt and tie. It was important to them to have a small, intimate affair after the trauma of losing their home in Malibu to the California fires.
After their wedding, the newlyweds took to Montana to bring in the New Year with Liam's family on a skiing honeymoon.
Chris Hemsworth's wife, Elsa Pataky, shared a post posing in front of the same 2019 balloons featured on Miley's Instagram, along with a group photo including Miley herself, writing 'Happy 2019. Feliz ano 2019. @chrishemsworth. #thegirlsgang' Also in the photo is Luke Hemsworth's wife, Samantha.
https://www.instagram.com/p/BsGZP02HNBd/
While taking your family on honeymoon seems a little unconventional, fans of Miley know she's not one to shy away from being different. It's also a great time of year to take a family holiday and who knows, Miley and Liam could still fly off to a sunny island yet!
Set Featured Image: @mileycyrus / Instagram