Leigh & Graeme's Real Life Wedding
Drenagh House Estate, 7th October 2019
HOW THEY MET
Like every great love story, Leigh and Graeme first started out as childhood sweethearts. 'Graeme was the year above me in school, we had a few friends in common, but we only started dating 12 years later when I was working in a bar. Graeme moved into the local area and popped into the bar with friends for a drink one night. We got chatting, then one thing led to another, and two weeks later we went on our first date.'

THE PROPOSAL
Leigh starts to laugh when we first ask her about Graeme's proposal; let's just say things nearly didn't go quite to plan. 'It was a horrible rainy morning; it was actually the day before my birthday. Graeme was trying to convince me to go for a walk around Belfast Castle, but I was having none of it. He finally convinced me to go with the promise we could visit their cat garden, where they have hidden cats for visitors to find. He knows me too well; I can't resist cats.'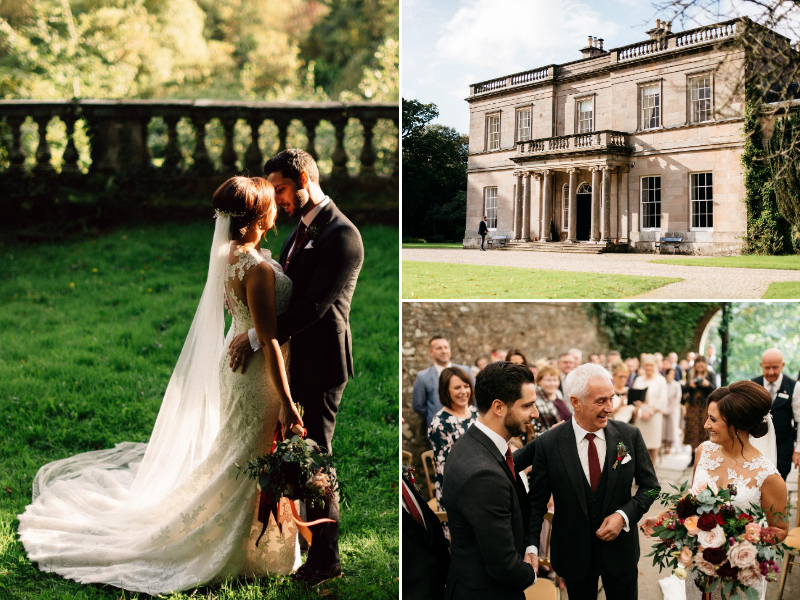 'We braved the weather and walked a few more loops around the garden, then just as the sun started to split through the clouds, Graeme took to one knee and asked me to be his wife. Luckily another couple passing by snapped a few pictures with their camera, so the moment was captured perfectly!'
THE VENUE
'When we first started wedding planning, we discussed the different venue options we liked, and both agreed we loved the idea of a country estate. So, we booked in to view a few different venues, but once we walked around Drenagh Estate, we instantly fell in love,' recalls Leigh. 'We were shown around by Gail and she was so helpful and informative.'
'The fact that you can move around the different parts of the venue as your day goes on was a massive plus for us, the moon garden ceremony room was so different to anything we had ever seen. This was followed by the reception rooms on offer too, it was full of character and had the exact vibe we were after. As we were driving home, we both turned to each other and knew that Drenagh was our dream venue, we came back the next day to book,' laughs Graeme.
THE PLANNING PROCESS
Fall has always been Leigh's favourite season, so when it came to styling her wedding, there was a subtle theme incorporated throughout the day. 'I love autumn colours and rich burgundy really stood out for me as the main colour to centre everything around. I also love copper tones and velvet textures, so I tied a few of these unique features into the décor and flowers. The Wedding Room provided the gorgeous copper lanterns that were on the stairs and entrance to the marquee, they also provided the candles for the wall pockets during the ceremony, twinkle lights and drape back drops.'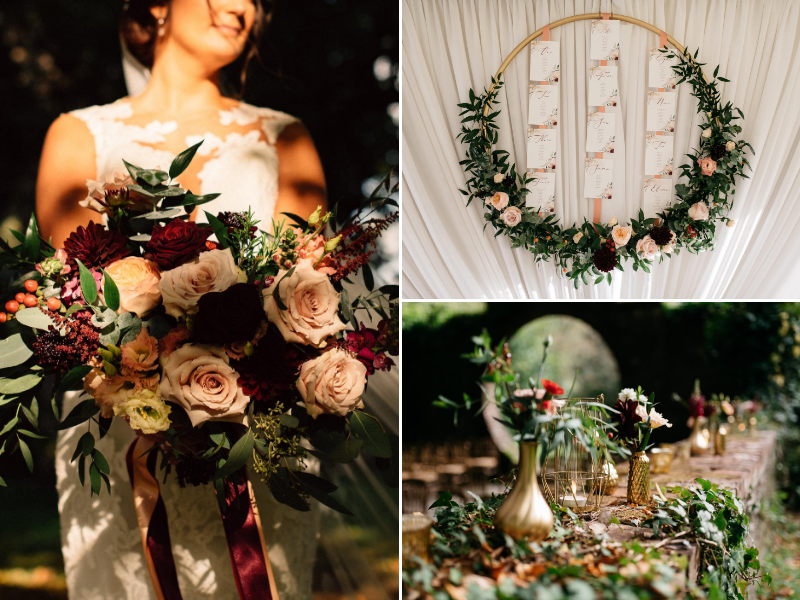 Leigh chose Victoria from Tortraits Floral Design to help add some finishing touches both with bouquets and around the venue. 'Victoria really understood the look we were going for and provided so many great ideas with our table decorations, moon garden décor and her stunning work on the main house staircase, we really could not have achieved any of this without her!' Ciara Patrick Designs supplied the most beautiful stationery for Leigh & Graeme. 'We loved her work from the beginning, everything was so delicate and feminine, with lots of little details which I love,' adds Leigh. 'Ciara was so easy to work with; she incorporated my colour palette into everything perfectly.'
WHAT THE BRIDE WORE & THE REST…
When thinking back to planning her big day, Leigh has fond memories of visiting Elsebeth from Peony Bridal in Hillsborough. 'I have known Elsebeth for years and bumped into her on the day I booked Drenagh for our wedding. I made an appointment to see her and although I had already been to another shop, I felt so special from the second I walked through the door. The service is truly attentive, you are the only person booked into the appointment, so it doesn't feel like you are competing with space or being overlooked by anyone. I could have tried on so many dresses, and ultimately Elsebeth picked out a dress that was 'the one'. I always wanted a lace dress, but I loved the back and neckline detail of the dress, the belt added that little bit of bling!'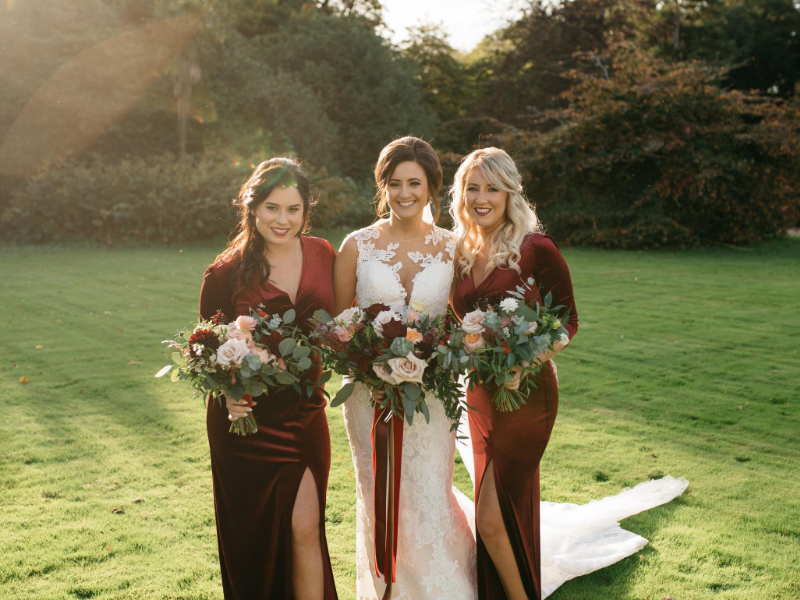 Leigh had always imagined her bride tribe wearing burgundy velvet bridesmaid dresses, but they aren't the easier to find. 'I took the girls to a few different places, but I finally found the dream dresses online at Folkster. They fitted perfectly and both girls were so comfortable all day, I couldn't believe my luck at finding exactly what I had imagined! Perseverance is key ladies!'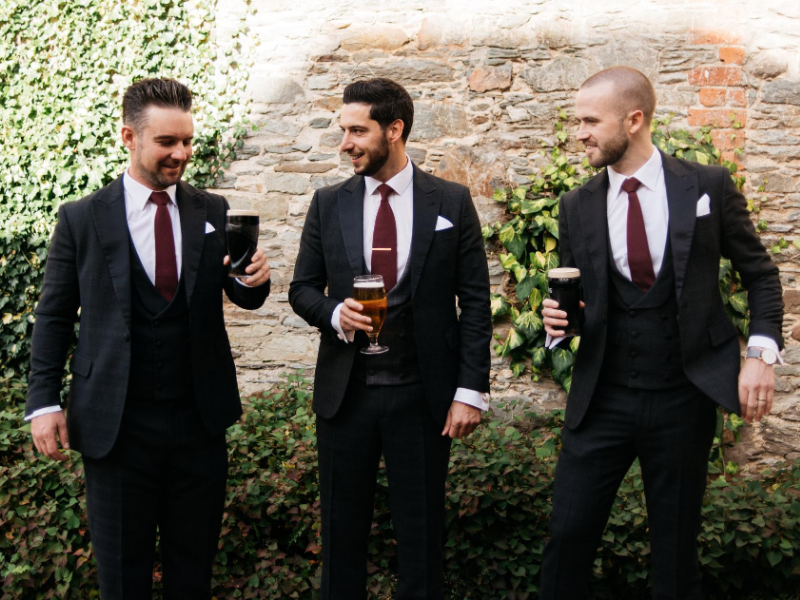 Leigh describes Graeme as a very stylish and quite decisive gent, who is particular with his fashion choices, so she knew she could trust him to pick the perfect suit. 'I booked an appointment with the team Red Groomswear in Belfast, they were fantastic. I was expecting it to take a couple of trips, but I surprisingly found the perfect suit during my first fitting; that's quite the achievement. The staff at Red were brilliant in providing any last-minute changes we needed for the day, they made the full process quick and simple.'
EATING & DRINKING
The best way to sample food is at other couple's weddings, and one particular alternative idea stuck with this young couple. 'We had previously attended a wedding that had a charcuterie board as a starter and it always stuck in our heads,' jokes Graeme. 'We thought this would be a good way to get people chatting. Our main course was a choice of Duck or Chicken and we had a trio of desserts to finish off. All of the food that Drenagh supplied was faultless, everyone raved about it and the portions were so generous.'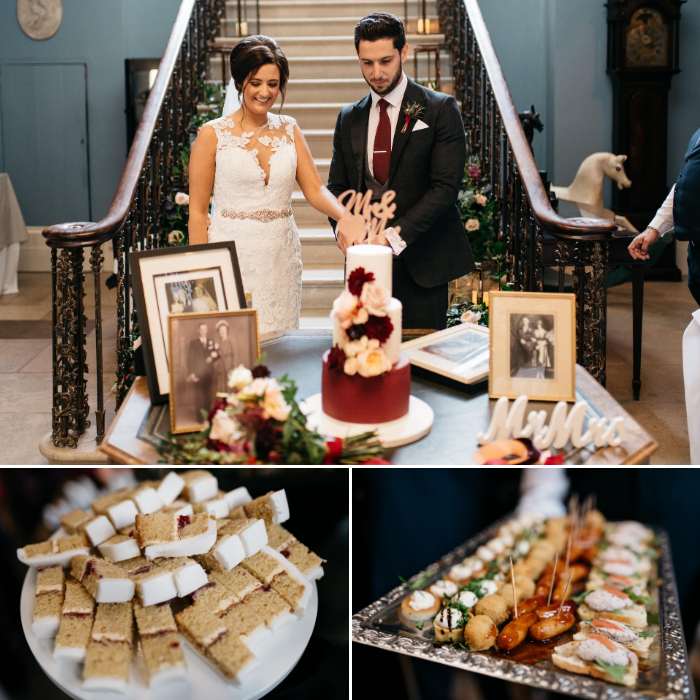 When it came to sourcing a wedding cake supplier, this was a no brainer. 'I first met Gemma of Gemma's Cakes at the Wedding Journal Show at TEC Belfast and I was sold from the first bite of her chocolate & Guinness cake! I bumped into her again at Drenagh's showcase day and got to try some of her other flavours too. Gemma and her husband are so talented, their cakes are so light and fresh with the most beautiful flavours. Gemma was fantastic helping with the design as well, and so accommodating to all the questions! In the end we chose a 'fake cake' due to the service required with pre-cut slabs ready to be served with our canapés at the reception. The flavours we picked were chocolate and Guinness, lemon, gin and elderflower and raspberry and white chocolate, they were incredible. We couldn't count the compliments we got on the cake that day, we're drooling now just thinking about it.'
CAPTURING THE DAY
'To us, choosing the right photographer was one of the most important things to get right, as your wedding photos are something to look back on for years. We had come across The Three Bears when we noticed they had photographed the wedding of someone Leigh used to work with, and we loved their effortless style and relaxed photos. They were perfect for us as we both hate getting our photo taken formally, they kept things fun throughout the day. They were amazing at getting those intimate shots without feeling posed, we love every shot they captured.'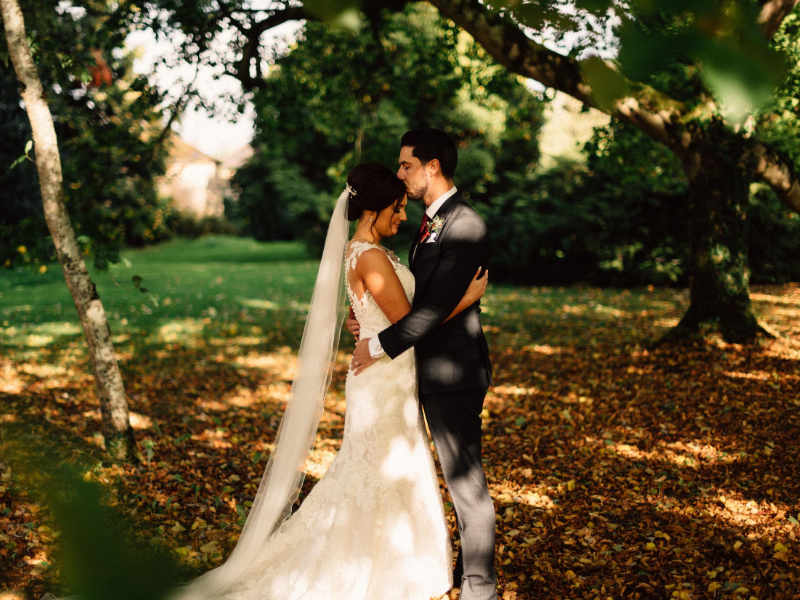 Finding the perfect videographer was also important, Leigh and Graeme came across Clive at Pigmint Film on social media. 'We knew straight away when we watched his videos that he was perfect. On the day he was fantastic, he melted into the background and just captured the day naturally as it unfolded, we regularly watch our video with such fond memories.'
FAVOURITE MOMENT
Leigh reminisces that walking up the aisle to meet her soon-to-be hubby was a highlight for her. 'Walking up the aisle to my favourite song, 'Heroes' by David Bowie, being played by Ionian String Quartet, with the weather and the moon garden, full of family and friends, it was perfect!'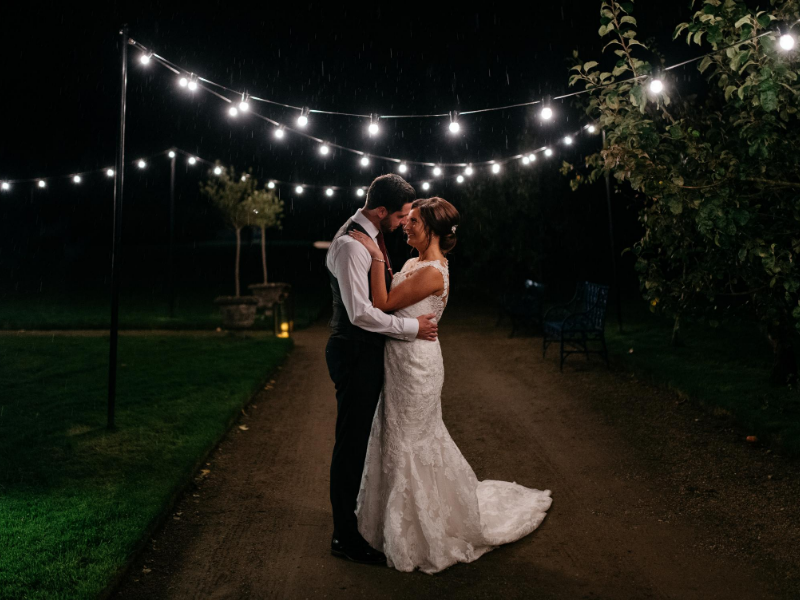 Graeme can't pick just one favourite moment, but one memory he is particularly fond of is just after the ceremony. 'We were taken into a private room in the house and a member of staff said you're now husband and wife. That was a surreal moment, it made me feel quite proud of everything we'd achieved together, along with the large drink they poured us!'
______________________________________________________________________________________________________________
Leigh & Graeme's Dream Wedding Team
Groomswear: Red Groomswear
______________________________________________________________________________________________________________
Alison & Michael featured in our first FREE digital issue – CHECK IT OUT!