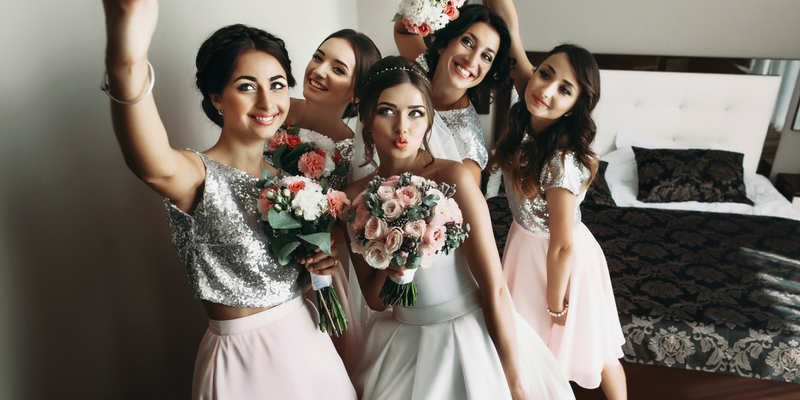 Six Social Media Commandments For Your Wedding Day
Gone are the days where brides and grooms had to patiently wait for weeks before catching a glimpse of their all important wedding photographs. In the age of Instagram, Facebook, Twitter and Snapchat; wedding photos, details and videos are being shared in real-time on the social sphere by wedding guests, often without a second thought!
Although this may be a great thing for some, and the perfect way to see those natural and behind-the-scenes photographs of guests enjoying your day, it can be a pain for many.  There are various ways to utilise social media to your advantage on your wedding day, however, if you want a private affair where YOU have the power in sharing that precious first snap of your wedding dress or your first selfie as bride and groom, then it may be time to introduce some rules and regulations for your guests to follow in order to keep your nuptials under wraps. Check out our top six rules to share with guests and to make the most of social networking, for the ultimate guide to wedding social media etiquette.
Rule #1 Don't obstruct the photographer's view
Everyone wants to get that first view of the bride walking up the aisle to her adoring fiancé, and the moment that they exchange their 'I Do's'.  However those perfect aisle shots could soon be shattered due to the sea of smart phones being stuck out by guests trying to nab their own snaps! Remember to give the photographer some room to work their magic and capture the perfect images for the couple's special day.
Rule #2 Use the wedding hashtag
In this digital era, the majority of brides and grooms will have created a fun or personal wedding hashtag such as, #Mr&MrsCarter2017, for guests to use when uploading pictures of their big day.  For each picture you share, make sure you include the hashtag on social media so the newlyweds can track them and see all the fun and natural pictures of their special occasion!
Rule #3 Don't live stream the wedding
Unless you've been appointed to live-stream part the wedding for a far-distant relative who couldn't make it on the day, then this is a major no-no. Respect that this is a personal and private celebration by invitation only, and as tempting as it may seem, avoid tapping that Facebook Live button!
Rule #4 Share photos of the newlyweds at their best
Whilst the newlyweds will undoubtedly be looking as beautiful and as loved-up as ever, that doesn't mean we can't all end up with an unflattering photo! Don't upload any photos where you've caught the couple mid-sentence, of a situation gone wrong or an image that is less than unfavourable, unless of course the couple see the funny side and give you the go-ahead!
Rule #5 Share photos the day after the wedding
Whilst you can upload your #weddingselfie and outfit posts till your heart is content, avoid sharing too many intimate photographs of the couple on the morning of the wedding, particularly during the ceremony, as you don't want to ruin any surprises for the guests solely attending the evening do! If the bride and groom are close friends or relatives and give permission, one photograph is fine on the day of the wedding, and you can always upload the rest of the images the day after!
Rule #6 Be Present & Celebrate
Unplug from social media and enjoy the day! Whilst you'll want to share in commemorating the couple's special day, don't miss out on key moments by reaching for your phone! Be present, celebrate the occasion and avoid constantly checking social media. Instagram can always wait till the morning…
Planning a wedding?
Let us help you out.
Our most popular articles