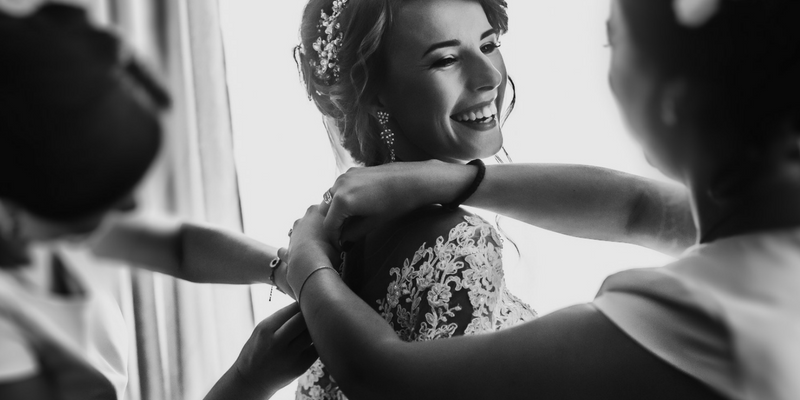 How To Successfully Shop For Your Wedding Dress
If you are a bride who is dreading the thought of shopping for your wedding dress, then fear not!  We believe this should be one of the most fun and magical experiences of your wedding journey, so we have put together our top tips for getting you started on the quest for your dream dress…
Create Bridal Style Boards
First and foremost, before hitting the shops you should take inspiration from the glossy pages of bridal magazines *ahem*, designer websites and online platforms such as Instagram and Pinterest to start gathering ideas on what your dream dress could be.  This is a great way to show your bridal consultant what you're looking for and she can pull out similar styles in the boutique to show you once you begin appointments.
Source Your Favourite Designers
Before venturing to your local bridal boutiques as soon you've got engaged, it's important to do your research.  Once you have trawled through wedding blogs, websites and magazines to source your favourite styles, you must check to see if any local bridal boutiques stock your favourite designers, and if they cater to your size. This can often be found on the bridal boutiques company website, or alternatively by calling the store.  It's worth remembering that not all bridal boutiques will stock curvy sample sizes, so it's best to check with the boutique beforehand. However, many offer a service where you can order in your size (if available) for a small fee.
Embrace Your Body
The best way to ensure you find a dress that flatters your figure and you feel comfortable in, is to consider your body shape. Consider necklines, waistlines, length, sleeves/straps and trains. Although many brides are determined to lose weight for their big day – don't put yourself under pressure – work with what you've got and flaunt it with confidence. There are certain aspects to consider e.g. if you are shorter, opt for an A-Line dress to appear taller, or perhaps consider a fitted fishtail to flatter you if you are taller.
Personal Style
Many bridal sales consultants will begin your appointment by asking you what your preference in neckline and fit of a dress is; one of the best ways to gauge this for yourself is to think about what you would normally wear on a night on the tiles with the girls, or what you have worn to previous formal events.  You will begin to realise what you feel the most comfortable in, and which shapes or necklines that flatter you the most.  Ultimately this is one of the most important factors of choosing your bridal gown, as reflecting your personal style will make you feel the most confident.
Shapewear
Invest in some good quality shapewear and undergarments and wear them to your bridal appointments to get the best indication of what a gown would look like on the day, as well as making you feel great!  A well-fitting bra and tummy control is a must, however with the right dress you may not need either at all, as many curvy collections have fabulous built-in corsetry to cinch in your silhouette.
Don't Bring an Entourage
Bringing a huge entourage of people to your bridal appointments can be confusing, overwhelming and stressful for many brides. We recommend bringing along two-four of your nearest and dearest style advisors to avoid conflicting opinions. Regardless of opinion, trust your instincts and go for a gown that makes you feel fabulous!
Bridal Beauty
For an extra kick of confidence, have your hair and makeup done before attending your bridal fittings once you have chosen your dream gown. With many salons now offering a 'pre bridal' package, this is a great way to see how everything will look on the day.
Consider Time Frames
Typically (although not strictly) bridal boutiques would recommend purchasing a dress around eight months before your wedding date. This is five months for the dress to be made and two months allowance for shipping and alterations. However, this can often be more. It's best to start shopping one  year before the wedding to avail of the latest collections straight off the catwalks, start too early and you may regret choosing a 'last season dress'. You can of course order your dress in a shorter amount of time, however don't leave it too late that you make a haste decision in a panic and get #dressregret!