Who doesn't want to look flawless on their wedding day? 
Feeling and looking good comes from within however, having a makeup artist work their magic on your big day definitely helps! Choosing your makeup artist is important but knowing which foundation is best for you is so important. 
You'll need the perfect base for your wedding day makeup, take a look at our favourite flawless foundations to help you choose yours!
We all know weddings are super expensive so if you're looking to do your own make up we suggest practicing and trying new things to find what works for you! The benefits of doing it yourself are 1) you're in control- no bridezilla moments should arise and 2) It's cheap, no more bridal trials and forking out for an expensive makeup artist. 
Georgio-Armani – Glowy, Dewy Skin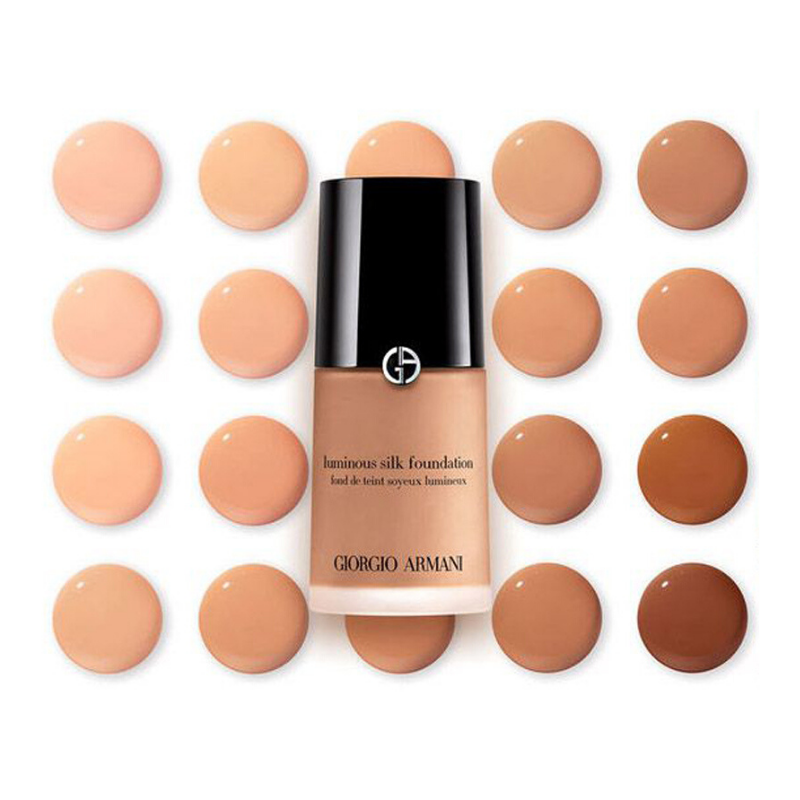 Get glowing dewy skin with the amazing Giorgio Armani Luminous Silk Foundation.  Slightly pricier than normal foundations this foundation is a go to for many celebrities and beauty influencers, even the Kardasians have this in their makeup bags! 
'Luminous Silk' is perfect for a bride looking for a light weight minimal coverage foundation which still covers up imperfections – because let's face it who is?
Coming in at £41, it's not super affordable and it doesn't have any SPF in it, but for some reason, we all still love it and swear by it. It's one to consider and might just be a Wedding Journal favourite.
Charlotte Tilbury Magic Foundation – £32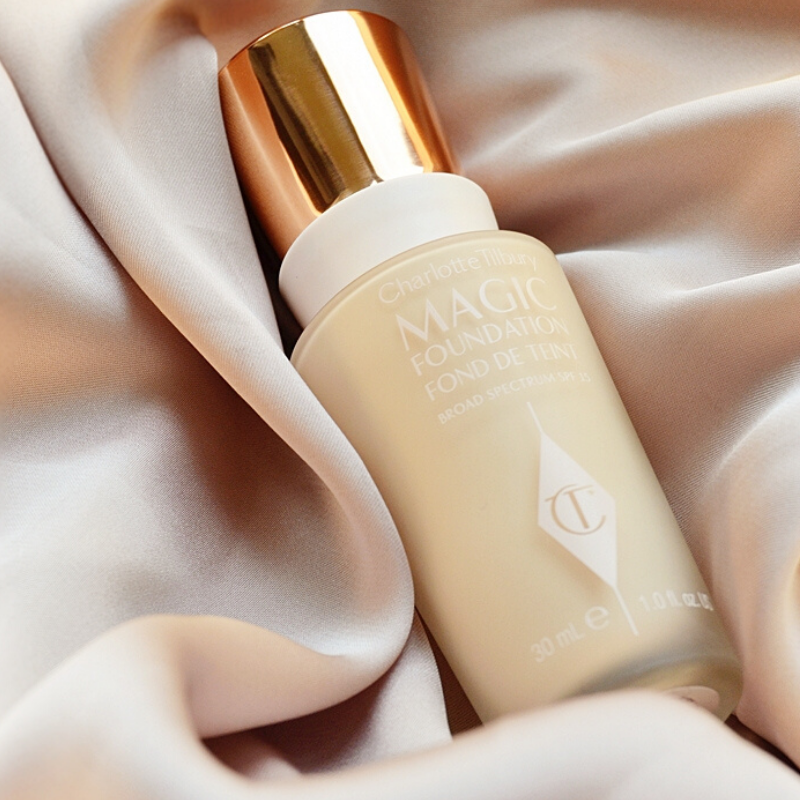 There's just something about Charlotte Tilbury makeup that has a rich luxurious orra around it. 
Charlotte Tilbury somehow seems to achieve product perfection time and time again, with no exceptions and that goes for our readers favourite their 'magic foundation'. 
The foundation experts from Charlotte Tilbury claim to pack this product full of Vitamin C- ideal for nourishing your skin and giving you a long tem skin care fix as it claims to reduce imperfections over time. Bearing this in mind, wearing this foundation on the run-up to your wedding and not just on your big day is fully recommended. 
This foundation is more full coverage giving you the ultimate flawless complexion most brides strive for. 
Zoeva Authentik Skin Foundation – £25
All hail long last foundation! If you're over spending time and money on foundations that fade within a few hours Zoeva could be your perfect match. It's renowned for being long-lasting and weather proof (perfect for all of our Irish brides). 
Zoeva's Authentik Skin Natural Luminous Foundation is enriched with rose hip oil, which makes your skin feel soft and it's coverage lasts all day long. The foundation applies easily (perfect for a DIY kind of bride).  We'd recommend a buffing brush to create a flawless bridal make up look.
Your wedding day goes in fast for you but in reality your make will need to stay on for a number of hours. Our brides tried and tested this foundation and 95% of them agreed that the foundation didn't budge. Choosing a great primer and setting powder can help you keep the flawless look for even longer – be sure to read up on your options!
Estée Lauder Double Wear Foundation – £33.50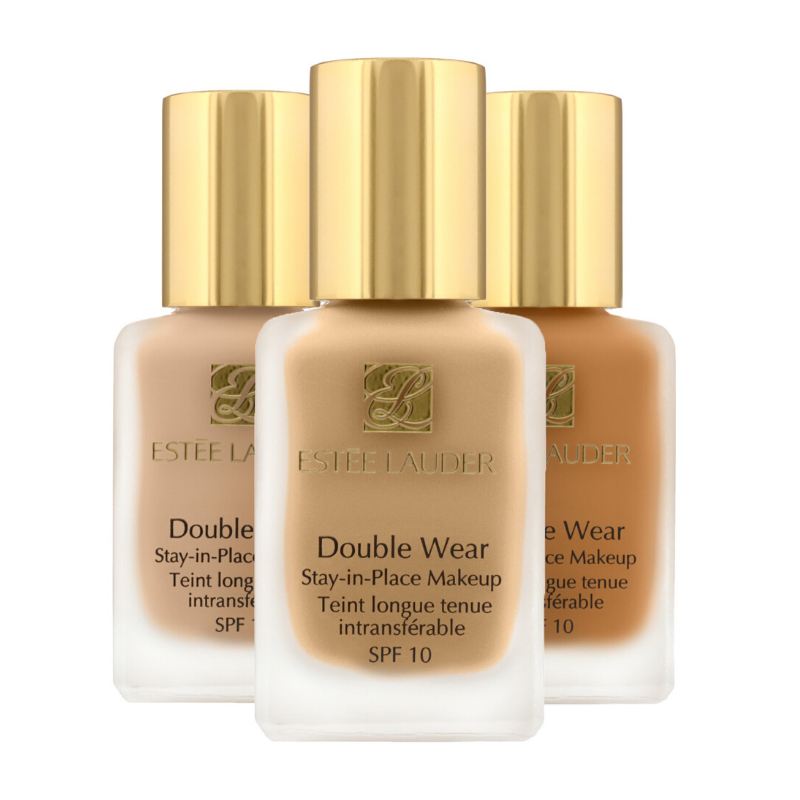 Hello full coverage! This foundation is a total must-buy for anyone who loves full coverage, and if you're hoping to avoid any makeup touch-ups on the big day, it will be your new best friend.
Double Wear Stay-In-Place is the #1 prestige Foundation in the UK. It's one of favourite longlasting foundations especially for bridal makeup. 
According to Estee Lauder this product is long-wearing , stays fresh and looks natural through heat, humidity and nonstop activity. It feels lightweight and comfortable and promises not to change colour, smudge or come off on clothes. Now the flawless look you see in the morning is the look you keep all day. 
L'Oreal True Match Foundation – £9.99
Loreal-true-match
Hello high street favourite! If you're looking a great foundation at an affordable price this ones for you. The high street has some amazing foundation options out there, for a fraction of the price of higher-end alternatives. For brides doing their own bridal makeup we recommend this easy to use, blend-able foundation. 
L'Oreal are known fior having a great shade range, so finding your perfect match couldn't be easier. Available in 23 shades, this foundation is a favourite among tan lovers who constantly alter their tanning regime throughout the year. On paper, it should also suit most skin types – it has a lightweight consistency perfect for oily skin however for those with drier skin types watch out as we don't our foundation to cling to those dry patches. Fear not a great moisturiser and primer can go a long way in creating a neutral base before make up application. 
MAC Studio Fix Fluid SPF 15 30ml, RRP £24.50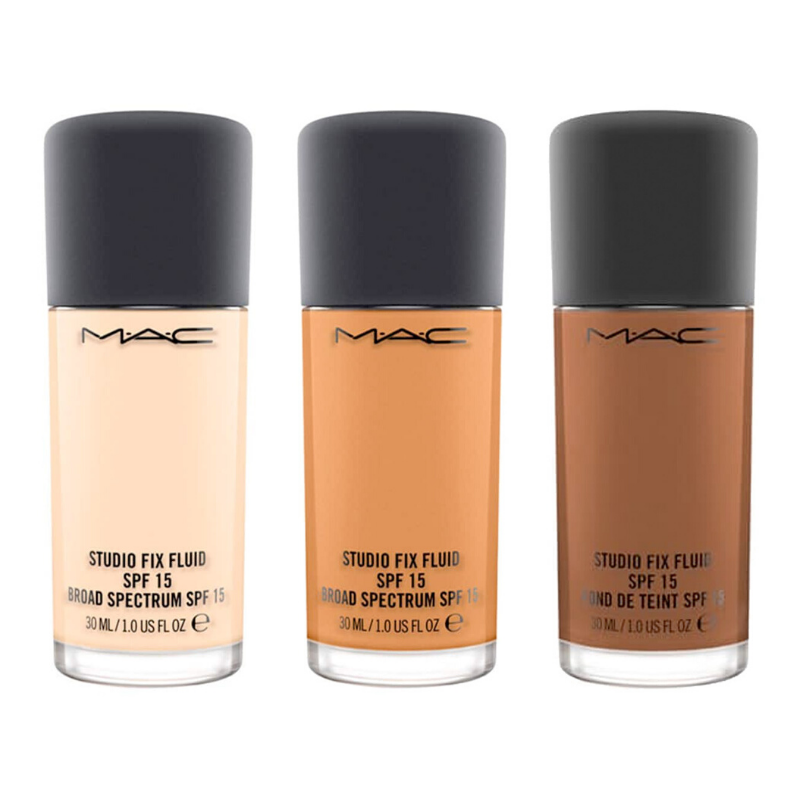 Available in a host of colours to suit all skin tones, MAC Studio Fix Fluid SPF 15 Foundation offers a natural matte finish. It is thicker than foundations you may be accustomed to, the oil-controlling formula provides medium to full coverage for a flawless base that stays put. (Ideal for your wedding right?) 
When we say full coverage – we mean it! If you're looking for a light natural look maybe MAC isn't for you. However if you love your make up and want to feel 100% flawless you've found your match. It's perfect for those who have make up experience, as it is a heavier consistency it's important to work fast and use a flat foundation brush or buffing brush to blend. 
Vichy Dermablend Corrective Fluid Foundation 16hr – £20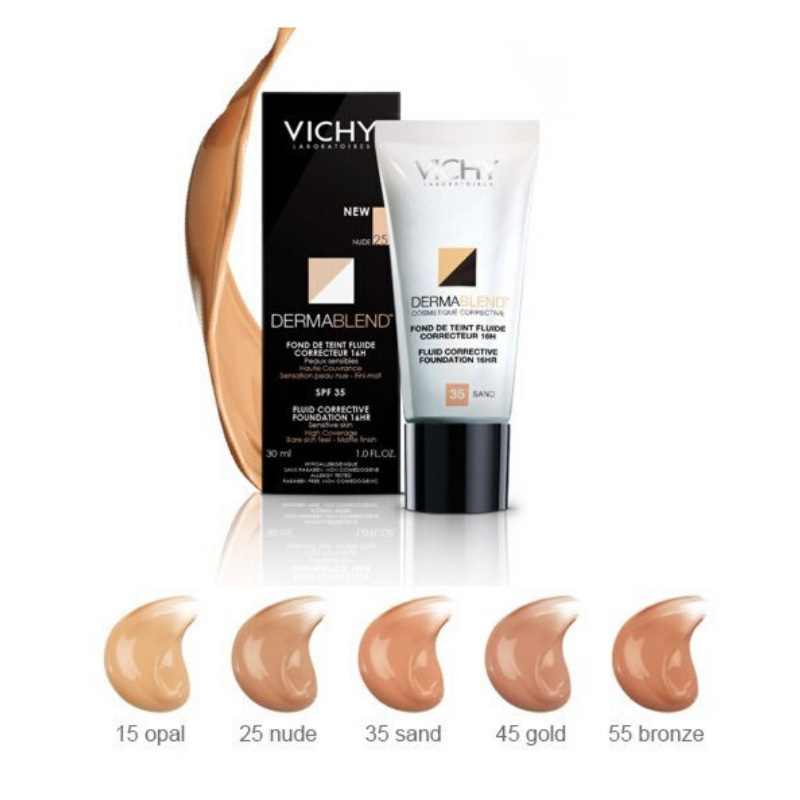 This is the one you've probable seen on youtube and all over social media if you haven't lived under a rock. It's dominated the internet with viral videos of the foundation covering extreme cases of acne. If you have acne prone skin or scarring, then you're probably on the look-out for a wedding day foundation which will guarantee an airbrushed look. This will do just that! 
Vichy Dermablend Fluid Corrective Foundation can even cover tattoos if you wish. It promises 16 hours of coverage plus hides skin concerns from acne to rosacea and dark circles. Who needs beauty sleep anyway?
We recommend a buffing brush or beauty blender to seamlessly blend this flawless foundation. Remember that a little goes a long way so start off small and build up as you go, it really goes go a long way.
Bobbi Brown Skin Long-Wear Weightless Foundation – £32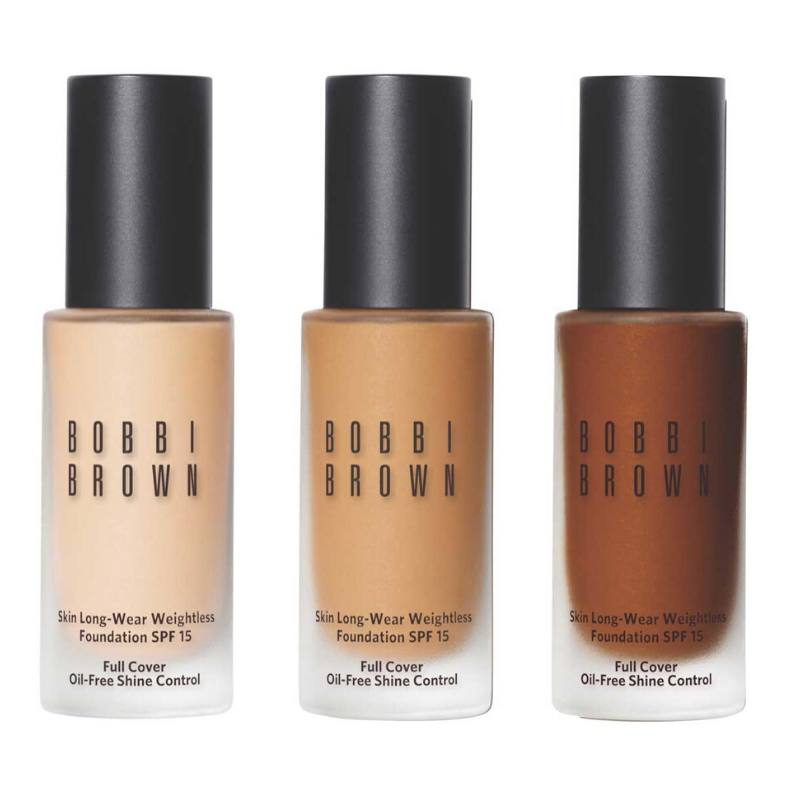 We love a weightless foundation! Dubbed by legacy brand Bobbi Brown as "the foundation you can smile in" (thanks to its ultra-comfortable feel), the Skin Long-Wear Weightless Foundation is a full-coverage, natural and matte foundation that is ideal for a flawless bridal finish. 
It's a hard task for any bride to find the right fit for their wedding day foundation. Choosing from a range of coverage levels and finishes it really is a game of trial and error until you find one that makes you look and feel like a flawless bride. In this case the finish is matte, basically the opposite of a day finish. If you've oily skin this is most likely your safest bet to avoid shiny patches and your make up sweating off a few hours in. 
The product is enriched with Shea butter helping moisturise the skin while you wear the product. (Don't panic if you have oily skin, this will just moisturise the skin it won't lave you looking shiny. Also we are thrilled that this product has SPF 15 – good old Bobbi Brown looking out for our skin and reducing the effects of sun-skin damage. 
Top tip- keep a powder handy and just touch up any areas to keep the 'flawless finish' look in place. 
Max Factor Miracle Touch Skin Smoothing Foundation – £13.99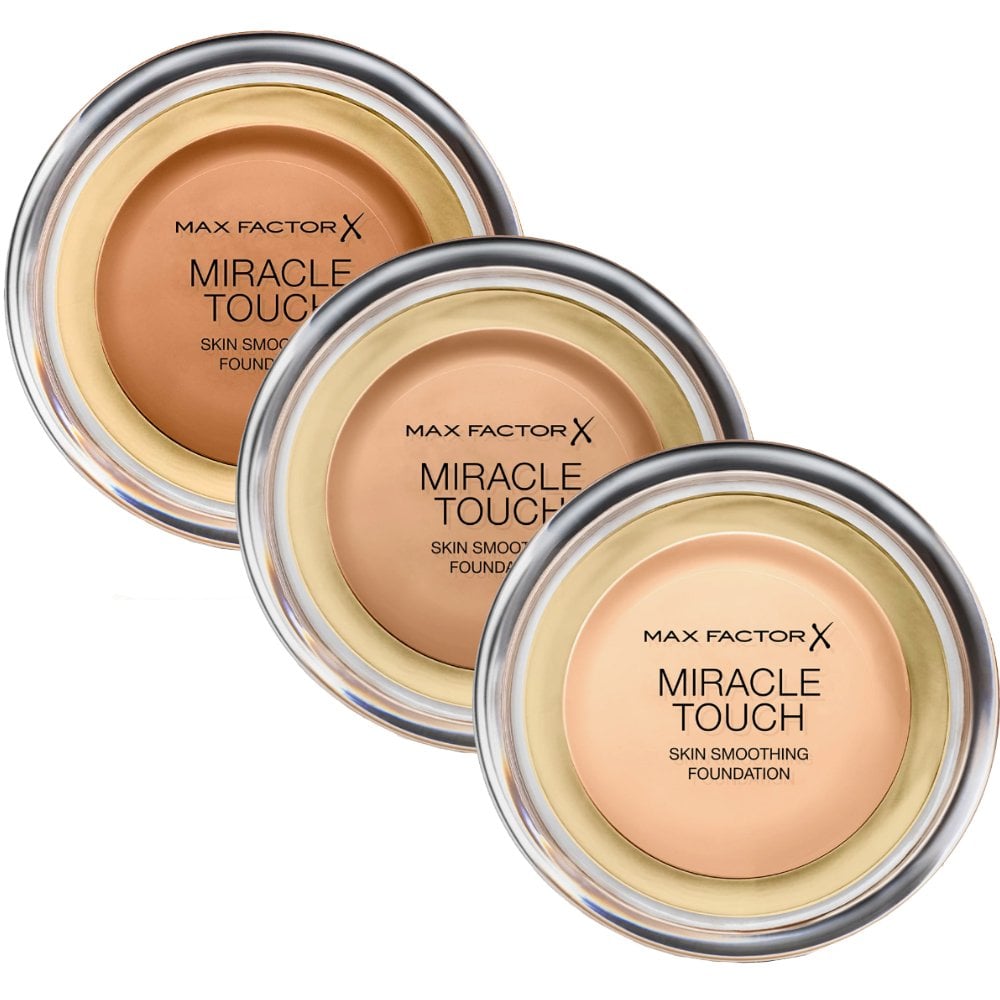 Last but by no means least! We are big fans of Max Factors 'Miracle Touch' foundation. At only £13.99, this product is a steal and perfect for a budget conscious bride.
This thicker feeling foundation aims to combine the best elements of a solid and liquid foundation. Despite its solid constancy and appearance it comes a liquid as soon as it touches the skin. Cool right? 
This foundation is medium – high coverage so we would recommend using your trusty beauty blender to apply. It really is value for money and if you're looking to save ahead of your wedding this is one to try. The great thing about Max Factor is the natural finish this product leaves. It's all about shade selection and remember to match it to your skin tone 'post tan' that's right, you don't want your face to be a different colour to your body so shade shop smart!
So there you go that's our WJ foundation faves! When it comes to being a bride we know the pressure to look 'perfect' can be overwhelming. Just remember that if you look after your skin in the lead up to your wedding day whatever make up you go for your radiant healthy skin will shine through. However if you would rather leave it to the experts and find the right makeup artist for your big day trust our online directory. We feature some of Ireland's best makeup artists.