Earthy tones, mix and matched styles and subtle sequins… these are the trends to look out for this wedding season!
Looking for some stylish bridesmaid inspo for your 2022 or 2023 wedding? We've got you covered with these trending styles we've gathered from all the latest bridesmaid collections along with runway trends and our real-life brides!
From neutral shades, to trending colours and elegant patterns, keep on scrolling for some fresh fashion inspo to help your girls look divine and create the perfect wedding aesthetic…
Mix & match bridesmaid dresses
Style 9522 by Sorella Vita stocked at La Bella Sposa, LA Bridal House, White Gold Bridal & Marie Me Bridal
The biggest trend we've noticed taking place when it comes to bridesmaid dresses is individuality! You want your bridesmaids to look and feel their best too and choosing different styles and shapes can help them feel confident and will add a modern and contemporary touch to your day.
White bridesmaid dresses
(Left to right) Style 8210 & LB002 by Dessy stocked at Divinity Bridal & Perfect Day
Who said white is only for the bride? Not in 2022! We're seeing more and more brides ditch wedding traditions and opt for sleek and elegant white numbers for their maids. Cream, ivory and neutral tones are also in vogue, as they can give a super clean and crisp feel to your day.
Black bridesmaid dresses
(Left) style by 21751 Silky Satin Bridesmaid Dress with Bustier Bodice by Morilee stocked at La Bella Sposa (right) 8224 Flat Tie-Shoulder Empire Waist Maxi Dress with Front Slit by Dessy stocked at Divinity Bridal & Perfect Day
Would you be daring enough to dress your maids in some chic black bridesmaid dresses? Sounds a little bold, but research shows this is the hottest shade of the season and is predicted to be even bigger for 2022 weddings!
Multi-way bridesmaid dresses
Tallulah Twist Me Tie Me Jersey Bridesmaid Dress Brown by Monsoon
Switch it up with multi-way bridesmaid dresses such as these beautiful styles from Monsoon. With this type of style you can wrap, twist and tie in multiple different ways to create a unique style and taste that if flattering for each your girls and creates a unique yet put together look.
Floaty & Florals
(Left to right) Style 3104 & 1546 by Dessy stocked at Divinity Bridal & Perfect Day
Spring is just over the hill which means airy, floaty and floral dresses are on the horizon! These are especially beautiful for an outdoor wedding abroad, in the garden or if you just want that feminine and effortless effect for your bridal party.
RELATED TO: 15 Beautiful Blue Bridesmaid Dresses For A Cool Wedding
Earthy tones
(Left to right) Style 151 & 137 by Pronovias stocked at Romantique Bridal & McElhinney's Bridal Rooms
Green and earthy tones has become a huge trend in bridesmaid styles over the past year and we're expecting to see even more of this as we enter 2022! We're talking sage greens, rustic browns and earthy nudes which give off that natural and calming vibe for your day.
RELATED TO: Why We Love Sage Bridesmaid Dresses
Sequin bridesmaid dresses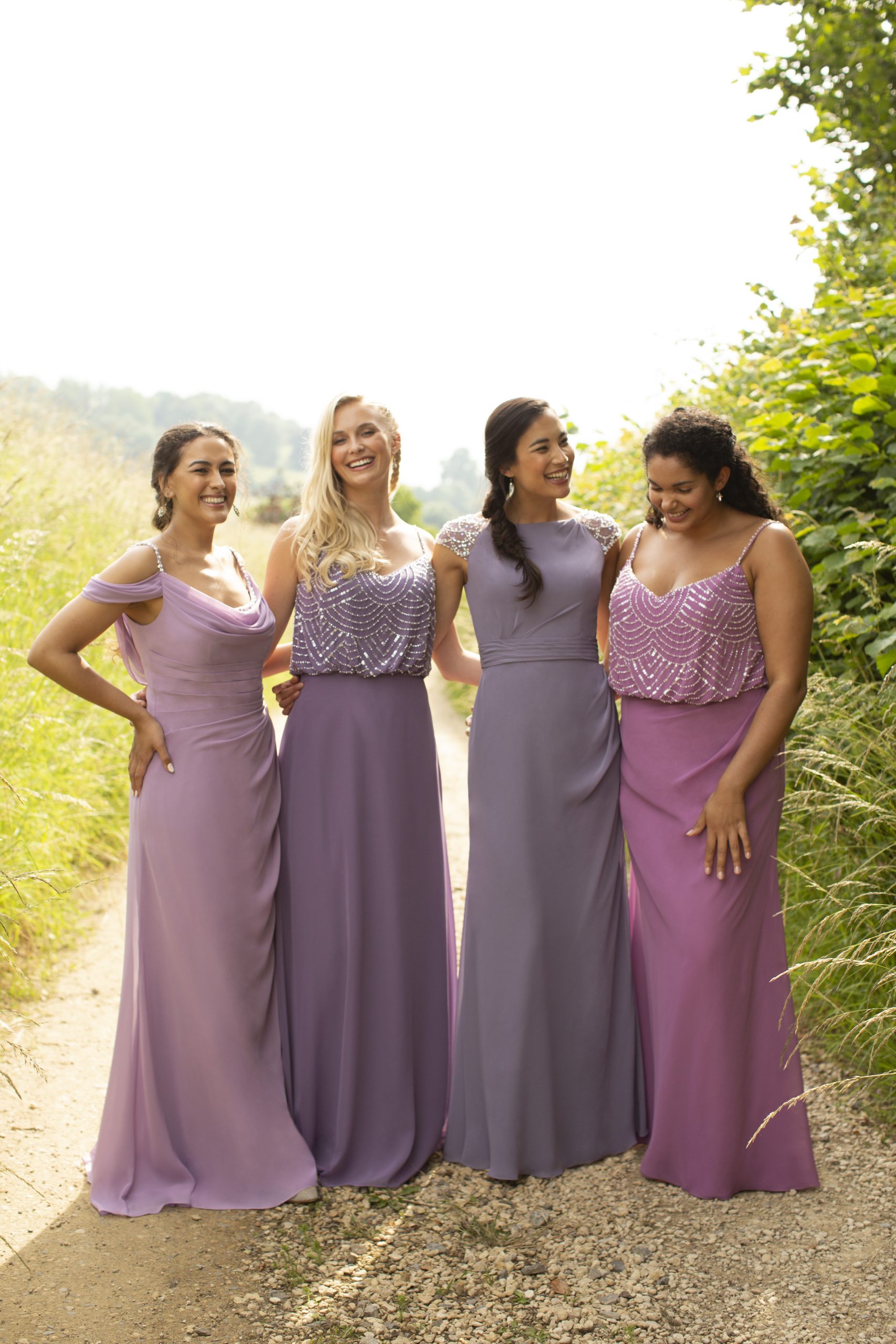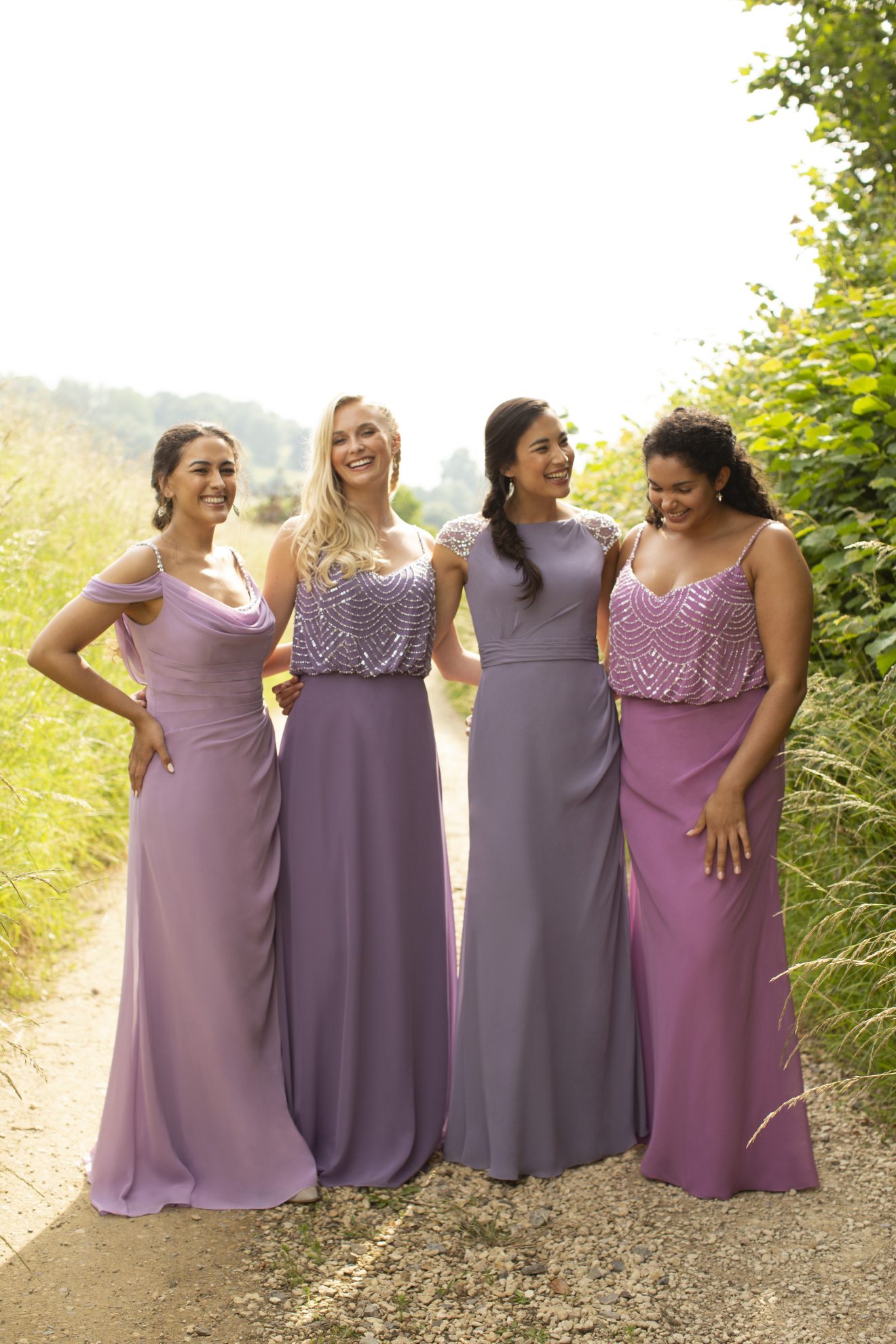 (Left to right) Style M676, M489, M686, M695 by True Bride stocked at Tamem Michael & Perfect Day
We love a a little sparkly when it comes to bridesmaid dresses! We've noticed subtle sequins becoming a much-loved trend this wedding season with delicate details that add that extra touch of glitz and glam. These styles from True Bride are the perfect example of stylish and simple.

Sign up to our newsletter to get all the latest from The Wedding Journal! Join Here>>>>http://eepurl.com/ck9vLb