Romantic, natural and oh so subtle, sage is back in a big way when it comes to bridesmaids' dresses.
This season has been more than a little schizophrenic when it comes to bridal colours.
On the one hand you have big and bold, with hot pinks, tangerines and classic blues.
But we're also seeing a gorgeously shifting, mesmerising palette of subtle hues that might not have been on the menu in previous years – tones of grey merging into sea greens and melting stormy blues.
And as the seasons have changed and we've all had time to reflect on our tones of choice, one coolly chic hue is emerging as a frontrunner.
Sage is coming to the forefront as a subtle reposte to all those garish try-hard colours of the past – and tying in beautifully with those homespun boho decor styles and DIY aesthetic.
RELATED TO: Four undone hairstyles for an effortless bridal look
What's wonderful about sage is that it's so hard to pin down – almost pastel, almost khaki, almost blue, almost grey.
It lifted our spirits in the weddings of winter 2020 and brings a breath of fresh air and new life into the revived pairings of spring.
Sage green is as natural as they come, and as relaxed as it gets. It doesn't vie for attention or scream high glamour, and you'll never go wrong pairing it with taupe and wooden decor.
Chiffon floor length bridesmaid dress, Sorella Vita 8746, available from MMC Bridal Agency
Sweet spaghetti straps bring a delicious delicious flirty touch to this romantic chiffon bridesmaid dress, with its ruched V-neck bodice and lightweight skirt.
Classic satin bridesmaid dress, Sorella Vita 8918, available from LA Bridal House in Carrickfergus
Sophisticated satin has never looked as Hollywood as this gorgeous style. A high wide necklace forms a classic silhouette before cinching in at the waist, creating a glamorous hourglass shape.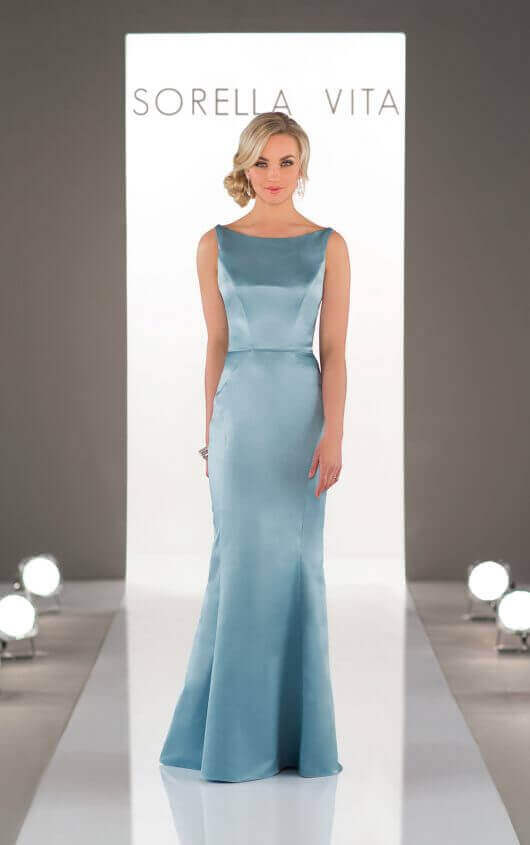 Cap sleeve lux chiffon dress, Dessy JP1021, available from La Bella Sposa, Dublin
This glorious full length cap sleeve lux chiffon dress nods to full on glamour with its cut-out sheer back. Delicate sleeves make the dress perfect for cool weather or covering up the shoulders – just because.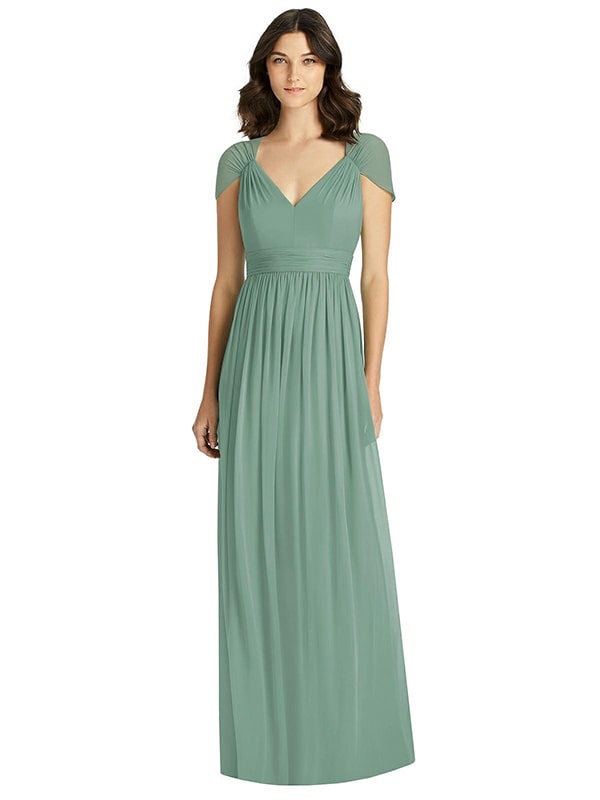 Sign up to our newsletter to get all the latest from The Wedding Journal Join Here>>>>http://eepurl.com/ck9vLb
Still looking for your perfect bridesmaid dresses? Check out all of our bridal suppliers HERE