Nicole & Matt's Real Life Wedding
Belfast's Empire Music Hall
HOW THEY MET
Nicole and Matt first met, back in 2013, McCrackens Bar to be exact (now Henry's Jailhouse). Just think, Ps. I Love You and you've nailed it. Matt was singing in their beer garden that evening, then in walks Nicole. 'I remember spotting him and turning to my friend Orlaith 'oh he's gorgeous, I call dibbs' haha I know how cringey. My friends and I basically stayed out there all night because he was amazing. Next thing he started playing 'jenny don't be hasty by Paolo Nutini. Well, I'm a sucker for a bit of Paolo and a man that can sing. I couldn't take my eyes off him, we kept locking eyes. He took a short break for the countdown to midnight, of course I watched him head towards the bar.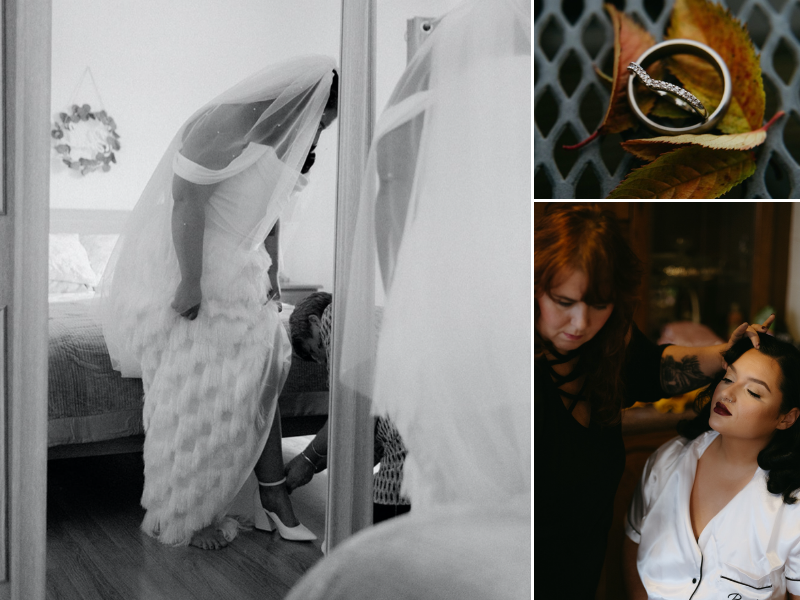 When the clock struck 12, everyone started to wish each other a happy new year. We both looked at each other and he held up his drink to say cheers with a wink. I still remind him that we never got a new years kiss that night.' The next day Matt scoured the internet to try to find a snap of Nicole form the night before – next thing you know he slid into Nicole's DMs and asked her out. The rest as they say is history.
THE PROPOSAL
Now that they're married, all the secrets can come out. Truthfully Matt had originally planned to propose on a trip to Wirral, when the couple took a trip to watch their favourite band The Libertines. He was going to get down on one knee during their wedding song, but nerves got the better of him, plus he was scared of loosing the ring. Not to worry, Nicole spilled the tea on exactly did happen in the end.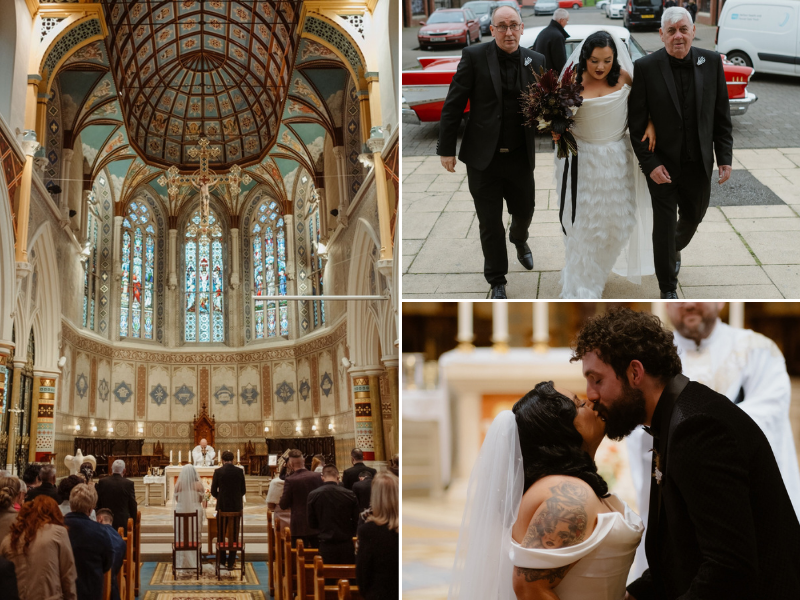 'Well we went out for a nice meal to House Of Zen in Belfast city centre. Matt was drinking like a fish and barely eating, I was thinking ok we're heading out after this, so he outta slow down. We had just ordered dessert, when suddenly I hear loud music through the speakers, and see the waiters leave the kitchens with sparklers. My first thought was that someone was celebrating a birthday, until they started to walk towards our table, next thing you know Matt is on one knee. I heard everyone gasping, I didn't know what was going on. Until I looked down and on plate and it said 'will you marry me'. I laughed, cried then laughed again, I don't even think I said yes I was that taken back. He put the ring on my finger and my heart just melted when I seen it, it was just perfect for me, it was my ring.'
'I rang my daddy to tell him the news, thinking he didn't know, but of course he did). When he arrived he asked to take us to my Nanny's as they wanted to see us. When we got there, both our families and close friends had surprised us with a party. It's a night I'll always cherish. Matt finally got a yes later on in the night. How could I not marry him, he's my guy.'
THE PLANNING PROCESS
Nicole and Matt decided on the unusual theme of dark romance – we are OBSESSED with everything! Nicole spotted This Old Home on Instagram, a local event planner and stylist. 'OMG this woman is just amazing. I was originally going to do it all on my own, because I'm so fussy and know what I want. But when I met up with Steph she got me straight away. She actually gave me some better ideas too, Steph made me feel relaxed – that's exactly what we needed. She was so flexible with my mind changing constantly and would have let me send messages or drop décor at any time. There's no way we could have pulled everything off that day, with This Old Home, my stress levels would have been up to 100.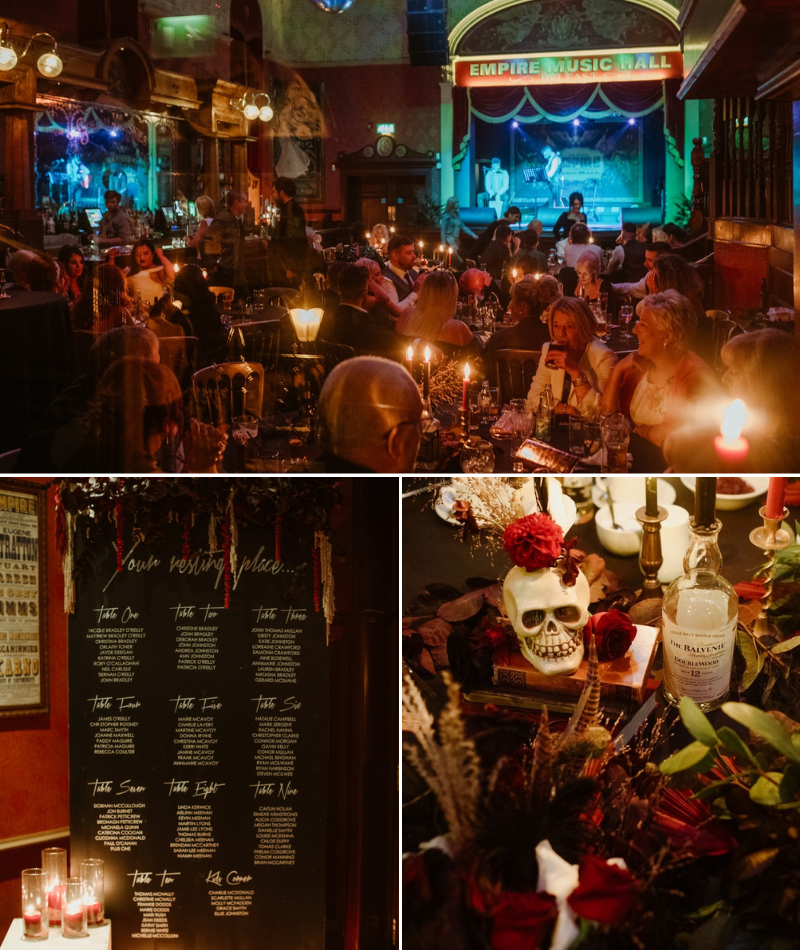 Nicole's favourite flower is a black rose – which of course ties in perfectly with the dark romance theme. Zoë from Posy & Tie Floral Design was on hand to help 'tie' everything together. 'Honestly, this girl just blows me away with her talent, my flowers where just perfect no other word needed. When I told her I wanted a dark romance vibe she would send me a mood board to look at. I wanted it all. Zoe only works with real flowers, so the smell of them I'll always remember. Zoë and Steph worked really well as a team together, they really did take a lot of pressure off me. They absolutely killed it!'
WEDDING WARDROBE
When it came to finding her dream wedding dress, Nicole was quite particular. 'I tried a few boutiques, with me being a curvy girl I was nervous about dress shopping.' After having one horrible experience in one boutique, Nicole's confidence took a knock for a bit. 'I eventually started dress shopping again and as I visited more boutiques I felt a bit better, I was shocked at the many dress styles I suited. I was originally going for a black or red dress, which was actually very hard to find.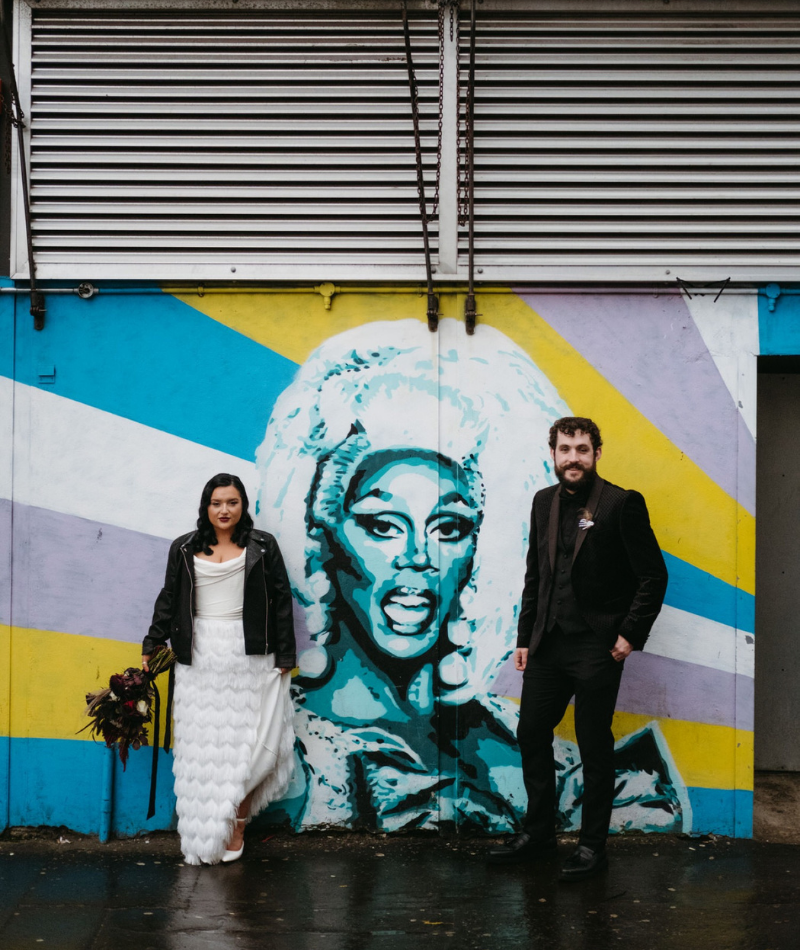 My Nanny, Mum and myself travelled to London to the Halfpenny store to try on a wedding dress, I'd originally seen in black. But when I tried it on in the off white, I knew that was the one. My nanny and I had a bit of a disagreement on the dress, so we left it for a while. We kept shopping, there was a few maybes. But I just couldn't  get that Halfpenny London dress out of my mind. I eventually found a store in Warren Point called The White Gallery who stocked Halfpenny. We went to my appointment, my nanny and mum didn't know the reason I went there. I tried on a few more dresses, all beautiful may I add. The last dress to try on was the ivy skirt and corset from Halfpenny. And I just knew that was the one. That day we finally got my dress. Rachel was amazing, its crazy how people you don't know, but just listen and straight away they just get you. For any brides to be still looking, check out @twgboutique so many beautiful dresses and it's the most beautiful boutique ever.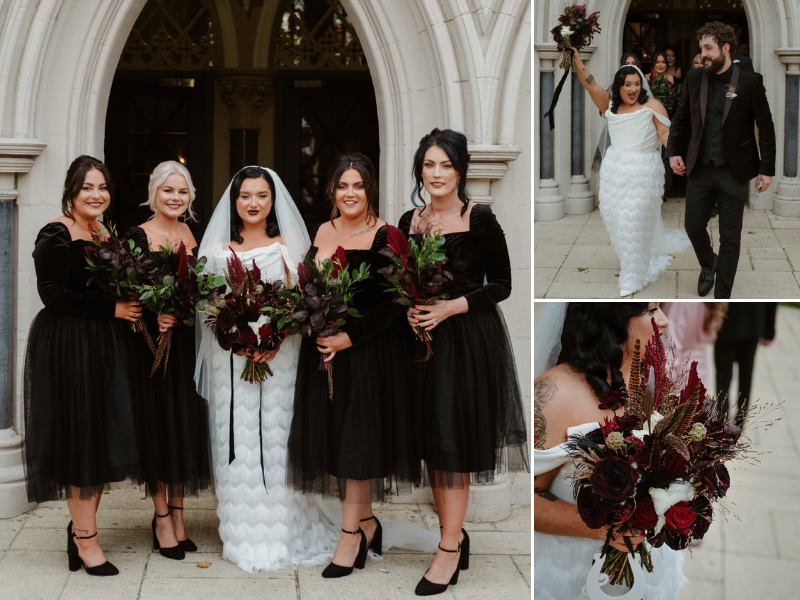 Shopping for bridesmaid dresses was so much easier – Nicole spent an evening scrolling through ASOS. 'As soon as I spotted them, I knew I had to get them. They were exactly what I wanted, and I knew my girls would look incredible in them.'
Matt found his perfectly tailored suit from Next. 'I wanted something plain and simple, so all black worked perfectly. We even spotted an almost matching suit for Nicole's nephew, he was like a mini-groom for the day,' jokes Matt.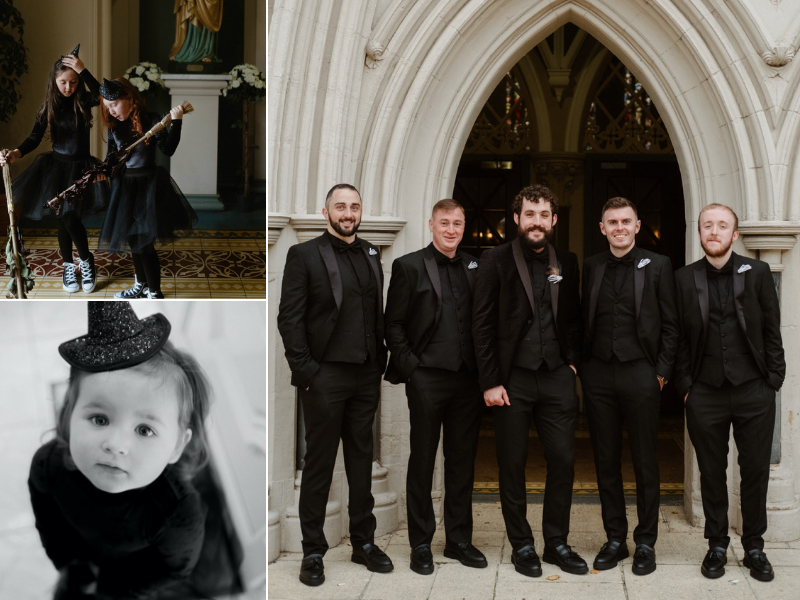 Nicole opted for a more alternative look for her flower girls – what else screams spooky halloween that witches. 'I had originally ordered these bespoke, but when they came they where lace and burn holes – so that was a nightmare. I had to last minute order black velvet leotards off amazon and get a local dress maker to make their tulle skirts. Paired with black tights and converse. They turned out amazing, especially with their broomsticks and witches hats.
EATING & DRINKING
Perfecting their wedding feast, was the toughest decision for this couple. 'We had so many ideas in mind, we wanted it to be a bit different, something quirky, so there was a lot of going back a forth. We ended up just going for a traditional home-cooked 3 course meal. Vegetable soup for starter, Turkey, ham & stuffing for main. And the desert was a chocolate log cake. OH MY it was amazing. We asked Gilberry Fayre cater on the day – from our initial meeting, right up to the day Paul was very helpful and made it all run smoothly.'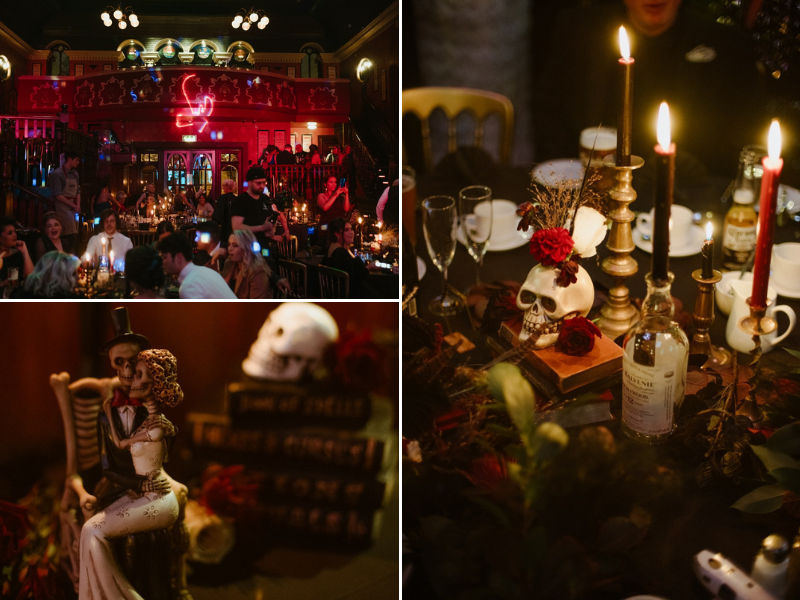 Instead of a wedding cake, this pair had planned on a newlyweds toast with Jack Daniels – but they were having too much fun and completely forgot.
CAPTURING THE MOMENTS
'I didn't even need to think twice about another photographer. As soon as we got engaged, we booked Chris from Chris Copeland Photography. His photos are flawless and so relaxed looking. He captures the best angles and shots, you don't even know that he is there. Chris is also the best craic, so we weren't nervous in front of the lens.'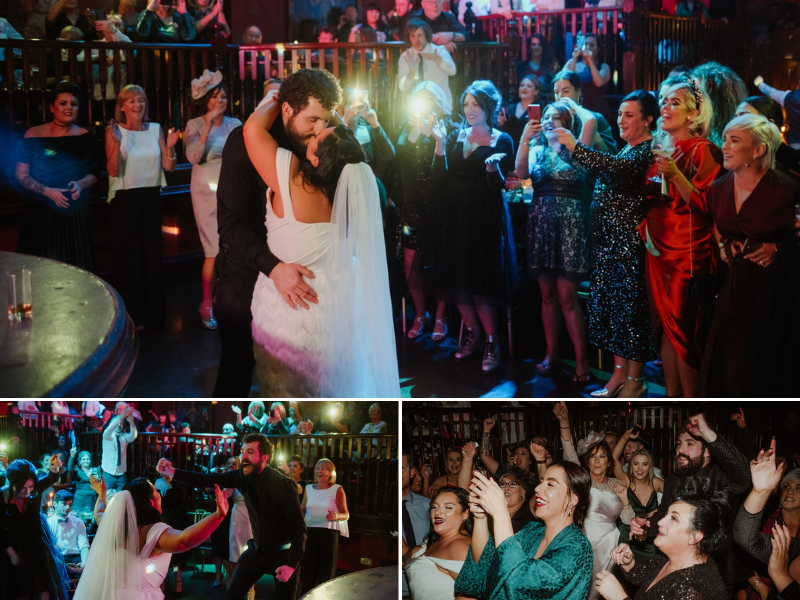 'We booked @theweddingphotographerni as our videographers for the day, they were amazing. Again, we didn't feel as though they were both there, the way it should be if you ask me. I've seen a lot of their work for local businesses and also weddings, I remember watching one of their wedding videos and just loved it – it gave all them happy feels. Still to this day everyone talks about our video, that's how good they are.
FAVOURITE MOMENTS
Matt is such a sweetheart, when we asked him what his favourite moment was he didn't even have to think. 'It has to be the moment I said 'I Do' and committed to spending the rest of my life with the woman I love.' COME ON…Nicole is one lucky wife.
It was a tough choice for Nicole when we asked her the same question. 'I always tear up when I think of that moment when it was just me, my daddy & my dada (Granda). Waiting outside arm in arm getting ready to walk down the aisle. I'm even crying just thinking back now, it was a special moment to have the two men I adore the most by my side, on our last walk together before they give me away to my husband-to-be. I just cant describe the feeling, it's an emotional one.'
Nicole & Matt's Dream Wedding Team
Wedding Venue – Belfast Empire Music Hall
Wedding Dress – The White Gallery
Wedding Planner/Stylist – This Old Home
Wedding Flowers – Posy & Tie Floral Design
Wedding Photography – Chris Copeland Photography