Childhood sweethearts Nikki and Stephen put off their date five times before they finally got their perfect intimate wedding at the Galgorm full of romance, style and picture perfect moments.
Like many recent couples, Nikki and Stephen McBride, had to downsize their guestlist but that didn't mean they had to downsize on style.
After the pandemic delayed their wedding date five times, they finally got their fairytale ending with a magical ceremony at the Galgorm Spa and Golf Resort on 15th May.
RELATED TO: 'We Planned A Pandemic Wedding in 1 Week'
How lucky would you have to be for the love of your life to be living just next door? These two love birds from Waringstown first met when they were teenagers back in school – and the rest is history.
"We're both originally from Lurgan and growing up, we lived just two minutes away from each other and went to the same school," Nikki shares. "We were around 16 when we first started dating and we've been going strong ever since!"
After 11 years of love, happiness and amazing memories, Stephen finally popped the question making sure to include the star of the show – their little princess, Emily!
"It was 8th May 2016 and we were down at Newcastle beach with our wee girl, Emily, who was only one at the time, and Stephen said go and get something out of that bag, which was the kids' changing bag by the way!" Nikki laughs.
"I actually thought it was a necklace at first because the box was quite big and then I turned around to see Stephen on one knee holding Emily, it was such a special moment."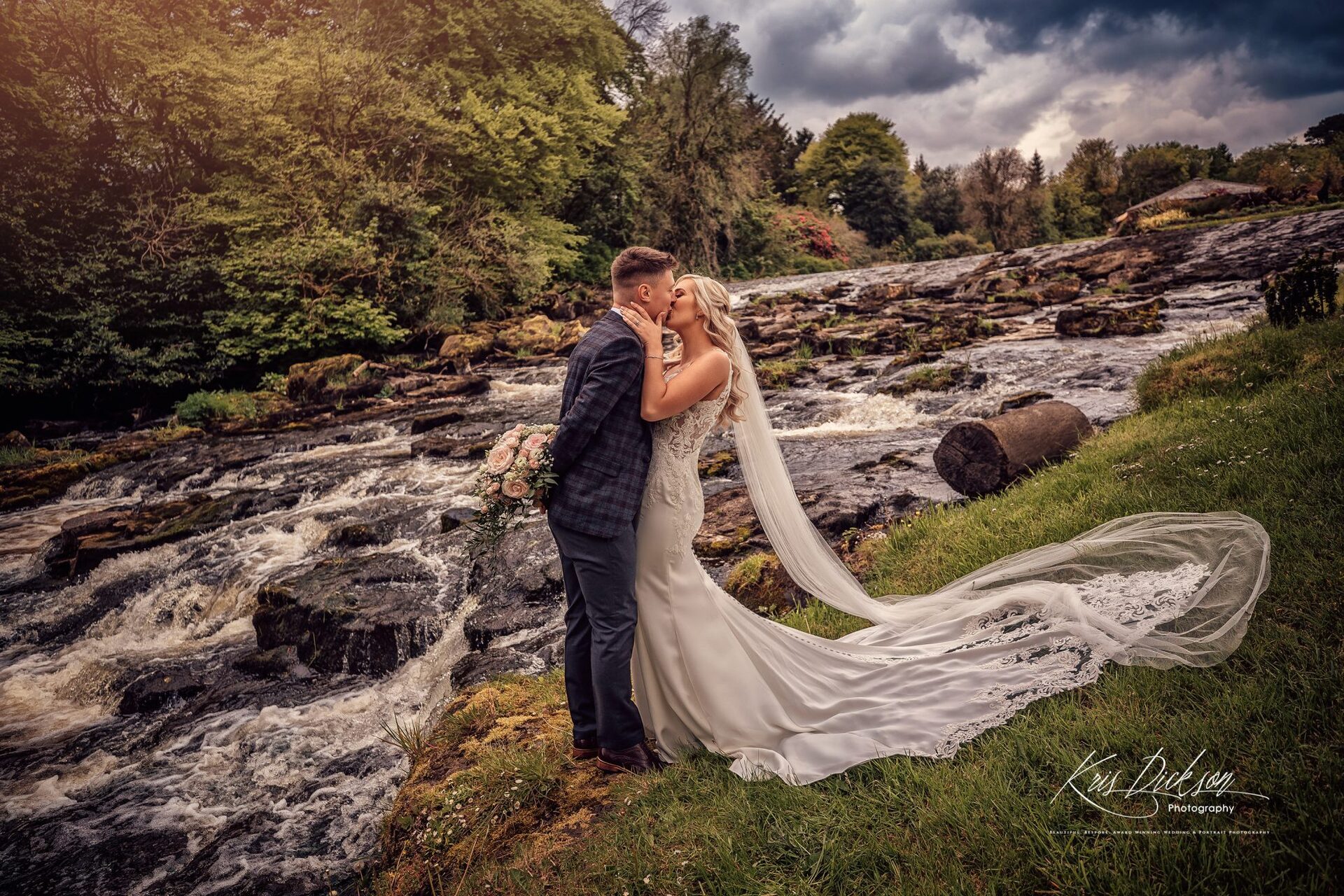 The planning process wasn't all smooth sailing though thanks to COVID-19, but Nikki and Stephen stayed positive and finally got their happily-ever-after following a stressful decision on dates.
"The pandemic definitely added an extra stress to things," Nikki shares. "This was actually our fifth time choosing a date for the wedding. We were originally supposed to get married last June and we just kept having to put it off and hope for the best each time.
"We both agreed to change it one last time and we're so glad we went ahead with it. We did have to downsize our guest list a little to 60 people and missed out on a full reception, but we always wanted a more intimate wedding anyway and it was such a chilled and personal day.
"Although it was different day than we originally planned, it ended up being perfect for us and looking back now we wouldn't have changed a thing. Not having music allowed to everybody to really mix and everyone said it was one of the best weddings they had ever been to."
Nikki and Stephen held a stunning intimate ceremony and reception at the Galgorm Spa and Golf Resort, where Wedding Planner, Rose McMillan, brought all their wedding dreams to life.
"Rose was fantastic – she helped us plan and create our whole day from start to finish and we couldn't recommend the Galgorm enough," Nikki says.
"The setting was just stunning and everything we wanted. We had very little to do in terms of decorating, we just told them what we were looking for and they took care of every detail. We had gorgeous flowers down the aisle and on the top table, and flowers outside – it was amazing."
Nikki went for a pastel pink flower theme with a mix of roses and babys-breath from Leaf Designs in Ballymena.
"My flowers were also inspired by my mum's bouquet when she got married 30 years ago, I wanted to replicate them because I loved her style and they turned out lovely," Nikki shares.
Nikki looked stunning in a sexy modern lace Stella York dress from Marie Me Bridal in Randalstown.
"I fell in love with the love heart front around the chest and the butterfly back," Nikki says. "It had mesh around the sides and there were buttons coming from the back all the way down the train with lace all over.
"I also went for pale pink bridesmaid dresses from The Wedding Centre in Randalstown which were similar to my silhouette style and had diamante details on the shoulder with a low back."
Stephen also looked slick in a checked grey custom-made suit and pink tie from Freddie Hatchet in Belfast, with their little boy, Theo, matching his wardrobe attire!
RELATED TO: Small weddings: how to wed like a celeb
Kris Dickson Photography in Ballymoney captured this couple's fairytale day perfectly, framing stunning moments in time that they'll cherish forever.
"Kris actually did my sister's wedding photographs at the Galgorm a few years back and his photographs are just stunning. He's just made for the job, there's not one bad photo and his style is so different to any other photographer – you just know they're his photos when you see them!"
For all the brides-to-be planning a wedding during the pandemic, Nikki has some words of advice on how to stay positive in these strange times.
"Don't forget the true meaning behind your wedding," Nikki says. "It isn't always about the awesome party everyone has after, the real reason for your wedding is to marry your best friend.
"We postponed so many times thinking the reception was going to be the best part of the day, and we didn't want to get married without being able to celebrate properly afterwards.
"But despite everything, we had the most amazing day from start to finish. It was a very beautiful, informal, intimate and relaxed day. We wouldn't have changed a thing – your wedding day may be a little different with everything going on, but it certainly won't be any less special!"
Sign up to our newsletter to get all the latest from The Wedding Journal Join Here>>>>http://eepurl.com/ck9vLb