Geometric décor transcends styles and seasons; be that a bohemian summer wedding, or a white winter affair.
To have a geometric décor, the look can be achieved through hand-crafted designs, but also on the high street.
Geo decorations look modern, cool and sophisticated; they are stunning for any décor style and colour scheme: vintage, modern, minimalist, industrial, glam.
Stationery
Your wedding invitation is the first glimpse your guests will have of your big day. The geo-theme can be extremely simplistic, with clean fonts and lettering, however more detail such as flowers or embroidery can be added.
Meet The White Letter, based in Belfast, and specialising in wedding stationery. They use stunning contemporary design matched with innovative colour and original use of type to create fresh, clean and quirky looks.
What To Wear
The clean and sophisticated look works best with this theme; you can add geometric prints or cut-outs to your dress too. If a dramatic look is something you are looking for, why not add impact with your veil. Or with a spectacular bouquet, tying the floral displays together. A well-tailored suit works best here too, similarly by adding colour you will be on trend; this year's hottest colours are deep maroon or midnight blue.
Backdrop
A ceremony backdrop or just a reception wall decoration can be made geometric to give your wedding a chic vibe. Metal, wood or plastic are perfect for creating your own geo backdrops. You can make them in one colour or multicolour; decorate them with bulbs, greenery or fresh flowers for a more refined look.
The triangle shaped wedding arch is a cool and modern way to say "I do". We've fallen in love with the overhead flower arches over the past few years, however it's exciting to see this trend evolve with new shapes coming into play.
The Irish floral studio Rosehip & Berry has created some spectacular floral displays for weddings of all kinds, specialising in dramatic backdrops and hanging gardens.
Table Décor
Decorate your table with cool geo items! These can be geo centrepieces with glass terrariums filled with succulents or flowers.  You can also add lights or candles inside.
Most of them can be easily handcrafted, geo candle holders and lanterns for the table space; small geo figures can be place card holders and favors at the same time.
Wedding chair signs, add a personal touch to the day, as well nodding to the geometric scheme. You can find this and many more reception chair accessories on etsy.com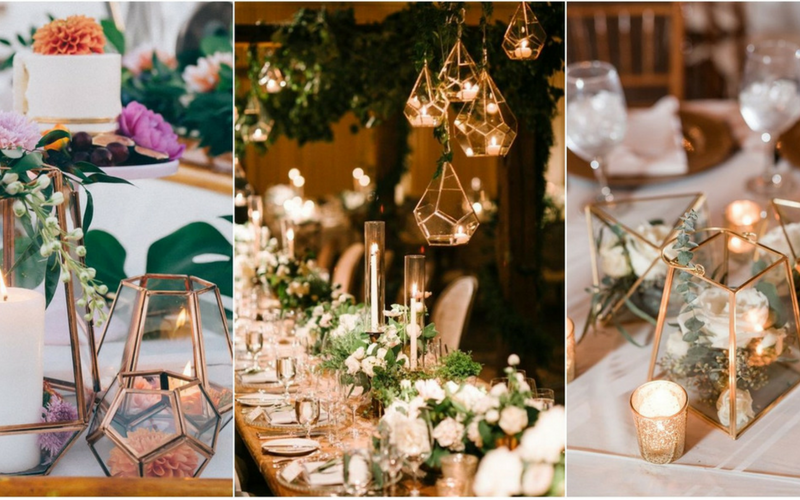 Let's Eat Cake
Cake Couture is a company that dishes out some of the most elegant and dreamy cakes in Ireland. A bold mix of contemporary finishings and classic cake flavours; a beautiful cake should be a feature at the wedding reception. To stick to the theme, choose geometric shapes, or even add a geo cake stand or topper.
Illuminate Your Space
Adorable lamps and lanterns will perfectly illuminate your wedding. Incorporating different sizes, and placing them at various heights or places, adds drama and style.
Made of metal and wood, such lanterns are amazing everywhere: in your aisle, on your wedding arch or just hanging over the tables outdoors and indoors. Decorate them with succulents and flowers or leave just like that, they are awesome and fit any wedding style. You can purchase terrariums from high-street stores such as, Urban Outfitters, Dunelm, TK Maxx and with lots of varieties online also.

Little Touches
Wedding aisle markers, ring boxes, cake stands, card holder and favors can be made in geometric shapes. Geometric cake toppers and geo-cakes themselves can continue the décor theme. You can find these mini-treasures online at etsy.com or amazon.co.uk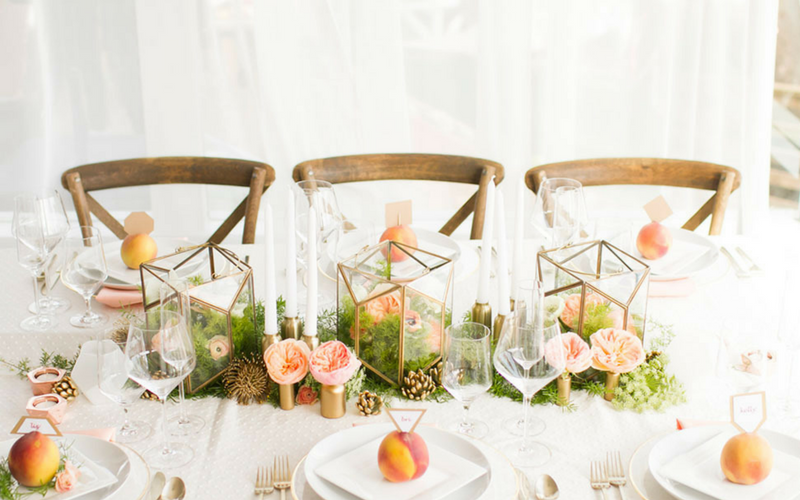 Featured Image: Dark Marquee Designs, Michelle Roller Photography