Wedding welcome signs are a creative way to make a big first impression!
When planning your wedding, don't forget about the one element that guests will notice first – the welcome sign!
From the style to the text, these welcome signs are a great way to incorporate your wedding theme, showcase the couple's personality and set the mood for the day. Many couples use them to welcome their guests, highlight the day's itinerary and even display the start time of happy hour!
A top tip – incorporate a hashtag into your welcome sign for your guests to use when uploading their pictures to social media!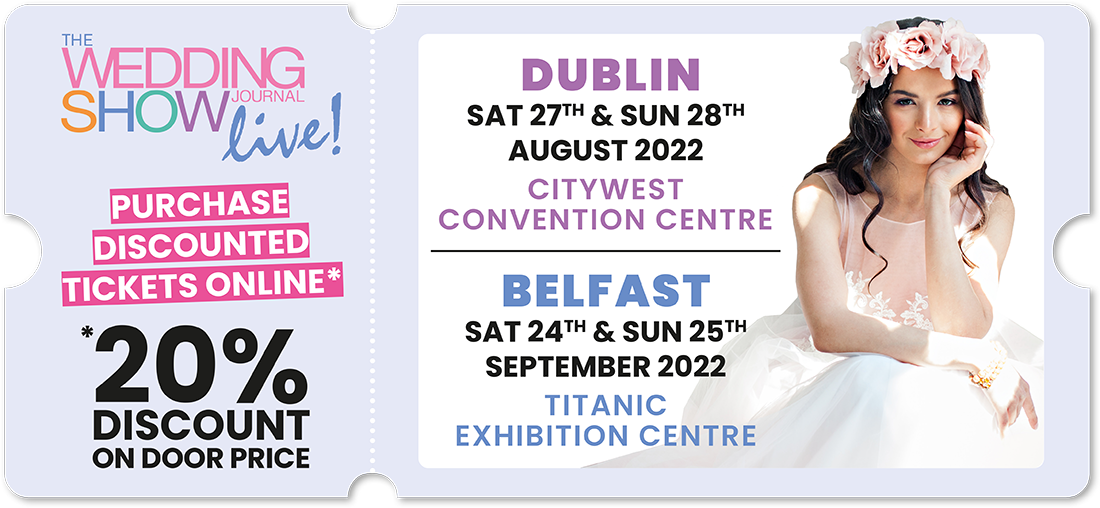 Wedding Welcome Signs That Make A Big First Impression
Venue Illustrations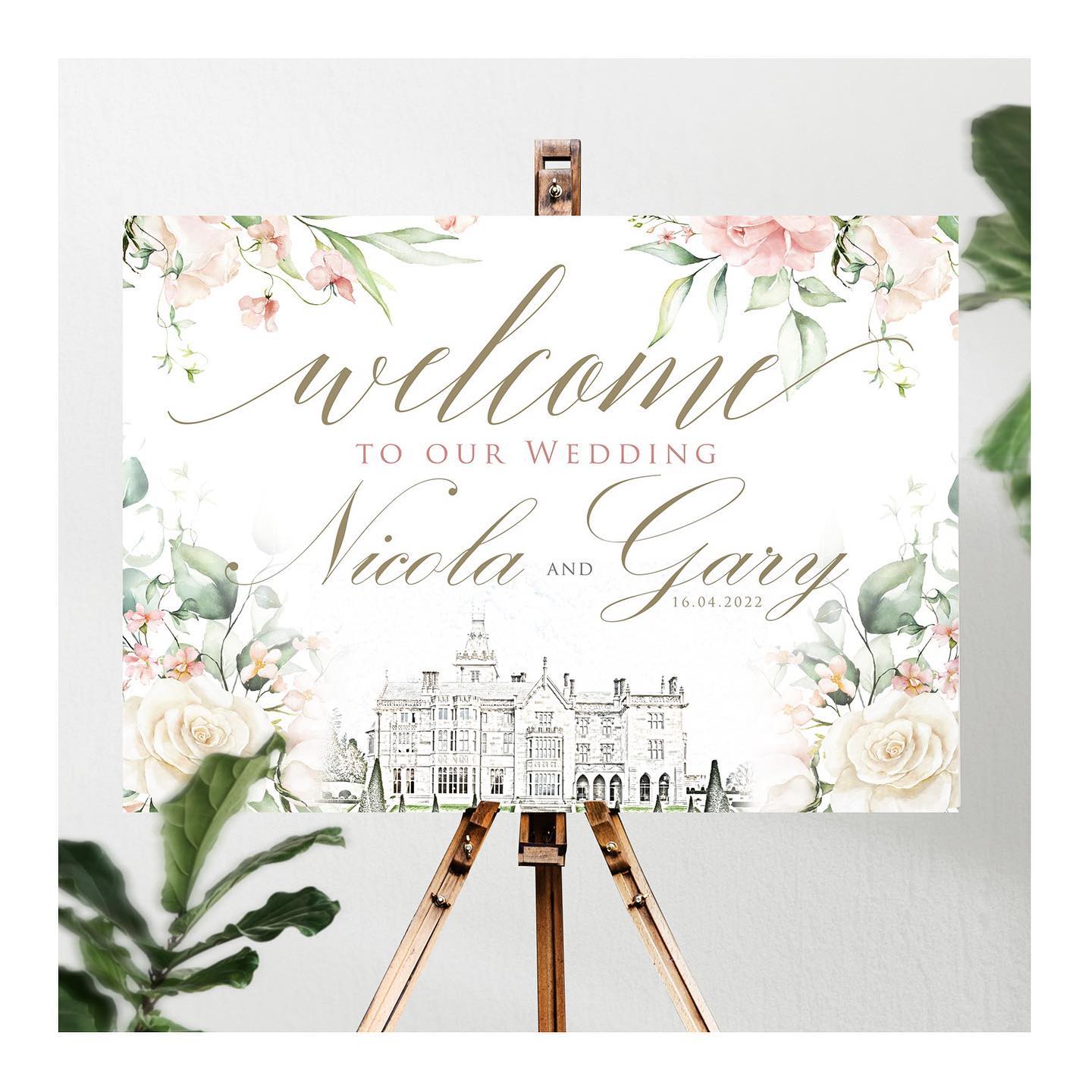 A trend we have noticed blossoming in recent years is venue illustrations. These drawings are a beautiful memento of your big day and something to cherish forever. This illustration, coupled with the floral decorations and cursive font, combines to create an elegant wedding welcome sign.
Order Of The Day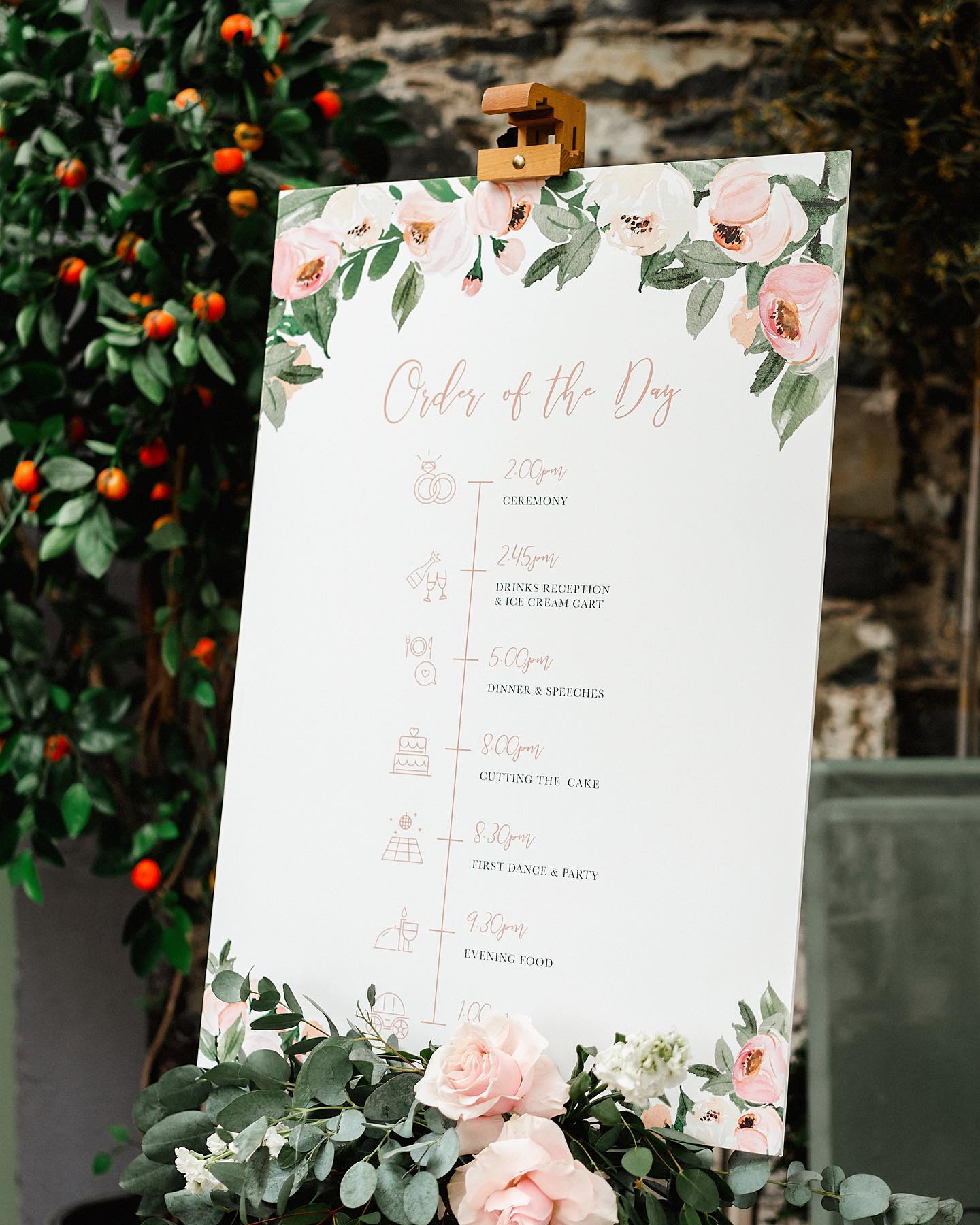 Keep your celebrations on track with this beautiful (and minimalist) order of the day sign! The simple and delicate images complement the text perfectly and lets your guests know what they can expect from the day. The pale pink roses are a perfect match for the rose drawings at the top of the sign.
RELATED TO: Everything To Include In Your Wedding Invitation Suite
Frosted Scripture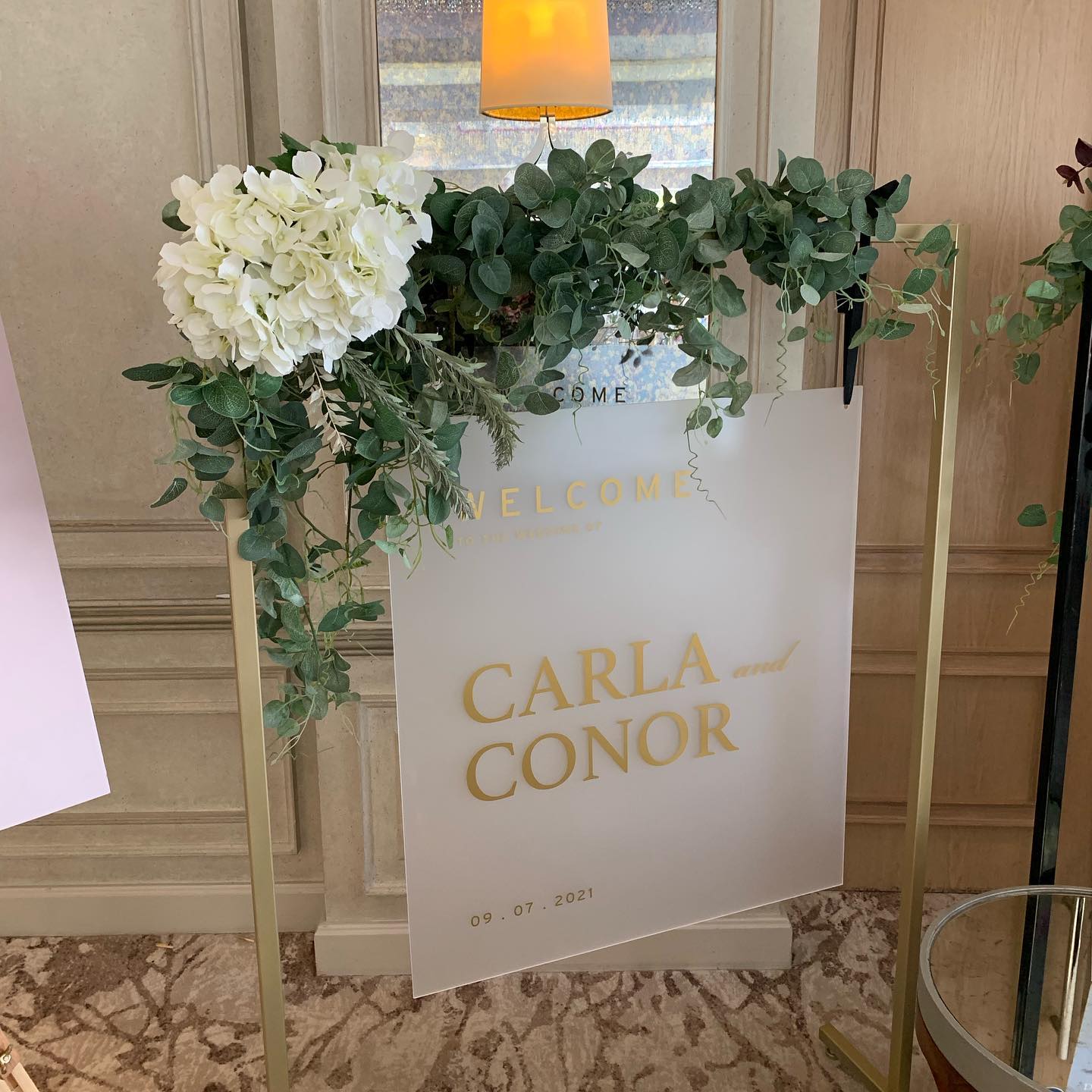 This frosted sign with bold gold font is a stunning example of a contemporary wedding sign. Hung from a gold frame that is embellished with white flowers and green foliage, it is the perfect first impression of your day.

Chic and Contemporary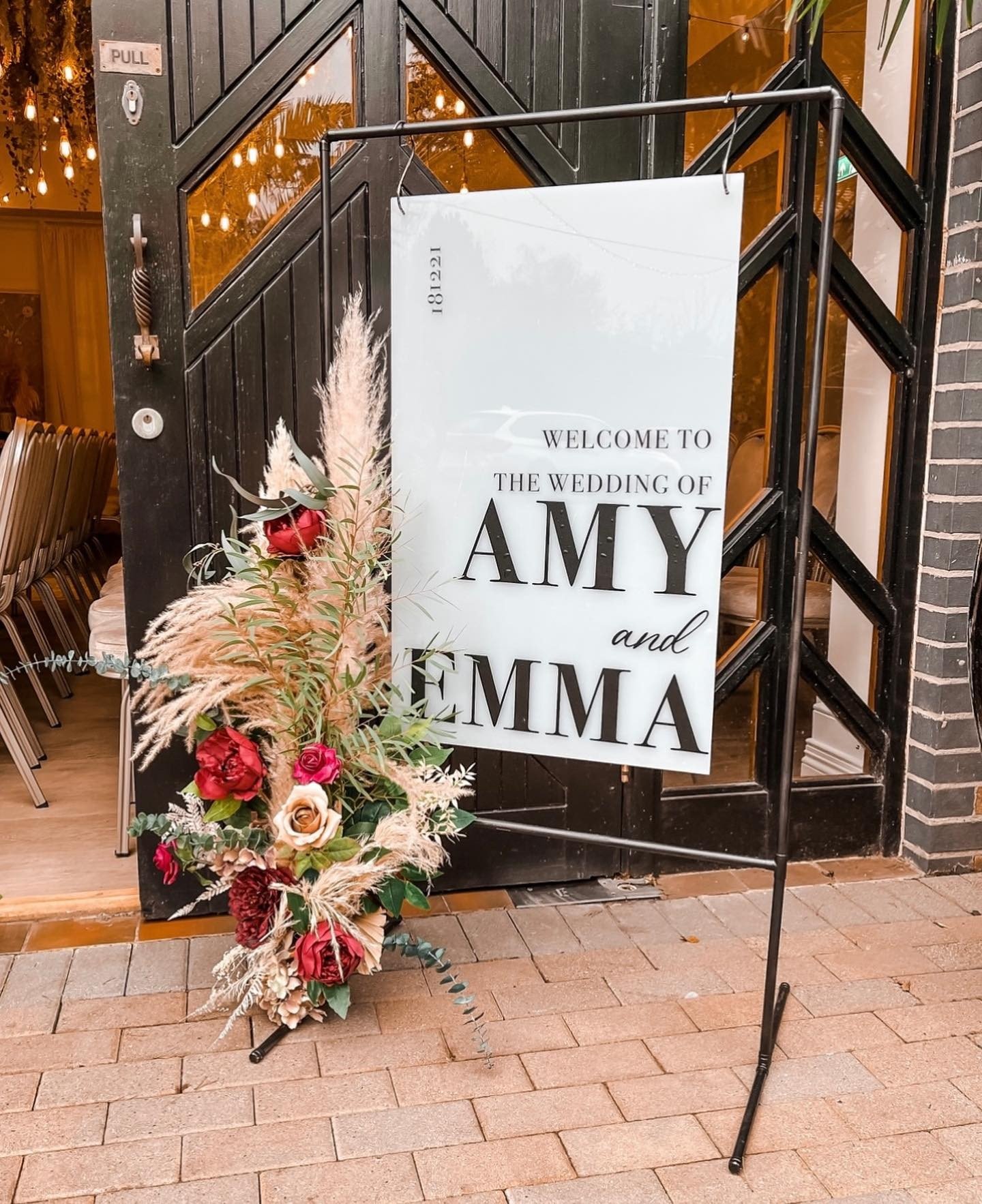 Want a wedding sign that is chic and contemporary? Well this design may be the one for you. The monochrome design and black bold font on a white background is beautifully complemented by a floral arrangement of roses and foliage. Très Chic!
RELATED TO: The Best Wedding Invitation Style For Your Star Sign
It's A Love Story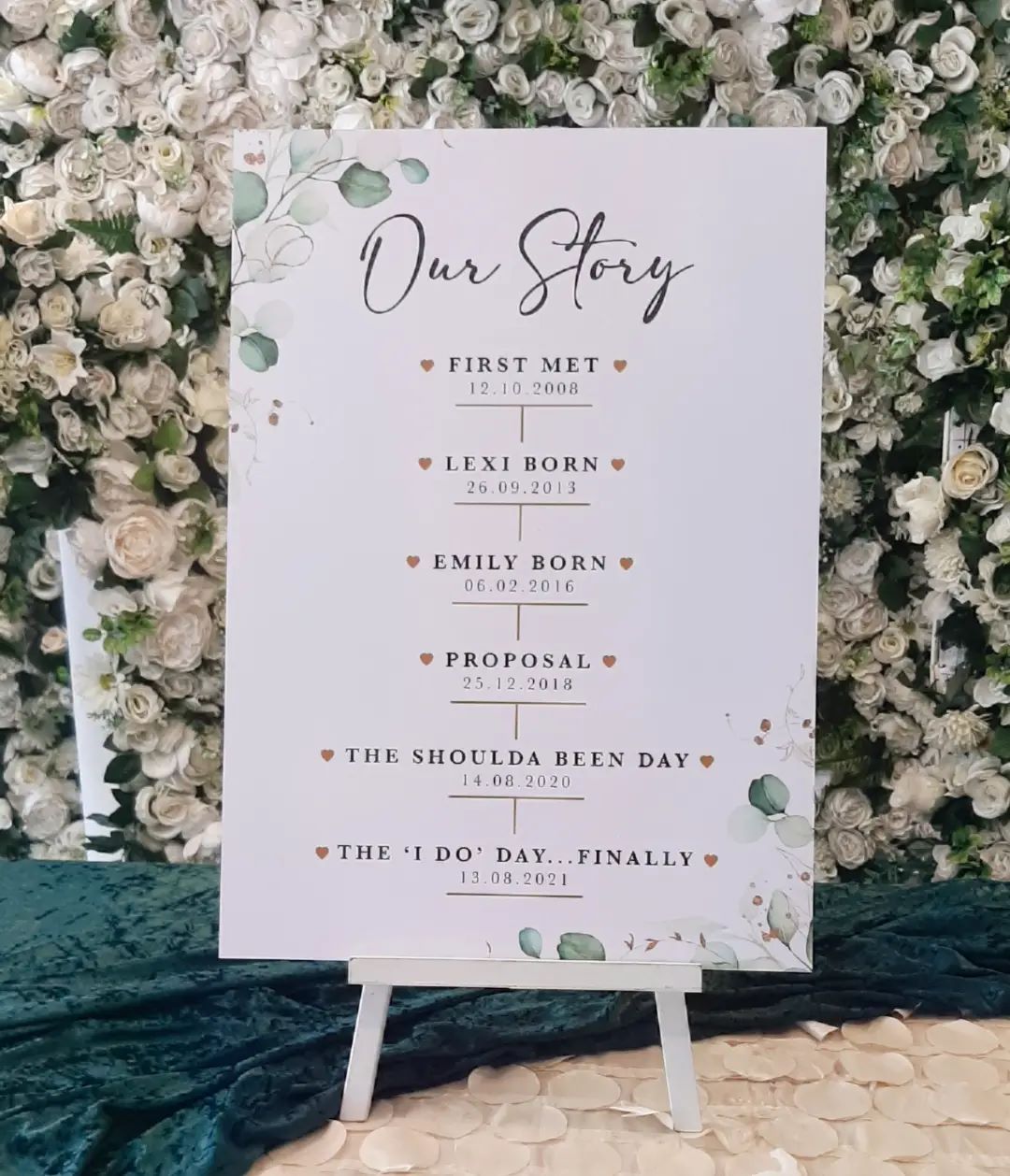 Invite your guests into your own love story with this wedding sign by The Wedding Scribblers. Highlighting the important milestones in your journey as a couple is a heartwarming way of bringing your story full circle.
Rustic Charm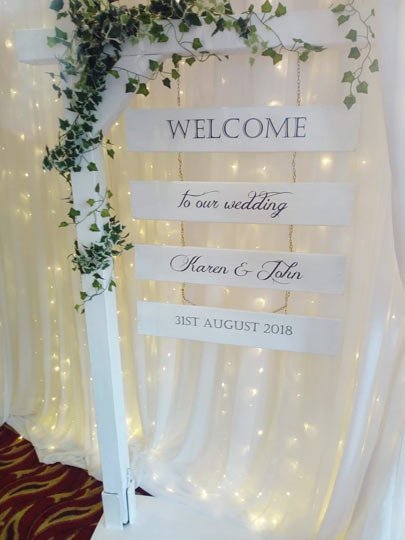 By Eventful.ie
Planning a rustic wedding? Then this wedding sign is the perfect addition to your big day! This personalised sign is a beautiful focal point and an ideal photo opportunity for your guests. Pair this sign with green foliage and a fairy-light backdrop for an Insta-ready photo opportunity.
RELATED TO: 9 Creative Ways to Customize Your Wedding Stationery
Translucent Transcriptions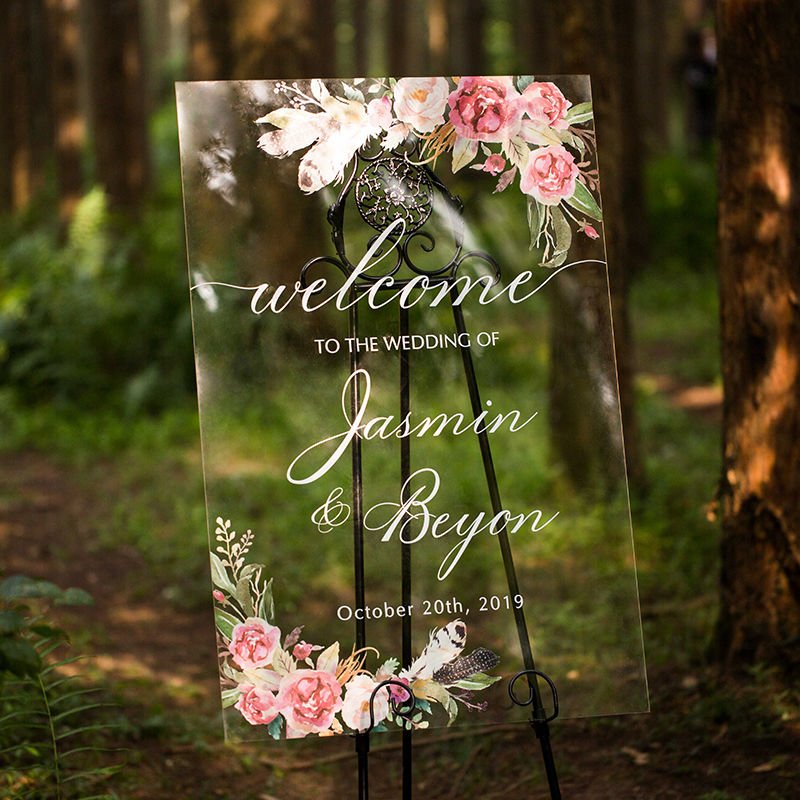 Welcome your guests in style with this clear acrylic sign. The transparent design ensures that the sign does not overpower the venue. Pair this clear design with a leafy backdrop for the ultimate picture-perfect welcome.
Pinterest Ready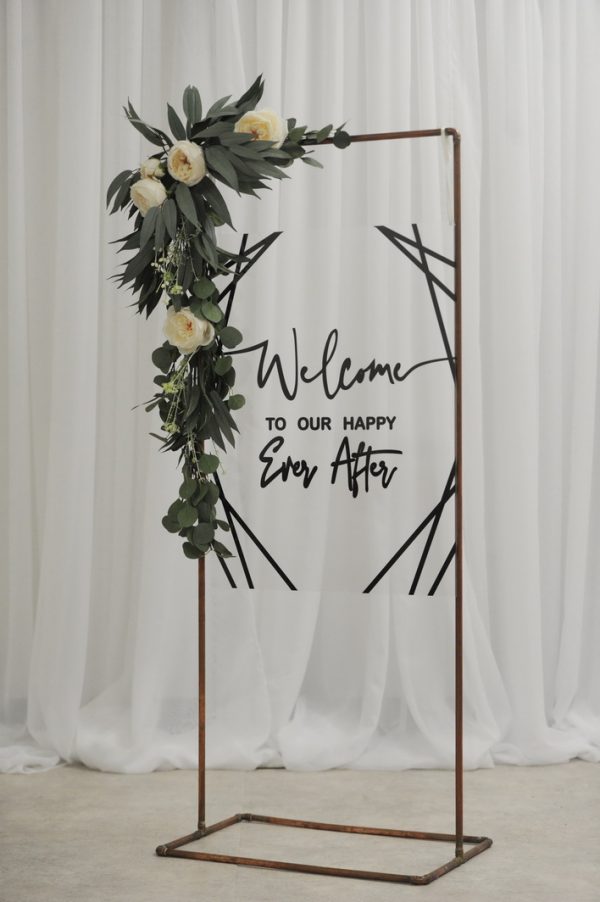 If an industrial aesthetic is what you are after then this copper wedding welcome sign may be up your street. Choose from a range of, hunter green, Paris grey, blush pink or geometric designs to make this style truly your own. The green foliage and white roses draped over the top adds a romantic charm. A welcome sign to add to your Pinterest board ASAP!
Tickets to The Wedding Journal Show this August & September on sale now!
Dublin – Citywest Convention Centre – Saturday 27th & Sunday 28th August 2022
Belfast – Titanic Exhibition Centre – Saturday 24th & Sunday 25th September 2022