Check out our handy guide for every detail to include with your wedding invitation suite, plus some stylish stationery inspo!

Don't know where to start when it comes to your wedding invitation suite? You're not alone! With so many options from reception cards to a RSVPs and invitations, it can feel a little overwhelming.
That's why we've compiled this helpful how-to guide outlining exactly what to send with you invites so you can get those RSVPs flooding in!
RELATED TO: The Best Wedding Invitation Style For Your Star Sign
Traditional Stationery (needed)
Wedding Invitation
RSVP & Envelope
Mailing Envelope
Postage
Extra Stationary (optional)
Inner Envelope
Reception Invitation
Directions
Weekend Events Card
Accommodation Card
Invitation Wrapper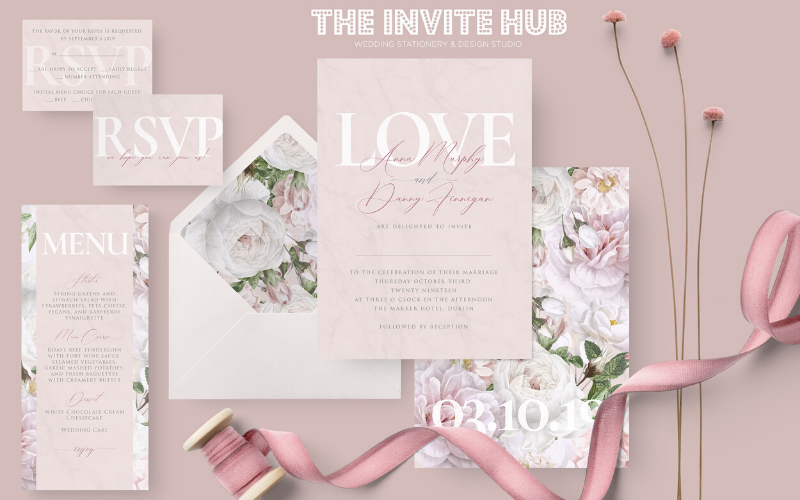 Stationery by The Invite Hub
Wedding Invitations
Although it may seem obvious what to include in your wedding invitations, many times couples forget the key details! These are commonly your date, time, ceremony location and reception location.
After this, you can also add what is known as 'corner copy', for some extra details on things like your reception or any special notes. If you have a wedding website, remember to add this now.
RELATED TO: 9 Creative Ways To Personalise Your Wedding Stationery
RSVP
When sending your RSVPs, don't forget to include a pre-addressed envelope and stamp for your guests' convenience – you want to make it as easy as possible for them to get back to you with a response. A cut-off date is also needed to make sure your guests know exactly when you need to know if they are coming or not!
If you're having meal choices, you can include checkboxes on the response cards for people to choose ahead of time.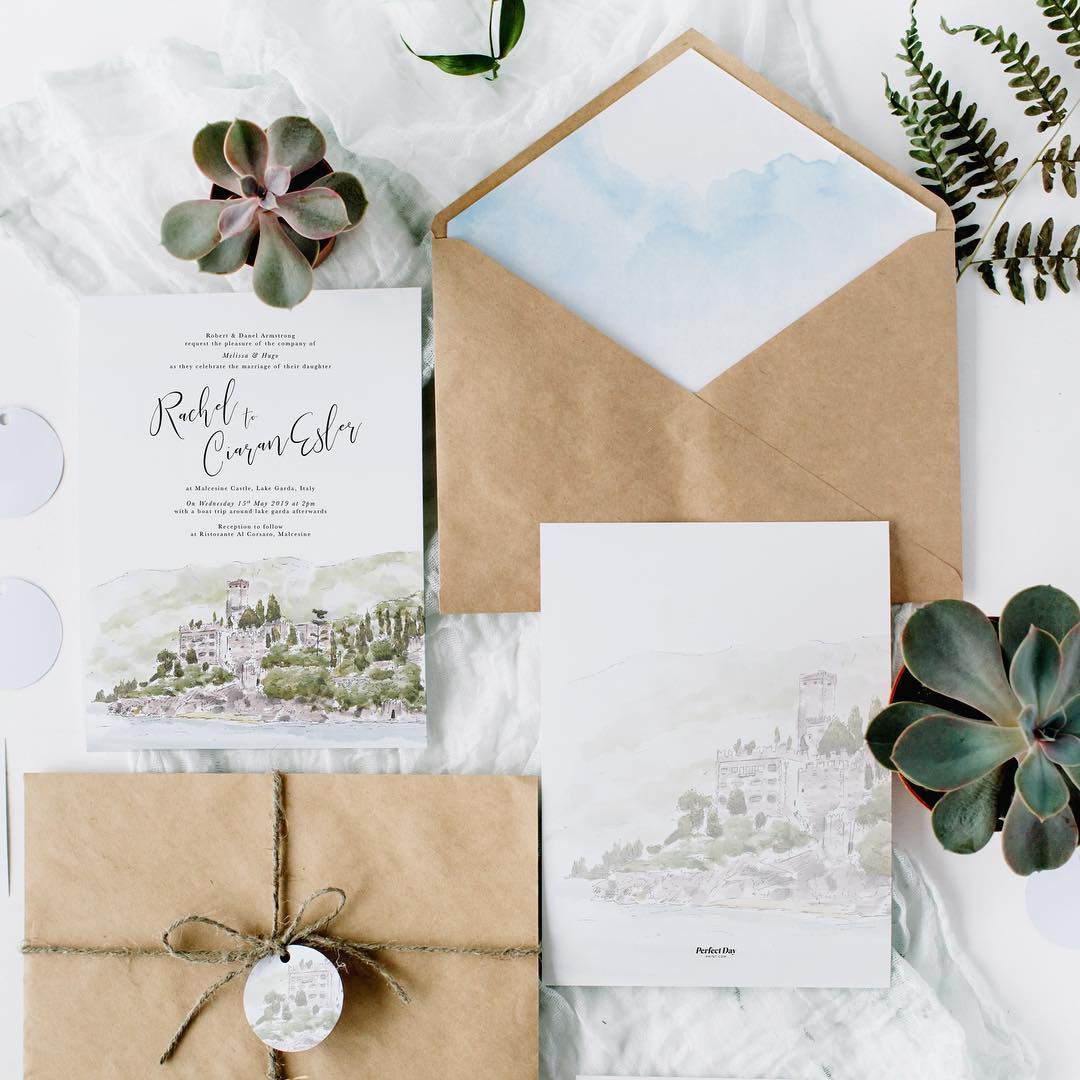 Stationery by Perfect Day Print
*TOP TIP*
When finalising your guestlist, add a number beside each name and add this number to the back of the corresponding response card – this can help you keep track of your responses as they come in just in case you cannot read the writing or they leave out some details!
Envelope
Here's another obvious but essential must-have – an envelope, duh! Luckily, many stationery suppliers offer plenty of stylish envelopes to send off your paper goods. You can personalise these to match your wedding vibe and aesthetic! We especially love this rustic design by Perfect Day Print.
Postage
This is one many people tend to not think about until the last minute, but all this stationery can mean your envelope will weigh more than you think! Make sure you get your invitation suite weighed at your local post office to see what you need. Whilst doing this, look into your stamp options to find what best suits you – you'd be surprised at the many designs you can choose from!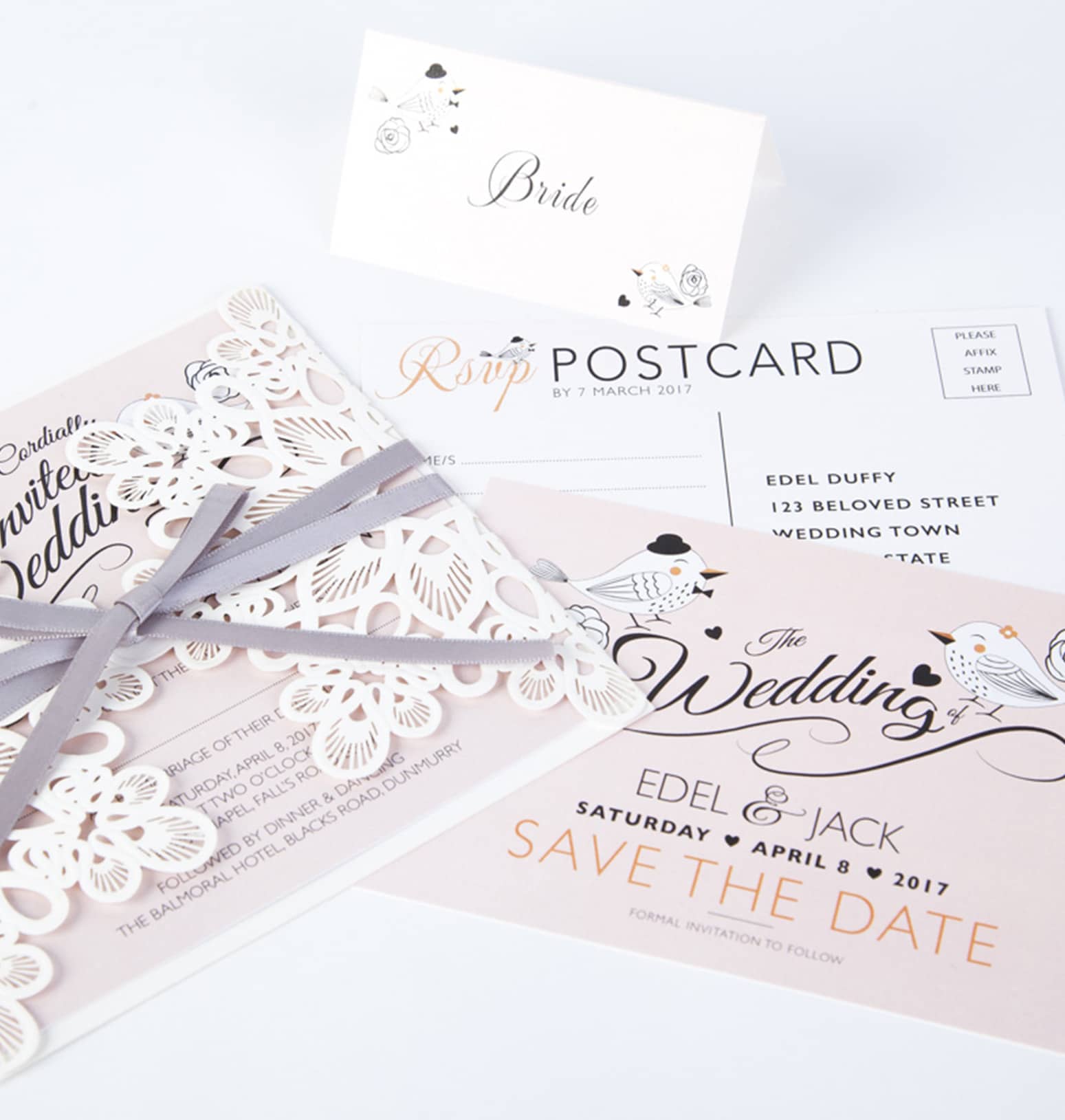 Stationery by Lots of Love Invitations
*TOP TIP*
When it comes to posting off your invites, you might want to request hand-canceled stamps over machine-canceled. All stamps to be canceled when set so that they cannot be reused, but machine canceled stamps can leave a jagged line across your beautifully designed envelope!
Inner Envelope
This is an optional choice as you can have a slightly smaller envelope inside your mailing envelope which holds your invitations for who is specifically invited. This gives you the chance to make use of some beautiful font and calligraphy by placing the name of each guest and their plus ones.
RELATED TO: 11 Wedding Expenses Every Bride Forgets To Budget For
*TOP TIP*
If you're thinking of having a kids-free wedding, you can subtly address this now by – if you are sending your invites to a family household with children, go for 'The Jacksons' if you don't mind kids, or go for 'Mary and David Jackson' to set the tone for an adult-only invite.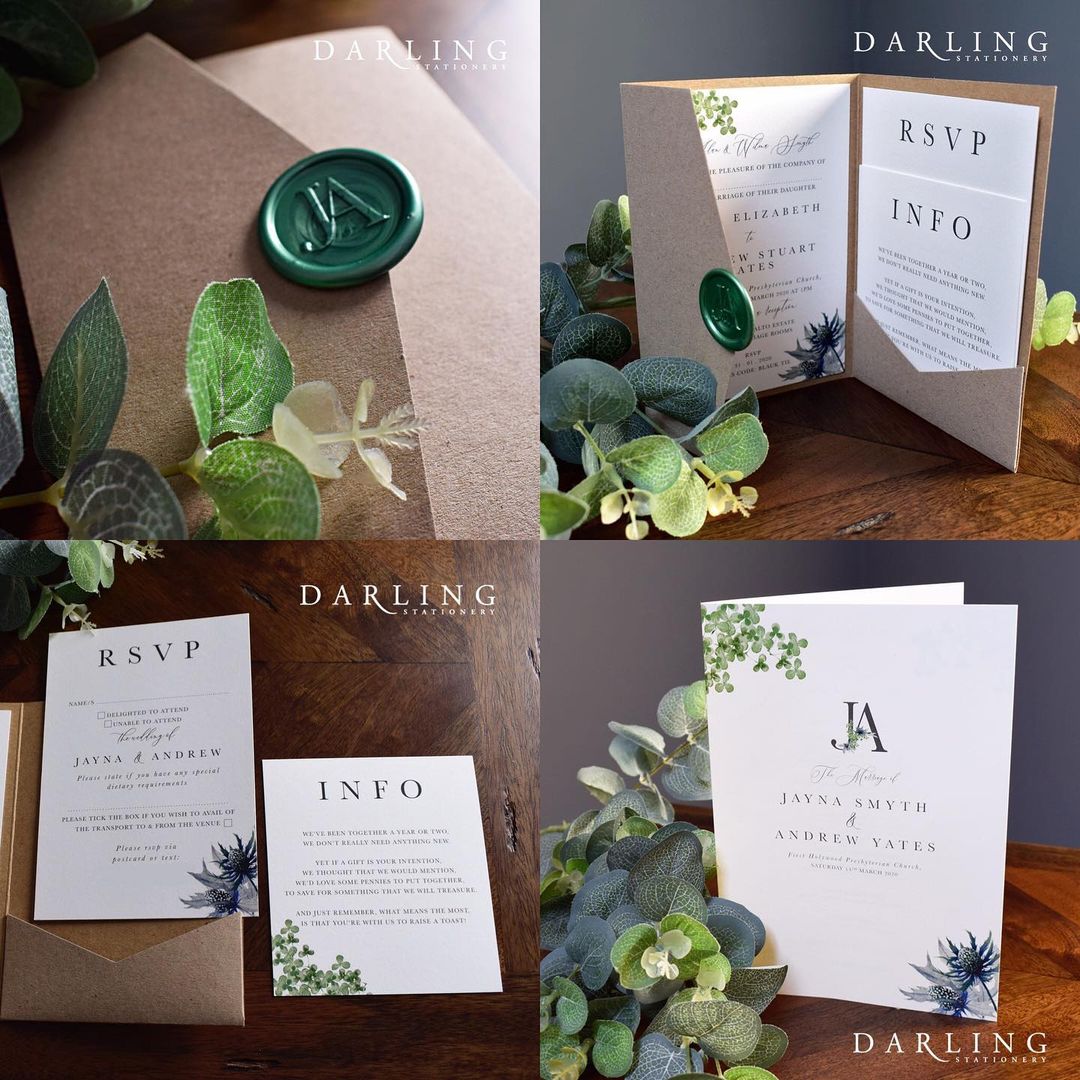 Stationery by Darling Stationery
Reception Card
If you wedding reception is not in the same location as your ceremony, you may want to include a separate card for more reception details. If you are holding a reception before 1pm, this is normally referred to as a 'Breakfast Reception', whilst anything after 1pm is just called 'Reception'. You can indicate the vibe you are going for with as much details as you like, i.e. Dinner Reception, Drinks Reception or even an Adults-Only Reception.
RELATED TO: Which Wedding You Should Have Based On Your Star Sign
Directions
Although we are living in the modern world of 'google-mapping it', its always a good idea to include directions in your wedding invitation suite just in case your guests' phone dies or for your elderly guests who do not regularly use technology. Be careful to use a simple font when it comes to this so all the details clear.
Weekend Events Card
If you planning a weekend celebration with multiple events such as welcome drinks, an after party and a day-after brunch, consider including a full itinerary for guests so they know what to expect and what to pack for. They will appreciate the extra information and is another opportunity for you to style up more stationery!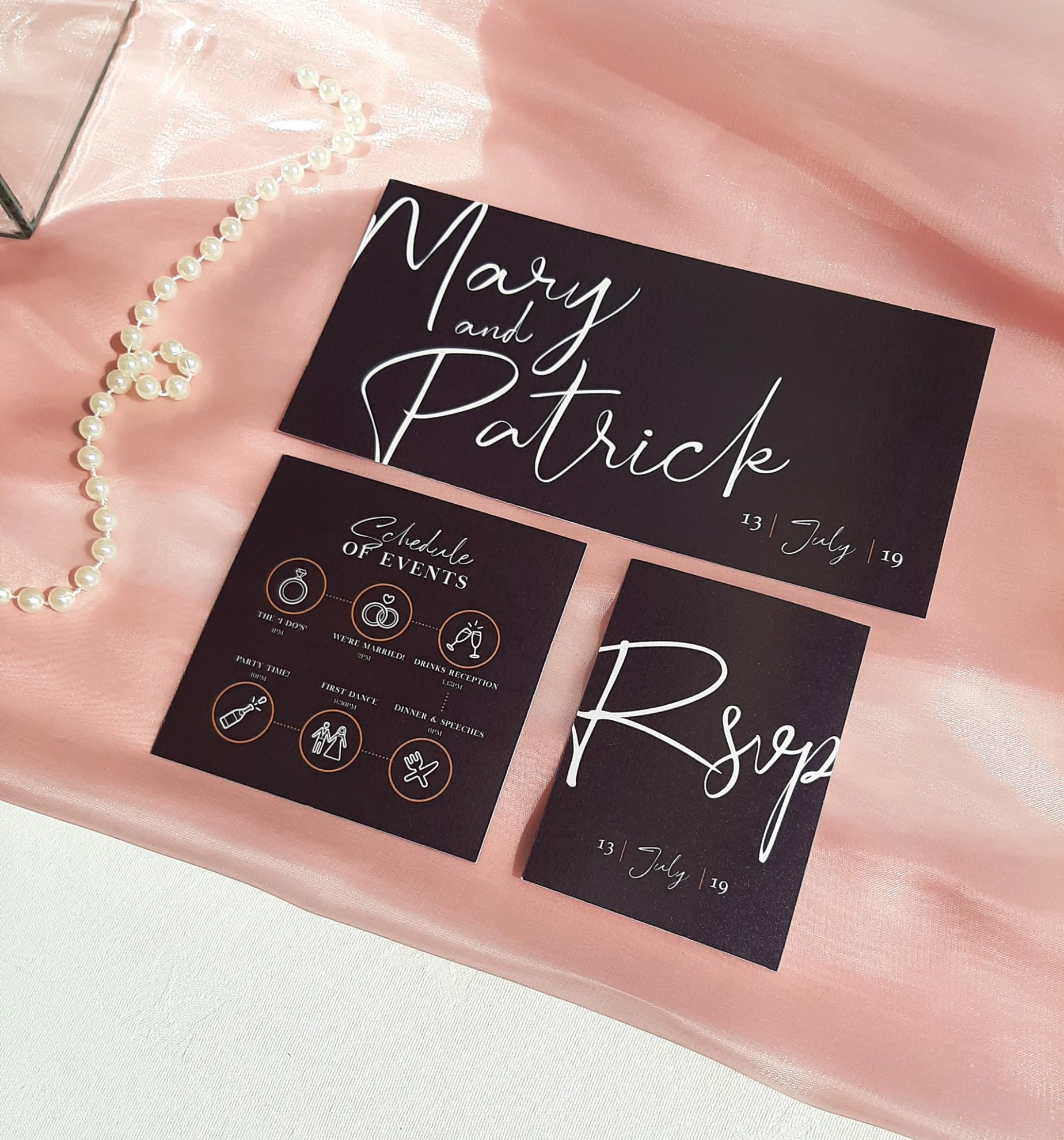 Stationery by The Wedding Scribblers
Accommodation Card
Again this is optional, but can be worth it especially for your guests who will be travelling that extra bit further to celebrate with you! Make life a little easier for them by including some close hotel recommendations with a deadline for making a reservation. If you're covering accommodation costs, its common etiquette to include this and transport details.
Invitation Wrapper
After assembling your full wedding invitation suite, you can include a super cute and stylish invitation wrapper such as a silk ribbon or wax seal. Choose a colour that matches your inside stationery and use this chance to add those finishing touches!
Looking for more stationery inspo? Check out all our trust stationery suppliers HERE
Sign up to our newsletter to get all the latest from The Wedding Journal! Join Here>>>>http://eepurl.com/ck9vLb