One hundred people will now be allowed to attend weddings, funerals and other indoor gatherings from July 20th!
The roadmap for reopening Ireland has accelerated greatly over the weekend, with sporting activities also due to be permitted to resume earlier than expected. Subject to in public health guidance and social distancing measures, this is such exciting news for both brides, grooms and suppliers up and down the country.
It's understood that from June 29th a group of up to 50 people will be allowed attend events in enclosed spaces. This will facilitate cinemas, smaller theatres and other cultural businesses resume their activities.
Churches can start to resume holding Mass provided numbers are kept below 50. Gatherings of up to 200 people will be permitted outdoors, with strict social distancing rules. Then comes the final phase of the plan, July 20th when indoor gatherings of up to 100 people will be permitted.
Summer Weddings Are Back
If you are planning your big day in next few weeks, you need to educate both yourselves and your guests with the latest social distancing guidelines and protocols in place. We have researched these for you below, so you know exactly what is expected on your big day.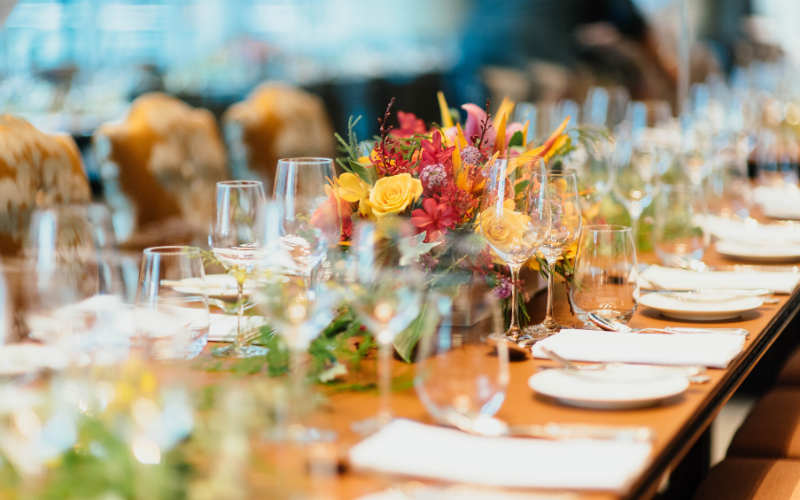 The 100 people permitted means 100 total – so this includes the couple, their guests, the venue staff and any suppliers too. You might still need to cut your guest list if this exceeds your original plan. Do consider that you want your big day to run smoothly, if you ask your venue to cut back on staff, this might disrupt or hinder certain plans. Clear communication with your venue and suppliers is crucial, everyone involved in your wedding wants the day to be a success, so don't panic.
Evening receptions will look a little different for the next couple of months –
Physical Distancing Protocol 
For your reception the guidelines ask for two metres between the tables, however, if this isn't possible they have allowed for one metre in a controlled environment. But what on earth does that actually mean? Weddings with dedicated seating plans and organised spaces can classify as a controlled environment. It's important that you keep a record of all guests attending, just in case they need to track and trace – fingers crossed they don't!
It's all about keeping things controlled and organised, this will help staff and suppliers also.
How To Shop During Covid-19
Due to the current pandemic, lots of business have had to alter how they operate, and bridal shops and groomswear stores are no different. They provide a very personal one on one service, so have had to put in place new guidelines to keep both the customer and staff safe.
We spoke with Bernie O'Neill of Perfect Day, Lurgan – check out the protocols in place within her boutique
When you come to your appointment, it will be with one other person, we do understand how important your wedding day is for you, and part of the joyous process of choosing your dress or bridesmaids would, under normal circumstances, involve the people close to you whose opinions you most value. We can facilitate Zoom parties, or FaceTime sessions for your entourage during your appointment. This applies to both bridal and bridesmaids appoints.
Our staff will be wearing masks & gloves and rooms sanitised regularly. We must insist that you & your guest wear masks too .
Toilet Facilities are off limits at the minute with the Gov guidelines (this will hopefully change soon), so it's best to make sure you have used the bathroom before you visit.
We also encourage you to screen shot your fave dresses from our website perfectdayni.com ,or our Facebook/Instagram pages, this way it will help you get through as many dresses as possible and reduce the handling of fabrics.
We will be trying to limit the amount of traffic in store to avoid cross contamination, so brides who have visited a lot of stores around the country may be refused an appoint (again hopefully this will change as and when the pandemic begins to improve).
We ask that you arrive on time for your appoint and we may ask you to stay in the car until the bridal room is ready for you, this is for your safety so you do not come in contact with too many other people.
We have also removed all our bridal shoes that we normally use in appointments, again for health reasons, so please feel free to bring a pair of shoes that is the height that you may wear on your wedding day.
Weddings Abroad
Travel has taken a huge hit this year, so for those couples who have booked a destination wedding this year we advise you postpone for a couple more months. It's best to keep in touch with your venue/wedding planner and follow the advice from your chosen country's guidelines.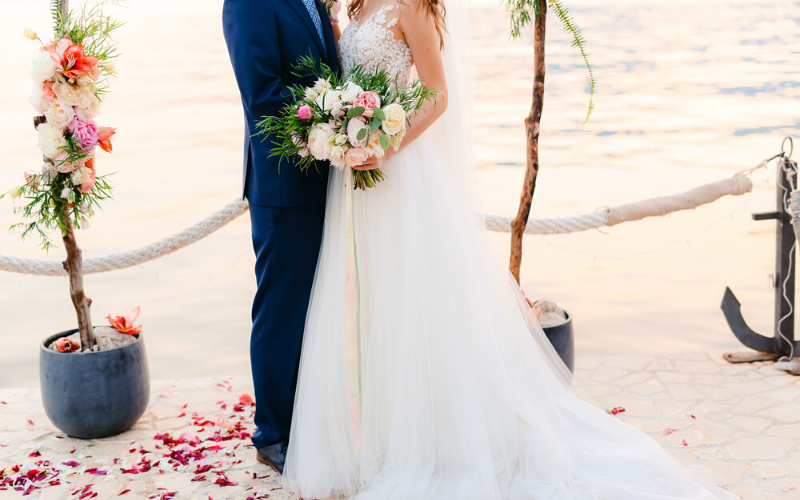 It might be safe in that country, but what about the travel to that destination – it's best to do as much research as possible before making any big decisions.
Wedding Insurance
Coronavirus has definitely taught us all that wedding insurance is a necessity! If you already have an insurance policy covering your wedding, then great, but you'll need to go back and read the fine print. The majority of existing policies should cover couples if the worst happens and coronavirus throws a spanner in the works of their big day.
We're so excited for both our readers and suppliers that weddings are back up and running from July. We just need to make sure we all adhere to the government's guidelines on social distancing and stay alert! As things start to progress in the south of Ireland, we will keep you up to date with any progress in the north.
You can follow us on Facebook, Twitter and Instagram for 24/7 bridal news!
READ MORE

How To Find New Wedding Suppliers

Expert Advice On Postponing Your Big Day

Covid-19 Questions To Ask Your Wedding Suppliers]

Guide To Shopping During Lockdown