Whimsical. Adjective. Playful, quaint or fanciful.
Does this sound like the theme you want for your wedding? If so, then you're probably on the hunt for whimsical hair inspo. This style of big day is all about magic, imagination, playfulness and charm (Think of the Mad Hatter's Tea Party and you'd be on the right track) and you'll no doubt want that theme to carry through in your hair.
Soft and undone is the name of the game here, you don't want anything that looks too structured or too put together. Think soft curls, loose strands and playful, ethereal accessories.
If you're opting for an updo, keep strands loosely pinned to give the illusion of a slightly disheveled look. If you're wearing your hair down, ensure curls are brushed through for a softer, more natural look.
Scroll down to see some of our favourite whimsical bridal hair inspo, plus gorge accessories to go with it.
The style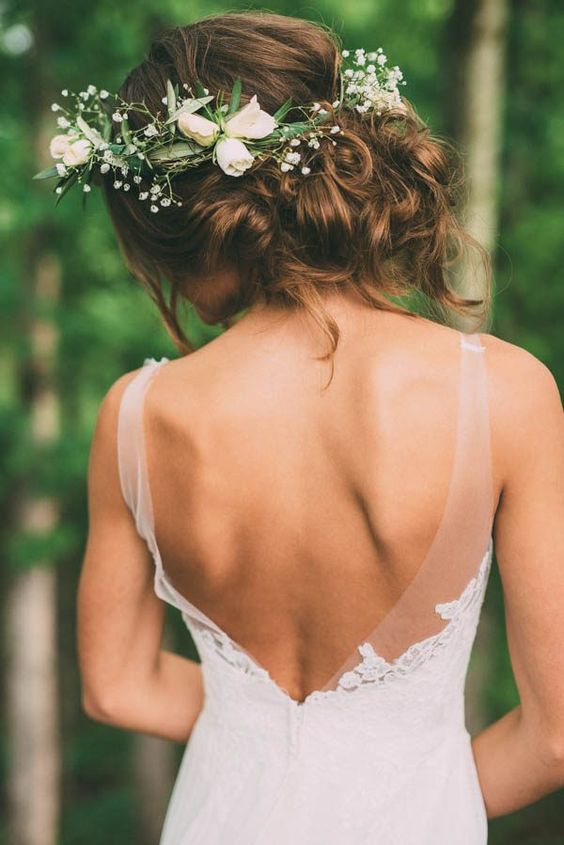 Image via Junebugweddings.com. Photography by The Image Is Found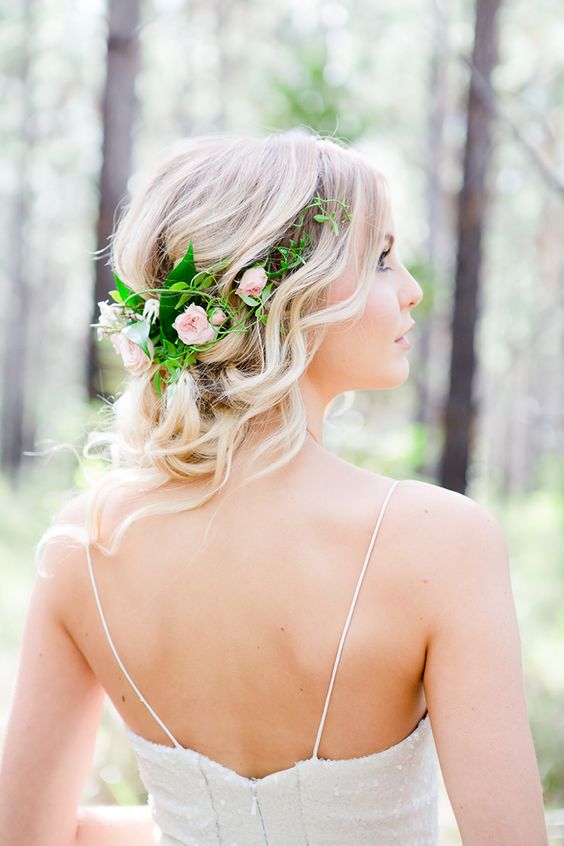 Image via The Wedding Playbook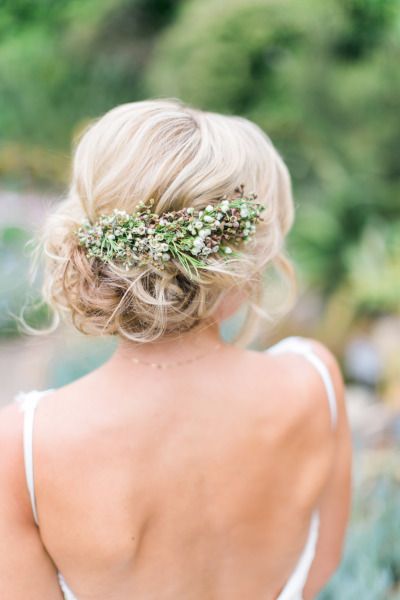 Image via Style Me Pretty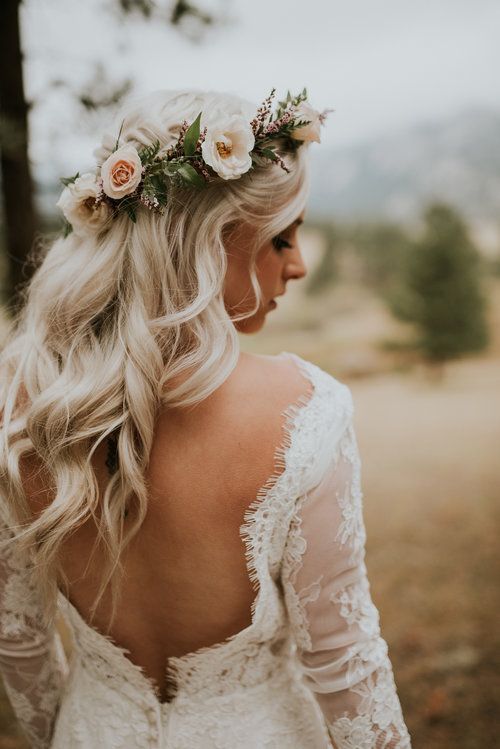 Image via Lace and Lilies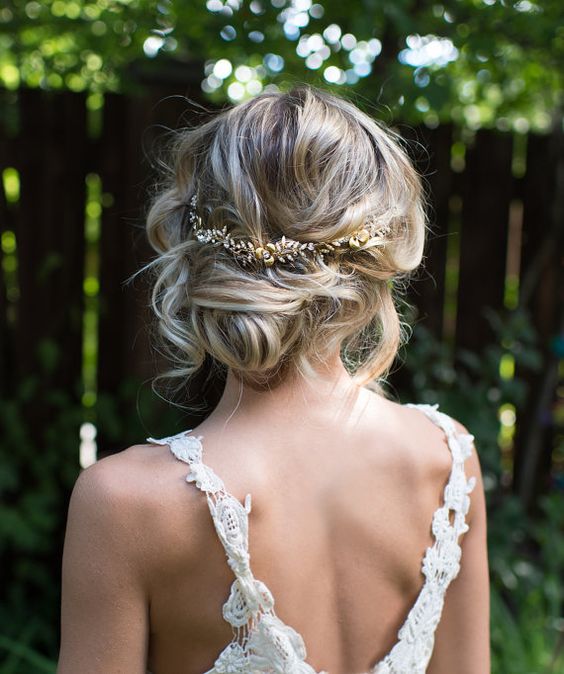 Image via Lottie Da Designs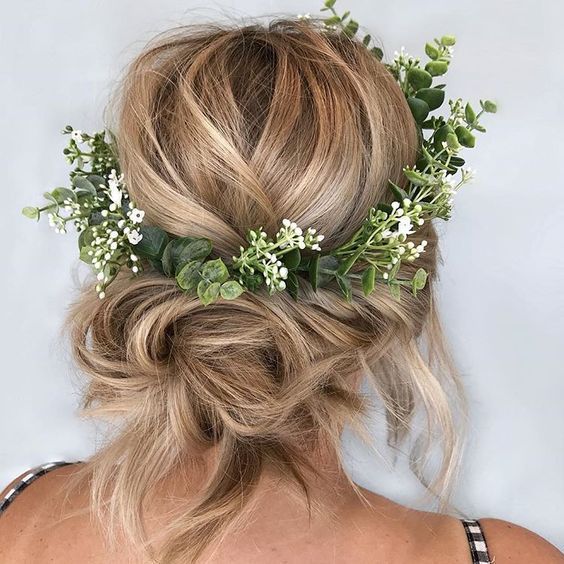 Image via Rustic wedding chic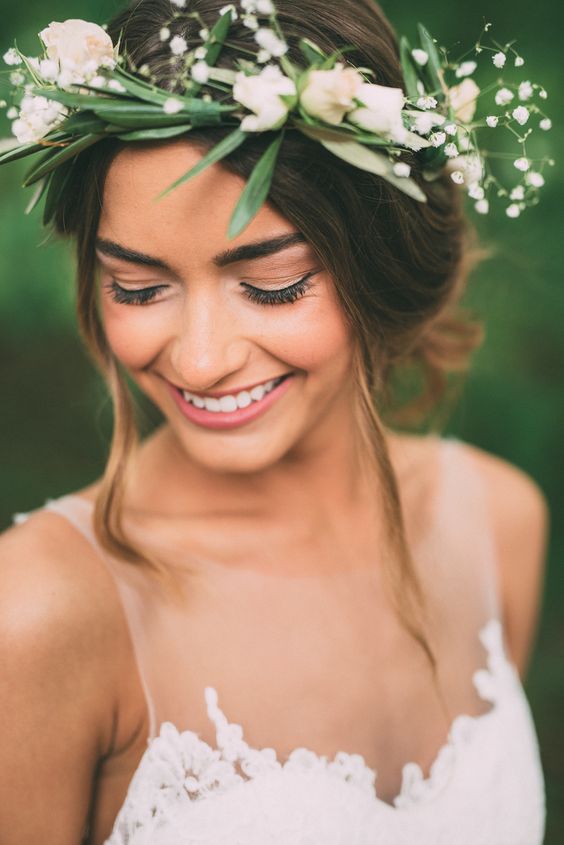 Image via Lea-ann Belter Bridal 
The accessories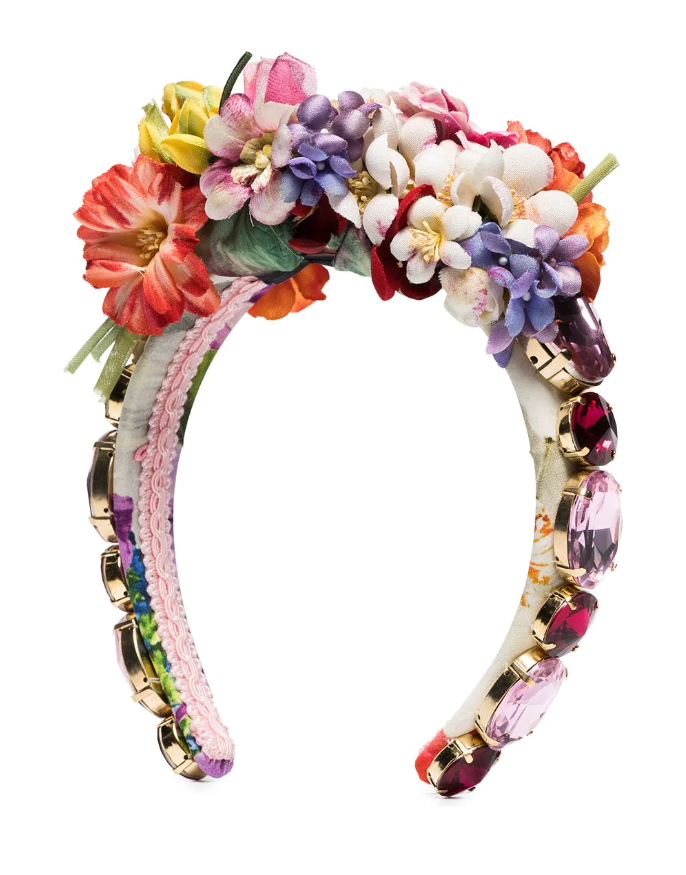 Embellished floral headband, £1,700, D&G
Gilded vine headpiece, £380, Liberty In Love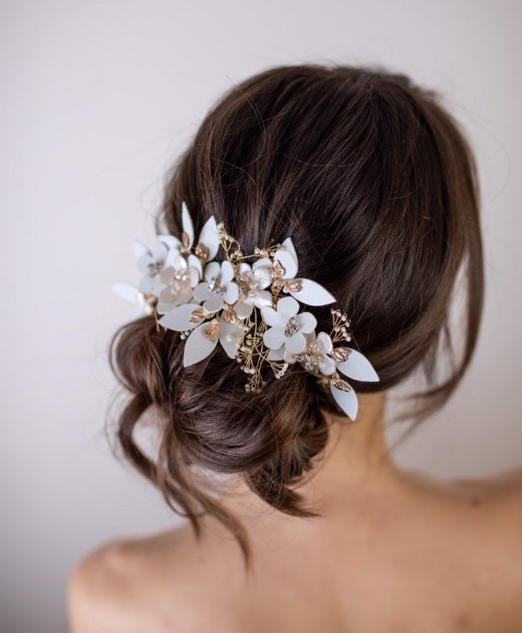 Bridal hair comb, £95, Etsy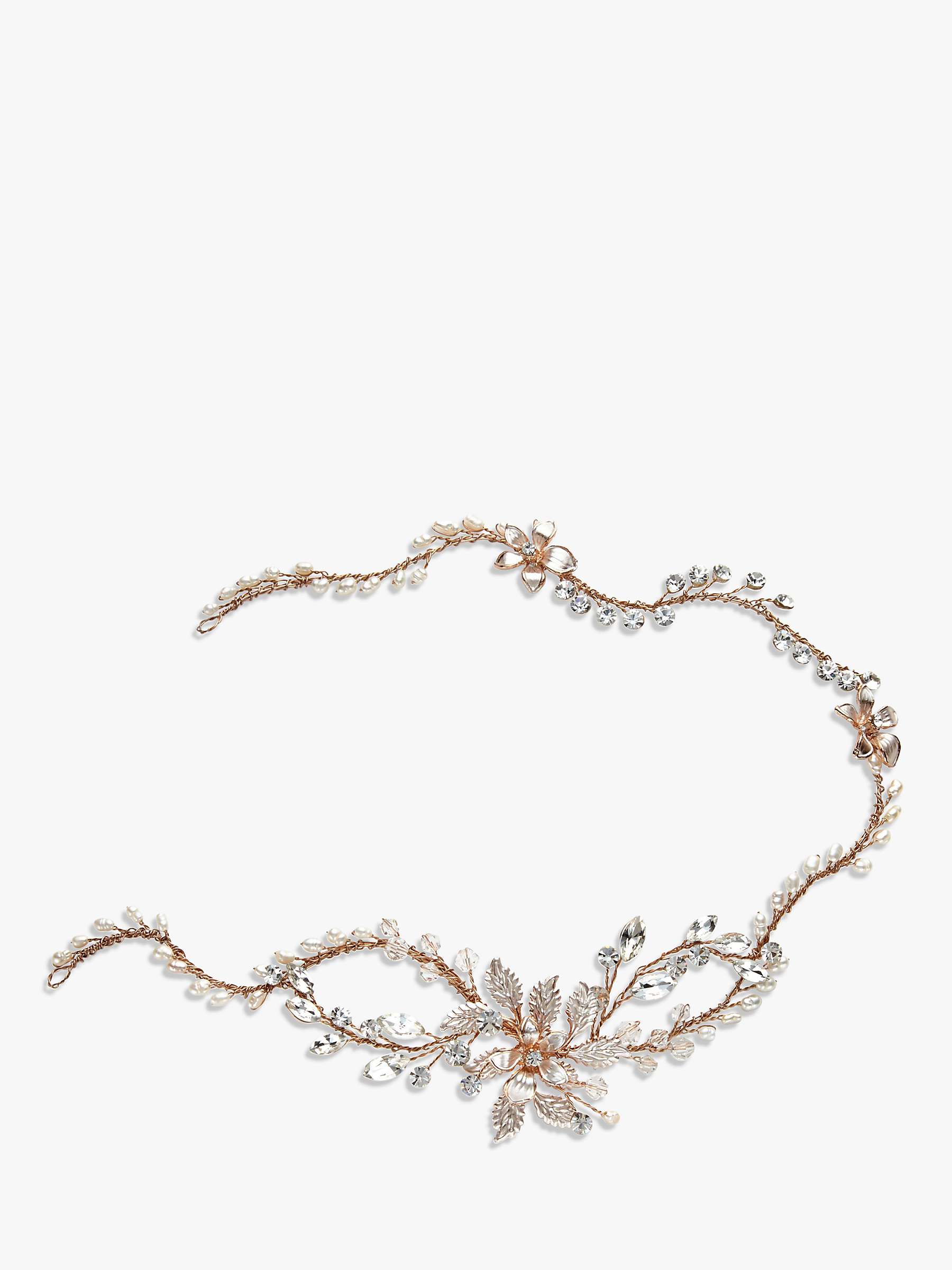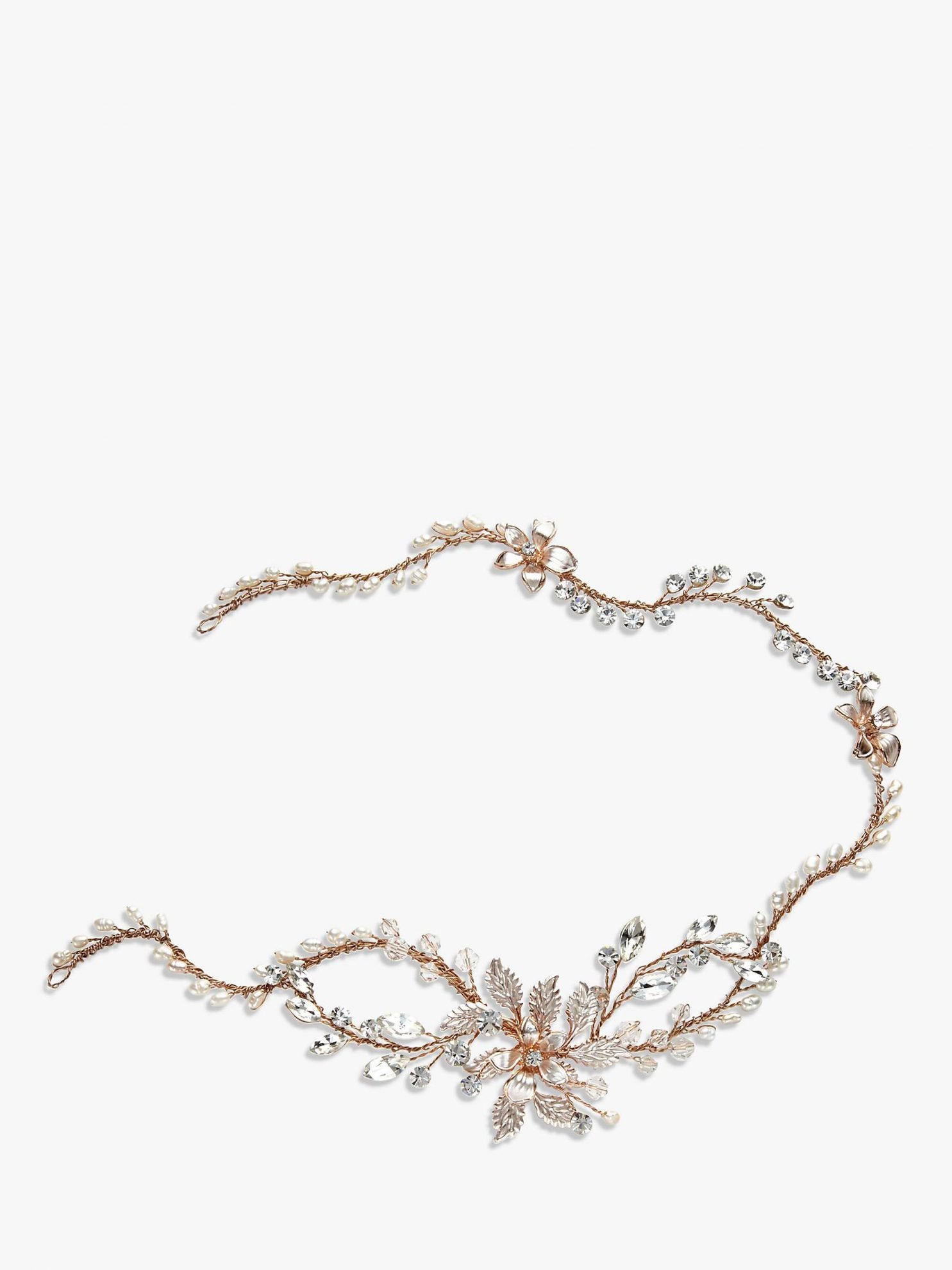 Ivory & Co Freshwater pearl and crystal floral hair vine, £95, John Lewis
How to ask your stylist for whimsical bridal hair
Gather inspo
So good news – you've already completed step one simply by reading this article, but don't be afraid to continue your research if you still haven't found a whimsical hair style you've set your heart on. You'll find loads more inspiration under the #weddinghair hashtag on Instagram and on Pinterest. Create folders on Instagram or a Pinterest board to keep all your inspiration in one place.
Consider your hair style and length
While most hairstyles can be given a whimsical feel, there's no denying that this particular look works better on hair that is at least shoulder length. A lot of curling, texturising and pinning goes into a whimsical hairstyle, so the more your hairdresser has to work with, the better. Dead set on a whimsical hairstyle but don't have the length for it? You could consider hair extensions, but do bear in mind you should allow ample time to have these fitted before the wedding. A set of hair extensions should see you through all of your trials and you'll need time to get used to them too – so don't delay!

Narrow it down
Got five hundred pics pinned and feeling overwhelmed? We hear you! It's time to start the whittling down process. Be ruthless. Delete any hairstyles that aren't really doing it for you until you're left with a smaller selection of 10 to 20. From there, eliminate the ones that don't really fit with the theme of your wedding, or might not be a good match with your dress. Hopefully you'll have a handful left to show to your hairdresser.
Consult your hairdresser
First things first, clarify what you want. Whimsical hair is usually undone and elegantly disheveled, with soft curls that have been brushed out for a more natural look. You'll want to bring all your pics along. Chat through what elements you like on each pic and how you envisage the look on your own hair. It's crucial at this point to show your hairdresser a pic of your wedding dress so they can create a look that ties in with it.
Have a trial run
No matter what kind of bridal hairstyle you are choosing you should always have at least one trial run. Many brides have their hair trial on their hen do, but you can of course have it on a random Tuesday if you feel like it. The whole purpose is to see how the style looks on you and to indentify any problems or tweaks you'd like made. Still not 100 per cent certain about your hair? Have another trial. You aren't limited to just one. It's a good idea to see how it ties in with your wedding makeup too.
On the hunt for the perfect hair stylist for your wedding day? Head to our directory of wedding suppliers here.