Dried flowers are trending in the wedding scene and we see why! Not only are they aesthetically pleasing to look at, but they're also super-efficient and give off an effortless chic vibe to your day.
From beautifully crafted arches to the finer details in your bouquet and buttonholes, dried flowers can work for both vintage and modern weddings with unique blooms, seed pods and pampas grass which is sure to give your ceremony that extra wow factor!
What are the benefits of dried flowers?
They last longer
Aesthetics aside, the main benefit of dried flowers is how long they last – not only are they sure to withstand the hustle and bustle of the big day, but they can even last for years, meaning you can also take a keepsake home to look back on. This makes them extra helpful if you're planning to get married abroad as they are sure to stand strong even in the soaring heat and sun!
Better for your budget
If you could make your wedding flowers stylish whilst saving, who wouldn't go for it? Most of the time people think fresh flowers are the way forward for their wedding day. Well think again as dried flowers have become an increasingly popular alternative which tends to be less pricy, which I'm sure every bride and groom will be happy to hear!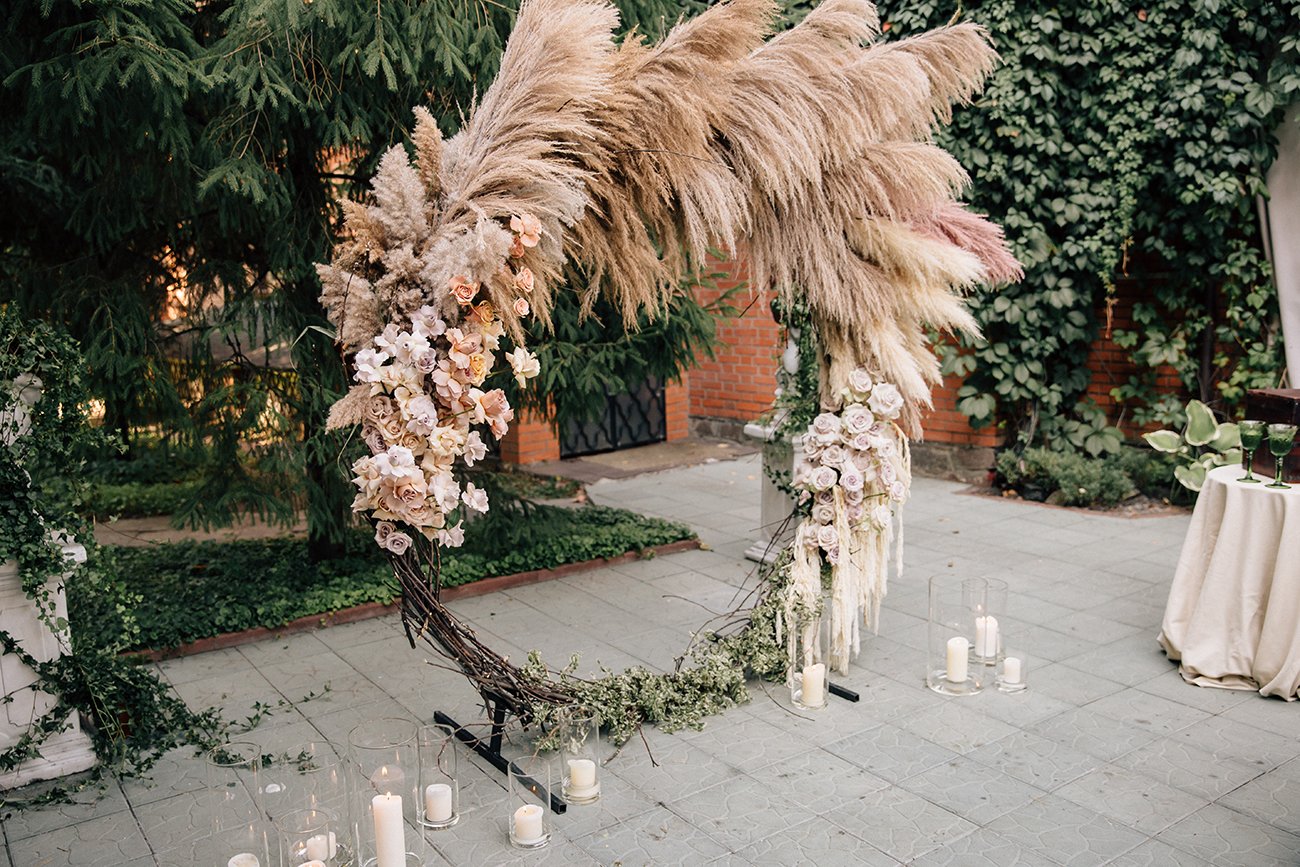 They work for every style
Whether you're dreaming of a boho wedding, chic city ceremony or even a cosy at home garden celebration, dried flowers can suit almost every style. They're super versatile with so many options to choose from, so whatever your vision, your florist should be able to arrange it to your taste. Also, the fact that they are a little bit different to fresh flower arrangements will make them stand out even more!
How to use dried flowers in your wedding?
Bouquets & Buttonholes
Although the most popular types of dried flowers are soft earthy tones, don't feel limited to only neutral colours. There are a range of dried flowers in almost every colour including reds, purples, blues and yellow to name a few. You can even make smaller versions of your bouquet to match your bridesmaids' posies, buttonholes and corsages!
Table arrangements & Decor
Depending on your theme and time of year, you can keep it simple or go all out with your flower arrangements. Welcome your guests to an earthly abundance with floral runners, centrepieces, scattered vases with pampas grass and even hanging wreaths and dried blooms confetti – the options are endless!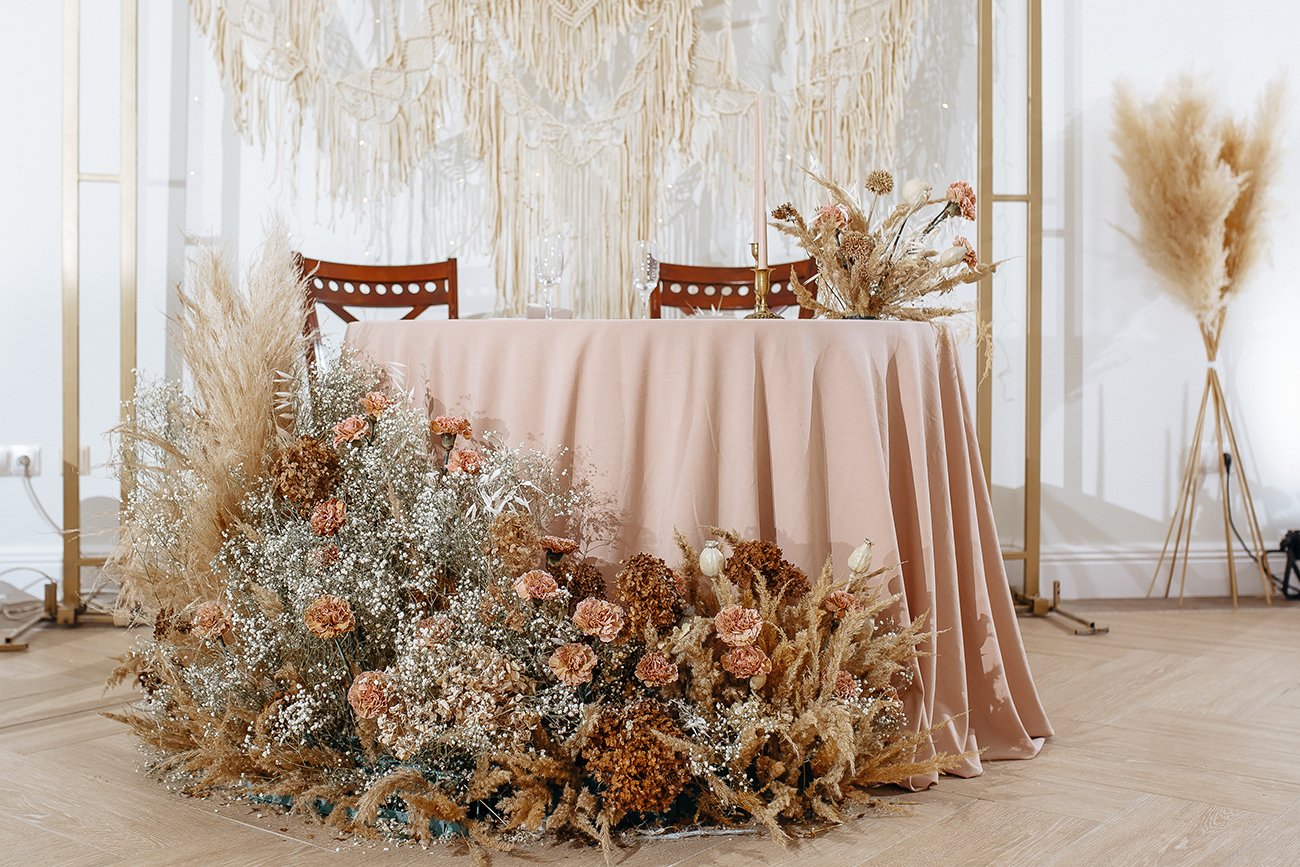 Hair Accessories & Flower Crown
Looking for the perfect elegant hairstyle to pull the whole look together? Dried flower crowns are the new trend, with so many types of colours and styles to choose from and totally weightless this is the perfect way to spice up any hairdo. Just make sure you have some trusty bridesmaids on watch for any falling petals when you're dancing the night away!
Arches & Backdrops
Create your own heaven on earth with an array of fluffy pampas grass framing you and your love as you say 'I do' on the alter (and just think of the pictures!) You can also arrange gorgeous dried flower backdrops that won't wilt or whither all day, so you can relax and get those all-important Instagram moments!
What are the most popular types?
Flowers
From lavender, camomile, and carnations to star flowers, billy buttons and straw flowers, you really are spoiled for choice! They also come in a variety of shapes and shades. Depending on your taste and style you can mix and match and be assured they will stand the test of time.
Grasses & Seedpods
Pampas grass is really having its moment and we see why – there is something magical about their fluffy texture and neutral tones which gives a chic yet rustic vibe to any setting. You can also choose bunny tails, foxtails, ferns or wheat and add some seedpods to give your arrangements that little something extra.
Leaves
Not only have palm leaves and eucalyptus become a big hit in home décor, but they're also making an appearance in many wedding ceremonies. Although they set a beautiful aesthetic, they also give off more of a fragrance than other dried flowers especially when adding some spiced herbs. Chrysanthemum leaves are another option to add some greenery and earthy tones and work well paired with pussy willow branches and poppy seeds!