So you want something different for your big day and you're really after an alternative wedding venue.
Maybe the traditional church ceremony and hotel reception just isn't you and you want to choose a setting that your guests will never forget. If that's the case, we have you covered with 10 of the coolest alternative wedding venues in Ireland.
Whether you're after something with historical significance, a gorgeous backdrop for your photos or something that really suits your quirks, this list has you covered.
The Hedges Hotel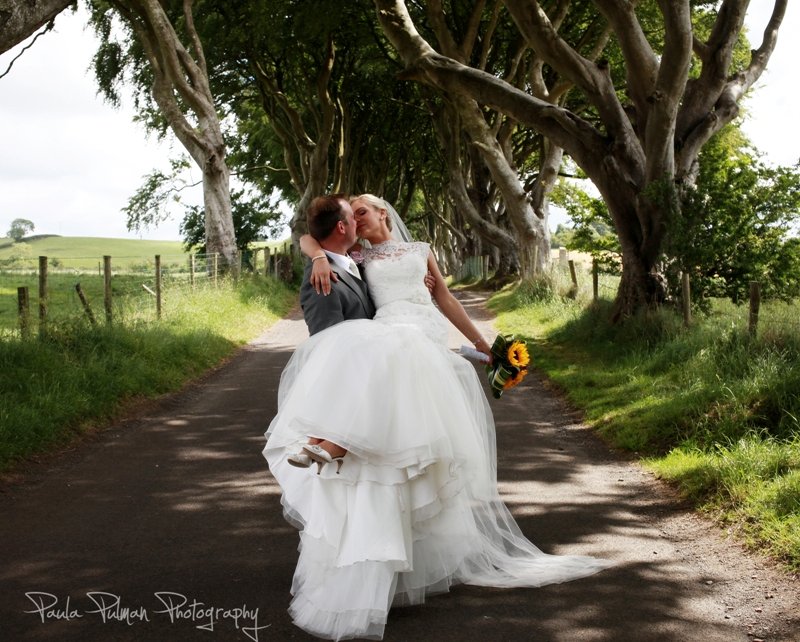 Whether you want your wedding to be intimate, extravagant or completely homemade – The Hedges Hotel is the perfect setting. The hotel is situated close to be the iconic Dark Hedges in Ballymoney, County Antrim. Licensed for a civil ceremony, this stunning ballroom-style venue is both spacious and welcoming, making it perfect for a grand wedding ceremony and reception. So you and your guests can dance the night away before retiring to one of the immaculate bedrooms at the end of the celebrations.
Clandeboye Estate

Set in the heart of Co. Down, Clandeboye Estate is one of the most beautiful private country estates in Ireland and a stunning location for weddings and special events. Situated within easy reach of Belfast and the City Airport. From the moment you turn into the gates of the Clandeboye Estate and make your way along the winding avenue, you will begin to understand the spellbinding appeal of this historic home.
Down Royal Racecourse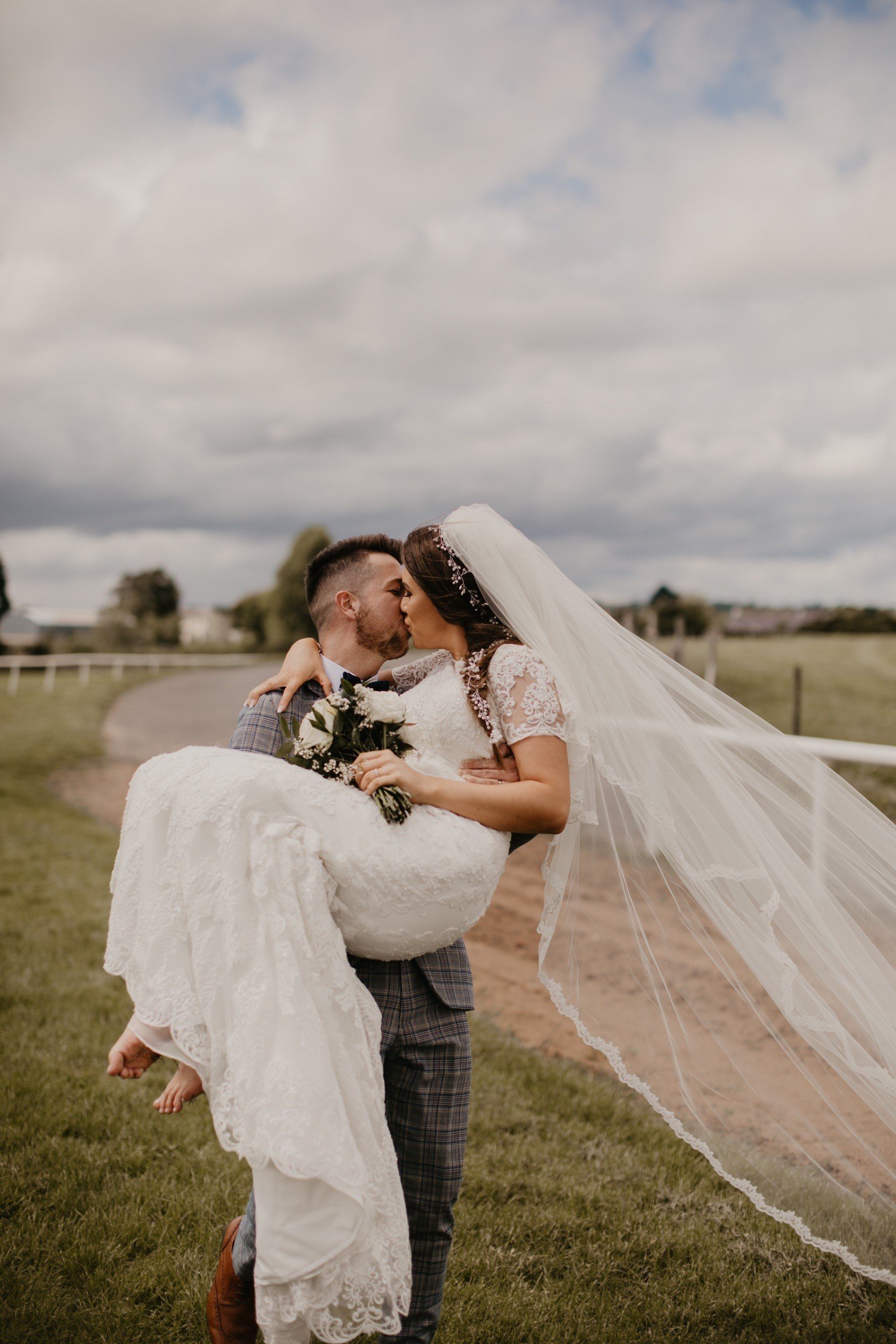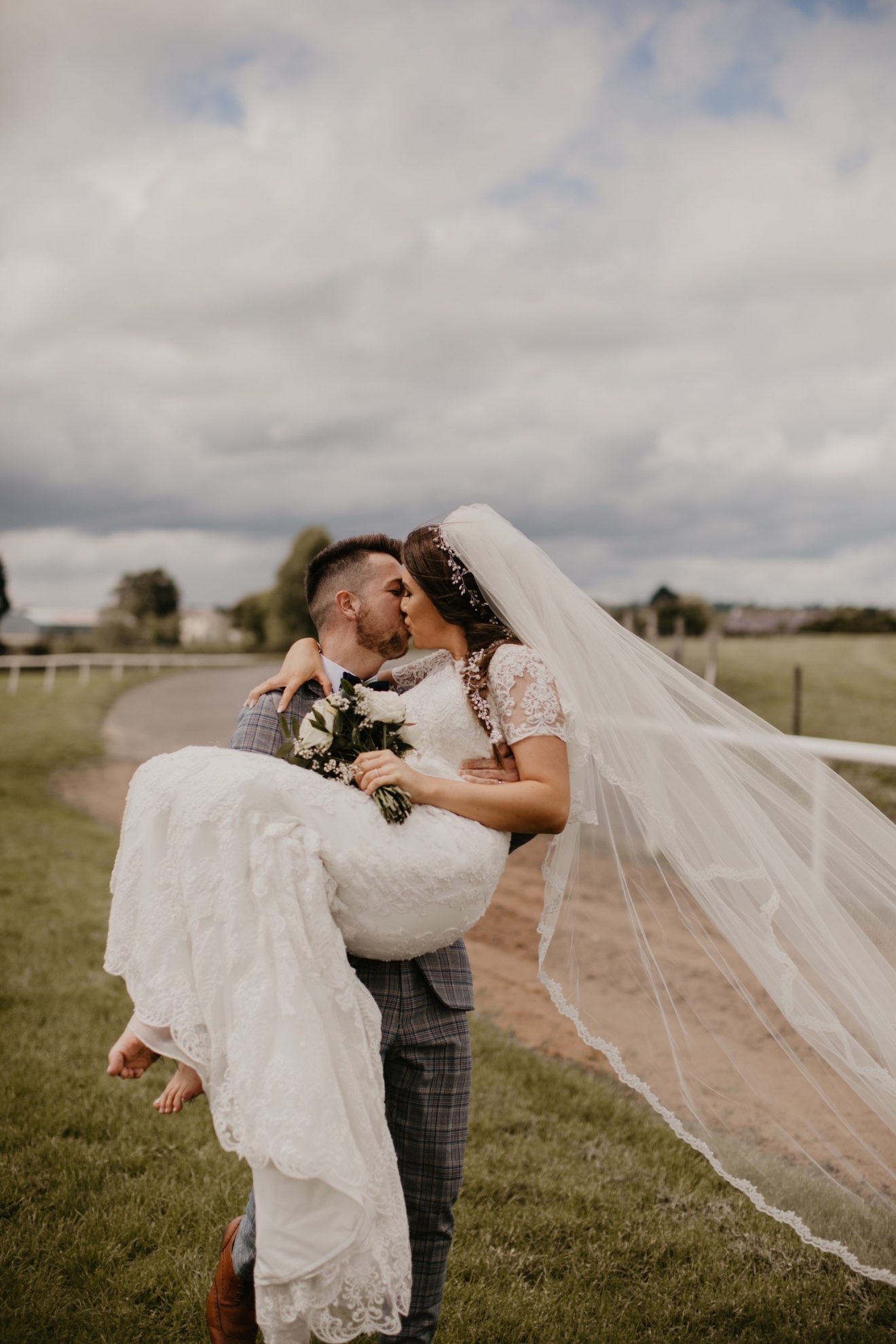 Pic credit: Sasha Treanor Photography
If you are looking for a unique venue for your wedding, look no further than Down Royal Racecourse. Set within the beautiful County Down countryside, but only 15 minutes from Belfast, Down Royal is the perfect location to celebrate one of the most important days of your life. This unique venue offers stunning facilities and a variety of function suite options. All weddings enjoy their undivided attention so you will feel truly special. They have a select list of preferred suppliers who offer the very best in local food, wines and room styling.
Mount Druid, Castletown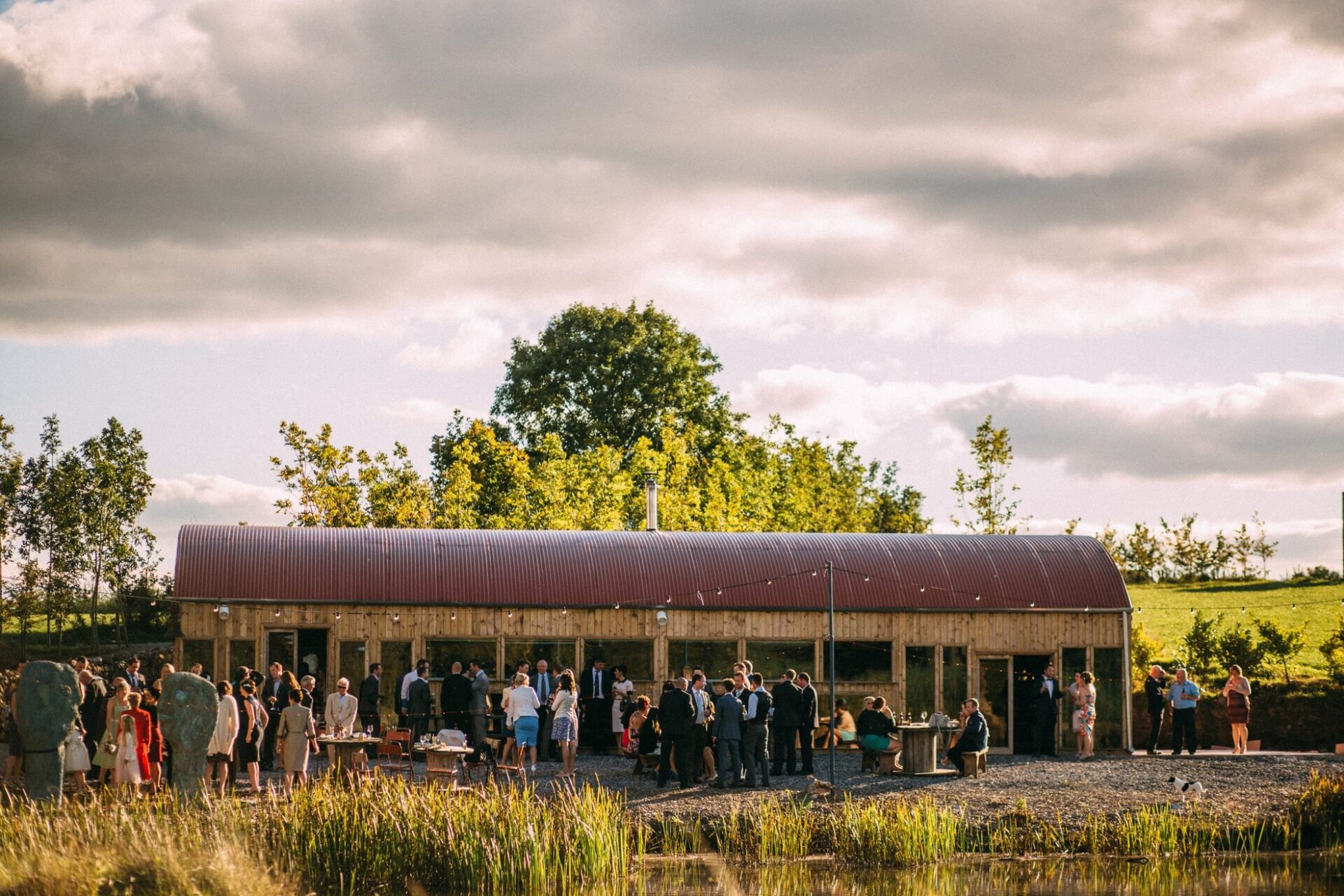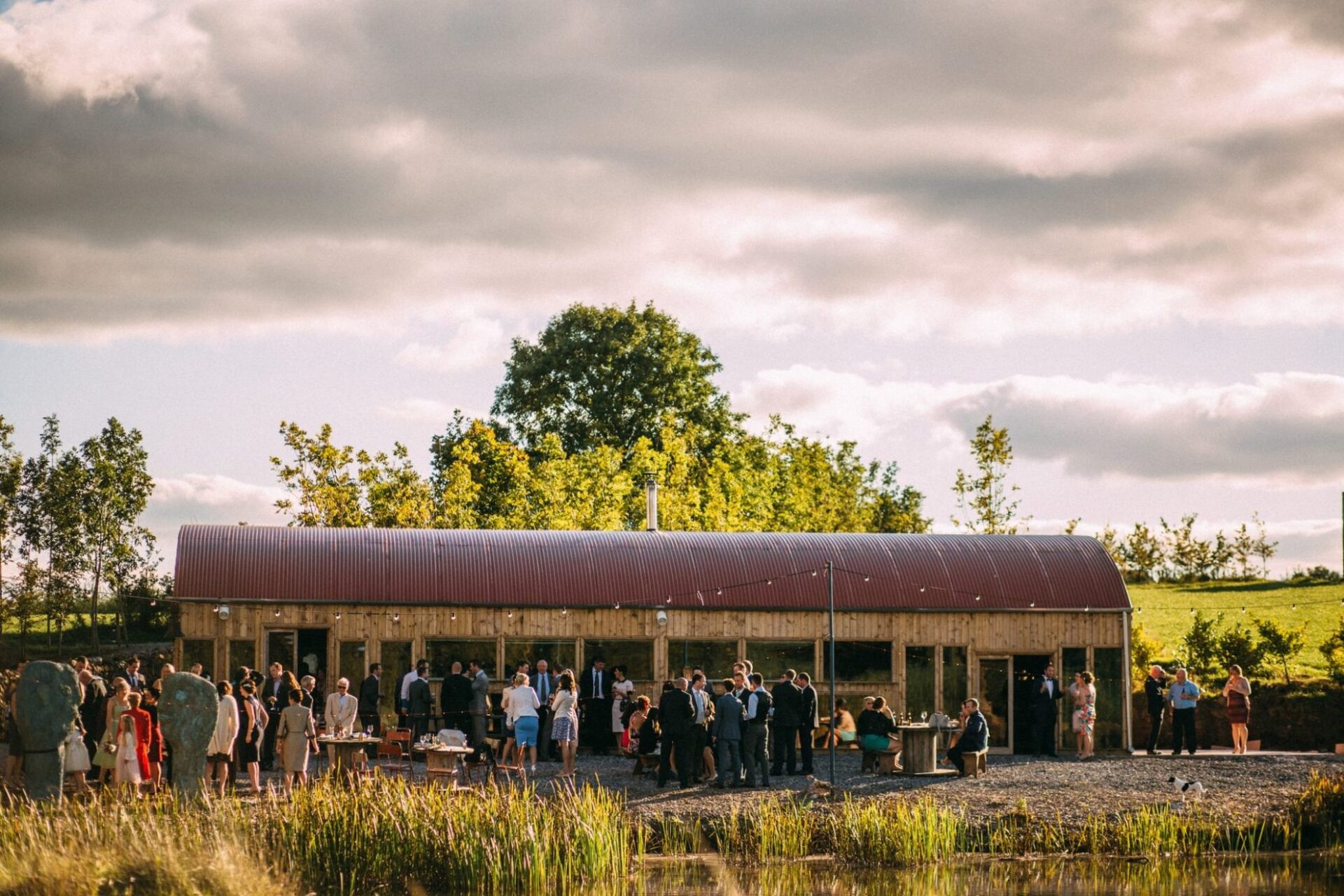 Situated in the picturesque village of Castletown Geoghegan, County Westmeath, Mount Druid is an exquisite parkland of 100 acres. The purpose built 'unconsecrated' tin chapel (perfect for a simple blessing or a full ceremony), boathouse, barn and the custom made accommodation nestle sympathetically into the landscape and offer the opportunity for a bespoke wedding to remember. The boathouse is decorated with antiques and art and offers a large wood burning stove to make sure that guests are always comfortable on cooler days. A pizza oven in here also transforms the boathouse into an informal dining space perfect for a get-together the night before or day after your wedding.
The Mill at Ballyduggan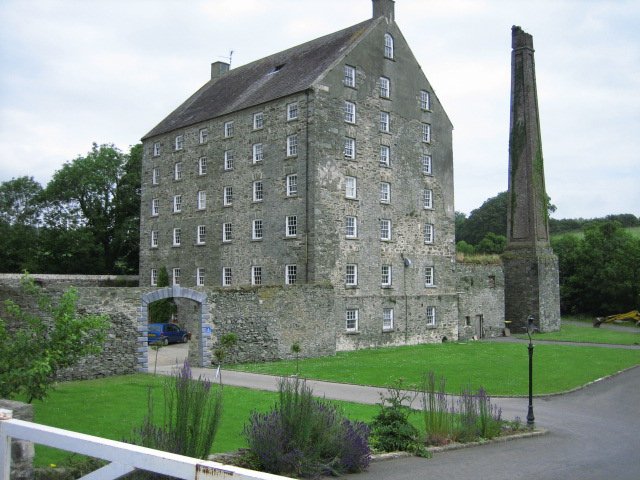 An inherently romantic wedding venue, The Mill at Ballyduggan is a fully restored 18th century flour mill. Its striking stone exterior is steeped in history and it is believed to harbour many memories within its walls. Hosting only one wedding per day, ensuring complete privacy for your party, the Mill is licensed to hold both wedding ceremonies and civil partnerships. They cater for small, intimate parties in the Lake Suite, up to 130 guests in the Lecale restaurant, whilst for larger parties, a marquee can be arranged. You will be welcomed with a red carpet on arrival, and you and your guests will dine on the finest local cuisine.
Ulster Museum

Do you remember when Carrie in Sex and the City decided that the public library with all its love letters housed within its walls would be the perfect backdrop for her special day? You too could look to enjoy your reception (and ceremony if licensed) within one of Ireland's public buildings. For example, Belfast's Ulster Museum might be exactly what you are looking for as you celebrate with friends and family among the ancient ruins and historic artifacts on display. Its white colour palette is a blank canvas to build on if you want to add colour and detail to your dream day. You will have exclusive use of the museum after 5pm and guests arrive earlier for a drinks reception in the Belfast Room or explore the museum's stunning collections. They have a one wedding a day policy too.
Smock Alley Theatre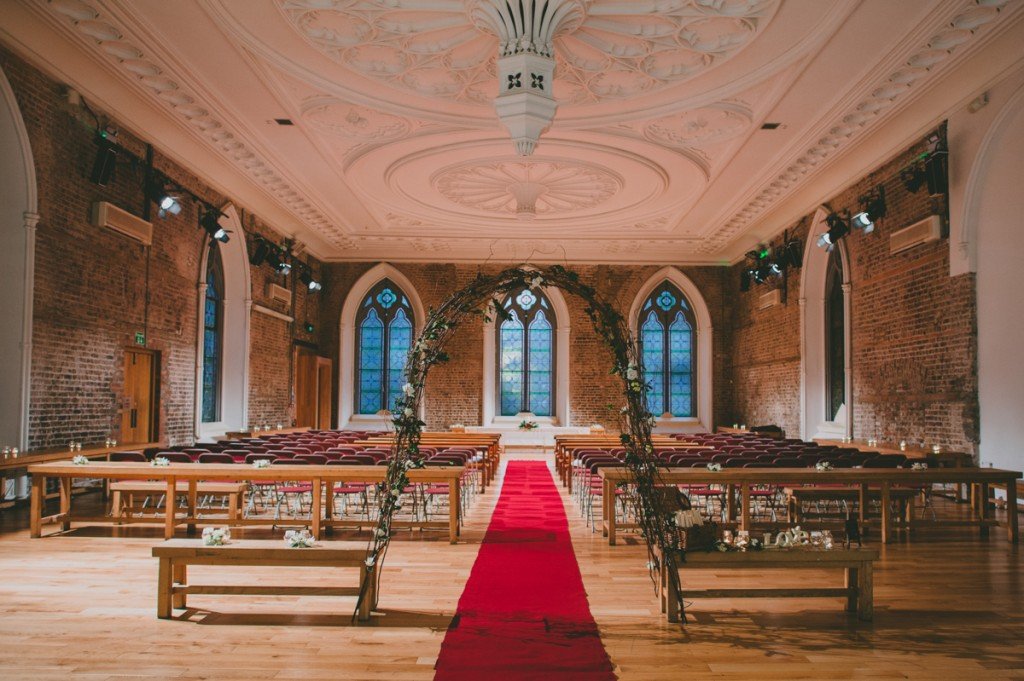 Pic credit: Katie Farrell Photography
The restored 17th-century Smock Alley Theatre has to be experienced to be understood; with the multi-tiered theatre (formerly a boys' school) and the stained-glass-windowed banquet hall, it's a spacious and ornate city centre wedding venue on the banks of the river Liffey. The banquet hall is licensed for Civil Ceremonies and Partnerships church style pew seating for up to 100 guests provided; it can hold up to 120 guests for seated dinner and up to 250 standing. Follow with a sparkling Prosecco reception before dining on a candlelit banquet (think fresh fish, local cheeses and decadent desserts) with excellent wines. The acoustics for music here are unparalleled and it's fully licensed too, so you and your guests can wed, dine and celebrate until 11pm. Plus, the cobblestones of Cow's Lane make for quite the photo backdrop!
Crumlin Road Gaol

Crumlin Road Goal is a 19th century Grade A listed building that only closed its doors as a working prison in 1996. The stunning Victorian architecture and industrial atmosphere provides a striking backdrop to any event and would be the perfect venue for couples looking for something a little bit different. Located a few minutes from Belfast city centre, this is a unique and versatile venue, with atmospheric and stunning spaces. The Gaol is licensed for weddings and civil partnerships and the team can advise you on various aspects of your wedding, including a menu personalised to suit your tastes.
Empire Music Hall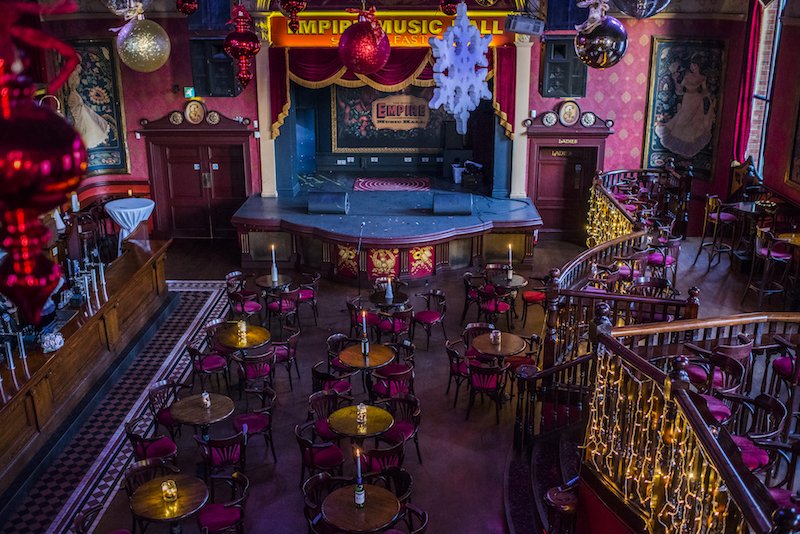 Catering for up 100 guests dining, and evening reception parties can accommodate up to 400, this iconic Belfast city centre venue offers a unique backdrop for your wedding celebrations. From Champagne to cocktails, they can provide the perfect welcome reception for your wedding guests. A full bar and wine list is available, and special requests can also be accommodated. When it comes to food the venue can provide a delicious buffet but recommend outside caterers for a more formal meal. They don't offer venue styling but are more than happy for you or your chosen event company or florist to decorate the hall for your special day.
Ballymagarvey Village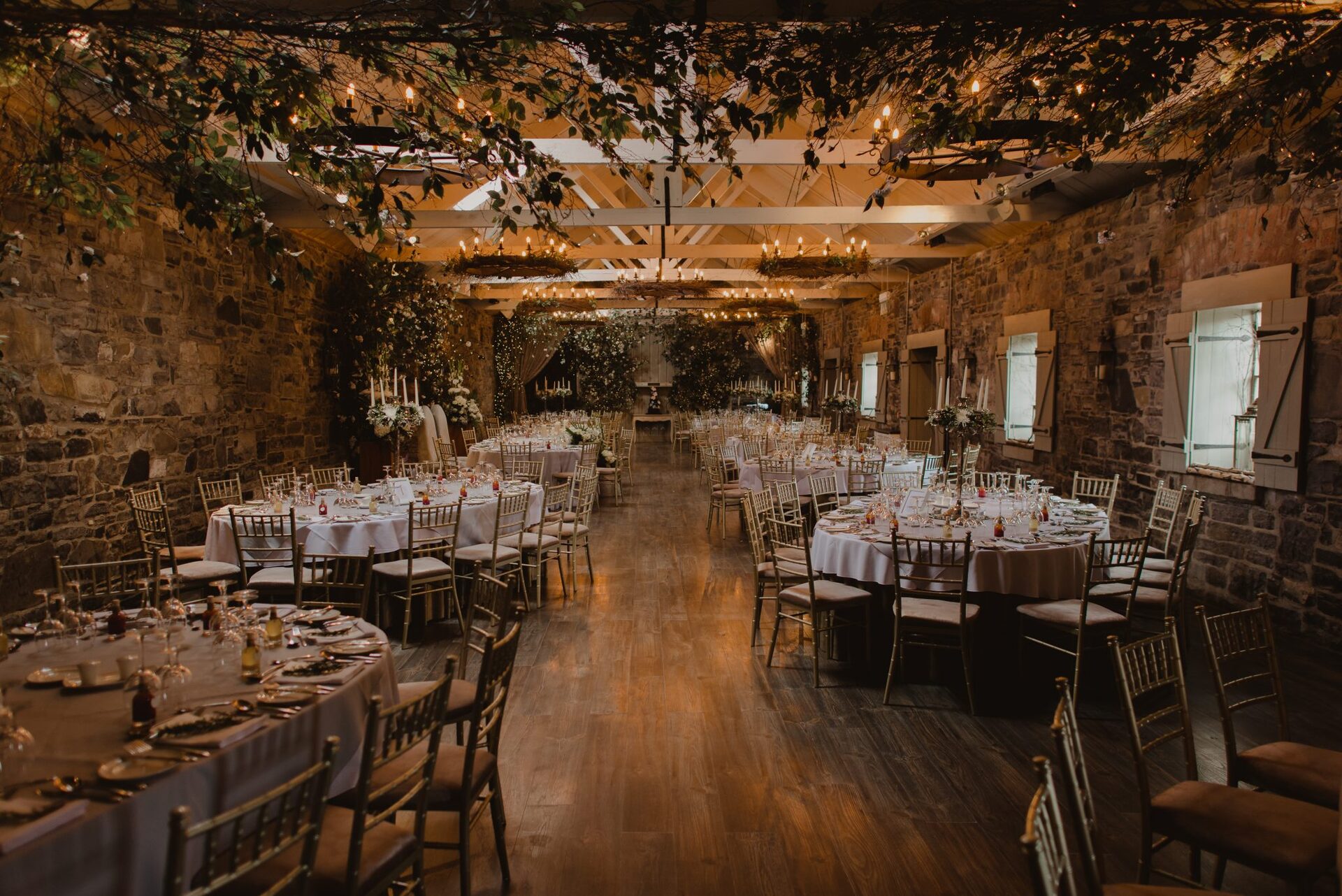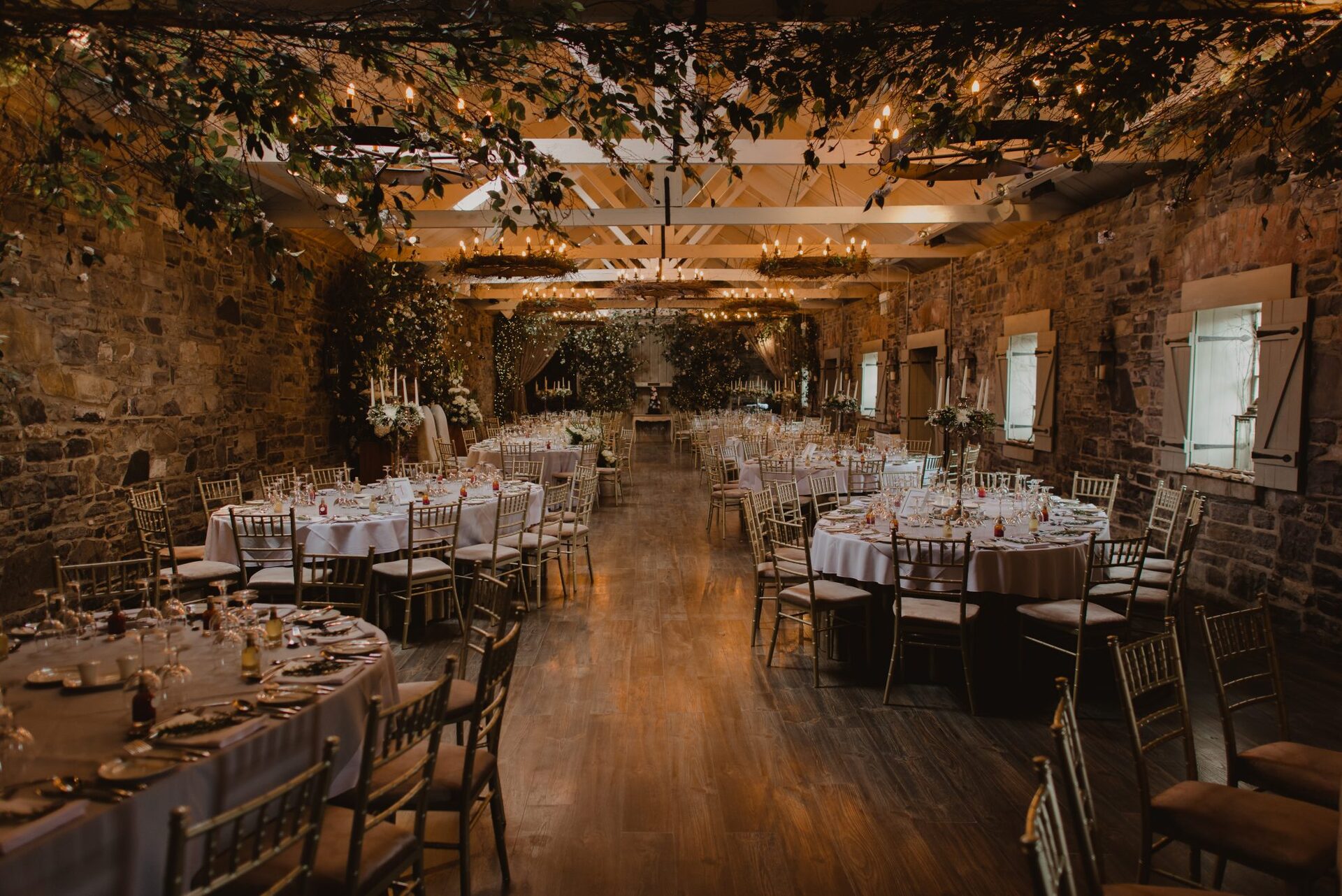 Pic credit: Esther Irvine Photography
Ballymagarvey Village is an exclusive wedding venue set within a beautiful private estate in the historic Boyne Valley region, just 40 minutes from Dublin. The wooded grounds and adjoining Victorian walled garden are surrounded by far-reaching views of the rich farmland and native forests of County Meath. This former flax mill village has been restored to an exceptionally high standard transforming the historic outbuildings into charming spaces for both intimate and large wedding celebrations for up to 170 guests.