Brides and grooms, it's time to throw the best party ever!
When it comes to planning the perfect celebration, unfortunately there are many things to consider that can leave any couple feeling stressed and overwhelmed. There's no right or wrong way to plan your wedding day, every couple is different, but it's important you're organised and cover the basics to ensure your big runs as smoothly as possible! Let our ultimate guide to reception planning set you right!
The Venue
First thing to consider is if you want your ceremony and reception in the same place. If the answer to this question is yes, then you'll need to find somewhere with a license for civil ceremonies before you take anything else into consideration. However, if want your ceremony and reception in different locations then other key factors might go to the number one spot on the priority list such as your budget, number of guests and your own style preference for your wedding day.
Your reception venue choice might also be influenced by ease of travel for your guests, whether or not all of the guests can be accommodated for the duration of the wedding and if the reception venue dictates which suppliers are to be used at their venue or if there are and restrictions when it comes to the wedding entertainment.
Also a major deciding factor will be the dates available at your chosen venue and whether you are prepared to wait? Most venues are booked up years in advance during the summer months. If you have your heart set on getting married on a particular date you'll need to choose a venue that's available on that day. It really depends on what's more important to you: the time or the place.
Points of Consideration:
Do I want to hold the ceremony and reception in the same place?
Do I really, really love it? Or is it just 'a contender'?
What season do I want to get married in?
Is the venue available on the day I want?
If it's not available then, am I flexible about the date?
Can I afford my chosen date?
Is it the right size for my guest list?
Am I flexible about making the guest list bigger or smaller?
Am I open to having an off-peak or week day wedding to save on cost?
Is it in the right location?
Is it convenient for guests?
How important is outside space?
Does the venue allow all the entertainment options that I want (such as fireworks etc)?
Tables & Seating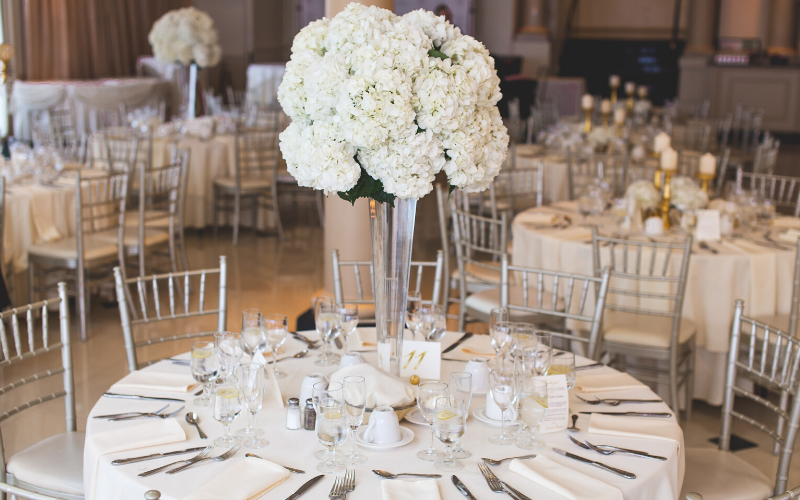 The size and shape of your tables – whether rectangular or circular – will dictate how many guests can be seated at each table. Round tables are the most traditional option and afford more leg room for your guests. Your top table is traditionally seated with the wedding party, including your parents, and acknowledges the special roles all of these people have on the day.
If your parents are divorced, unless you have a very long top table to seat them at either end, you could consider having two tables that are equally close to you, and then put one parent at each. That way, no one feels uncomfortable or left out.
When it comes to seating your friends, do keep them close and don't allow your parents to take over with their friends surrounding your top table. That said, if you have no idea where to sit your parents' friends, let your mother and mother-in-law offer their advice. Most importantly, try to make everyone feel comfortable by offering a mix of familiar and new faces at each table.
Also keep the floor plan of your venue in mind while creating your seating chart. For example, give your VIPs the best seats in the house, older guests may want to be a little further from the band so it isn't too loud, while your friends might want to be near the dance floor for late that evening. Designate a children's table if you have several at your wedding. Think ahead and have activities at their table to keep them occupied if they are very young and ensure the table is within sight of their parents! If you only have a few children at the wedding, simply seat them with their parents.
Finally, don't forget to make sure you have good communication between you and your venue, when they need the table plan and what to do if there are any last minute drop-outs to ensure things run as smoothly as possible.
The Décor
When it comes to organising the décor for your wedding reception, you will want this to tie in with any wedding theme. For example, if an elegant wedding style is your choice or a more relaxed rustic affair is what you are after, then colours, flowers and other decorations should be carefully considered to cement this theme at your reception venue. The venue you choose will more than likely reflect the overall them too, whether a manor house or a country barn. Small touches such as flowers and lights can have a drastic impact on the overall aesthetic of your big day and don't be afraid to work with and indeed add to the existing décor at your wedding venue. If theming your wedding reception and decorating the reception venue feels an overwhelming task, consider hiring a venue stylist if one isn't attached to your chosen venue.
Food & Drink
Selecting the right food and drink for your reception can feel like an intimidating task, but it's important you get it right and satisfy your guests. When choosing your menu, remember it can be fun, you can offer your guests something truly special, so consider creating one unique to you! You will need to decide whether you're having a sit-down style dinner or a buffet with a serving table.
Also consider what food you are serving at your pre-reception drinks after the ceremony as well as the evening buffet. You can get creative with food vans and drinks carts to really wow your guests. For example, if you are having a summer wedding, an ice cream cart would be a nice touch between the ceremony and reception and in the winter a mulled wine drinks station would be the perfect winter wedding warmer. Speaking of drinks, you'll need to plan how many bottles of wine, Champagne, Prosecco or non-alcoholic beverages you will be providing and how many drinks are required per person. It's a good idea to allocate one bottle per person, with one glass per person for pre-reception drinks and also the toast. Also be sure to factor in tea and coffee as well.
Finally, don't forget your wedding cake. The options for wedding cakes are only limited by your imagination, so find the baker for you and get creative! For the day of your wedding reception you will need to discuss delivery and set up with your cake supplier and also organise when it will be cut and ensure your photographer is on hand to take a picture.
Place Settings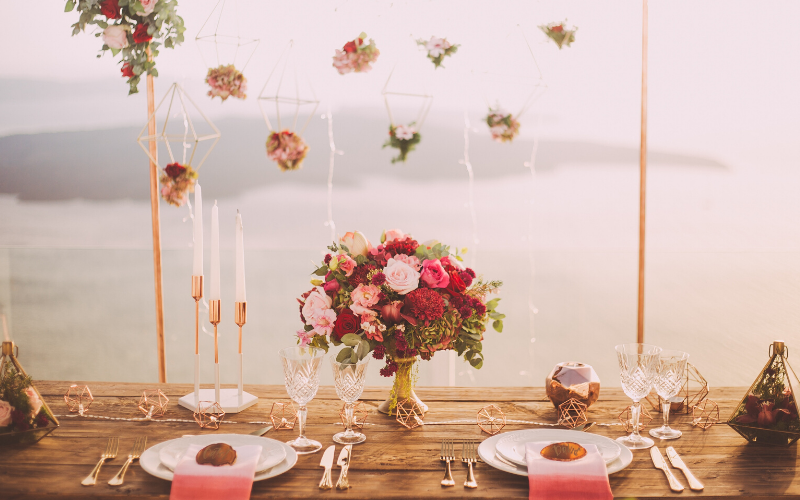 The place settings are an important part of your wedding décor, showcasing your style as a couple and making sure your guests feel welcome as they take their seats. Your choice of centre piece, dinnerware, cutlery and glassware, as well as napkins, seating cards and favours will depending on your theme and colour palette. The key to creating a perfect place setting is to make every table to look as well-put together and co-ordinated as possible. However, while you want the tables to look full, you don't want them to look overcrowded, so be sure to leave enough room for guests to eat and see each other over your décor!
Be sure to offer a seating chart for guests that is not only creative and ties in with the theme of your reception, but is also easy to read! This should be clearly located on the way into dinner and allow them to quickly see which table they are seated at. On arrival at their designated table, place cards should direct them where to sit and again, while you will want to be creative with these too, once again, names should be clearly visible.
Favours
Wedding favours are a great chance to thank your guests for attending and celebrating your wedding, as well as an opportunity to get creative while dressing your tables! While these originated as boxes of sweet or sugared almonds, nowadays they come in all sorts of variations, from chocolates, drinks, condiments, flowers and cute stationery pieces. Try to match them with your theme, so if you're having a rustic theme, go for little jars of jam, potted plants or flowers, anything at all that will complement the overall look of your big day.
Thankfully, wedding favours are relatively budget-friendly and it's a good idea to start your search around two to three months before the day so that you don't find yourself searching for favours at the last minute. When purchasing, you will need to be mindful of your number of guests and the longevity of the favours if they're edible. If you decide to make your favours yourself at home, you will need to be extra organised and have them made well in advance.
The Entertainment
To ensure a good party, you need good entertainment! So, once you have your date and your venue if you know the band or DJ you want for your wedding reception make sure you contact them as soon as possible because popular acts are often booked up at least a year in advance.
As well as the evening entertainment at your wedding reception, you will also need to consider the entertainment you wish to offer at the drinks reception. For example, if it suits your theme, a harpist playing in the background while guests enjoy their refreshments is a nice touch. During dinner you might also want to offer entertainment, whether a cartoon artist, comedian, or magician who can work the room and keep the party going while everyone is eating.
There are so many different forms of entertainment to choose from and you will have your own preferences and know what will appeal most to your guests and tie in with your desired reception style.
Speeches & Toasts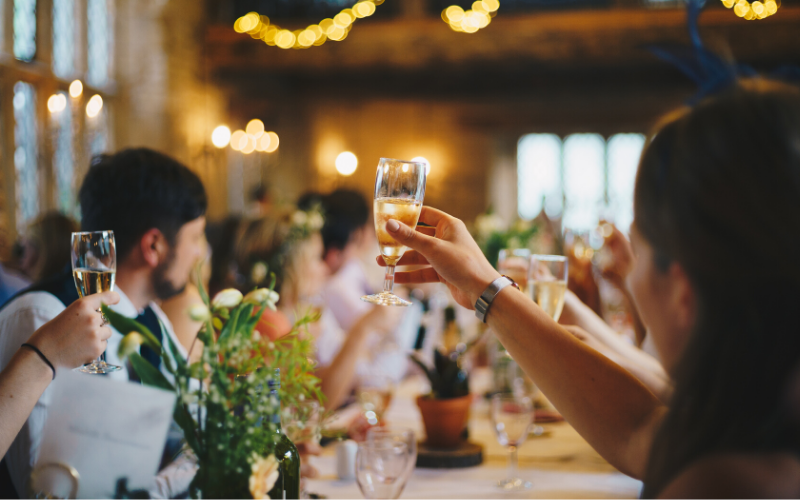 Another important part of the reception, some couples choose to have the speeches at the start rather than the end of meal to allow those giving the speeches the chance to relax during dinner! If you do have a nervous groom or father-of-the-bride, perhaps this is something to take into consideration!
When it comes to the order the wedding speeches should go in, traditionally the father of the bride goes first, followed by the groom, then the best man. However, lots of brides now choose to give a speech, as do the bridesmaids or maid of honour. If you are including these, the order should go: father-of-the-bride, groom, bride, bridesmaids/maid of honour, best man. As for who toasts whom, the best man toasts the bride; the maid/matron of honour toasts the groom. The father of the bride or other parental figures, toast the couple.
You might wish to offer guests Champagne for the toasts if budget allows, however, Prosecco or sparkling wine are budget-friendly alternatives.
A Few Entertaining Ideas..
Photo Booth
Hiring a photo booth is great fun for guests who can have fun with all of the props provided and create hilarious snapshots to look back on with fond memories.
Live Band
Choosing to have a live band play can really transform your wedding reception into something more special and adds a classy element to your big day.
Firework Display
If you're having an outdoor wedding, why not consider adding a firework display to end your day on a high? This will wow your guests and make your wedding truly stand out.
Your Wedding Reception Checklist:
Pick your wedding date
Book a reception venue
Hire a caterer if needed
Order and book any food or drink vans or carts
Order your wedding cake
Hire a wedding singer, wedding band and/or a DJ
Hire a florist and confirm reception décor from floral table centres to top table garlands and a floral arch to welcome you into your reception dinner.
Hire a photographer and discuss pictures you wish to get from your wedding reception. Perhaps you want relaxed shots of everyone at the drinks reception, photos of the speeches, cutting the cake, the first dance and guests enjoying themselves on the dance floor.
Hire a videographer and discuss footage you wish to get from your reception, for example coming into dinner, the speeches and toasts, first dance, etc.
Select a Master of Ceremonies who will introduce you to dinner, introduce speakers, make announcements, and engage with the audience to keep the reception agenda flowing as smoothly as possible.
If you aren't working with a wedding planner or venue stylist, you will need to remember to drop off favours, place cards, guest book and all other decorative reception items at the venue before the wedding day.
 Still stuck for some much needed inspo? Why not attend the Wedding Journal Show at Citywest Convention Centre in Dublin on 11th & 12th January where we will have hundreds of suppliers exhibiting over the weekend.