Hannah & Lewis' Real Life Wedding
4th July 2020
HOW THEY MET
Hannah and Lewis are the definition of childhood sweethearts, they lived just a few streets away, but it wasn't until they were 16 that things started to flourish. 'I really fancied Hannah but didn't think the feeling was mutual so it took a fair bit of work to get her attention,' jokes Lewis.
'I had just returned from a holiday in Portugal and was desperate to ask Hannah out, the best chat up line I could come up with, as a 16-year-old, was 'I'm so tanned, wanna see my tan lines?' I don't know why, but then I proceeded to flash my back side at Hannah! You're laughing but she's my wife now, so it must have worked!'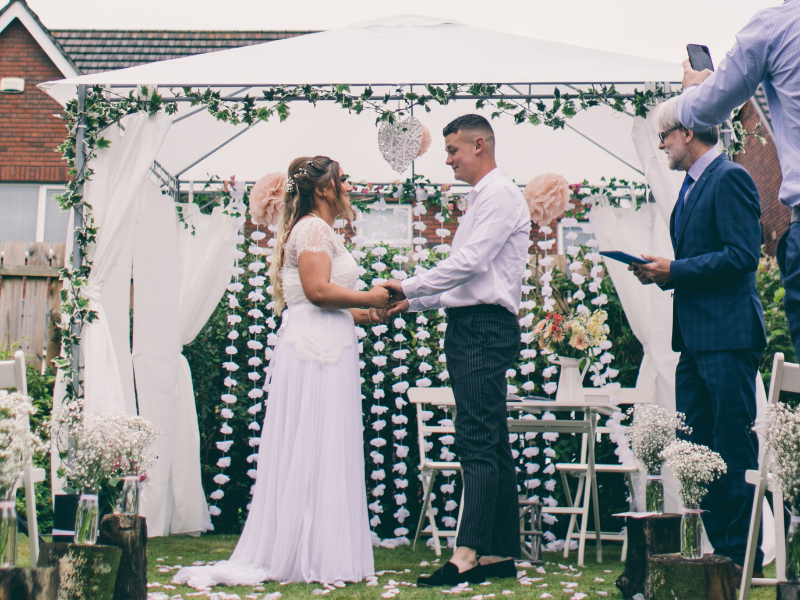 Hannah was clearly impressed, 'For me, right from the very start Lewis made me laugh, and still does until the tears are tripping me. Chatting to him was and still is one of the best parts of my day.'
THE PROPOSAL
Lewis proposed to Hannah whilst on a romantic holiday in his favourite spot…Portugal. 'He asked for my parent's permission before we left, which was important to me,' Hannah shares. 'We'd spent the start of the day exploring the streets of Albufeira, before we stopped for dinner that evening Lewis asked to go on a walk along the beach. The route he had originally planned was closed off due to high tides, so we had to go the long way to the beach – Lewis was fuming and I couldn't understand why.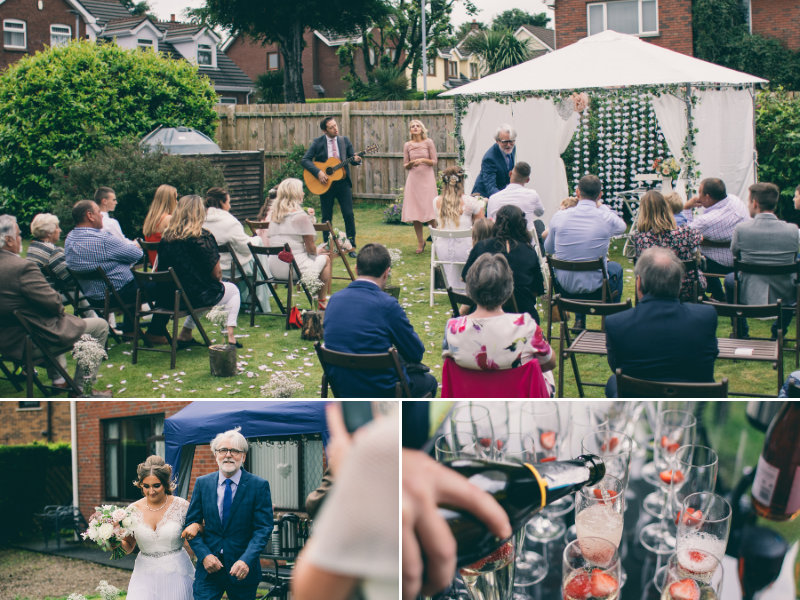 When we got to the beach it was utterly perfect, there was a gorgeous little cove so we could sit and watch the sun set. I ventured inside, but when I turned to show Lewis, there he was down on one knee with a ring in his hand. I couldn't believe it! After saying lovely things and making me feel on top of the world, how could I have said no!'
THE PLANNING PROCESS
This wasn't the day that Hannah & Lewis had originally planned, 'We had originally planned quite a big wedding in a lovely hotel with lots of lovely guests. This couldn't take place due to Covid-19.' Hannah shares another sad circumstance. 'Over lockdown I lost my mummy, she was diagnosed with cancer in April 2020 and lost her fight not long after in May 2020. So over lockdown was spent caring for her, looking after her and making sure she was as comfortable and as cosy as possible. We had really hoped that she would make it to our wedding, we had brought it forward and created a day that we hoped would be possible for her to come to. We decided it would only be closest family there and that we would do it in the back garden of our family home. Unfortunately, she didn't make it. We were devastated. In the last days of her time with us she gave us her blessing to continue with the wedding. So, we reverted back to our original date and decided to stick with the plans we had made with her. We were able to have 30 guests there, so we had our immediate family and because my Daddy is a minister, he was able to do the ceremony for us which made it such a lovely intimate day and just perfect under the circumstances.'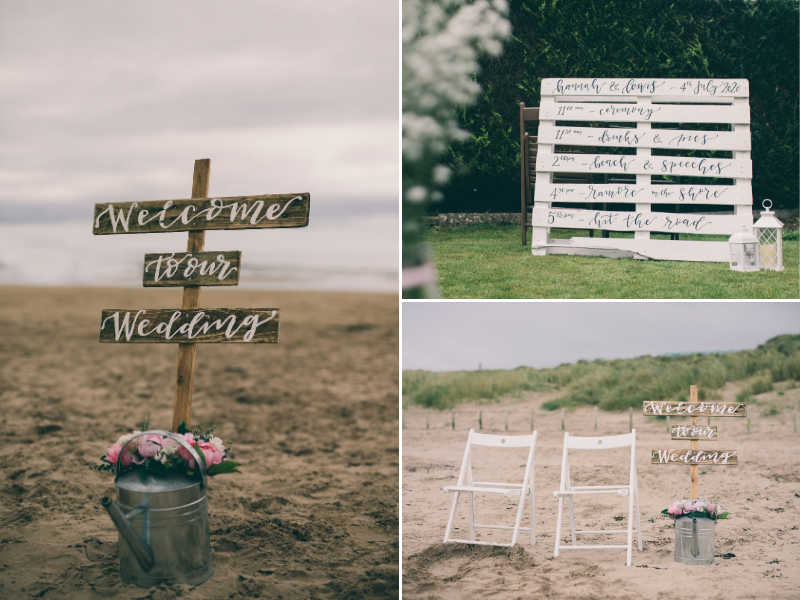 Hannah and Lewis' original theme was 'summer,' reflecting on the memories they both had growing up at the beach. When our original plans fell through, we decided that we would actually just spend the day on Portstewart Strand, along the Antrim coast. We built sandcastles with our nieces and nephews, we had a paddle in our wedding gear, and we enjoyed a big picnic on the beach with all our favourite people.'

Due to Covid-19 restrictions, Hannah & Lewis couldn't book a formal meal for their special day, but thought of a genius idea to help feed their hungry guests. 'For most of our relationship we have enjoyed spending time together along the north coast, especially out at the Ramore – if you know, you know!' Over lockdown the Ramore was only doing takeaways, so we placed an order for 30 people and set uop our own little socially distanced restaurant on the beach It was brilliant, the chicken goujons were the most popular choice which let's face it, you definitely can't go wrong with the chicken goujons, closely followed by the infamous chilli chicken penne pasta!'
DREAM WEDDING SUPPLIERS
The best suppliers are those that go above and beyond, and Zoë from Posy & Tie Floral Design did just that. 'The bouquets were just beautiful but what stole the show for me was the incredible floral arch for the beach. It was just perfect and exactly what we had wanted! My bridesmaids were both in a blush pink colour and my dress was white, so we wanted our flowers to tie everything together. I had fancied peonies and gypsophila and I also wanted to incorporate freesia because they were my Mummy's favourite flower. Zoë put a really thoughtful and personal touch on my day when she arrived on the morning of our wedding with our gorgeous bouquets, but also a bunch of freesias to have in the house to remind me of my Mummy.'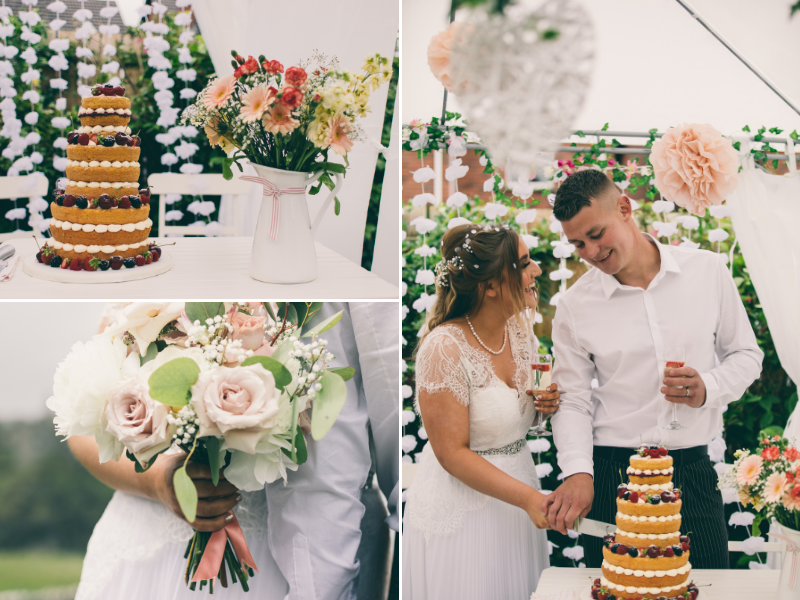 One memory that stands out to Hannah is collecting her wedding cake from the incredible talented Kathy at Angel Cake Bakery. 'The smell as we took it out of the box was out of this world, I had to have a wee bite. We had always wanted a naked Victoria sponge cake decorated with summer berries; it was so delicious.'
WEDDING WARDROBE
This couple knew they wanted a casual summer vibe to their special day, so kept their fashion choices low-key and chic. When it came to shopping for her dream wedding dress, Hannah wanted something floaty with a little bit of sparkle. 'ASOS did me proud! I found a beautiful backless dress online and gave it to a family friend who help take it in, she also designed a custom back to it. She did an incredible job; I really loved my dress!'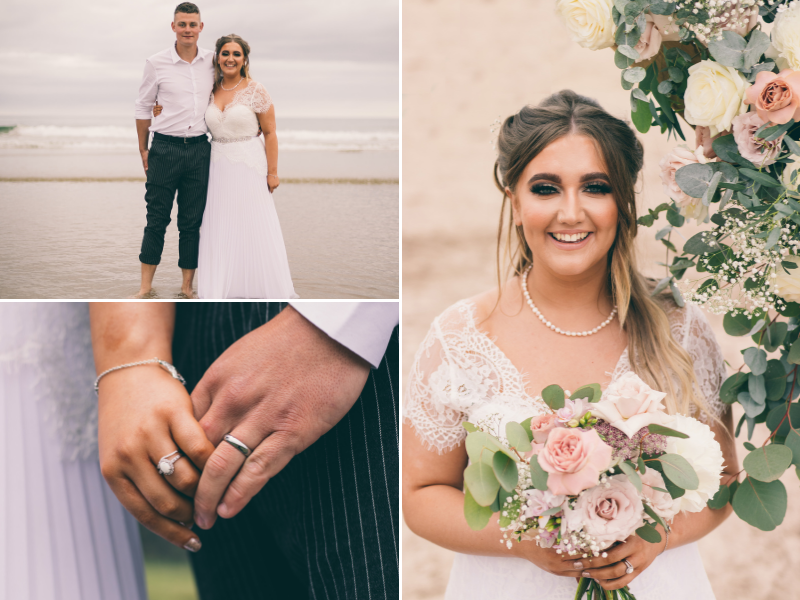 'Because we had such a casual vibe, all the men just wore trousers and a shirt – no set styles just whatever was comfortable! We wouldn't be very formal people anyway, so this vibe just suited us perfectly.'
CAPTURING THE DAY
'Our photographer was someone who is quite close with our family, Jamie Neish. When we started planning our intimate day, his name was the first one we both thought of for capturing the day. He is a laugh, such good banter and helped us stay relaxed all day.'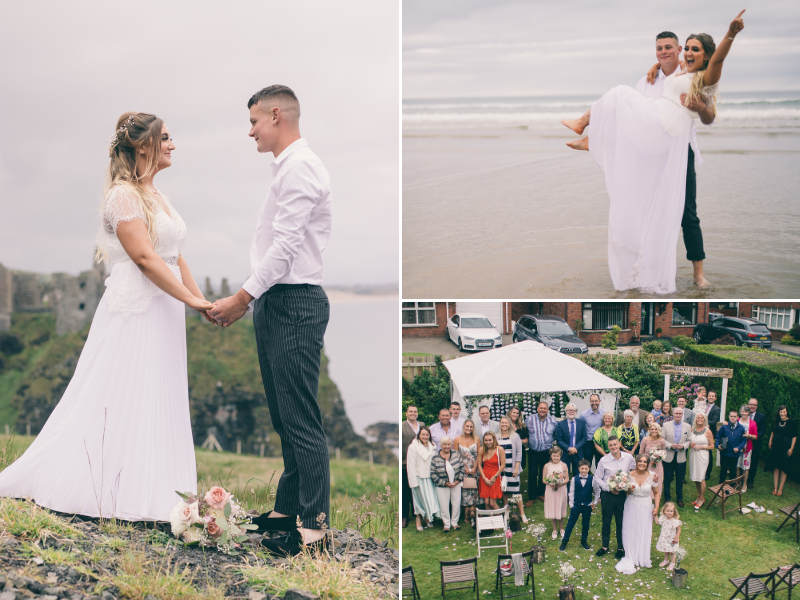 'We had really wanted our photos to be natural with some typical family ones and that's exactly what Jamie achieved. It's the one part of the day that we really wanted to make sure was done right because it's the photos that we're going to have to look back on.
FAVOURITE MEMORY
Lewis surprised Hannah the morning on her wedding with a surprise parcel, filled with little goodies he thought she might like on the day. 'Inside was a bracelet as my "something new", a personalised denim jacket which had "Mrs Kirk – 04.07.20" on the back in case it was cold on the beach, but my favourite part was his handwritten note.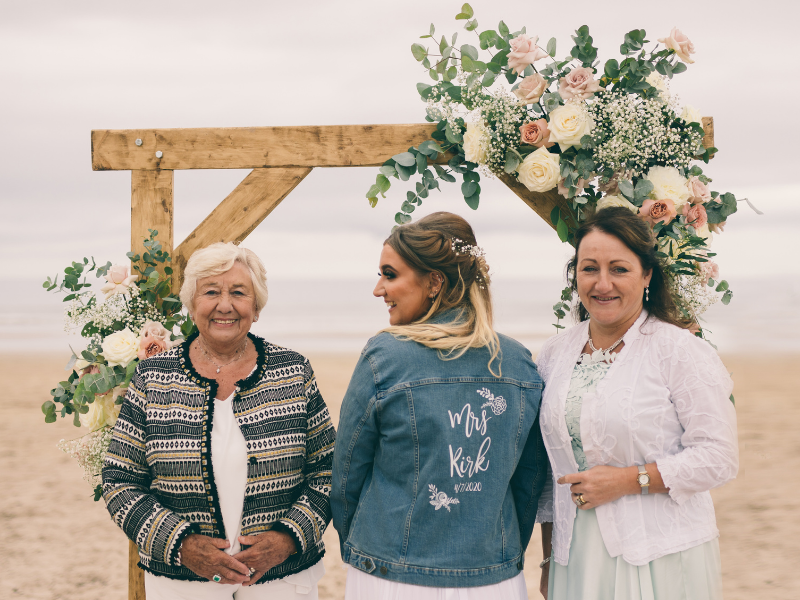 It was heart-warming, he said lots of lovely things and reminded me that although my Mummy wasn't there in person, she would be there none-the-less. It was such a lovely wee moment that reminded me what a great husband Lewis was going to be and that put the day off to a perfect start.'
Hannah & Lewis' Dream Wedding Team
Wedding Photography – Jamie Neish
Wedding Flowers – Posy & Tie Floral Design
Wedding Cake –  Angel Cake Bakery
______________________________________________________________________________________________________________
Hannah & Lewis featured in their real life wedding in our recent winter issue – CHECK IT OUT