Make your wedding even more memorable by adding handmade, eye-catching centrepieces!
Your big day should be all about those special little touches that will make your wedding uniquely yours! When planning your wedding, one of the best ways to achieve that is by making your centrepieces yourself. Not only will they help reflect your personality as a couple, but they will also be a thoughtful treat for your guests to gaze at. So for those couples wanting their wedding day to stand out from the rest, DIY centrepieces are a must and there are plenty of hassle-free ways to create something unforgettable, so feel free to let your creativity flow! Check out our favourite DIY items below!
Up-cycled bottles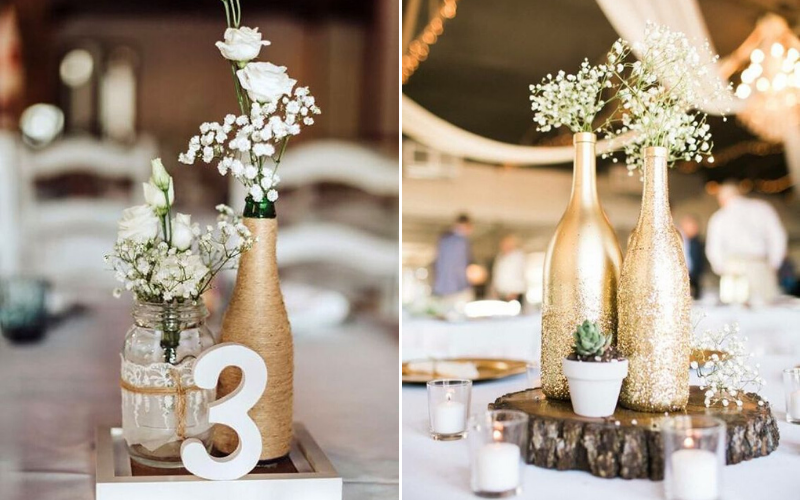 Credit: Pinterest,, 101 Flowers and Pinterest, Wedding Forward 
Why not upcycle old wine bottles and jazz them up with glitter and pretty decorations? This is a super-easy way to make your wedding centrepieces really stand out and look pretty with subtle flowers added in. Budget-friendly, making these won't break the bank which will please money-savvy couples!
Acorns in vases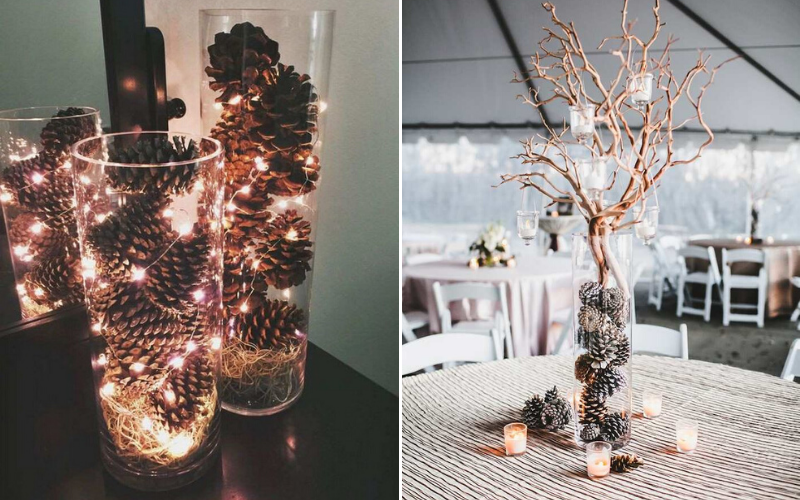 Credit: Pinterest, Oh Best Day Ever, Pinterest, Modwedding
Perfect for an autumnal and winter celebration, add a touch of the outdoors by adding acorns, branches and leaves to glasses for your centrepieces. Having these on your tables will create a super on-trend rustic look and charm that will make your wedding be uniquely yours and stand out. For a personal touch, why not hang holders with a message for each guest?
Candles and wine glasses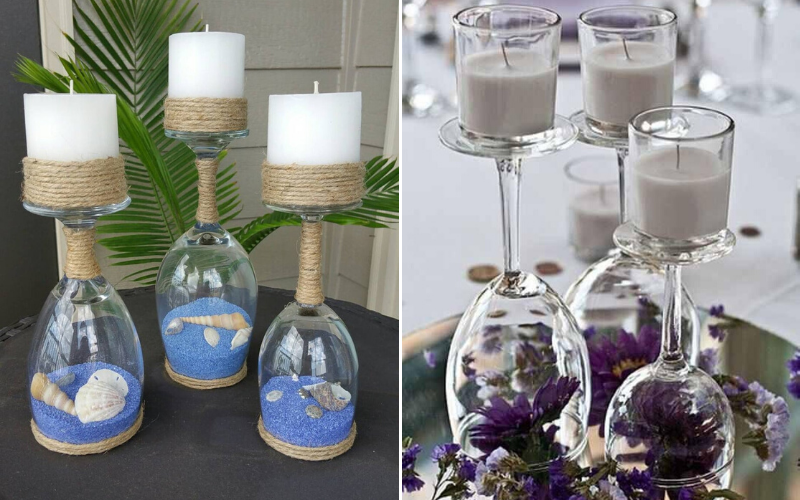 Credit :Pinterest, Knot and Nest Designs, Pinterest, Etsy
A simple yet effective way to spruce up your centrepieces, look to the kitchen for inspiration and add wine glasses and candles. By turning them upside down, you can position the candles on top of the wine glasses and add a pretty addition to the bottom. It's up to you what you choose but we love the addition of seashells and flowers, just make sure it complements the rest of your wedding and make it clear the glasses are not to be used for drinking.
Plants in pots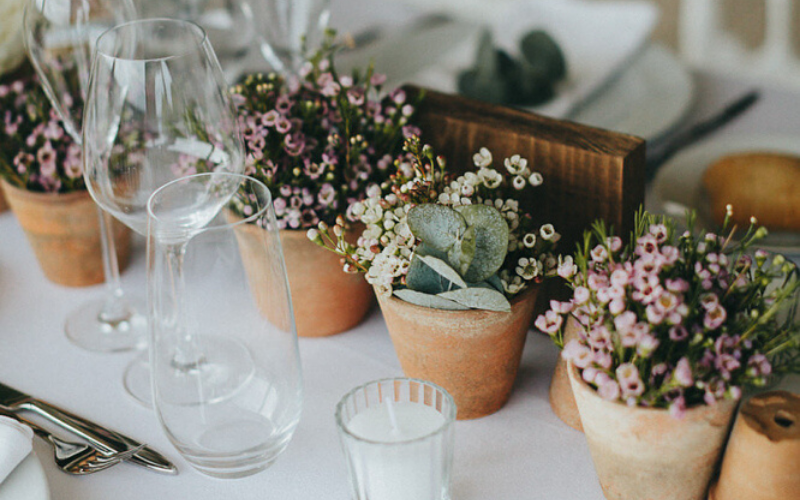 Credit: One Eleven Photography, Style Me Pretty 
Couples who want to add a whimsical, botanical element to their wedding centrepieces, simply add cute potted plants will give your wedding a bohemian, cool vibe. Relatively cost-effective, potted plants are easy to make up yourself and it's totally up to you what kind of plants you want to add. However, it's best to keep in line with your wedding theme colours for an overall pleasing look.
Floral birdcage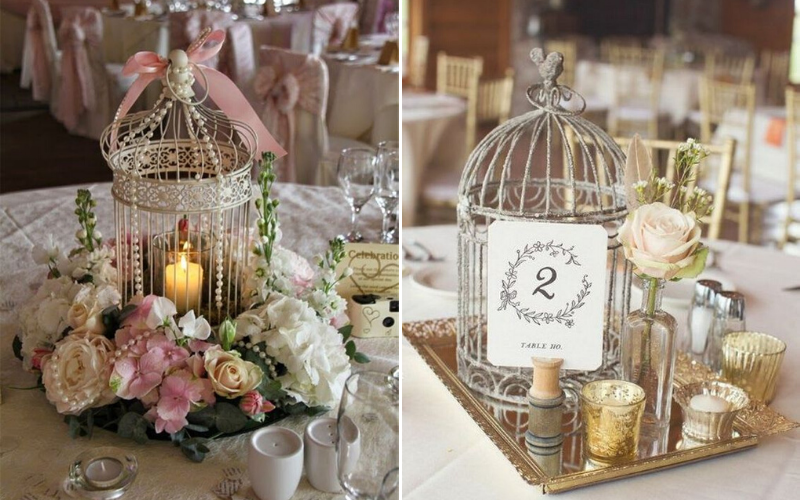 Credit: Pinterest, Wedding Include, Pinterest, Weddings Online
For vintage lovers seeking a beautiful retro look, place a birdcage with a collection of flowers to your wedding tables. Paint the birdcage whatever colour you like to match the theme of your wedding and add fresh, blooming flowers for a really lovely look. A lovely way to make it even lovelier, add a candle inside the middle of the birdcage or embellish the outside of the birdcage with pearls.
Vintage books 

Credit: Pinterest, Samantha Ong Photography, Pinterest
Why not add a stack of books to your wedding tables? Literature loving couples will want to have books present as their centrepieces and the more retro-looking, the better! We love the addition of flowers, leaves and candles which create an aesthetically pleasing look. Add a book the two of you both love for an even more personal touch!
Mason jars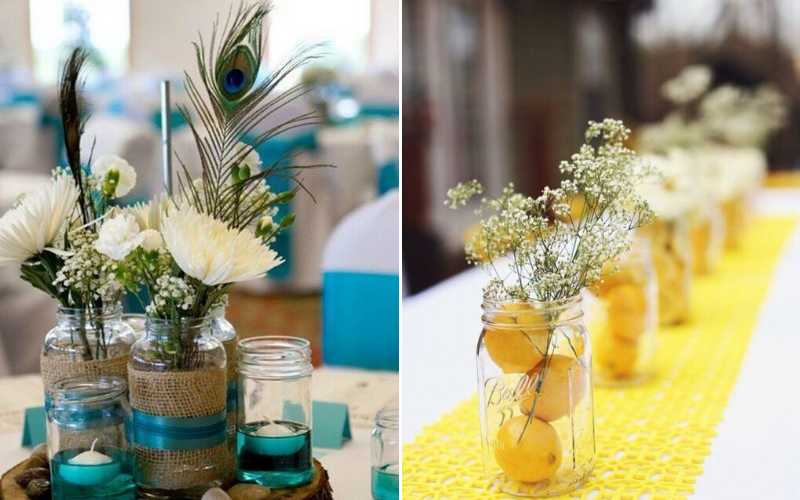 Credit: Pinterest, Hi Miss Puff,  Pinterest
For something a little more unusual, why not add items such as feathers or fruit to jars and place them as your centrepieces? We love the addition of the peacock feather and lemons inside the jar as they look so unique, especially when accompanied with pretty flowers. Just make sure they fit in well with your theme so that they're not too jarring or randomly placed.
Bell jar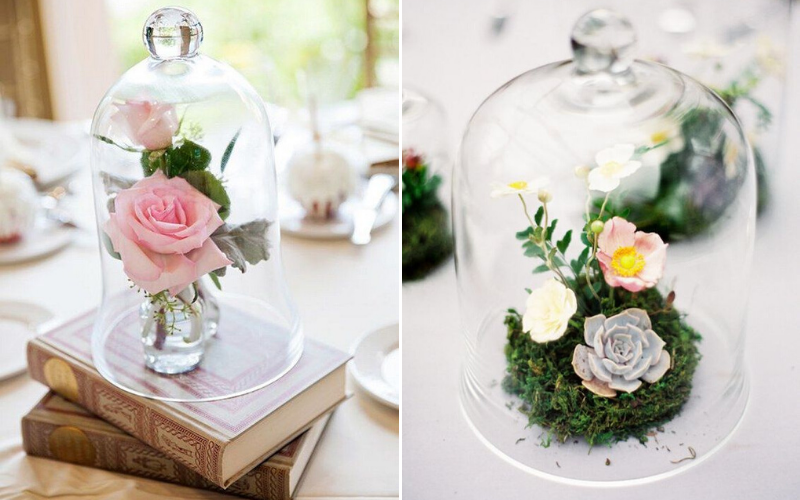 Credit: Pinterest, Hi Miss Puff, Jen Huang Photography
We love flowers placed in bell jars as not only are they a different approach to wedding centrepieces, they also look incredibly cute! Bell jars aren't too expensive to buy, so feel free to try different sizes that will fit in well with your table and mix and match flowers and colours. Ideal for spring or summer nuptials, having a pretty colour scheme will really wow your guests!
READ MORE: Fancy A DIY Wedding? Our Real Brides Show You How
Fairylights in bottles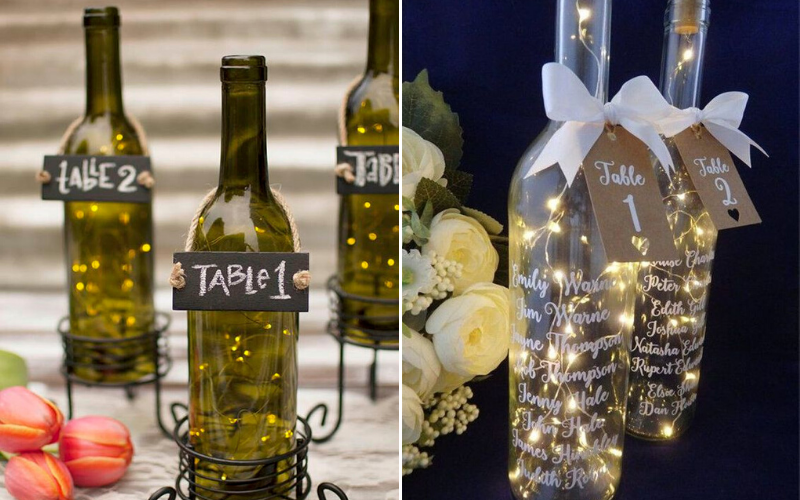 Credit: Pinterest, My Wedding, Pinterest  Wedding Include, 
We love how simply adding fairylights into wine bottles can create a really special centrepiece! Simply use any old wine bottles and place lights inside of them which will add subtle ambience to your wedding. They are so easy to make and can be decorated on the outside, so add your favourite quotes, table numbers at the top or guest names for a unique edge.
 Colourful candles 

Credit: Pinterest, Claire Macintyre Photography, Pinterest, M and J Photography
Why not create a centrepiece that brings added colour and ambience to your wedding by simply painting wooden candle holders to match candles of the same hue? This is a look that will definitely set your wedding apart from all the rest and can really jazz things up for couples wanting a bold look.
Pictures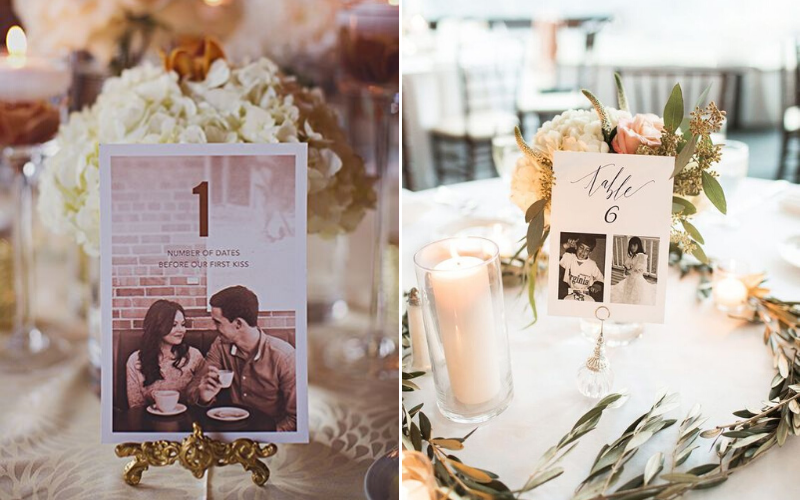 Credit: Pinterest, Bridal Guide, Pinterest, Martha Stewart Weddings 
Placing some of your favourite photos can be a really sentimental touch to your wedding that will make your big day that bit more special. Add pictures that perfectly capture your relationship, favourite moments such as holidays abroad, family events and occasions captured on camera for some nostalgia. Photos can be easily printed at low costs and Polaroids add an on-trend look and feel.
READ MORE: Our Fave Spring Wedding DIY Ideas
Cake stand 
Credit: Pinterest, Top Wedding Sites , Pinterest, Joseph Matthew Photography
For a more decadent look, add a gold plated cake stand and pretty pieces of jewellery such as pearls and pink flowers as your centrepiece for a classy, sophisticated look. You can choose whatever items you like to be displayed and we love the addition of a cup filled with sprawling flowers at the top for a different approach.