Stuck for some last minute hen party games? Here's how to really get the party started!
What's a hen party without some cracker games?! If you're currently planning the #besthenpartyever and are in need of some fun hen party games for you and your maids, you've came to the right place.
In our hen party game guide, we're giving you every game you could possible think off – from classic ice breakers to competitive and creative challenges and even some naughty games so you can really get the party started!
RELATED TO: 10 Creative Wedding Games Your Guests Will Love
Ready for some game inspo? Let's go!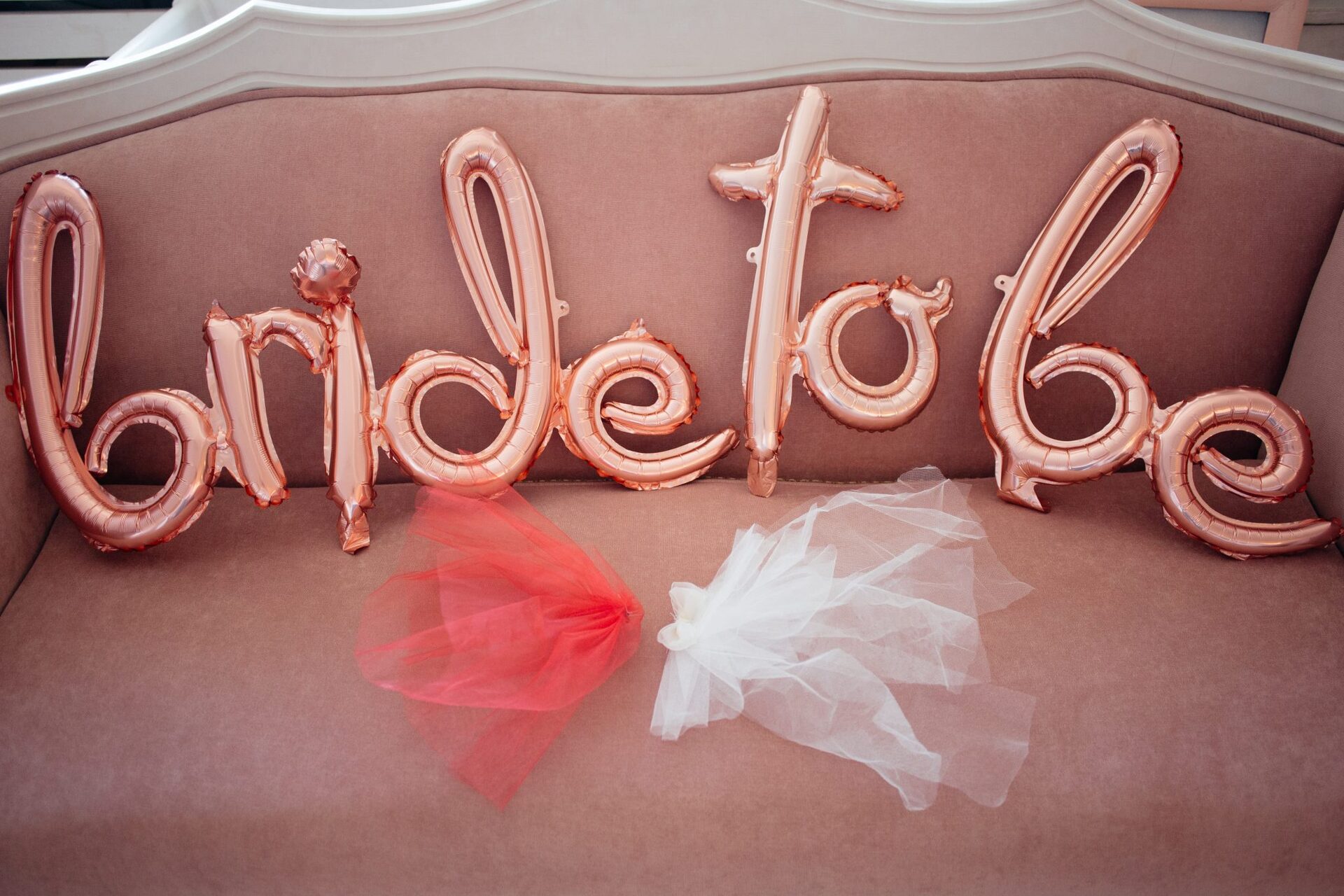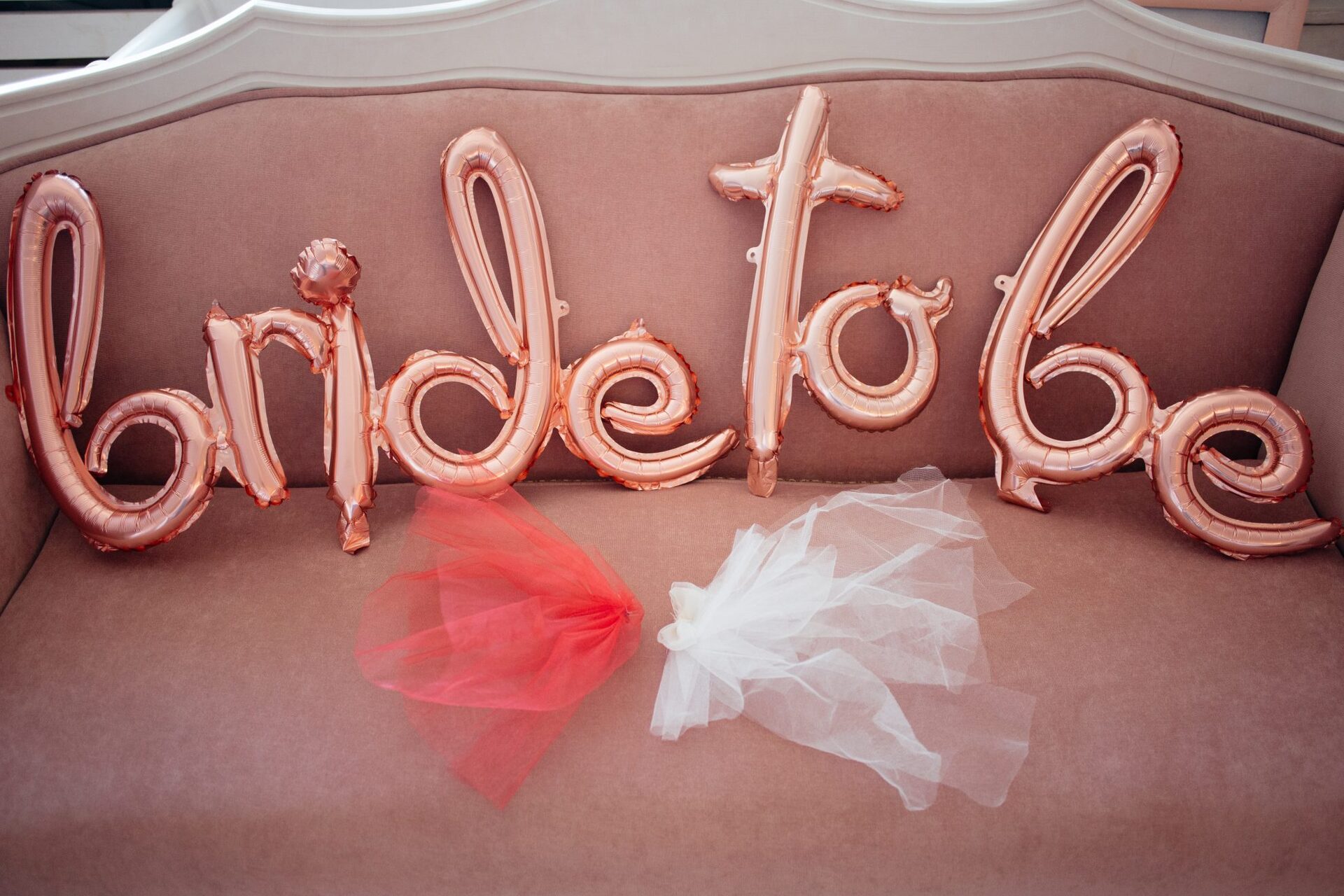 1. The Mr & Mrs Quiz
The classic Mr & Mrs game never fails to get some laughs! This a great ice breaker to kick off the night. All you have to do is prep a list of questions to get the broom to answer ahead of time – for e.g. 'What's your favourite movie?' or make them even more fun with some saucy questions! Then get the bride to answer on the night and see how well she knows her husband to be!
2. Only Wrong Answers
This is a fun one that is sure to get you and your girls LOLing! Simple ask some basic questions that will have obvious answers – but the twist is, you CANNOT give the correct answer! Only wrong answers will do. As simple as it sounds, this one is surprisingly hard (especially after a few drinks!).
3. The Vow Remix
For this hen party game, draft up a version of your vows (this can be fake for the game or real if you're up for it!) and print out for each guest, making sure to leave some blank spaces to be filled in. Then simply get your girls to fill in the blank spaces in the vows with their own funny answers – the more ridiculous, the better! Read aloud at the end and you're guaranteed a great laugh.
RELATED TO: How To Plan The Perfect Hen Party
4. Would She Rather?
Get your competitive juices flowing with a game of 'Would She Rather?' Split your girls into teams of two and four 2 and have some game sheets ready with a list of scenarios. Set a time for each team to pick the choices they think the bride-to-be would choose. At the end, ask the bride-to-be what she'd actually pick. The team with the most correct answers wins!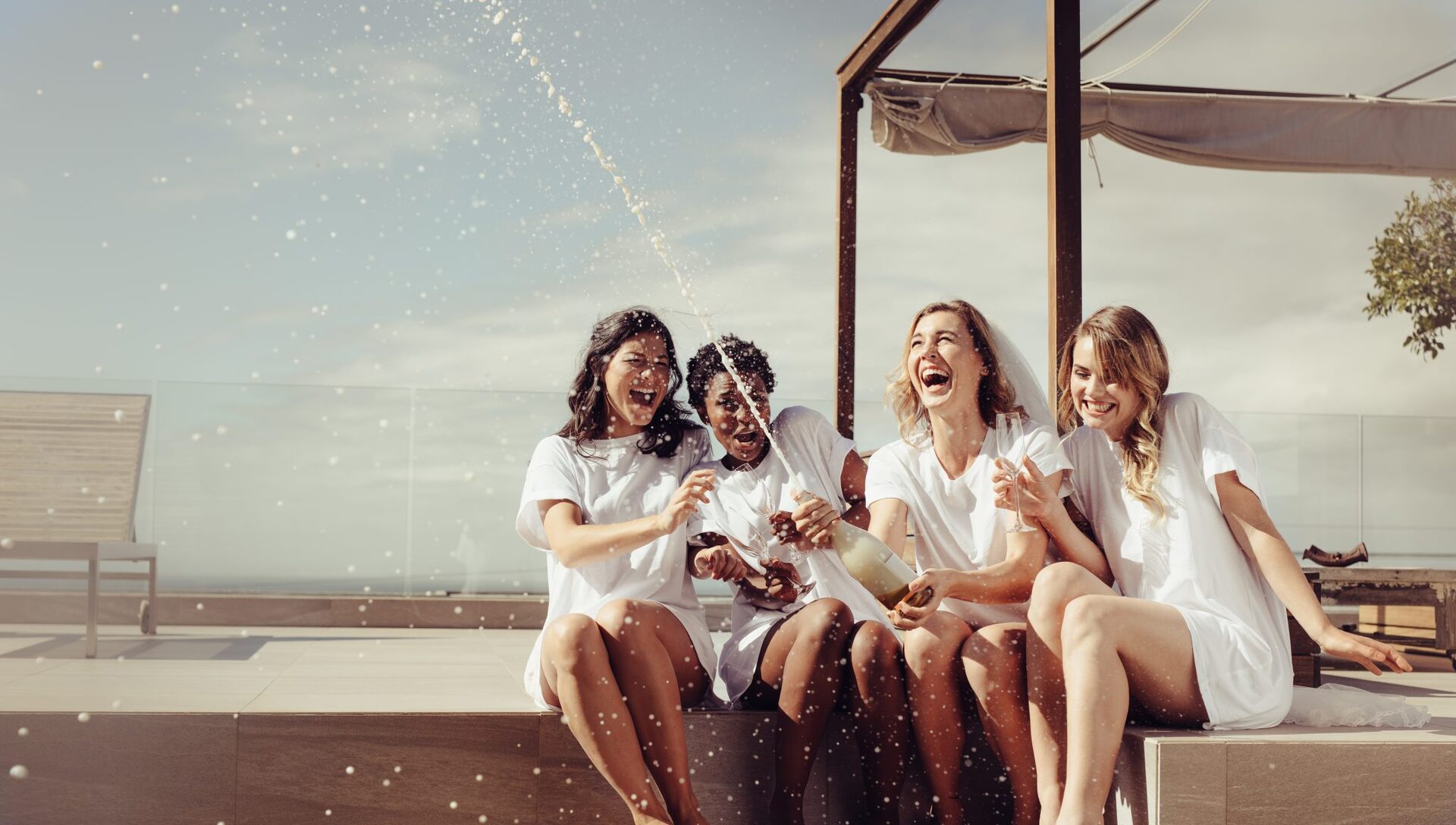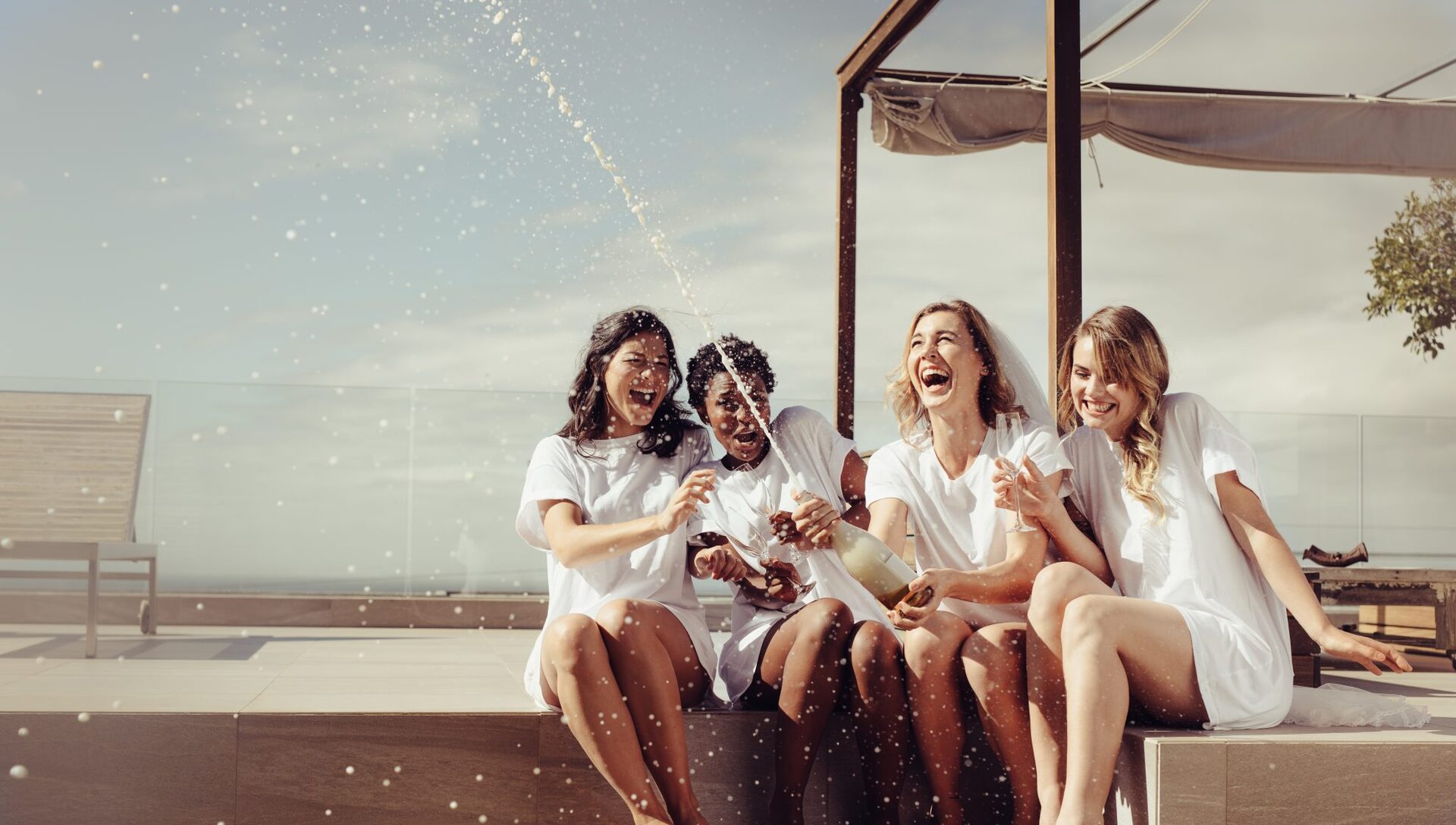 5. Never Have I Ever
Get the party started with a saucy game of 'Never Have I Ever'. This is a great way to find out some naughty secrets about your girls. Take turns to allow each guest to tell the group about something they've never done, beginning the sentence with, 'Never have I ever…'. Anyone who has done the deed, must take a sip of their drink! You'll be surprised what you find out 😉
6. The Knicker Game
Ok now we're really getting into it! For this naught game, each hen will bring along a pair of underwear (newly bought ones we hope!!) that best represents their personality and discreetly pop them into a designated 'knicker box'. The bride-to-be must match the pants to the person – you could also switch up and add a pair that best represents the bride!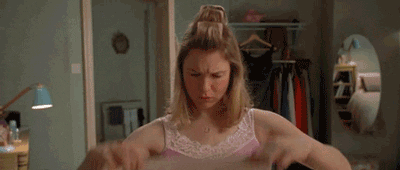 7. The Cocktail Making Challenge
Get the drinks flowing by setting up a station with different types of alcohol available, various mixers and garnishes. Get as creative as you like with fruit, sweets, syrups and split the hens into teams to see what they come up with – we also recommend giving these hilarious names. Let the bride choose the winning concoction!
RELATED TO: 10 Budget-Friendly Buys To Put In Your Hen Party Bags
8. Hen Party Piñata
This isn't any old Piñata, it's a hen party themed Piñata! Get a Piñata fit for the occasion such as a ring, love heart or champagne bottle and fill it with sweets, fancy dress accessories, confetti and even miniature bottles of booze! Don't forget to blindfold everyone when it's their turn.
9. Gin Pong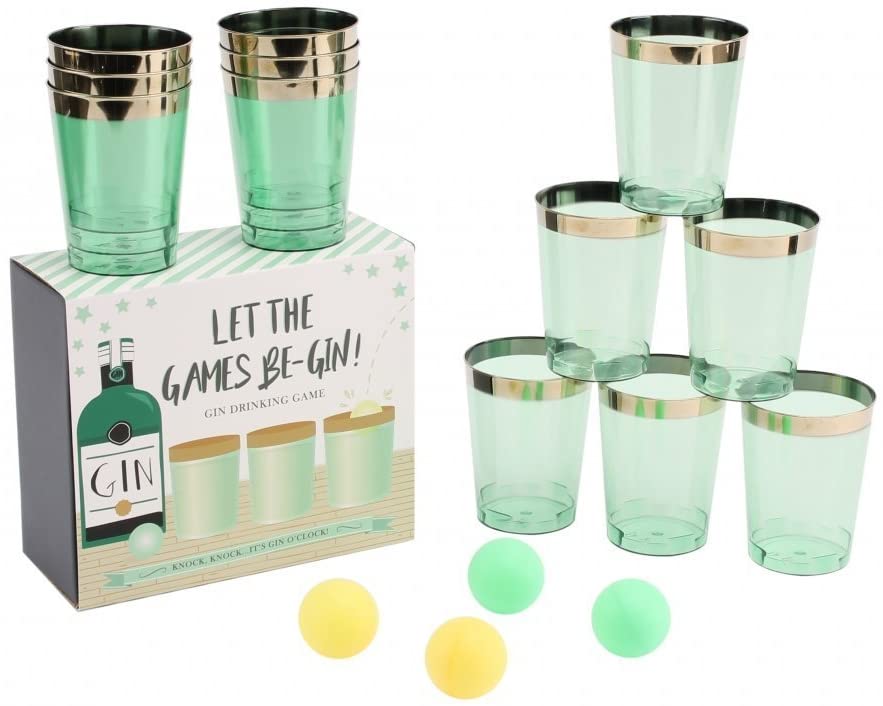 Photo via Amazon
Are you and your girls gin lovers? Then why not entertain your hen with a game of Gin Pong! With 12 plastic green and gold gin tumblers, two yellow and two green ping pong balls, the aim is to throw the ball into another glass and drink every time a person shoots and scores. It's a fun gift for a gin lover and a great addition to any hen party.
10. Truth or Dare
One of the most simple yet hilarious hen party games is a personalised version of 'Truth or Dare.' Simply open it up and two cubes featuring truth and dares will pop out. One cube has truth starters on it and the other has dare starters. When the cubes have popped out, the player can choose if they want to do a truth or a dare, depending on how the cubes have landed. It'll definitely add an extra fun factor!
11. Cocktail Quiz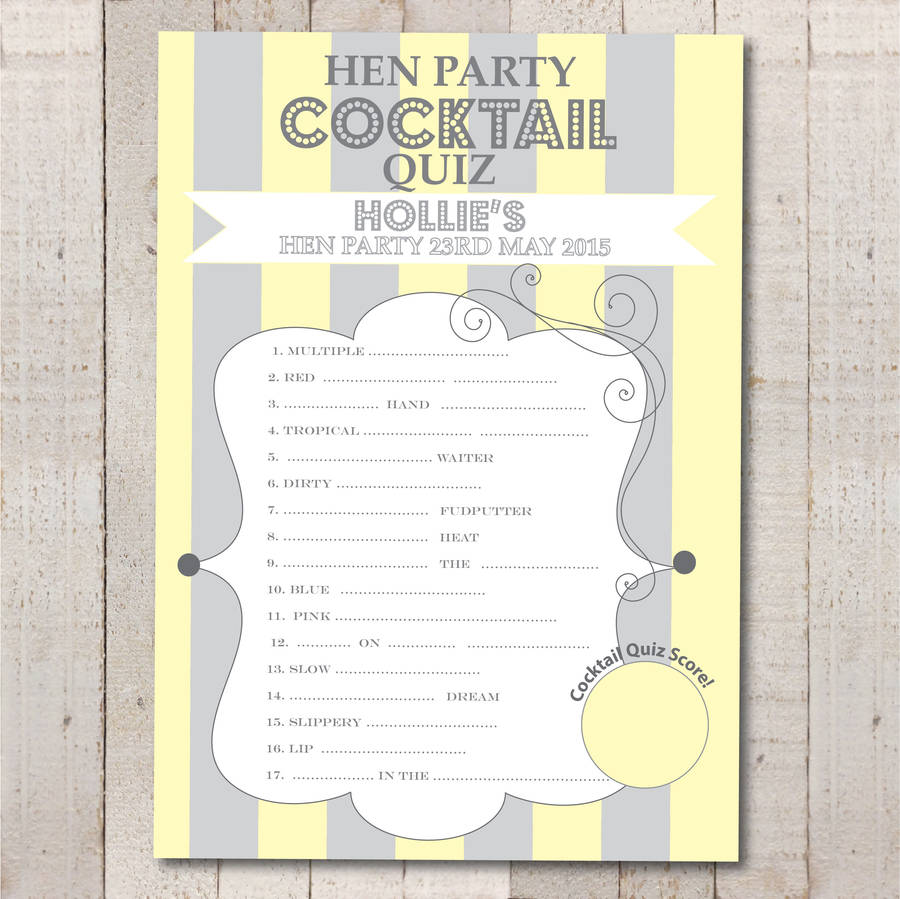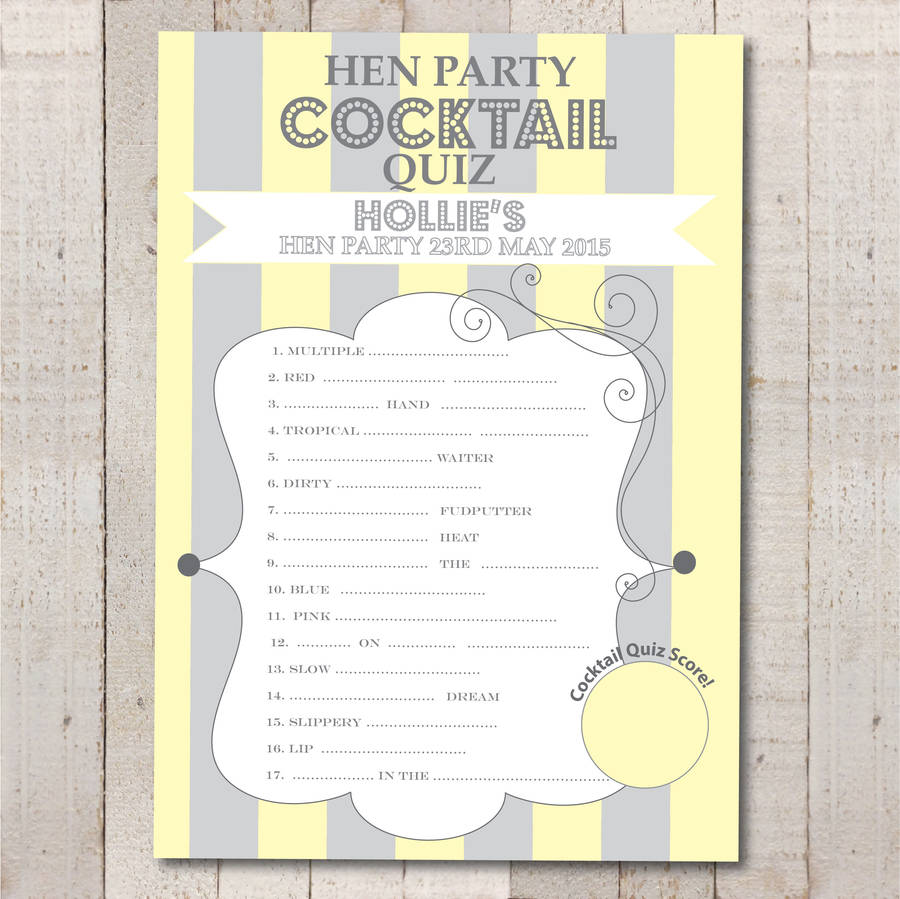 With this customised Cocktail Quiz, your hen party will definitely get off to a swinging start, with a little humour thrown in! Each guest fills in the blanks on their game sheet to complete the names of the cheeky cocktails. A great fun way to kick-off celebrations and suitable for playing at home, in a restaurant or bar. With up to 8 players able to play, it's ideal for small and large parties, so why not give it a go.
12. Wedding Absurd Comparisons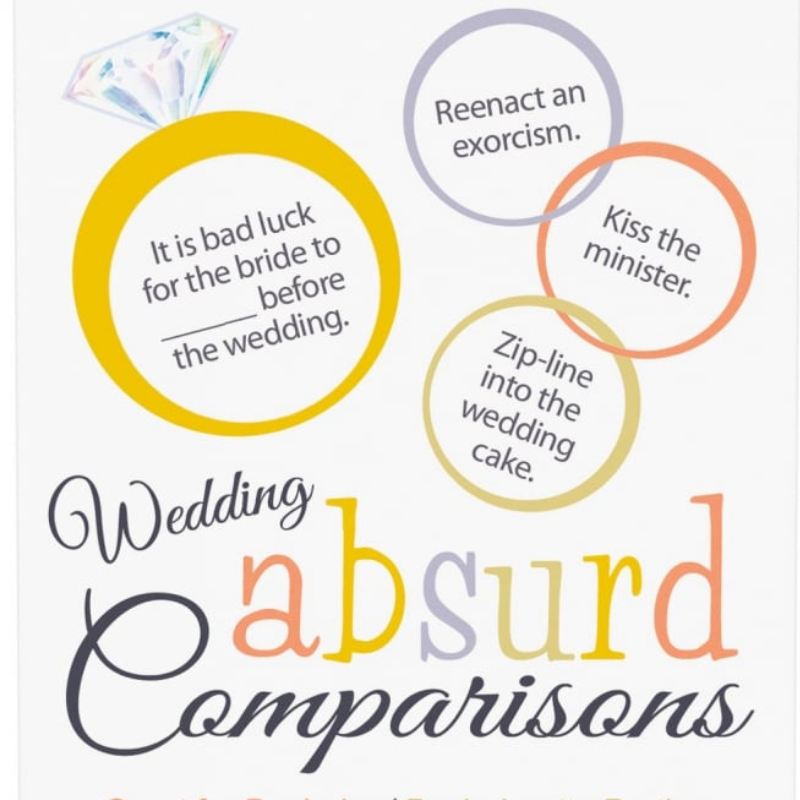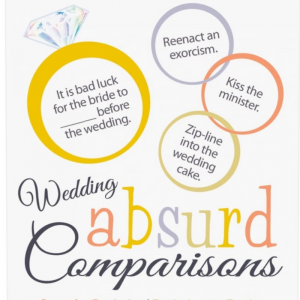 Want to inject some humour to your hen? Why not play the hilarious Wedding Absurd Comparisons? The game is so easy follow: come up with the most absurd possible answer to a variety of questions! With 96 absurd question cards and 107 absurd answer cards, the aim of the game is coming up with the most hilarious combinations ever! Guaranteed laughs all round.
13. Relationship Trivia Questions
Drinking games are a hilarious way to get everyone relaxed and into the party atmosphere and this eight pack Relationship Game Coasters is the perfect addition to your party.The novelty drinks coasters each have four relationship trivia questions, which are guaranteed to have you all in side-splitting giggles. Your hen night won't be complete without them!
RELATED TO: Hen Party Games, Ideas & Ice Breakers
14. Who Am I?
Looking for a fun game that every guest can play? Try the Who Am I Game that will have everyone guessing and laughing! A brilliant ice breaker for guests who may not know each other very well, all you have to do is pick up some Que cards and write names of well know people on them. The aim of the game is that one guest holds the cards up to their forehead and without looking tries to guest who the person is. Hilarious!
15. He Said She Said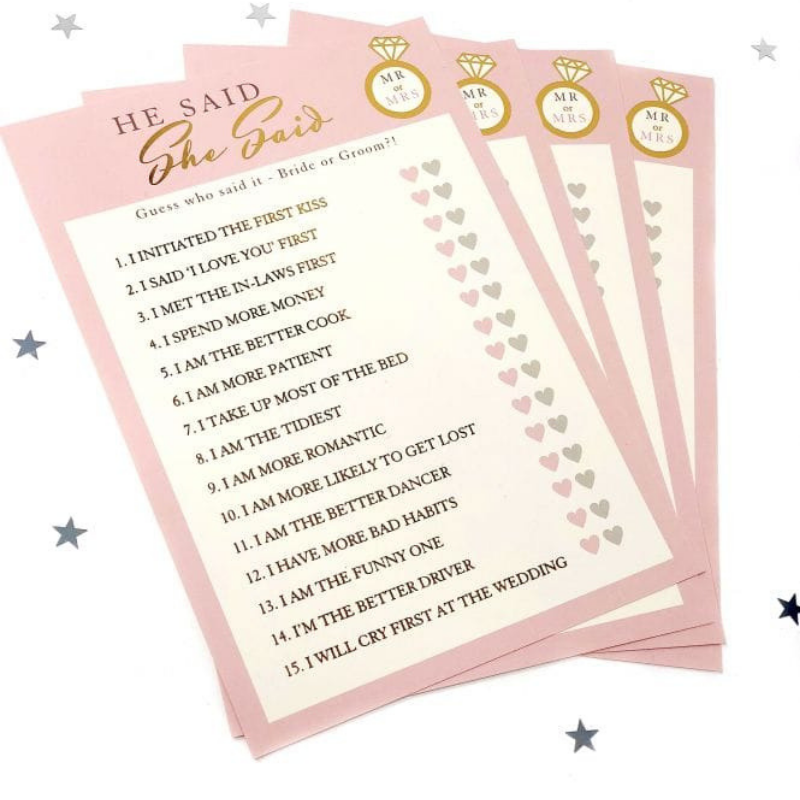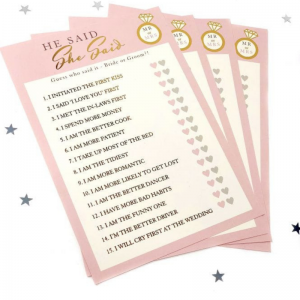 Fancy testing how much the bride to be really knows her fiance? Then this simple, easy to follow game is the perfect addition to any hen party. All you have to do is test the bride to be's knowledge of her fiance which will no doubt be hilarious. It comes with a question and answer sheet so you can easily mark the bride's answers and also comes with 8 cardboard mustaches and lips.
16. Pass The Parcel
For a Hen Party twist on the old party classic, Pass the Parcel is a fabulous addition. This kit will set you up with everything you need for a game to remember, with pretty pink tissues to wrap gifts in, confetti for between the layers, as well as high quality winners' glasses. And, in a typically cheeky hen party twist, you'll also have 15 forfeit cards to intersperse through the layers of wrapping, left blank so that you can make the forfeit as tame or as risqué as you desire.
17. Bridal Bingo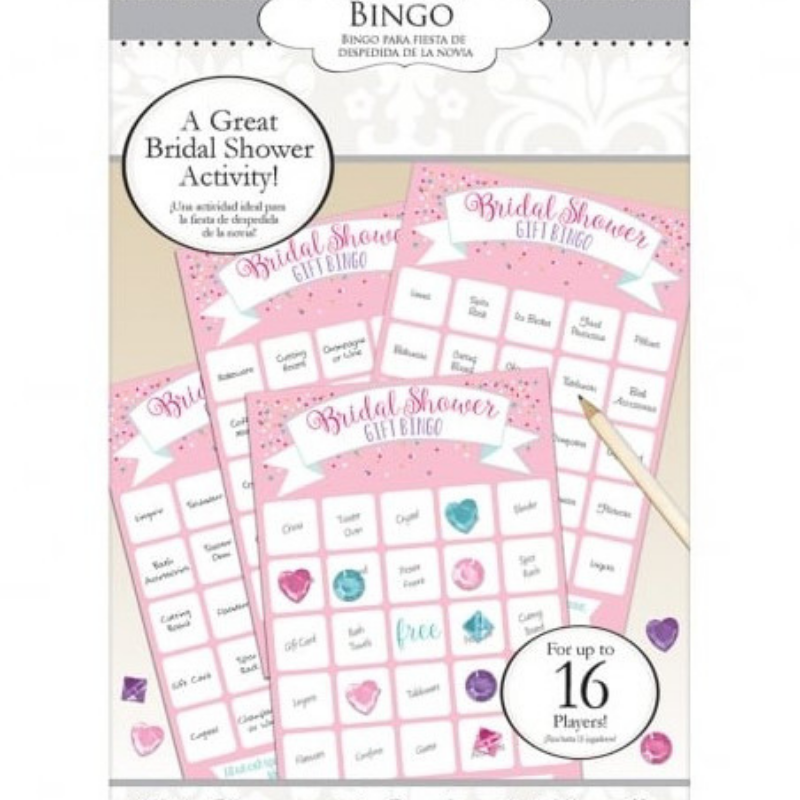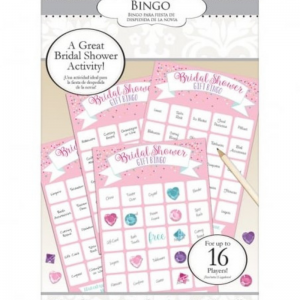 Did someone say bingo? This bridal shower bingo game is a great way to share gifts with the bride. Complete with hundreds of gems and customisable forms, bridal gifting couldn't be easier. With up to 16 cards to play, work with the bride and hens to list the ideal gifts for married life. Using this personalised set, you can list all desired items before getting the girls to play bridal shower bingo. So fun!
RELATED TO: 15 Insta Worthy Hen Party Ideas Around Ireland
18. Tipsy Tripple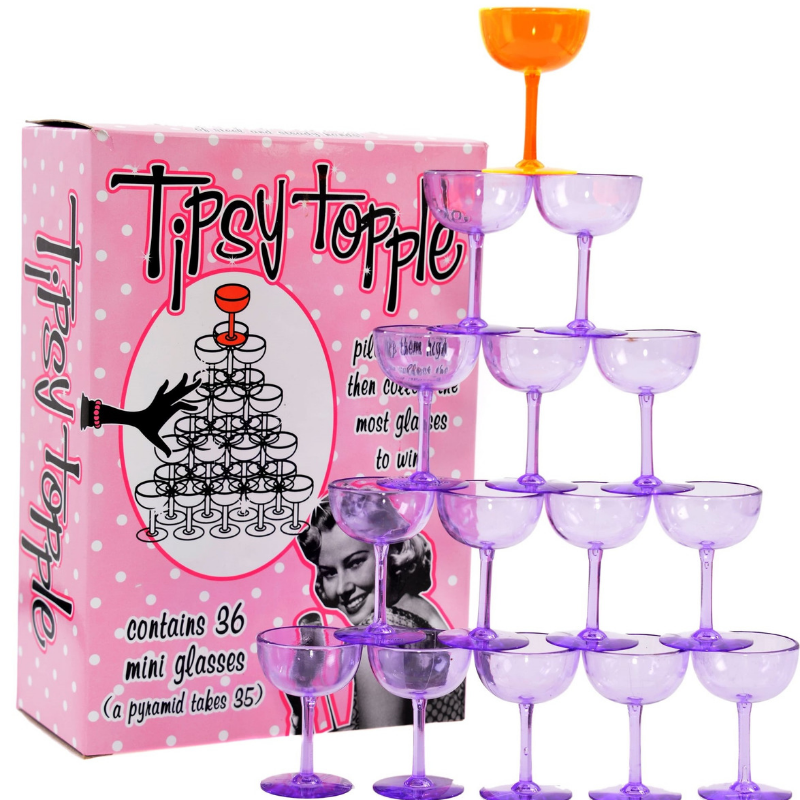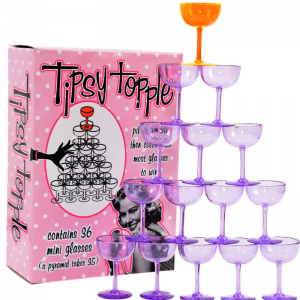 Why not add a competitive activity to any Hen Night, but playing this hilarious Tipsy Topple Hen Party Game. After setting up the game, the girls take it turns to remove a glass until either all the glasses are gone or the tower of glasses has fallen over. The only problem is will you have a steady enough hand to set up the game in the first place! With so much fun guaranteed, this definitely has to be added!
19. Hen Do Pictionary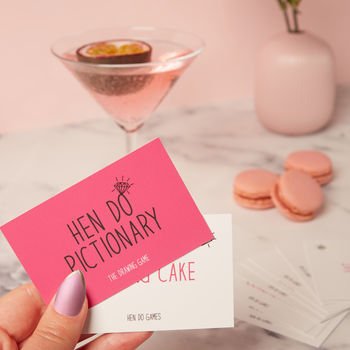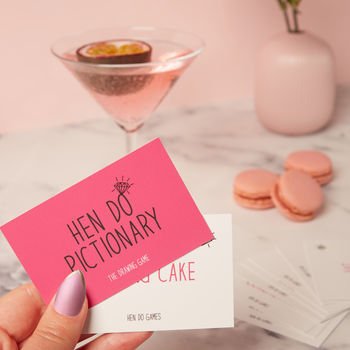 Want to go for something a bit different? Then check out Hen Do Pictonary, a drawing game where you read the word out loud and then have to act it out, without making any sound! Its a great way for everyone to get to know each other in a quick, fun setting. The cards are business card size, which are ideal for stashing in your bag. It can be played around the dinner table or in any group setting. Also, if you want to up the ante, it can be turned into a drinking game by designating shots to anyone who cannot draw their card sufficiently for others to guess.
20. Scratch & Win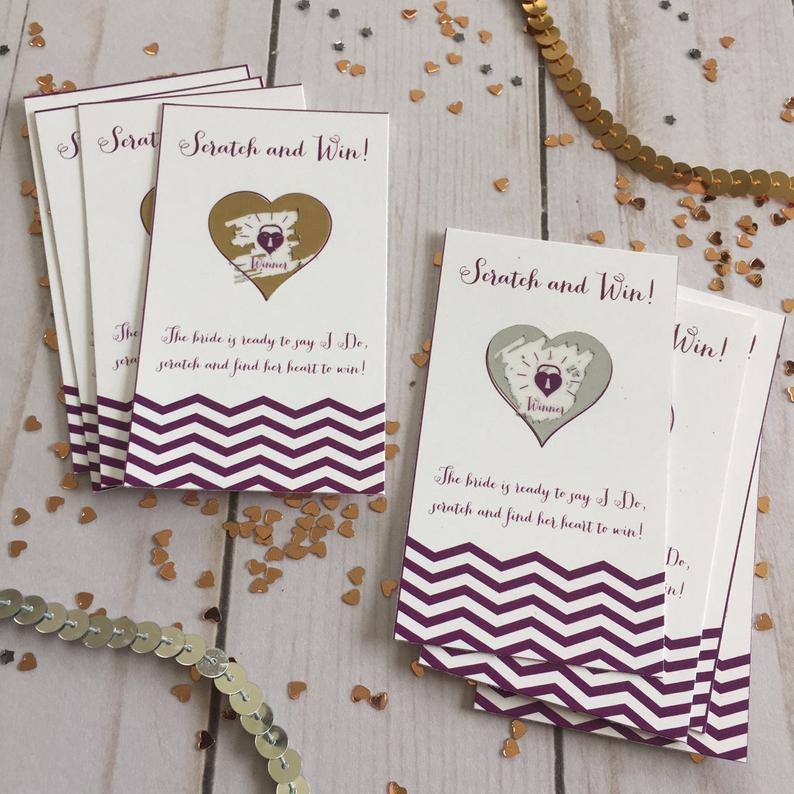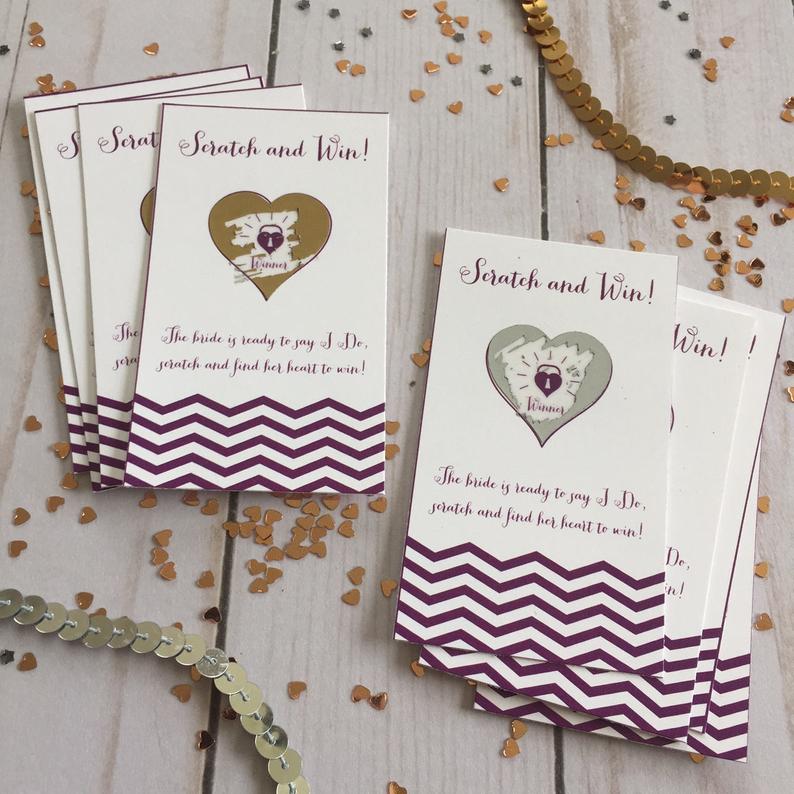 Something different, try this scratch card game! Each guest receives a card where they have to scratch off the heart to see if they are the winner! Each set of 12 cards comes with 1 "winner" card and 11 "sorry" cards. If you require a different number of winner's please send a message before ordering. The 'winner' cards will be packaged separately from the others in case you need to know ahead of time.
21. Love At First Sight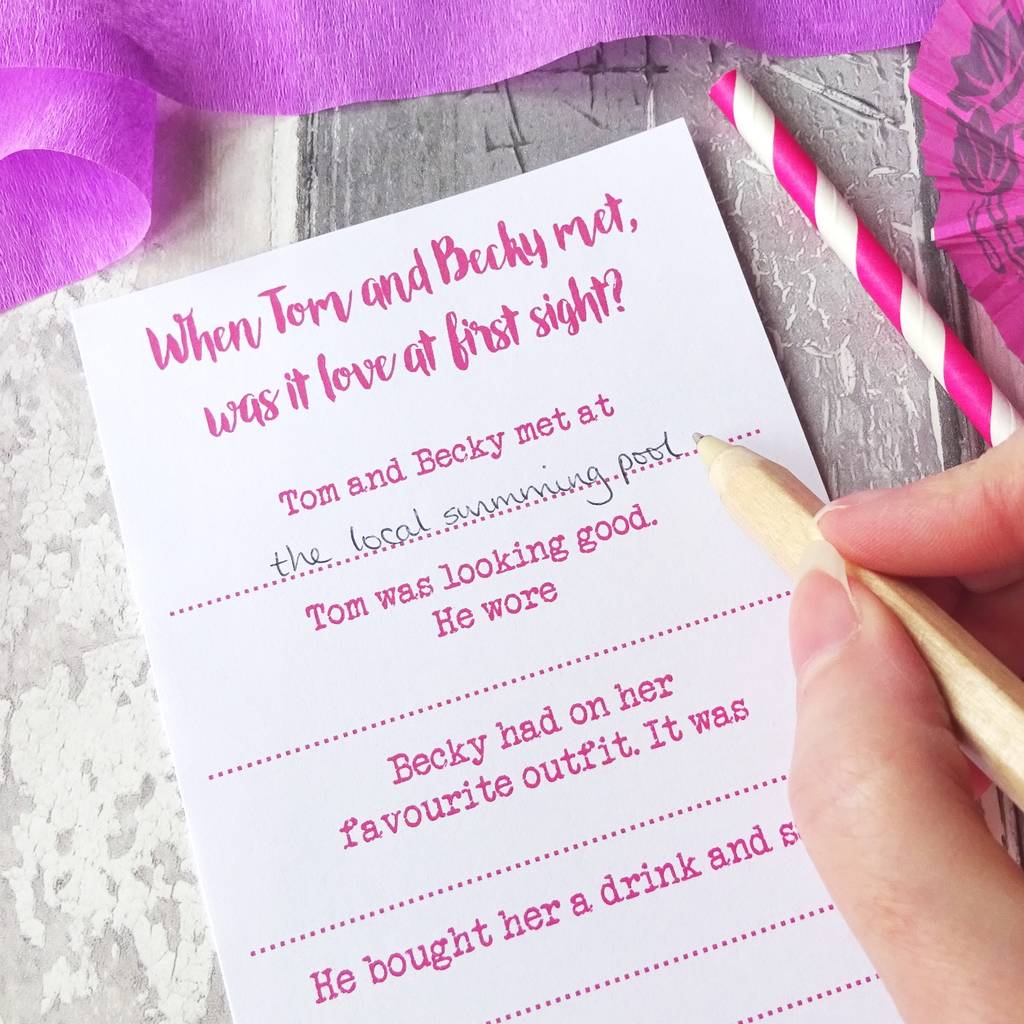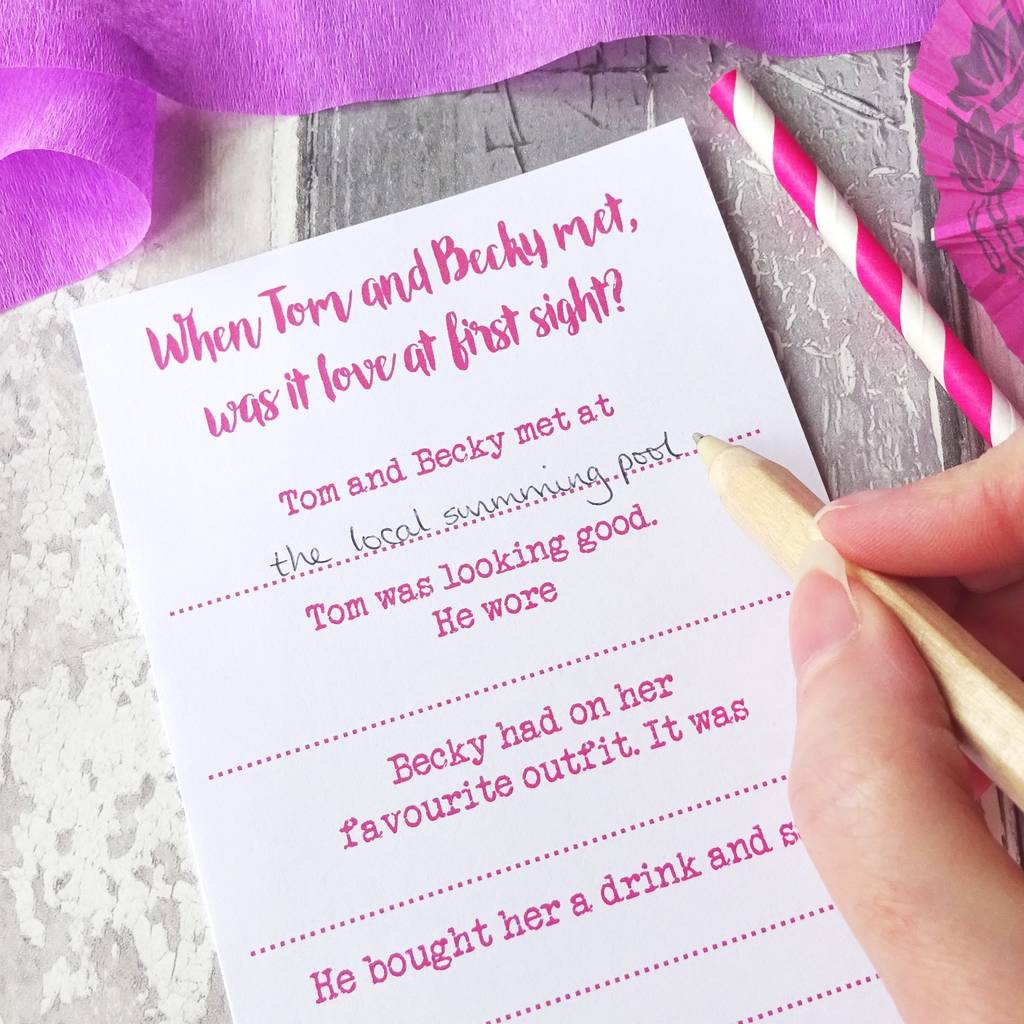 When the bride and groom met, was it love at first sight? Let's find out! A modern twist on the game 'Consequences', this fun personalised hen party game allows the hens to re-write history. Simply fill in the first blank on the sheet, fold it over so that the next player can't see your answer and then pass it on so that they can continue the story.
Remember to have fun with your answers! When all of the blanks are filled, open up the sheets and read the stories out loud. Enjoy!
Sign up to our newsletter to get all the latest from The Wedding Journal! Join Here>>>>http://eepurl.com/ck9vLb