Looking for fun and creative ways to entertain your guests? Try out these hilarious wedding reception games for an unforgettable day!
While crowded dancefloors are still on hold (thanks, covid!), there are still plenty of fun and creative ways to entertain your guests and get the good vibes flowing on your big day!
RELATED TO: Have you bought your tickets for The Wedding Journal Show? Get exclusive VIP & discounted tickets online now!
Wedding reception games are the perfect icebreaker to get your guests mingling whilst also creating laughter and unforgettable memories for both you and your guests.
So, if you're looking for some wedding game inspo to liven up your evening reception, we've rounded up our favourite wedding games your guests are sure to love…
RELATED TO: 13 Socially-Distance Approved Wedding Reception Games
1. Bride & Groom Trivia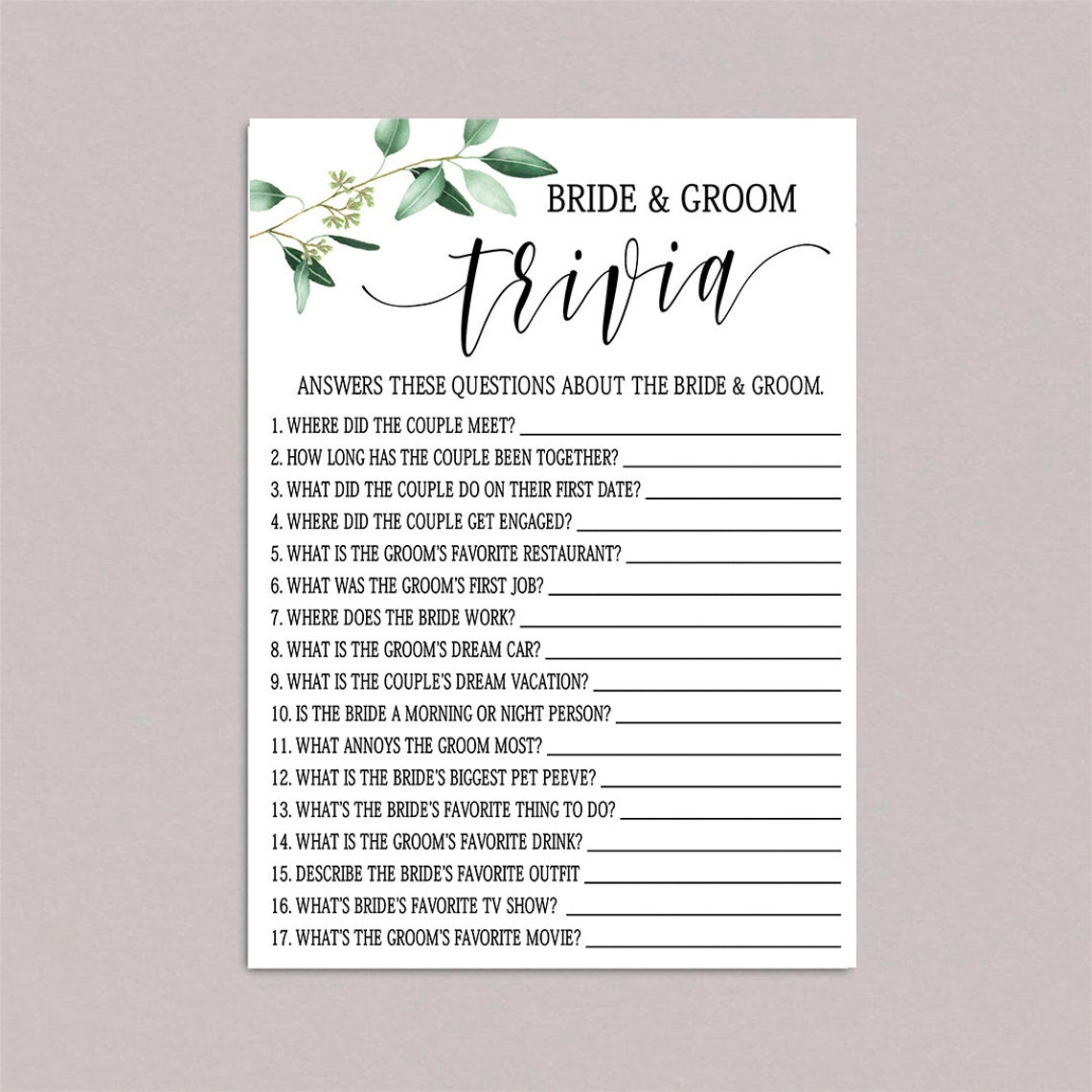 For all those trivia lovers out there, you're going to love this newly wed trivia game which lets you find out what your guests really think of you! At each guest's seat, leave a printed sheet of personalised trivia questions about you and your bride/groom – this could be multiple choice, true/false question or fill-in-the-blank.
READ OUR LATEST MAGAZINE ISSUE – SUMMER 2021 OUT NOW
Ask your family and friends to answer these during your reception and get your MC or DJ to read the answers out loud later in the evening – whichever guests get the most answers correct can take home the centerpiece and the title of knowing you and your partner best!
2. Photo Scavenger Hunt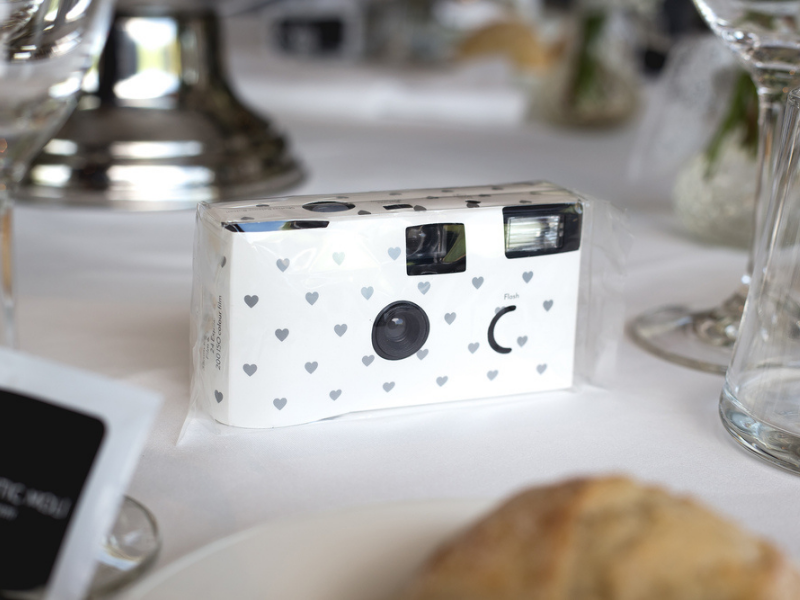 What better way to get those cute candids than setting your guests up for the task! Provide each table with a disposable camera and send your guests on a challenge to capture 20+ specific wedding moments. Or, if you want to post on social media you can get guests to use their phone use your personalised wedding day hashtag!
RELATED TO: Personalised Wedding Favour Ideas
This can be the bride and groom sharing a kiss, someone proposing a toast or even just two unlikely guests mingling and having fun in the moment – this is a great way to get people mingling, and will also provide you with even more adorable snaps of special memories from your big day!
3. The Shoe Game
If you haven't seen the hilarious wedding shoe game, then you're in for a treat! This is a huge wedding trend where the bride and groom sit back-to-back while both holding each other shoes as the guests find out how well they really know each other! Someone reads the questions out loud and the bride and groom raise the shoe of who is best represented by the answer – some example questions to ask are…
Who has the better shower singing voice?
Who is most likely to fall asleep during a movie?
Who is the better dancer?
Who made the first move?
You can make these as innocent or as scandalous as you like and even swap seats with your other guest couples, such as your mum and dad, to crank up the laughter even more!
4. Mr & Mrs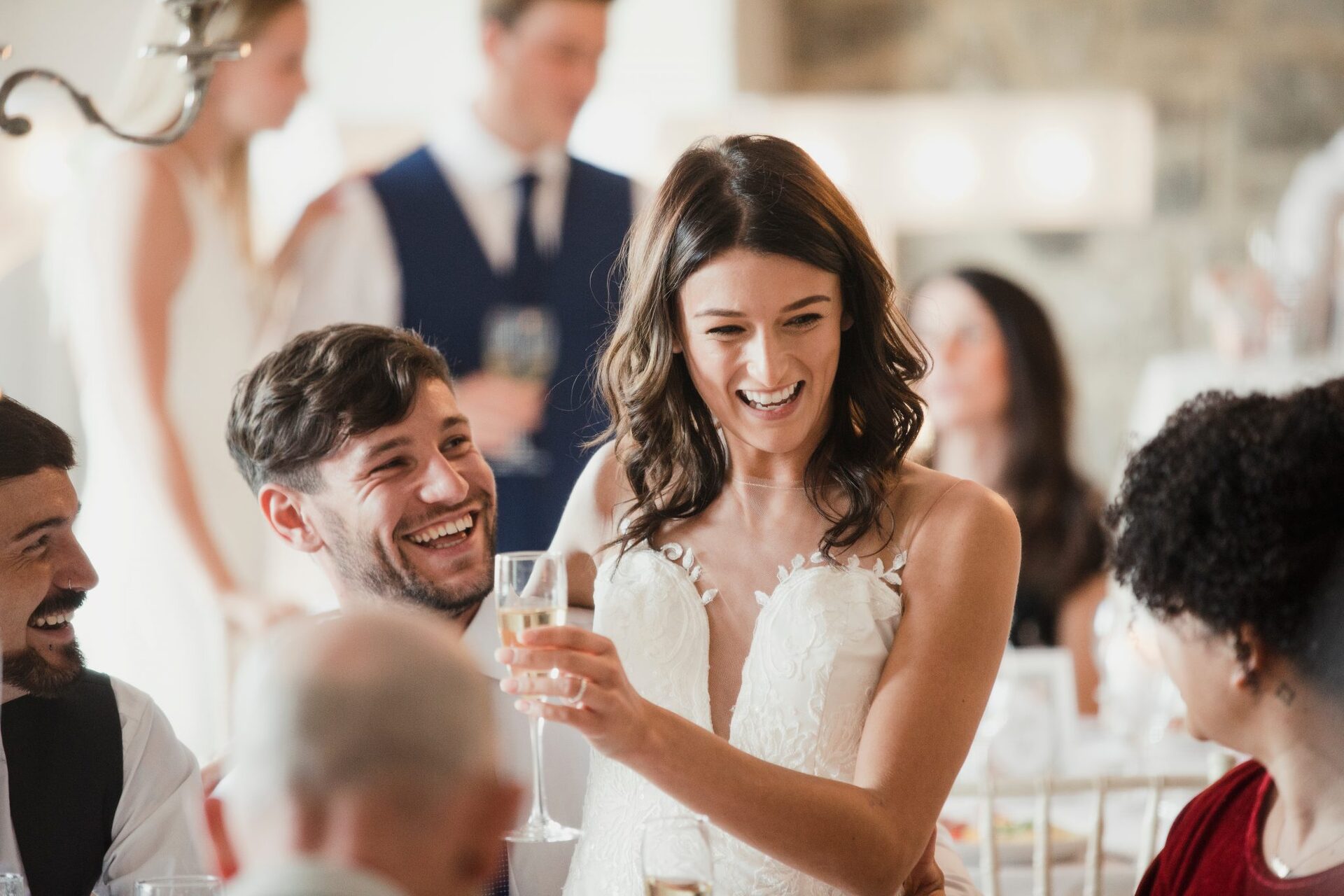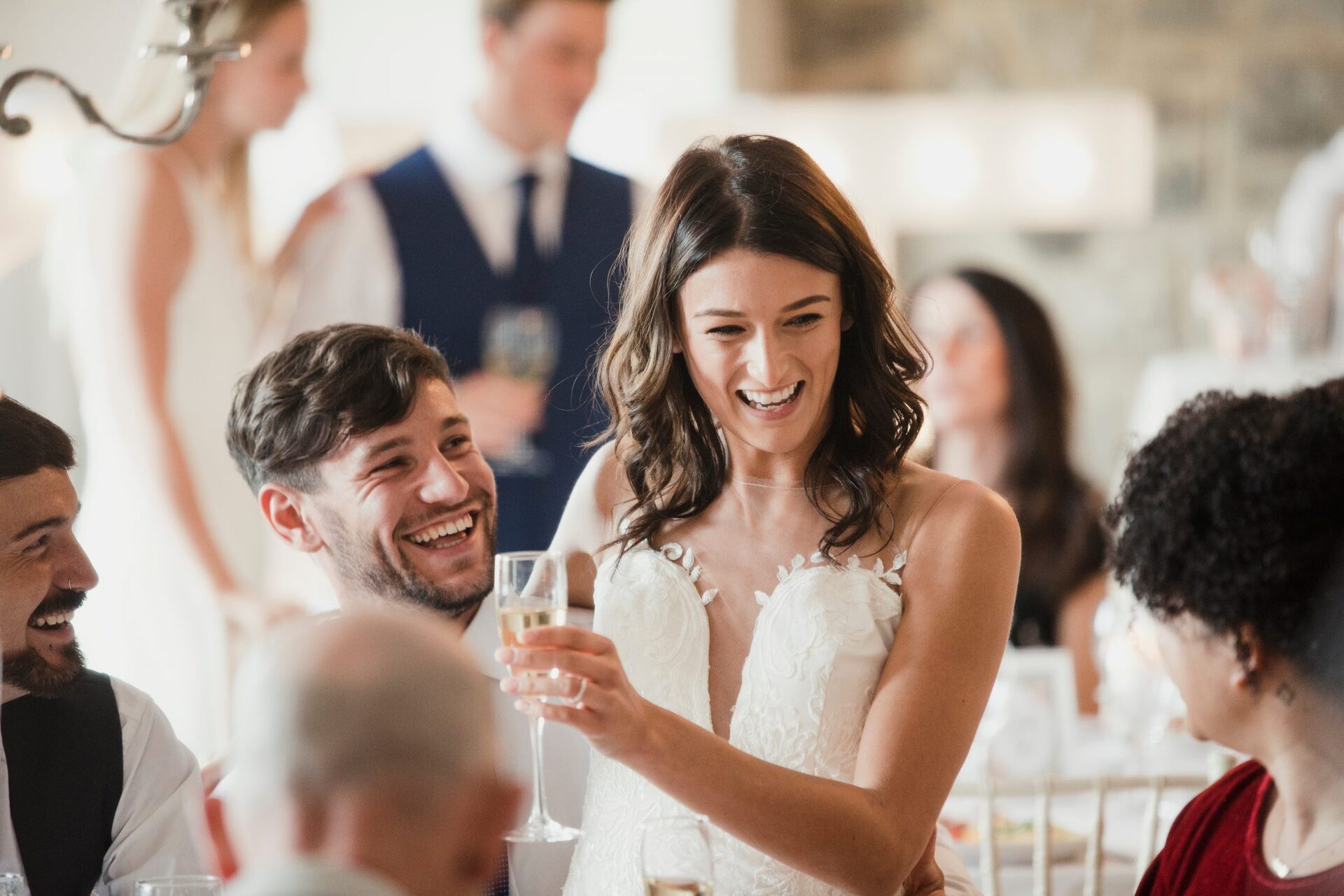 It's your wedding day, so don't be afraid to be the center of attention! No doubt you've seen those viral videos where couples are asked 'Mr and Mrs' questions about each other in a bid to prove they know everything about their other half – usually with hilarious results!
RELATED TO: 75+ Unconventional Wedding Ideas for the Unique Bride
The Mr & Mrs quiz is the ultimate wedding activity to find out how well your partner really knows you and vice versa. The bride and groom can sit at the top table with whiteboards while guests come up with a list of questions such as 'what would he/she grab first in a fire?' or 'if you're partner could have a dinner with anyone who would it be?' Ask a reliable guest to sort out the questions and get creative with it for some funny answers!
5. Newly Mad Libs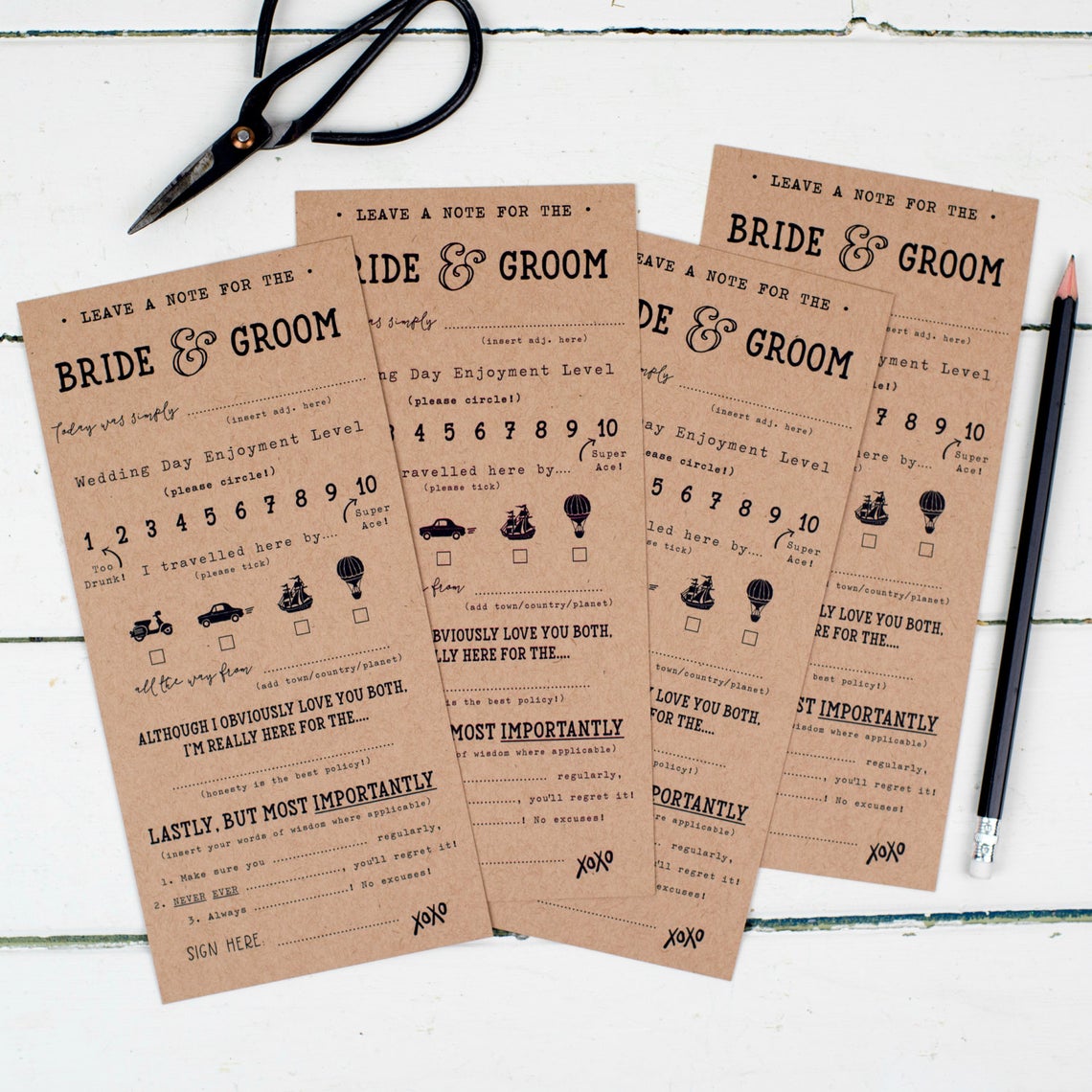 This classic 'fill-in-the-blank' game is sure to get your reception venue erupting with laughter! If you're not the DIY type, you can ask your wedding stationary supplier to design up some Mad Libs cards to match in with your wedding invites and theme.
Prompt your guests to complete their own Mad Libs version of your proposal story, wedding vows or well wishes for the future – be sure to collect the finished versions which you can read out loud for an extra laugh and take home to add to your wedding memory box!
6. Giant Jenga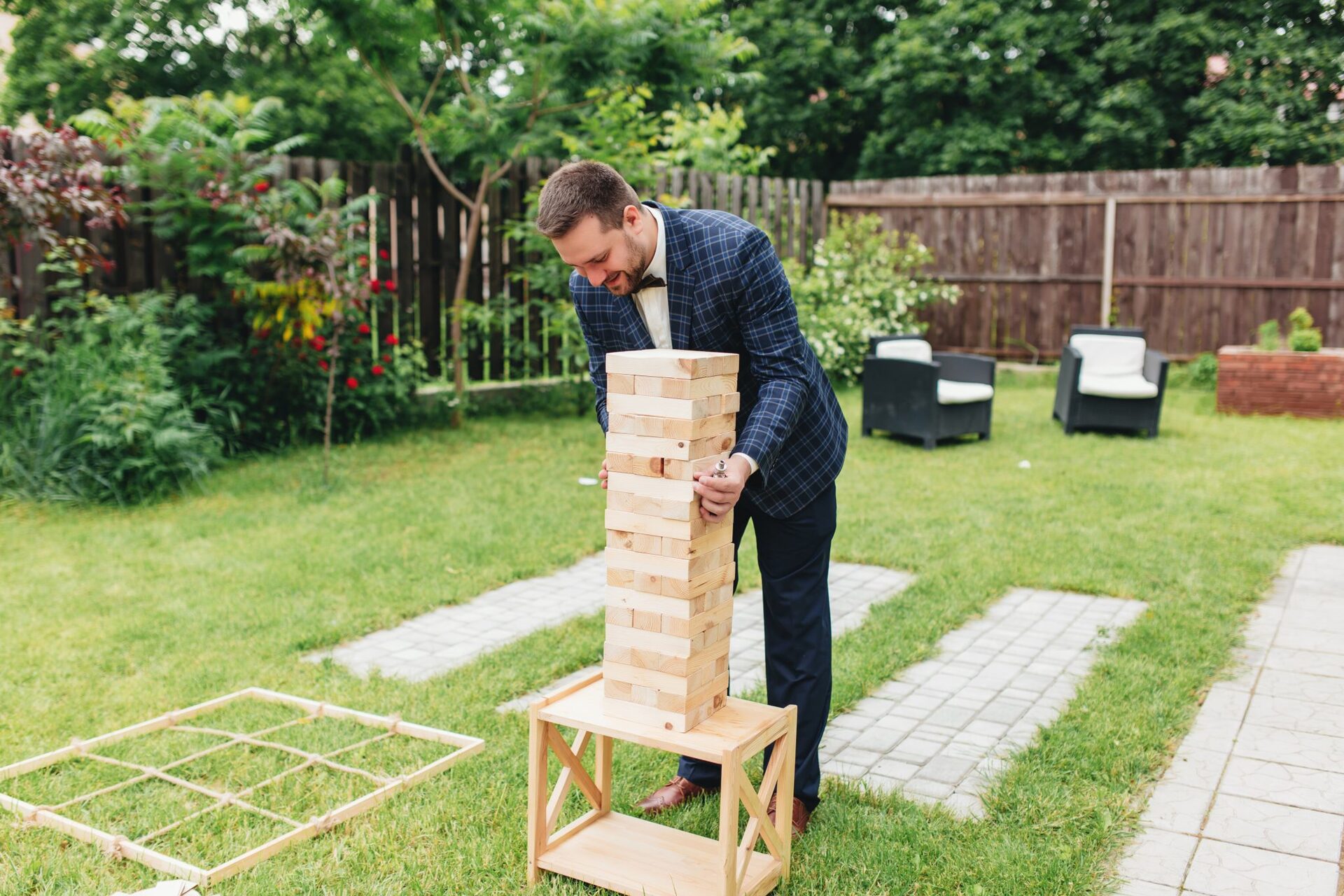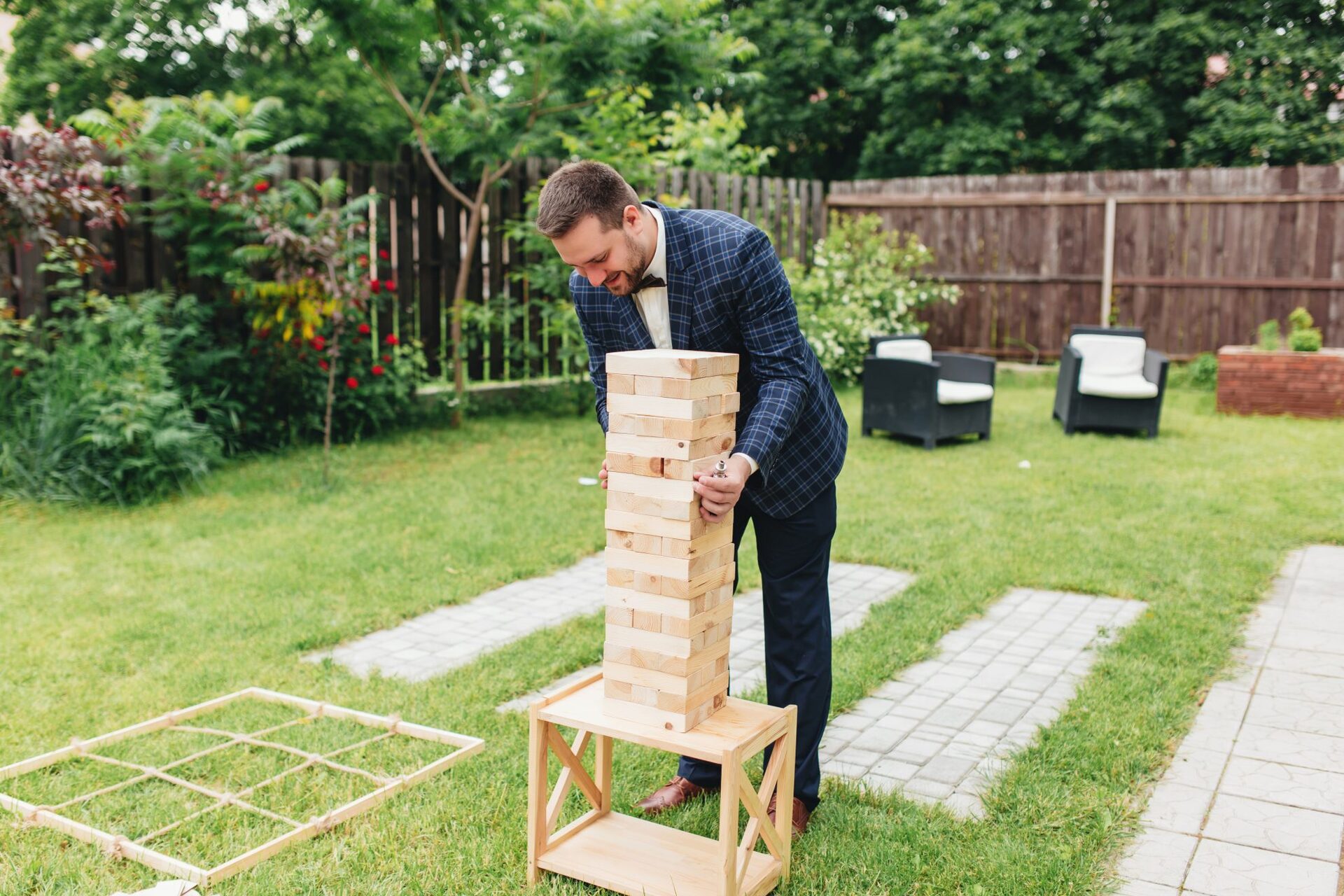 Everyone loves a classic game of Jenga, but how about a giant version of this block-stacking game to spice things up? This is perfect for an outdoor wedding reception and only needs a flat area like a tabletop or some grassy ground.
RELATED TO: The Hottest Wedding Invite Trends of 2021
Watch your guests taking turns trying to remove one block at a time from the giant wooden tower, and after a few drinks it's sure to create some hilarious moments! We've seen many Giant Jenga games swarming the internet and even couples getting creative by getting their own wood blocks cut and painted!
7. Cards Against Humanity (Wedding Style!)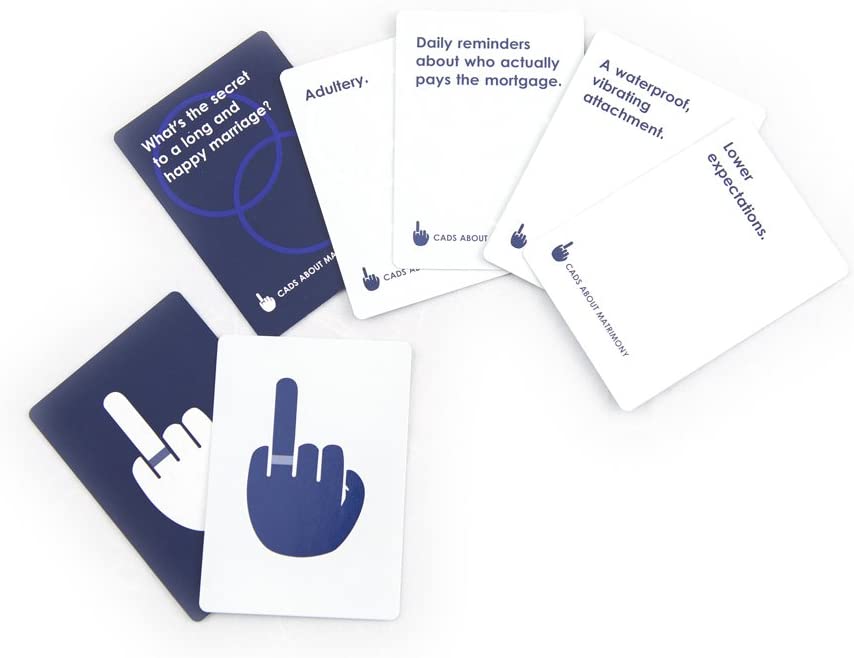 If you love the hilariously outrageous game that is Cards Against Humanity, you're going to love 'Cads About Matrimony', which is all over the internet for having the same ridiculousness of Cards Against Humanity but tailored specifically to weddings and marriage!
This is a great table game for your guests and top table, and will get your guests laughing and mixing (your granny might not always get the PG-13 humour though!)
8. Speech Bingo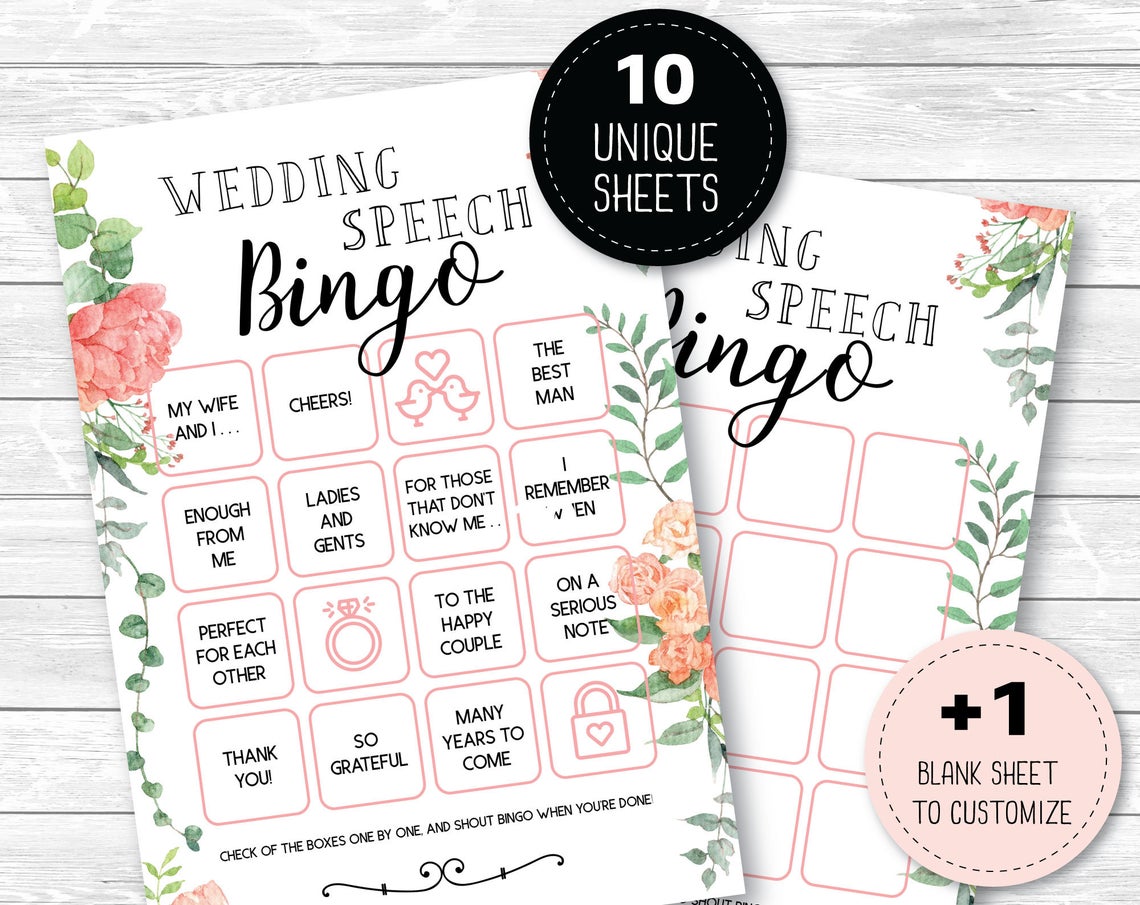 Add (even more) pressure to the speech makers of the wedding by giving your guests a copy of wedding speech bingo! You can personalise these with a DIY version or ask your wedding stationary supplier to create some cute bingo cards to match your wedding invites and theme.
It's easy for guests to drift off during the speeches, but this fun wedding bingo game will keep them engaged the whole way through! Simply mark the sheet with words and phrases that may creep up during speeches and whichever one completes their card shouts BINGO! (which will totally throw off the best man as he gets deep into his embarrassing story!).
9. Guess Who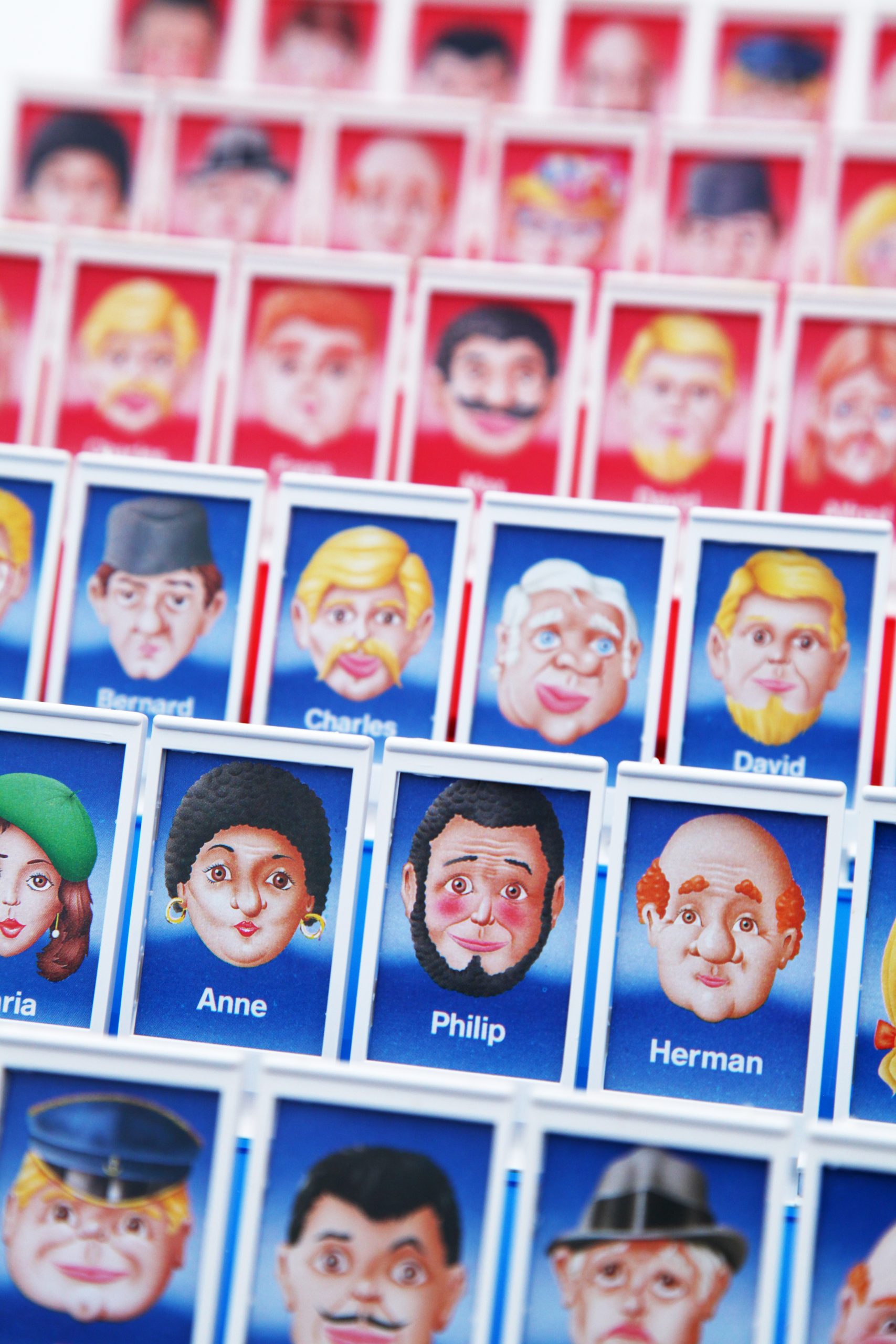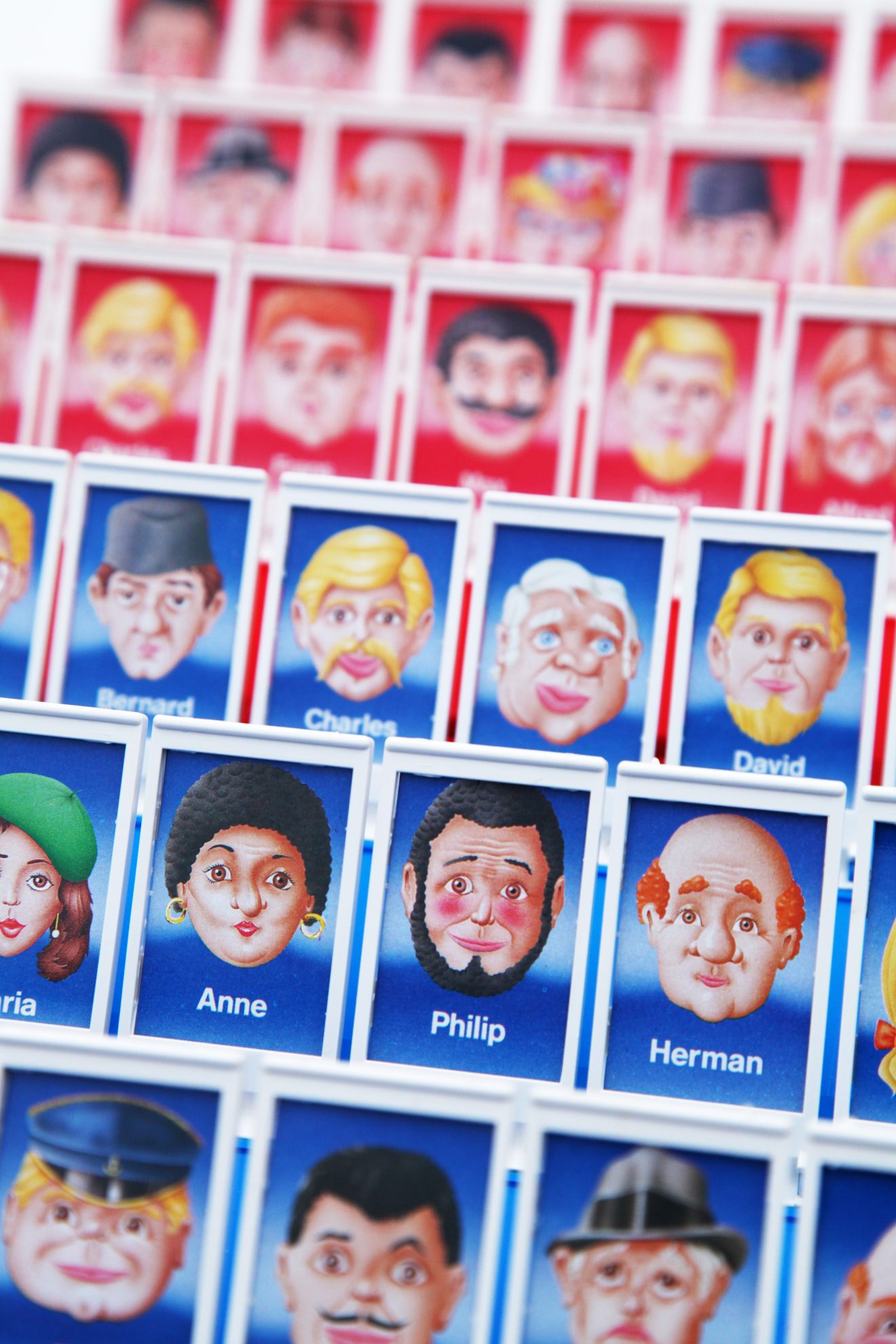 This is one for the crafty couples out there who love a bit of DIY! If you love the nostalgic game 'Guess Who', why not make your own version by replacing the characters with pictures of your wedding guests?
RELATED TO: Quirky Wedding Entertainment Your Guests Are Going To Love
If you don't have time to make multiple boards, guests can pass the game around table-by-table and have fun getting to know each other while one guest tries to find out who the chosen person is!
10. Find Your Match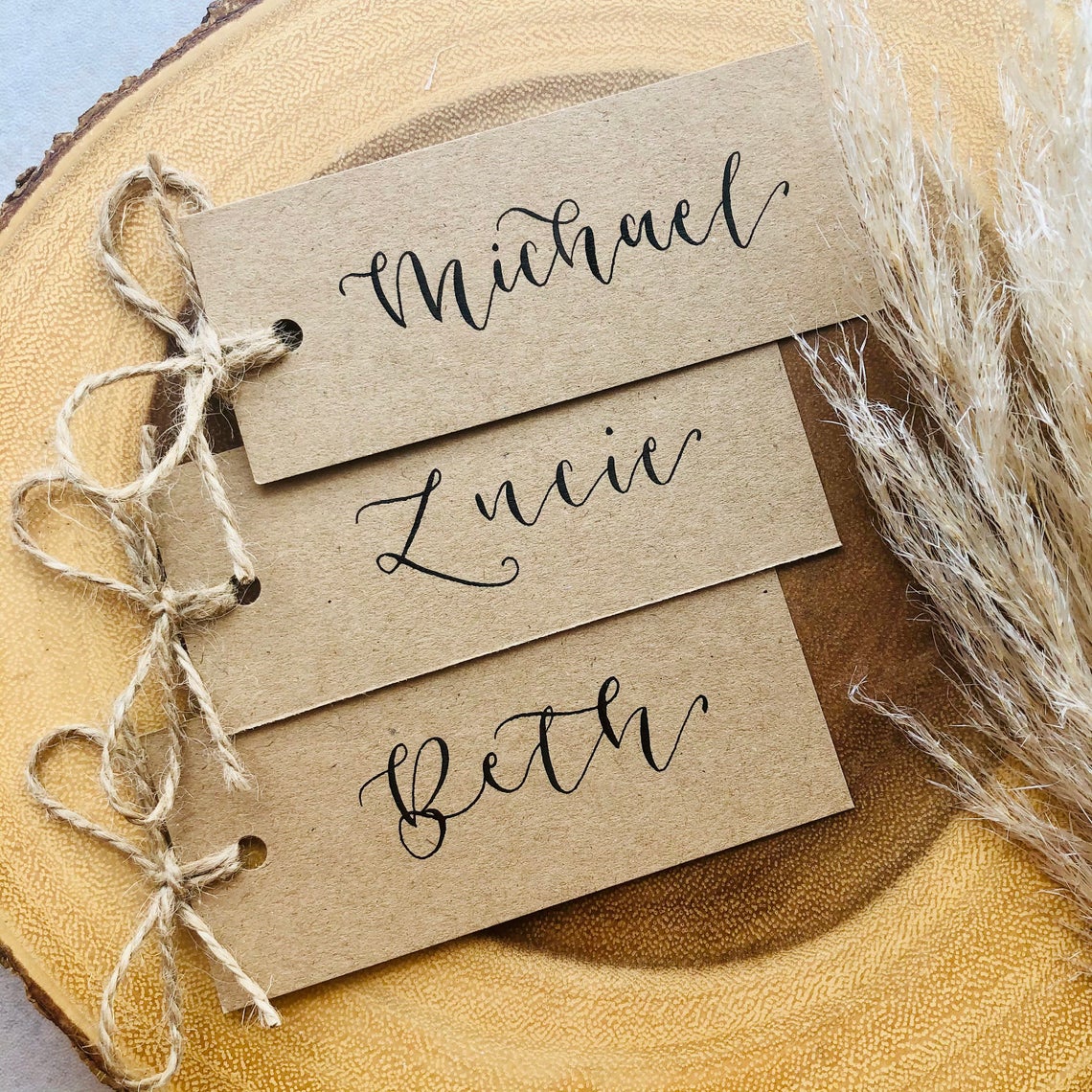 If you see your wedding as the perfect opportunity to match up your single friends, then you've got to try this Make Your Match place cards game. On the back of each guest's place card, write one half of a famous couple – this could be an iconic celeb duo or even basic pairings such as Salt & Pepper and Gin & Tonic.
Your guests must then scan the room and mingle, trying to find their perfect match! If you always thought your work bestie would go well with your fiance's best man, now's your chance to get things in motion!

Sign up to our newsletter to get all the latest from The Wedding Journal! Join Here>>>>http://eepurl.com/ck9vLb