Featuring rustic restaurants to lavish country house manors!

If you're currently on the lookout for amazing wedding venues in County Dublin, then you're in the right place! With a chic and stylish aesthetic, you're going to love this list of the best ceremony spots in Dublin.
Whether you want something cosy and rustic or glamourous and extravagant, there will be something for every taste, style and budget! From charming country houses to lavish hotels and industrial warehouses, these wedding venues really bring the wow-factor.
Keep on scrolling to get inspired…
Urban Brewing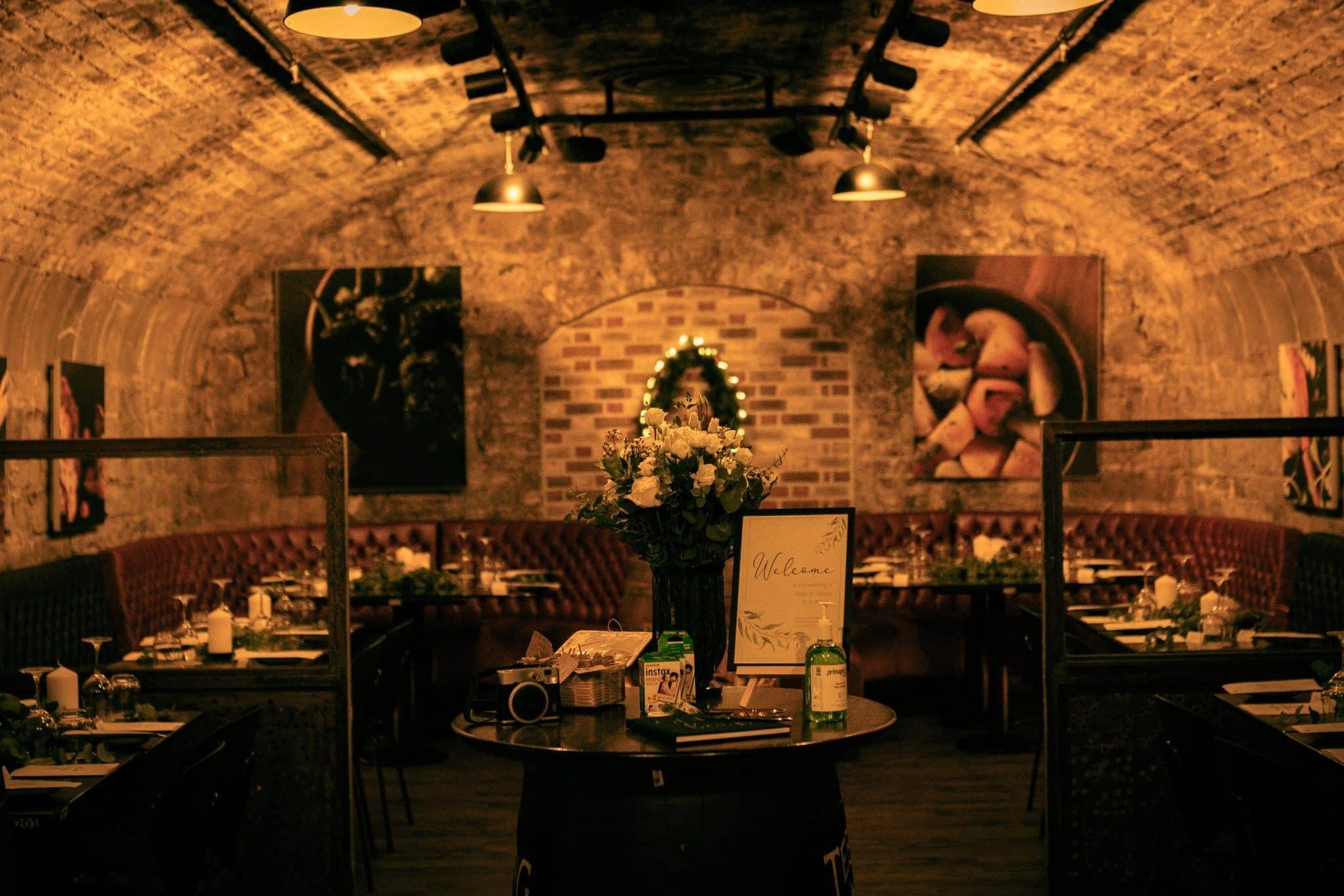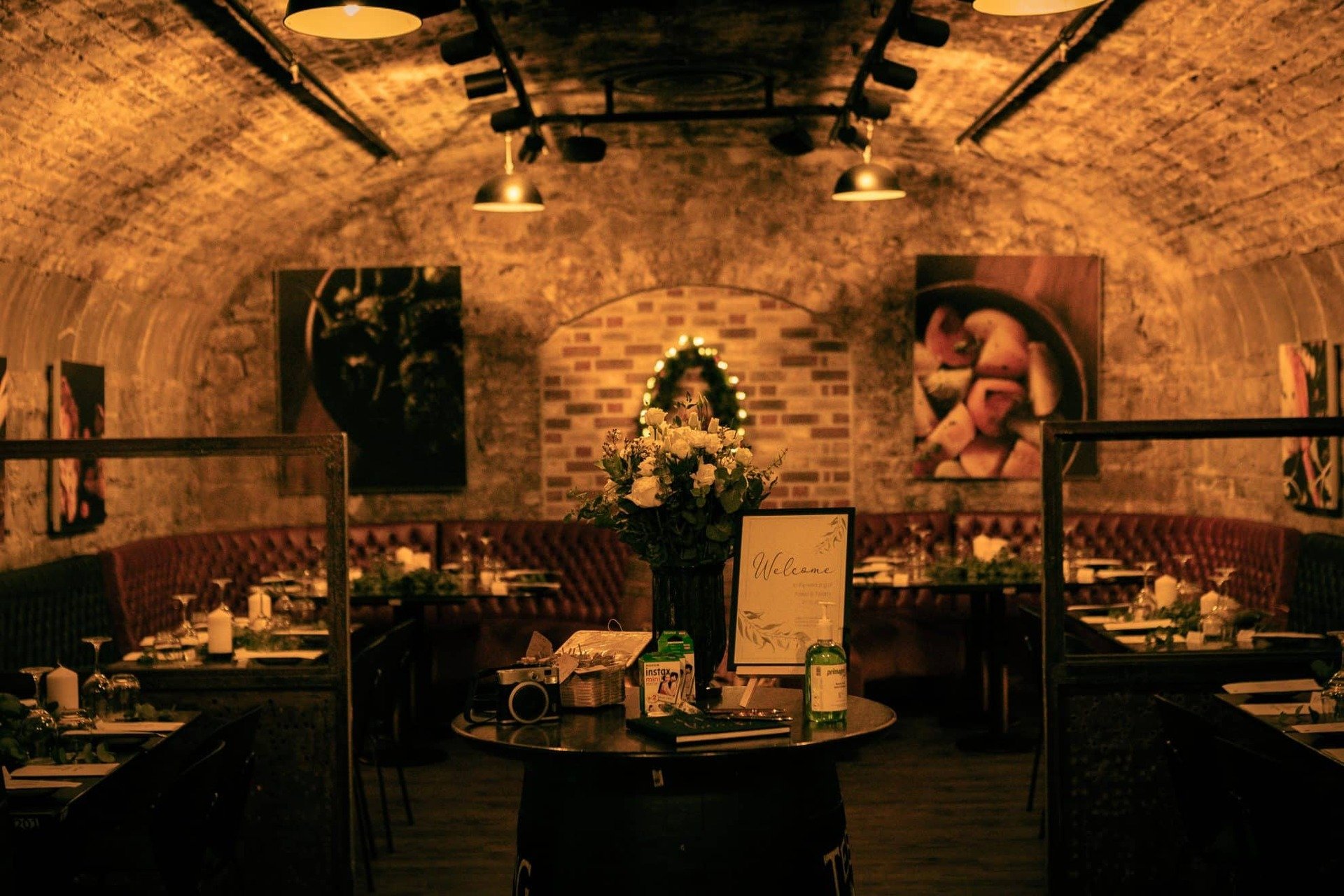 This grade one listed building in Dublin dates back to 1820 and is giving us old world glamour vibes. The renovated warehouse that was used to store tobacco, tea and spirits holds a sense of history and a striking aesthetic that will undoubtedly add a memorable element to your day.
Whether you are hosting an intimate setting or a large celebration, their vaults are modular and flexible for celebrations of all shapes and sizes. There are also plenty of amazing and unique backdrops for your wedding photographs.
Roganstown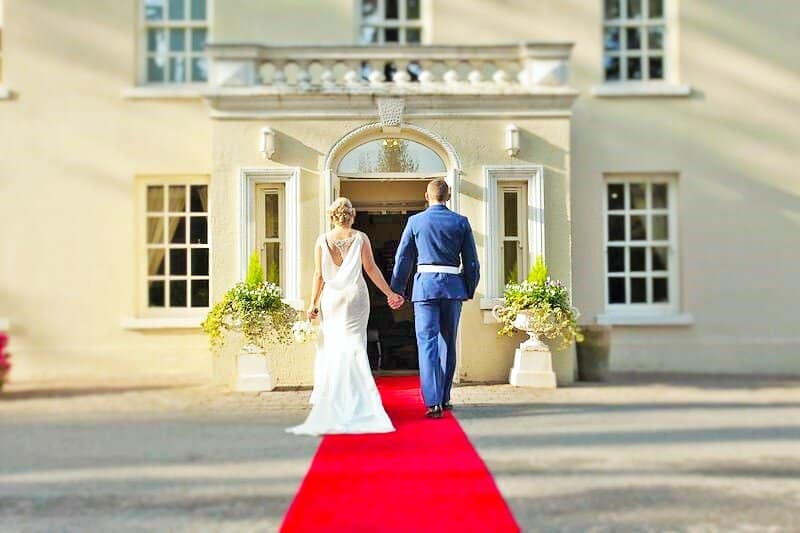 Roganstown Hotel is a beautifully restored country house nestled in the Dublin countryside. The manicured lawns and Japanese gardens are surrounded by an 18-hole golf course that sprawls over 300 acres of grounds for endless photo opportunities.
RELATED TO: 7 Romantic Wedding Venues In County Westmeath
A highlight of the day is often a romantic escape to the lake for a glass of bubbly before your reception begins. The indoor ceremony locations can also be decorated to your taste.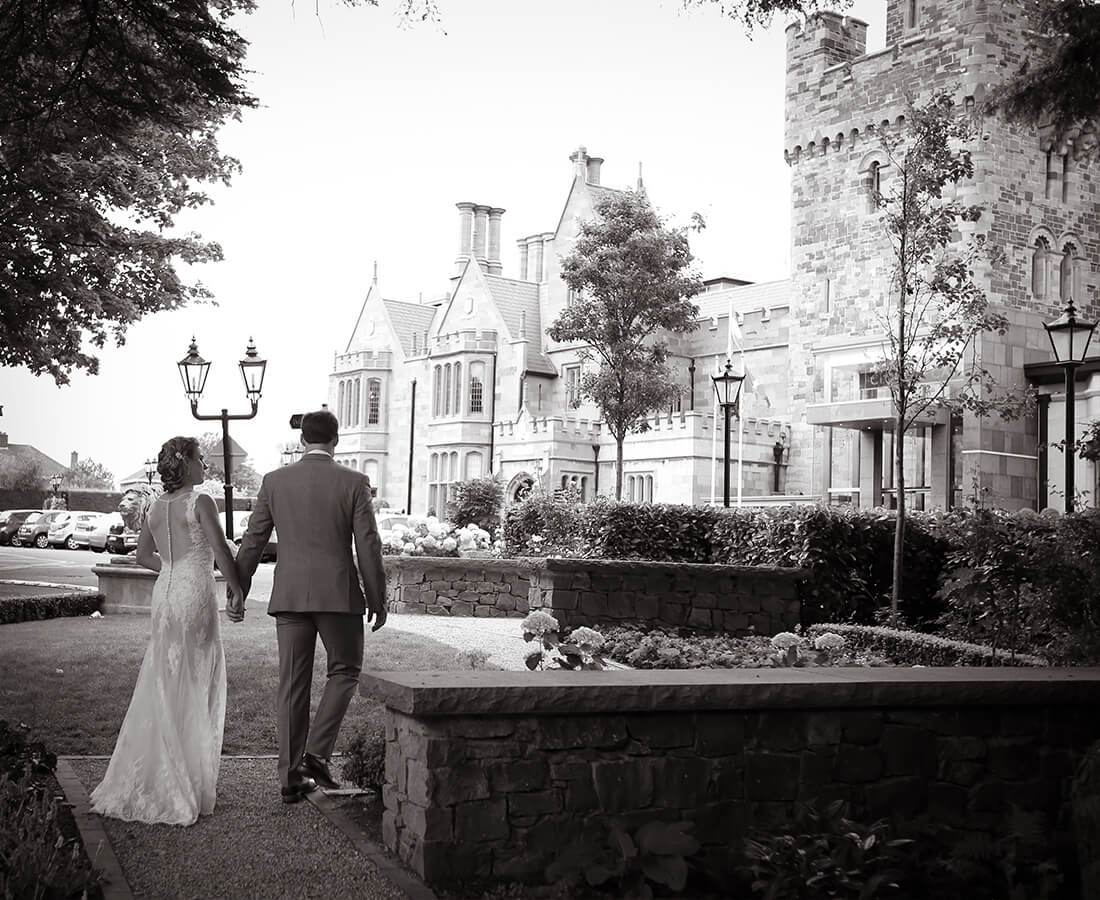 Live out your fairytale wedding at Clontarf Castle which oozes character, charm and personality. This hotel on the northern coastline of Dublin holds over 800 years of history with generations of weddings played out between the castle walls.
With a breathtaking castle aesthetic, dedicated art galleries, original 12th century architecture, landscaped gardens and a romantic outdoor terrace, Clontarf Castle is a statement venue you and your guests won't forget!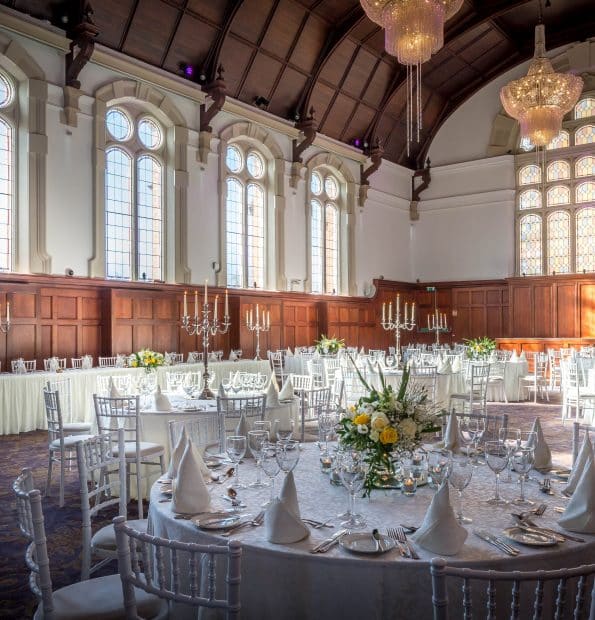 Thomas Prior Hall has been beautifully restored as a wedding venue on the grounds of the four-star hotel Clayton Hotel Ballsbridge. Steeped in history, this unique venue was originally built as a Masonic Girls School in the 18th century.
The magical church-like venue has a separate porch entrance, ornate oak paneled walls, stained glass windows, a choir balcony, spectacular chandeliers, in-built up lighters, an impressive vaulted wooden ceiling and an outside seating area overlooking the manicured gardens and water fountain. It truly has it all!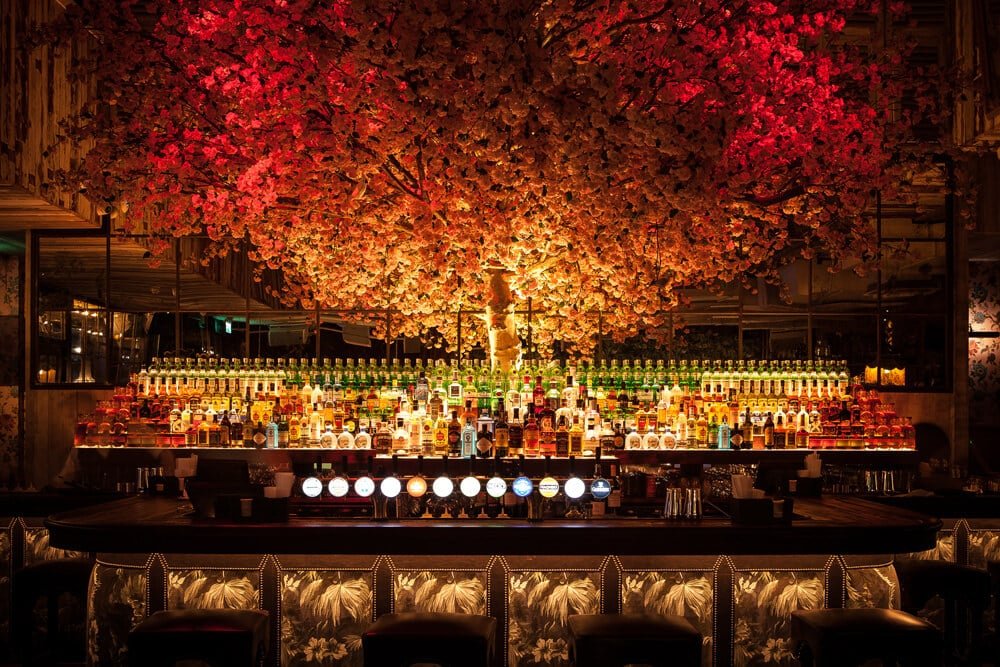 Nola Clan is home to an array of beautiful venues for all kinds of tastes and styles! From bright and airy garden spaces to dark and glamourous parlours, there is a location for every wedding theme. The different catering menus can accommodate every style of party, from canapés to sit down dinners and you can even request bespoke cocktails to personalise your day!
One of their venues is House Dublin which is a wonderful, hidden utopia with elegant interiors and a tranquil alfresco setting of the garden which will provide a fabulous backdrop for your wedding photographs. There are also 16 boutique bedrooms and a night club, both ideal for large or small weddings.
BANG Restaurant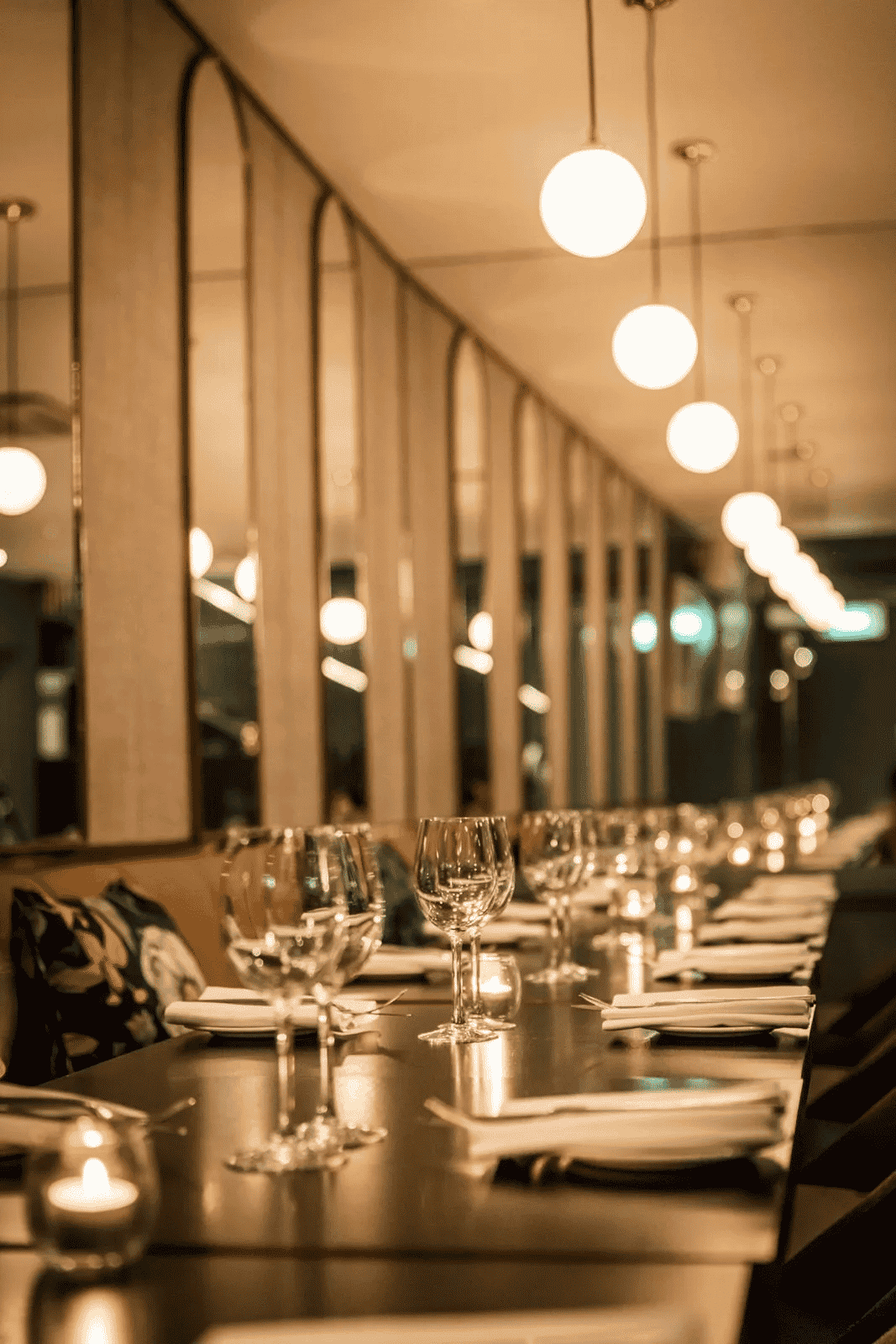 BANG restaurant is the perfect venue for cosy and intimate wedding celebrations in Dublin City. Perfectly placed off St. Stephens Green, they can accommodate groups of 50 for sit down meals or standing canapé receptions in one of their elegant private dining or bar areas. BANG restaurant offers three unique stylish and intimate floors to choose from.
RELATED TO: The Best Wedding Venues In County Wicklow
Their range of set menus and canapés give you a range of options to choose from, so your guests can experience classic BANG dishes which can be paired with wines and specialty cocktails to complete your private dining experience.
Louis Fitzgerald Hotel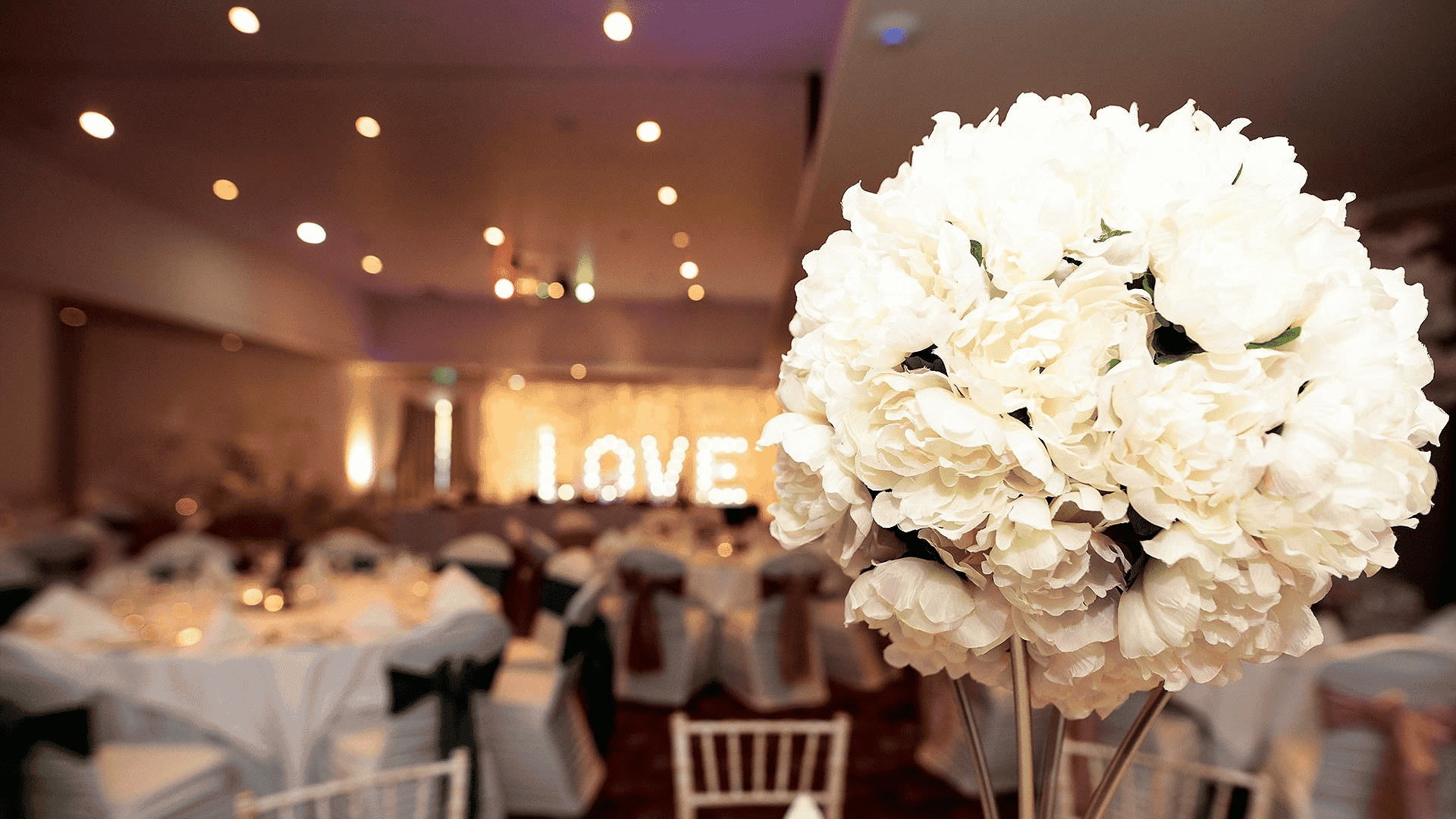 For elegance and class, the Louis Fitzgerald will make the perfect wedding venue for a timeless wedding day. The ceremony and receptions rooms are beautifully decorated with chair covers and sashes, floral arrangements and a traditional red carpet at the entrance to the room – creating a warm and elegant ambience as you celebrate your new chapter.
Whether it's a large celebration or a cosy gather of your closest family and friends, the Louis Fitzgerald can take care of every detail as they cater for weddings of 30 to 300 guests.
Portmarknock Hotel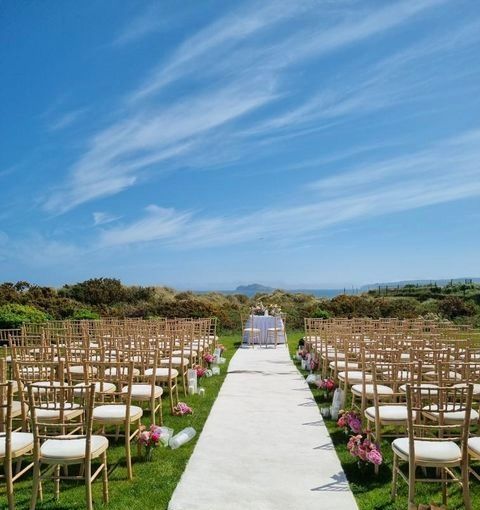 With its multiplicity of hopelessly romantic venues indoor and out, Portmarnock Hotel is quite simply made for weddings. Situated on The Velvet Strand you will have magnificent sea views for your wedding photographs.
Combining modern elegance with the grandeur of a 19th century home, Portmarnock Hotel provides the perfect place to say, 'I do'. With 131 bedroom suites, three dining areas, a championship golf course, a luxury spa and various indoor and outdoor event spaces, this can even make the perfect wedding weekend stay!
Radisson Blu St Helens Hotel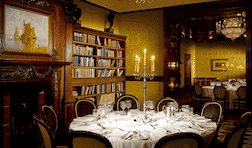 The Radisson Blu St. Helen's Hotel in Dublin is set in luxurious surroundings and expansive grounds. The stately mansion offers effortless elegance with a warm welcome to start your new life together.
With gorgeous garden grounds and elegant suites, you can host the wedding of your dreams and take advantage of the scenic setting. This Dublin hotel is also one of the city's finest venues for barbecue events – perfect for a next day farewell lunch!