This wedding invitation wording guide breaks down formal and informal invitation wording with examples and designs to inspire you!


Don't know where to start when it comes to wording your wedding invitations? Don't worry, this guide on how to word your wedding invitations will walk you through everything step-by-step so you don't miss a thing! The good news is, wedding invitation wording is actually more straightforward than you think.
Whether you want to keep the language formal or informal is totally up to you – but there are some basic elements that should be included no matter what! However, the most important rule is that you create informative and beautiful wedding invitations that show details on your day and reflect your personality!
What do I need to include in my wedding invitations?

– Who is hosting the wedding
– Names of the bride & groom
– Date & time of the ceremony
– Name of the wedding venues
– Reception information
– Dress code
– RSVP contact details & deadline (separate card)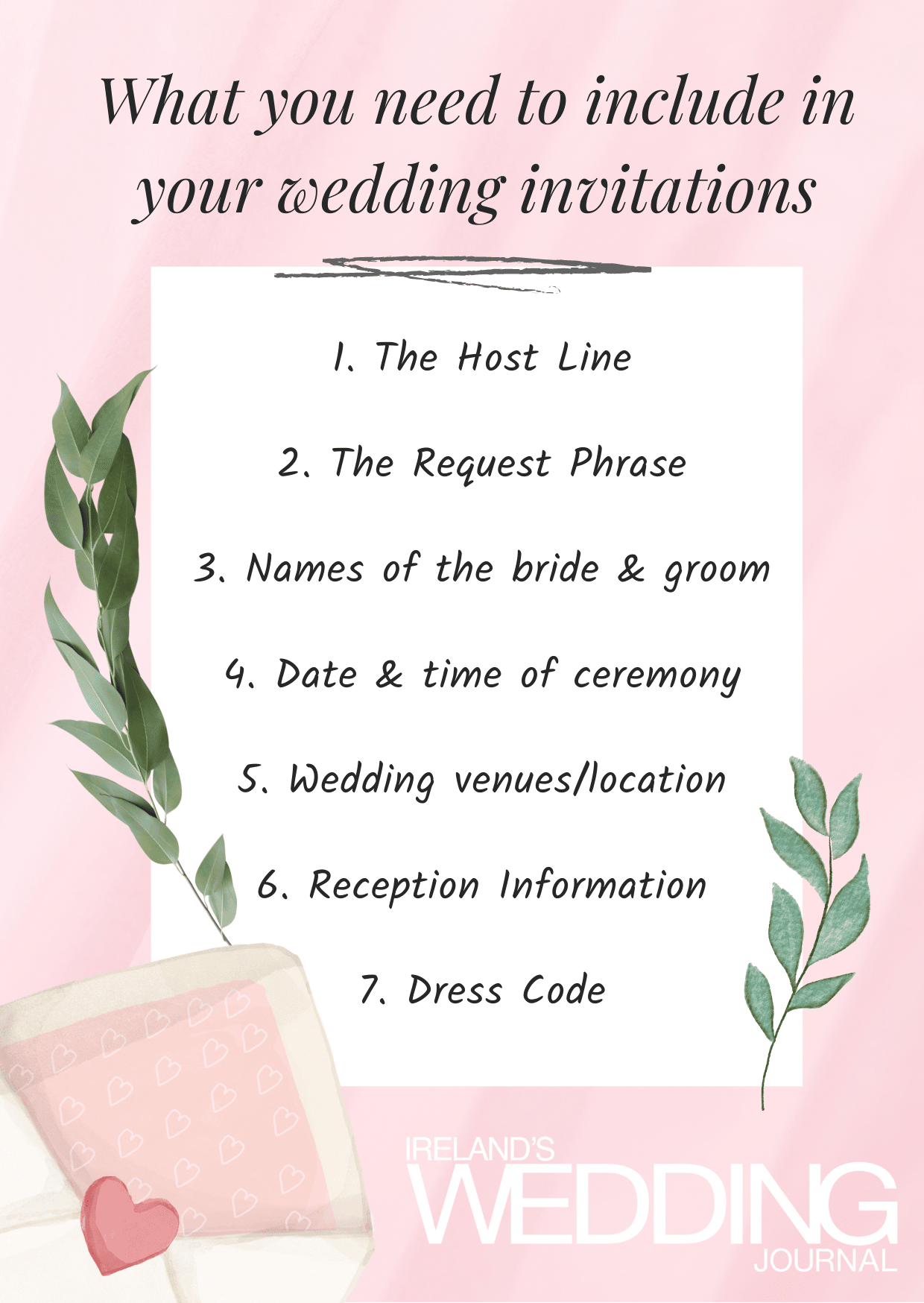 HOW TO WORD YOUR WEDDING INVITATIONS (line-by-line!):
Start with the host line

Firstly, you should start with the host line which is where you pay tribute to who is hosting (or paying for) the wedding. This is usually the names of the bride and groom or one or both sets of parents.

If yourself and both sets of parents have contributed to hosting the day, you can put "together with their parents, (bride's name) and (groom's name) request the pleasure of your company".

If you want to include divorced parents as hosts, just keep each name on a separate line. However, if you are including the name of a stepparent then you should keep this on the same line as their partner.

You can also add deceased parents to the host line, all you need to do is rearrange the wording slightly as someone who has passed cannot actually host the day. Below is an example of how to word your wedding invitations to include a deceased parent:

"Sarah Smith, daughter of Mr. John Smith and the late Ellen Smith,
and
Joe Green, son of Mr. Jack and Mary Green,
request the honour of your presence
at their wedding
on Saturday the second of July twenty twenty–two
at twelve o'clock noon
St Andrews Church
Reception to follow
Black tie required"

Below invitation by Perfect Day Print – FIND OUT MORE!



Add the request to attend phrase

This is where you should add a line asking your guests to attend the wedding and indicates what kind of ceremony it is. For e.g. "request the honour of your presence" usually implies this is a religious ceremony and using the phrase "request the pleasure of your company" can indicate a civil ceremony.

If one set of parents are hosting the wedding, then this line usually reads "request the honour of your presence at the marriage of their daughter (bride's name) to (groom's name). If both sets of parents are hosting, you can add "at the marriage of their children" followed by the names of the couple.

Other examples of how to word the request phrase are:

"together with their families"
"invite you to celebrate with them"
"would love for you to join them"
"the pleasure of your company"
"honour of your presence"

Below invitation by The Invite Hub – FIND OUT MORE!



Now add the names of the bride & groom


The names of the couple should be a main focus on the invites! Although this step seems obvious, did you know the bride's name is traditionally supposed to come in front of the groom's?

For instance, more formal and traditional invitations issued by the bride's parents will usually refer to the bride by her first and middle names and the groom by his full name and title. However, if you are hosting by yourselves or want to keeps things more informal you can include just your first names!

When it comes to same-sex couples, the traditional rule of the woman's name before the man's does not apply. You can choose to keep this random or go by alphabetical order – it's really up to you!

Below invitation by Darling Stationery – FIND OUT MORE!




Include the date & time of ceremony


If you want to keep things formal and traditional, you should spell out the date and time in full words (no numerals). You should also include the day of the week and year of the wedding. An example of this is shown in the first step.

If your wedding is happening that year, you do not have to include the year on the invitation as this will indicate your ceremony is on the nearest such date. For casual weddings, using numerals instead of words is fine.



Add wedding venues/location


Normally, the name of the venue is all that needs to be included with reference to the town, city or county. The full street address is not necessary unless not including it could lead to confusion – if the ceremony is in a family home, for example.

You can always include the full address of the venue on your guest information cards when giving directions to the location of the wedding.

Below invitation by The Wedding Scribblers – FIND OUT MORE!



Include details on the reception


To stick with formalities, the reception information is normally included on a separate card. Otherwise, you can add reception details to the main invitation if room allows.

If the wedding ceremony and reception are in the same venue, you can add "reception to follow" or "followed by dinner, drinks and dancing".

However, if you reception is at a different venue then you should add this to a different line. You can also create separate evening wedding invitations for those only invited to the after party.



Indicate the dress code


Traditional wedding invitation etiquette indicates the dress code – this is usually located on the lower right-hand corner of the invitation. If you do not include a note on the wedding attire, your invitation itself will indicate the dress code.

For example, if the wedding invitations look formal and fancy, the guests will likely opt for a more formal, black-tie look. If the invitations are more simple and casual, then you can expect your guests to come in more casual attire.

Below invitation by Lots of Love Invitations – FIND OUT MORE HERE!




The RSVP card & details


Normally, there is a separate response card included alongside the main invitation for guests to fill out and post their response. It is important that the RSVP card includes the reply deadline date and an area to add who can or cannot attend. You can also add a little section for choosing menu options or song requests if you wish!

Alternatively, you can also have people respond via your wedding website. Just add the website address to a separate card as you would with an RSVP card and let the guests know they can fill in their response directly on the website.
FAQ on wedding invitations:
When to send wedding invitations?
Couples normally send their wedding invitations around six to eight weeks before the wedding. However, save the date cards can be sent out as early as a year before the wedding date!

Where to buy wedding invitations?
If you're looking for local wedding stationary suppliers, then make sure to check out our online directory full of unique and creative vendors who can create your perfect invites and more!
CHECK IT OUT HERE!

Overall, this is the basics of how to word your wedding invitations and what you need to think about before you send them. If you want more information on your complete wedding invitation suite, CLICK HERE!