Your go-to bespoke jewellers for unique and stylish pieces for all the bridal party!
Did he (or she) put a ring on it? Whether you're searching for the perfect engagement ring, wedding bands or timeless bridal jewellery, Steensons Jewellers in Belfast has everything for the bride-to-be and more.
We're delighted to bring you our Supplier of the Week, Steensons Jewellers, which as you may have already heard, designed amazing jewellery for the iconic Games of Thrones series – so if you're looking for some creative custom-made pieces, then you've came to right place!
Specialists in Bespoke & Custom Designed Jewellery
Christina and Bill Steenson both started up the business in 1976, creating a niche for themselves as an independent jeweller specialising in producing unique and contemporary pieces that can't be found on the high street.
We spoke to Paula Gray, the retail manager, who told us all about Steensons' service and unique sparklers!
"We would be quite modern and contemporary with quite unique designs that stand out from other jewellers out there," she says.
"We have a skilled team of goldsmith design consultants and sales staff led by Brona Steenson, who is the daughter of founders Bill and Christina.  Brona has a BA (Hons) in Fine and Applied Art with 20 years of experience in family business and is our main CAD consultant."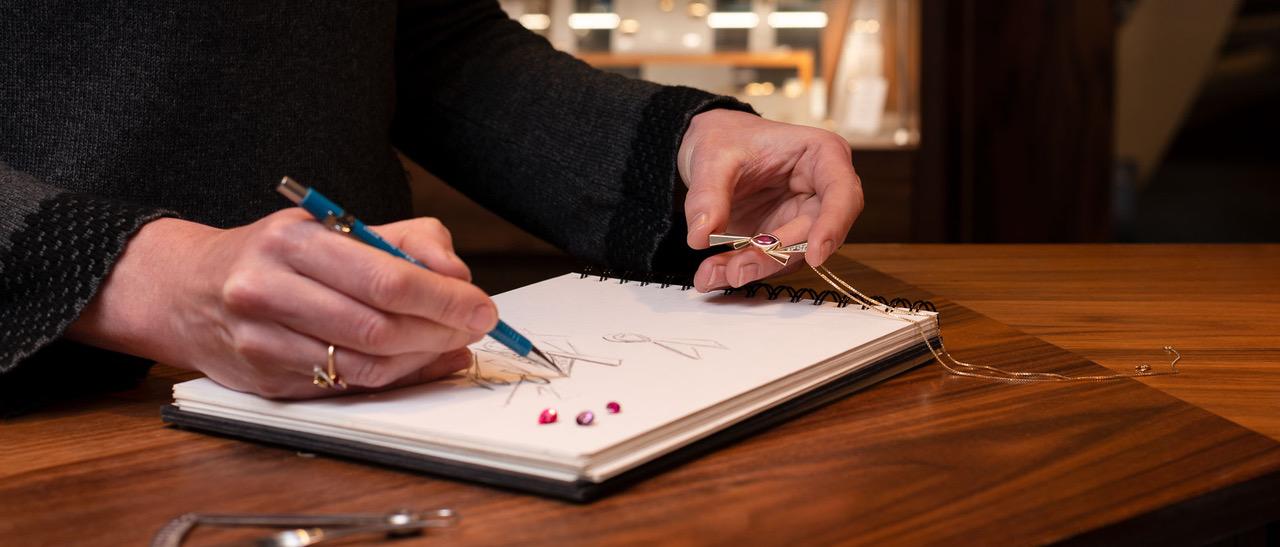 RELATED TO: Supplier of the Week: McElhinney's of Ballybofey
Create your dream ring!
If you are a bride looking for a custom designed wedding or engagement ring, then Steensons Jewellers is your answer – their expert trained staff will help you from start to finish to bring your unique sparkler to life!
Paula says: "We have a CAD designer in our Belfast store and a Diamond Grader, so if the customer decides on a bespoke piece, we use some designs from stock as a starting point and then we can get a sense of people's style and taste to incorporate that into the jewellery.
"You would be sat down for a design consultation with a trained member of staff to work everything out – we are always on hand to give you any expert advice you need and also do our best to work around people's budgets as best we can."
RELATED TO: Supplier Of The Week: Sean Jefferies Photography
Something for everyone
As well as wedding bands and engagement rings, Steensons Jewellers also offer a wide variety of beautiful bridal jewellery, so you can add those finishing touches to your wedding wardrobe.
Paula continues: "We also have a lot of bridal jewellery on offer as well – we have a beautiful Vines collection which is a lot of pearls and we have some designer pieces from Martina Hamilton and Brigitte Adolphs  who have lovely bridal jewellery pieces.
"There is also a variety from the grooms out there with our wide selection of cufflinks and tie pins. We also stock Andrew Geoghegan, Furrer Jacot, Henrich and Denzel as well as GETi who offer titanium men's wedding bands and are very popular.
"For mother of the bride there are also a lot of options such as our German designer, Manu, with some lovely jewellery designs."
READ OUR LATEST MAGAZINE ISSUE – SUMMER 2021 OUT NOW
To find out more about Steensons Jewellers, view details HERE
Sign up to our newsletter to get all the latest from The Wedding Journal – Join Here>>>>http://eepurl.com/ck9vLb