You might be raising your eyebrows at the cost of your bridal gown, but hopefully these super bling frocks will put all that expense into perspective!
Let's face it, wedding dresses are expensive. Just a few yards of tulle, lace and satin along with a scattering of pearls and crystals could be setting you back to the tune of thousands. 
With the average cost of a wedding dress last year said to be around £1,100, it's quite possible that your outfit on the big day could cost more than the cars, DJ and favours put together!
But when it comes to wedding dresses, you want something that will live up to the importance that this big day will hold in your life – it's not something that you can have a do-over for!
RELATED TO: 11 Most Iconic Celebrity Wedding Dresses Of All Time
So while you're totting up the cost of your gown, dream big and draw your inspiration from the finest out there.
You'll never have the income of a Kim Kardashian or a Kate Middleton, but sometimes it's nice just to check out the really expensive gowns out there – who knows, you might find you prefer your own chosen dress after all!
RELATED TO: Steal Their Style – Celebrity Inspired Wedding Dresses
Here's our super-exclusive list of the most expensive wedding dresses of all time…
The Diamond Wedding Gown (£8,600,000)
A collaboration between designer Renee Strauss and jewller Martin Katz resulted in this utterly fabulous Diamond Wedding Gown, made in 2006 from the finest silk fabrics and a cool 150 carats of diamonds. Word to the wise, it's still up for sale…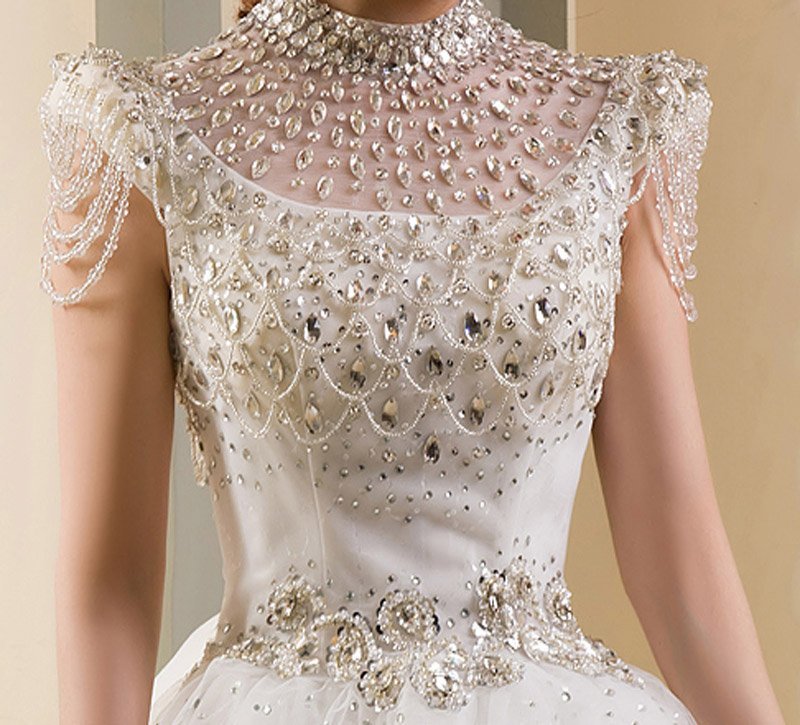 Yumi Katsura's White Gold Dress (£6 million)
Wow and wow again – this piece from Japanese designer Yumi Katsura was made from finest silk and satin with a collection of precious gemstones and intricate hand-stitched zari embroidery. You'd think the highlight would be the 1,000 pearls and rare 5-carat white gold diamond embellishing the gown, but nope, it's the 8.8 carat green diamond.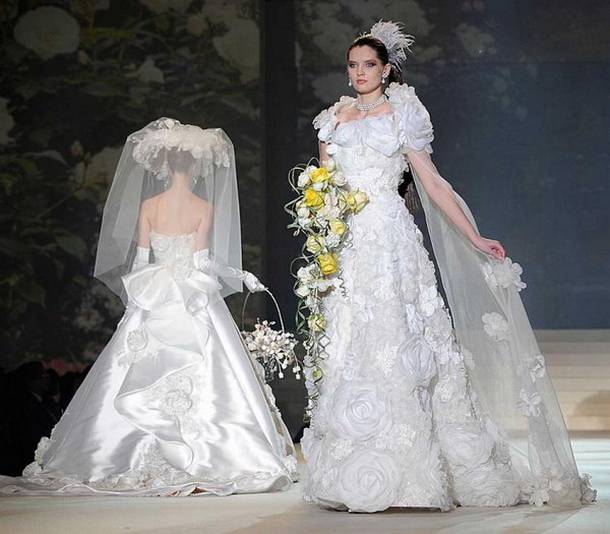 Serena Williams (£2.5 million)
And here's one that was actually worn at a wedding! This stunning Alexander McQueen gown, designed by Sarah Burton and featuring cascading cape and sweetheart neckline, broke wedding dress records – and Serena went on to wear two other dresses over the course of the big day.
RELATED TO: Boris Johnson's Wife Rented Her Wedding Dress For £45 – Why Don't You?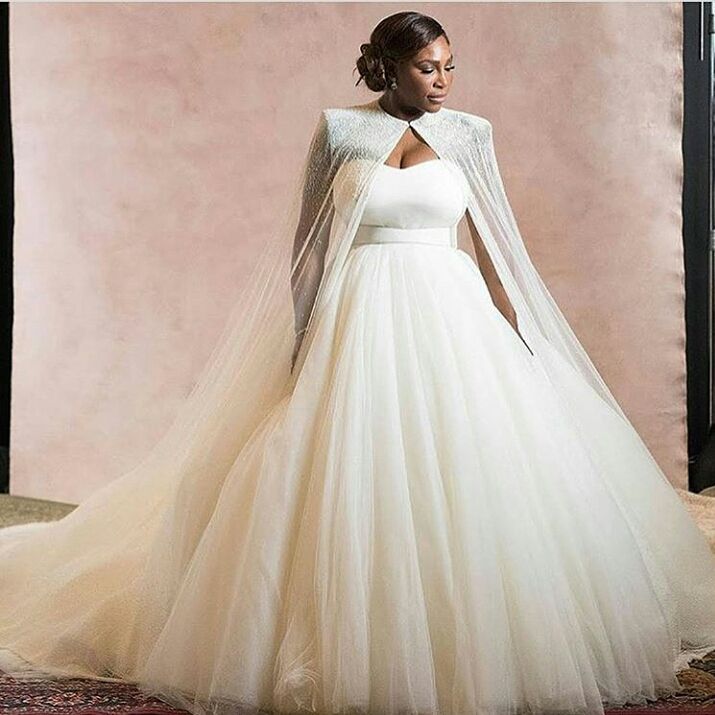 The Peacock Wedding Dress (£1 million)
Vera Wang is very well known for her stunning wedding gowns – remember the one that starred in Sex And The City? But her vivid peacock gown is quite a diversion from the usual wedding fare, using 2,009 male peacock feathers and requiring eight artisans to stitch them. We love the shimmering blue and green colours, but…. aren't peacock feathers supposed to be unlucky?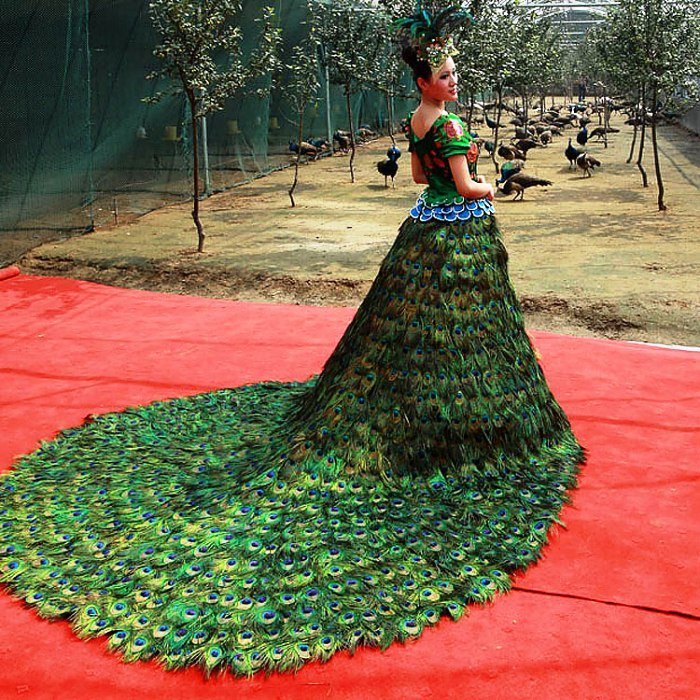 Danasha Luxury Gown (£1 million)
Unveiled at Miami Fashion Week in 2010, this is still one of the most exclusive gowns in the world, and it's actually… um… nice. Designed by Jad Ghandour for Danasha Luxury, it was supposed to show that a dazzling costume can be created without looking garish. With 75 carats of Antwerp diamonds and 250 grams of 18 carat gold, it's a work of art.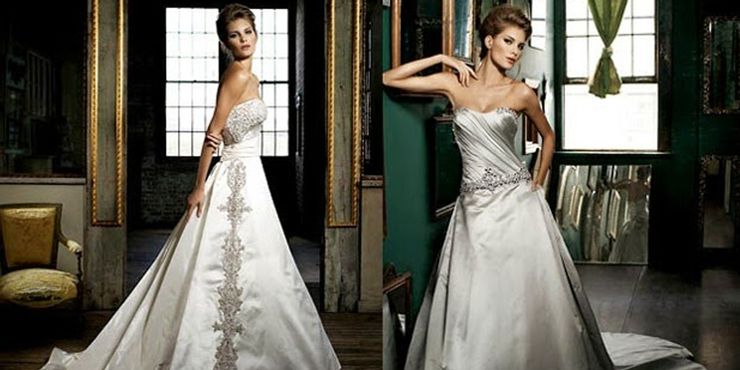 Victoria Swarovski (£700,000)
The jewellery heiress's custom-made gown was decked out with more than 500,000 crystals – Swarovski, of course.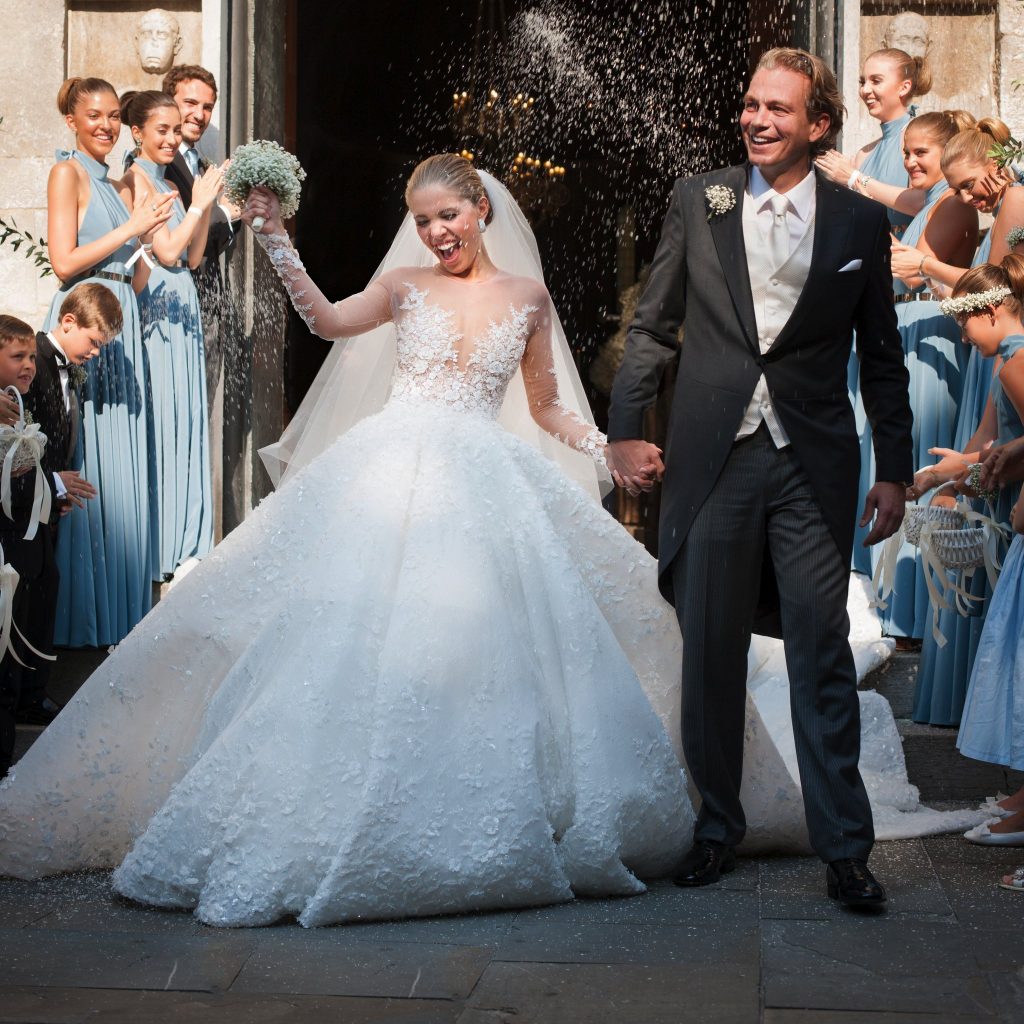 Kim Kardashian (£360,000)
When the social media star tied the knot with Kanye in 2014, she walked down the aisle in this custom-made couture Givenchy gown with long sleeves and a trumpet silhouette – and she later changed into a minidress designed by Olivier Rousteing, creative director for Balmain.
RELATED TO: Ariana Grande Shares A Sneak Peek At Fabulous At Home Wedding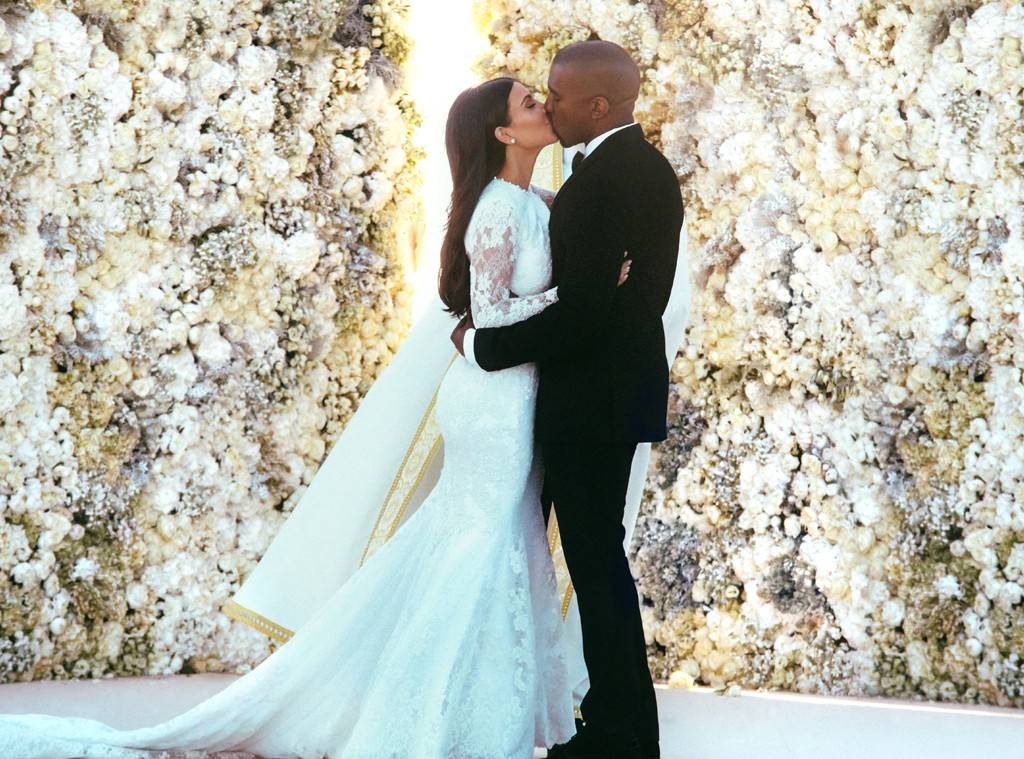 Salma Hayek (£311,000)
When she married Francois-Henri Pinault in 2009 in Venice, actress Salma Hayek wore an incredible Balenciaga gown designed by Nicolas Ghesquiere. The dress worn by the star of the Hitman's Wife's Bodyguard featured an intricately detailed deep V-neck bodice flowing into a full body skirt.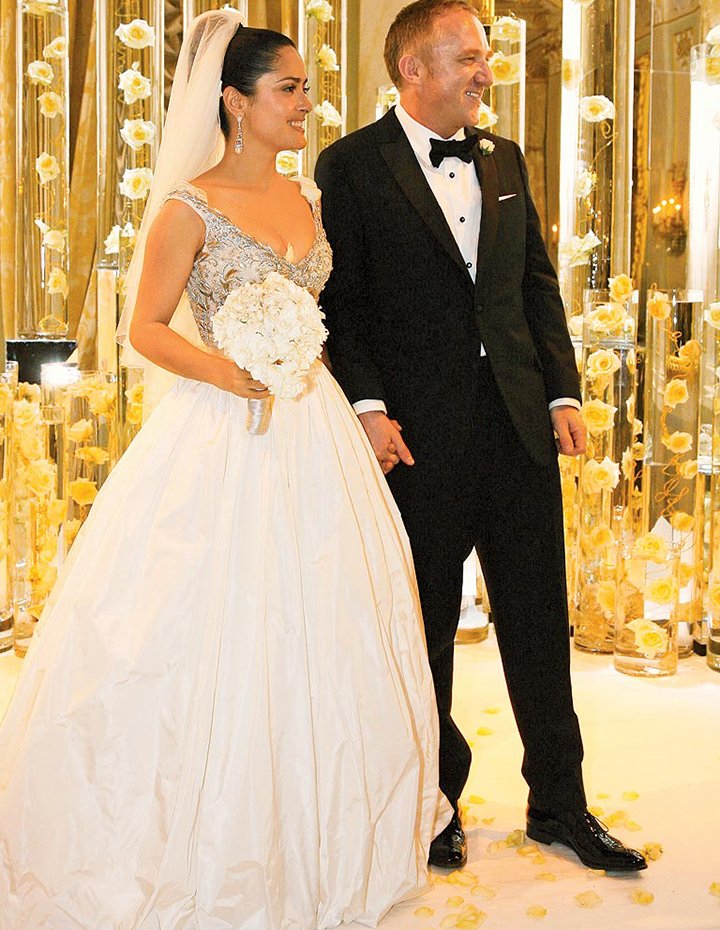 Kate Middleton (£311,000)
Another Sarah Burton designed dress for Alexander McQueen hit the headlines when Kate Middleton wed Prince William and became the Duchess of Cambridge – this classic gown in French chantilly, Cluny lace and ivory and satin gazer featured long lace sleeves and a full skirt.
RELATED TO: Three Wedding Dresses Are Better Than One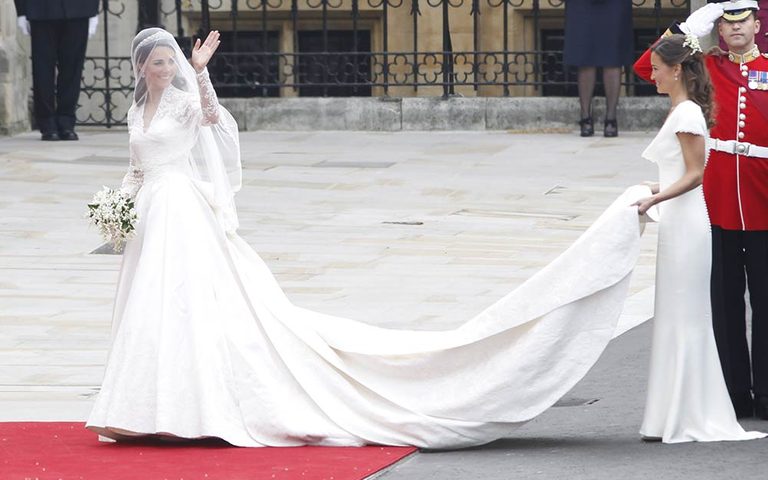 Amal Clooney (£272,000)
The human rights lawyer spared no expense when she wed actor George Clooney, splashing out on an off-the-shoulder lace Oscar de la Renta number,  the last wedding dress the late designer created before he passed away. It was temporarily featured in an Oscar de la Renta exhibit at the Museum of Fine Arts.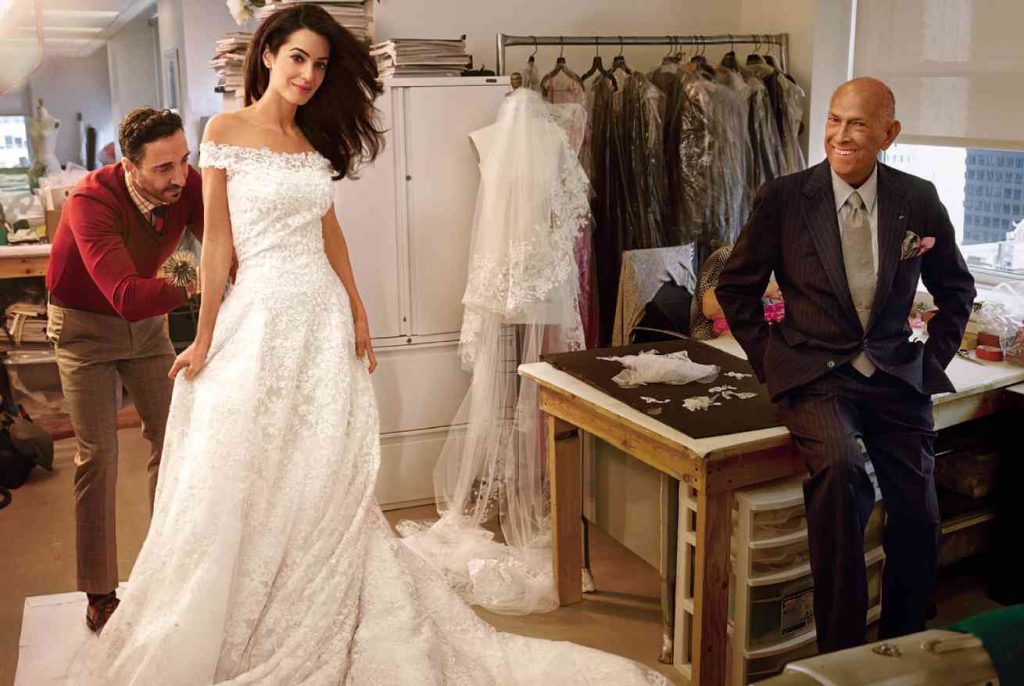 RELATED TO: What Is A Sequel Wedding And How Do You Have One?
Still on the hunt for your dream dress? Check out all our wedding dress suppliers HERE
If you haven't already, sign up to our newsletter HERE to stay up-to-date on all things news, style and wedding inspo.